Lanai Explorer
---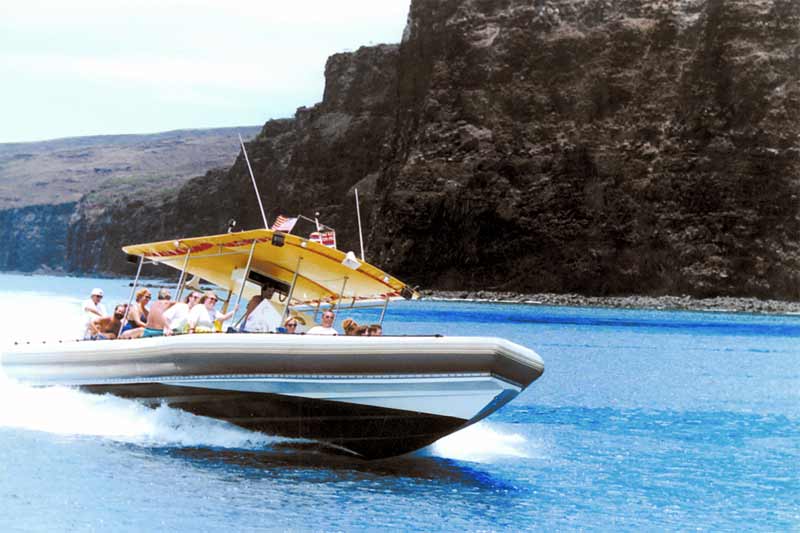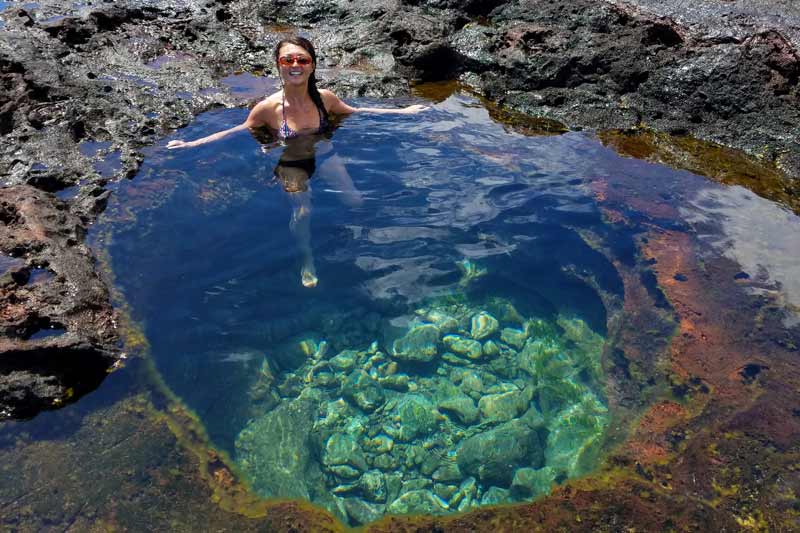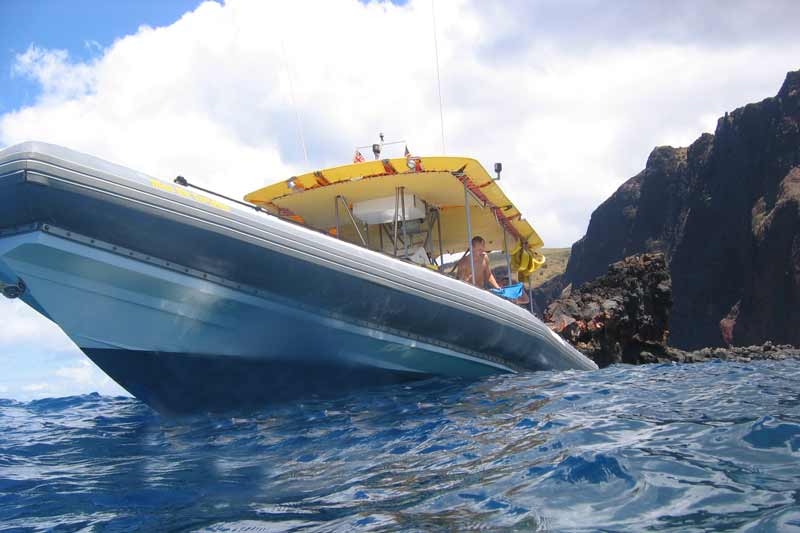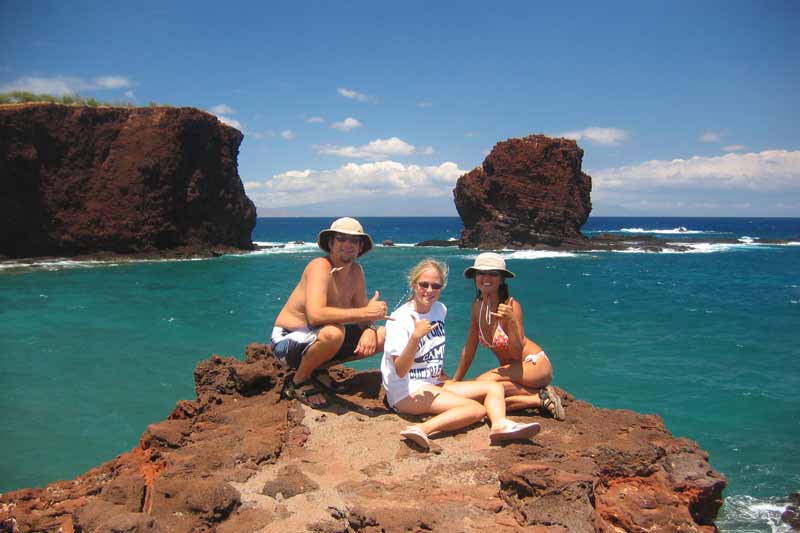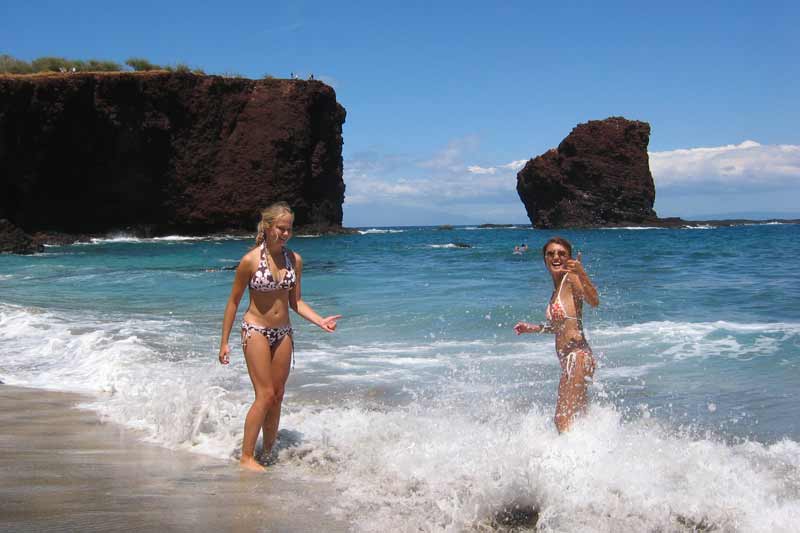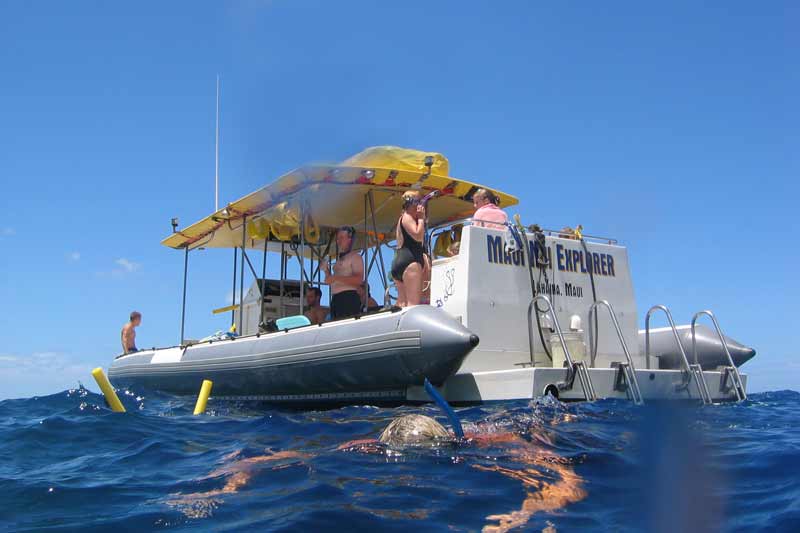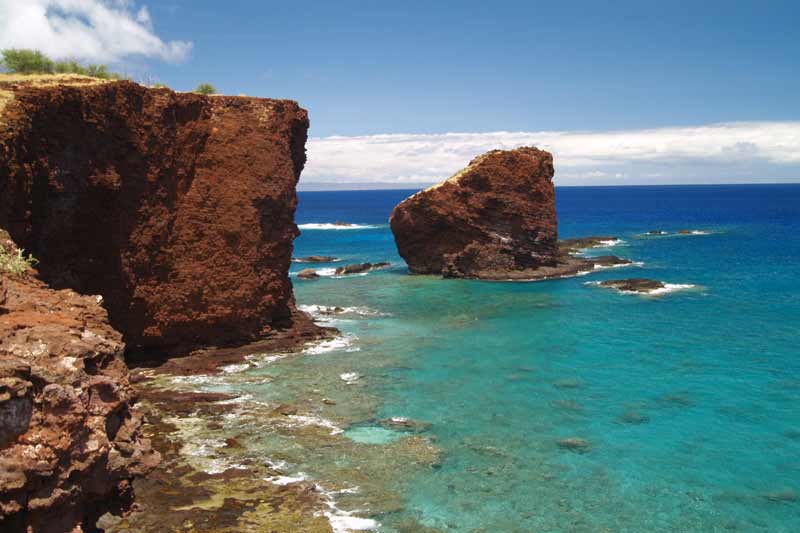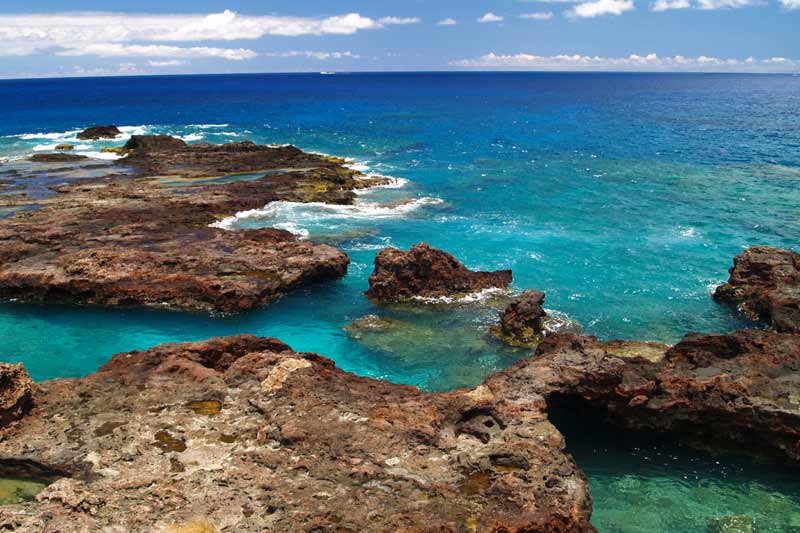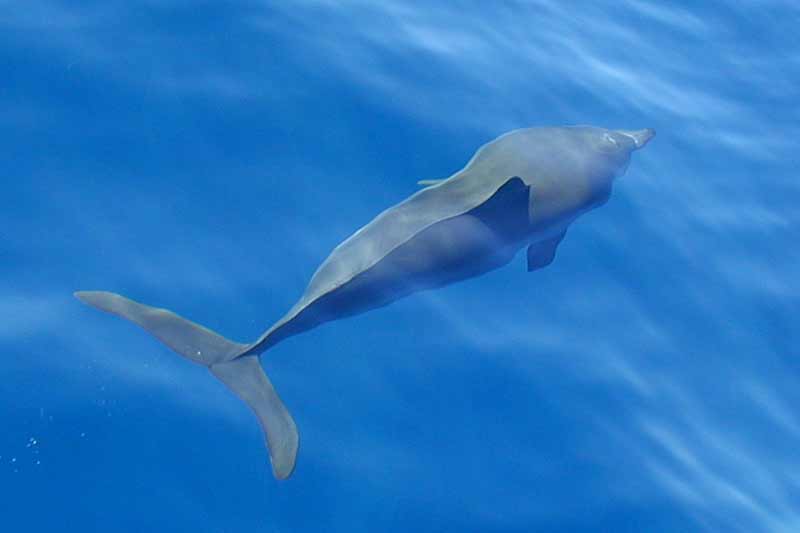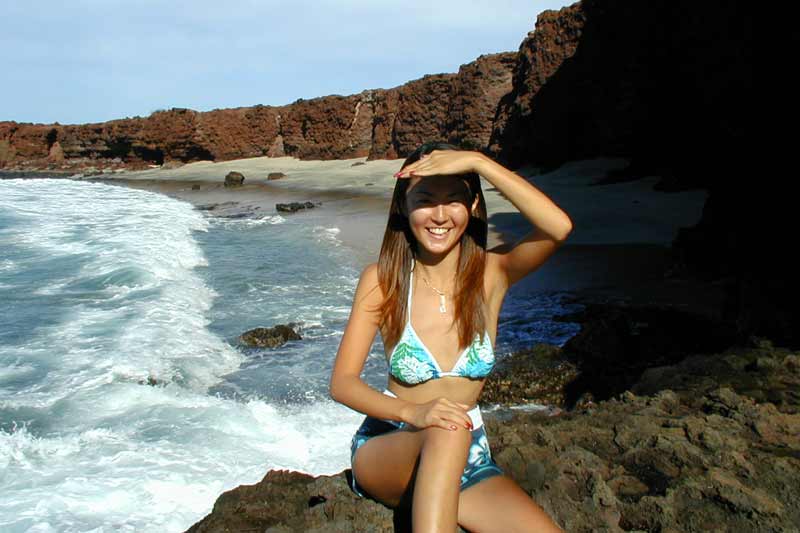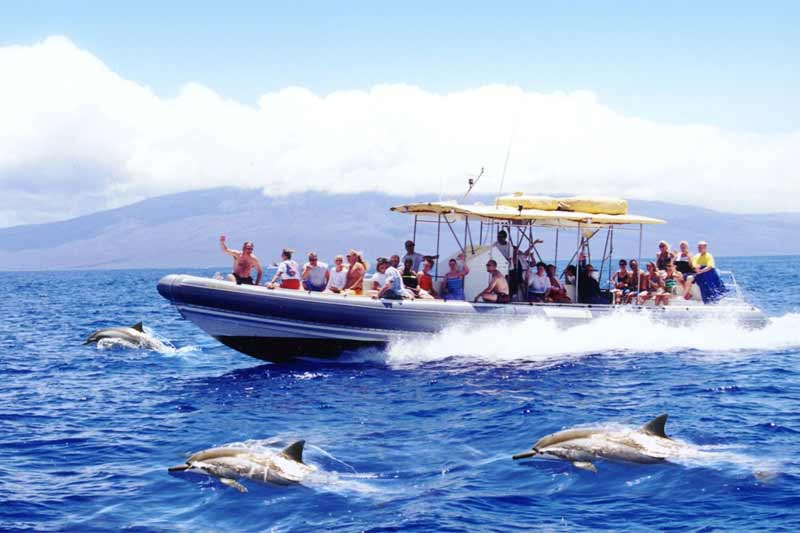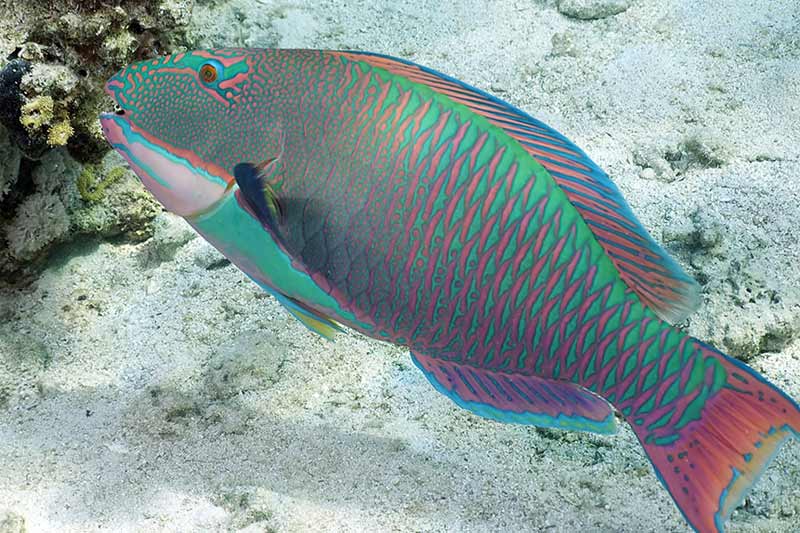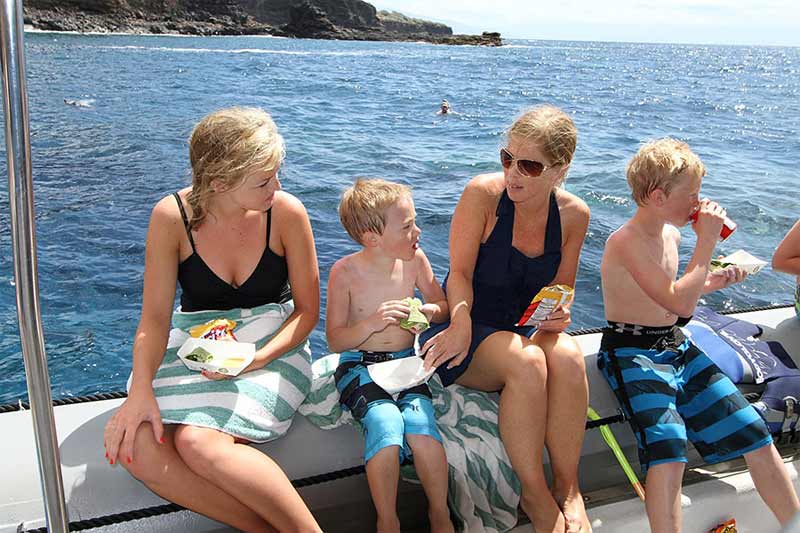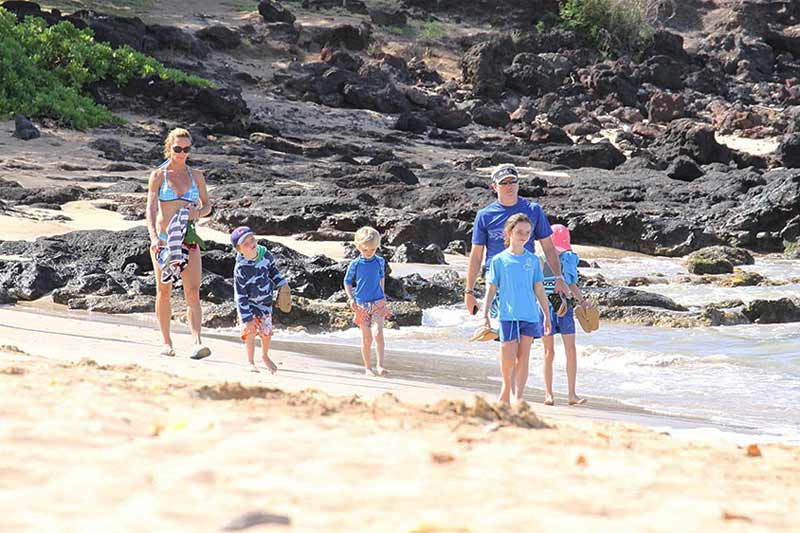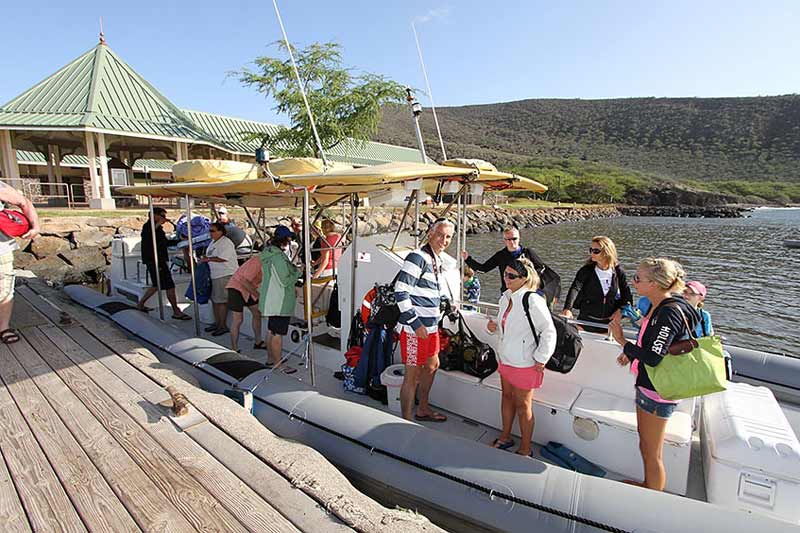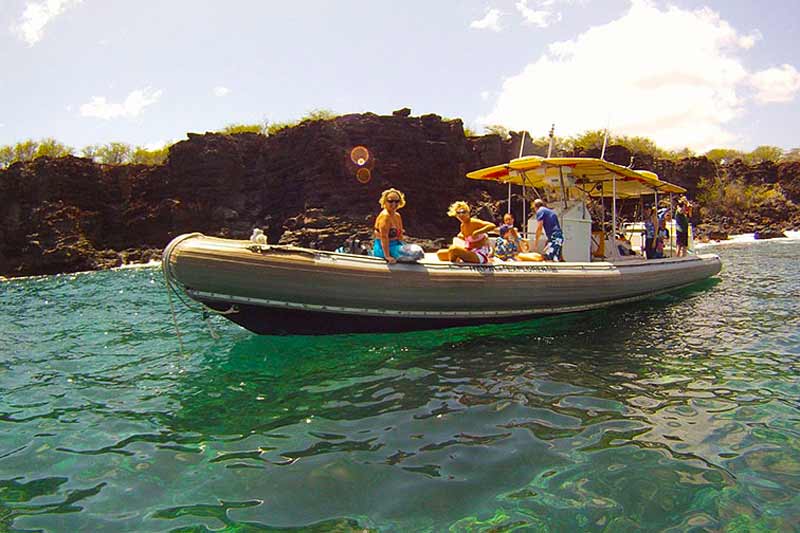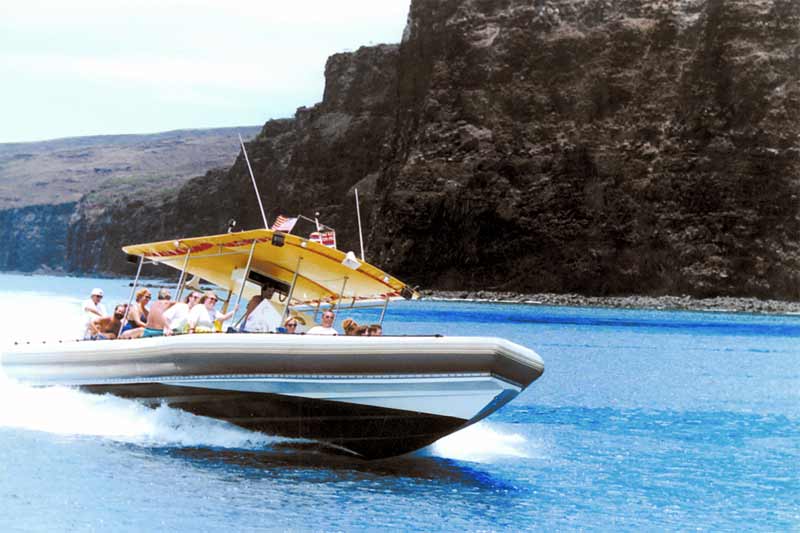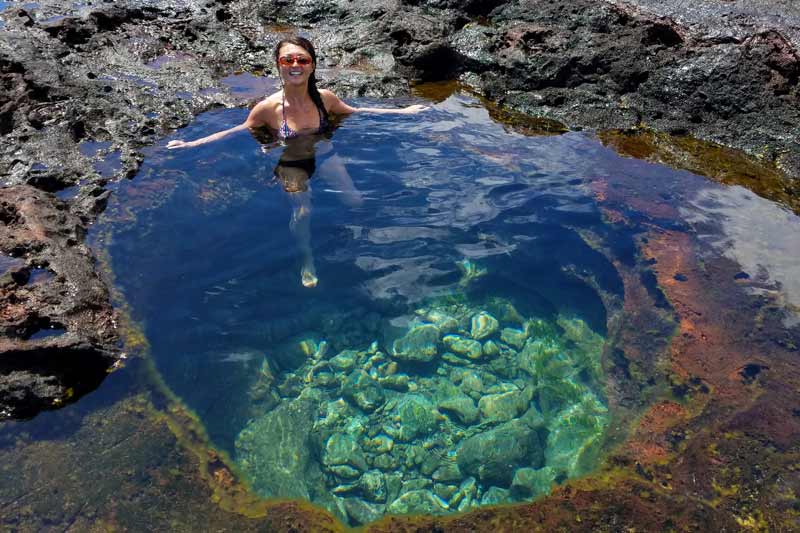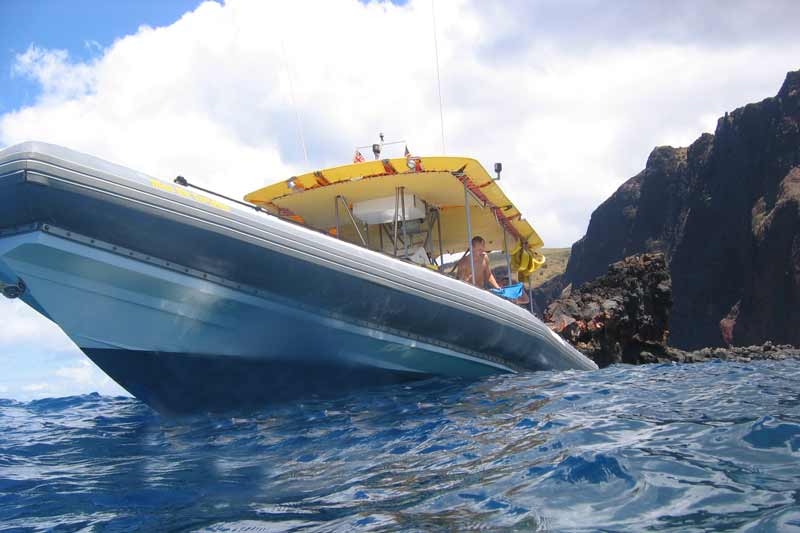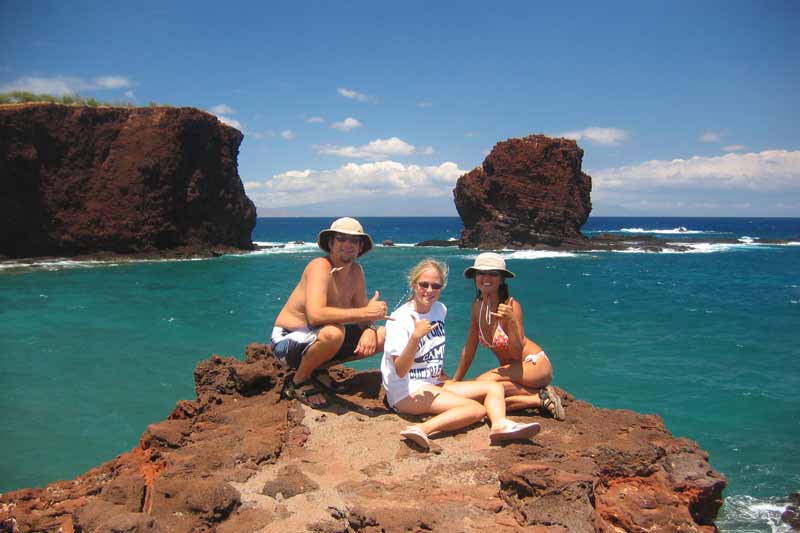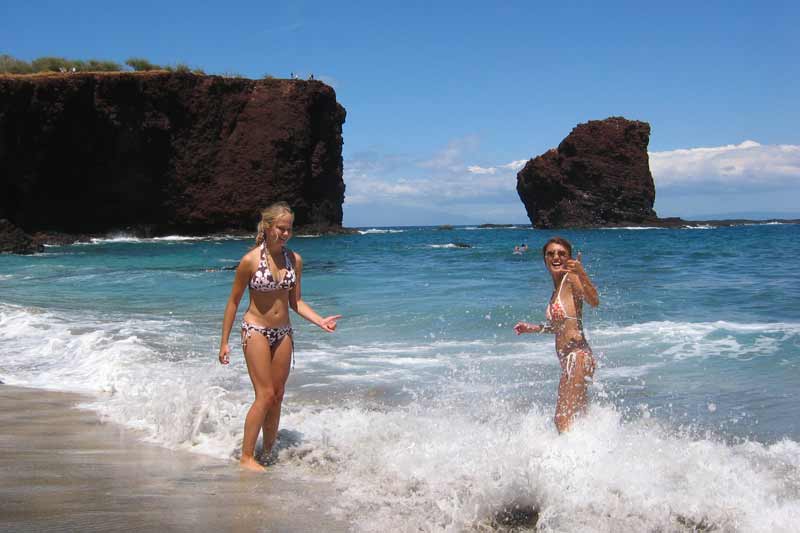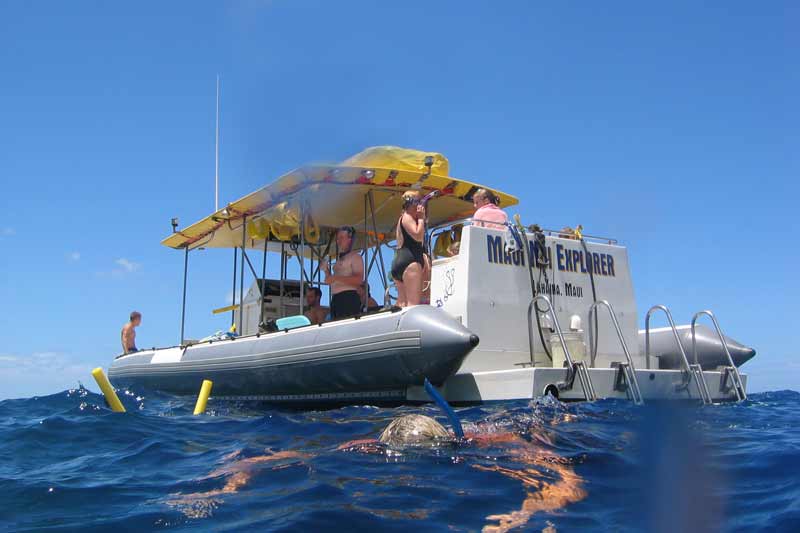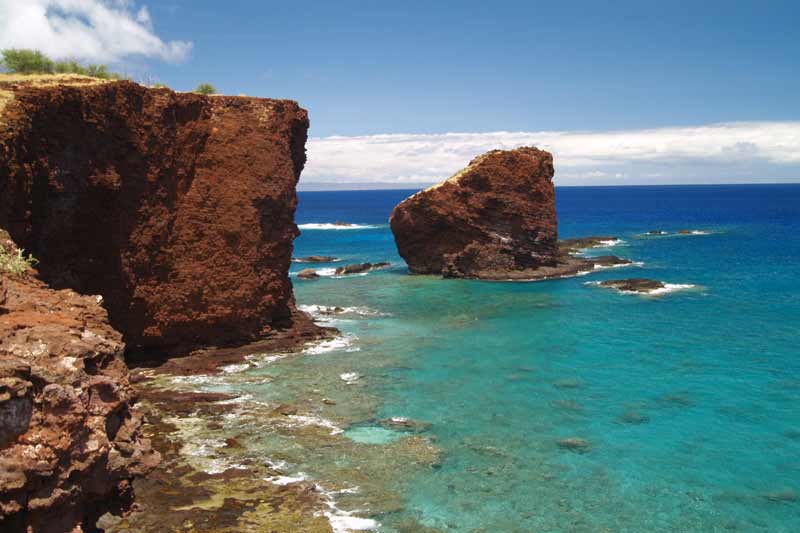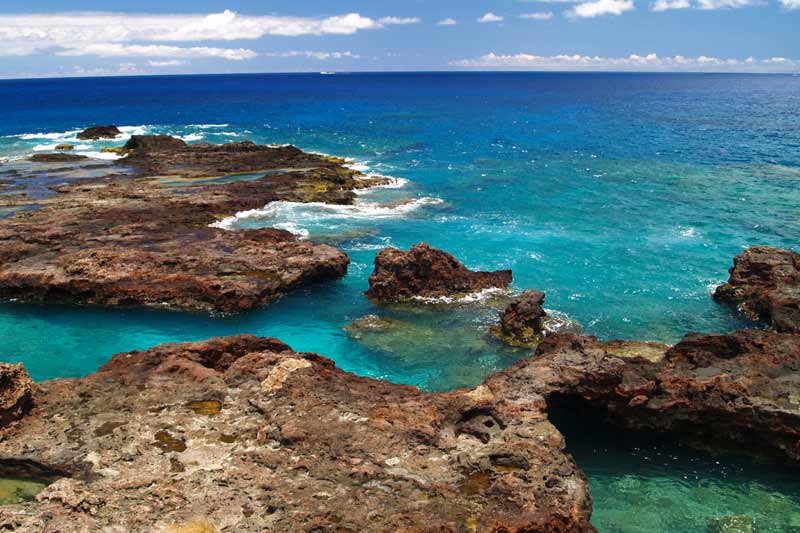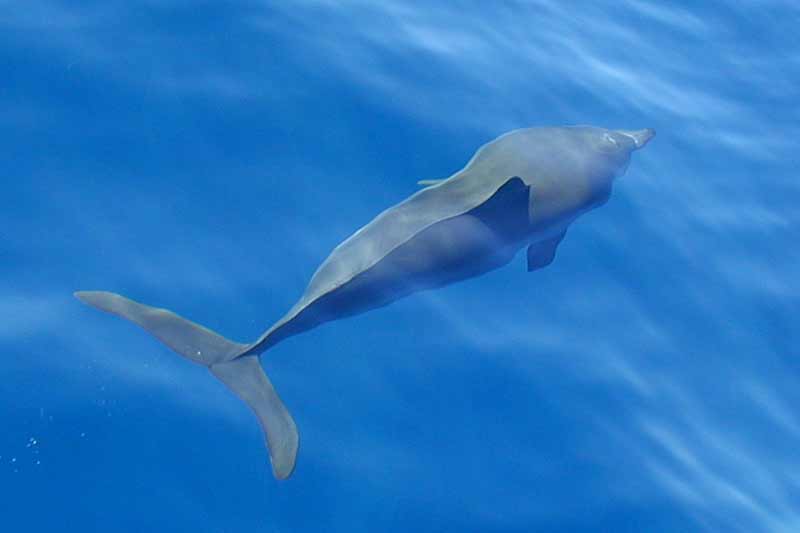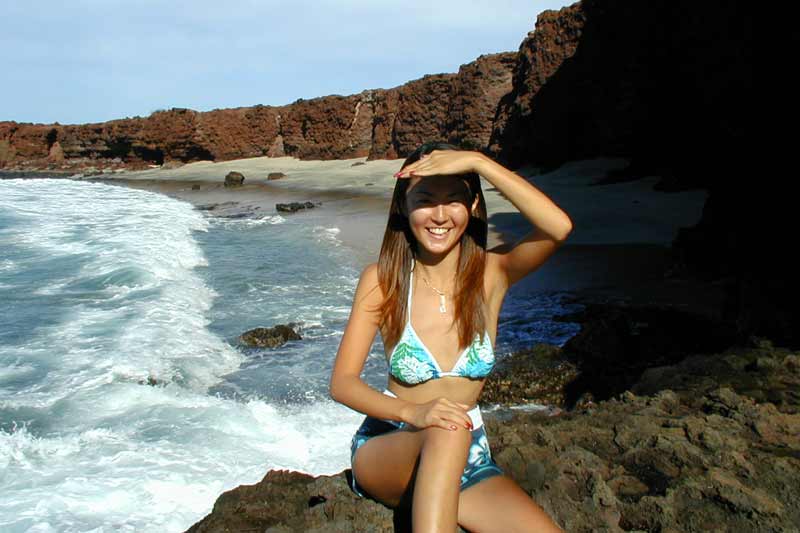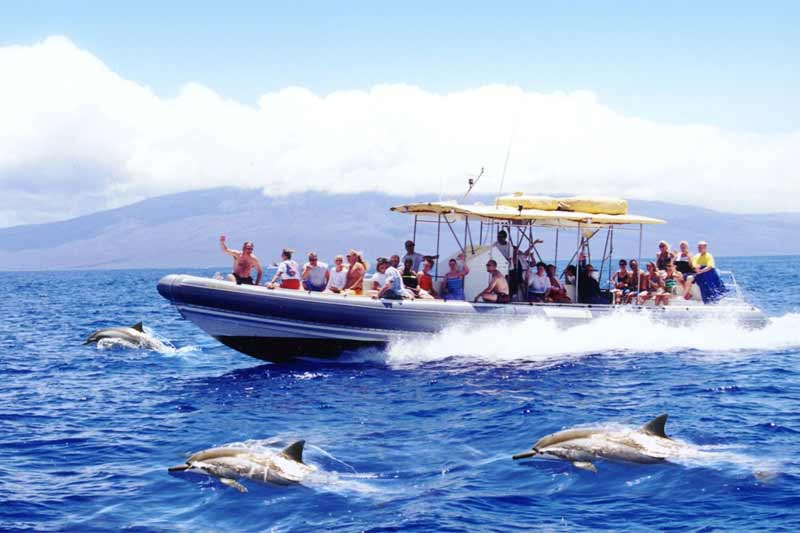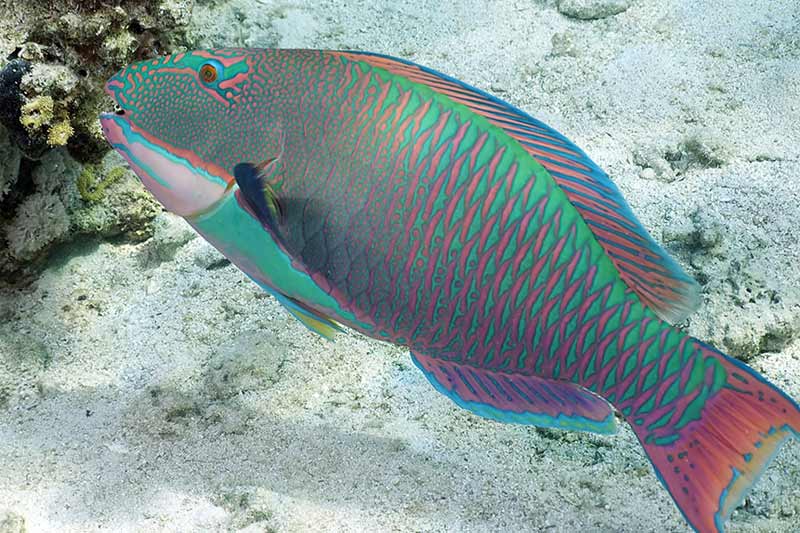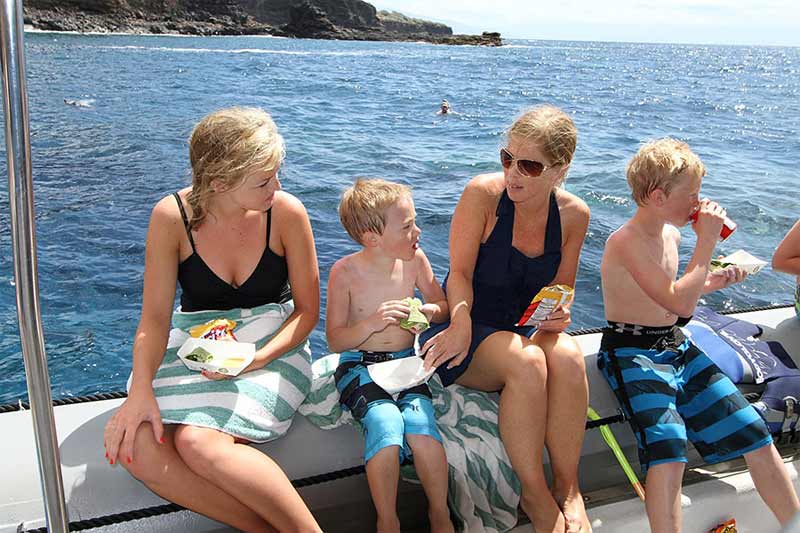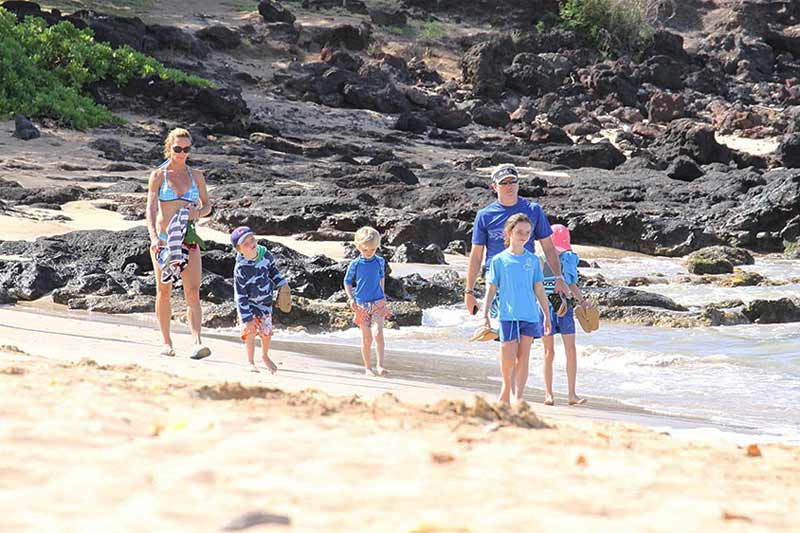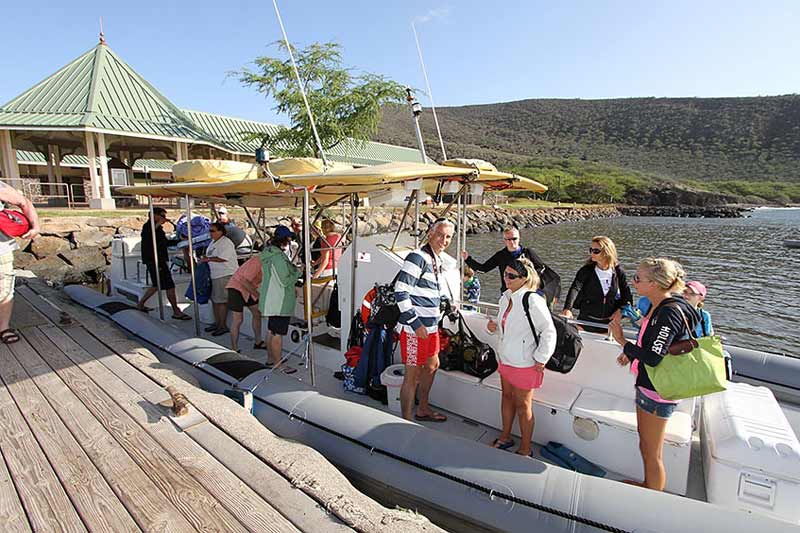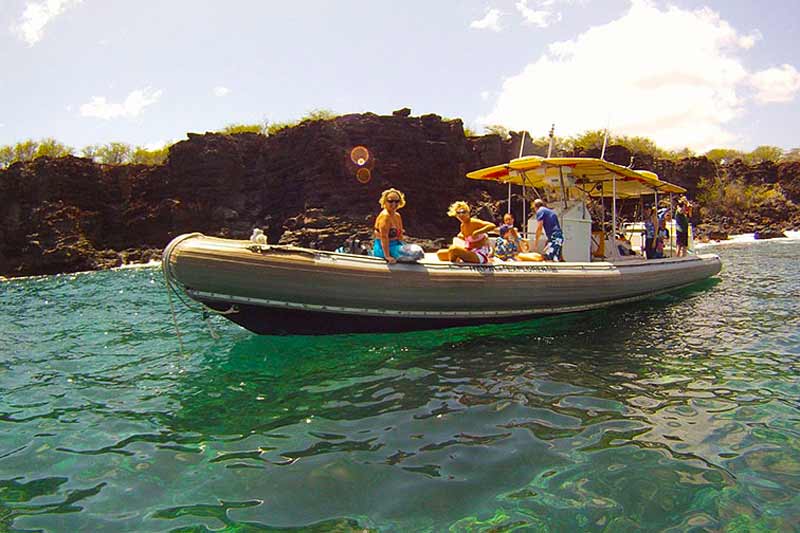 ---
Highlights
Adventurous yet comfortable Explorer Class Raft
Departure from Lahaina Harbor
Explore beautiful beaches and tidepools on 6.5 hour Landing tour
Two snorkel locations on the 4.5 hour Dolphin tour
---
Description
Nine miles across the Au'au channel from West Maui lies the privately-owned island of Lanai. It was once the largest pineapple plantation in the world; now very little pineapple is grown there. The island's economy is centered around the two resort hotels - the Manele Bay Hotel and the Lodge at Ko'ele. Most visitors to the island come over for the day from the island of Maui. The island is very dry and doesn't have the lush beauty found in Maui's rainforests, but Lanai has the longest stretch of coral reef in Hawaii and the beaches on this island are down right deserted. The area around the Manele Bay hotel is particularly beautiful, with uncrowded beaches, fascinating tidepools, great snorkeling, red seacliffs, and lots of sun. But the biggest attraction of Lanai is the large pod of Spinner Dolphins frequently encountered on Lanai's southern coast ... watching these marine mammals in their natural environment will surely be one of your most memorable vacation highlights!
The Lanai Explorer is our most popular excursion to enjoy the snorkeling and scenery of Lanai. This large "explorer class" raft offers the fast adventure of ocean rafting but offers some of the creature comforts of larger boats (like shade, comfortable seating, and on-board marine heads).
---
Packages
---
Lanai Explorer with Landing - 6.5 Hours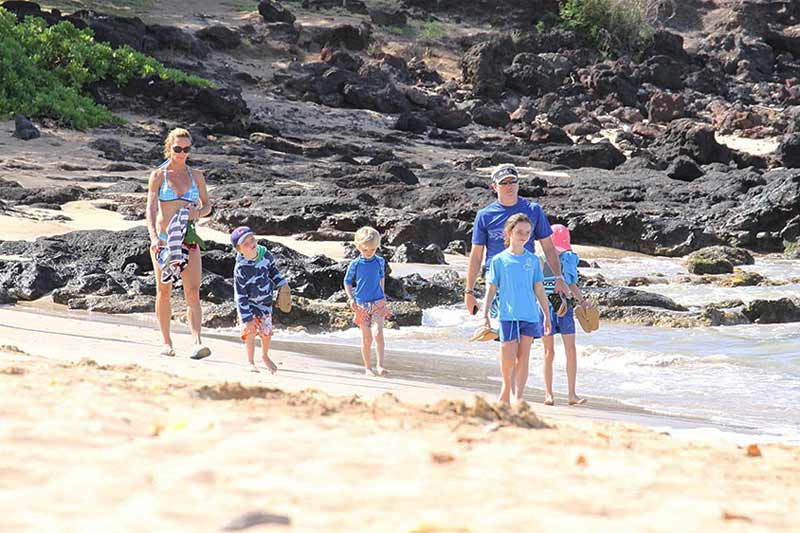 What a great trip! As your raft crosses the Au'au Channel on the way to Lanai the search for dolphins begins. When you arrive at the island of Lanai the captain will select an excellent spot to snorkel from the boat. After snorkeling, the Lanai Explorer lands at Manele Bay Harbor. You get to spend three hours on the island of Lanai, exploring some fabulous isolated beaches that are a 7-10 minute walk away. More great snorkeling is available at the beach, and don't miss the fascinating tide pools found nearby (see the amazing photos above). This 6.5 hour trip is perfect for people who want to go on a snorkel trip to Lanai, but who don't want to spend the entire time on the boat. During the three hours on the island you are on your own and free to go off and explore. Hike the trail to the spectacular Sweetheart Rock overlook. Relax at breathtaking Hulopo'e Beach. You can even walk up to the luxurous Manele Bay Hotel and stroll the grounds or enjoy a cocktail at their poolside bar. The Lanai Explorer with Landing is the single most highly recommended activity by our clients! We had one client who enjoyed this tour so much that the next year they came to Maui they booked this same tour for TWO days in one vacation!
Schedule: Monday, Wednesday, and Friday at 9:30am. 7:00am added during peak travel periods.
Lanai Explorer w/ Lanai Landing Rate (SEA3)
$158.00 per Adult, $118.00 per Child (5-12) (plus 7.167% Hawaii sales/harbor tax and $6.00 per person fuel surcharge)
---
Lanai Explorer Dolphin (no landing) - 4.5 Hours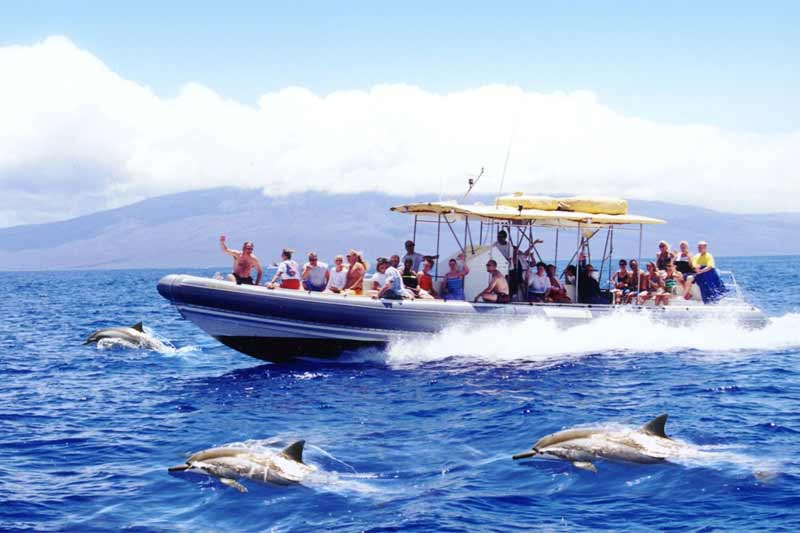 This tour is operated on the same boats that do the Lanai Landing, but with a shorter itinerary. Instead of stopping at Manele Harbor and giving you three hours to explore the island of Lanai, the boat goes to a second snorkel location for an additional hour of snorkeling. The tour includes two snorkel sites from the boat with a total snorkel time of a little over two hours, and dolphin watching … all in a 4.5 hour trip. While the overall tour length is shorter than the landing version, the non-landing tour does have more time on the water and this increases the opportunities for encountering dolphins!
Schedule: Tuesday, Thursday, and Saturday at 7:30am
Lanai Explorer (no landing) Rate (SEA2)
$118.00 per Adult, $83.00 per Child (5-12) (plus 7.167% Hawaii sales/harbor tax and $6.00 per person fuel surcharge)
---
---
Details
Check In: Lahaina Harbor slip #11
Vessel: 50 foot Eplorer-class Super Raft with capacity of 36 passengers.
Gear Provided: Snorkel gear, flotation devices
What to Wear: Wear swimsuits and bring a towel and sunscreen. We also recommend a light jacket.
Reservations: Advanced reservations required and we recommend booking this a month or more before your arrival. This event is "RESERVE NOW PAY LATER"; we need a credit card on file to finalize your reservation but we do not charge you for this reservation until a few days before the beginning of your vacation!
Minimum Notice for Cancellations / Changes: At least 48 hours before the start of the event. All tours go out rain or shine.
Restrictions: No one with neck or back injuries or pregnant women allowed. Minimum age for these tours is 5.
---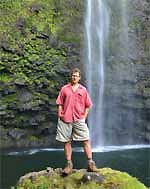 Kevin's Activity Tips:
A Lanai dolphin adventure is a must-do on my list of Maui activities. If you have time for two snorkel boat tours, go to Molokini and Lanai. If you only have time for one, go to Lanai!!! The reef there is just as good as Molokini (better in places) with lots of fish and turtles ... and there are a lot less people.
Lanai trips are definitely a good way to go for people staying in the West Maui area (Kapalua, Kahana, Honokowai, Kaanapali, and Lahaina). Lanai trips leave from Lahaina, so much less driving is involved than most of the Molokini boats.
While none of the Lanai trips GUARANTEE dolphin sightings, it is unusual to not encounter dolphins along the south coast of Lanai. Your chances of seeing dolphins is in the 75-80% range on any given day. Lots of people ask if they can swim with the dolphins. The honest answer is "probably not." Snorkel tours have to be very cautious in approaching dolphins ... they are protected marine mammals. Once in a while a boat will stop to snorkel and the dolphins will approach out of curiosity. If this happens, enjoy the moment ... you are truly blessed. Don't plan on it happening. You will likely see plenty of activity just watching them from the boat ... the large pod of spinner dolphins at Lanai is very active. You will likely witness acrobatic behavior and dolphins will probably swim on both sides of the bow of the boat just a few feet away from you.
The Lanai Explorer is our most popular Lanai tour .... it offers the adventure of rafting ... but more comfort than most rafts as there are real seats on board the vessel (you don't have to sit on the innertube sides of the raft unless you want to). The Lanai Explorer also offers quite a bit of shade and has a marine head on board when nature calls. We absolutely LOVE the Lanai Explorer with Landing tour. Grab your camera and hit the trails that go out to the point beyond Hulopo'e Beach ... see the colorful tidepools and sea arch, scrample down a wooden ladder to the hidden beach that looks out to Sweetheart Rock (the Hawaiian placename is Pu'u Pehe), and hike up to the overlook. You can even walk up to the Manele Bay Hotel ... the place Bill Gates rented out entirely when he got married here on Lanai. This tour is doable for the majority of our clients ... but not all. Keep in mind that there is a walk of about 5-7 minutes each way to and from the beach and the South Shore of Lanai is often quite hot.
The non-landing version of the Lanai Explorer is a great choice for people who have been on-shore at Lanai before ... and want to spend more time out on the ocean around the island.
If you're looking for EVEN MORE adventure taround Lanai, check out Ocean Riders Rafting.