Makai Adventures Bottom Fishing
Seasonal: April through November
The Makai Adventures Bottom Fishing is currently unavailable for the foreseeable future due to the damage Lahaina Harbor sustained during the 8/8/2023 fire. For the latest on West Maui's recovery and the availability of tours, see our
Lahaina Fire Recovery
page.
---
Makai Adventures Bottom Fishing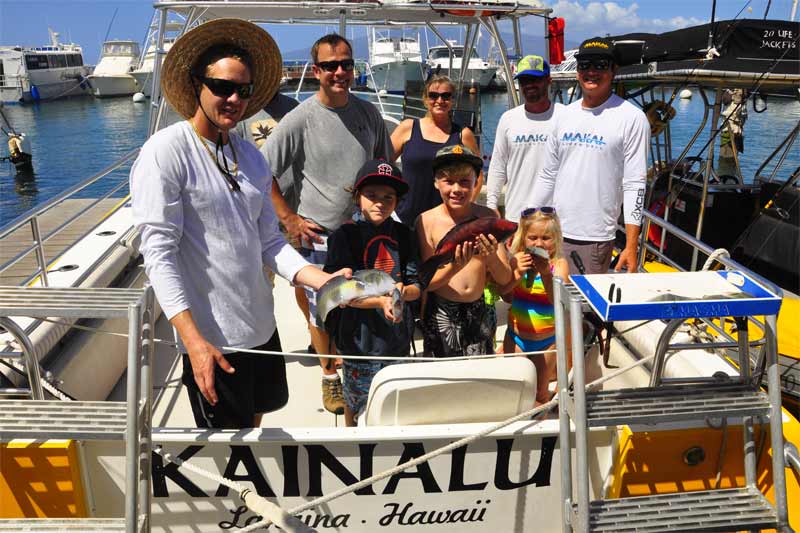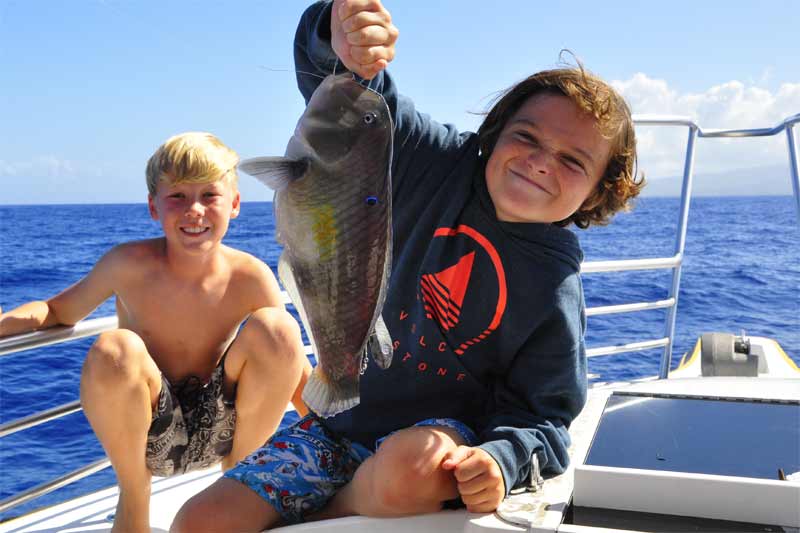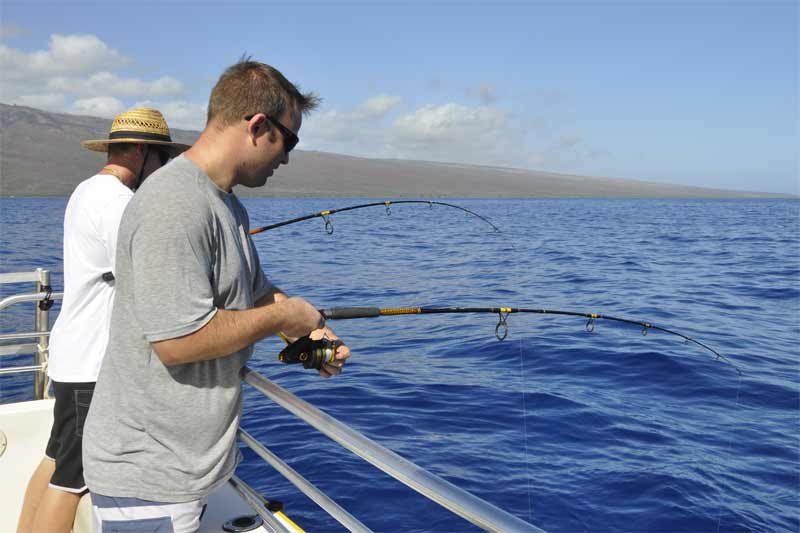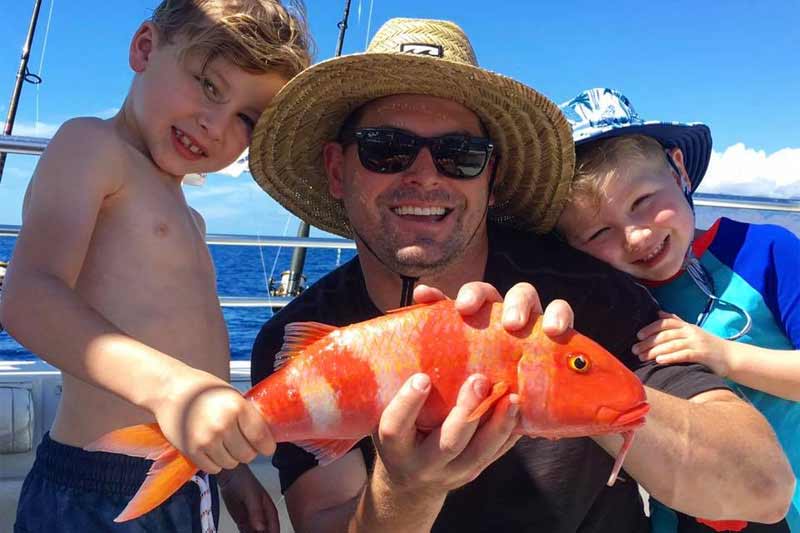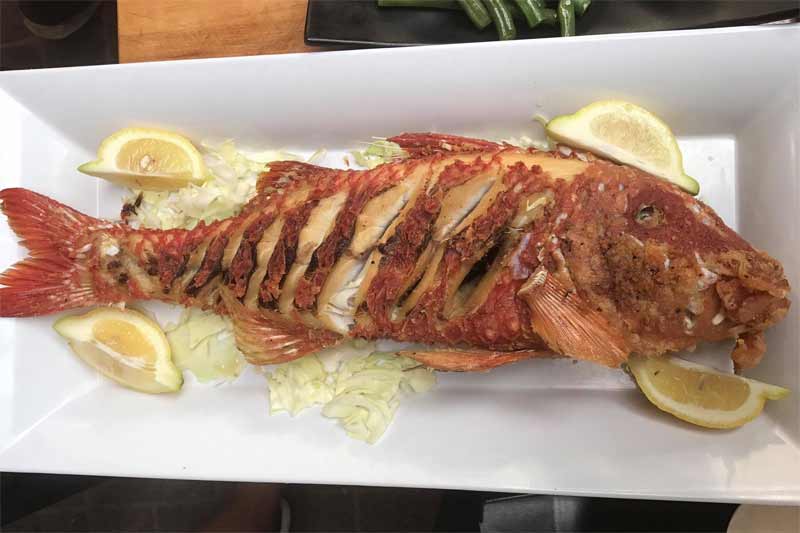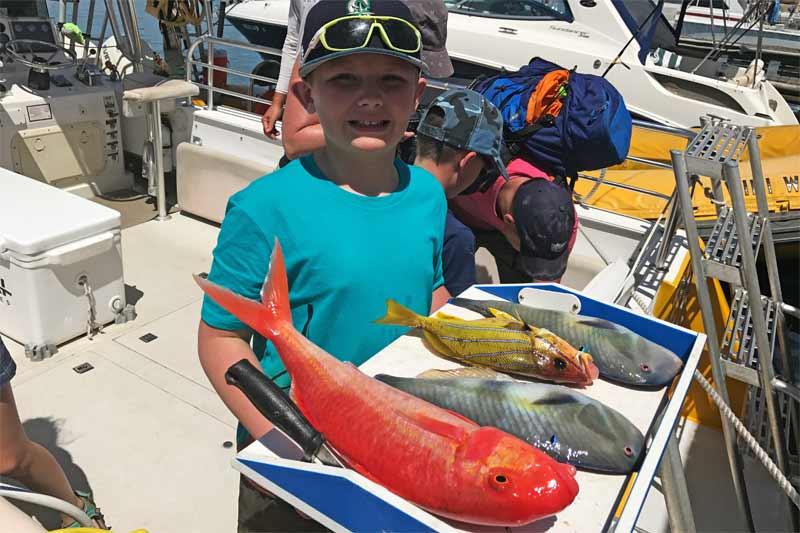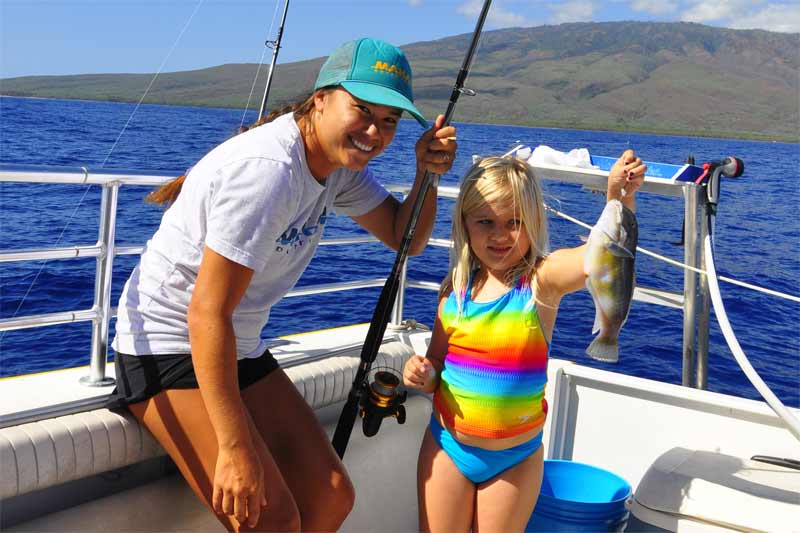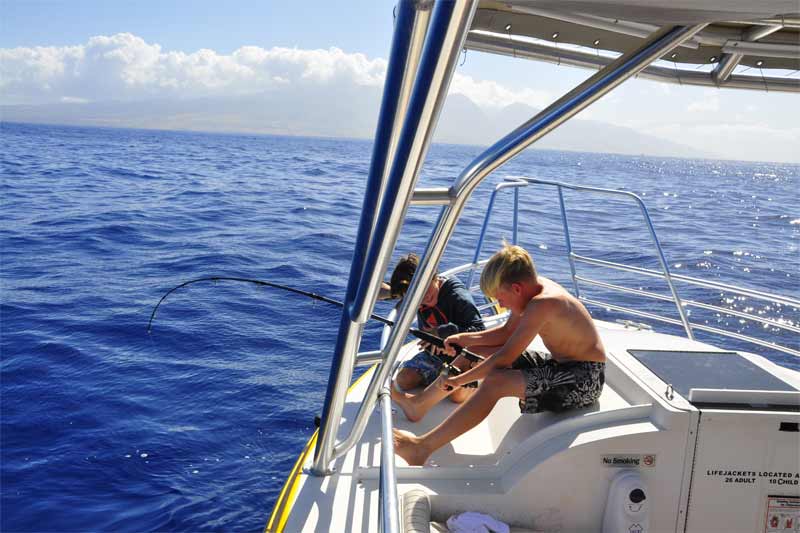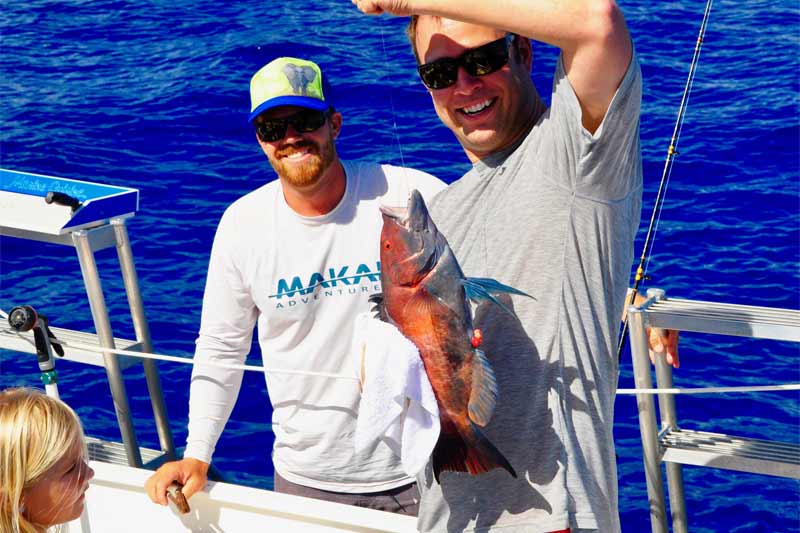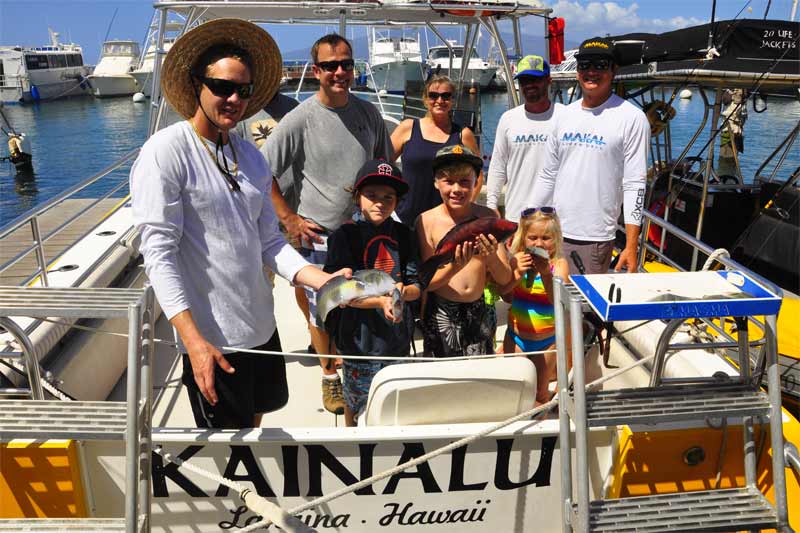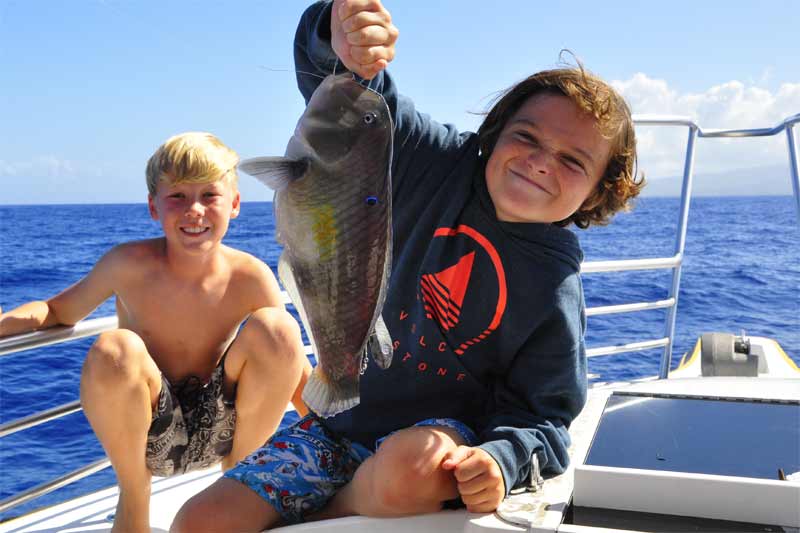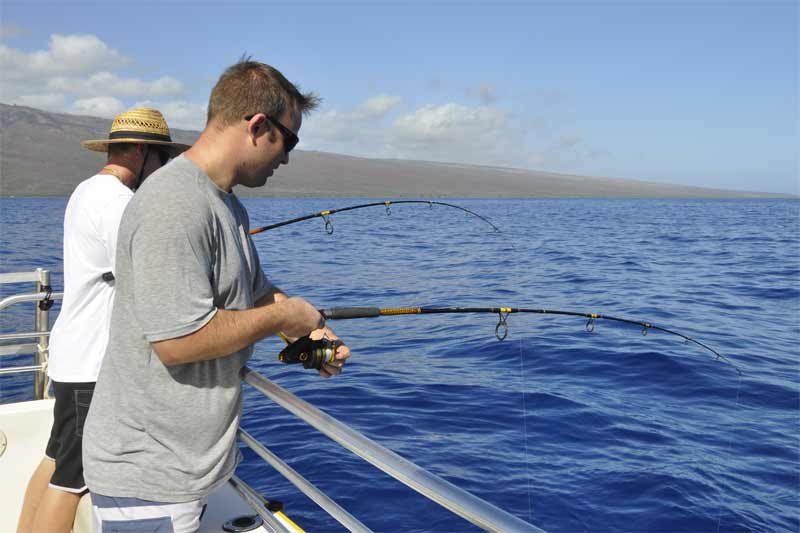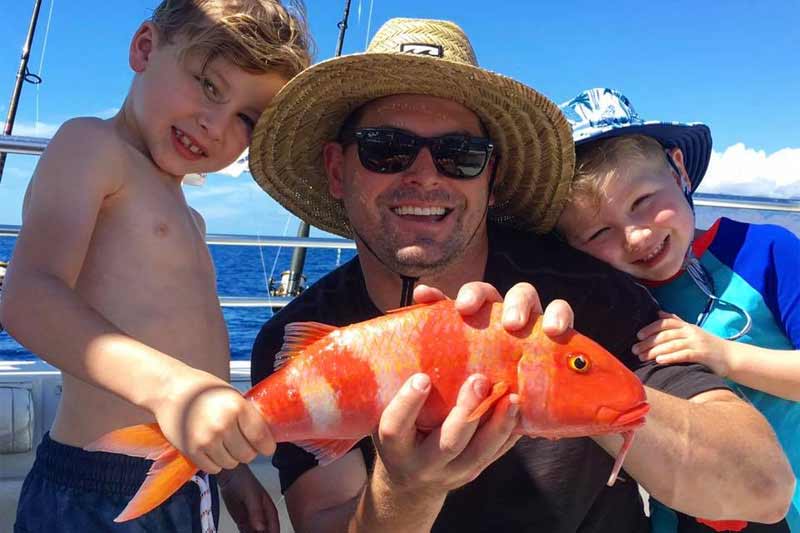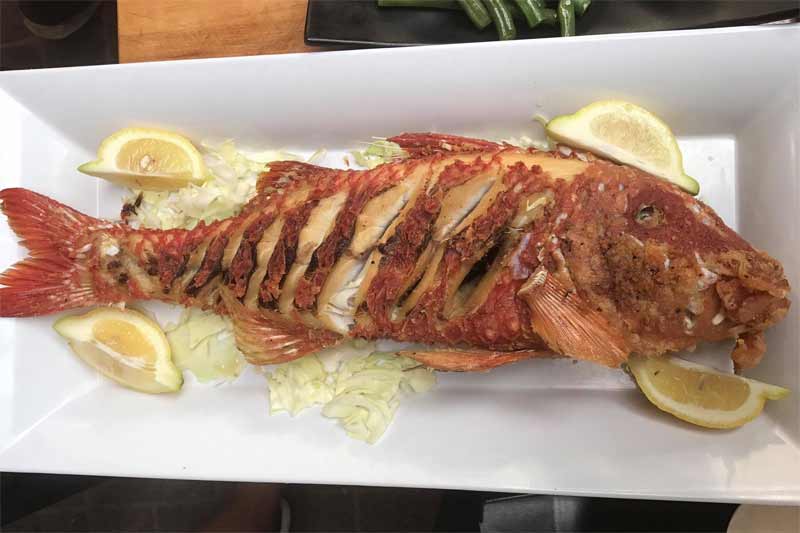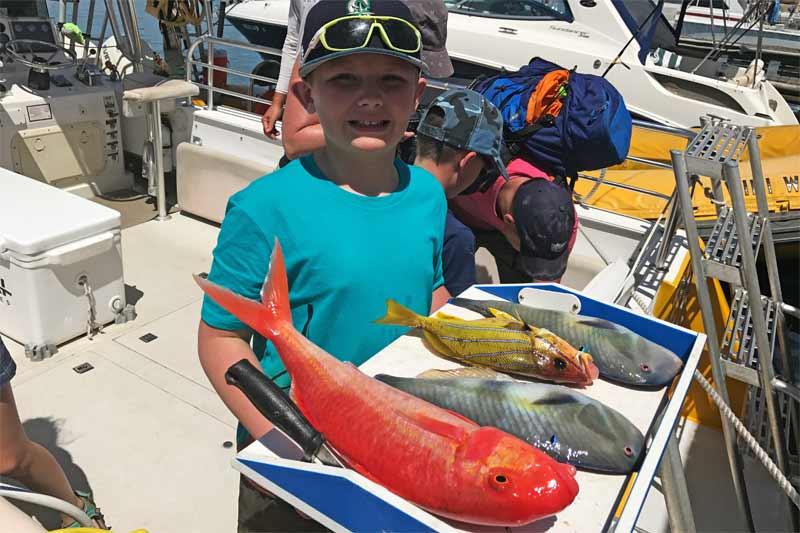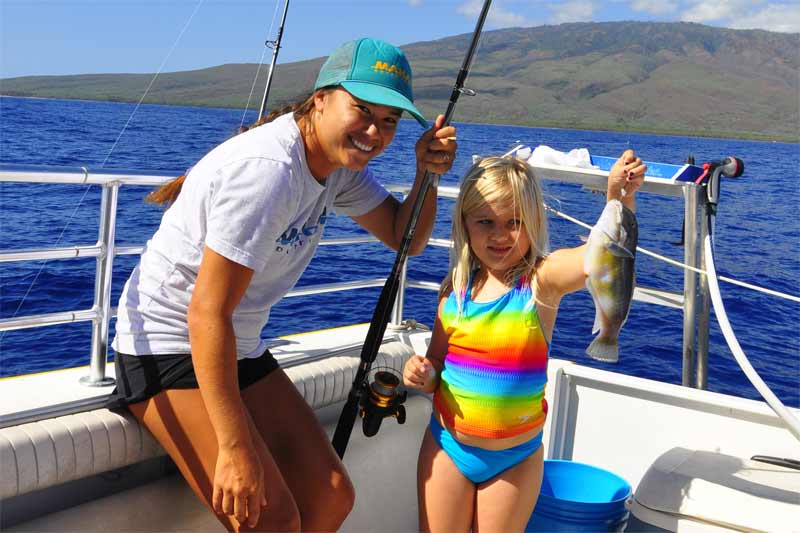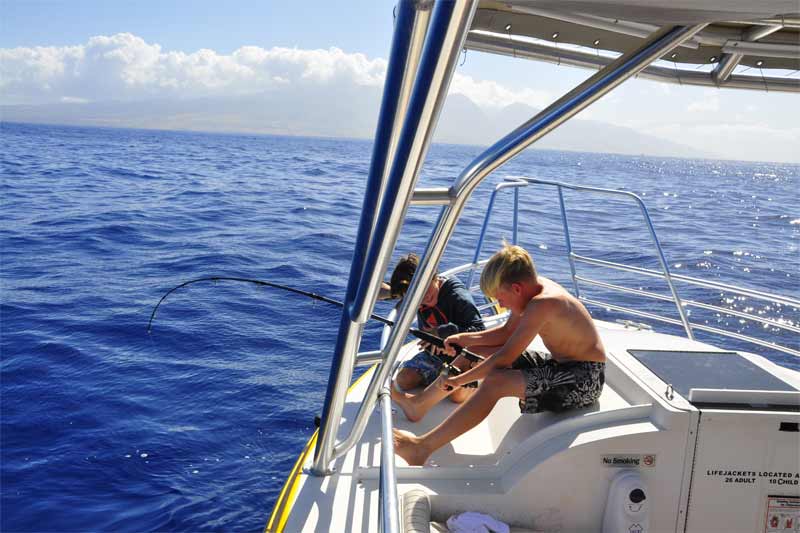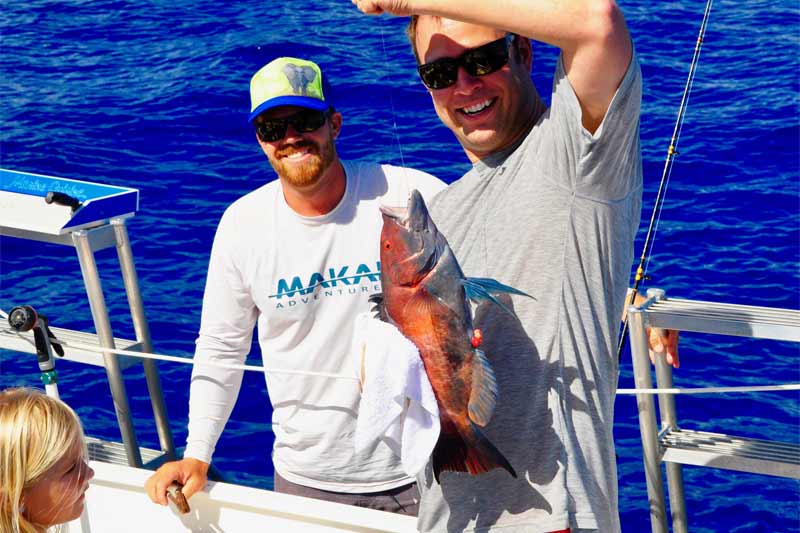 ---
Highlights
Available April through November
Bottom FIshing is often VERY productive!
Lots of fishing action to keep kids engaged
Keep as much fish as you can eat!
---
Description
Makai Adventures Bottom Fishing is the perfect adventure for the experienced fisherman or for anyone looking to land their first fish. Lahaina has the calmest waters in Maui, which makes it a great place to catch Hawaii's most delicious fish. There will be plenty of action in the crystal clear waters with depth of 75-200 feet. With Makai Adventures, you will fish with locals! Captain Keao was born and raised on the islands and fishing these waters his whole life. The types of fish you may catch are grey snapper (Uku) 1-30 Lbs, giant trevally (Papio) 1-100+ Lbs, peacock razor fish (Nabeta) 1-4 Lbs, grouper 1-100+ Lbs, barracuda 3-40 Lbs, and goat fish (Moano/Kumu) 2-8 Lbs. Although some pelagic fish are seasonal, bottom fish are in Hawaiian waters year around. Their fishing boat, Kainalu, has a complete walk around deck, a bathroom and freshwater shower on board. Small groups will give you a very personalized experience as well as the best chance of catching fish. Makai Adventures will clean your catch and let you take it home. These tours are fun for the whole family!
---
Cost
Makai Adventures Bottom Fishing Rate (MAKAI7)
$289.56 per Adult, $245.00 per Child (4-12), $111.35 per Ride Along (Hawaii sales tax included)
---
---
Details
Schedule: Wednesday, Friday, and Saturday at 7am or 12pm from April through November
Check In: Lahaina Harbor slip #16
Group Size: 8 anglers max, and ride alongs welcome.
Gear Provided: All fishing gear (Penn reels) and instruction. No fishing license is required.
What to Bring / Wear: Dress comforatbly and bring a light jacket and sunscreen.
Restrictions: Minimum age is 4.
Reservations: Advanced reservations required and we recommend booking this prior to arrival on Maui. This event is "RESERVE NOW PAY LATER"; we need a credit card on file to finalize your reservation but we do not charge you for this reservation until a few days before the beginning of your vacation!
Minimum Notice for Cancellations / Changes: At least 48 hours before the start of the event. Tours go out rain or shine.
---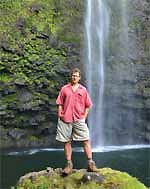 Kevin's Activity Tips:
Occasionally we have clients ask "What are the chances that I will catch fish?" Of course that's impossible to answer with a certain percentage, but when we have people ask this question we recommend they consider BOTTOM FISHING instead of SPORTFISHING. With sportfishing charters, many factors come into play that make some days excellent and other days average … surface conditions, tides, schooling patterns. There's also the human element. How lucky are you??? How's your karma??? Have you been nice to people lately? It's rare, but occasionally a boat gets skunked … there are no guarantees. Just remember … the sport is called "fishing" and not "catching."
But with BOTTOM FISHING it's a little different. A lot of the surface factors are removed. Bottom fish seem to be hungry all the time, and some experienced Maui shore fisherman even like to bottom fish AT NIGHT! Bottom fishing tends to be a LOT more productive than Sportfishing. You aren't likely to catch "the big one" while bottom fishing though. Bottom fish species tend to be smaller, but many of them are delicious and there is a VERY good chance you'll be taking home fish for dinner. It is REALLY RARE for a bottom fishing trip to get skunked!
Bottom fishing makes for a great family event ... instead of trolling around for hours waiting for something to happen, the lines are constantly being dropped to the bottom, then reeled back in, and very often with a fish on the end! This action keeps kids engaged and interested. Makai Adventures also has a ride along rate for members of your party who just want to watch (and take pictures). HINT: Hold the fish out in front of you at arm's length. It makes the fish looks REALLY BIG! haha