Privacy Policy
---
---
Adventureinhawaii.com is committed to protecting your privacy. We only use the information we collect about you to process tour reservations that you place with us, and to provide excellent customer service during your vacation to Hawaii.
Adventureinhawaii.com does not sell, trade, or rent your personal information to others ... period. Your information will only be shared with tour operators who need to know this information so they can provide you with the experience that you have requested.
We ask about itinerary details for your trip to Hawaii ... when it starts ... when it ends ... which islands you are visiting ... where you are staying ... and a contact cell phone. We provide the highest level of customer service in the Hawaii tour industry and if something comes up during your vacation and we need to contact you, this information is vital to ensuring we are able to provide the highest level of service to you. We also inspect itineraries carefully to ensure that the tours that you order match the dates that you are going to be on each island. We do this because we want everything to go right during your vacation.
We do not use "cookies" to collect or store any information about visitors or customers or their shopping habits. "Cookies" are small pieces of information that are stored by your browser on your computer's hard drive. We only use cookies to pass along data from one page to another on our website to facilitate the reservations process. We do this to make the order process as simple as possible for you, and to reduce the amount of typing you need to do when you place orders for multiple events. See our Cookie Policy page for more details.
We use a Secure Server for collecting credit card and billing information. The secure server layer (SSL) encrypts (scrambles) all of the information you enter before it is transmitted over the Internet and sent to us.
By using our web site, you consent to the collection and use of your information by Hawaii Travel and Tours (which operates Adventuremaui.com and Adventureinhawaii.com) ... we will only use this information to fulfill the reservation requests that you have made through our agency.
---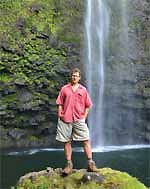 Kevin's Activity Tips:
You will notice that our privacy policy is written in plain English and not lawyerese. That's a foreign language we aren't fond of here at Adventure In Hawaii. We want things to be plain and simple to understand ... and clear. When we say we don't sell your personal information to other organizations, we mean it. You will never end up on some email list or bulk mailing or phone solicitation database because you ordered a tour through our agency.
The only time we ever share any information that you give us with anyone else is strictly on a NEED TO KNOW basis to fascilitate the tour that you have reserved. Let me give you an example. You order a Pearl Harbor tour with hotel pickup from us. You gave us the name of your hotel and you gave us your cell phone number. We are going to give the tour operator the name of your hotel so they know where to pick you up. And we are going to give them your cell phone number so that the driver is able to call you in case he / she can't find you when the pickup time arrives, or to notify you if they are running a bit behind. That's needed information that we pass along to the tour operator.
Let me give you an example of information that we will NOT pass along. We will NOT give out your mailing address or phone number to a timeshare marketer ... this is big business here in Hawaii but it is NOT OUR BUSINESS. Selling your information is not part of our business model in any way.