Gift Certificates
---
---
Give the gift of fun! Adventure in Hawaii gift certificates make a great wedding gift for couples who are planning a honeymoon in Hawaii! They are also popular for Christmas gifts or for graduation presents or even as an office reward for a job well done! We arrange tours and activities statewide and they can be used for every activity that we reserve on Kauai, Oahu, Maui , and the Big Island.
You may enter any dollar amount for the certificate … if the tour that the recipient selects exceeds the amount of the certificate, we will charge the recipients for the additional cost of the tour.

Due to limited availability for many tours, we do suggest that you present the certificate far enough in advance so that the recipients can reserve the tour prior to their arrival in Hawaii … all tours are subject to availability.
When you order a gift certificate, your credit card is charged at the time of order and we send you an email that you can print out and give to the recipients. This will include necessary instructions to redeem the gift certificate … when the recipients are ready to use their certificate they can either call or email us. IT IS NOT NECESSARY for the recipients to come to our office to redeem the certificate. It can all be done over the phone.
---
Gift Certificate Terms
Gift certificates are good for five years from the date of puchase.
Gift certificates may be applied to any activity featured on Adventuremaui.com and Adventureinhawaii.com.
The balance of a partially-used gift certificate may be applied to a second tour or activity, but the remaining balance of a partially-used gift certificate cannot be refunded or redeemed for cash.
Gift certificates that have been entirely unused may be canceled and refunded. This refund request must be made by the person who purchased the gift certificate and must be refunded on the credit card used to purchase the certificate. Because of the high cost of processing credit card charges and refunds, a canceled gift certificate will be refunded at a rate of 90% of the purchase price.
---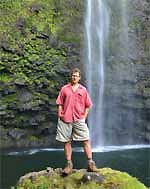 Kevin's Activity Tips:
Our gift certificates are a great way to spread some joy and happiness ... everybody loves doing fun things on vacation but some people are hesitant to spend this kind of money on themselves. They need nice people like you to pay for it! haha
One question we do sometimes get is "Can I buy a gift certificate for one specific activity / tour / event for two people?" The answer to that question is "no, that isn't a good idea" for two reasons. For one thing, some people have a different idea of "fun" than another person ... doing the highest longest zipline course in the world might sound fun to you but it might be terrifying for someone else. Maybe they just ACT brave there in the office! It is really best for the people who are actually doing the tours to make an informed decision on which is the right tour for them. Sometimes there are details of participation that would prevent the recipient from doing the tour. Many activities have body weight restrictions, and some tours have medical restrictions. A gift certificate purchased for a certain amount allows the recipient to order whatever tour(s) are best for them.
The other reason we don't do gift certificates for specific events is because our gift certificates are good for 5 years and we don't have any control over the rate that a particular tour operator charges for their activity in the distant future. We have no way of locking in current tour rates for events that might not happen for 5 years. And by the way, it is a legal requirement for gift certificates to be valid for that length of time. If you purchase a gift certificate someplace and it's only valid for a year, you should challenge them if they deny accepting it at the time you redeem it. Because of the Credit Card Accountability Responsibility and Disclosure Act (CARD), gift cards cannot expire for five years. This rule is a federal law passed in 2009 that applies to every state in the country! You had no idea you were going to learn something when you started reading this, did you??? ;-)