SUPPORT LAHAINA:

We are donating 20% of our profit from ALL FUTURE 2023 MAUI TOUR BOOKINGS to Lahaina fire relief efforts!!! See our Lahaina Fire Recovery page.
Adventure In Hawaii.com
A free
information and reservations

service for Hawaii tours and Activities

We are a family-owned business based here in Hawaii and all of our staff are long-time Hawaii residents and salaried travel professionals. We have been assisting vistors to Hawaii FOR OVER 20 YEARS! Our only goal is to help you have a great vacation by filling in the details of your itinerary. You've got your airfare lined up ... your hotel is booked ... so what are you going to do for fun while you are in Hawaii??? We'll help you answer that question. And whatever you do, make these plans NOW rather than later! We do our best work when you plan events long before your arrival. MANY TOURS SELL OUT WEEKS IN ADVANCE DURING PEAK SEASON!!! For more about us, see our ABOUT US page!

YES! We have Gift Certificates!
Great idea for HONEYMOONERS coming to Hawaii ... Christmas gifts ... business rewards travel! Valid for 5 YEARS from date of purchase!
Adventure In Hawaii.com
Let us help you make your vacation better ... and a LOT more fun. And memorable.
See it all ... do it all ... plan it now!
We Are Your FREE
PERSONAL CONCIERGE

service

We will work for YOU to help plan the perfect vacation full of fun, adventure, and memories.
Hundreds

of Tour Choices

We offer tours and activities on all the major islands of Hawaii -- Kauai, Oahu, Maui, and the Big Island.
Over 400,000

Clients

We have assisted nearly a half million clients over 20 years in the Hawaii tourism industry. We are good at what we do.
Dedicated

Support

You can call us, email us, text us. We are here to help you!
---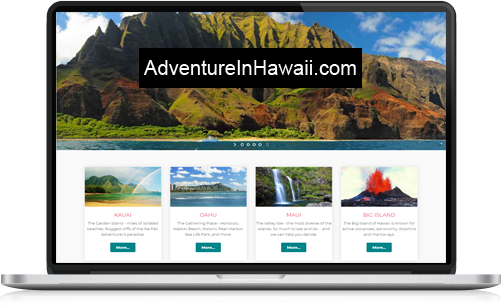 Get started

with AdventureInHawaii.com

Ready to start your Adventure in Hawaii???
1

Browse our Website

2

Request a reservation for a particular tour

3

Fill out a client profile

4

Add additional tours or activities to fill your itinerary