Na Pali Dinner Sail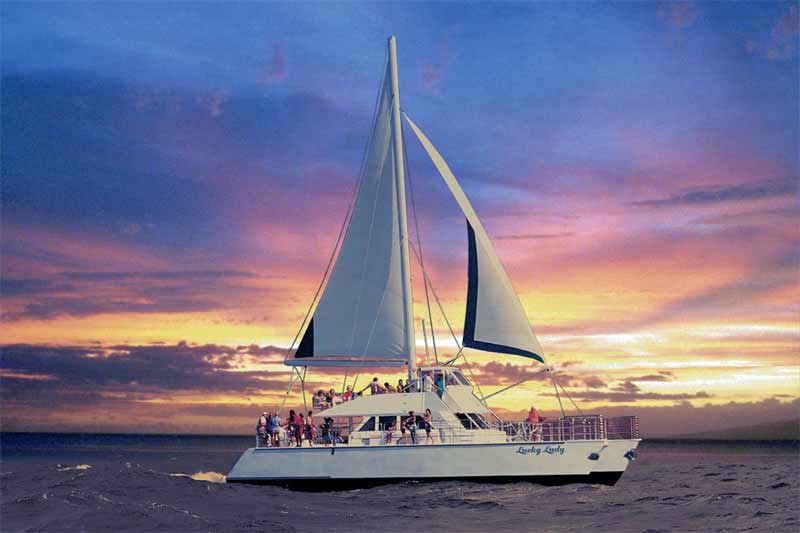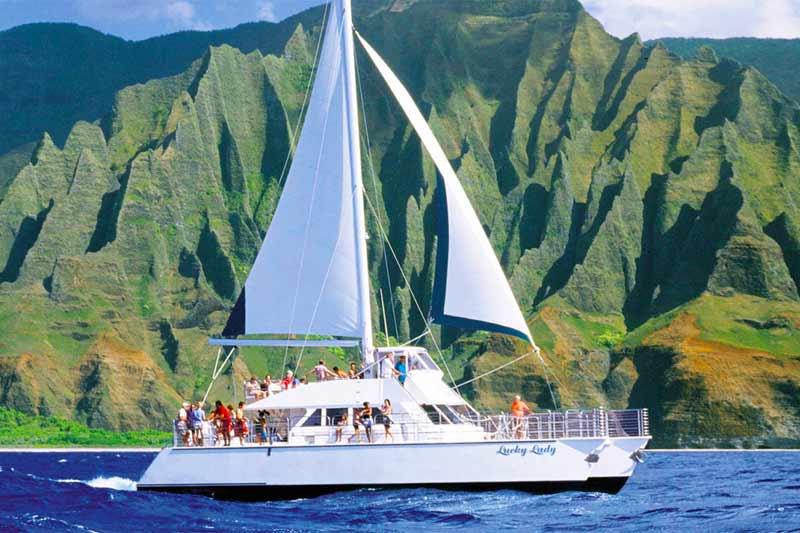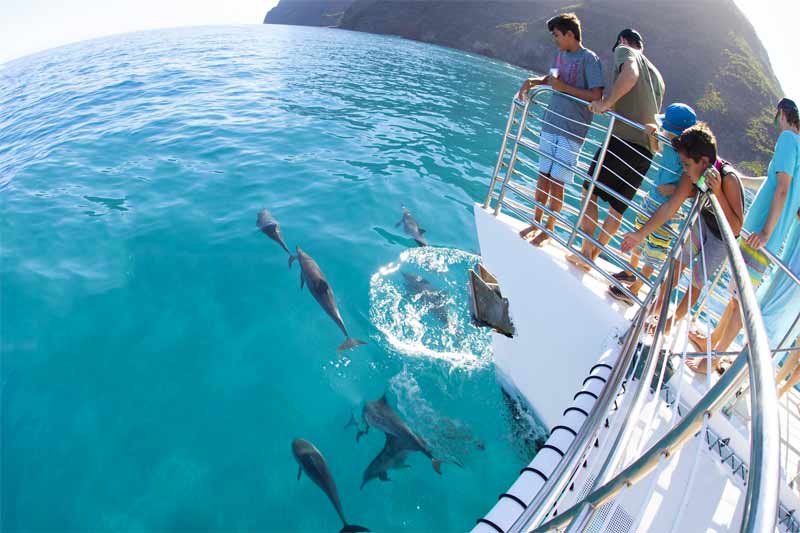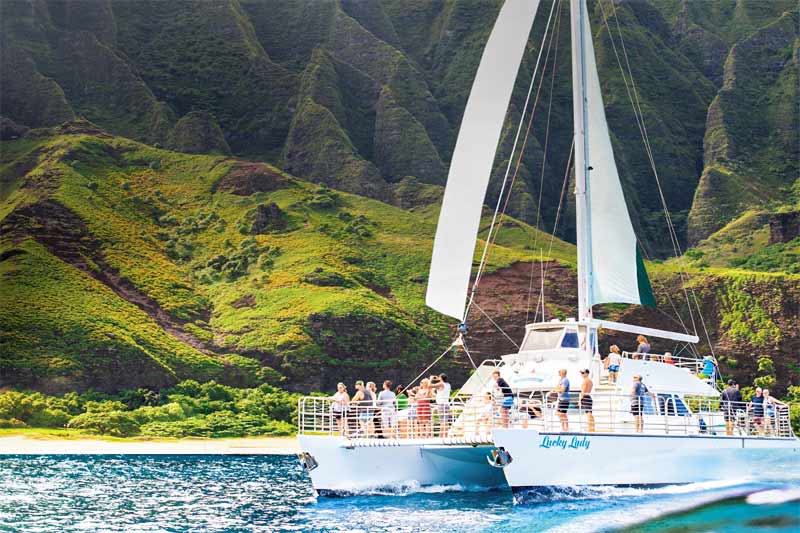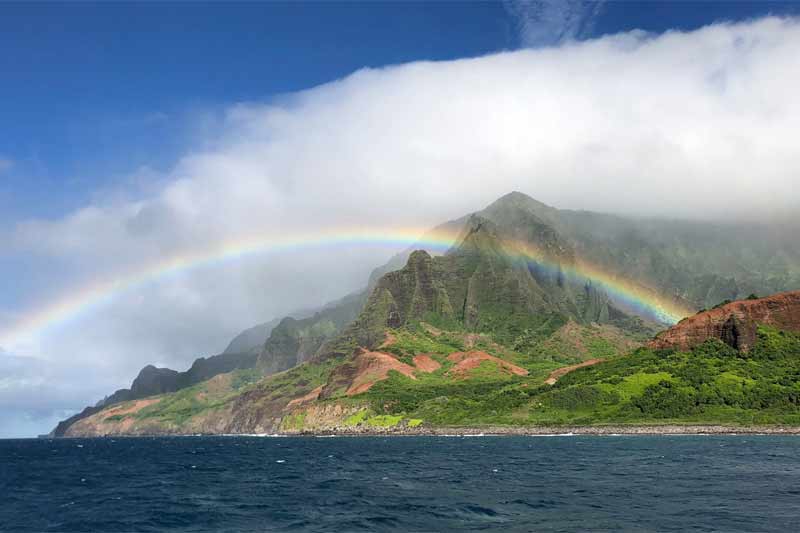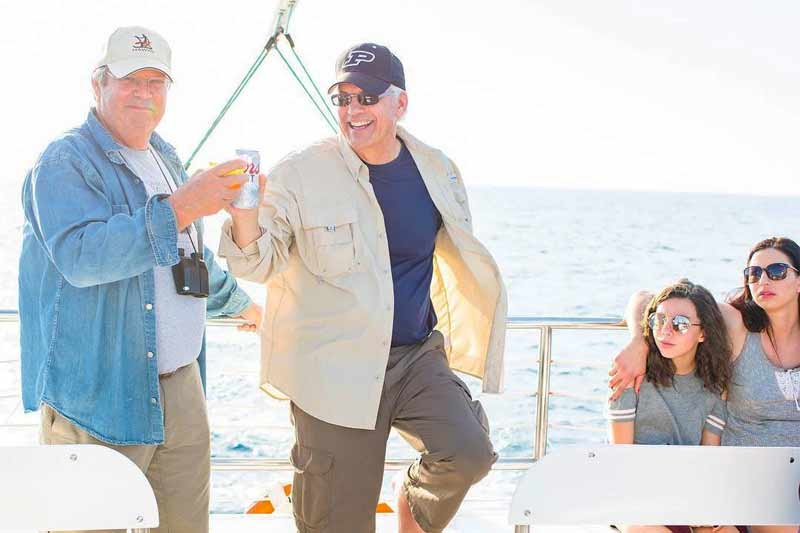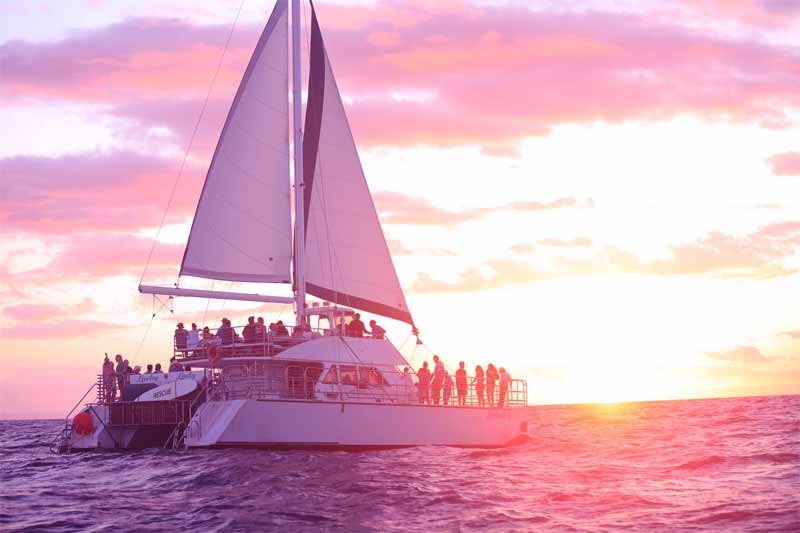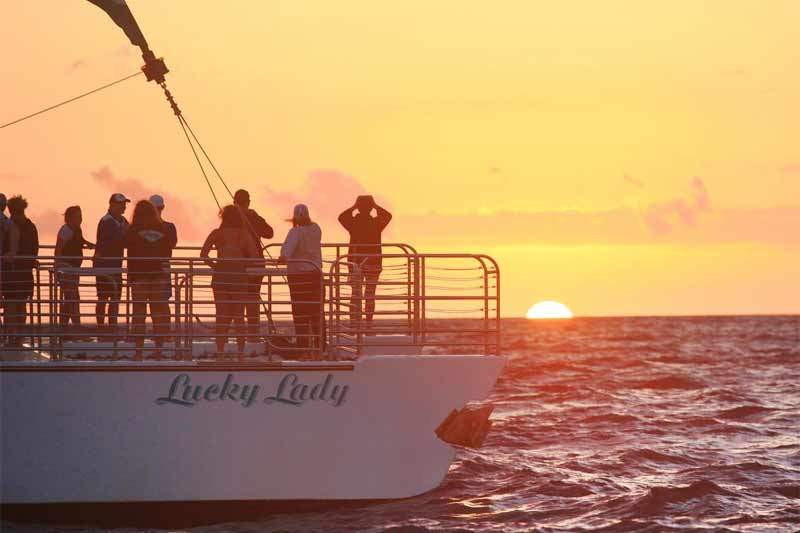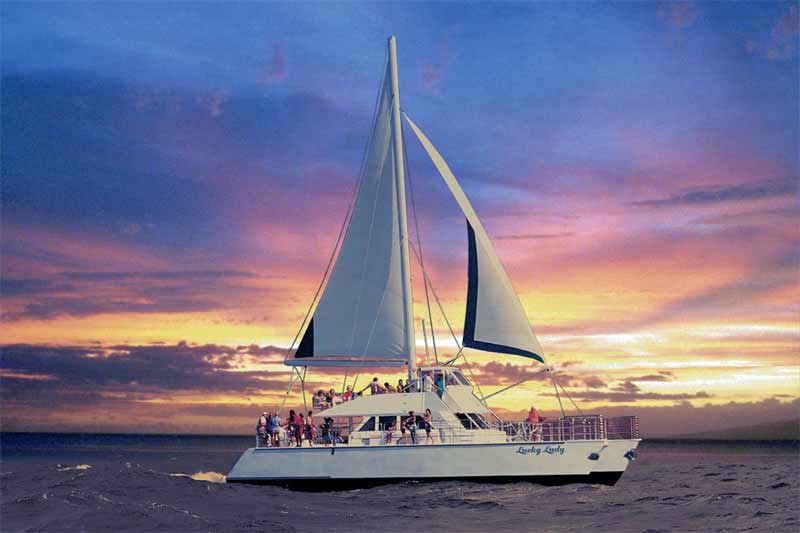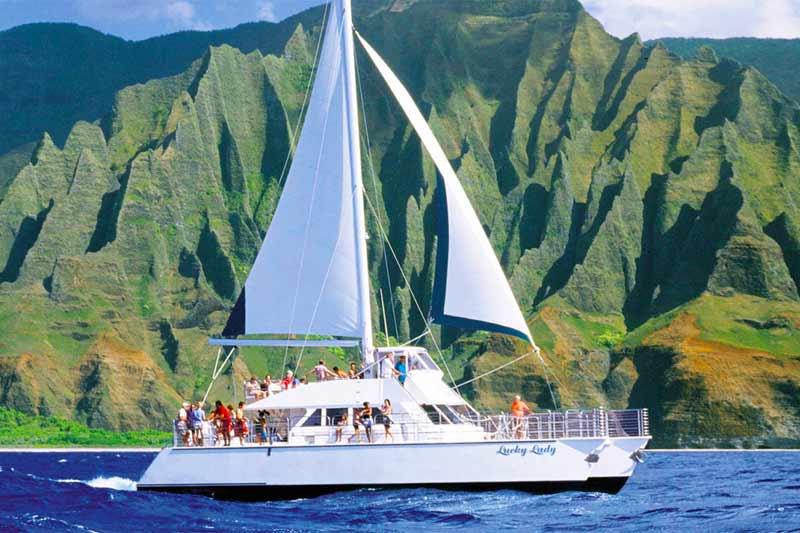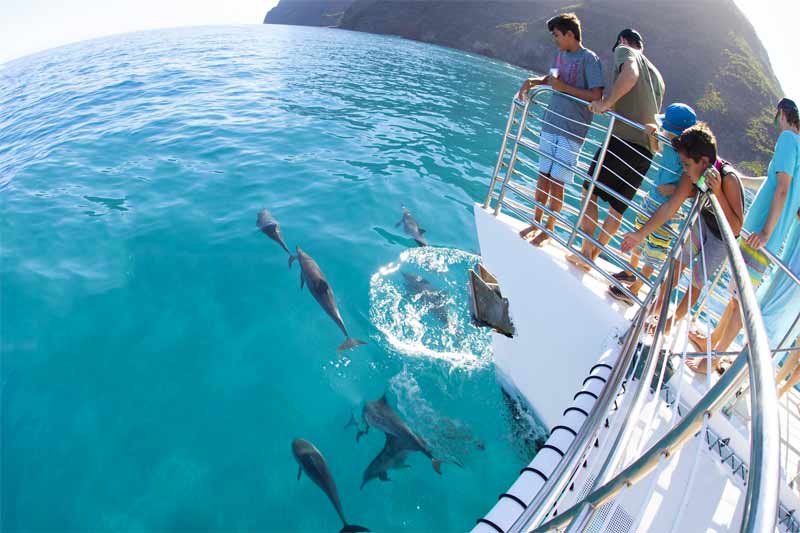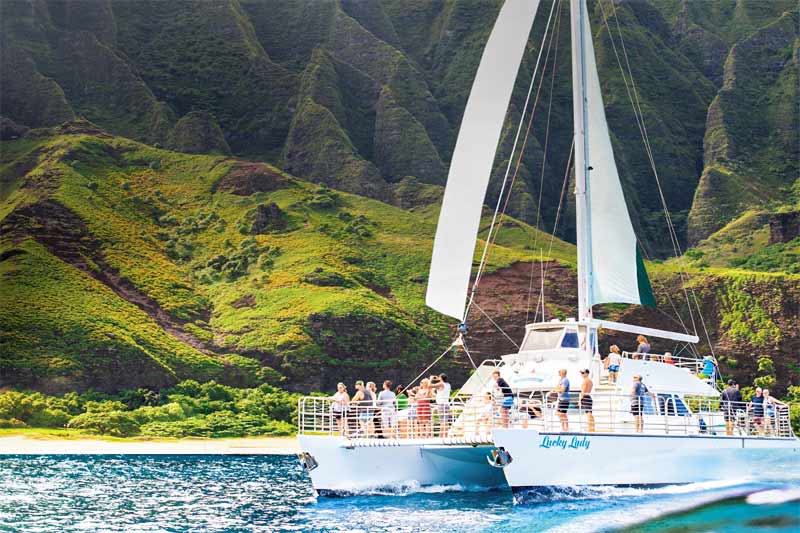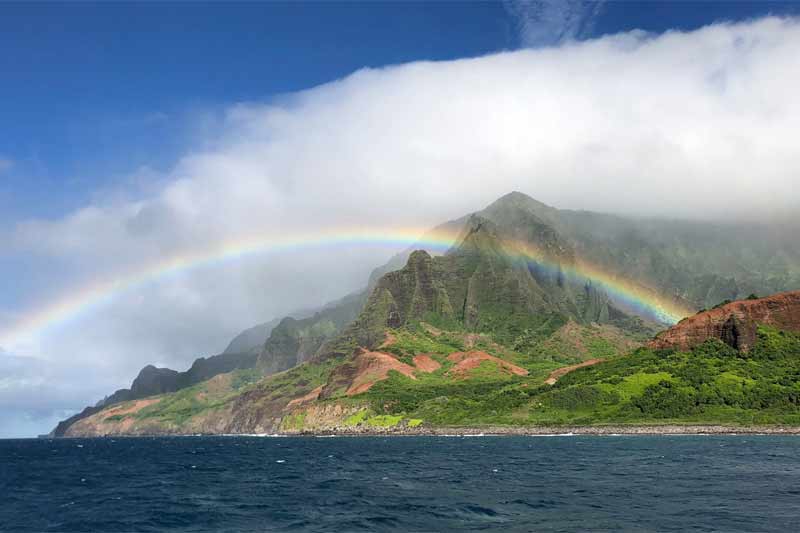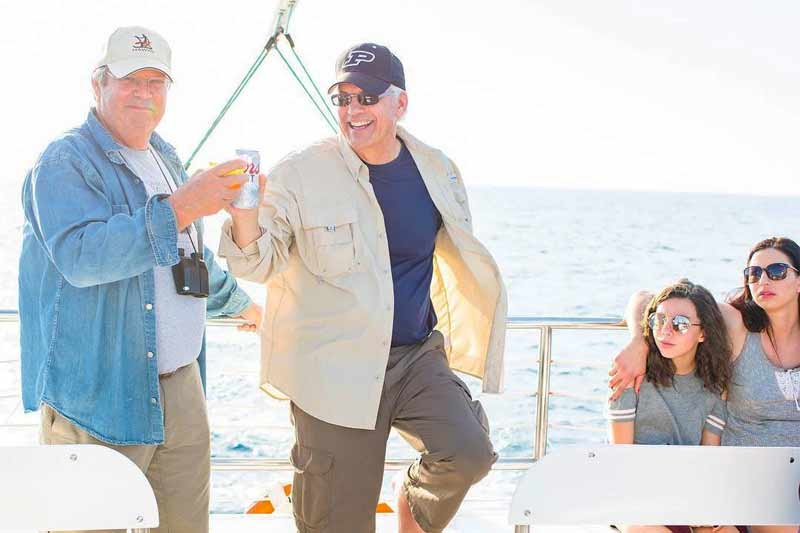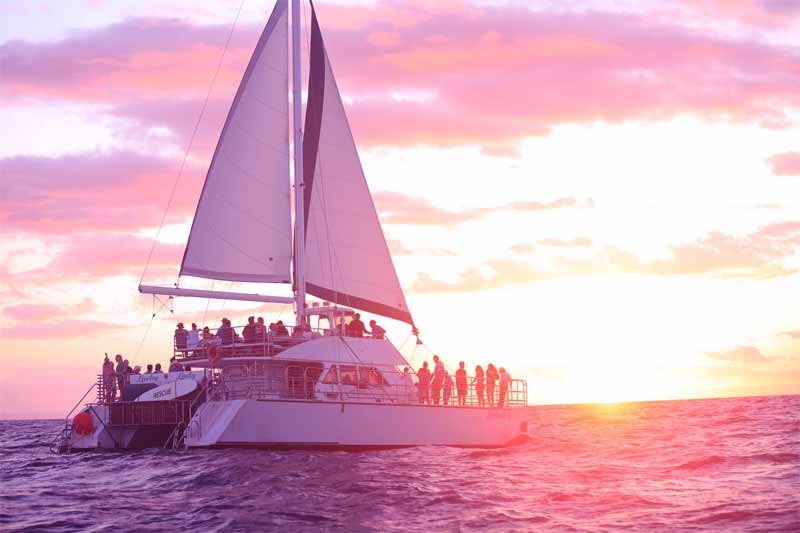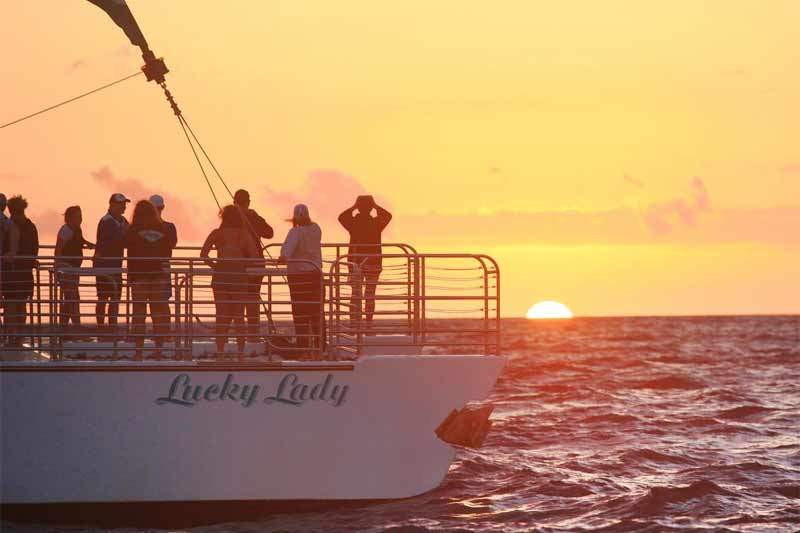 ---
Highlights
Sightseeing along the Na Pali Coast
Dinner Out on the Ocean
Blue Water Ocean Sailing
Sunset Views Off Port Allen Coast
---
Description
On the Lucky Lady's NaPali Dinner Sail, travel along Kauai's spectacular coastline when the afternoon light adds a special magic which creates amazing photographic opportunities. Na Pali means "the cliffs", and it is an amazing sight from the sea. Along this remote wilderness, gaze upon 3,500 foot heights, lush valleys, cascading waterfalls, sea caves and pristine beaches. The experienced, US Coast Guard Licensed Captain will entertain you on this journey with history and legends of Kauai and marine life ecology. Their friendly attentive crew will serve you refreshments and keep a watchful eye out for your comfort, safety and enjoyment. After the safety briefing, you will start off with a variety of appetizers (pretzels, cheeses, salami and crackers) to snack on as you get underway for an adventure offshore. Encounter pods of playful dolphins playfully skimming the waters at the bows and curious sea turtles.
Enjoy prime viewing from the bows to stern with seating down the main deck, on the upper observation deck and shaded cushioned seating in the lower protected cabin area. The Lucky Lady Catamaran is equipped with two restrooms, fresh water showers, water slide and swim platform. During Summer season (April 1 through Spetmeber 8th) the tour is 5 hours in length and includes one hour for snorkeling on most dates. (They operate their 4 hour without snorkeling on Tuesday and Saturday during summer). The Captain will pick a suitable site for a swim and snorkel stop. You are given expert instructions as you are outfitted with quality snorkel gear and safety swim vests. Feel free to dive right in or take the convenient stairs into the water. A zip down the water slide is great fun for all ages and the swim platform an excellent resting or cooling off. After you experience the thrill of snorkeling, indulge in the romance of a Hawaiian sunset cruise. During the Winter season (September 9th to March 31st) the tour is 4 hours long and is sightseeing only with no snorkeling or in-water activities.
The dinner menu includes your choice of teriyaki chicken, pulled pork, or a tofu salad. Soft drinks and water are offered throughout the tour. Domestic and local brewed beers, wines, and freshly mixed Mai Tai's are included after the watersports for adults over 21 years of age (don't forget to bring along your I.D.)
---
Cost
4 Hour Na Pali Sightseeing Dinner Sail Rate (KST7)
$185.00 per Adult, $165.00 per Child (ages 3-12) (plus 8.112% Hawaii sales/harbor tax)
September 9th through March 31st and on Tuesday and Saturday evenings during the Summer Season
---
5 Hour Na Pali Dinner Sail with Snorkeling Rate (KST6)
$195.00 per Adult, $175.00 per Child (ages 3-12) (plus 8.112% Hawaii sales/harbor tax)
April 1st through September 8th on Sunday, Monday, Wednesday, Thursday, and Friday evenings
---
---
Details
Schedule: Daily ... check in at 1:15pm
Included in the Tour: Pupu's (appetizers) and 3 course hot dinner, soft drinks, water, beer, wine, and Mai Tai (bring ID).
Tour length: 4 hours during Winter Season, and on Tuesday and Saturday in the Summer Season. 5 hours when snorkeling is included during the Summer Season on Sunday, Monday, Wednesday, Thursday and Friday. During Summer Season on Tuesday and Saturday the cruise is 4 hours long and does not include snorkeling.
Vessel: Custom Built 60 foot Sailing Catamaran
Capacity: 49
Restrictions: Minimum age is 3. No pregnant women, and no one with neck or back injuries or serious health concerns permitted on the tour.
What to Bring and Wear: Wear swimsuits and bring a towel and sunscreen.
Billing: The tour operator will charge your credit card for this tour when your reservation is confirmed.
Minimum Notice for Cancellation / Changes: Cancellations must be made at least 48 hours before the start of the event.
---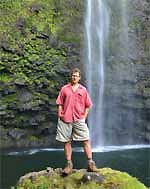 Kevin's Activity Tips:
The Na Pali coast is arguably the most beautiful stretch of ocean cliffs in the world, and the late afternoon/early evening hours when the sun is low on the horizon washes them in incredible warm light. This makes for spectacular photo opportunities. But there is more to this tour than sightseeing ... or even the snorkeling that is available during the half of the year that is considered "summer" around here. There is also narration on this tour about the historic nature of this area. In ancient Hawaiian times there was a thriving community at Nualolo Kai and Kalalau Valley. The cliff faces are full of small cave openings that contain the Iwi (bones) of Ali'i (chiefs) whose place of burial was a closely guarded secret ... SO SECRET that the person who was honored to deposit the bones of the deceased into one of these caves would fall from the cliff to his death to protect the secrecy of the location!
You will also have a chance to learn something about the geology of Hawaii ... watch for the prominent "X" on the cliff face at Nualolo Kai ... formed by ancient lavas pushing up through a crack in the the rock. Eons of wind and waves and rain have eroded and exposed the once-underground lava feature.
All in all this tour is a great way to experience all that the Na Pali coast has to offer. In summer months this trip is an hour longer and includes one snorkel stop.