KAUAI ZIPLINE TOURS
Kauai offers several excellent zipline choices, including two courses that feature the "Superman" style harness.
---
---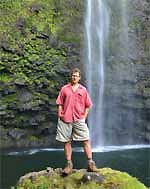 Kevin's Activity Tips:
Kauai has a great selection of zipline tours, and my favorite is the one at Koloa Zipline. The addition of the "Superman-style Harness" really raises ziplining to another level here. If you have done a zipline before but haven't tried this head-first lying-flat flying position, you really should give it a try! The Kipu Zipline Trek also offers this flying position on some (but not all) of their lines.
The Kauai Backcountry Zipline is a more traditional old-school zipline course with a harness that attaches to the line with a single attachment strap, and lines are not as long or as high as the first two options. This style of course is really good for first timers though as you start and end mostly on the ground level and it isn't as freightening for those who have a fear of heights. It's a good course that works its way back and forth down the side of a mountain, and the scenery is stunning.
The Kipu Safari is a combination activity that INCLUDES zip lining with kayaking, hiking, swimming, and other elements. It's a popular tour option.
Coming out of the Covid pandemic we did see the loss of one major zipline tour option ... Princeville Ranch permanently ceased zipline tour operations and we're very sad about this.
All zipline tour operators closed during the pandemic. Koloa Zipline has done the best job of getting "back to normal" operations. The Kipu Zipline Trek and Kipu Safari has suffered some from limited availability due to the tour operator struggling to rehire guides following the closure. Kauai Backcountry Zipline is running more regularly, but they are only operating 10 tours per week. Whichever zipline you decide to do, we do recommend advanced reservations ... especially during peak travel periods like summer, Thanksgiving and Christmas Holidays, and spring break. Actually ... ANYTIME ... it is a good idea to plan ahead.