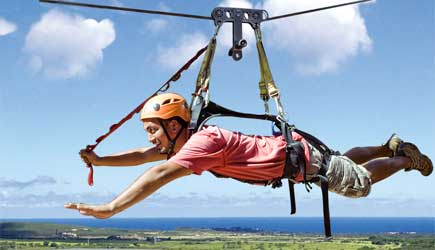 Koloa Zipline is the only company on Kauai to offer the Flyin' Kaua'ian Harness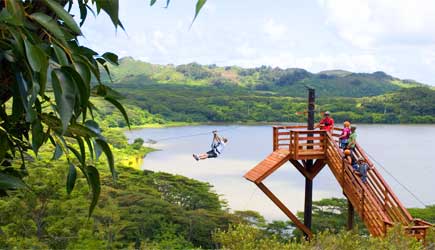 Kauai's longest zipline course featuring 3 of the longest lines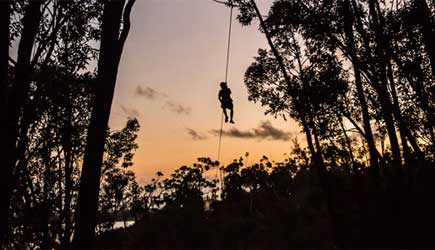 Take the Sunset Tour and race the setting sun and zip under the stars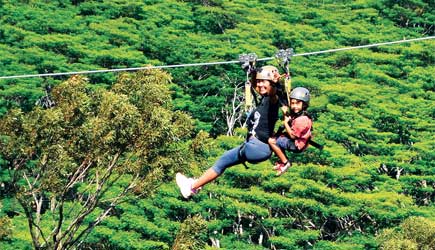 Tandem zip & enjoy the lush landscape with a friend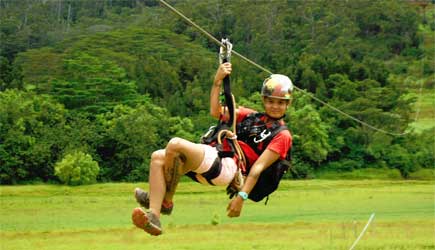 Explore Kauai's breathtaking beauty with Koloa Zipline!
Experience the beauty of Kauai's south shore with Koloa Zipline! Glide across the water on 22,000 acres of Hawaii's first sugar plantation. Koloa Zipline has Kauai's longest zipline course featuring 3 of the longest lines including the Waita Zipline (1/2 mile). This tour is about approximately 3.5 hours long and consists of 8 lines. Koloa Zipline offers Tandem ziplining, your choice of harness, handlebar pulleys, sunset ziplining, Ground School, and Aerobatics.
Kauai Backcountry Zipline offers a central location headiing into the rugged interior of the island of Kauai. Their 7-line course works its way back and forth from the top of a plateau down to the stream level at the bottom of a gulch.
The Kipu Ranch zipline was the first zipline on the island of Kauai.  A few years ago they added three new lines: a short but fun "water zip" where you let go and land in a swimming hole, an 800′ zipline and a tandem 1800′ foot line.  Now they have upped the ante by adding a 4000 foot tandem line flown headfirst like Superman flying through the air! The 2.5 hour PowerLine course offers four LONG ziplines that total almost 2 miles in length! The 2.5 hour Adreneline Course adds the swimming hole / water zip to three traditional long ziplines. It is also possible to reserve the 4000′ foot Flyline Zipline as a single, stand-alone zipline event.
Cruise Ship Passengers

We find that Princeville Ranch Zip and Dip works best for our cruise clients for the afternoon of day one in port, as long as you plan to rent a car and do some exploring on your own. Princeville Ranch is on the north shore of Kauai and you definitely need a rental car (the drive is about an hour). It is a beautiful drive and the tour is well worth the effort.
Save
Activity Tips
A few years ago no one had ever heard of zipping … now it is the hottest activity on Kauai! All the lines on Kauai zipline tours have been engineered and constructed to the highest standards meeting requirements set by ACCT (the Association for Challenge Course Technology). This is actually one of the SAFER things you will do on vacation. You are more likely to get hurt loading luggage into your rental car or hanging out at your resort's swimming pool!
There are several zip line courses to choose from on Kauai … let's see if we can help you sort them out!
Koloa Zipline has really REALLY long lines, and offers the "Superman" harness … you can hang from the lines in a position that puts you flying head first lying down … just like Superman! For those who have done ziplining before and want to take it up a notch, this is a great advancement in the experience!
Kauai Backcountry has 7 lines up high on a mountain and work your way down to the bottom.  Each requires a little instruction about what to expect.  The guides say things like "the wind is in your face on this one so you need to get a running start" or "this landing has a steep incline … as soon as your feet hit the ground keep running hard." These lines move along at a pretty fast pace but not so fast that you can't enjoy the scenery around you. The minimum weight is 100 pounds with Kauai Backcountry – which makes them a bit difficult for younger teens and even some really skinny adults!
The zipline experience at Kipu Ranch is the best choice for families with younger kids. They have a minimum age of 7 to zip, and they are the only zipline tour to offer a reduced rate for kids. Children must also fit safely in the harness. Occasionally a child who is small for their age may be old enough to zip, but the guide may determine that they aren't large enough for the harnesses. The decision on whether a child is big enough is a safety issue and is up to the guide's discretion.
Koloa Zipline also has a minimum age of 7, but you really need adventurous 7 year olds for this course. I suppose most kids fall into that category … haha.
A word about the length of these tours … while there are published times regarding how long each tour takes to complete, these lengths are based upon average duration of a fully booked tour. If your tour has active people who hike fast and don't hesitate when they zip, the tour can be a little shorter in duration, especially if your tour isn't full. If your tour is full and there are a few people who move slowly, the tour may take a bit longer than the published duration.
Zipping is FUN … and it is addictive! If you have time and your budget allows, you might even decide to do two zipline tours during your vacation. Really … it's that much fun! I talked with a client recently who did THREE zipline tours during one vacation. We have clients who have told us that they are making their vacation destination plans based upon the availability of zipline tours … if there are no zipline tours to do, they'll go somewhere that does have them!