Hanalei Na Pali Rafting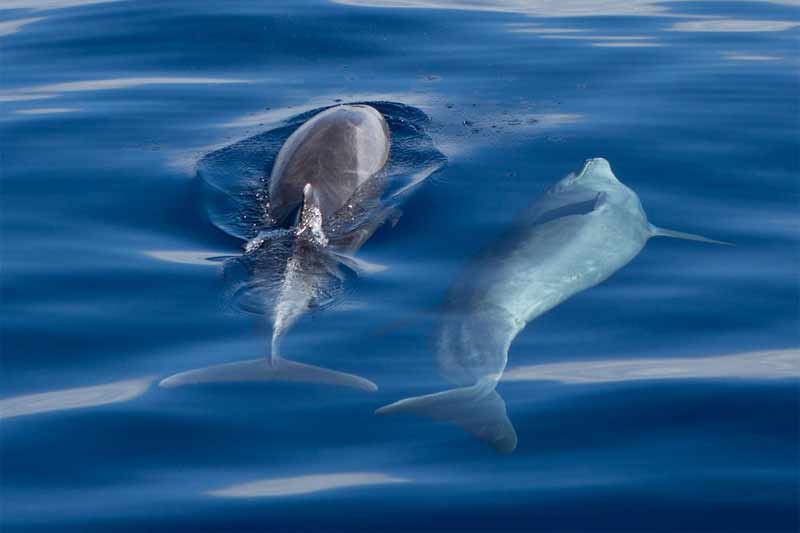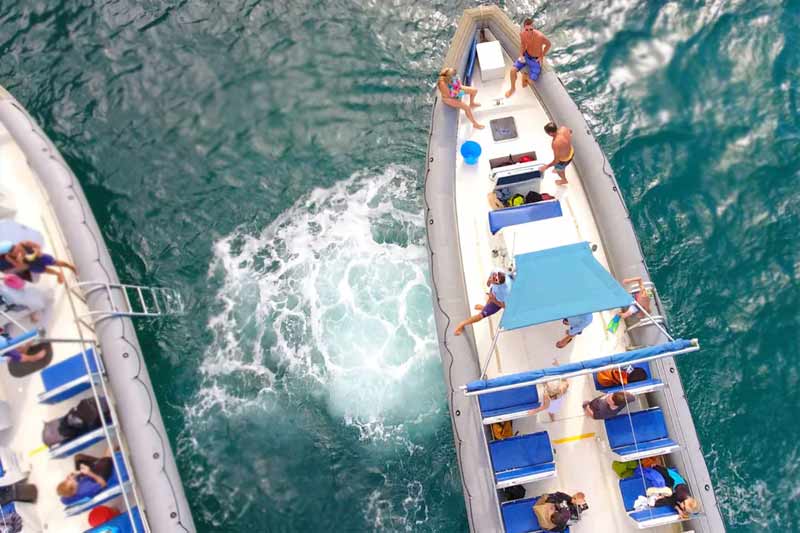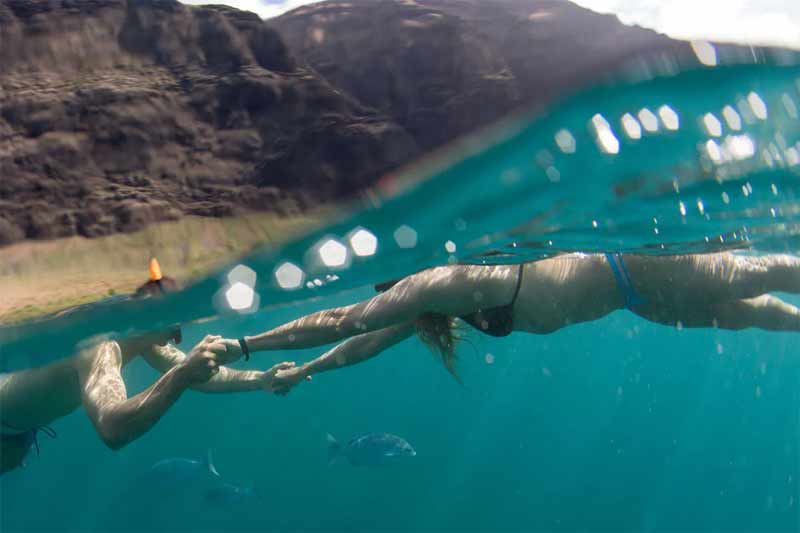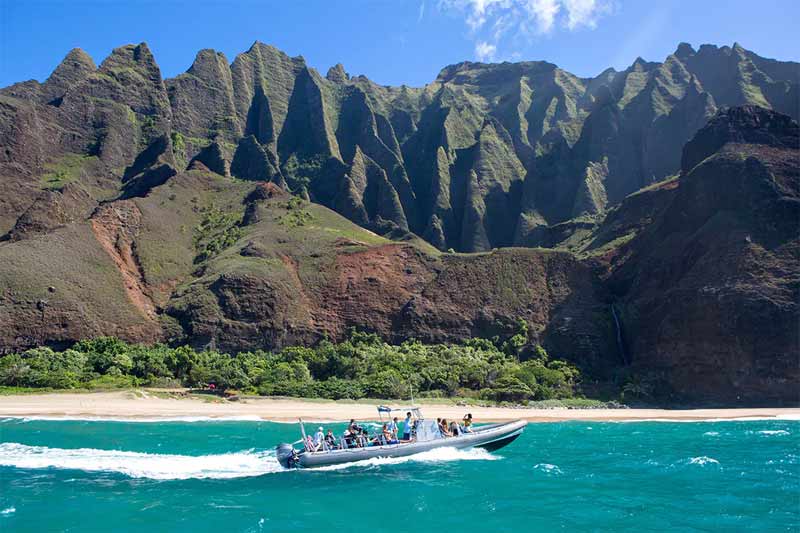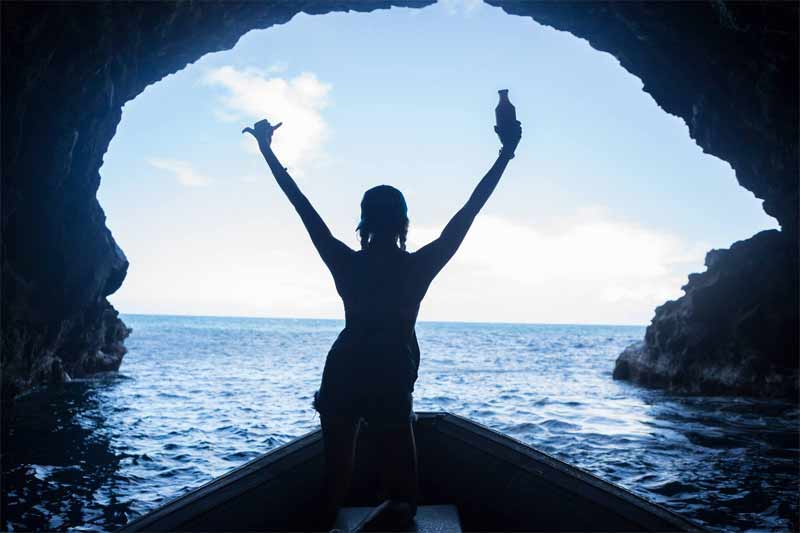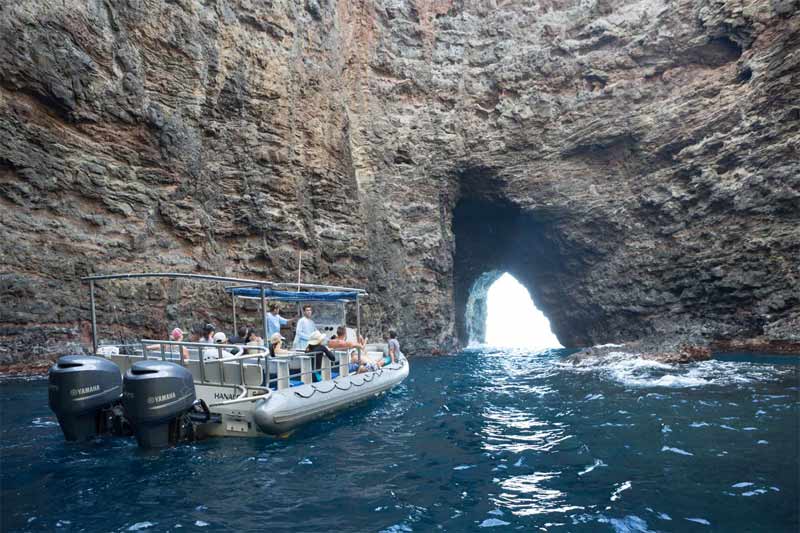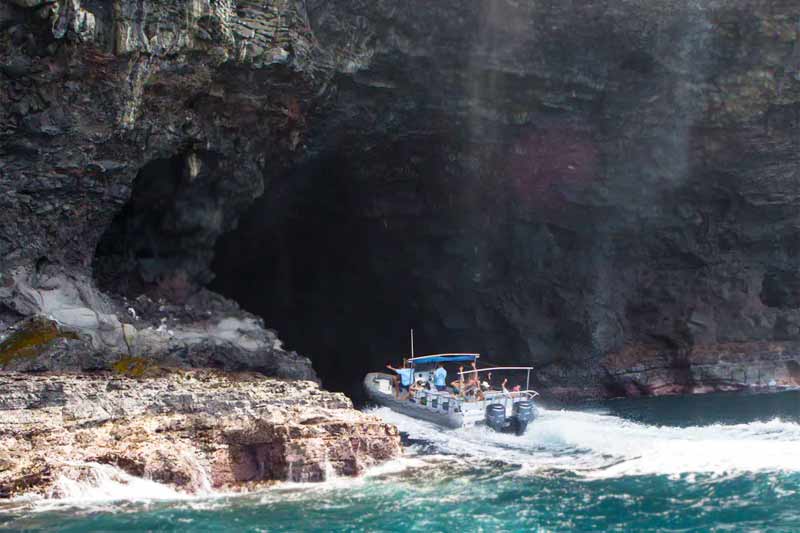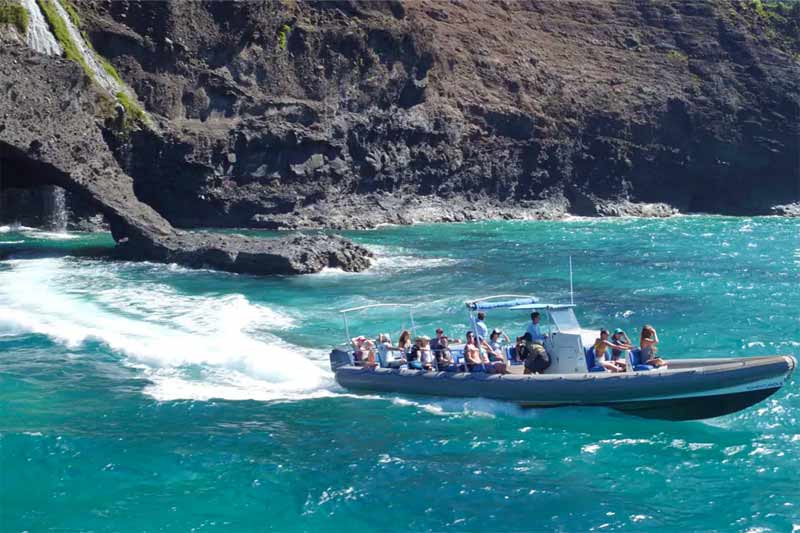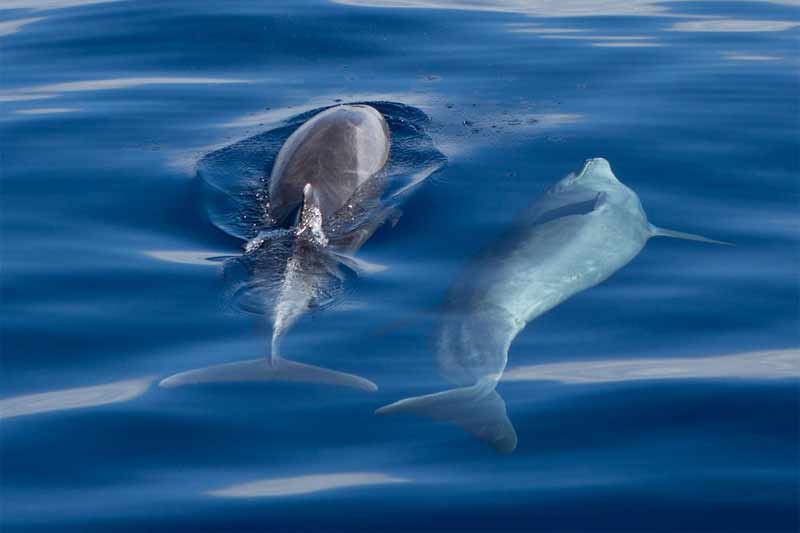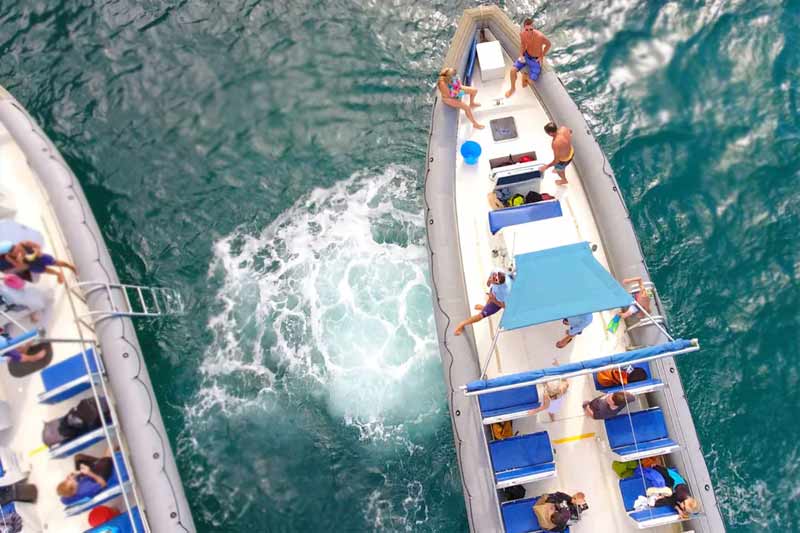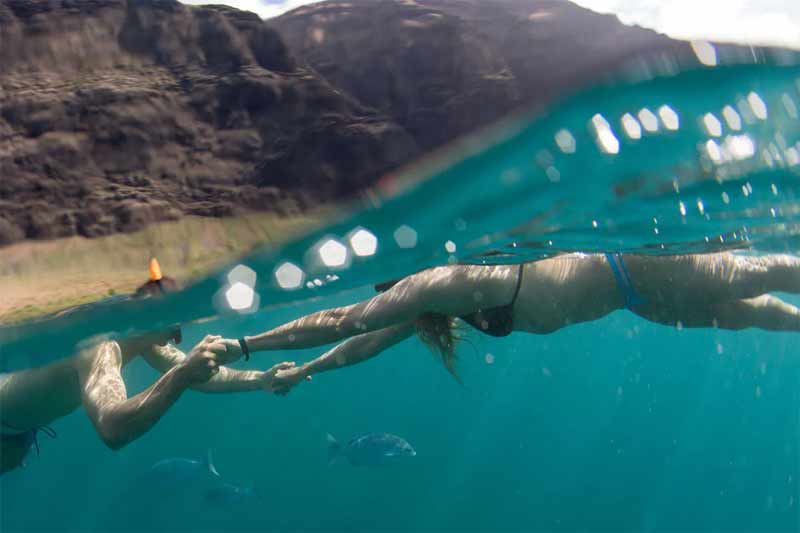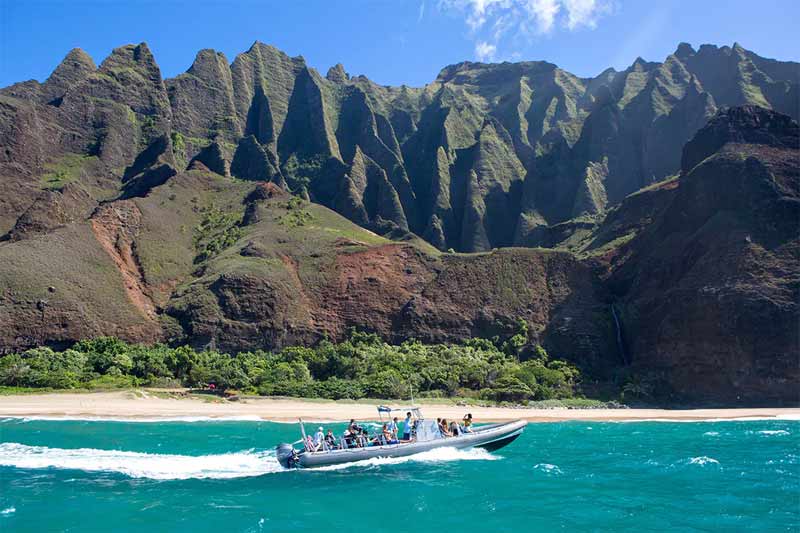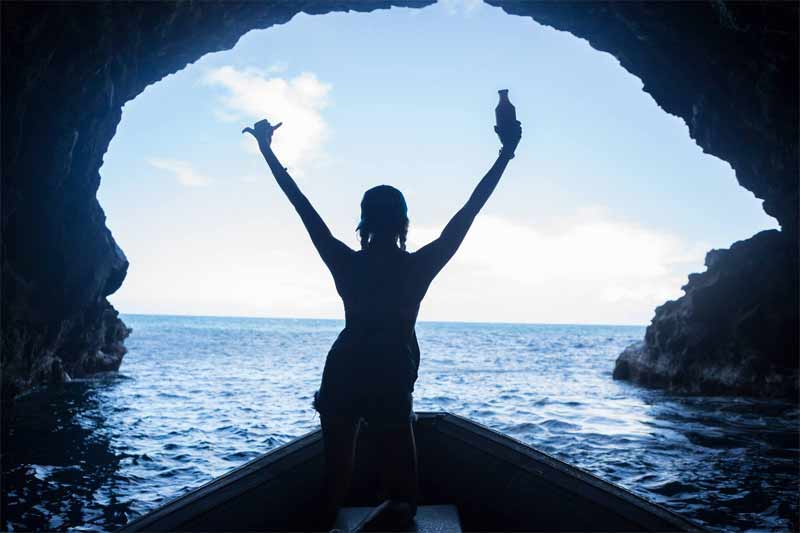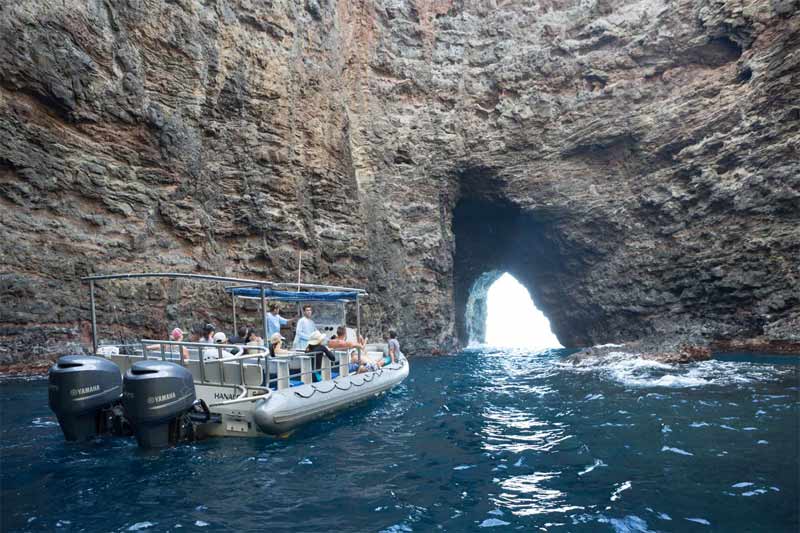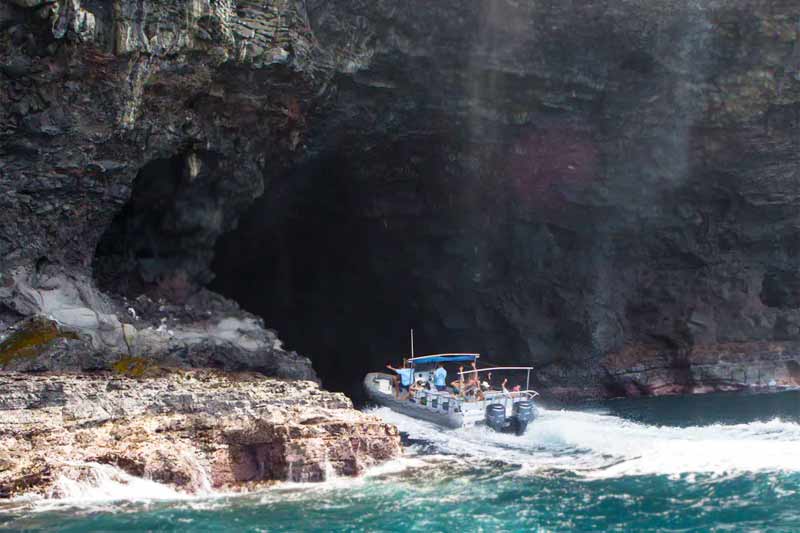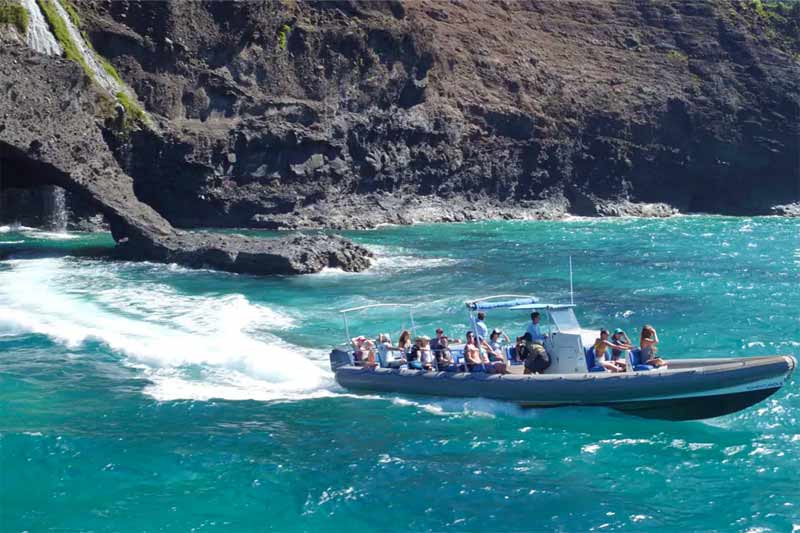 ---
Highlights
4 Hour Ocean Rafting Along the Na Pali Coast
Tour starts where the Na Pali Starts
Larger, comfortable raft with shade and marine head
Dolphins, Turtles, Monk Seals Often Seen
---
Description
The Hanalei Na Pali Rafting adventure begins when you leave the shore of scenic Hanalei Bay in a dingy which takes you out to the Ocean Adventurer - anchored just offshore. The 40 foot raft departs from the north shore in Hanalei. Minutes after leaving the bay, the spectacular Na Pali Coast comes into view and you see why its dramatic cliffs and beaches have enchanted painters, authors and travelers for centuries!
As you travel down the coast, your and Captain and crew entertain and educate you with stories of the Hawaiians who once made this coast their home. From sea-level you really get a feel for the tremendous scale of the cliffs of the Na Pali coast. Keep an eye out for dolphins, turtles and seabirds.
Capacity for this vessel is 25 and she flies down the coastline powered by twin 225HP motors. She has two water-level entry points with dive ladders and a fresh water shower. With plenty of shade, stadium-style seating for every passenger — and the all-important enclosed marine toilet — this boat is designed for comfort as well as speed and safety.
---
Cost
Ocean Adventurer - Hanalei Rafting: 4 hour Snorkel Rate (HHC4)
$315.00 per Passenger (plus 8.108% Hawaii sales/harbor tax)
---
Location
Check-in: The parking lot behind the Tahiti Nui restaurant. Guests are shuttled by van to the departure point. The vessel leaves from near the Hanalei Pier.
GPS Address: 5-5134 Kuhio Hwy, Hanalei, HI 96714 Click to view map
---
Details
Reservations: Due to extremely limited availability we recommend reservations be made weeks prior to your arrival! A credit card is required to confirm your date as the tour operator will charge for this event when your reservation is finalized.
Check In: Check in is in downtown Hanalei at the parking lot behind the Tahiti Nui restaurant. Guests park in "downtown" Hanalei and are shuttled by van to the departure point. The vessel leaves from near the Hanalei Pier.
Gear Provided: Snorkeling equipment (corrective lenses available), locally made reef safe sunscreen, and flotation aids
Tour length: 4 hours
What to Bring and Wear: Wear a swim suit and bring a towel and dry clothes to change into after snorkeling.
Restrictions: Minimum age is 6. No pregnant women and no one with neck or back injuries are permitted on the tour. Full face snorkeling is prohibited.
Vessel: Rigid-hull inflatable boat with twin 225hp outboard motors
< p>
Capacity:
25
Minimum Notice for Cancellations / Changes: For parties of 1-5, cancellation must be made at least 48 hours before the start of the event. For parties of 6 or more, cancellations must be made a full 7 days prior to tour.
---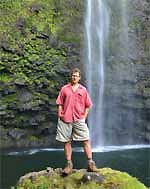 Kevin's Activity Tips:
As a resident of Hawaii, I consider the Na Pali coastline to be the most scenic and most sacred place in the islands. There are better places in Hawaii to snorkel, but nothing compares with the dramatic scenery and raw natural beauty of this wild coastline.
Na Pali Rafting tours that depart from the north shore are more expensive ... the shorter season means that they can't run all year and have far fewer operating days upon which to turn a profit (and everything about running a boat is expensive ... from the purchase of the vessel, to the maintenance, the fuel, the insurance, the crew, etc.) This vessel is also larger than most other rafts, which means it is a smoother ride and there is a marine head on board.