KAUAI KAYAK TOURS
Kauai offers fantastic kayak opporunities. The only Hawaiian island to feature navigable rivers, the paddle up the Wailua Raiver to the Secret Falls hiking trailhead is a popular option. The Blue Lagoon tour features Hanalei River and Bay and is a versatile trip with features that change seasonally. In the summer season the "Mount Everest of Sea Kayaking Tours" is offered -- the full-day Na Pali Coast adventure!
---
---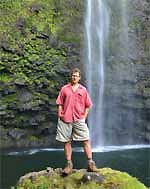 Kevin's Activity Tips:
As an avid kayaker and resident of Hawaii, I can tell you that the island of Kauai offers the BEST kayaking opportunities in the state of Hawaii. The most popular of these tours needs to be reserved JUST AS SOON AS YOU HEAR ABOUT IT ... because in the summer of 2021 it was selling out almost two months in advance! This is the famed Secret Falls Kayak Tour that travels up the Wailua River on Kauai's east side and leads to the trailhead and a 30 minute hike to the waterfall. This spot is truly magical with a towering waterfall, a beautiful pool at its base where you can swim, and the pulls out the picnic lunches that were dutifully carried up the trail for you. The one thing to keep in mind on this tour is that the hike is not difficult as far as distance or vertical gain, but it can be slippery and muddy. This tour isn't a great choice for younger children who don't enjoy these conditions.
On the north shore there is the Blue Lagoon Kayak Tour which is done on some combination of the Hanalei River and Hanalei Bay. This is a versatile trip and the exact things you do during this tour will vary based upon the time of year and ocean conditions. In the wintertime the tour will focus more on the protected waters of the Hanalei River and surrounding jungle with a quick exploration of the mouth of the river where it leads out to the bay. In the summertime this tour will paddle out from the river and into the bay, and include snorkeling at a reef area. If conditions allow, your guide may lead you around the corner to a hidden beach that is not easily accessed from above.