Kauai Waterfall Rappelling
Kauai Waterfall Rappelling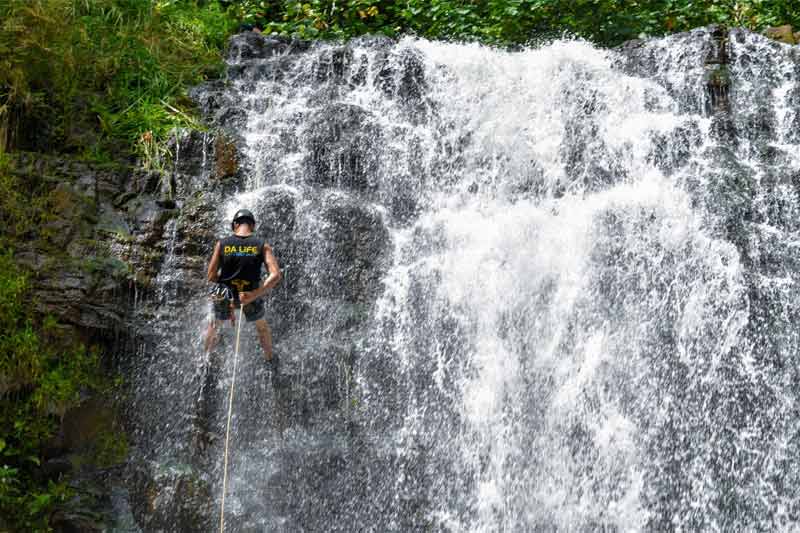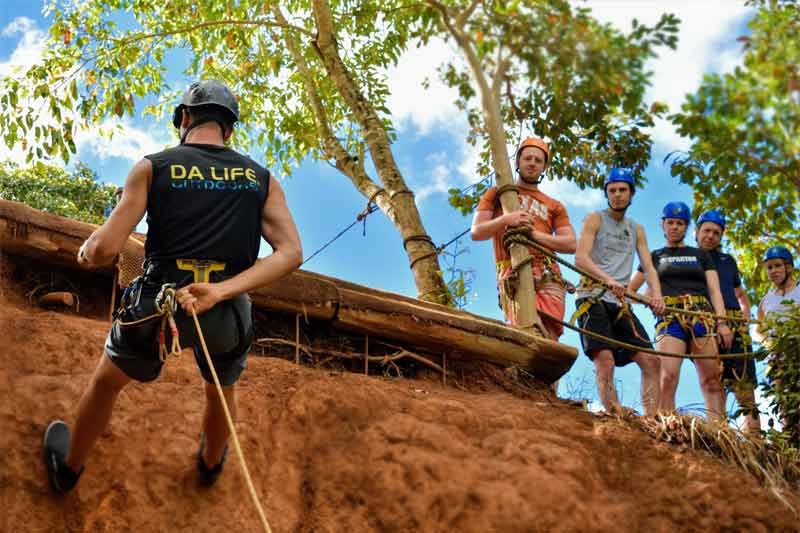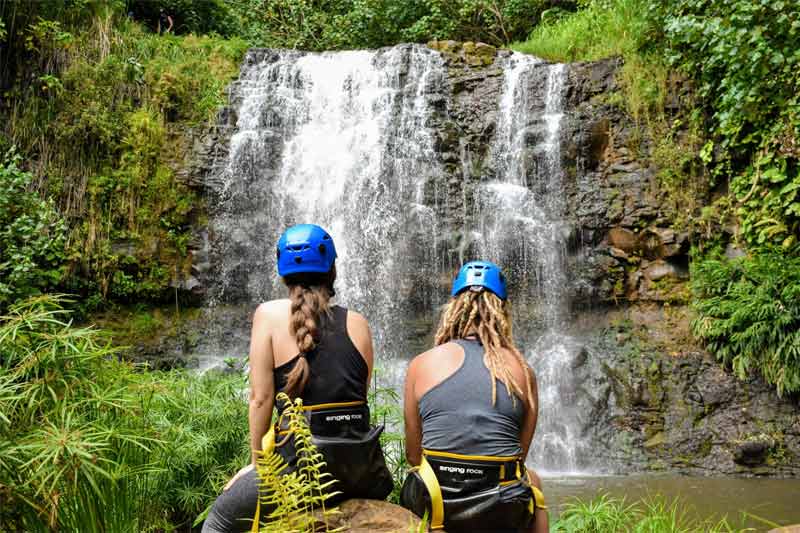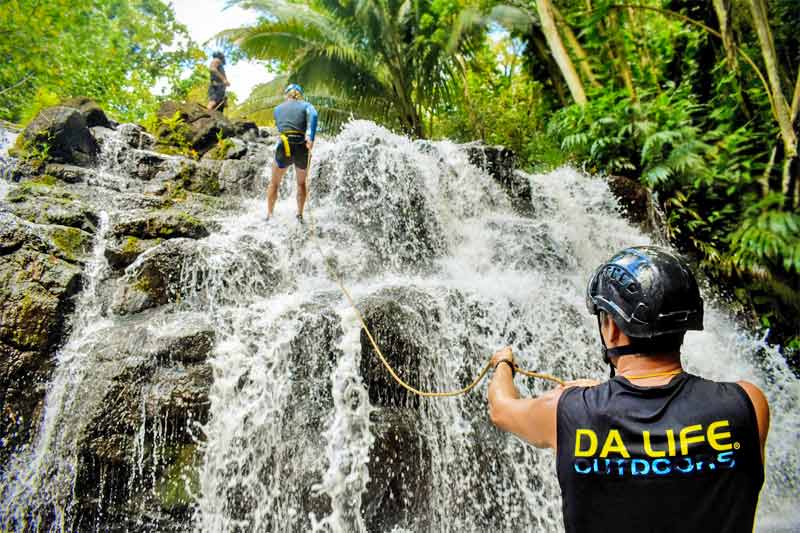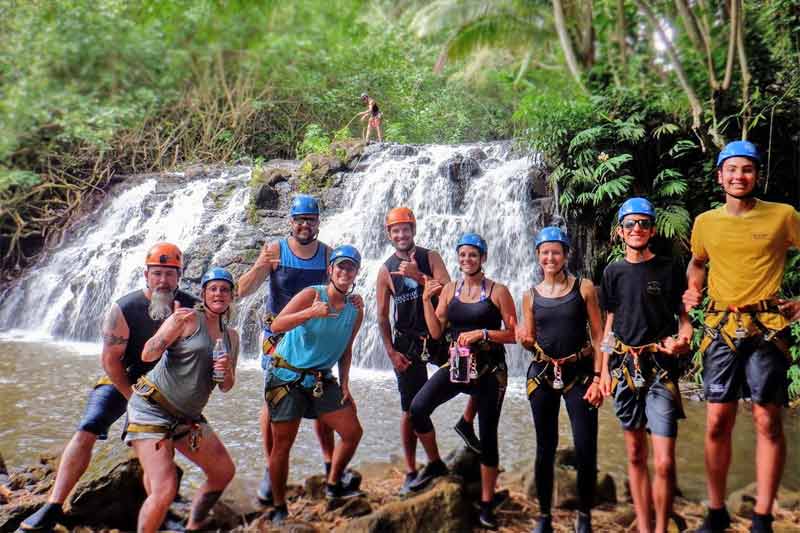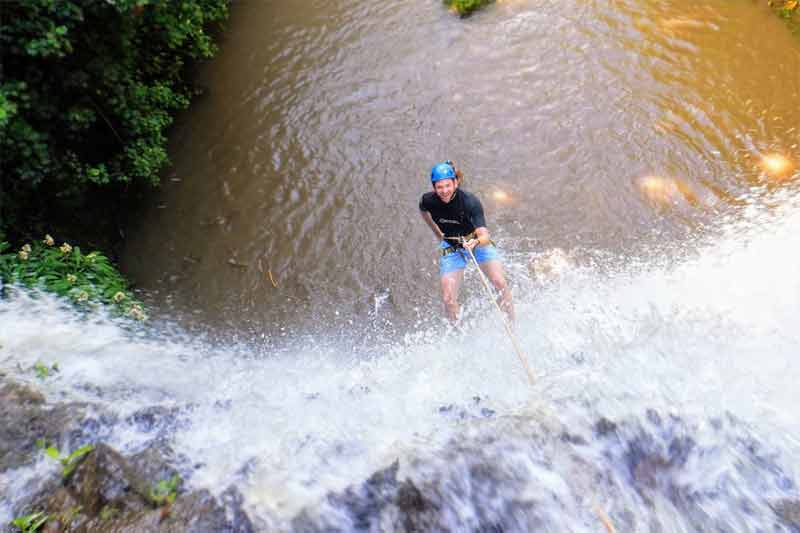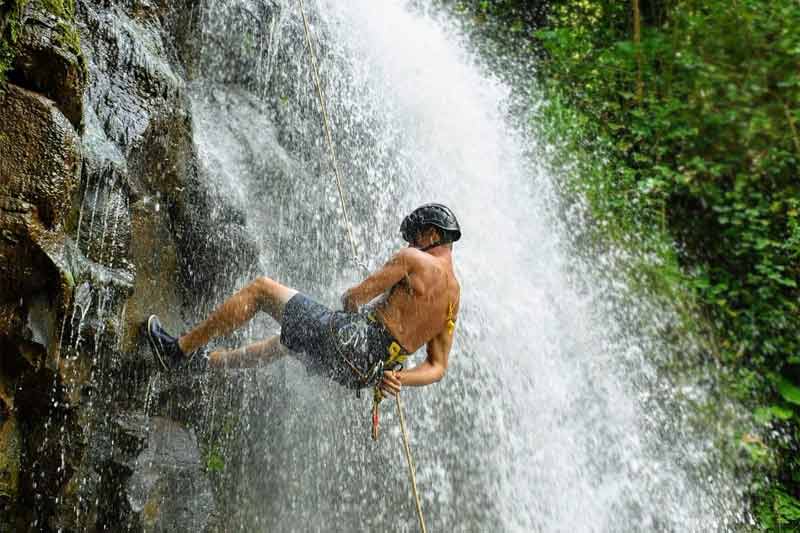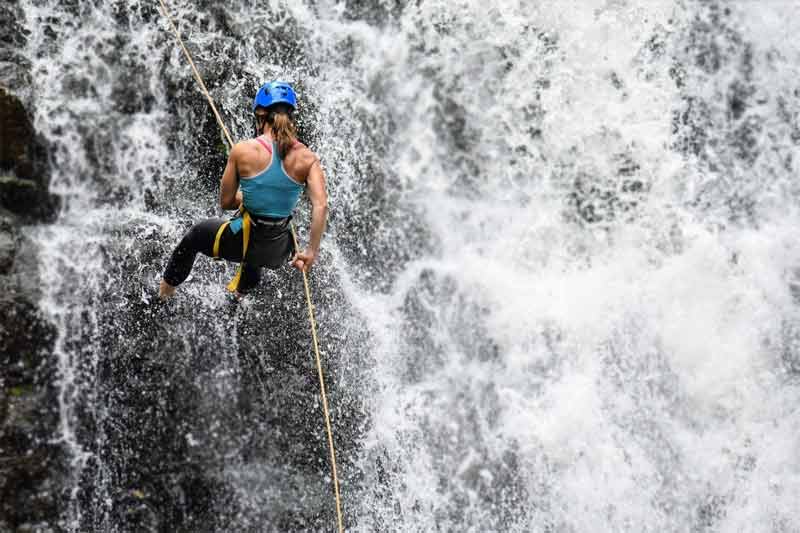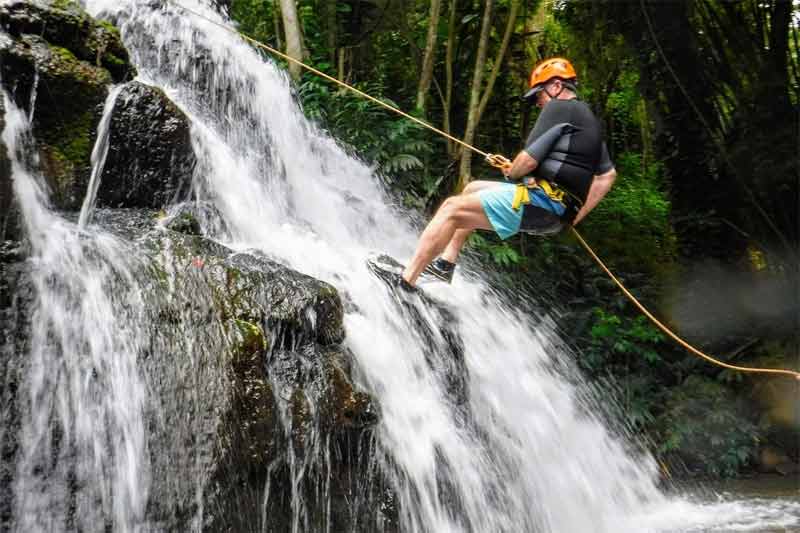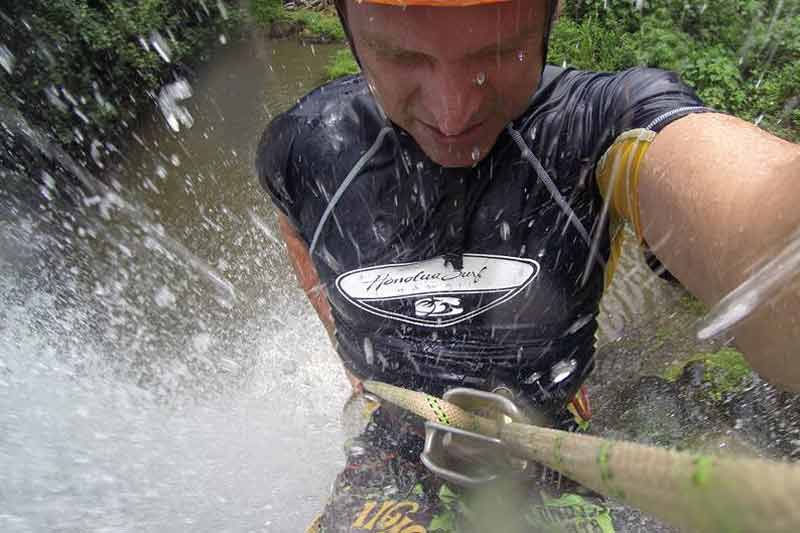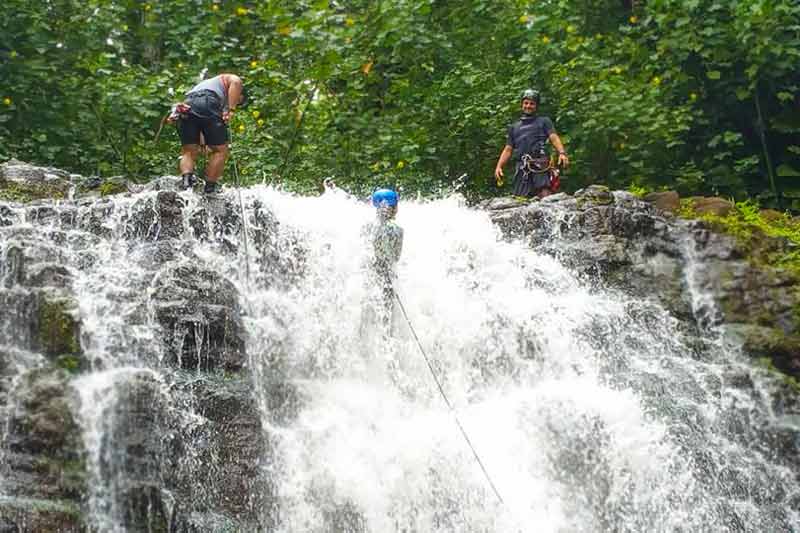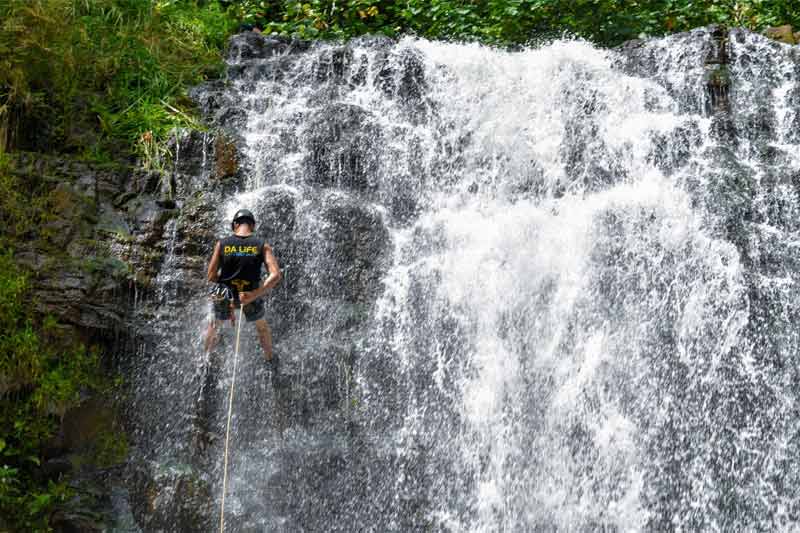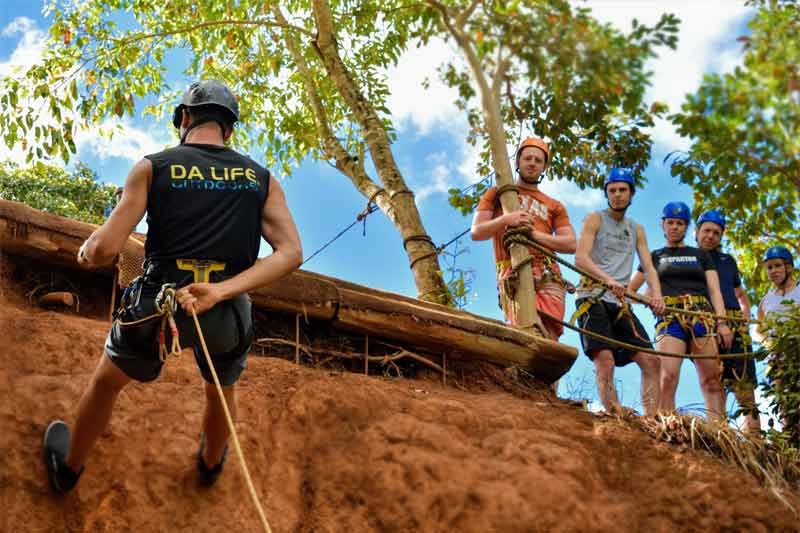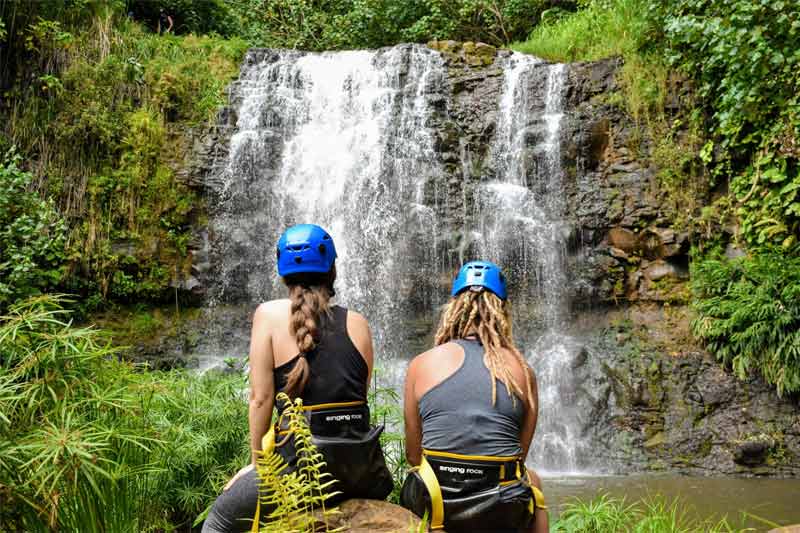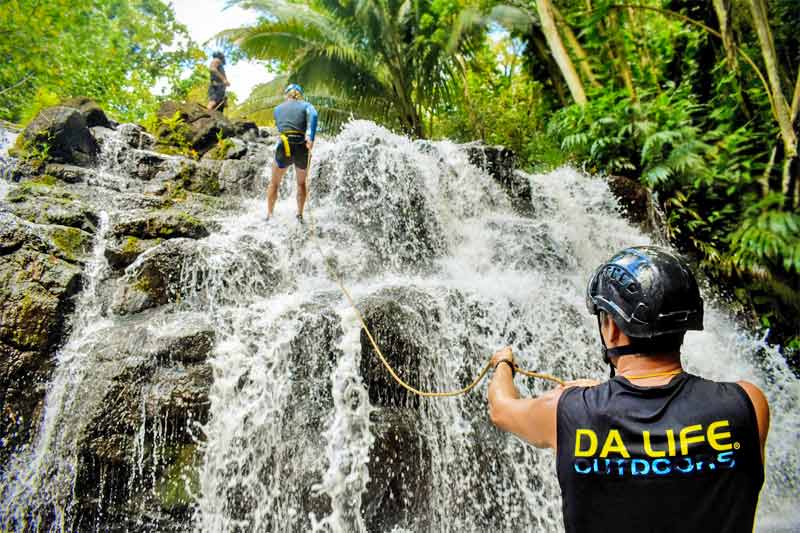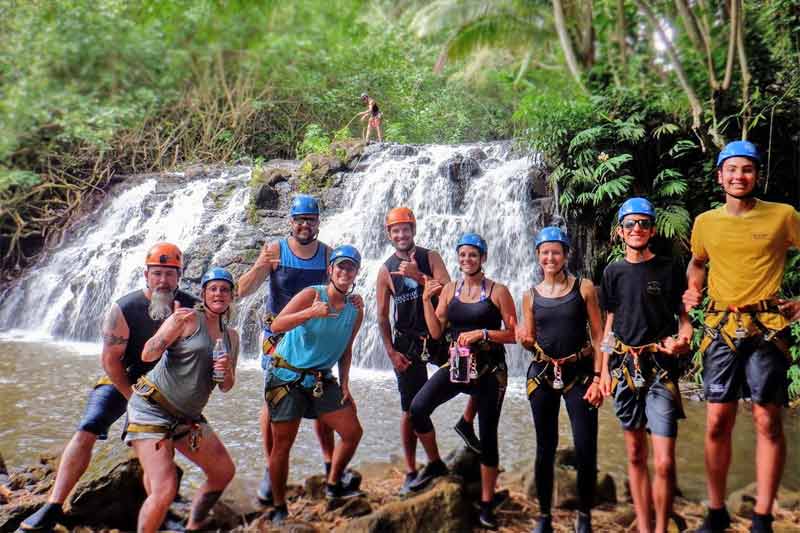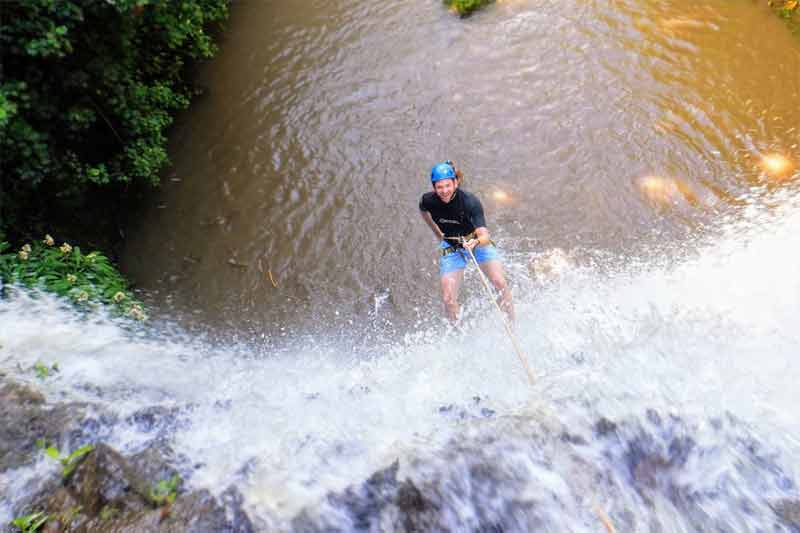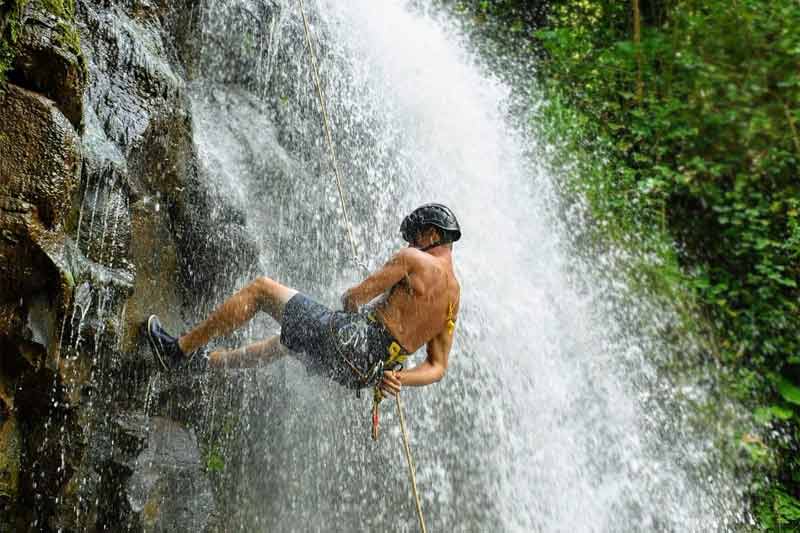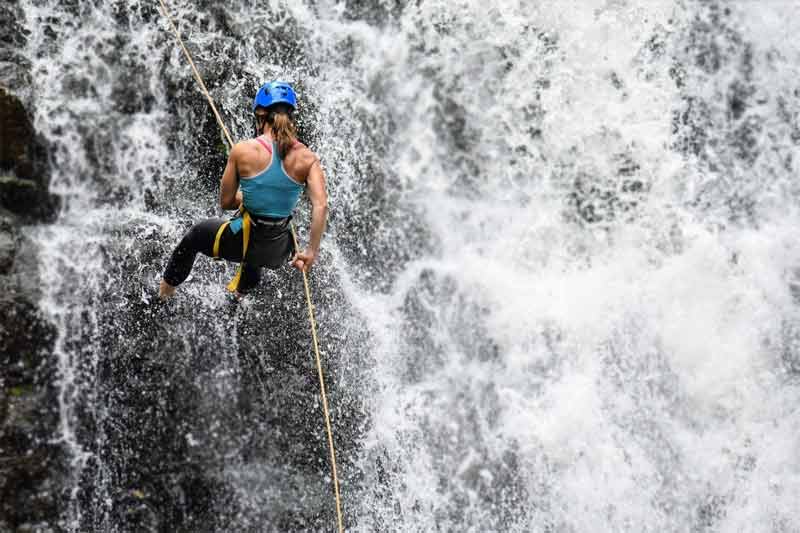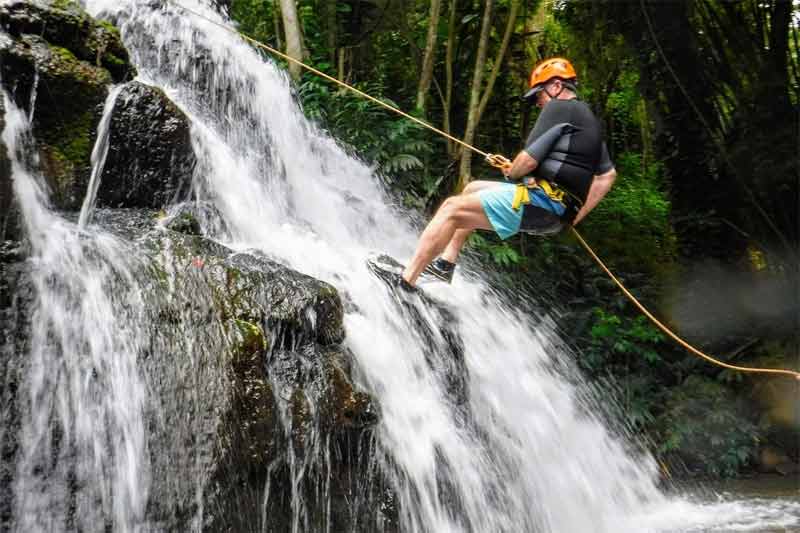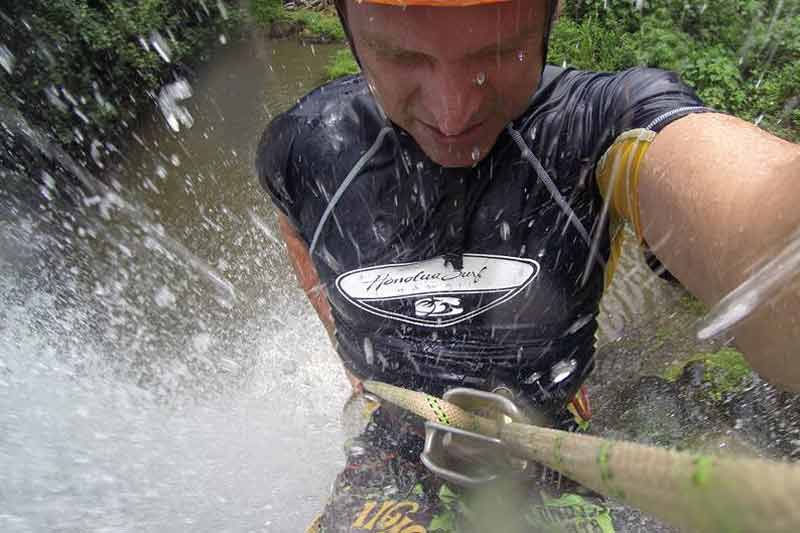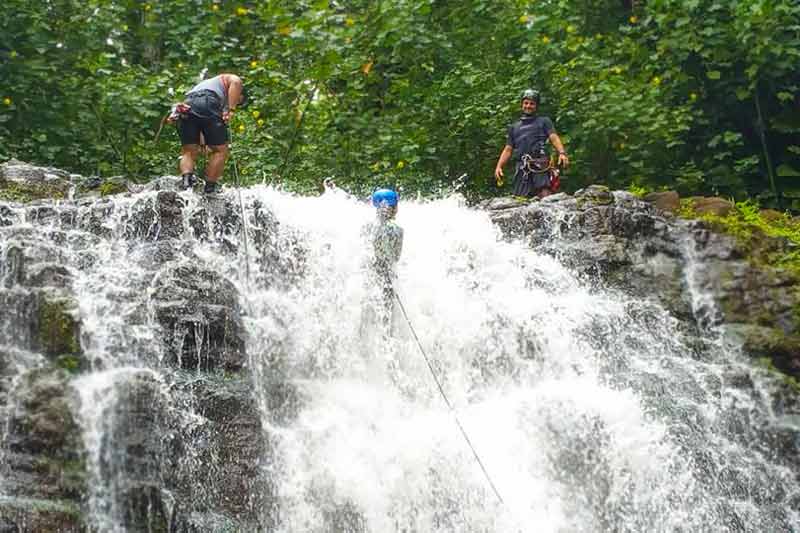 ---
Highlights
Learn to Rappel on a Dry Wall
Hike to Waterfall Stream
Rappel Down 30' and 60' Cascades
Observer Rate Available for Guests Who Want to Watch
---
Description
Kauai Waterfall Rappelling is a unique adventure that allows you experience the lush jungles of Kauai. Da Life Outdoors brings the magic of Hule'ia River and it's 241 acres of National Wildlife Refuge to visitors and Kama'ainas (residents). It is one of nine National Wildlife Refuges in the state of Hawaii, and one of three on Kauai. The Hule'ia Refuge is closed to the general public and is only accessible by Da Life Outdoors. Their guides perform volunteer service towards the natural resource restoration for the privilege of sharing it with guests, and a portion of all ticket sales are donated to the Hule'ia National Wildlife Refuge for ongoing conservation efforts.
Rappelling is a controlled descent down a rock face using a rope, harness, and descending device. On these tours you will be going straight down a waterfall cliff face! This is a thrilling way to get up close and personal with one the island's most popular natural attractions. Their expertly trained staff use the best gear and promote safety first. Checkin is at their rugged outdoor encampment just a few miles from Nawiliwili Harbor and downtown Liihue. After getting set up with your gear and going over the basics, the guide will lead you through a training exercise on a hillside near the camp. When everyone has mastered the technique, it's time to head down the trail to the beautiful series of waterfalls where your thrilling waterfall experience begins!
The first challenge is the beautiful 30' cascade known as "Bamboo Falls" followed by towering 60' tall Papkolea Falls.Your tour ends with a snack overlooking the Hule'ia Watershed and Ha'upu Mountain range. The photos you could take on this adventure will leave your friends at work SPEECHLESS! This WILL be the highlight of your Kauai vacation!
An observer rate is available for those who want to go along and watch, but not actually do any of the rappels.
---
Cost
Waterfall Rappel) Rate (KIA1)
$223.83 per Participant (minimum age 12), $86.42 per Spectator (plus 15.712% Hawaii sales/harbor tax)
---
Location
GPS Location: There is no physical address for the Base Camp for this tour. Your confirmation email will contain the detailed instructions, but you can locate them using GPS using the following coordinates. 21°57'15.7"N 159°23'04.7"W Click to view map
---
Details
Schedule: Monday through Saturday at 8:30am (1:00pm timeslot may be added during peak travel periods)
Tour length: 4 hours
Included in Tour: Snacks, juice, and water
Gear Provided: Large dry bag, harness, helmet, rappel shoes.
Group Size: Tour is limited to 8 Rappellers
Restrictions: Minimum age is 12, and not recommended for those over 65. Waist size must be between 22″ and 48″. Weight must be between 70 pounds and 250 pounds. This tour is not appropriate for people with back problems, recent surgeries, bone/joint problems, heart conditions, or women who are pregnant. This activity is intended for participants who are physically fit and enjoy rugged activities, and must be able to hike on uneven, slippery terrain.
What to Bring and Wear: Men should wear swim trunks or light-weight pants, and a tight-fitting quick-drying shirt. Women should wear surf shorts, yoga pants or quick-drying pants. Also, women should wear fitted shirt, tank or bikini top. Wet suits or rash guards and a light jacket especially in cooler winter months. Bring another set of clothes to change into at the end of the tour, because everything you wear will get wet. Also, bring a towel and waterproof camera. A baseball cap or visor under your helmet is a good idea if you'd like to keep water out of your eyes while rappelling (an especially good idea for contact wearers). Mosquito repellent is recommended. Waterproof sunscreen is recommended, otherwise it'll wash off, and they'd like to keep lotions out of the streams.
Reservations: Advanced reservations are required. When you reserve this adventure on our website your reservation will be guaranteed on your credit card. Our agency charges your credit card for this tour a few days before the beinning of your vacation. For those planning ahead, this event is "Reserve NOW and PAY Later."
Minimum Notice for Cancellation / Changes:48 hours prior to the start of your tour.
---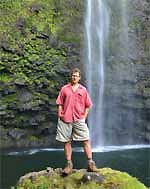 Kevin's Activity Tips:
Waterfall rappelling is the latest in extreme adventure-oriented activities offered in Hawaii. We now have this option on two islands ... this company here on Kauai and on the island of Maui with Rappel Maui. Rappelling offers a more hands-on experience than a zipline tour, and the waterfalls give you a rush (literally!). Obviously this isn't a tour for everyone, but if you enjoy doing something that takes you out of your comfort zone and gives you a photo op with "Look what I did on vacation in Hawaii" bragging rights, this is a great choice!!!
Da Life Outdoors takes their responsibility for this area seriously. Their guides participate as volunteers in the adjacent Hule'ia Wildlife Refuge, which is closed to the general public. The US Fish & Wildlife purchased 241 acres on Kauai in 1973 for the protection of Hawaii's water birds, and their efforts help the population of native Ae'o (Hawaiian Stilt), Nene (Hawaiian Goose), Koloa Maoli (Hawaiian Duck), and Hawaiian Coot.
The guides also take their role in keeping you safe on this tour seriously! My wife and I had a blast experiencing their tour first-hand recently ... I've done quite a bit of rappelling but this was her first time. She listened intently during the instructions, which is a very good idea. This is not the time to "zone out" like the safety briefing given by a flight attendant on before your plane took off on the way to Hawaii. You do need to pay attention, not only for your own safety, but for your own personal enjoyment of the rest of the tour! The instruction given and demonstrations by were really an excellent introduction to the sport of rappelling and prepared participants well ... both in teaching the important basics as well as encouraging people that "you really can do this ... it isn't hard."
A few minutes later my wife practiced and did well on the dry wall, as did everyone else on tour with us that day. Off we scampered down the trail. It's a short walk down (a little longer coming back up) but when you arrive at the waterfall the first thing that hits you is "Wow, that waterfall looks a LOT more than 60 feet tall!"
The rope was rigged for us to the left side of the main flow of water, and everyone did SO WELL rappelling "Dundee Falls" that we were given the opportunity to try it one more time ... this time with the rope centered in the strongest part of the flowing water! Most of our group (including my wife and several other first-timers) bravely tackled the challenge! Their success was a testament to just how encouraging, informative, and safety-conscious the guides were ... they ABSOLUTELY MADE the tour and were every bit as important to a quality tour experience as the beautiful waterfalls we were enjoying.
I highly recommend this event ... but it isn't for everyone. While I am convinced these guides are absolutely THE BEST at what they do, it is possible to experience cuts and scrapes if you slip. This may be stating the obvious, but ROCKS are HARD ... if you smack yourself on one it is going to hurt. All participants are required to sign a waiver of liability recognizing that there are risks associated with this event. This is an adventure tour ... it is NOT the "It's a Small World" ride at Disneyland. Far from it!
One other aspect I appreciated about this tour ... it has a decidedly local flavor. Some Hawaii vacation activities feel very "corporate" and not very Hawaiian ... but when you pull up to the Jungle Base Camp you are greeted by smiling wild boar heads, goat skulls, and various pelts ... it almost feels like a hunting camp. A few people may be put off by this; if you are one of them don't focus on that or allow it to offend you. It IS a part of local culture and these invasive animals have no place in the wildlife sanctuary dedicated to protection of native species anyway.
Who's this tour for? Teens, healthy non-excessive-fear-of-heights adults, and active, adventurous seniors in good physical condition ... basically anyone who loves ziplining but is maybe looking for something a little more adventurous than that ... and a LOT more hands-on.