KAUAI LUAUS
Kauai's best luau choices include a variety of settings for dinner and a Polynesian show. A complete evening of dining and entertainment to help get your vacation into that "island vibe."
---
---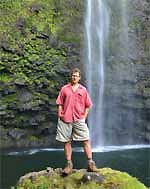 Kevin's Activity Tips:
Kauai doesn't have quite as many luau choices as Maui or Oahu (which attract a LOT more visitors), but there are some GOOD luau choices here. My personal favorite is Smith's Luau ... this family has been doing a luau for four generations and an evening here really captures the spirit of Old Hawaii here on the Garden Island of Kauai. If you are going to vacation on the Garden Island, doesn't it make sense to attend a luau in a tropical garden setting? Their food is consistently great, and the show represents ALL the various Polynesian cultures that migrated here before and during the "plantation era" in the mid 1800's. I also like the fact that you eat dinner in a covered pavilion, but then move to an amphitheater for the show. This means everyone gets a great view and there is no need for premier or reserved seating. The only downside to this luau is they may already be sold out unless you are planning weeks or months prior to your arrival in Hawaii.
My second choice would be the Sheraton Poipu's Auli'i Luau. Poipu has some of the driest weather on the island of Kauai, which makes a beachfront luau a realisitc option here. On a beautiful Hawaiian evening their luau location is AS GOOD AS IT GETS ANYWHERE in Hawaii for an oceanfront location. The stage stands between the grassy lawn where the tables are located and the sandy beach and the ocean surf are just a few feet away. It's a mesmerizing location to sit and watch the show. Again ... planning ahead is a requirement. This luau is only held once or twice a week and often sells out a month or more in advance.
The third option, Luau Kalamaku, is a bit different. Their presentation is more high-tech production and the stage is in the center of the open-air pavilion. It is a "theater in the round" with the dining tables radiating outwards from the stage. If you are planning weeks in advance and can score some "Gold Package Reserved Seats" it will make a big difference at this luau as you do watch the show from the table where you are dining.
Whichever luau you select, you need to reserve it NOW!