Air Kauai Helicopter Tours
Air Kauai Helicopter Tours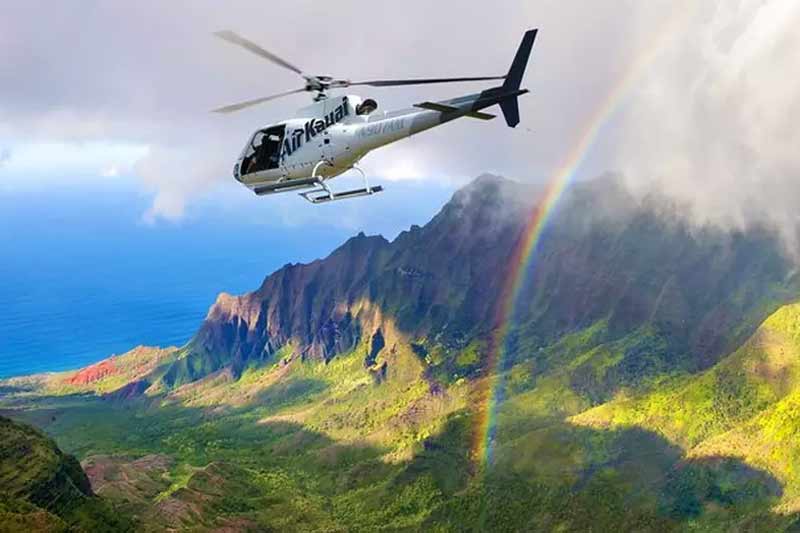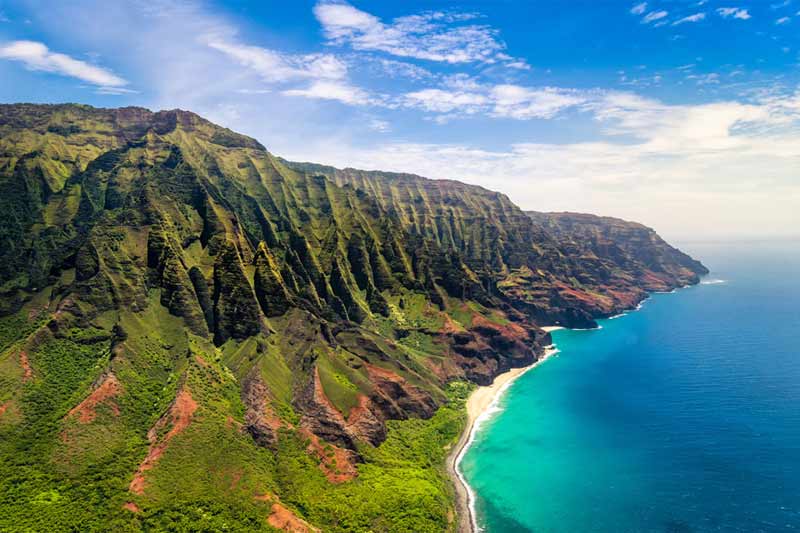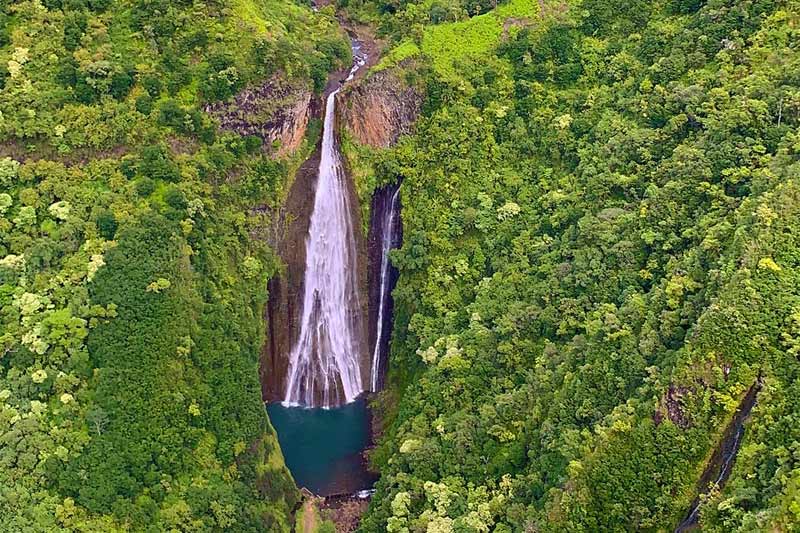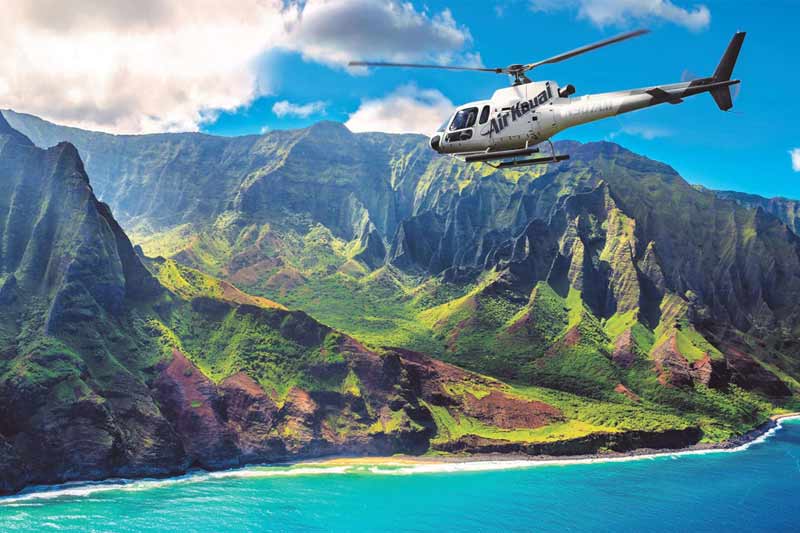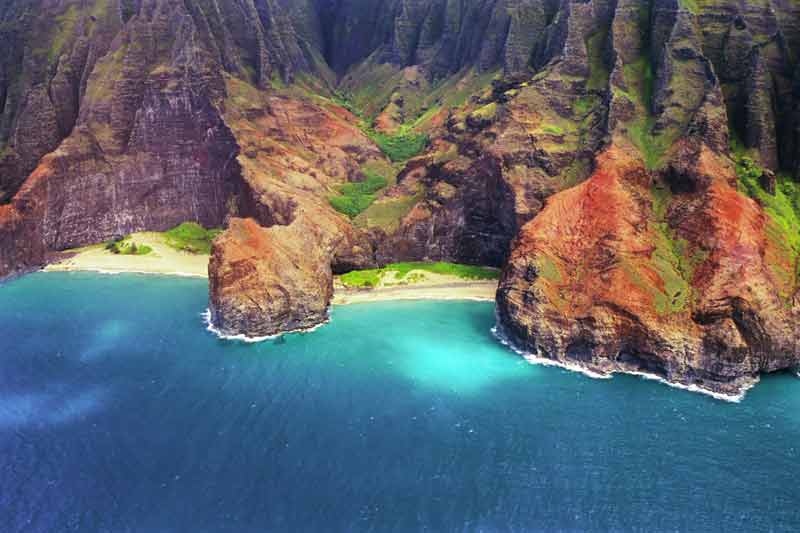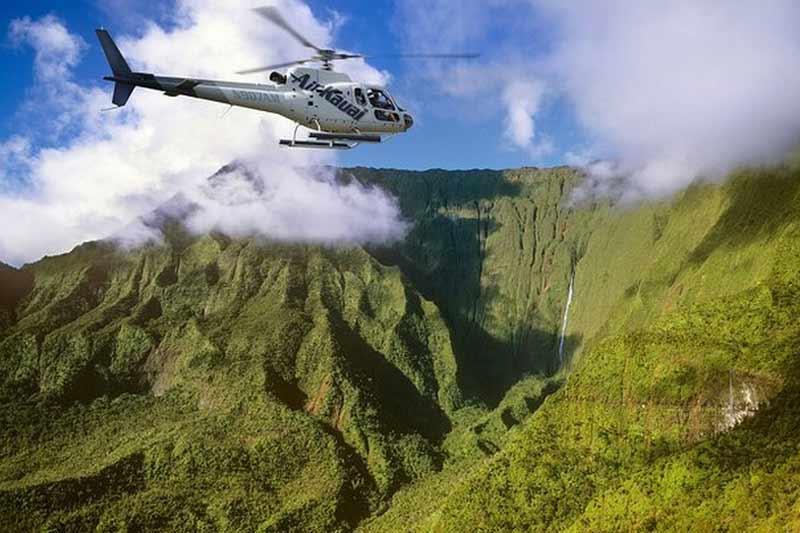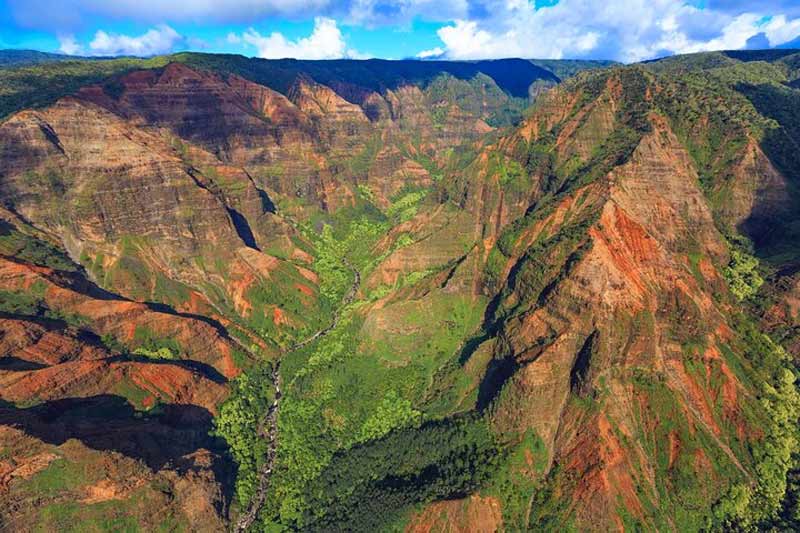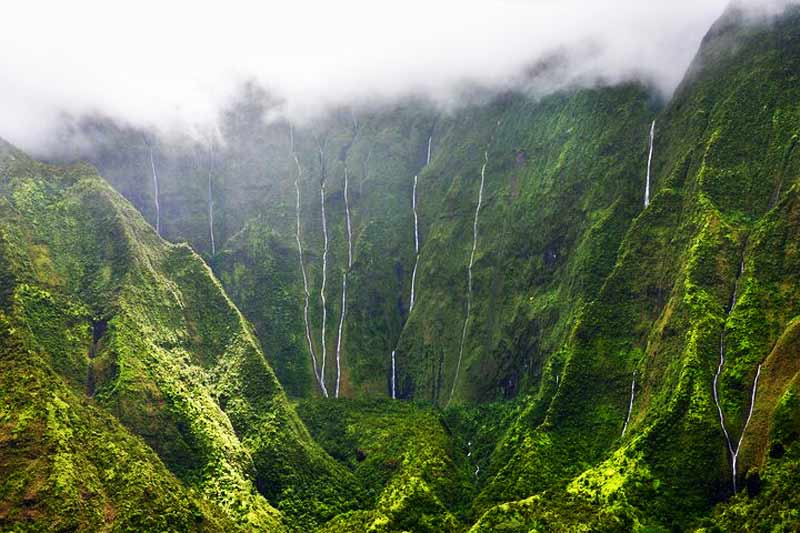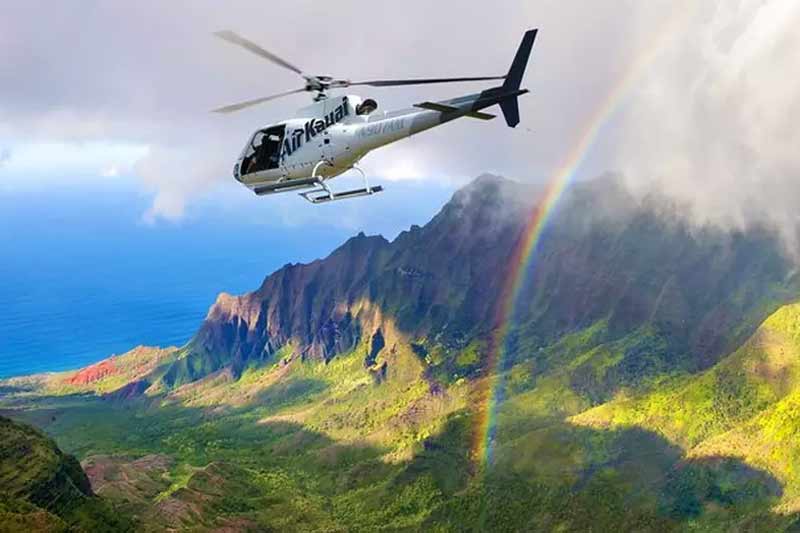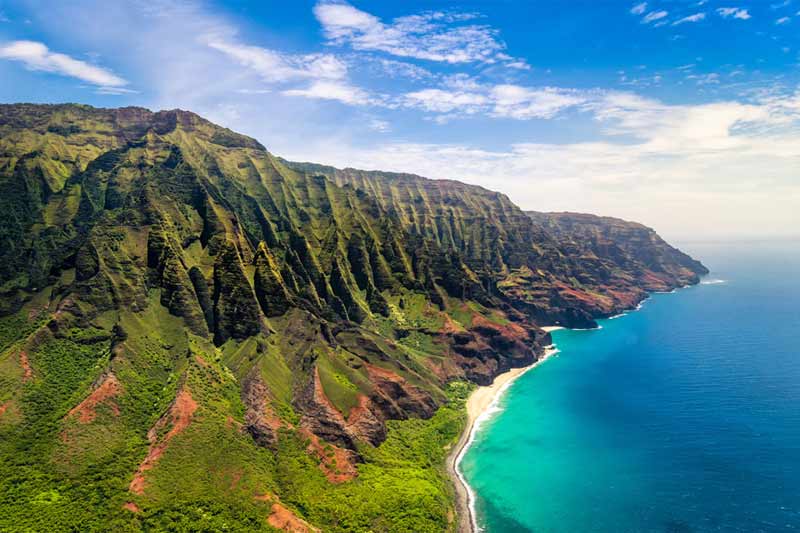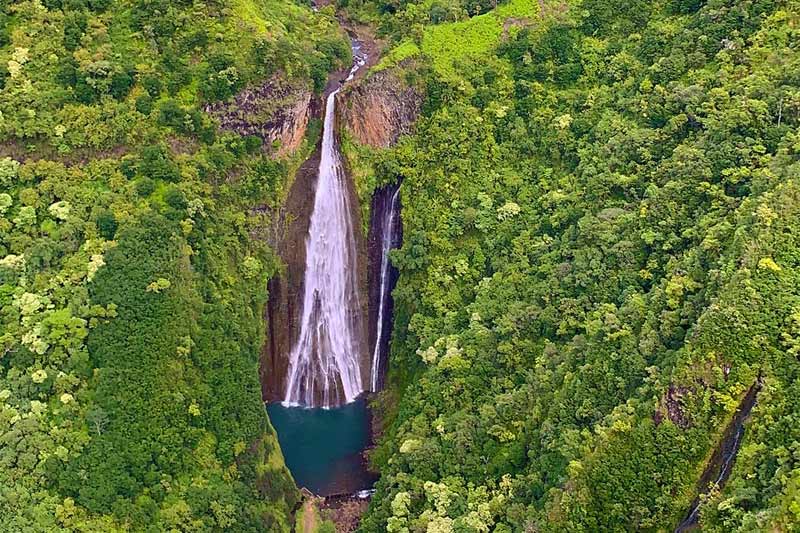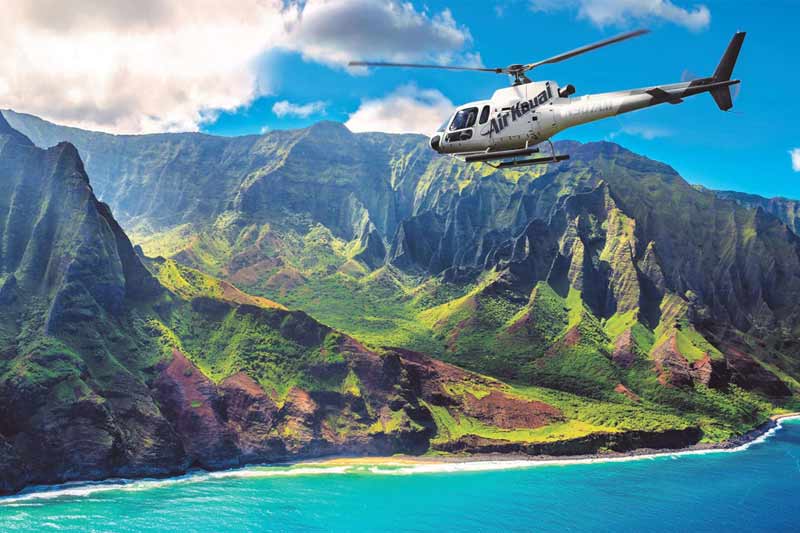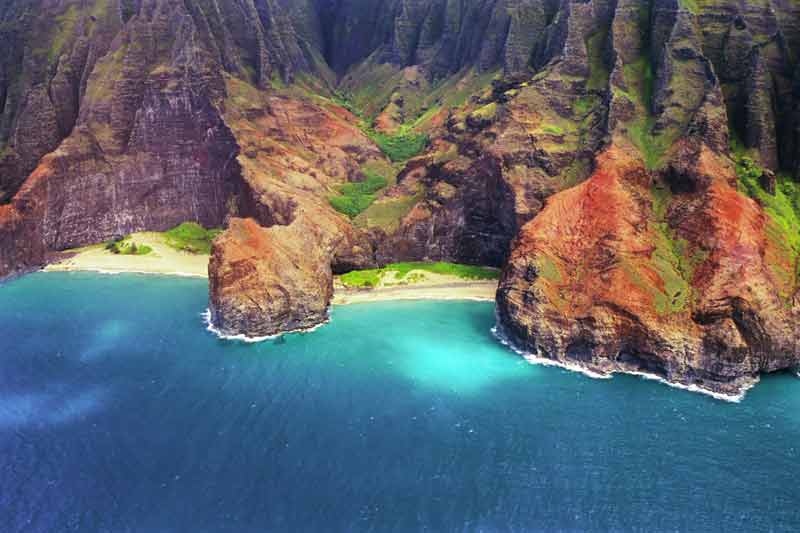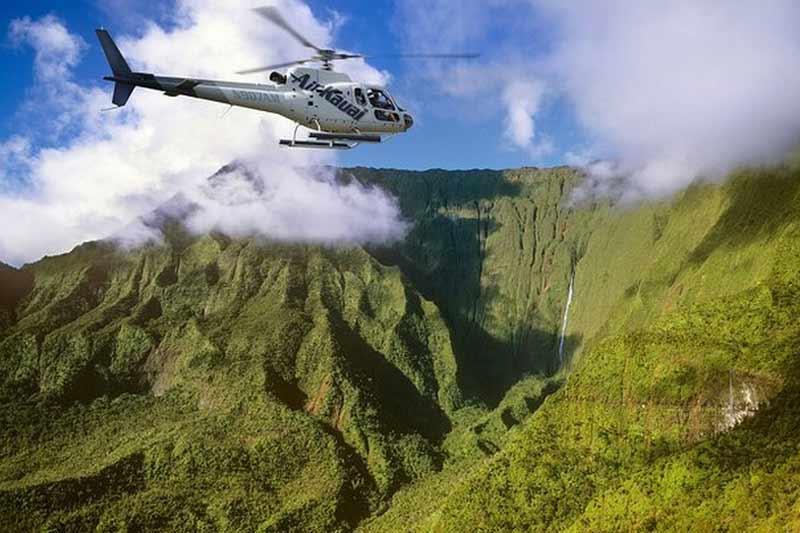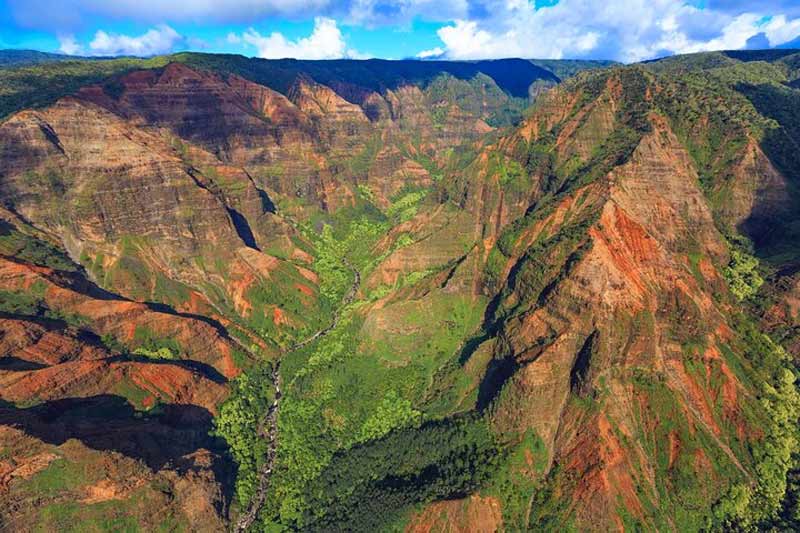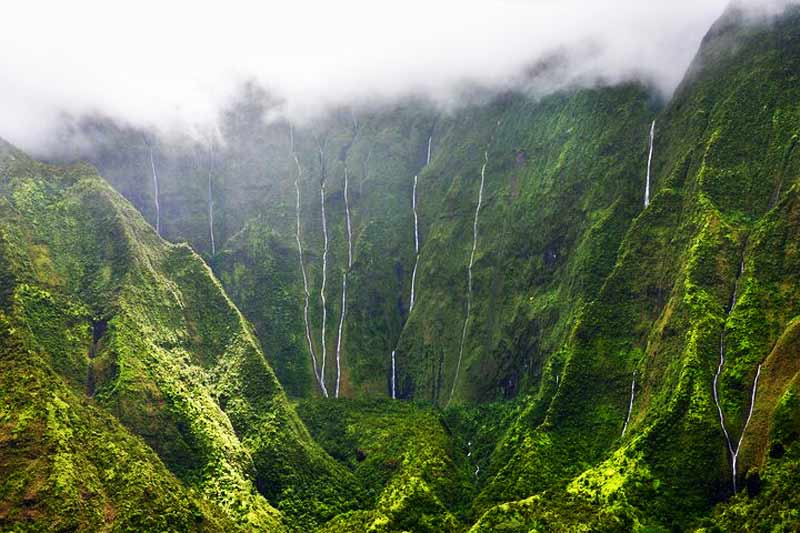 ---
Highlights
Kauai's Best Safety Record!
Doors On or Doors Off Flights
The Island's Best Value in a Helicopter Tour
---
Description
The beauty that unfolds before you on a helicopter tour over Kauai is breathtaking and awe-inspiring. 90% of Kauai's amazing waterfalls cannot be seen any other way ... don't spend thousands on a Hawaiian vacation and miss the best part! Book a helicopter tour today!
Air Kauai offers scenic tours of the spectacular Garden Island of Kauai ... arguably the most beautiful island in the world! Their flights are conducted in the industry standard touring helicopter ... the six passenger Eurocopter A-star is a "flying theater" with skylights and huge Plexiglas windows for superior visibility.
Tour depart from the General Aviation area of the Lihue Airport. Three different flight options are offered ... including the popular DOORS-OFF experience!
A First Class FRONT seat upgrade is available for most flights at a rate of $50 extra per seat. Both front seats must be puchased together and the combined weight for these two people may not exceed 380 pounds.
---
Flight Options
45-50 Minute Doors Off Adventure
Adventure awaits! Enjoy the thrill of this DOORS OFF flight over the top requested sights of Kauai. The Waimea Canyon, Hanapepe Valley, Famous Na Pali Coast and Mount Waialeale. With nothing between you and the incredible views on our doors off flight, you will experience the beauty of Kauai in the best way possible. If you are looking for a truly exciting experience this flight is for you. For this flight they take the doors off their amazing ASTAR helicopter so there is nothing between you and those amazing thundering waterfalls!
A few details that apply specifically to "doors-off" flights:
-- Cell phones, Go Pros, or cameras must be attached using a wrist or neck strap. No hats, bags, or any loose items permitted.
-- You must wear closed-toed shoes that attach securely to your foot. No flip-flops or sandals allowed. Each person will be given a jacket you will be required to wear during the flight.
-- Minimum age for doors-off passengers is 10 years of age. An adult must accompany all passengers 18 and under.
Doors OFF Adventure 45-50 Min Rate (AKH1)
$335.00 per Passenger (Hawaii sales tax included)
---
45-50 Minute AMAZING Flight - Doors On
Explore the rainforest, Manawaiopuna Falls, Waimea Canyon and the famous Na Pali Coast rugged coastline and cliffs. Same itinerary as the "doors-off flight, but this one is done with "doors on" for passengers who place climate control and comfort over "adventure."
AMAZING Doors ON Flight Rate (AKH3)
$280.00 per Passenger (Hawaii sales tax included)
---
Location
Directions: At Air Kauai's location at the Lihue Airport General Aviation / Heliport area.
GPS Address: 3711 Ahukini Rd, Lihue, HI Click to view map
---
Details
Schedule: Flights available 7 days a week
Reservations: A credit card is required to confirm all reservations but the tour is charged 5 days before you arrive in Hawaii. For those planning ahead, this event is "reserve now pay later."
Minimum Notice for Cancellations / Changes: Cancellations or changes must be made at least 48 hours before the start of the event (7 full days in advance for parties of 12 or more).
Weather and Routes: Exact flight route and sights may vary based upon weather conditions. Weather cancellations are rare, but If the pilot feels a quality tour cannot be conducted due to weather conditions, you will be contacted to reschedule for another day. If you can't reschedule, your tour will be refunded in full. All weather-related cancellation decisions are based upon the pilot's discretion.
Equipment: Eurocopter AS350 AStar
Capacity: 6 passengers per flight
Weight Restrictions: For DOORS ON FLIGHTS Passengers weighing over 240 pounds or couples whose combined weight exceeds 420 pounds must purchase an extra seat. For DOORS OFF FLIGHTS Passengers weighing over 230 pounds or couples whose combined weight exceeds 400 pounds must purchase an extra seat.
---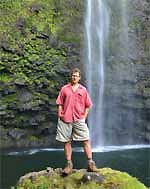 Kevin's Activity Tips:
It never ceases to amaze me that people spend thousands of dollars to come to Hawaii, but think it is too expensive to spend another $300 to REALLY see the islands from a helicopter. There is so much beauty that you cannot see any other way. Do yourself a favor and SPLURGE! You will thank me. I have flown with many helicopter companies and done flights over all the islands of Hawaii (except Niihau and Oahu). I don't think anyone who works in this industry would question the fact that Kauai is the most beautiful of the Hawaiian islands to fly over ... and is probably the most beautiful island in the world.
We are thrilled to offer Air Kauai helicopter tours once again ... they are the sister company to Air Maui, our favorite helicopter tour company on that island. The short story is that Air Maui recently expanded their operation and is now offering flights on Kauai as well ...but there is a much LONGER story here.
Air Maui actually started as Air Kauai back in 1989 and operated scenic flights for several years until Hurricane Iniki devastated the island of Kauai in 1992. With the Kauai's prospects for tourism severely limited by the storm's damage to resort areas, Air Kauai moved their operation to the island of Maui and became Air Maui. After the island recovered, one of the Air Maui partners went back to Kauai and reopened Air Kauai again in 1998. Air Kauai was sold to a mainland investor around 2007 and ceased operations during the Great Recession in 2009. Air Maui has obtained legal rights to the name once again, and has resumed Air Kauai flights.
The important thing to take away from this history lesson is this ... between the two locations Air Maui and Air Kauai have operated for over 40 years of scenic helicopter tours in Hawaii with the absolute best safety record in the industry. They have flown accident and injury free EVERY flight in their storied history. At each day's end, an entirely new crew takes charge of the aircraft. Their FAA-certified and factory-trained mechanics inspect and maintain the helicopters to ensure that every component, every system, meets the highest standards of safety and quality. Their standards are simple: "If it's not perfect, it doesn't fly."
Best time of day to fly? I think mid-morning provides the best lighting and least cloud cover. Kauai gets LOTS of rain ... the summit of Mt. Waiale'ale is the WETTEST place on the face of the earth. That's why this island is so beautifully carved and has so many waterfalls. Days that there are NO clouds are very rare. Typically the helicopters are able to fly back into the valleys while remaining safely below the cloud layer.
Wear dark shirts when you fly in a helicopter. It cuts down on glare on the windows and improves the quality of pictures that you might take. Even on doors-off flights this applies because they obviously can't remove the windshield ... haha.
A word about body weights ... almost all helicopter companies in Hawaii have a 240 -250 pound weight limit per seat. For larger passengers who exceed the weight limit it is necessary for the helicopter companies to leave a seat vacant so that there is adequate room for the larger passenger (and adjacent passengers). Some companies charge 50% extra for this "comfort seat" and others charge a full rate for the extra seat (which doubles the cost of the fare for a passenger over 240 pounds). Air Kauai charges 100% of the normal rate for this extra seat. They also charge extra in cases where the combined weight of 2 passengers exceeds 420 pounds.
What about kids? The cost of a seat is the same whether the passenger is an adult or a child. There is no minimum age for "Doors On" flights and the minimum age for "Doors Off" is 10.
A final word about "Doors-on" vs. "Doors Off" ... flying with no doors is exhiltrating but it isn't for everyone. If you have a fear of heights or are uncomfortable at all with the concept of flying, you will feel more secure with the doors on. Doors On is also climate controlled ... it is WINDY in a doors off helicopter and gets cool (cold) at higher altitudes. With doors on you will feel like you are riding in a Cadillac ... with doors off you will feel like you are riding in a Corvette Convertible. You may use any camera device you like (except for iPads ... they are too big and block the views for others). On doors off flights any cameras or recording devices must be attached using a wrist or neck strap.