KAUAI SIGHTSEEING
Sightseeing excursions on Kauai allow you to focus on the scenery out the window instead of focusing on the road. A professional driver/guide will help you see more sights in less time, and learn something about Kauai's history at the same time.
---
---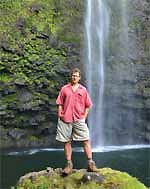 Kevin's Activity Tips:
If you are just driving around in a rental car, sightseeing on Kauai is always better for the passengers rather than the driver. Roads are a bit narrow, there is a fair amount of oncoming traffic, and when you head upfill, NOTHING is in a straight line. Give the driver in your family a break, and allow a professional guide to navigate, drive, and tell you about the history and geology of what you are seeing. You'll not only end up with great photos to post, you'll also learn lots and be able to write intelligent captions for those photos!
Waimea Canyon is known as the Grand Canyon of the Pacific and while it is only about half as deep as the one in Arizona, I personally think this one is more beautiful! I especially love Waipo'o Falls, in the back side of the canyon, which plunges in two tiers to the valley floor below. This tour also includes stops at the Spouting Horn, a blowhole in the Poipu area, as well as Hanapepe Town, Waimea Town, the Kauai Coffee Plantation, and includes a nice lunch from a local spot known as "Chicken In a Barrel."
The Kauai Movie Tour is unique opportunity to not only enjoy Kauai's beauty, but to see firsthand the locations where that beauty was captured on film. Your movie buff guide will take you to places that will be instantly recognizable, especially when clips from these films are played for you on a monitor in the vehicle. And lunch is at Tahiti Nui, a Tiki Bar that was featured in the movie "The Descendants." If you watch closely on the way to the Hanalei Pier you'll see the hedge where George Clooney's head popped up from behind. This is a fun day!