---
---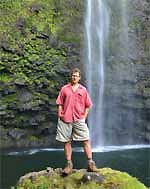 Kevin's Activity Tips:
When you think of tropical vacation, nothing captures its essence more than the idea of lying on the trampoline stretching between two hulls of a sailing catamaran. With the wind filling the sails and the mist of the salt spray wafting through the air as the hulls float effortlessly through the water ... hand me a mai tai please!
The tours featured on this page are very similar in their itineraries. Of the two boats, Leila has the more streamlined profile for better sailing performance, but the Lucky Lady has a few more features including an upper deck (which is nice for view of the coastline) as well as a fun waterslide that the kids enjoy.