---
---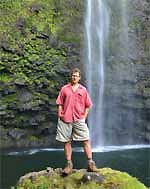 Kevin's Activity Tips:
As the northernmost island of the chain of the major Hawaiian islands, Kauai's coastline is pounded with northern winter swells. As the oldest member of the chain, it has been the most eroded by wind and rain, sculpting the incredible beauty we so enjoy. Nowhere on the island is this more apparent than along the spectacular and pristine Na Pali Coast. There are no roads here ... if you want to see this part of the island you need to take a boat ride. We can help you with that! ;-)
The major decision is which TYPE of boat is right for you. The most adventurous and best choice for active travelers in good shape (no neck or back injuries and no one pregnant) would be one of the Ocean Rafting trips. Low on creature comforts and high on thrills, these tours are especially good in the summertime when the Na Pali is calmer and when conditions permit the rafts can even go in and out of sea caves that have been carved by the monster winter swells. At the opposite end of the spectrum are the Sailing Catamarans which are high on creature comforts. Just keep in mind that because these vessels have masts they cannot actually enter any of the sea caves. A good compromise is the Powered Catamarans. They are larger than rafts with more creature comforts, but without a mast they can enter one of two of the largest sea caves along the Na Pali under ideal conditions, and when they can't enter they can get really really close.
Overall Kauai's snorkel trips are different than those on other Hawaiian islands. Snorkeling is a FEATURE of these Kauaitrips, but the main attraction is always the spectacular beauty of the island. Also, Kauai is your best shot at seeing Hawaiian Monk Seals and larger marine mammals like Melonhead Whales, Pilot Whales, and Bottlenose Dolphins ... especially on the Niihau Supertour.