Blue Ocean Adventures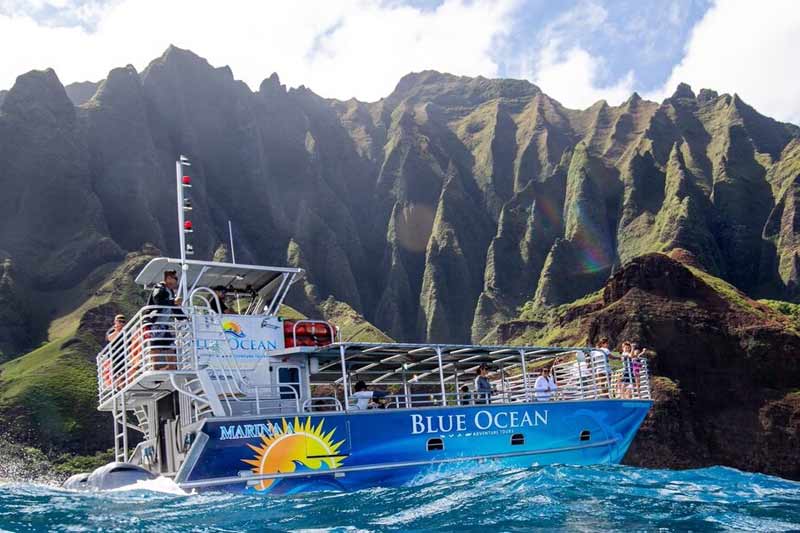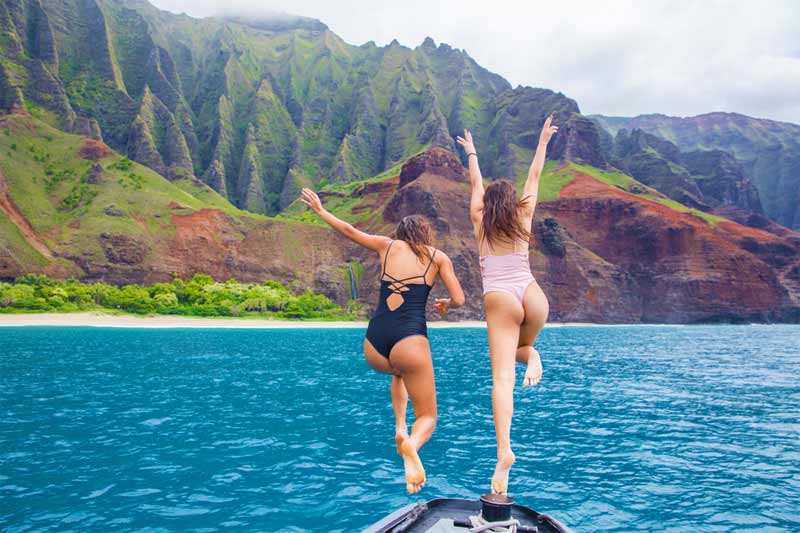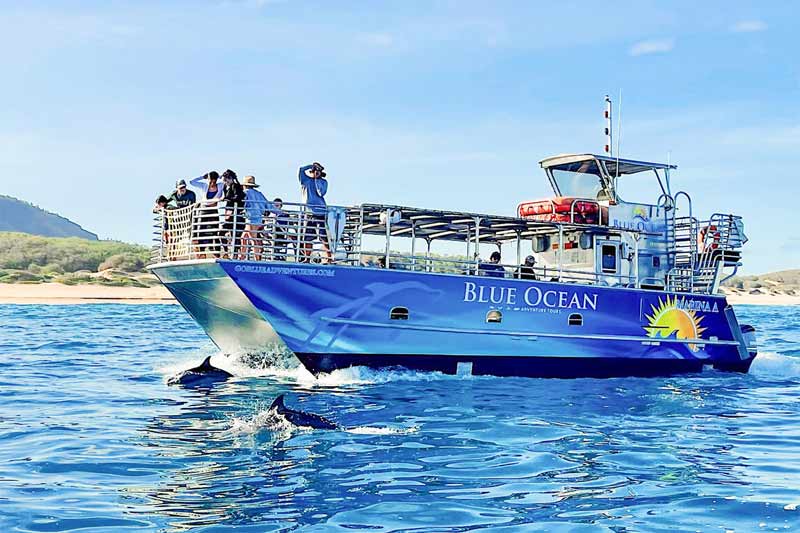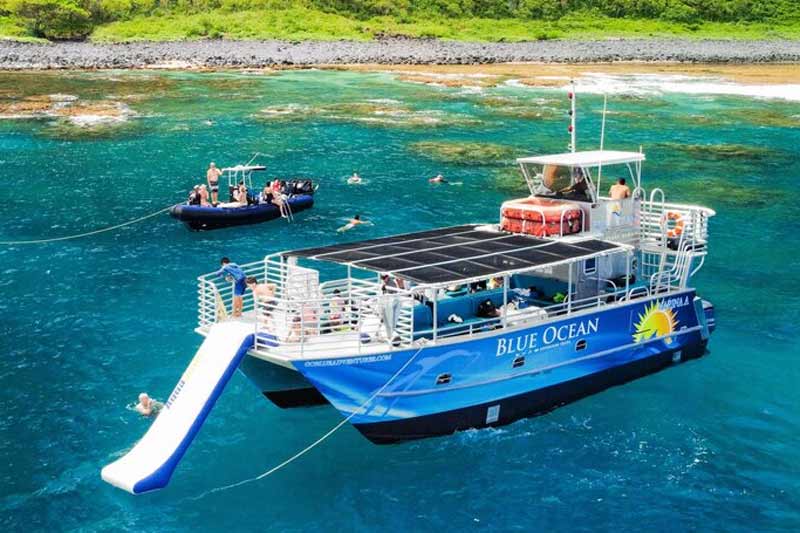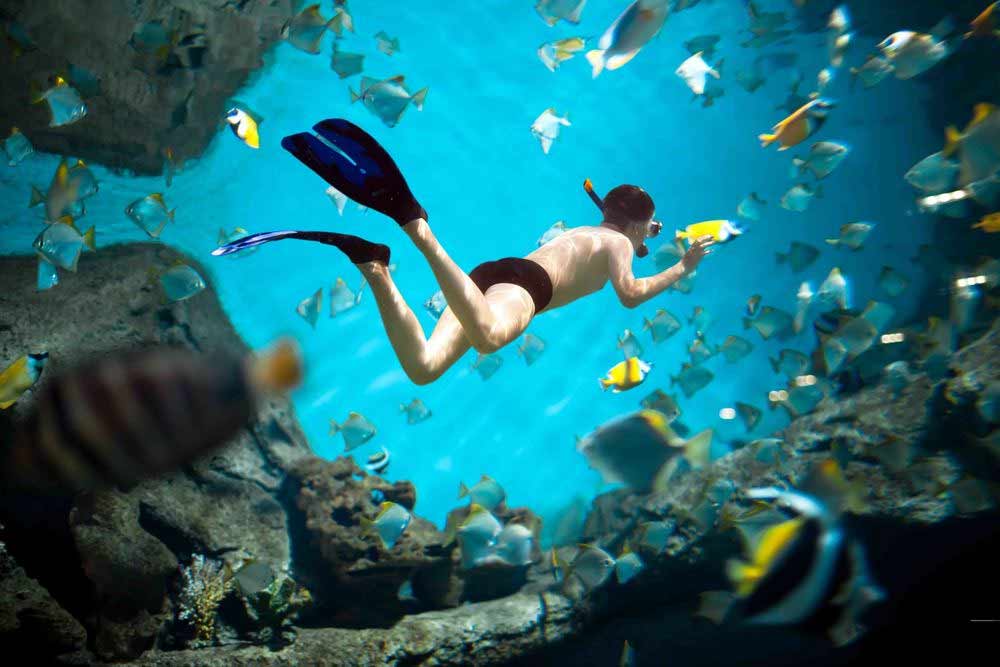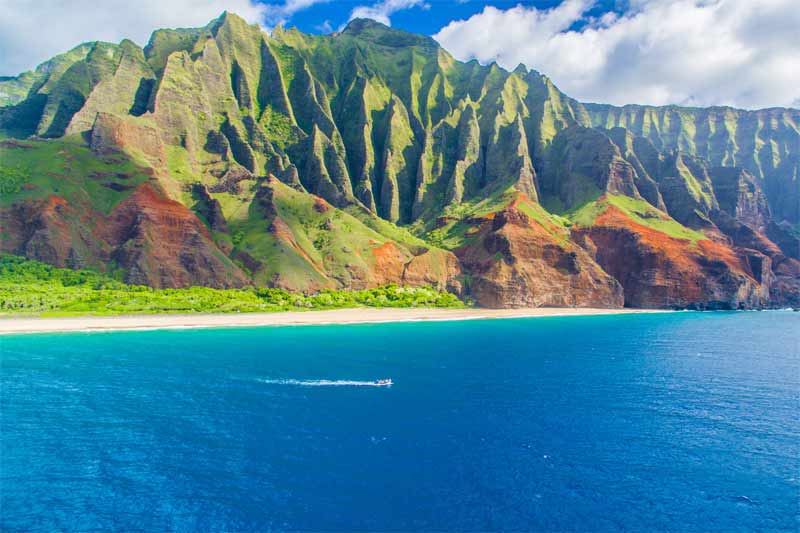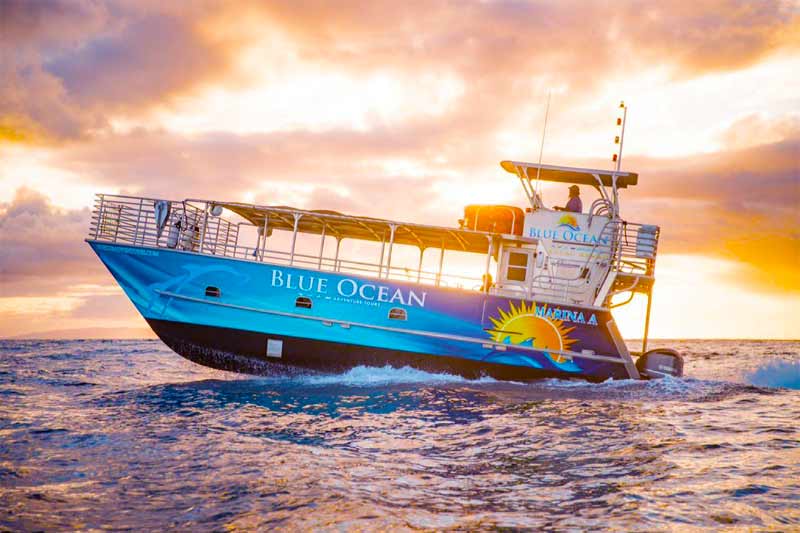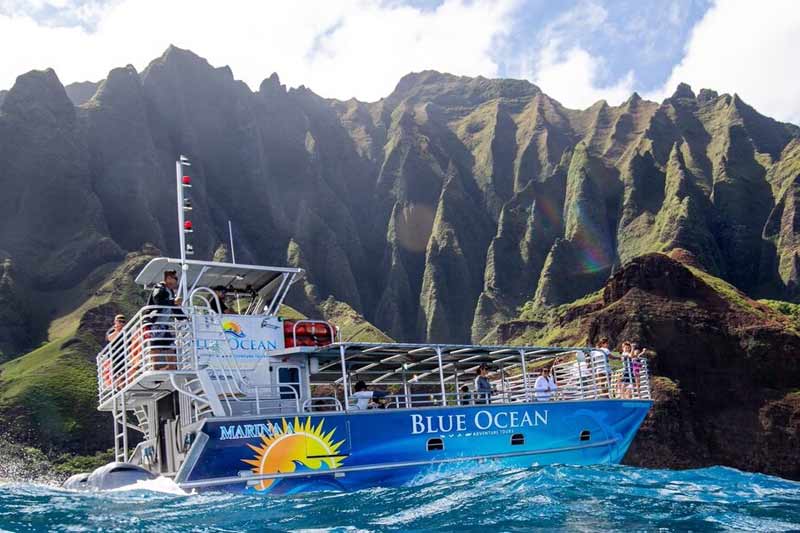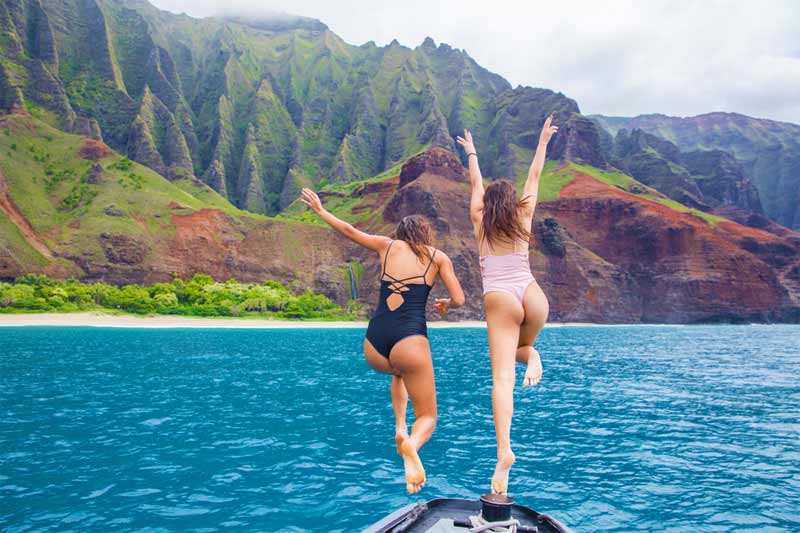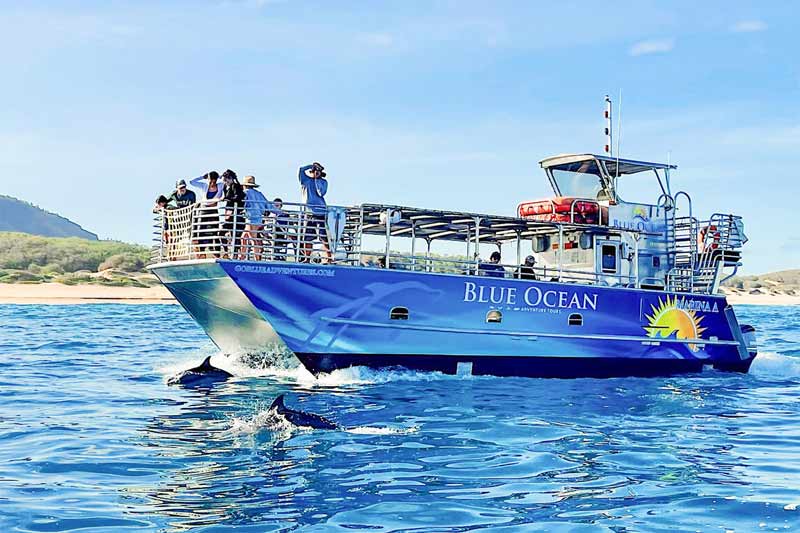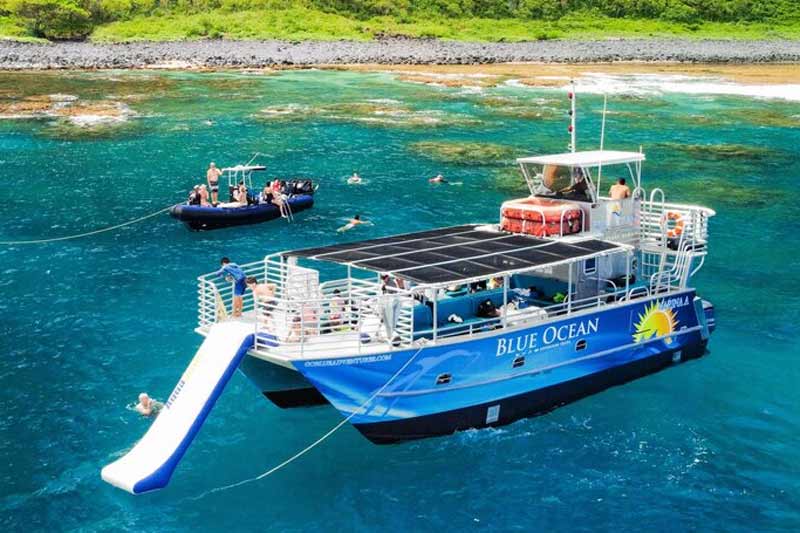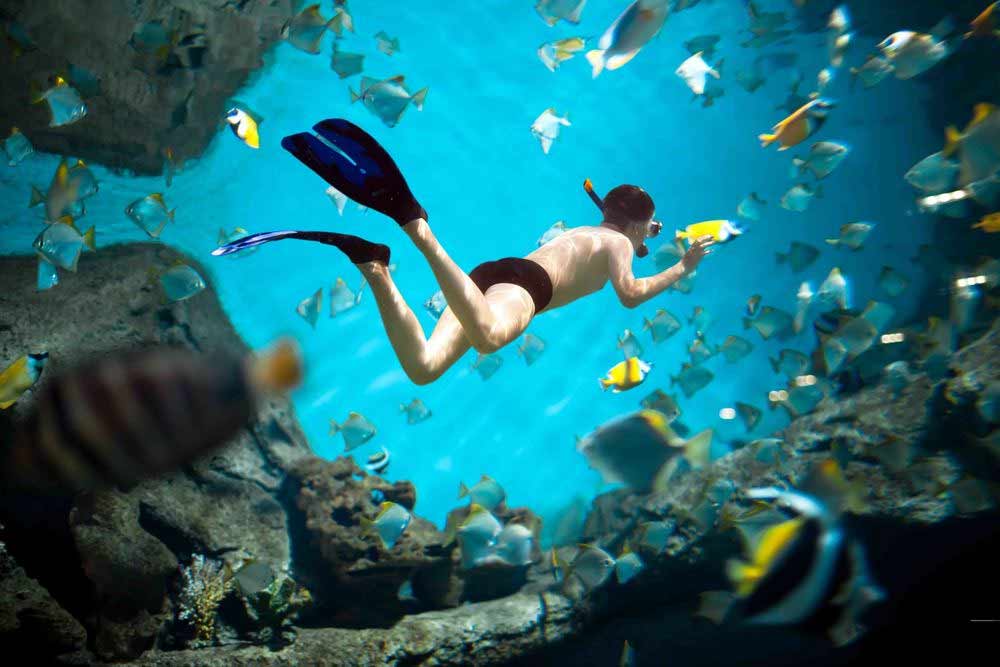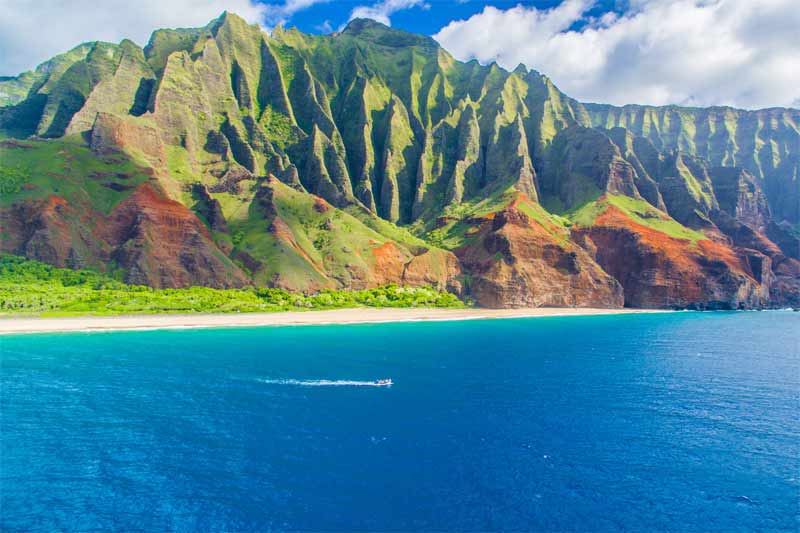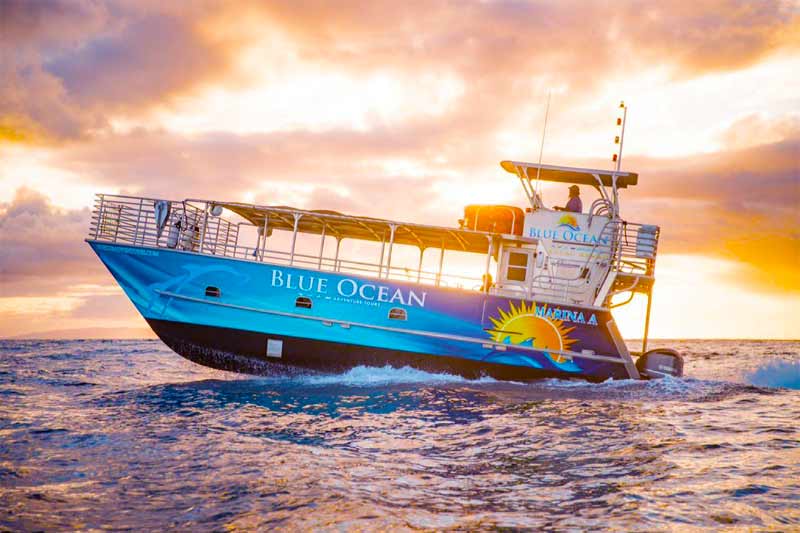 ---
Highlights
Sightseeing along the Na Pali Coast
Snorkeling along the Sea Cliffs
Fun Boat with Waterslide
Really Nice Lunch Included
---
Description
There are sea caves and archways to explore, with numerous waterfalls falling directly into the ocean. Sealife abounds, including spinner and spotted dolphins, monk seals, and Hawaiian green sea turtles. Humpback whales are often seen during the winter months! Ocean rafting is a popular way to explore this coastline, but those tours aren't for everyone. That's the niche of Blue Ocean Adventures Power Catamaran ... they offer the adventure of a raft in the form factor of a more comfortable boat with shade and rest rooms on board.
Blue Ocean Adventures offer a huge advantage over most other companies on Kauai because of the proximity of the departure point to the Na Pali Coast. They depart from the Kiki'aola small boat harbor west of Waimea, which cuts 20 minutes or so each way on the trip to the Na Pali compared to the boats that depart from the Port Allen Harbor. This increases the amount of time you have along the scenic Kona and Na Pali coasts and cuts down on the time getting there and back ... and cuts a little time off the overall tour but still gets the same experience. Tours operate from this west side location all year.
This vessel is fast ... powered by FOUR 250 horsepower Yamaha engines ... and FUN with an inflatable water slide deployed during snorkeling.
MORNING TOURS are offered all year at 7:30am. The morning tour is popular with early risers and the ocean (and wind) is typically a little more calm on the morning tour.
The morning tour includes snorkel gear and a really nice meal featuring pulled pork, teriyaki chicken, and garlic shrimp ... veggie option is available by request.
---
Cost
Blue Ocean Adventures Morning Tour Rate (NPE1)
$185.00 per Adult, $149.00 per Child(6-12) (plus 7.712% Hawaii sales/harbor tax)
---
Location
Check In: Kikiaola Small Boat Harbor just east of Kekaha
GPS Address: (21.959662, -159.692195) Click to view map
---
Details
Schedule: The Morning tour is at 7:30am and operates daily all year.
Included in the Tour: Snorkel gear, meal and beverages
Tour length: 4.5 hours
Vessel: 48 foot Armstrong Power Catamaran
Capacity: 36
Restrictions: Minimum age is 6. No pregnant women, and no one with neck or back injuries permitted on the tour.
What to Bring and Wear: Wear swimsuits and bring a towel and sunscreen.
Minimum Notice for Cancellation / Changes: Cancellations must be made at least 48 hours before the start of the event.
---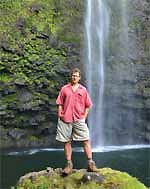 Kevin's Activity Tips:
One huge advantage of Blue Ocean's tour is that their powered catamaran leaves from Kikiaola Harbor, which is just past Waimea town on the island's west side. This is a longer drive than going to Port Allen where most other boats depart, but the longer drive is worth it. It cuts down on the length of the boat ride to reach the Na Pali ... and you don't miss any scenery along the way as the area between Port Allen and Waimea is the least interesting part of most Na Pali trips.
The 46 foot Armstrong catamaran offers comforts (shade and an on-board rest rooms) that you'd get on a larger boat, but it still offers a smaller passenger count than the larger catamarans. It has a smoother ride than the smaller zodiacs but it is fast enough to cover the Na Pali coast.
There are some days along the Na Pali, especially in the wintertime, when a huge north swell will prevent any raft from entering any of the sea caves. Just being close enough to witness these monster waves crashing on the cliffs is a spectacular experience. Occasionally in the wintertime conditions will not allow the raft to reach the Na Pali. If that's the case the captain will select an alternate destination along the south shore that is safe and offers a memorable day on the water. While the Na Pali is always their preferred destination, even on days when they can't get there they guarantee you a great time and a fun adventure. As a general rule if it is too rough for these guys to go to the Na Pali, it's too rough for any boats to go there.
As a resident of Hawaii, I consider the Na Pali coastline to be the most scenic and most sacred place in the islands. There are better places in Hawaii to snorkel but nothing compares with the dramatic scenery and raw natural beauty of this wild coastline.