Blue Lagoon Kayak tour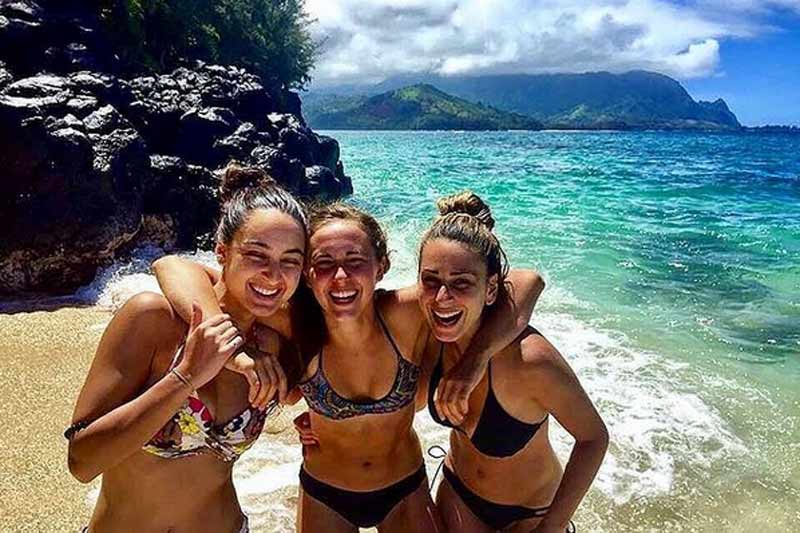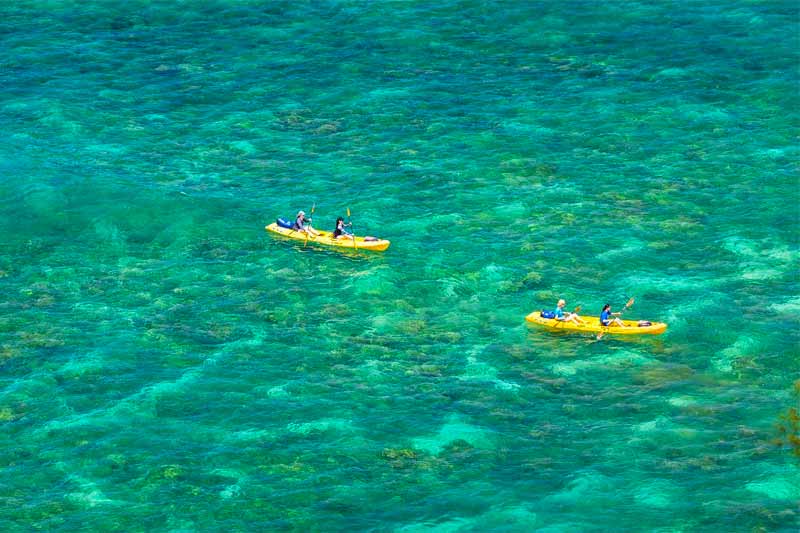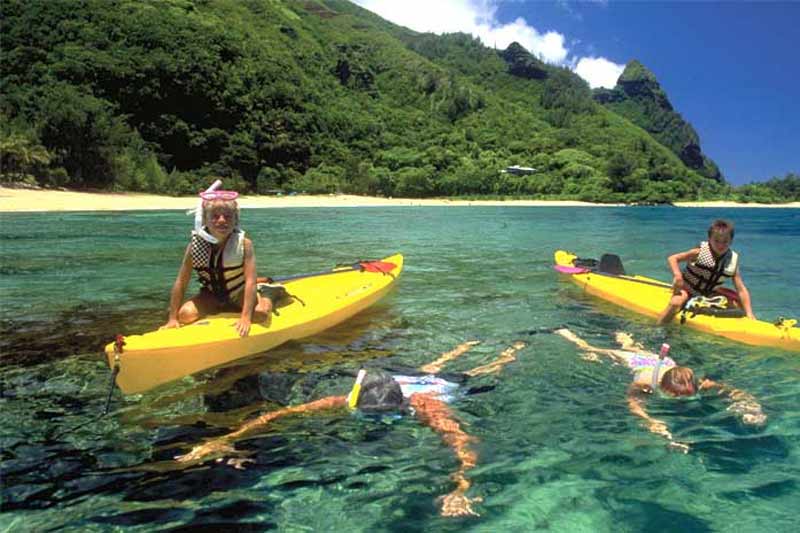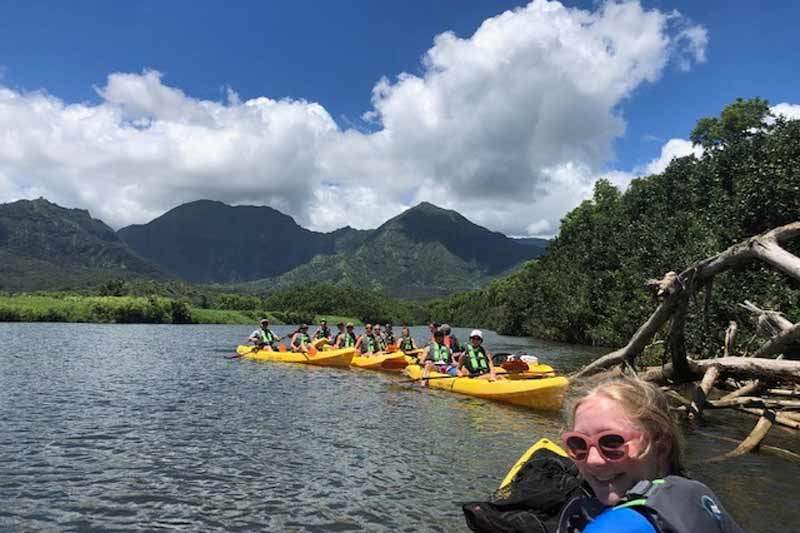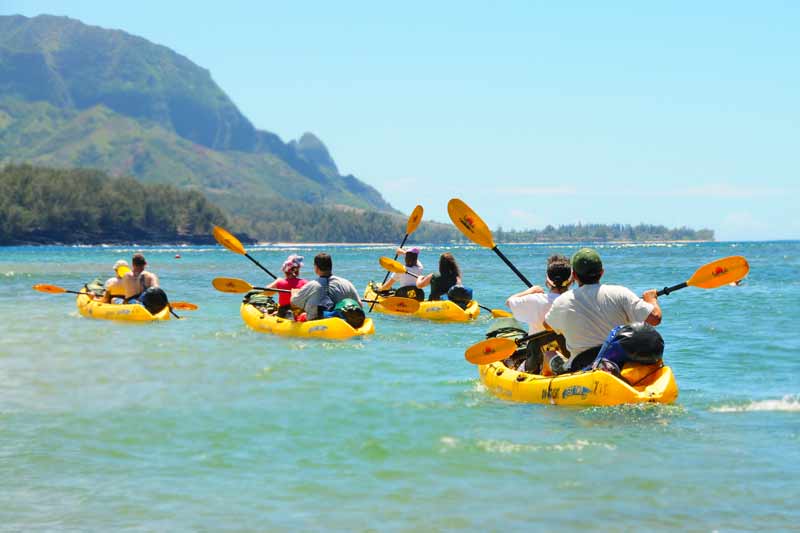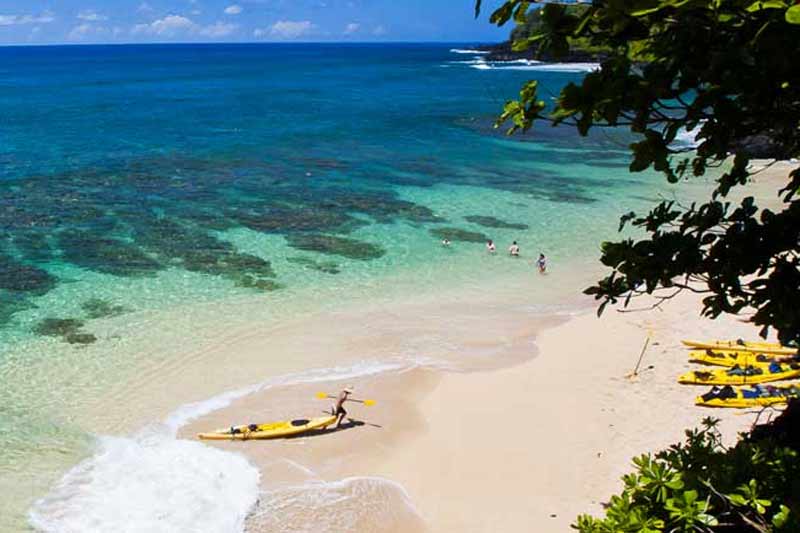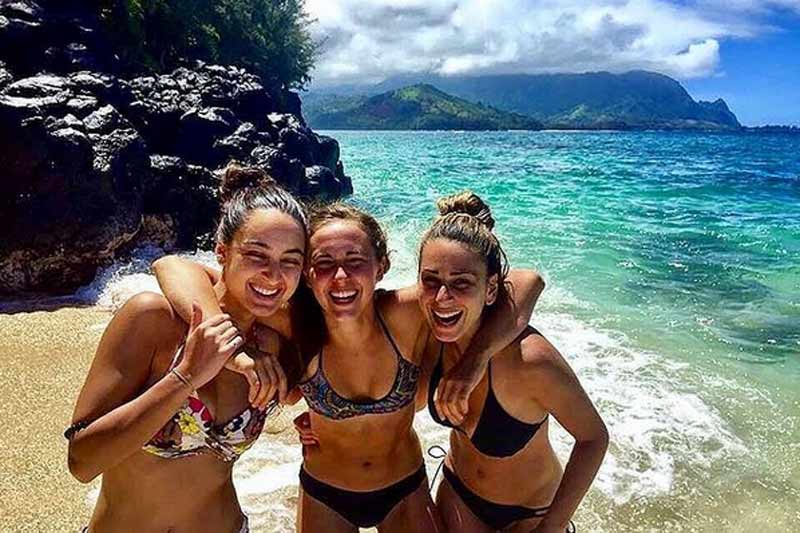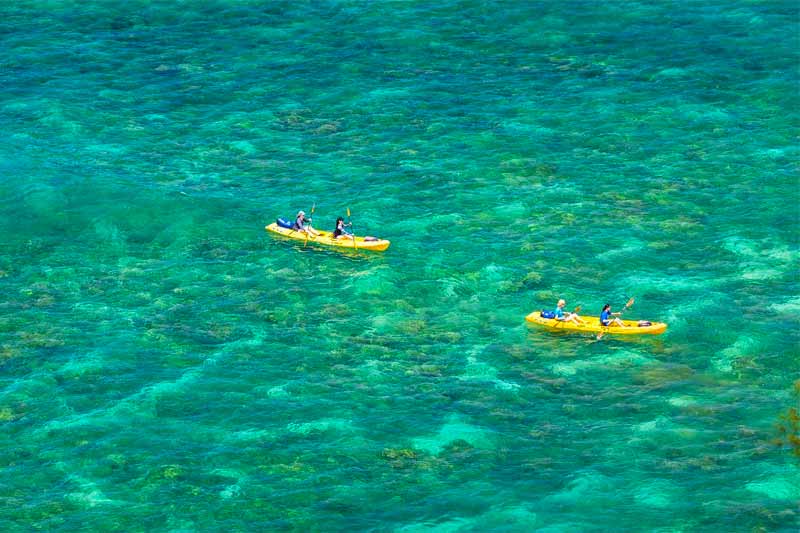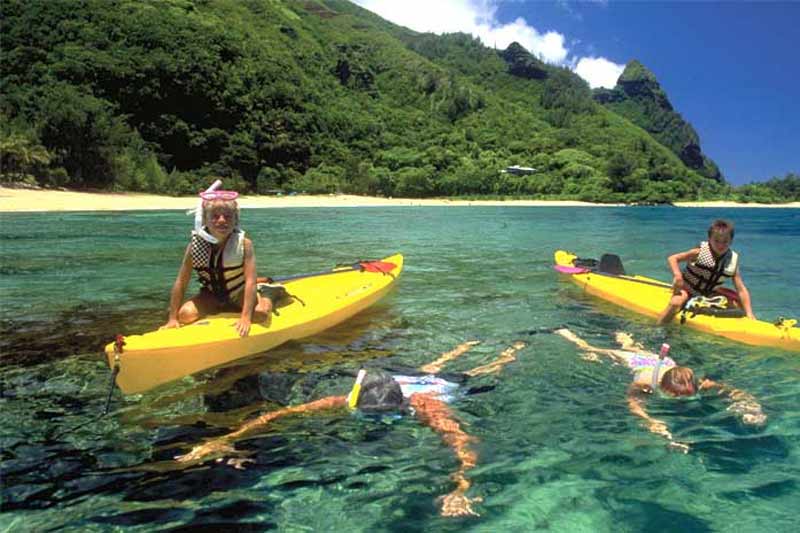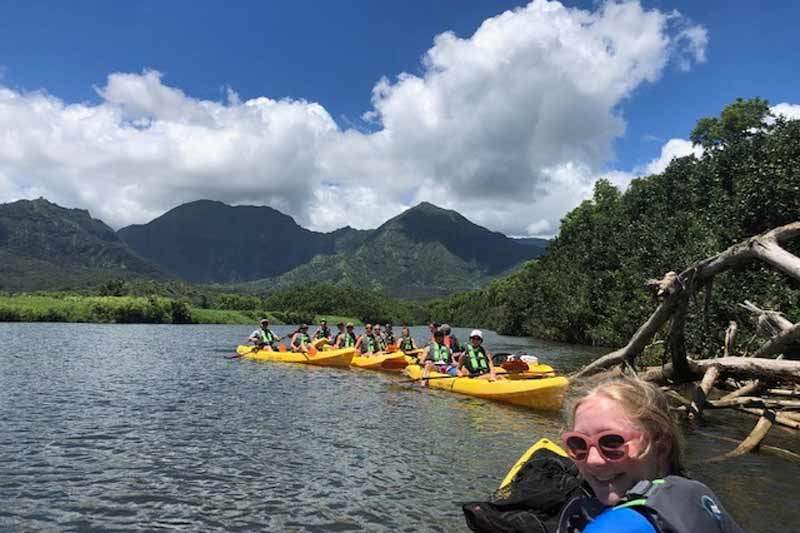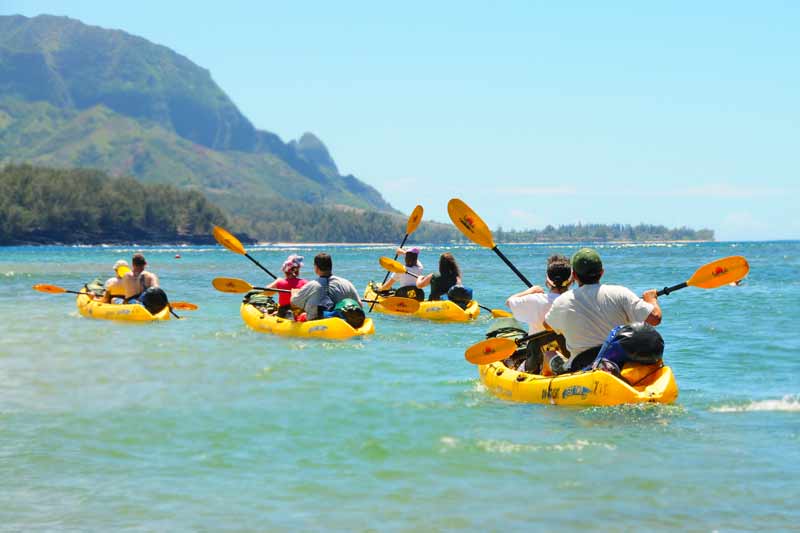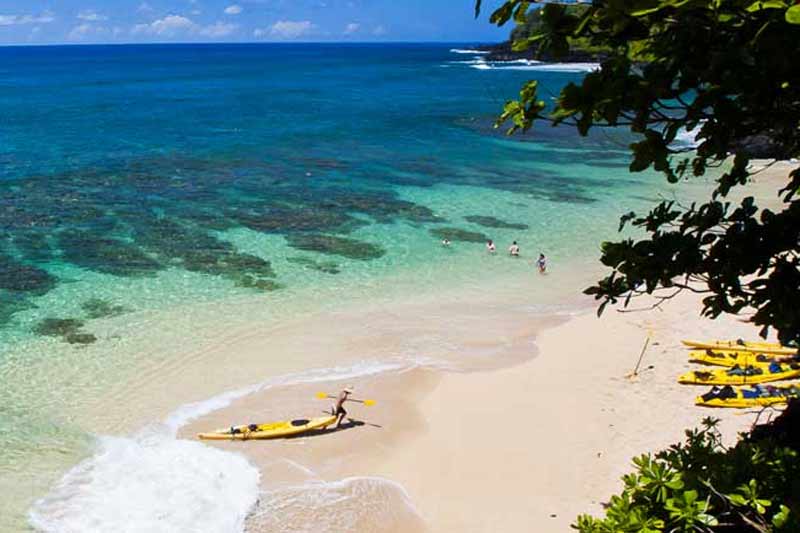 ---
Highlights
Kayak Paddle on the Hanalei River
Paddle Out the River Mouth and Out to the Bay
Snorkeling Included Based on Conditions
A Versatile Tour that Adapts to the Seasons
---
Description
Blue Lagoon Kayak Tour is a guided tour operated by Kayak Kauai along the scenic Hanalei River and the Hanalei Bay Reef Lagoon. Highlights of this safe family adventure include views of Bali Hai (Makana Peak) and the sweeping "South Pacific" panorama. Watch for endangered sea birds and turtles, and snorkel with colorful fish in the protected bay. Wade by a sandy beach. The more adventurous can paddle out in a surf kayak. This is the perfect soft adventure for all ages, couples and families. Come frolic in the calm, clear tropical waters!
The details of this itinerary will change with the seasons and ocean conditions. In the wintertime when large swells are common the tour will focus on exploration of the upper reaches of the Hanalei River. In summertime when conditions are really calm the tour will paddle out of Hanalei River and into the bay.
---
Cost
Blue Lagoon 5hr Hanalei River Rate (KK5w/p/n)
$139.00 per Adult, $139.00 per Child (12 and under) (plus 4.712% Hawaii sales tax)
---
Location
Check In: The Kayak Kauai shop in the Wailua Marina ... across the parking lot from the entrance to Smiths Tropical Paradise and Luau.
GPS Address: 3-5971 Kuhio Highway, Building 3, Kapaa, HI 96746 Click to view map
North Shore Guests: Those who are staying on the north shore in the Kilauea / Princeville / Hanalei area can park at the Princeville Shopping Center and the van will pick you up at the bus stop along the highway next to the gas station.
---
Details
Schedule: Monday, Wednesday, and Friday with an 8:00am meeting time in Wailua. The actual tour operates from 8:00am to approximately 1:45pm from
Gear Provided: Double sit-on-top kayak, paddle, life jacket, water resistant bags.
Included in the Tour: Lunch and beverages
Tour length: approximately 4.5 hours
Restrictions: Suggested minimum age is 5. Number of children in your party may not exceed the number of adults.
What to Bring and Wear: Bathing suit, towel, change of clothes, light shirt, hat, sunscreen.
Reservations: Advanced reservations are required. When you reserve this adventure on our website your reservation will be guaranteed on your credit card. Our agency charges for this tour just a few days before the beginning of your vacation, so if you are planning ahead this event is "Reserve Now and Pay Later."
Minimum Notice for Cancellation / Changes: Cancellations must be made at least 48 hours before the start of the event.
NOTE: This tour requires a party of 4 to open up a tour date. If you are a party of 2 and request a date that has not yet opened, we will waitlist you and finalize the reservation as soon as additional people are added and a tour is confirmed for your date.
---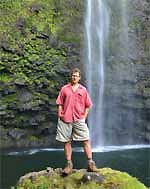 Kevin's Activity Tips:
Most kayaking in Hawaii is done on the ocean, which at times can be rough and at other times can be downright dangerous. Kauai offers the unique opportunity to kayak NEAR the ocean on some jungle waterways. This makes for a safe, tranquil outing ... and an opportunity to absorb the sights, sounds, and smells of the jungle from a unique perspective. The Blue Lagoon Kayak Tour starts out on the Hanalei River, and during periods of high surf the tour may focus entirely on the river. Just FYI ... it's a fascinating jungle environment with bamboo and hau bushes lining the banks of the river. I have seen Green Sea Turtle upriver as this stream is directly tied to the ocean... a fascinating experience!
When ocean conditions permit, this tour will head out the river mouth and navigate the channel out into the bay. On really calm ocean days they may paddle around the corner to the east and land at an isolated beach which also offers some terrific snorkeling. With this destination in mind, the tour will spend most of the time on the ocean and just a little time on the river. That's a unique aspect of this tour ... it adapts to the seasons.
Never kayaked before? No worries ... it isn't difficult at all to get the hang of it. All the instruction that you need is provided. It doesn't take a tremendous amount of effort to paddle ... you'll be surprised at how easily you move through calm waters with very gentle strokes.
This tour is OK with children ... they don't have a minimum age per se; parents know their kids and their capabilities. As a general rule, these tours are fine for anyone who is of average health and is comfortable in and around the water.