---
---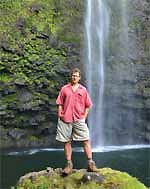 Kevin's Activity Tips:
So you are an adventure seeker and you know that a Na Pali Coast rafting trip is a "MUST DO" event for you. Which tour should you pick? The answer to that question depends largely on 1. What time of year you are visiting the island? and 2. Where are you staying on the island? If you are coming during the "winter half" of the year which covers the months of November through March, the best choice is Kauai Sea Tours Rafting, which leaves from the South Shore at Port Allen. If you are coming in the "summer half" of the year which includes April through October, you have more options. During these months Kauai Sea Tours operates the Na Pali Rafting with Landing tour which includes a stop at a remote beach at Nualolo Kai, a historic site which features archeological remains of an ancient Hawaiian village. Note that occassionally during the summer months ocean conditions may not permit landing ... if that happens to you the tour cost is adjusted to that of the non-landing version of the tour.
If you are coming in the summer AND you are staying on the north shore in the Princeville / Hanalei / Haena area you might also consider the Hanalei Na Pali Rafting. This tour option is pricey (they are virtually theyonly game in town in Hanalei) but the extra cost might be worth it to save you an early morning drive to the other side of the island.