Kipu Safari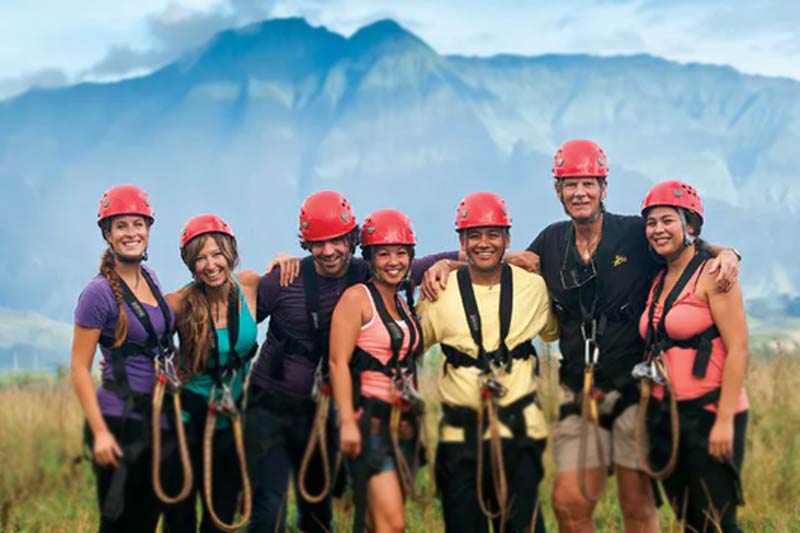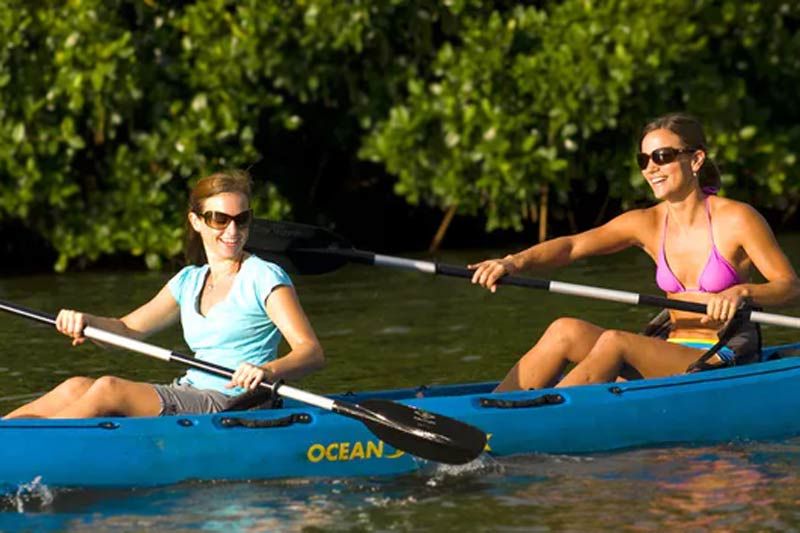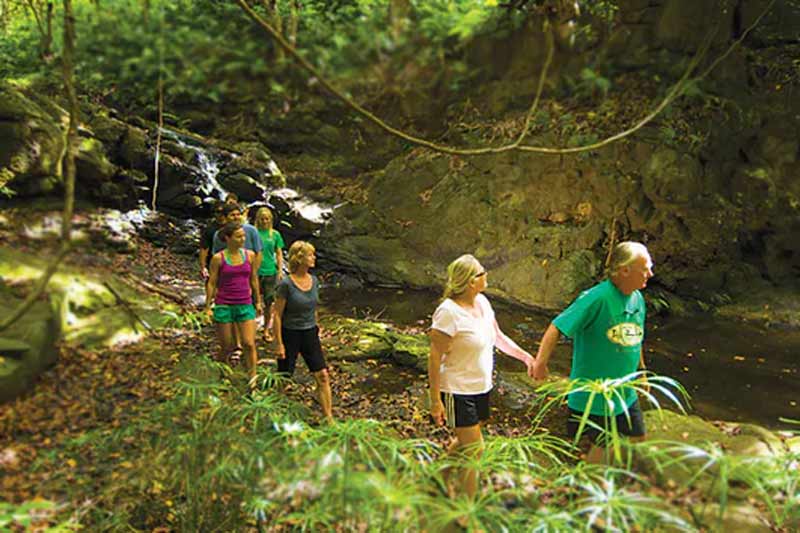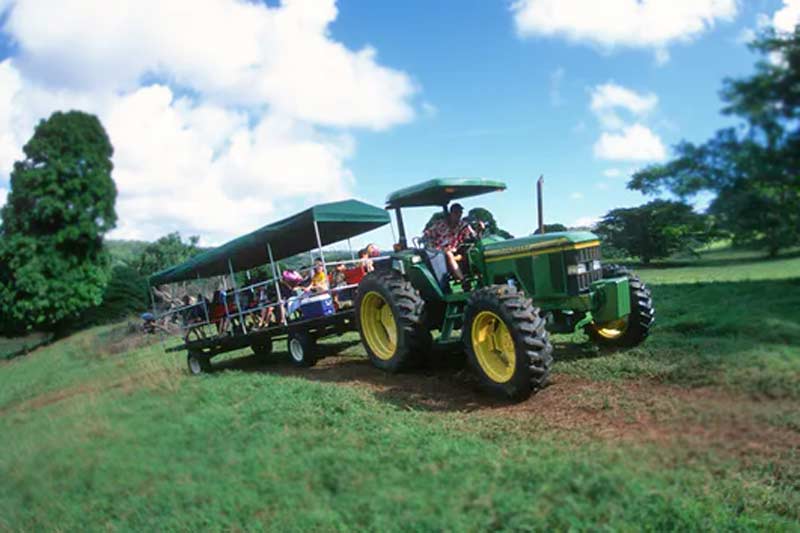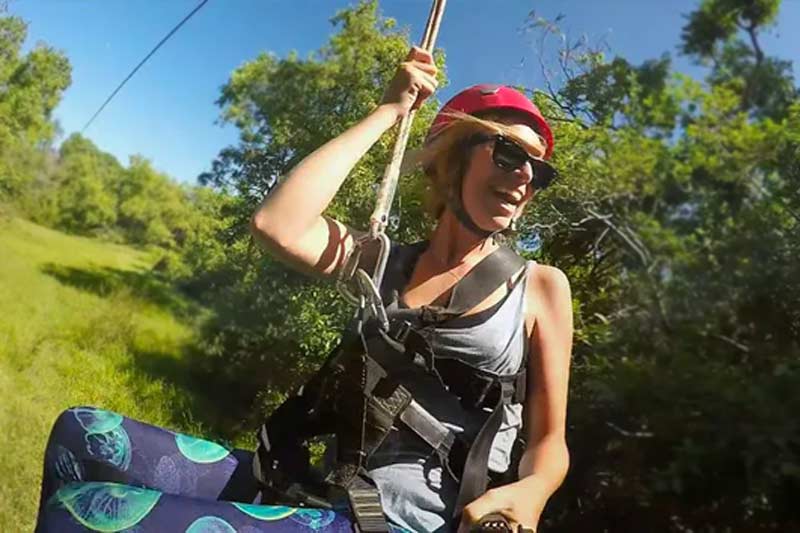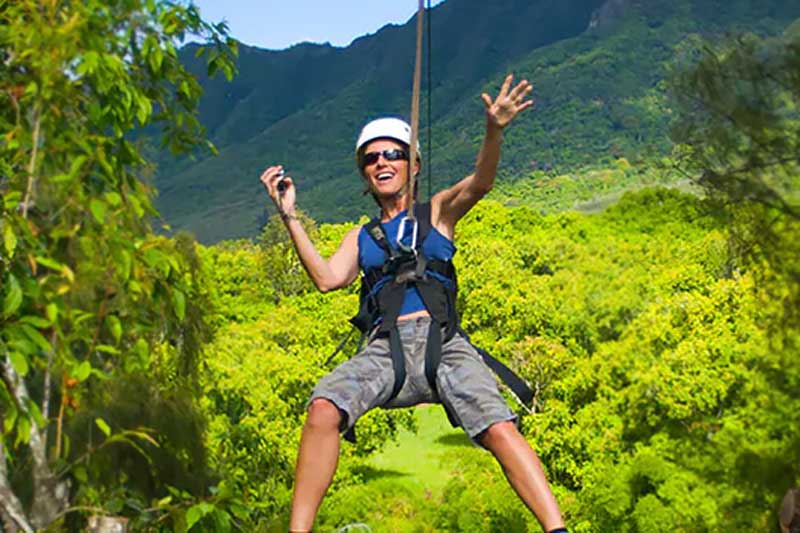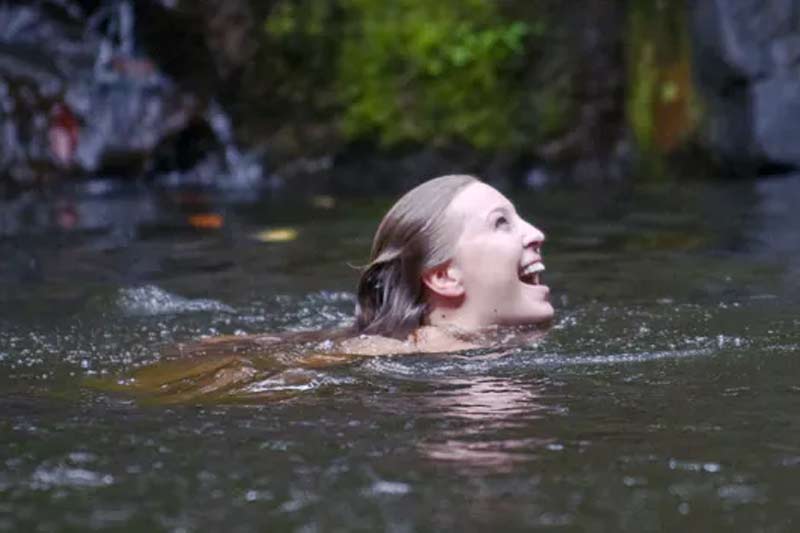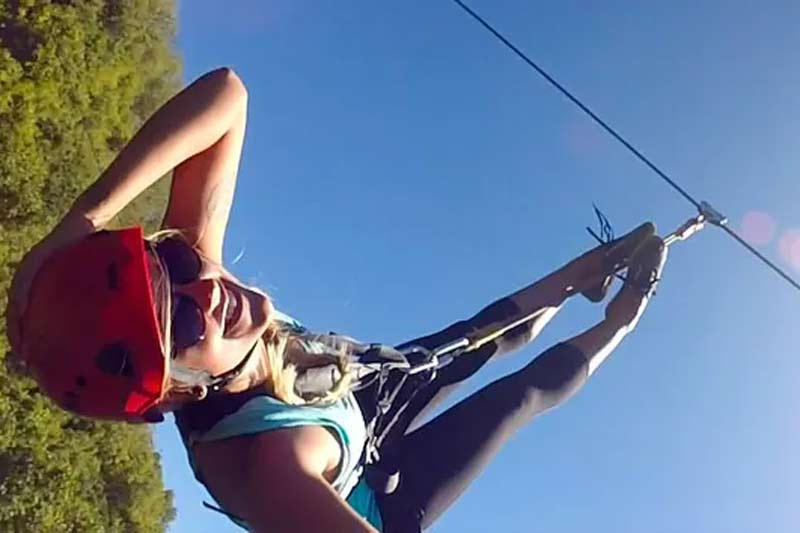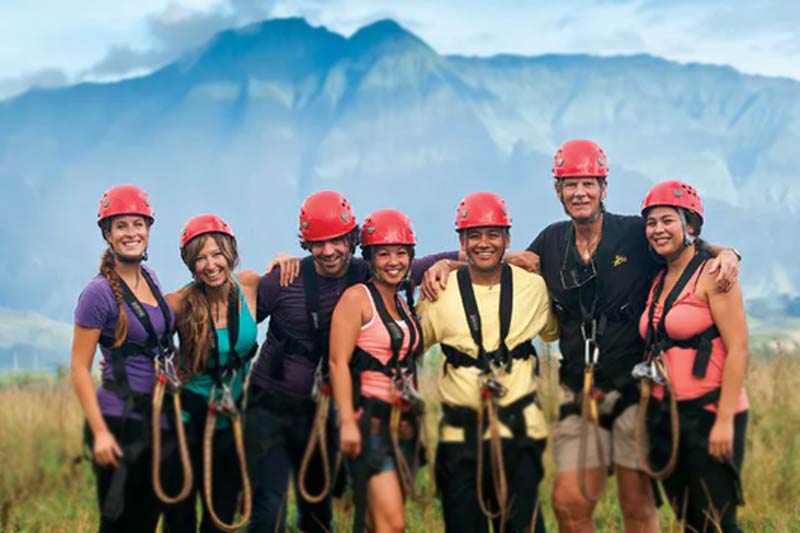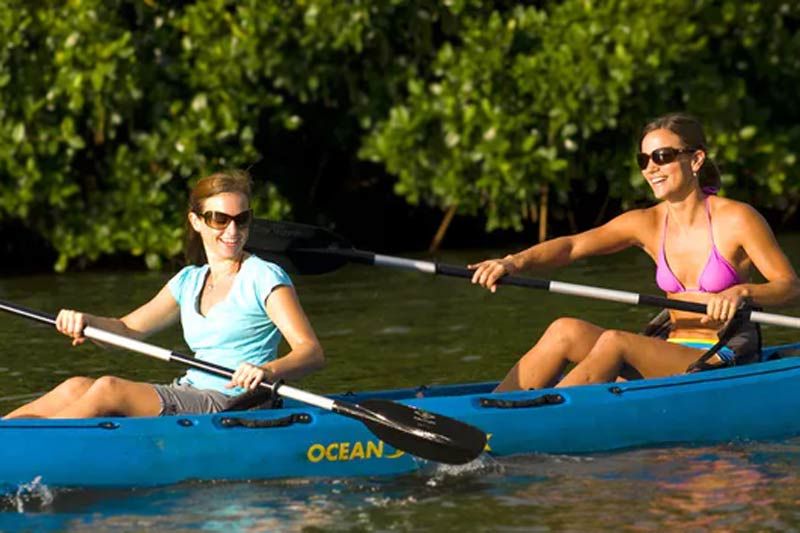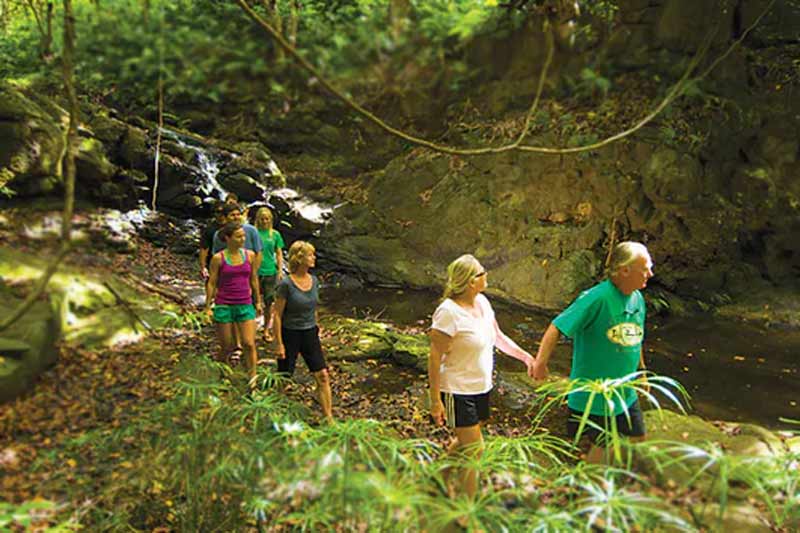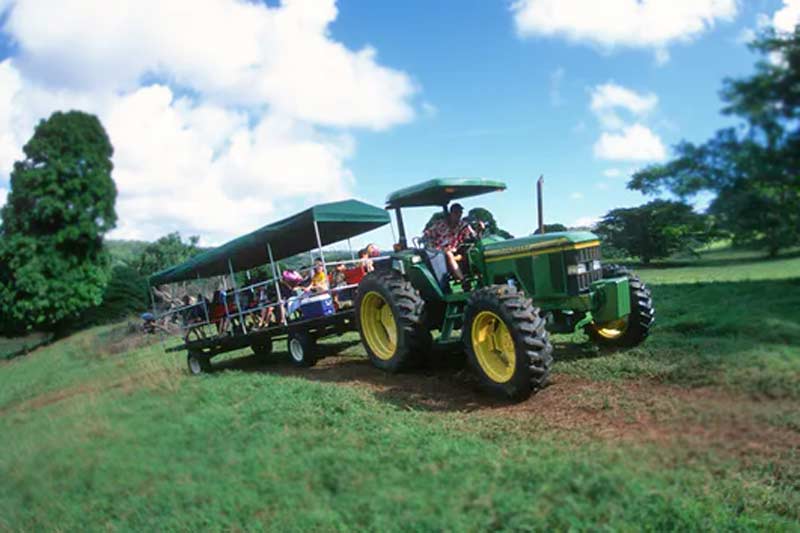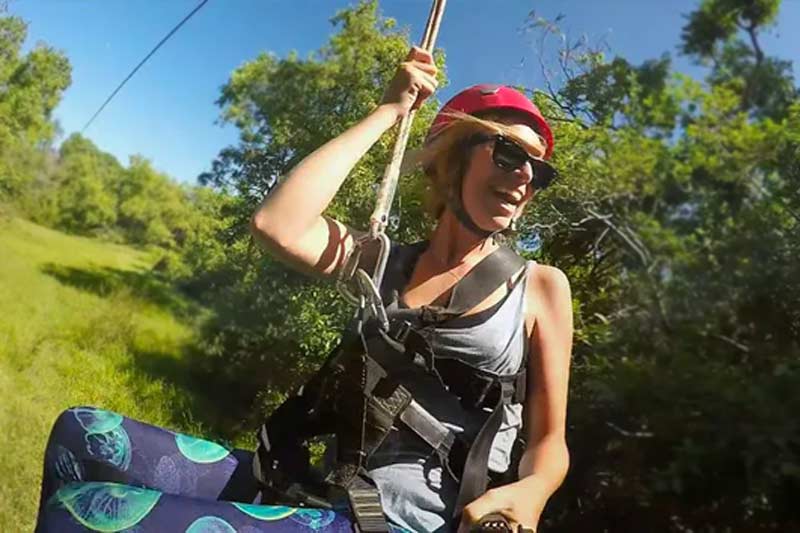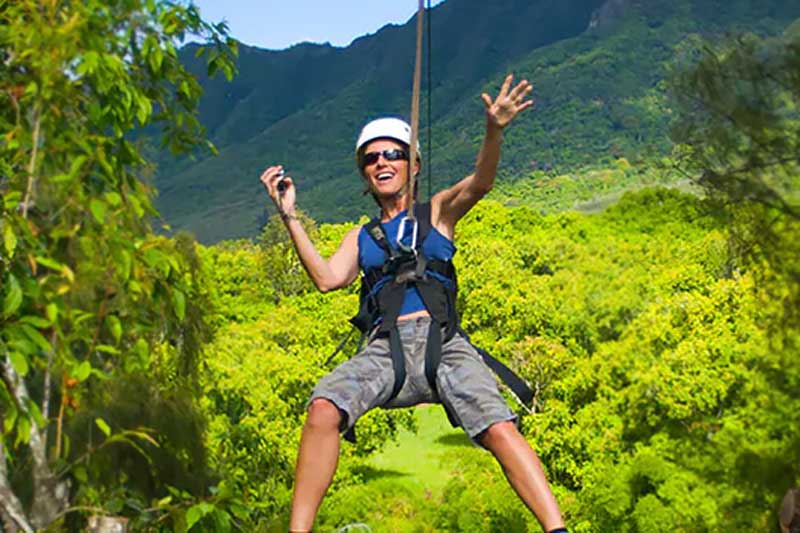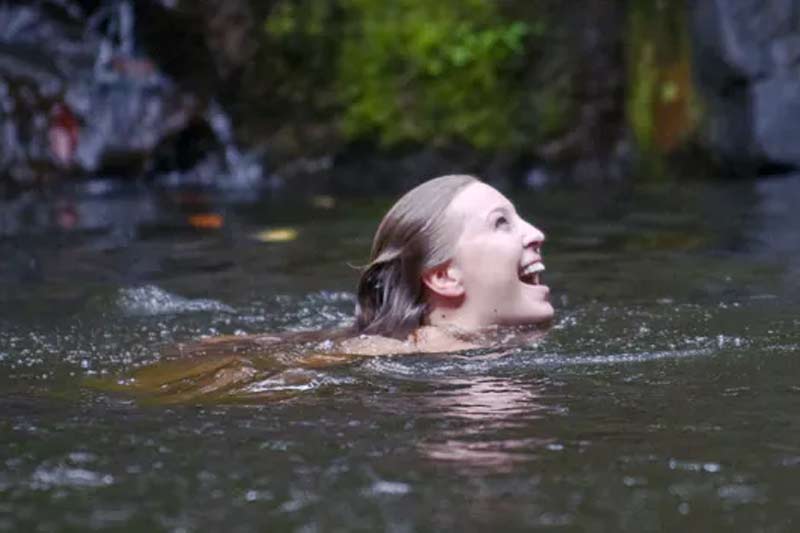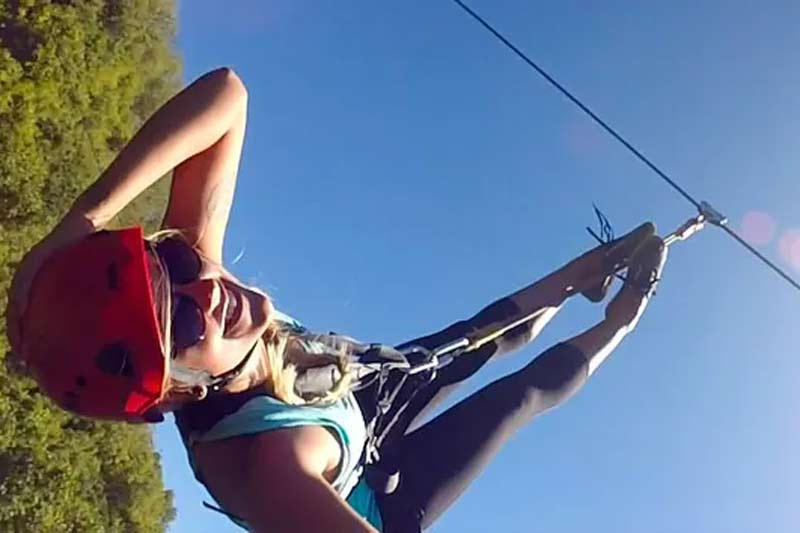 ---
Highlights
Kayak on a Jungle River
Hiking and Exploring Kipu Ranch
Fun Water Zipline with Swimming Hole
Two More Ziplines including the LONGEST on Kauai!
---
Description
Kipu Safari is a combination adventure that offers it all ... participants will be kayaking, hiking, zipping, swimming, riding in a covered wagon, and finally being taken back to the starting point by motorized Hawaiian canoe. The day begins with an upstream paddle ... sounds hard, but on this river the trip upstream is easier. There is very little current and the wind is typically at your back. Next you'll cross the ranch in a covered wagon and witness movie locations that were used in filming "Raiders of the Lost Ark" and "Jurassic Park."
Following a break for a picnic lunch, you'll be equipped with your harness and enjoy three different zipline experiences. First is a scenic 800' line that towers over the trees below. You'll traverse a suspension bridge and go through a tunnel to reach the second zipline ...a monstrous 1800' tandem line. Finally you'll come to the short but fun "water zip" where you let go and fall into the "Blue Pool" swimming hole. The water zip can be done multiple times. Finally, a motorized canoe will return you to your starting point.
---
Cost
Kipu Safari Rate (OK5)
$219.00 per Adult, $179.00 per Child (3-14) (plus 4.712% Hawaii sales tax)
---
Location
GPS Location: 2494 Niumalu Rd, Lihue, HI 96766 Click to view map
Directions: Check in is at the Outfitters Kauai Kayak Shack along the entrance road to the Nawiliwili Small Boat Harbor which is near the town of Lihue.
---
Details
Schedule: Monday, Thursday, and Saturday at 9:00am.
Duration: Approximately 7 hours
Reservations: When you reserve the Kipu Safari on our website your reservation will be guaranteed on your credit card. The tour operator will charge you at the time of check in.
Tour includes: Lunch (turkey or veggie wrap, pasta salad, and cookies) and beverages.
Restrictions: All participants will walk two miles and kayak for 60-90 minutes. In order to participate in the zipline portion of the tour, participants must weigh less than 275lbs in order to fit into the safety harness, and the minimum age requirement is seven years of age and they must also fit safely in the provided harness. Those who are too young to zip must be accompanied by an adult for the shuttle ride to the other side of the ziplines. Minimum age for kayaking and other activities is 7.
What to Bring and Wear: Swimsuit, shorts, t-shirt, windbreaker or light rain coat, and footwear with aggressive tread for muddy conditions. Hat, sunscreen, bug spray and a waterproof camera.
Note: Observers who do not plan to zip may go along but the price is the same for everyone who attends the tour ... whether or not they do the ziplines.
Minimum Notice for Cancellations or Changes: A minimum of 48 hours before the start of the event for parties of 5 or less. 72 hours prior for parties of 6 or more.
---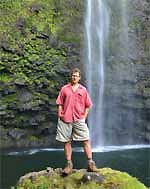 Kevin's Activity Tips:
The Kipu Safari is a great tour choice for people who are having a hard time making up their mind. Do I want to zipline? Do I want to kayak? Do I want to swim in a jungle pool? Maybe hike to a waterfall??? Do all of these and more in ONE long day at Kipu Ranch.
Kipu Safari is a great choice for families with younger kids ... the minimum age for this tour is 7. Children must also fit safely in the harness in order to do the long ziplines that are included with this adventure. Occasionally a child who is small for their age may be old enough to zip, but the guide will determine if that they aren't large enough to safely fit in the harness. The decision on whether a child is big enough is a safety issue and is up to the guide's discretion. Even if a determination is made that a child is too small, there is plenty to do on this tour ... they will still be able to enjoy the waterfall swim and may be able to do the "water zip" which doesn't require the harness. No price adjustments are made though for kids who can't zip (or for adults who chicken out). haha!