KAUAI ADVENTURES
Kauai offers an incredible selection of land-basd adventures for those who are PLANNING AHEAD! Many events in this category sell out six weeks or more during peak travel periods! Reserve anything you know you want to do NOW!!!
---
---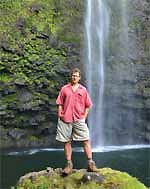 Kevin's Activity Tips:
As if breathtaking ziplines, spectacular helicopter flights, and thrilling exploration of the sea caves of the Na Pali Coast just isn't enough, Kauai offers even MORE adventures tucked into her rugged interior. This category includes some of the most iconic events on the Garden Island. Everyone has heard of the island's most unique and POPULAR adventure, the Kauai Mountain Tubing. This one is so popular that every summer we have people BEGGING us to get them space a month before their vacation. Don't let this happen to you. Reserve it NOW ... it sells out up to TWO MONTHS in advance during peak travel perdiods!
Another unique adventure, and one we really enjoy, is the Waterfall Rappelling. You'll get even more wet than the tubing, and this one is (mostly mentally) challenging and really offers great Instagram opportunities! People at work back home will be seeing your posts and saying "Wow, you did that???"
ATV Tours are really popular, especially with families and larger groups. The one at Kipu Ranch would be my first choice because you will be riding around in terrain you will instantly recognize as the valley where dinosaurs were running free in Jurassic Park. George Clooney's "The Descendents" scene where he looks down on the remote beach his family is protecting was filmed here, as was the famous Indiana Jones rope swing scene at the beginning of Raiders of the Lost Ark. Kauai ATV offers a great tour as well, with an even longer ride that passes through the Wilcox Tunnel, constructed to give trucks hauling sugar cane a shortcut to the Koloa mill.
We also really like the Waimea Canyon Bike Tour ... it's incredibly scenic and the tour saves you having to drive up (and back down) these curvy mountain roads in the Koke'e / Waimea Canyon area. The ride itself requires you to steer and brake effectively, but it is NOT a physically demanding ride as you COAST downhill for 13 miles!
The Kipu Safari is included here because it is a diverse tour that includes all sorts of activities wrapped into one full day of adventure ... everything from kayaking, hiking, swimming, ziplining, riding in a covered wagon, and even feeding semi-wild boar ... good times!