Jack Harter Doors Off Helicopter Tours
Jack Harter Doors Off Helicopter Tours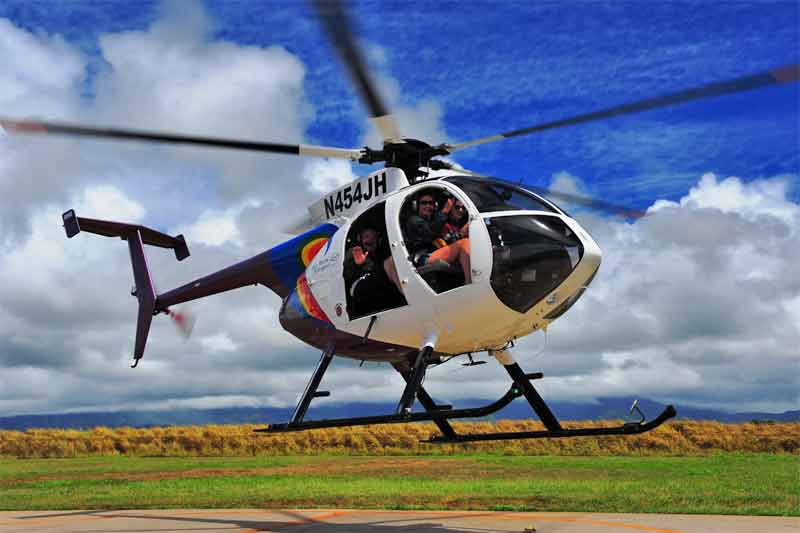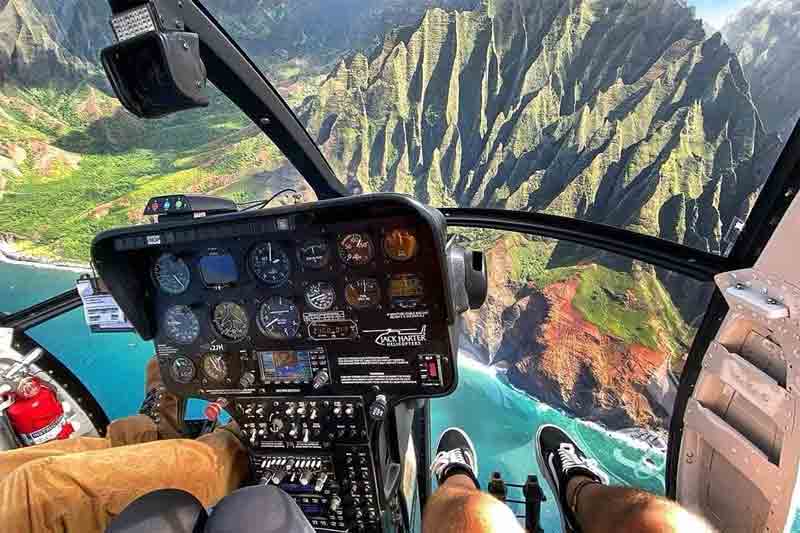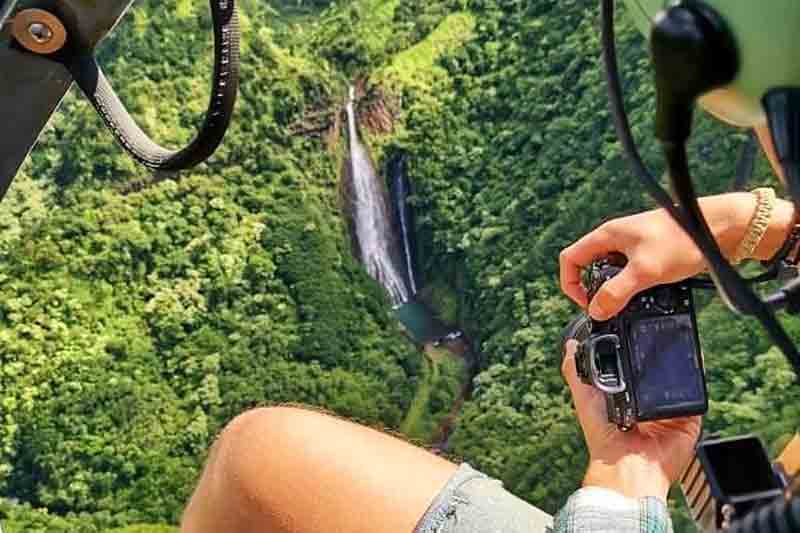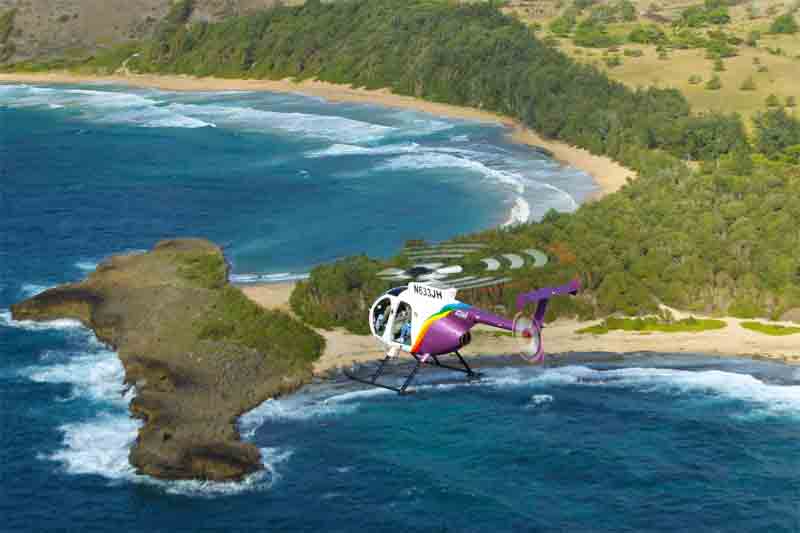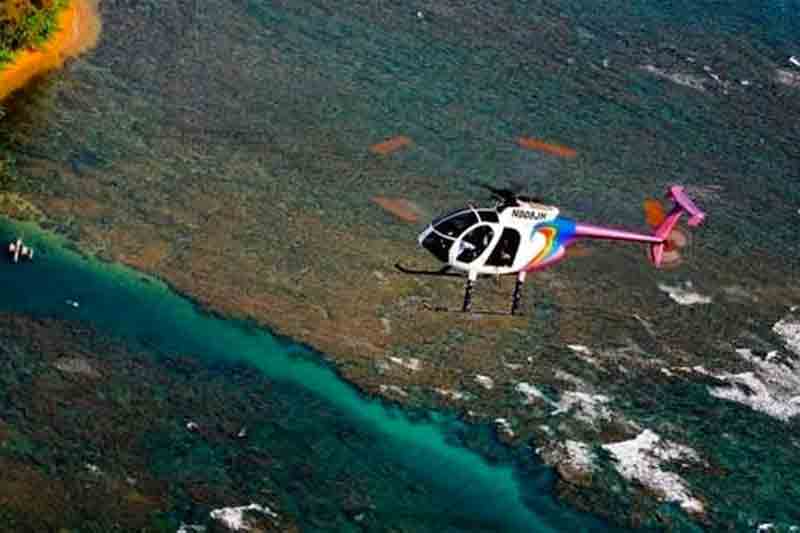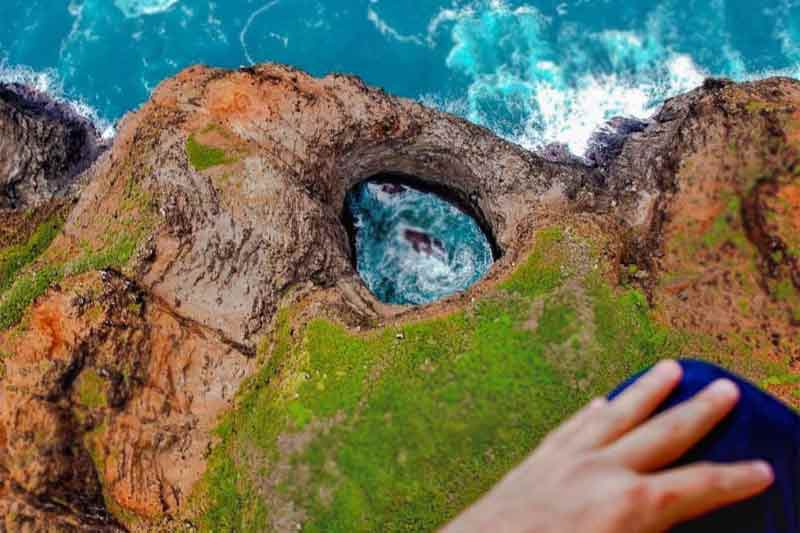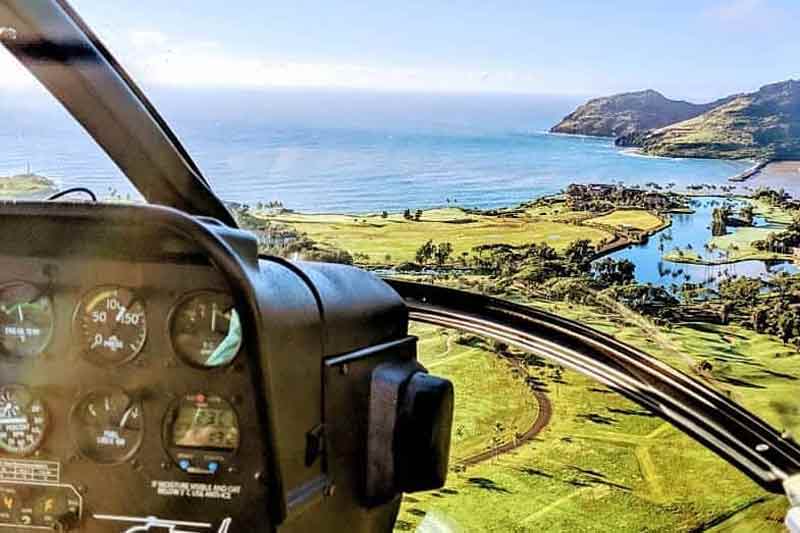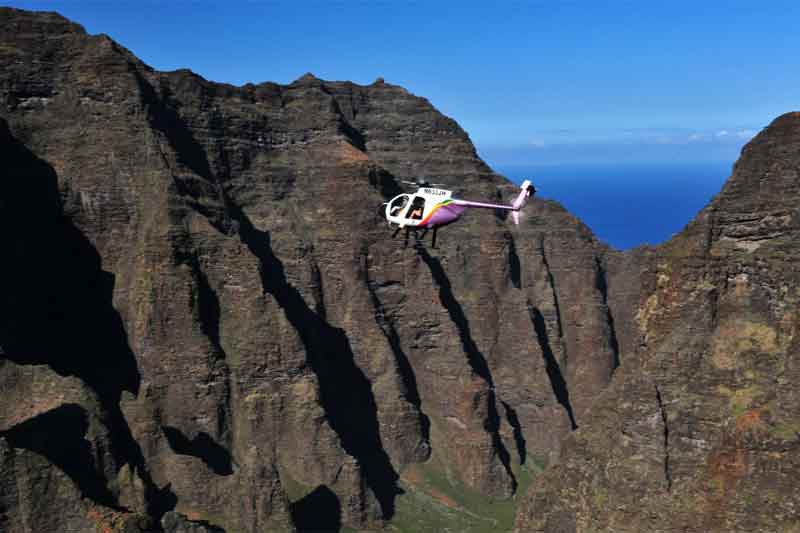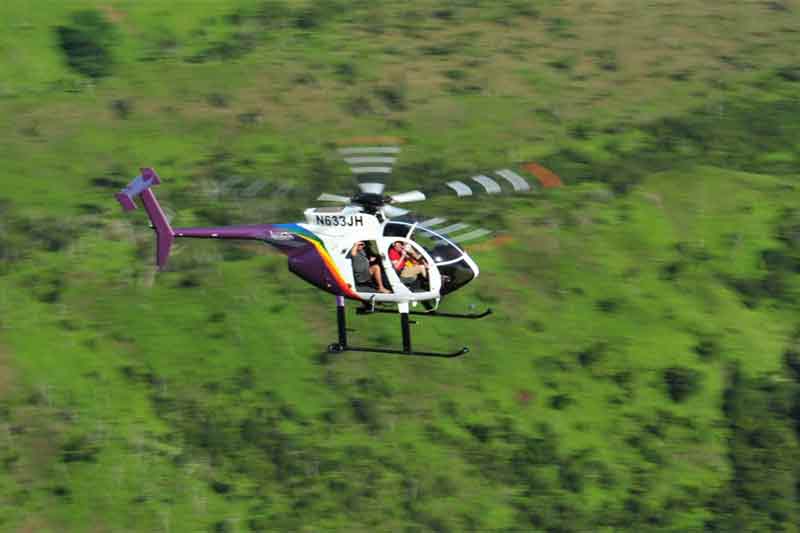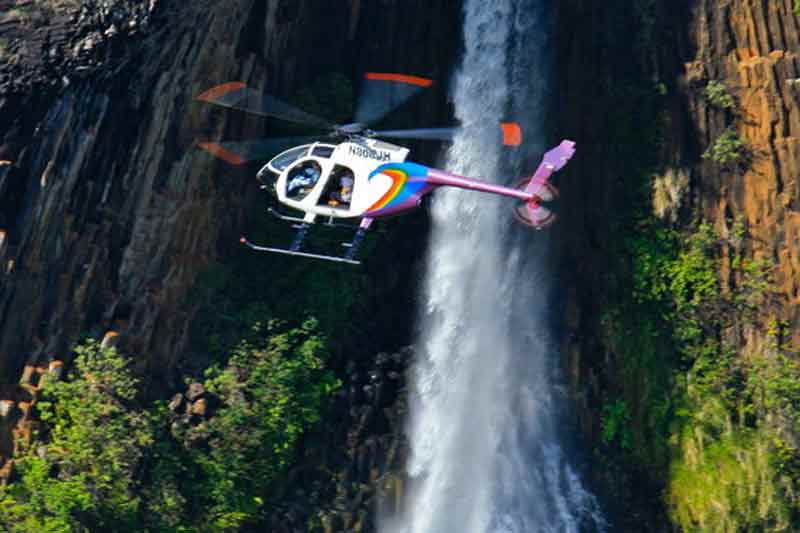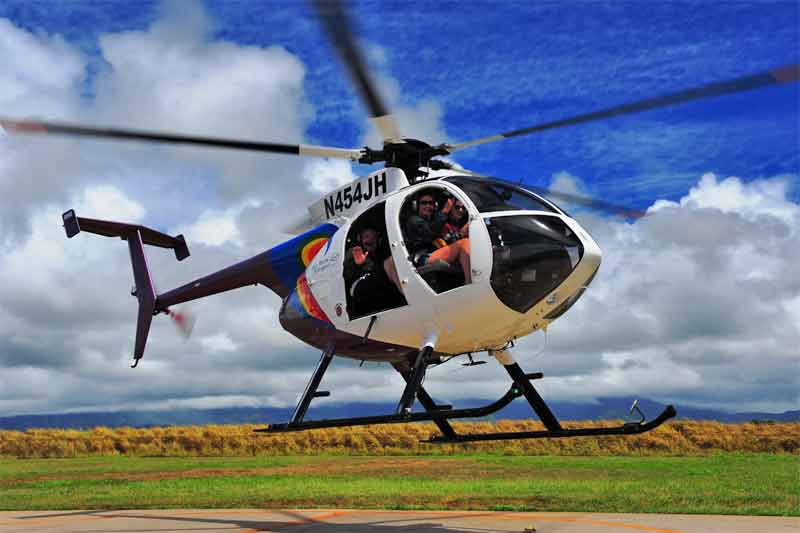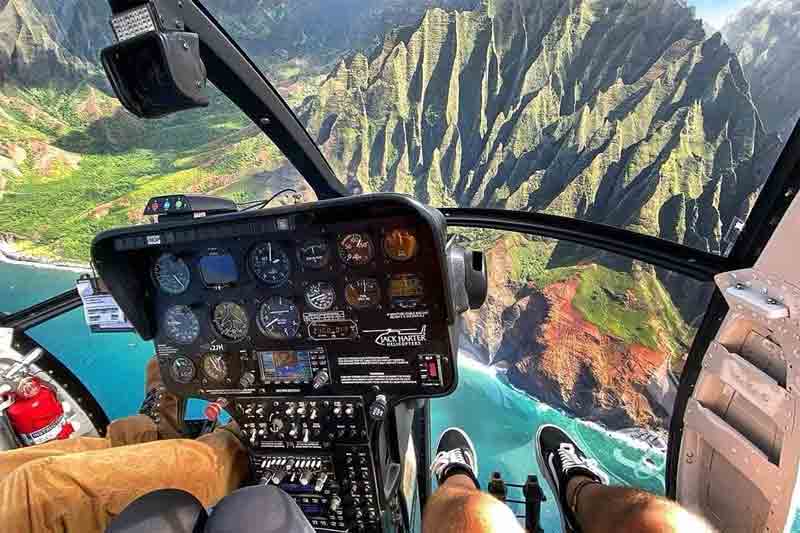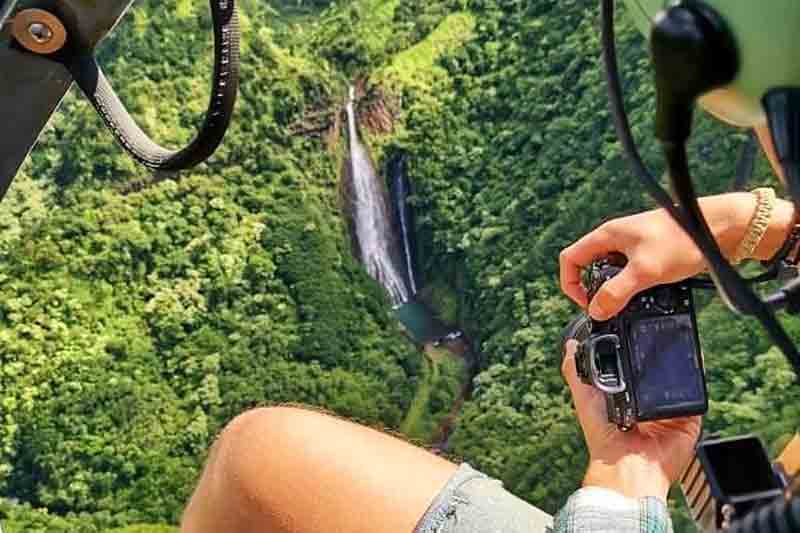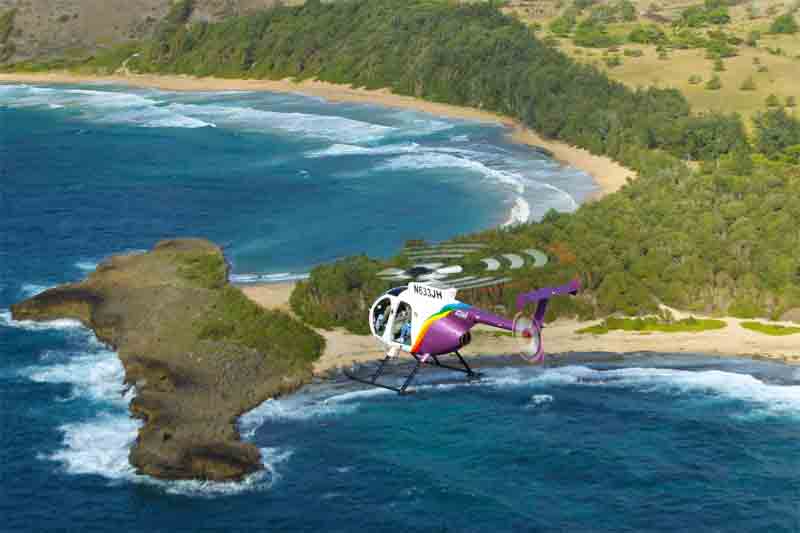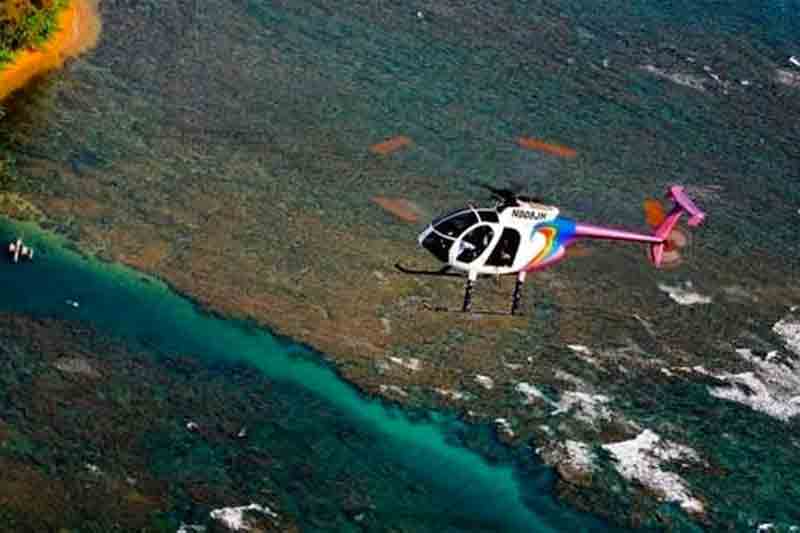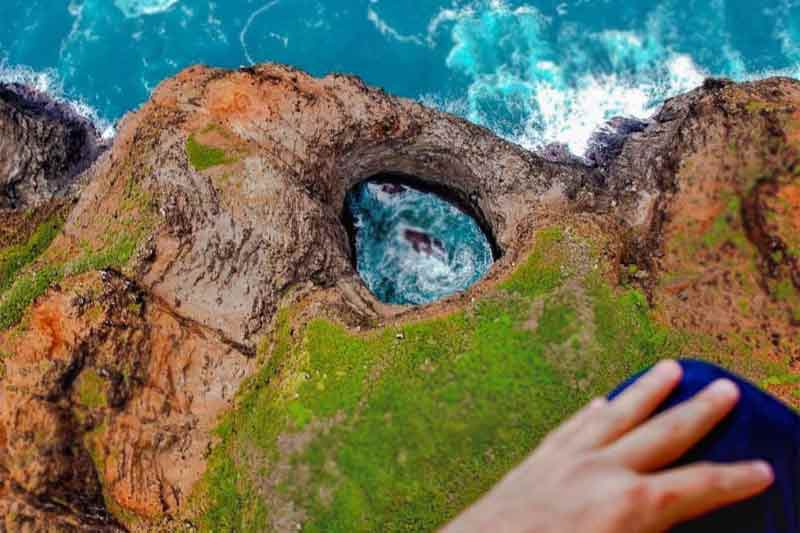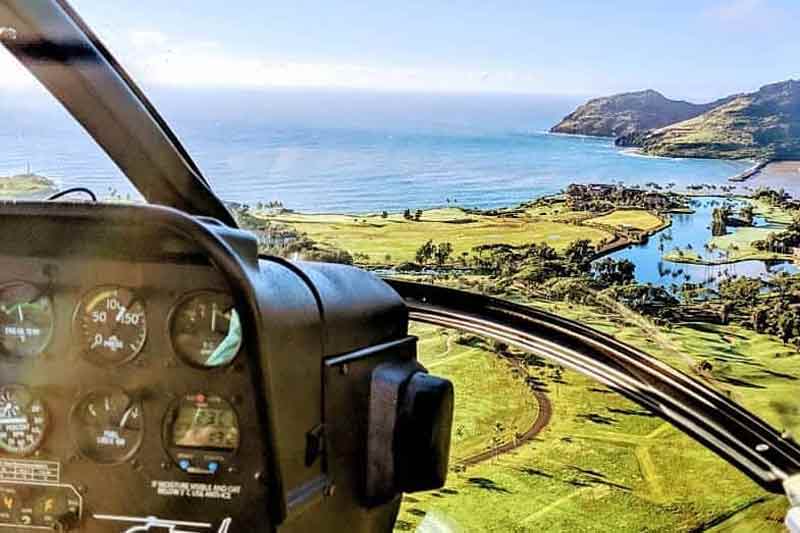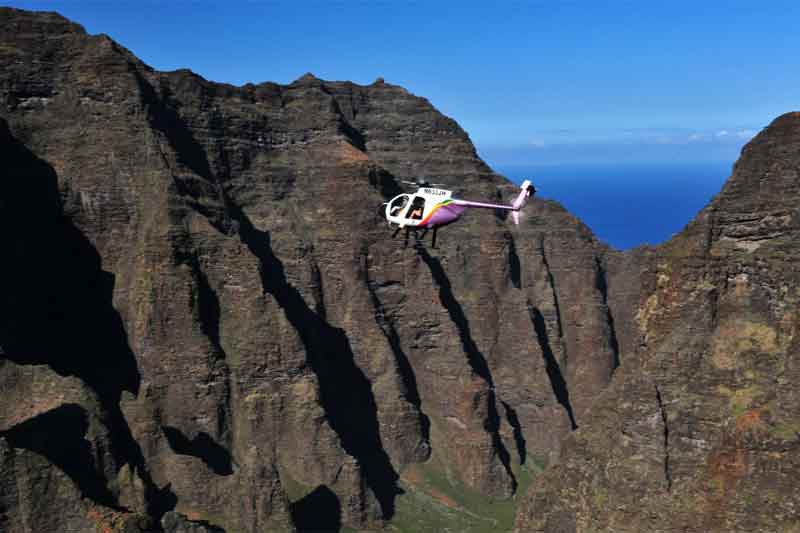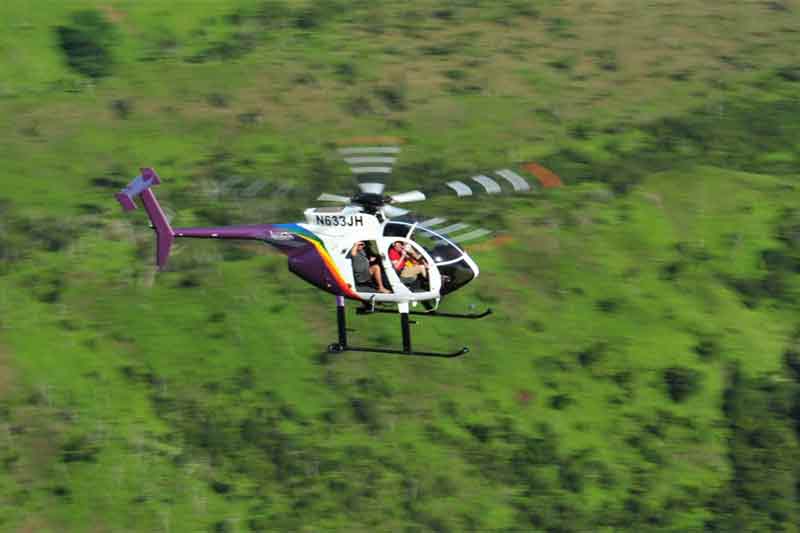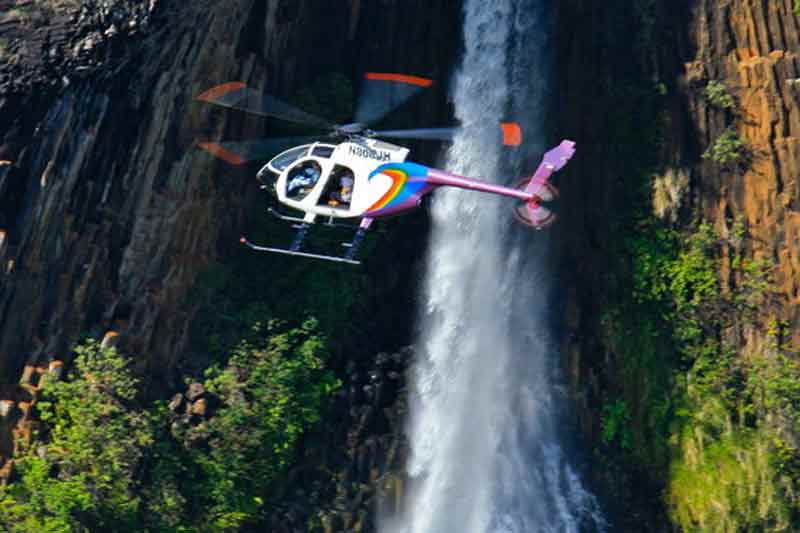 ---
Highlights
60 Minute Complete Island Circle Tour
Four-passenger Hughes 500 Aircraft flown with NO DOORS
Wear long pants and a jacket as the air is chilly at altitude
See Jurassic Falls, Waimea Canyon, and Na Pali Coast
---
Description
The most respected name in helicopter tourism over the years, Jack Harter created the helicopter tourism industry on Kauai way back in 1962. Jack invites you to escape the ordinary; to leave the byways of man and immerse yourself in the wilderness grandeur of the Garden Isle. His company offers tours in two different models of aircraft, both feature two-way communication with the pilot.
The Jack Harter Doors Off Tour is flown in the four passenger Hughes 500 for an exhilarating air tourism experience. Imagine yourself zooming along the spires of the Na Pali Coast with the wind blowing in your hair and looking straight down to the ocean below! This doors off helicopter is not for everyone, but if you are adventurous or are a photographer concerned about the window causing reflections in your photos, this might be the best tour for you.
The Jack Harter Doors Off Helicopter tour follows a circle island route clockwise around the island and features Jurassic Falls, Waimea Canyon, the Na Pali Coast, Hanalei Valley, Waialeale Crater, and Wailua Falls. Exact tour routes and sites seen on each tour can vary based upon weather conditions, but wherever you fly you will surely be stunned by the island's beauty and thrilled with the doors off experience.
---
Cost
Jack Harter Doors Off Helicopter Rate (JHH3)
$324.00 per Passenger, $35.00 per Fuel Surcharge (Hawaii sales tax included)
---
Location
Directions: Check in at Jack Harter's location about halfway between the Lihue Airport and downtown Lihue / Walmart area. Park at their office and their shuttle takes you to the heliport and returns you after your flight.
GPS Address: 4231 Ahukini Rd., Lihue, HI 96766 Click to view map
---
Details
Schedule: 7 days a week
Time: Flight throughout the day. Checkin 45 minutes prior to your flight time.
Duration: Flight time is approximately 1 hour
Reservations: Required well in advance of your vacation. Jack Harter will charge your credit card for your seats at the time your reservation is confirmed.
Minimum Notice for Cancellation / Changes: 48 hours prior to the start of the tour. If the pilot feels a quality tour cannot be conducted due to weather conditions, you will be contacted to reschedule for another day. If you can't reschedule, there is no charge for a tour cancelled by the pilot's decision to not fly.
Equipment: Hughes 500 - This helicopter is equipped with a quick release safety harness that is required by the FAA for all doors off flights.
Restrictions: Passengers weighing over 250 pounds or couples whose combined weight exceeds 400 pounds must purchase an extra seat. No loose objects are permitted in the helicopter. Cameras must have a strong wrist or neck strap. Minimum age is 10. Guests must be physically able to climb up into the helicopter as it is several steps off the ground.
What to Wear: Long pants and jackets are recommended since this helicopter is not climate controlled.
Important Note: Jack Harter only flies with a completely full helicopter. If they do not sell all the seats on your tour, they will move you to a different flight time. If you decide to fly with Jack Harter we suggest that you reserve the tour for the first full day in Kauai ... if your flight time or date needs to be changed you'll have time to reschedule it for later in your vacation.
---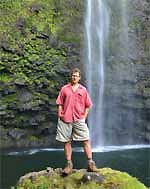 Kevin's Activity Tips:
It never ceases to amaze me that people spend thousands of dollars to come to Hawaii, but think it is too expensive to spend another $350 to REALLY see the islands from a helicopter. There is so much beauty that you cannot see any other way. Do yourself a favor and SPLURGE! You will thank me. I have flown with many helicopter companies and done flights over all the islands of Hawaii (except Niihau and Oahu). I don't think anyone who works in this industry would question the fact that Kauai is the most beautiful of the Hawaiian islands to fly over ... and is probably the most beautiful island in the world.
The doors off tours with Jack Harter are a wind-blown experience, and the temperature varies throughout the tour depending on your current altitude. No mood music on doors off tours ... you do wear headphones to listen to the pilot's narration and there is an intercom system so you can ask the pilot questions. This intercom doesn't work well in the back seat though ... it is windier back there. Flying with the doors off is certainly thrilling ... but it isn't for everyone.
Best time of day to fly? I think mid-morning provides the best lighting and least cloud cover. Kauai gets LOTS of rain ... the summit of Mt. Waiale'ale is one of the WETTEST places on the face of the earth. That's why this island is so beautifully carved and has so many waterfalls. Days that there are NO clouds are very rare. Typically the helicopters are able to fly back into the valleys while remaining safely below the cloud layer.
A word about body weights ... almost all helicopter companies in Hawaii have a 250 pound weight limit per seat. For larger passengers who exceed the weight limit it is necessary for the helicopter companies to leave a seat vacant so that there is adequate room for the larger passenger (and adjacent passengers). Some companies charge 50% extra for this "comfort seat" and others charge a full rate for the extra seat (which doubles the cost of the fare for a passenger over 250 pounds). Jack Harter charges 100% of the normal rate for this extra seat. They also charge extra in cases where the combined weight of 2 passengers exceeds 400 pounds. What about kids? The cost of a seat is the same whether the passenger is an adult or a child. "Doors off" tours have a minimum age of 10.