Imiloa Express Na Pali Sunset
Imiloa Express Na Pali Sunset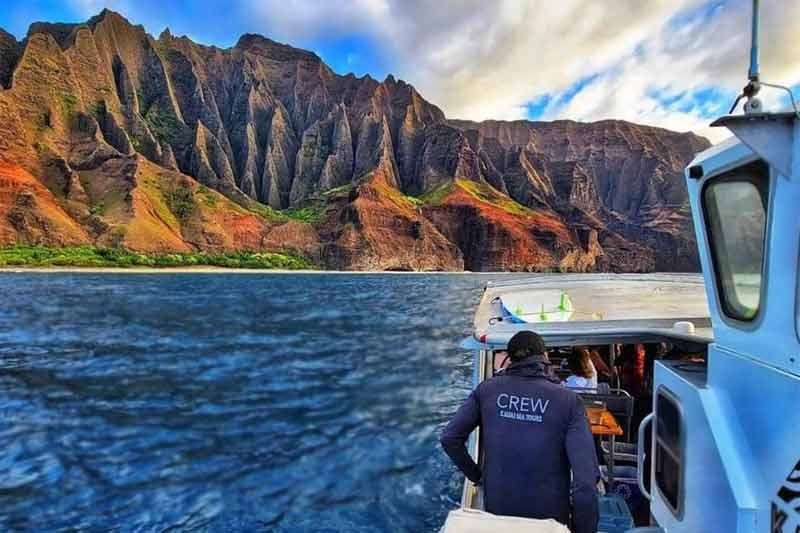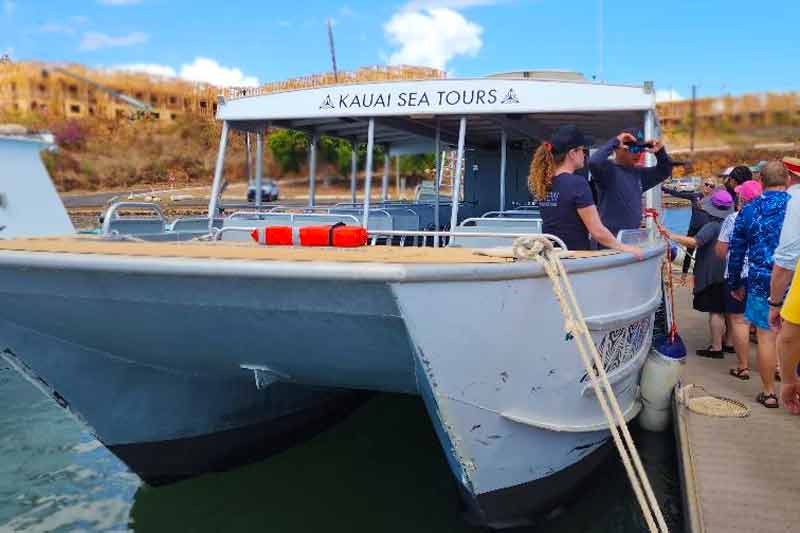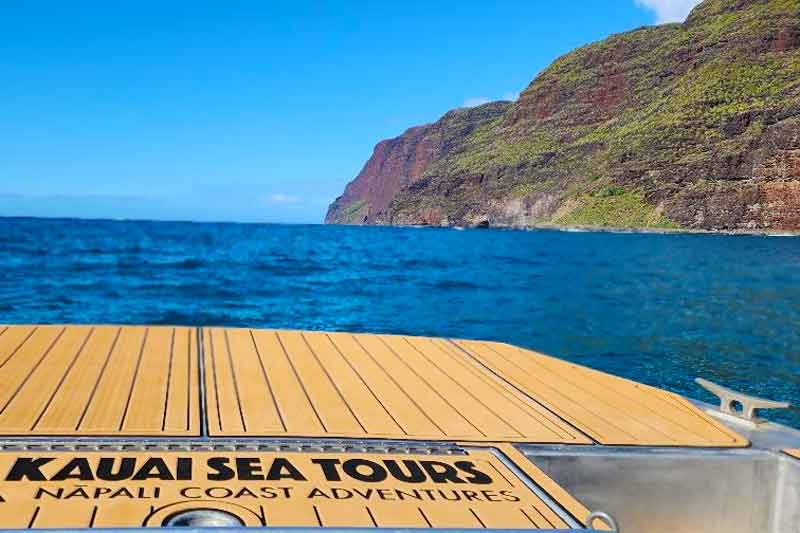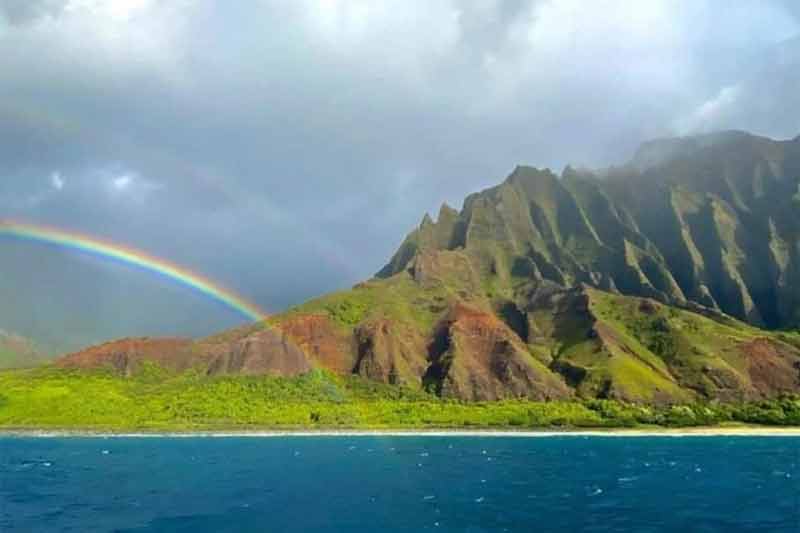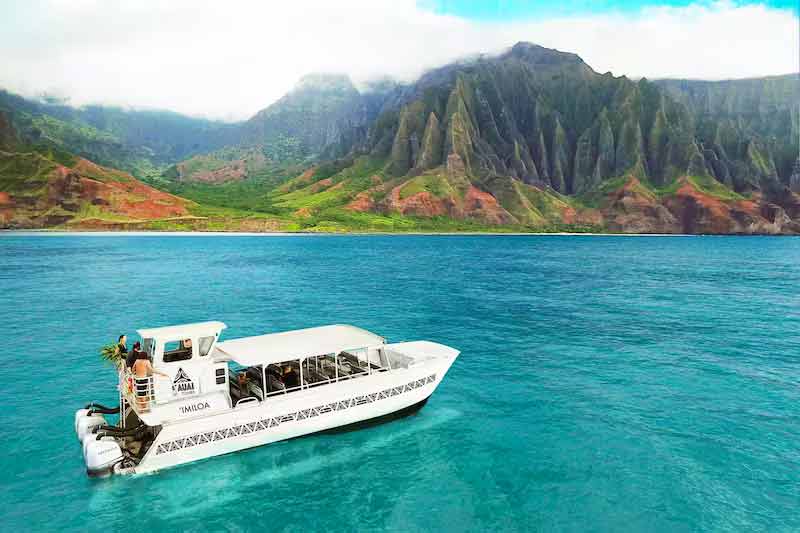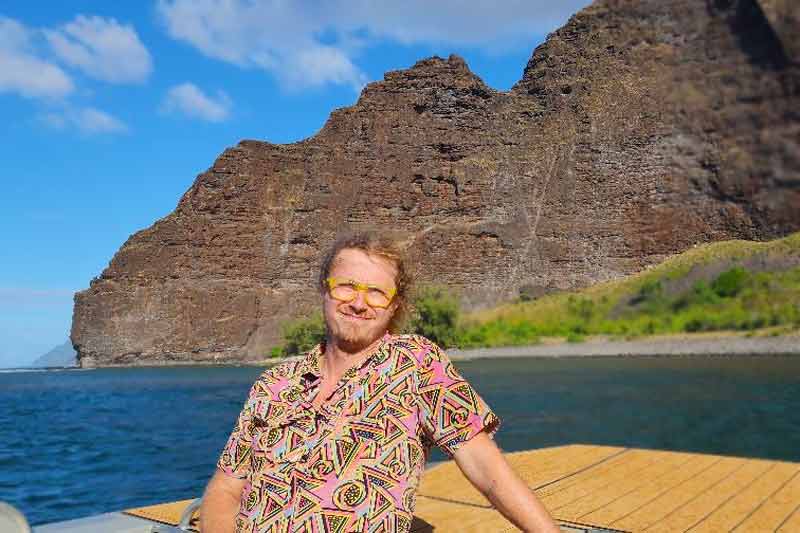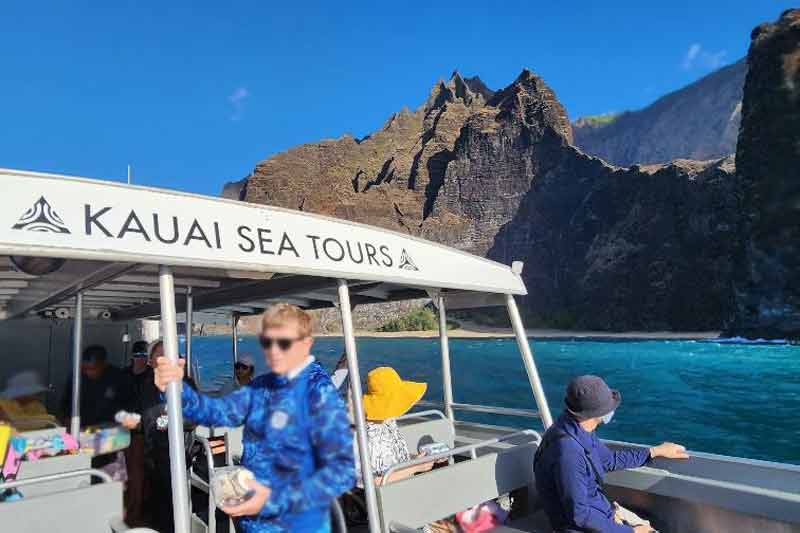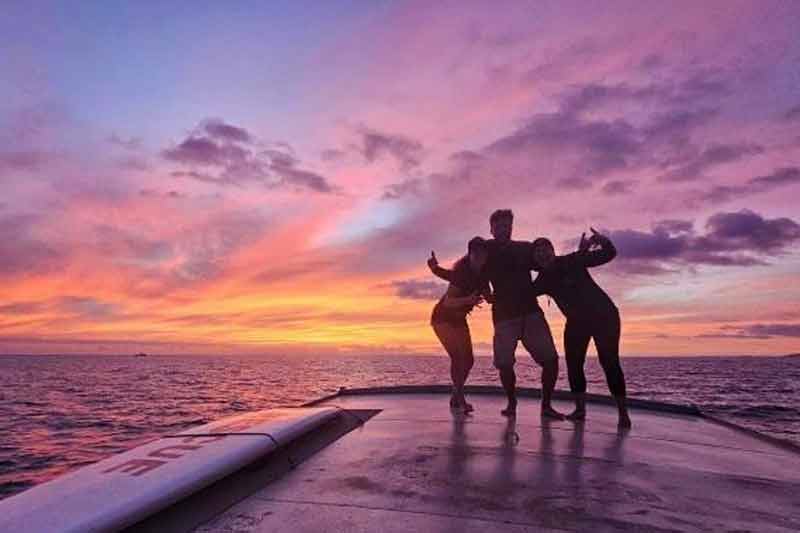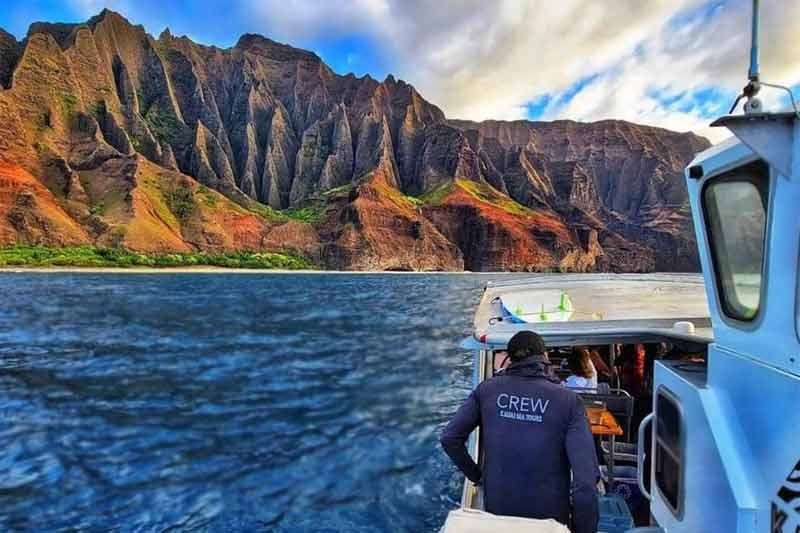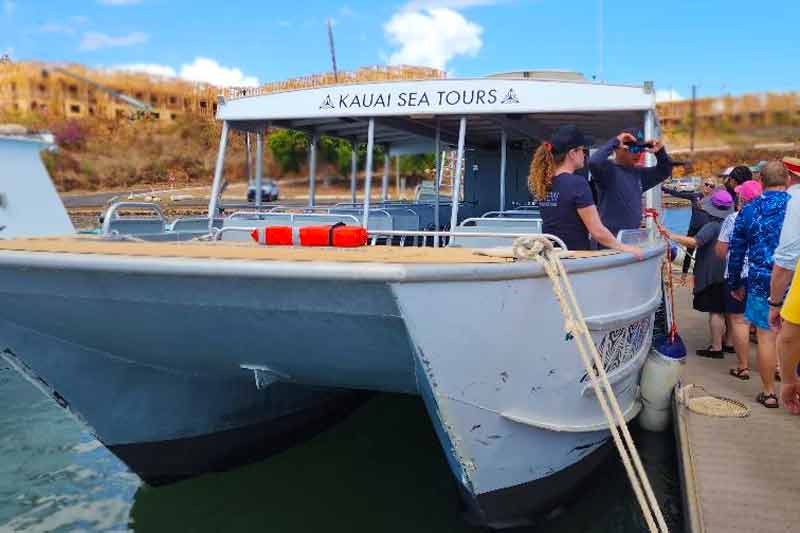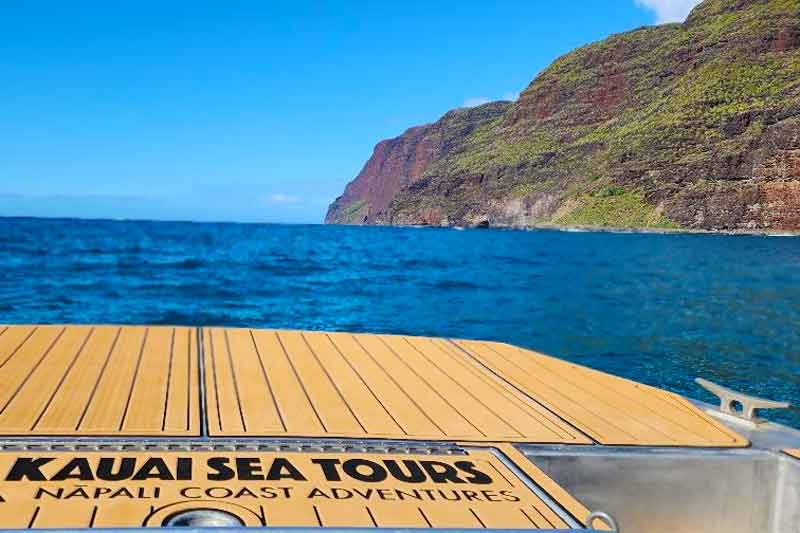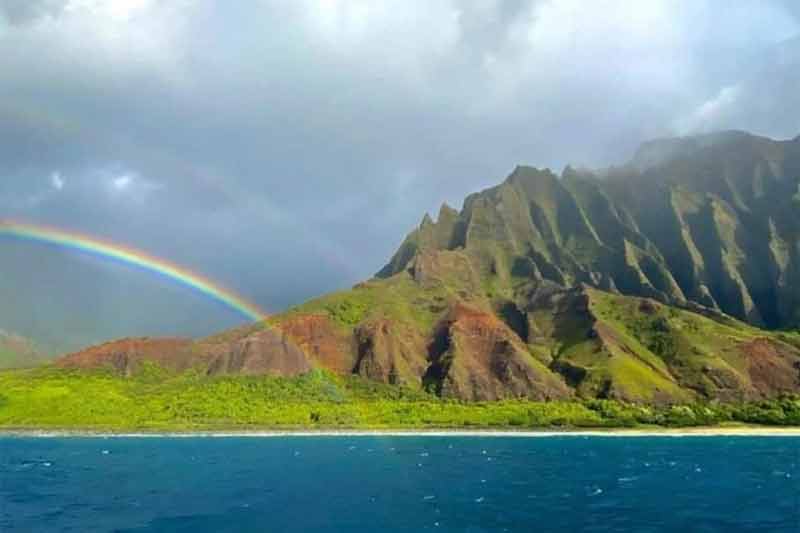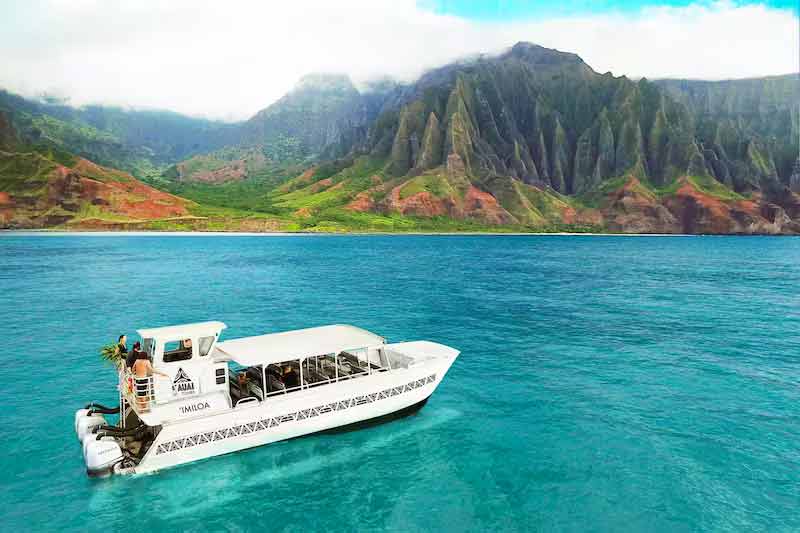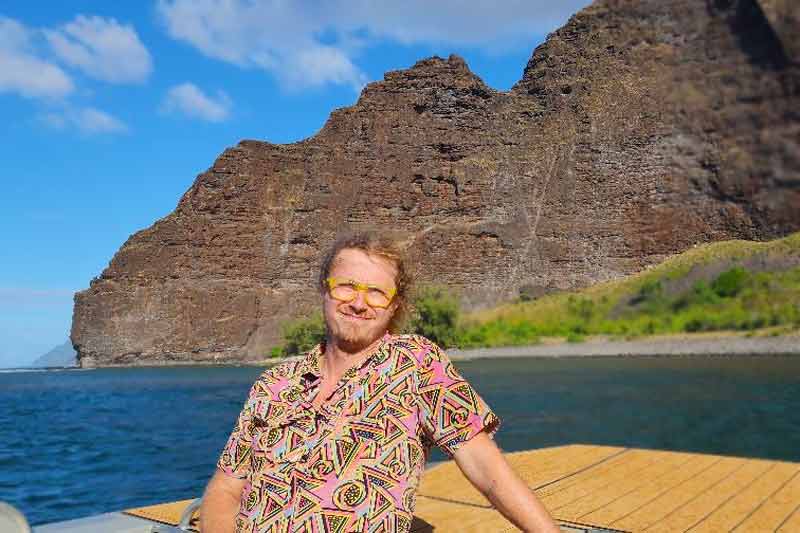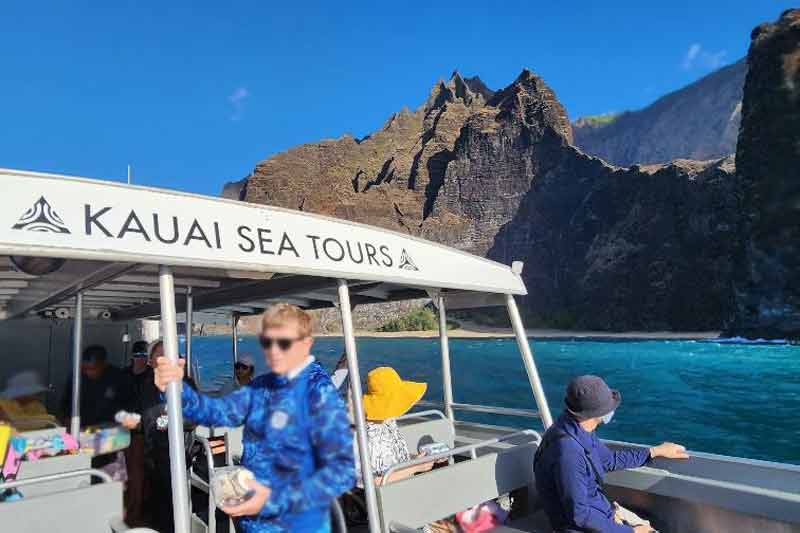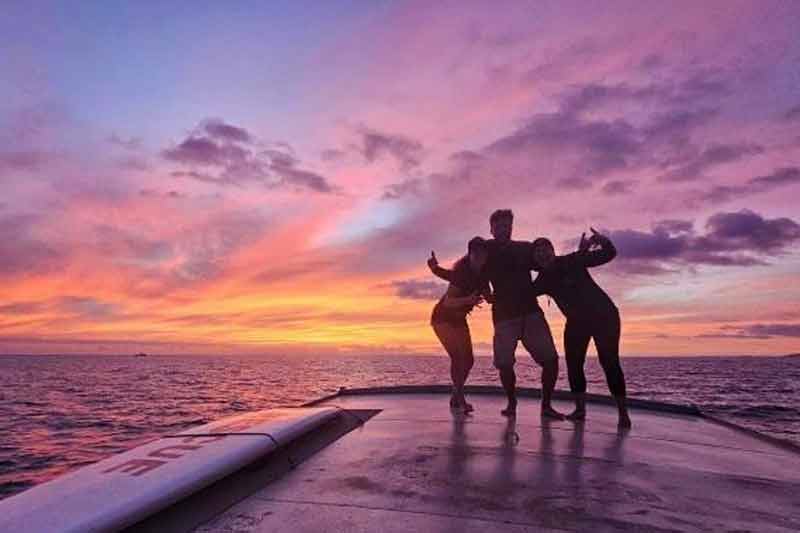 ---
Highlights
Sightseeing along the Na Pali Coast
Snorkeling included during summer months
Light dinner and beverages included
Frequent Dolphin, Whale, and Turtle Sightings
---
Description
On the Imiloa Express vessel, passengers enjoy a panoramic view of the Na Pali coastline. Imiloa Express is a 40 foot catamaran powered by 1000hp outboards, making her the fastest tour vessel on the Na Pali coast. She is equipped with forward-facing padded seats, a fully-shaded seating area, cup holders and 2 restrooms. You'll be entertained with Hawaiian stories by your captain and waited on hand and foot by the attentive and personable crew. Relaxing music, complimentary beer, wine and mai tais, and a casual dinner are all provided.
The cliffs of the Na Pali are most colorful when illuminated by the low-angle late-day sun. This creates images that are saturated with color and deep contrast. See waterfalls plunging straight into the ocean and peer into the mouths of mysterious sea caves. View Kalalau Valley and the once prosperous Hawaiian village of Nualolo Kai.
Two versions of this tour are offered. During summer months from June 1 to September 8 the length is about 5 hours and includes a snorkel stop if ocean conditions permit (snorkeling is optional). During the rest of the year the tour is about 4 hours long and is sightseeing only; snorkeling is not offered.
NOTE: This tour does not operate during whale season ... from December 19 to March 31 the Imiloa Express operates whale watches instead.
---
Cost
Imiloa Na Pali Sunset with Snorkeling Rate (KST11)
$185.00 per Adult, $165.00 per Child (ages 3-12) (plus 8.112% Hawaii sales/harbor tax)
Rates for dates after 12/31/2023 are $0.00 per
June 1 to September 8 ... sightseeing and a snorkel stop
---
Imiloa Na Pali Sightseeing and Sunset Rate (KST10)
$165.00 per Adult, $145.00 per Child (ages 3-12) (plus 8.112% Hawaii sales/harbor tax)
Rates for dates after 12/31/2023 are $165.00 per Adult, $155.00 per Child (ages 3-12)
Rest of the year ... sightseeing ... no snorkel stop
---
---
Details
Schedule: Daily at 2:00pm ... tour does not operate during whale season from December 19 to March 31
Included in the Tour: Light dinner, water, juice, soft drinks, beer, wine, and Mai Tais. Snorkel gear included during summer months
Tour length: 4-5 hours depending on the time of year
Vessel: 40 foot powered catamaran
Capacity: 49
Restrictions: Minimum age is 3. No pregnant women, and no one with neck or back injuries or serious health concerns permitted on the tour.
What to Bring and Wear: Wear swimsuits and bring a towel if you plan to snorkel. Jackets are a good idea ANY time of year.
Billing: The tour operator will charge your credit card for this tour when your reservation is confirmed.
Minimum Notice for Cancellation / Changes: For parties of 1-4, 48 hours before the start of the event. 72 hours for parties of 5-9, and 7 full days for parties of 10 or more.
---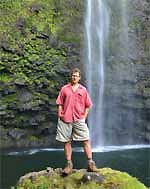 Kevin's Activity Tips:
Imiloa Express is operated by Kauai Sea Tours, and they consistently get high marks for their friendly, attentive, knowledgeable, and informative crew. Not only will they take care of your every need during the tour, they will talk about Hawaiian culture, mythology, and history of the Na Pali Coast. Once home to a thriving population of native Hawaiians, this isolated area had a special connection to the ocean and the land.
I recently took friends on this sunset tour and I can tell you firsthand ... the crew really was friendly and they did a great job of keeping out beverages full. This boat pours a pretty good Mai Tai!
Conditions along the Na Pali can vary widely, sometimes within the space of just a few hours. It is not uncommon to hit areas of high winds and rough seas along this shoreline. Whie rafts are a great option for those highly adventurous people, in these kinds of conditions it's nice to have a larger boat with more interior cabin space. We also recommend anyone who knows they have motion sickness issues to take precautions BEFORE the start of the tour. This vessel also offers complete shade in the passenger seating area, so you can stay out of the sun (and help keep you dry in the event of a shower). Do keep in mind though that ANY boat tour along the Na Pali it is possible for you to get wet even when there is no rainshower ... windy conditions can lead to salt spray, so be careful with cameras/electronics.
While the Na Pali is always their intended destination, any boat tour to this remote destination is weather-dependent. If conditions along the Na Pali prove to be too rough, the captain will redirect to the "Little Na Pali Coast" ... a scenic area along Kauai's south shoreline.