Hanalei SUP Lessons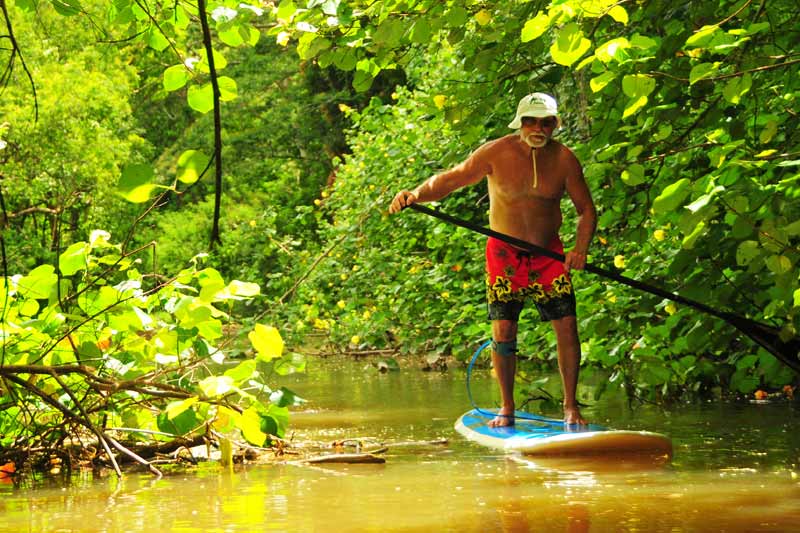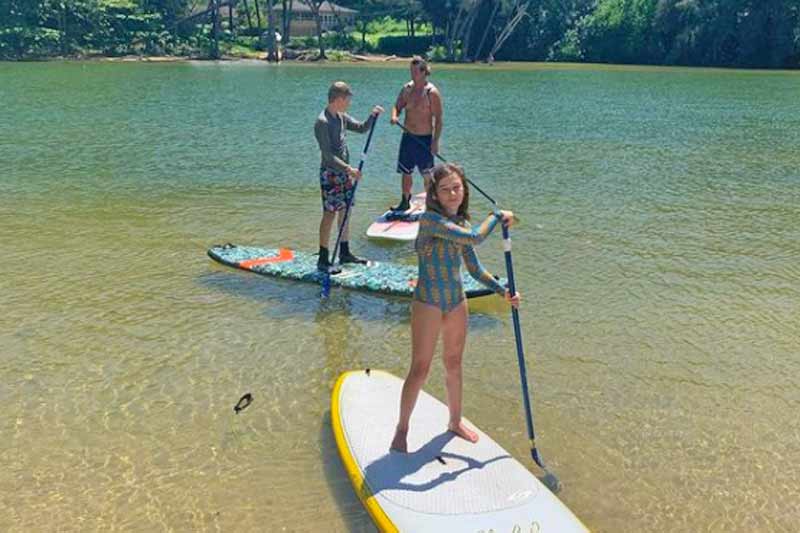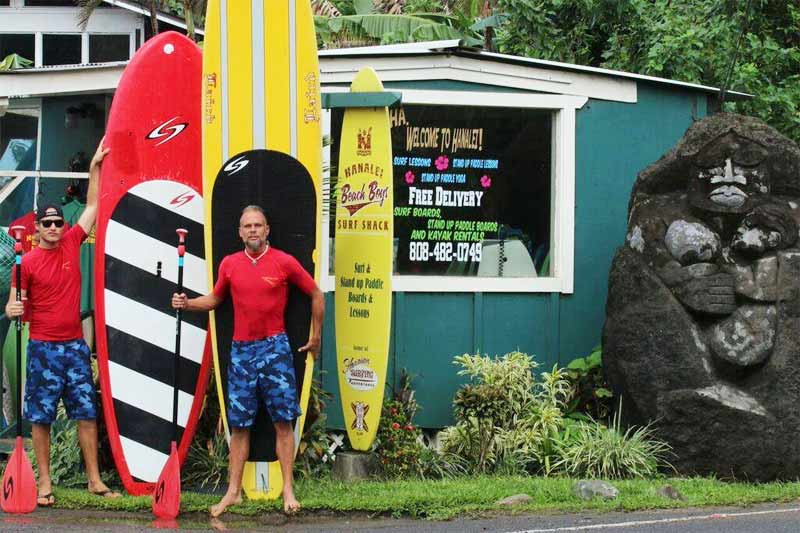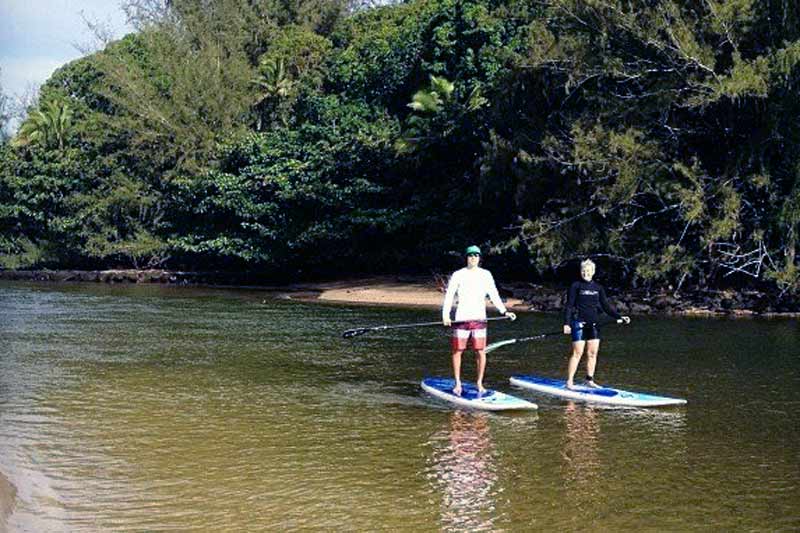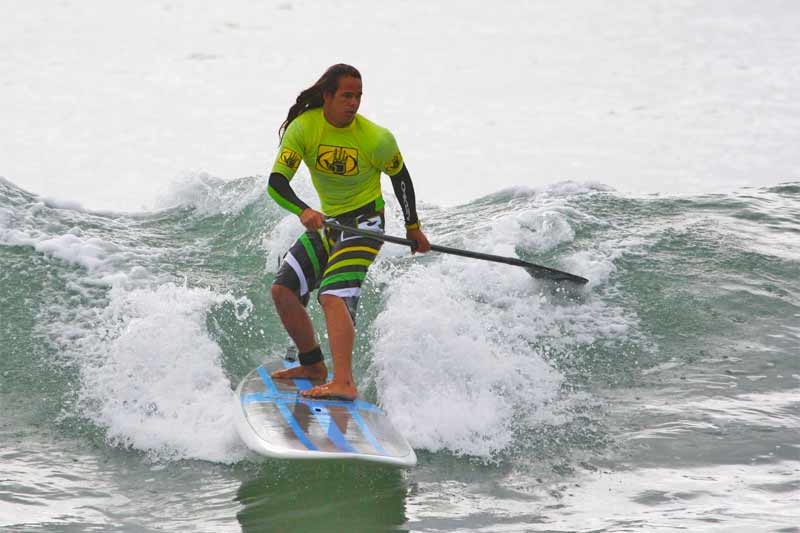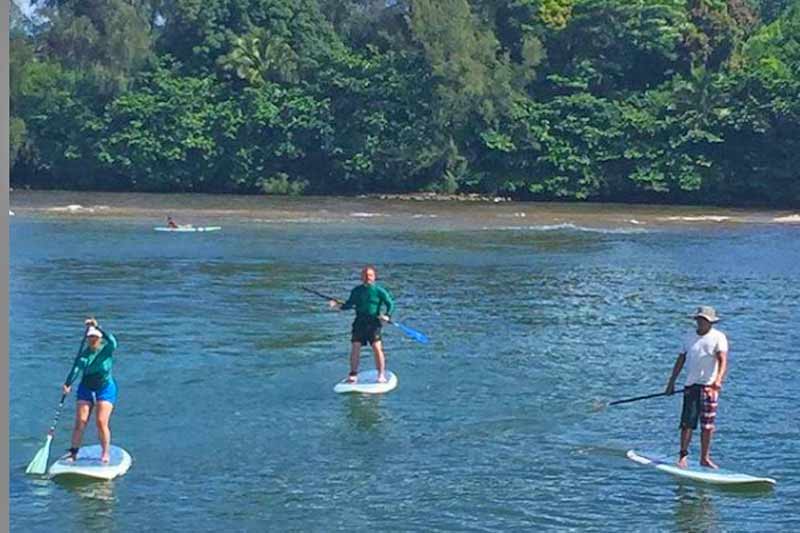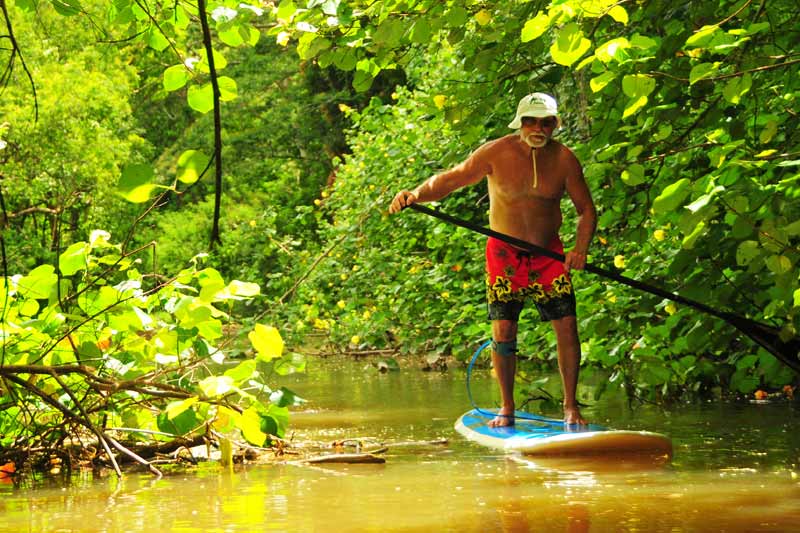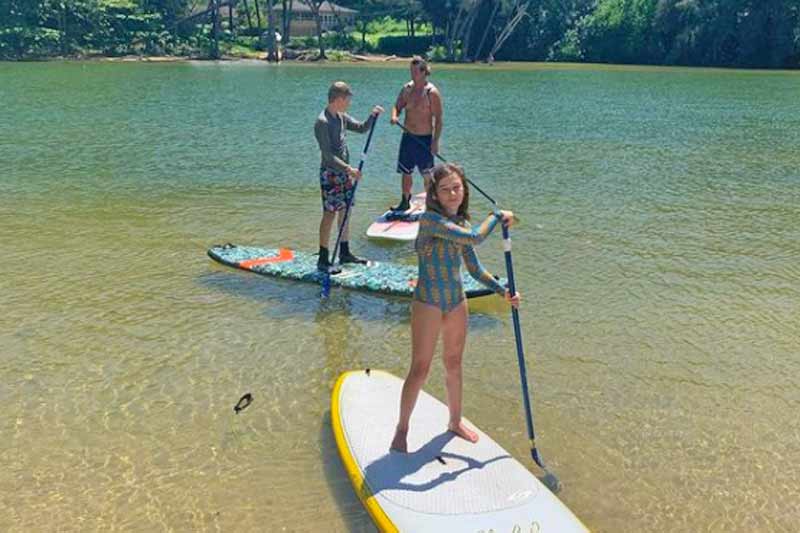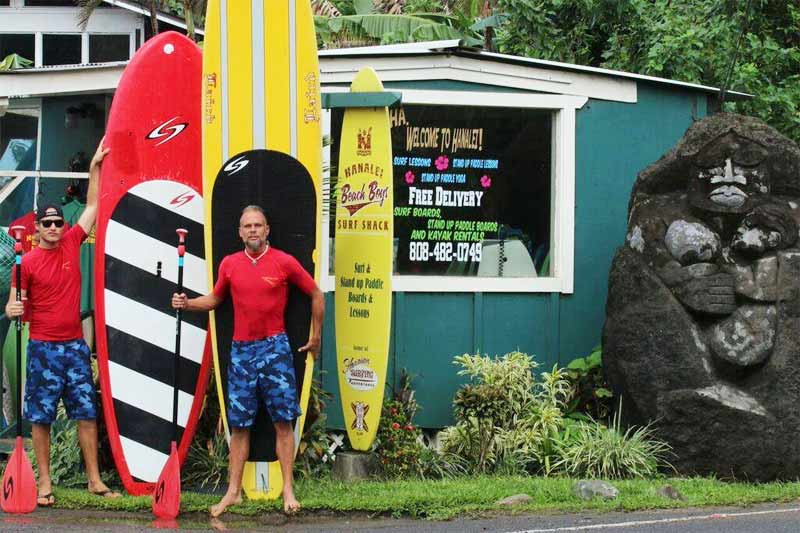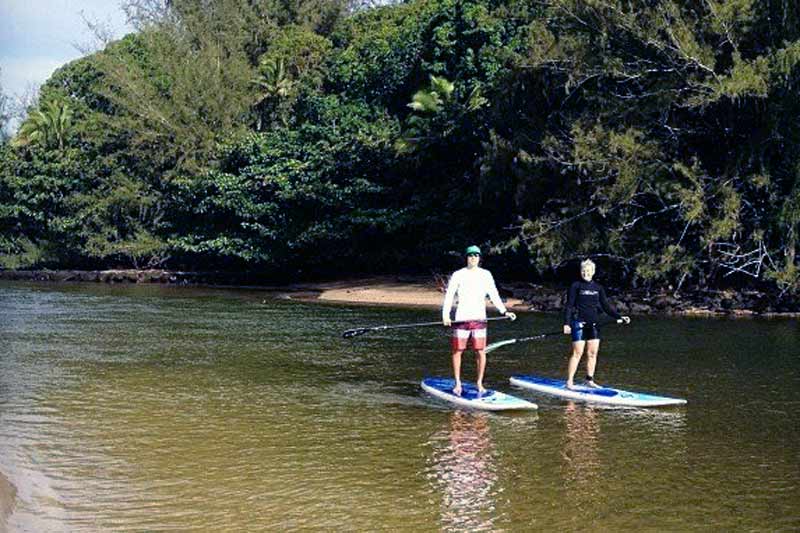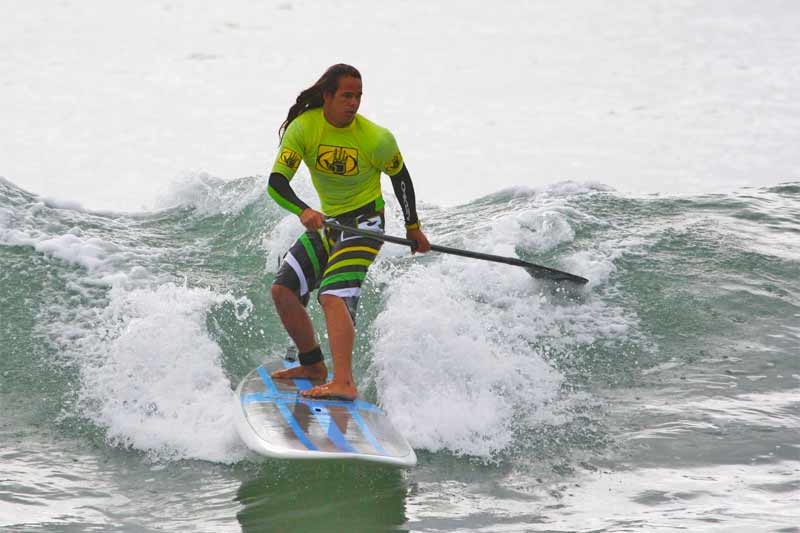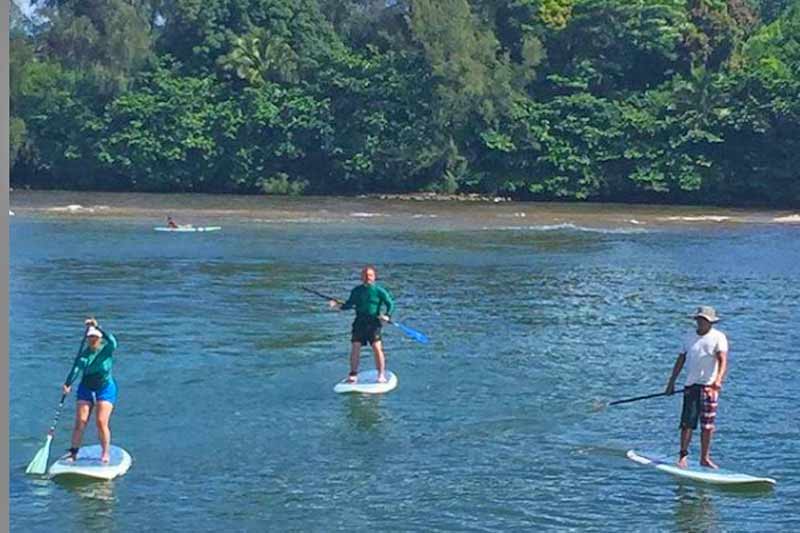 ---
Highlights
90 Minute SUP Lesson
Hanalei River is a beautiful, calm place to learn
Four participants per Instructor
---
Description
Stand Up Paddleboarding (SUP) is an ancient Hawaiian sport that has caught fire once again and has become extremely popular in the last few years. Kauai offers the unique opportunity to practice this sport both in the ocean and on calm inland streams. This Hanalei SUP lessons is on the north shore where you can paddle up the river and out into Hanalei Bay.
Some people do it because it's the best workout on the water. Others do it to access surf spots that are difficult to reach when laying down on a board and paddling. The biggest reason this ancient sport has seen a modern revival in recent years is because it is a really fun way to experience the water. Stand Up Paddleboarding is not difficult because these guys will match you up to a board that is just the right size for you. It's great exercise, and there is nothing like the feeling of paddling around on Hanalei Bay while looking down on coral heads just below the surface.
Lessons last 1.5 hours. You don't have to haul the board somewhere on your car. After checking in at their location in "downtown" Hanalei the boards will be transported for you to the location of your lesson. You will then drive yourself the short distance to the lesson location. You can spend the entire time paddling on the flat water of the Hanalei River, or if conditions are good, you can paddle out on Hanalei Bay. It's up to you!
At the end of the lesson students receive a discount coupon for 50% off SUP board rental if you want to go back out and paddle some more on your own!
---
Cost
Hanalei SUP Lesson Rate (KHSA4)
$150.00 per 1 Person, $180.00 per Couple, $250.00 per 3 Person Group, $300.00 per 4 Person Group (plus 4.712% Hawaii sales tax)
---
Location
Check In: Hawaiian Surfing Adventures store in "downtown" Hanalei
GPS Address: 5-5134 Kuhio Highway, Hanalei, HI 96714 Click to view map
---
Details
Schedule: Daily with lessons starting hourly from 8am to 1pm. Lessons are about 90 minutes in length.
p>
Reservations:
Advanced reservations are necessary! A credit card is required to confirm your lesson, but for those planning ahead, this event is "Reserve NOW and Pay LATER." Our agency charges a 30% deposit on your credit card a few days before the beginning of your vacation, and the balance is charged by the tour operator at checkin.
Gear included: Stand Up Paddle Board and Paddle
Restrictions: Minimum age for SUP lessons is 13. All participants need to be able to swim and feel comfortable in the water.
What to Bring and Wear: Swimwear of course! Reef-safe sunscreen.
Minimum Notice for Cancellations / Changes: 48 hours before the start of the event.
---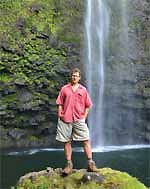 Kevin's Activity Tips:
It is hard to believe how quickly stand up paddleboarding has taken off here in the Hawaiian islands. It's refreshing to see a sport that is so old and so little known suddenly make a resurgence. Five years ago it was rare to see someone doing this. Now my wife has a board and paddles around with our dog. The nice thing about SUP is that, unlike surfing, you don't need to have big waves to enjoy this. As a matter of fact, most SUP'ers prefer calm flat water for just cruising around. It's really strange these days to look out on a calm tranquil ocean and seeing a dozen people standing up a quarter of a mile off shore. SUP is not hard ... as long as you get matched to a board that is the proper size for your height and weight. If the board isn't big enough, balance can be tricky and your going to fall a LOT. If the board is too big, you couldn't fall in the water if you tried. The best board for you is sized just in between. The constant micro adjustments that your body has to make to keep yourself balanced on the board is great exercise. It is a very healthy, low demand workout that uses muscles you didn't even know you had (and previously never even needed). It's very healthy, easy and fun. On a calm day with clear water and no swell, it's just incredible to paddle around on the bay and look down at coral reefs just a few feet under the surface. And when winter swells sweep into Hanalei Bay, you can cruise on the flat water of the Hanalei River instead. The tour operator's ideal location makes it easy to go either way.
Want to see how popular this sport is? Jennifer Aniston was recently photographed paddling around on the Hanalei River. just Google "Jennifer Anniston SUP" and click on the image tab. You'll find them. There's also one of Kate Hudson and Jennifer Anniston SUP'ing together. I could also cite photos of Pierce Brosnan and Matthew McConaughey that are literally "floating" around the internet. You never know who you'll bump into on this river!