---
---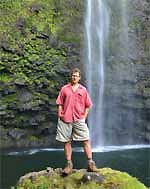 Kevin's Activity Tips:
Powered catamarans give you a more comfortable ride than rafts, but also travel faster than sailing catamarans so that you can cover more ocean territory in less time. The two options on this page have different lengths, with the longer one adding a second destination. Holoholo Charters offers a Niihau Snorkel Tour which is often referred to as the "Super Tour." The morning starts early, and the vessel cruises the Na Pali Coast for sightseeing and photography. They then cross the channel to the Forbidden Island of Niihau. On the channel crossing it is common to encounter large marine mammals like pilot whales, melonhead whales, bottlenose dolphins, and humpback whales in season. Upon arrival to Niihau waters the tour snorkels at one or two select sites along the wall of a large volcnic caldera islet called "Lehua." Water clarity in this area leads to pristine snorkeling. One of the sites is the entrance of a sea cave, and the day I snorkeled here on this tour I saw a monk seals swimming with me in the entrance. The afternoon return to Kauai can be windy ... this channel crossing is the most challenging part of the trip and is not the best choice for those who are susceptible to motion sickness.
The other option here, Blue Ocean Adventures powered catamaran does a traditional Na Pali Coast snorkeling and sightseeing itinerary. It's a fun boat with a waterslide and the lunch menu is great!