KAUAI HELICOPTER TOURS
Kauai is arguably the most beautiful island in the world. Hundreds of waterfalls ... miles of beaches ... sea cliffs that have been carved into spires that soar upwards. To really appreciate that beauty you MUST take a helicopter tour. Most of the island is remote and inaccessible and the only way to see most of her hidden waterfalls and astounding cliffs is from the air.
---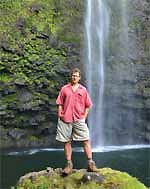 Kevin's Activity Tips:
Yes, we know helicopter tours are expensive, but we think it is the best money you'll spend on your vacation. What sense does it make it spend thousands of dollars on airfare, acommodations, meals, rental car, etc but not spend a few hundred dollars more to REALLY SEE THE ISLANDS when you get here??? There is SO MUCH beauty you just can't see any other way ... and this is uniquely true for the island of Kauai. So many of her beautiful waterfalls are tucked away in remote nooks and crannies ... you can't hike there or drive there ... the only way to see it is by air.
The best overall value and most flexibility in scheduling is found with Air Kauai. They also have the best safety record in all of Hawaii. They fly six-passenger A-star helicopters (the industry standard in Hawaii) and they fly with doors on and doors off configurations.
Probably the most thrilling option is the Doors Off Jack Harter tour. They fly Hughes 500 aircraft with doors off for all their flights. This helicopter seats four, with three people seated along the outside of the helicopter. The only person who isn't seated next to an open door is the person sitting up front in the middle seat next to the pilot. While this seat feels less "thrilling" it has probably the best overall view of all as it is located "front and center." Only downside with this tour ... they only fly with a completely full helicopter. This is generally not an issue for parties of two or four, but if you are a party of 3 and they don't sell the fourth seat, you either have to buy it yourself or they will cancel the flight. It can be hard sometimes to find solot travelers to fill that fourth seat.
Helicopters have limited capacity and are subject to very strict weight and balance issues for safe operation. Larger guests (over 220 pounds) are best served in Sunshine Helicopters Whisperstar helicopter. It has a roomier passenger compartment and a higher weight capacity and "charging extra" for a comfort seat is less of an issue with them. If you have a number of people over 220 pounds or you have anyone in your party in the 250 - 290 range, they are your best option.
All of these flights depart from the main airport in Lihue. We do get requests from those staying on the north shore wondering about tours from the Princeville Airport. Those flights have not yet resumed following the Covid pandemic. We hope they get added soon ... possibly not until the spring of 2022.