KAUAI OCEAN FUN
This category covers a broad range of Ocean Fun on Kauai that does not involve snorkeling. For tours with snorkeling, see the Kauai Snorkeling category.!
---
---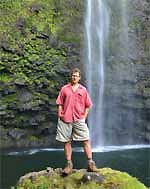 Kevin's Activity Tips:
For people who live in Hawaii, the ocean is basically our playground. There are lots of fun things to do above water too ... not just snorkeling. Surfing has been likened to a Hawaiian Roller Coaster Ride (according to that Disney movie anyway) ... and if you want to experience that ride firsthand it REALLY helps to take a surf lesson. We offer lessons on the south shore at Poipu Beach as well as the north shore in Hanalei. You might also consider Stand Up Paddleboarding which has caught on as a great way to experience the ocean without the need to catch a wave. In really calm condistions it's really pretty to look down in the water and see the reef a few feet below you while you are paddling above it.
Also in this category of Ocean Fun is just plain old sightseeing, cocktail sipping, and enjoying a sunset out on the water. There is no more relaxing way to spend an eveing than watching the sky's beautiful colorful conclusion to the day, and even more so when combined with Kauai's beautiful coastline. You can either do a Sunset Cruise on a powered catamaran, or a Dinner Sail on a sailing catamaran. The itineraries are similar; the advantage of the powered catamaran is that they can sometimes enter some of the larger sea caves along the Na Pali coast. The sailing catamaran though gives you an appreciation of the ocean and wind and waves and how they all connect to power the vessel as it skips across the surface of the waves.
Some ocean events are seasonal. Humpback Whale Watching is available in winter months as they arrive here starting in November and they come and go through the end of April. The largest numbers are here in January, February, and March and if you are here then you really owe it to yourself to get out on the water and see them up close. And in the summtime there is the famous Na Pali Coast Kayak Adventure. This is only possible in May through September (with a few days in April and October also possible). It is a long, rugges, but REWARDING 17 mile paddle.