Contact Us
---
---
Hours
Our regular office hours are from 6:00am to 6:00pm Hawaiian time ... seven days a week. Hawaii does not observe daylight savings time, so the time in Hawaii varies for most of you depending on the time of the year. In the wintertime it is 5 hours earlier here than New York City and 2 hours earlier than in Los Angeles. In the summertime it is 6 hours earlier here than New York and 3 hours earlier than Los Angeles.
The current day / time in Hawaii RIGHT NOW:
(GMT-10 hours)
---
Text Us
The fastest way to reach us during our normal business hours is via text message. You can send an SMS to our locat number Text: 808-876-7777.
---
Call Us
Since our office reopened following the halt in Hawaii tourism in 2020, we have been a bit short-staffed and demand for tours has been great. We have learned that the best use of your time, and the most efficient way for us to answer a question that you have, is for you to leave us a voice message detailing your question for needs. We will respond PROMPTLY with an answer to your question. It's actually faster and allowe us to assist more guests by taking this approach. Be sure to leave a detailed message about the SPECIFIC tour that you are looking for and the dates that you are available. We do reserve tours all over the state of Hawaii! You can call us on either our Toll-free Number Call: 877-678-7333 or our Local / International Number Call: 808-876-7777. Both phone numbers go to the same place.
---
Email Us
Our email address is the word RESERVATIONS (plural ... make sure you put an S on the end) then the AT sign (you know the one) then ADVENTURE IN HAWAII.COM ... Put that all together and don't use any spaces. We spell it out this way to make it a little harder for spammers to scrape that email address off our website. It helps cut down on the amount of junk mail that we get.
---
Mail Us
Our mailing address is:
Hawaii Travel and Tours
PO BOX 6265
Kahului, HI 96733
---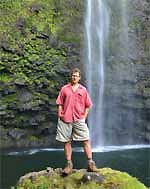 Kevin's Activity Tips:
The complete closure of Hawaii Tourism for the better part of a year during Covid-19 was tough on EVERYONE in the travel industry here. It has been a monumental struggle to get back to business and deal with the constant changes in travel and testing requirements. We're thrilled to be back to work though, and grateful we were able to weather the storm. Many of our competitors were not so fortunate. Our agency has "trimmed our sails" a bit and we have to work harder than ever, but we are HERE TO HELP and look forward to you reaching out to contact us! You will find out staff very responsive; whether you email, text, or call and leave a message ... we reply promptly! Our business depends on it! Thank you for allowing us to serve you! You'll find it is a refreshing change to deal with a local Hawaii-based agency like us ... not only because of the local knowledge that we offer ... but because of the concern we have that everything goes well on your vacation!
If you have reached out to us and you don't get an immediate response, feel free to use a second method to communicate. Sometimes text messages are dropped by a cell phone network even though it looks like they were sent (just like a dropped call). Sometimes emails get misdirected to spam folders. And sometimes the voice message you leave us comes in while everyone is sleeping! Be sure to check what time it is in Hawaii and factor that into the anticipated response from us! But when you DO talk with us ... you have the assurance of knowing that you are dealing with someone IN HAWAII and not in some "call center" in another country!