Umauma Zipline Experience
---
Umauma Zipline Experience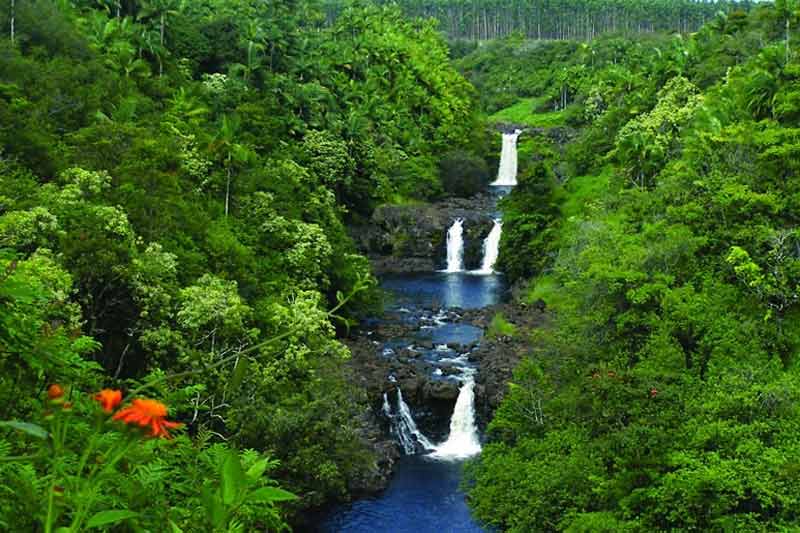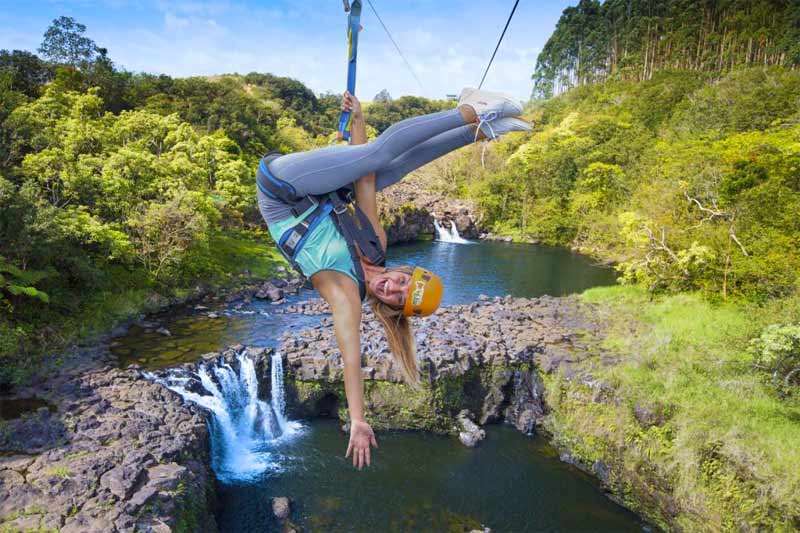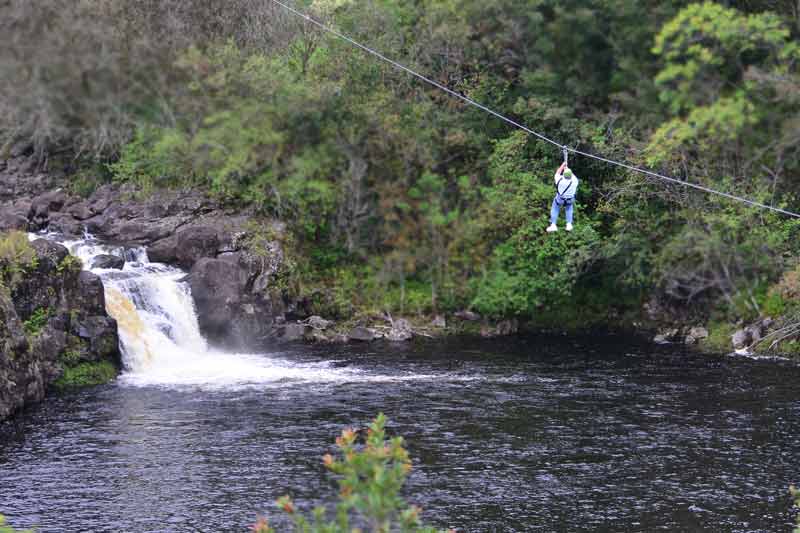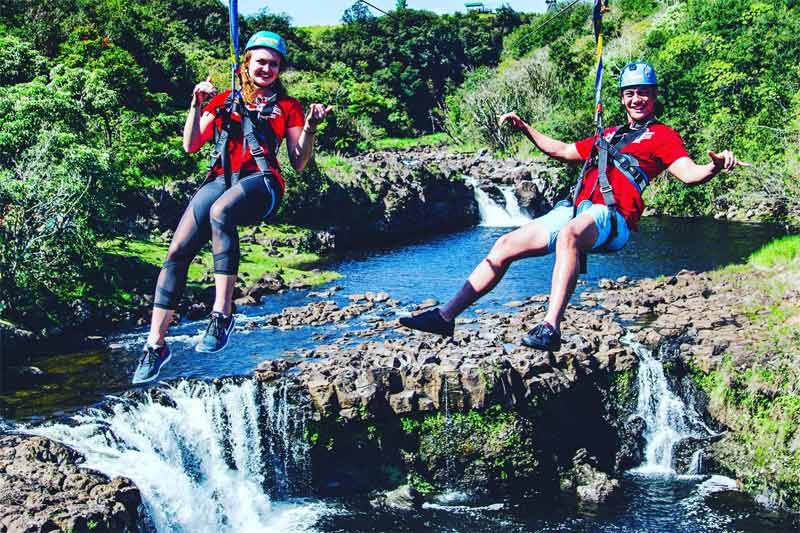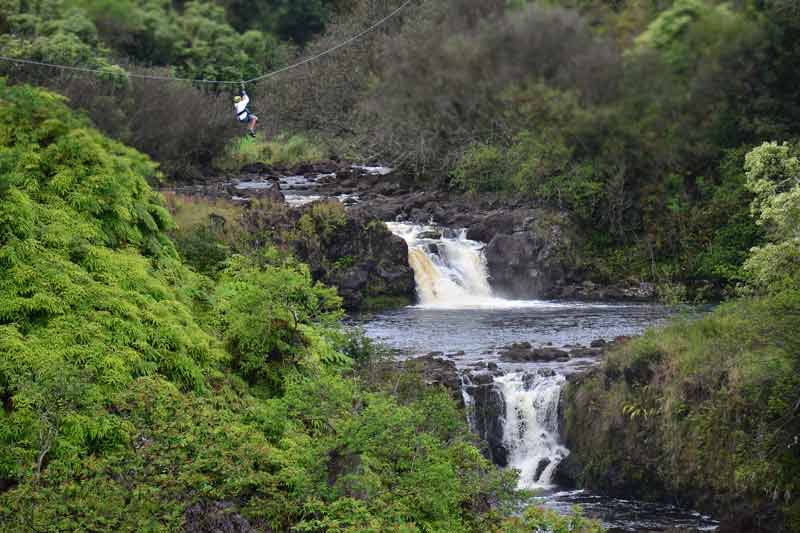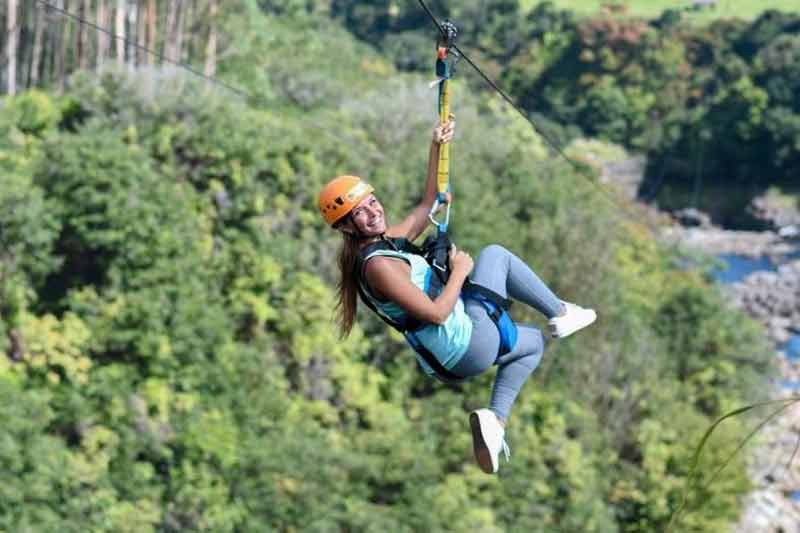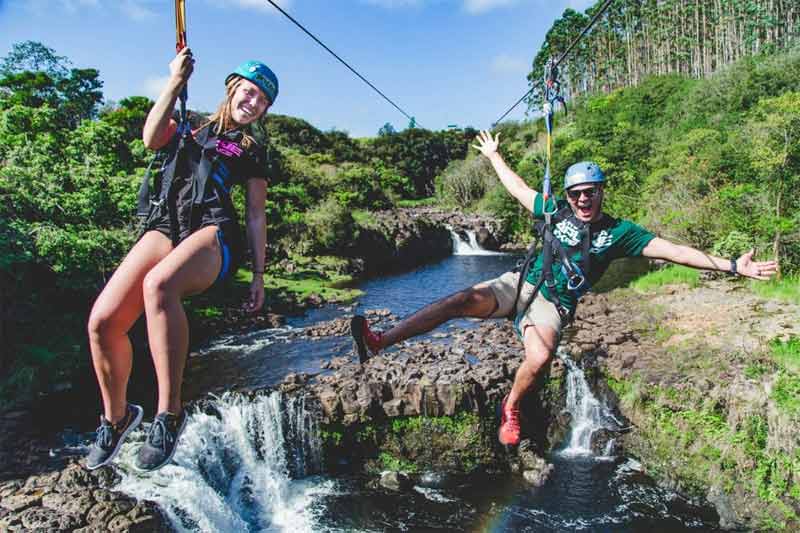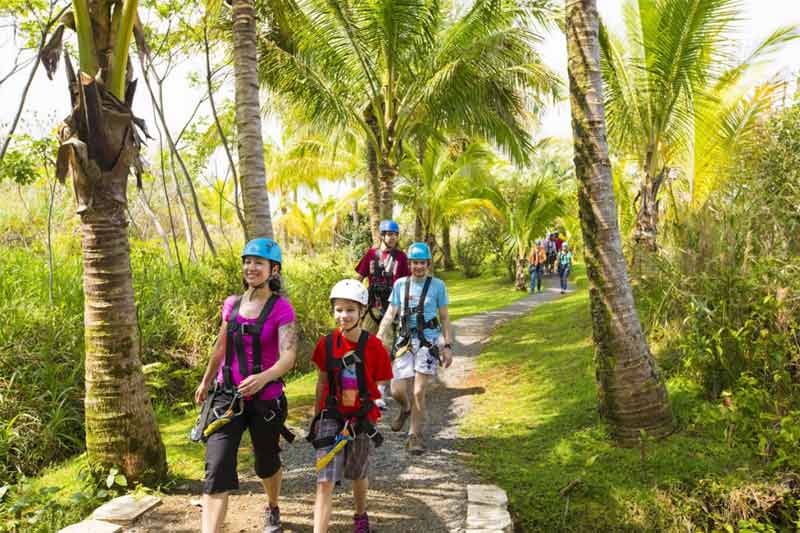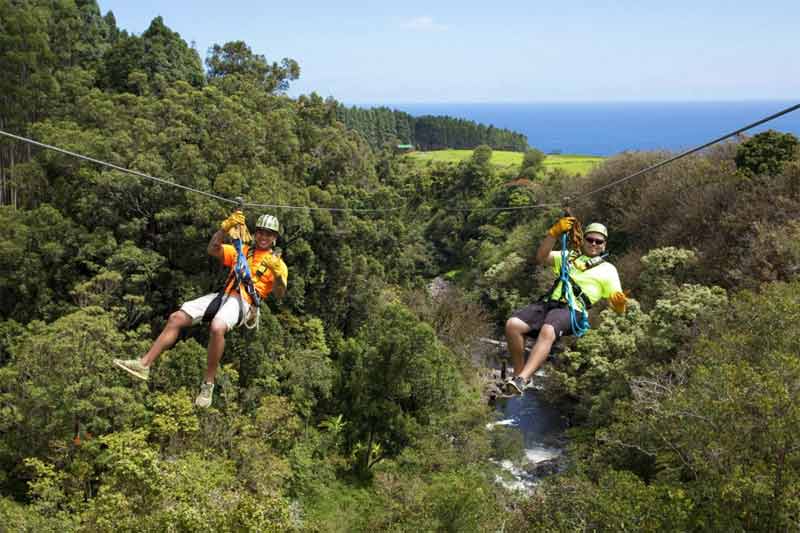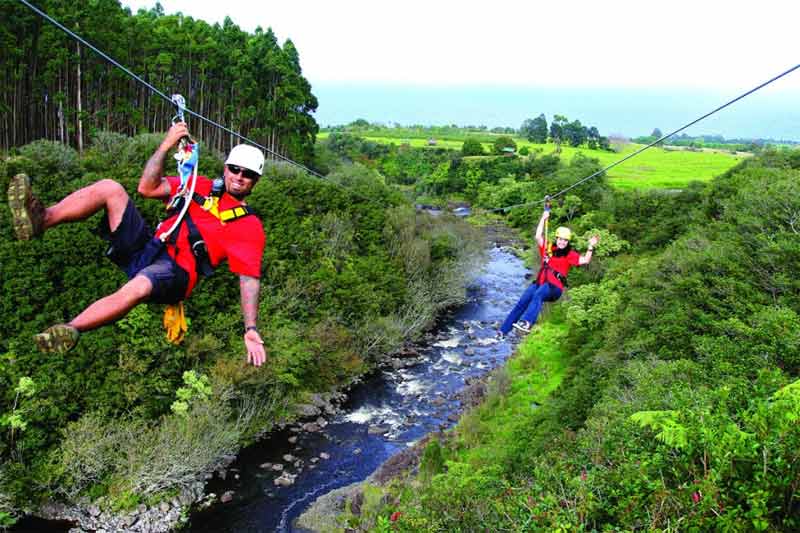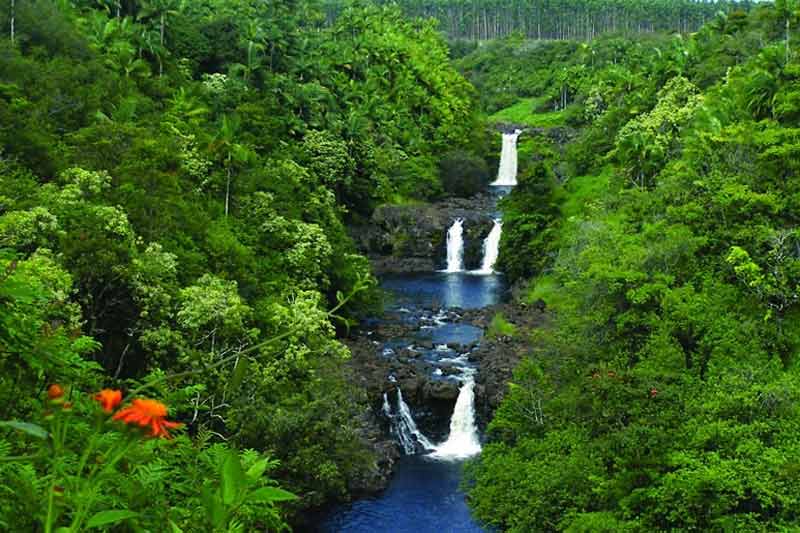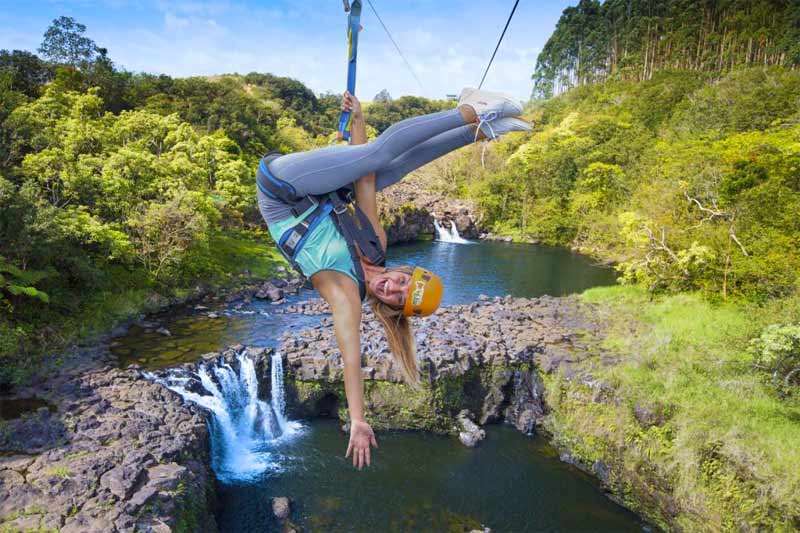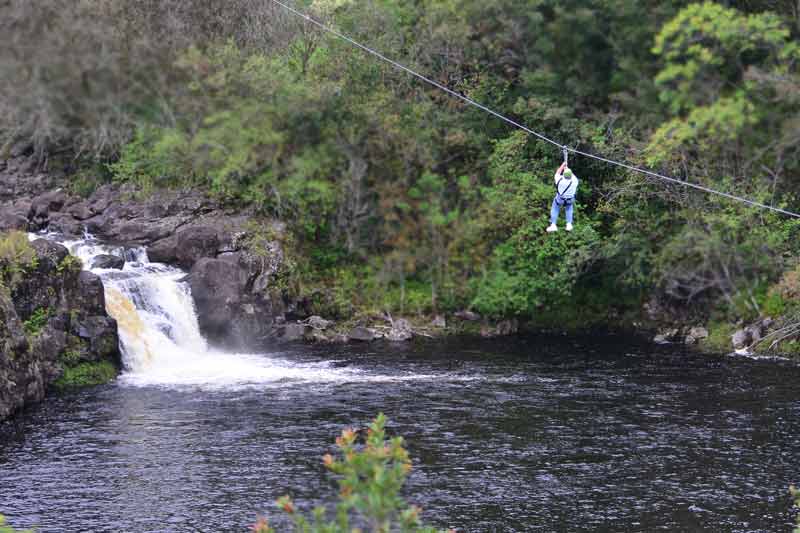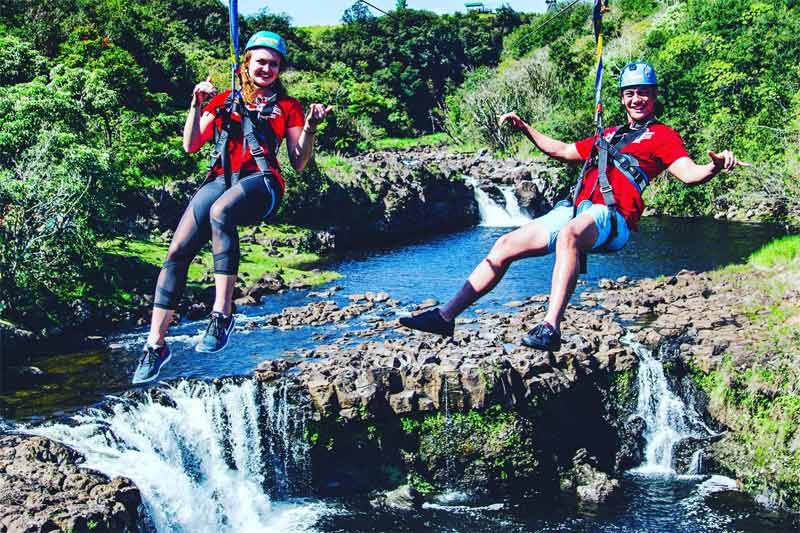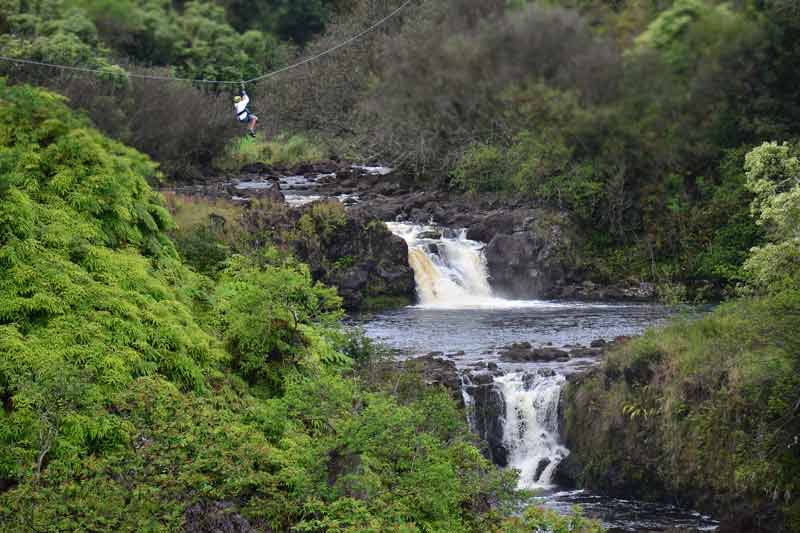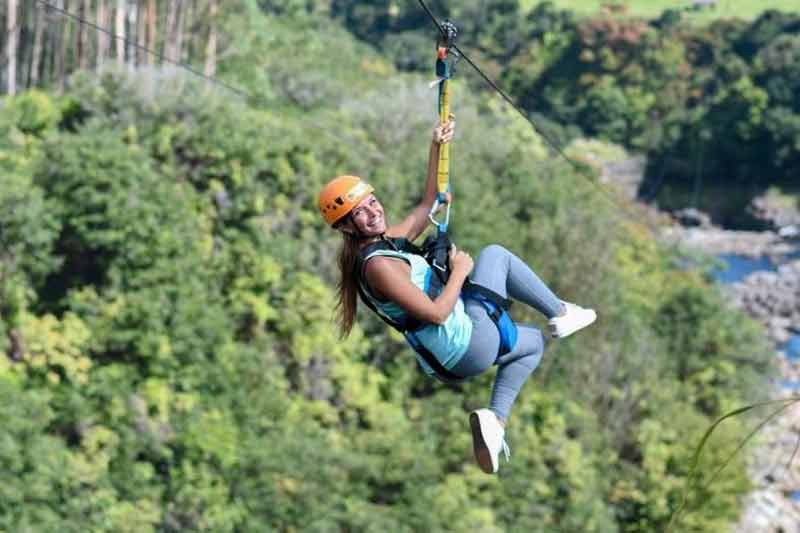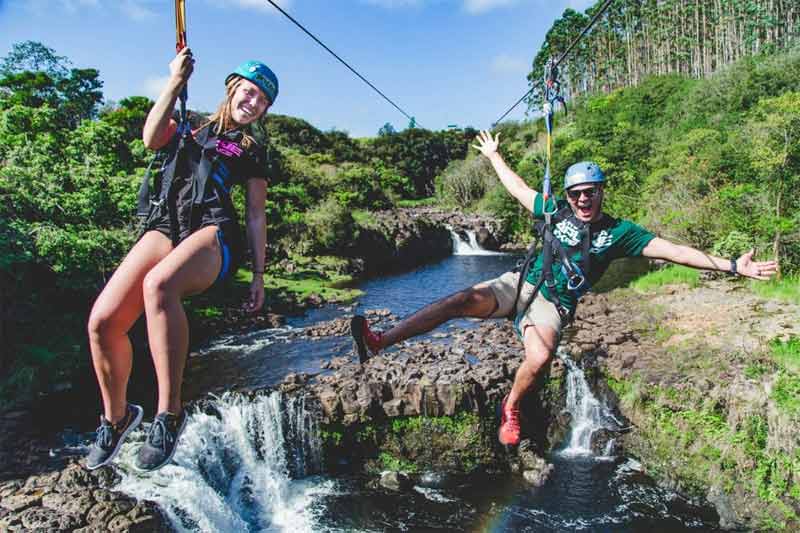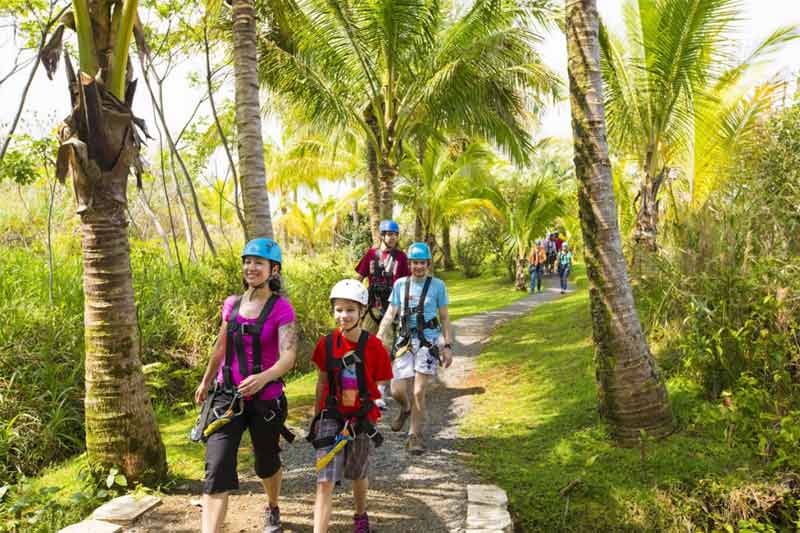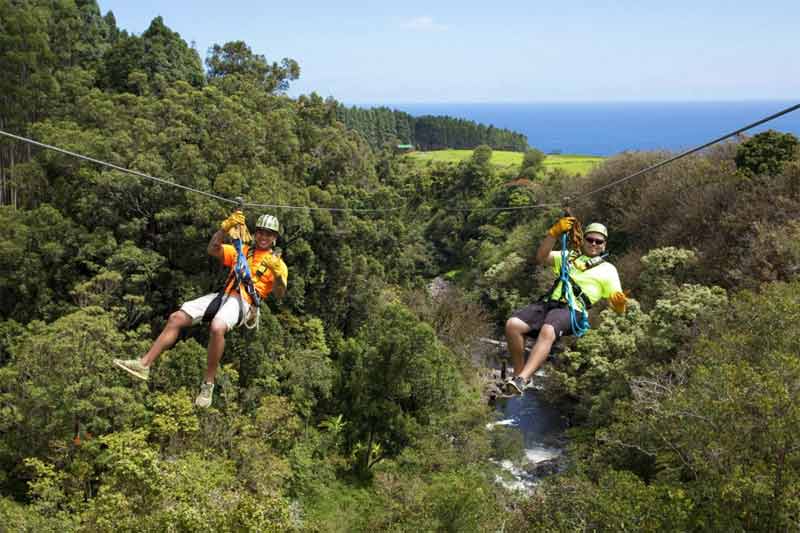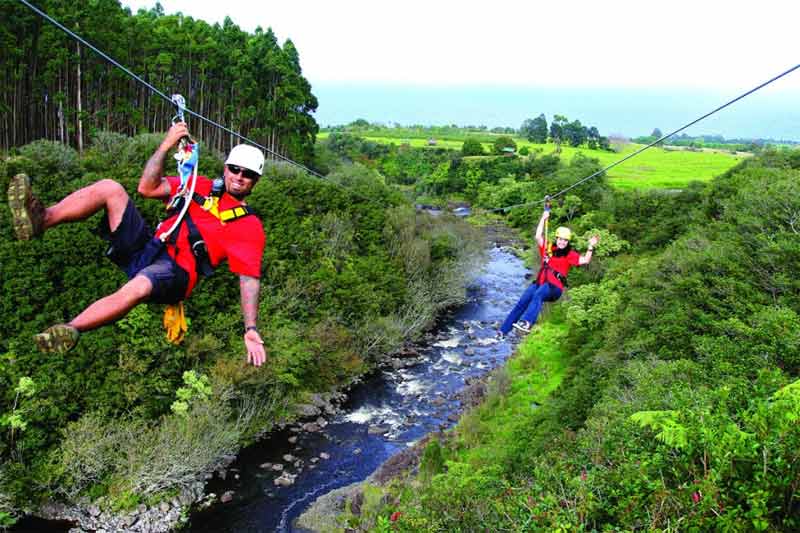 ---
Highlights
9 Lines with almost 2 MILES of zipping!
Thrilling course passes over multiple waterfalls
Zip and Dip tour includes an hour of waterfall fun and picnic lunch
Minimum age 4, minimum weight 35 pounds and maximum weight 275 pounds
---
Description
Seventeen miles north of Hilo is a gorge famous for its series of picturesque waterfalls and tropical gardens. Triple-tiered Umauma Falls has been a major attraction of this area for decades … but now the Umauma Zipline Experience takes people higher up the gorge for a zipline adventure of a lifetime. The upper falls area is not open to the public except for participation in this zipline tour!
There are now several zipline tours on the Big Island of Hawaii and almost every one shows pictures of a waterfall that's somewhere near their course. There are only two courses that really zip directly over what you can really consider a beautiful waterfall, and Umauma Zipline takes that up one huge notch. There are so many waterfalls you see while on this zipline tour that you lose count!
The Umauma Zipline offers 9 lines with nearly 2 miles of zipping excitement. The two longest lines are 1700 feet and 2200 feet and both of lines soar above the gulch with views of one waterfall after another.
Line 1 provides an exciting introduction to the zipline experience, and leads you to the edge of the gulch where you can look upstream for views of a 100 foot waterfall in the distance. Line 2 is a fun tandem "racing line" … guests zip side by side on a 1700 foot line with waterfall views that will take your breath away! Line 3 runs parallel to the gorge and is typically where the upside down action begins. That's right! For those who are really looking for a thrill you can zip upside down on this course!
Line 4 is the signature line of the course … at 2200 feet in length it is the longest line … and from start to finish this line passes directly over (down) Umauma Stream. This line offers the very best waterfall views, passes very close to some trees on the far side of the stream, and offers a view of a the spot where Umauma Stream actually passes through a natural lava arch.
A short walk up to the start of Line 5 and as you zip you get another look down at the stream and the natural lava arch. Lines 6-8 offer garden and ocean views zipping close to palm trees. As you walk from line to line, you stop at a pavilion for a photo op at the world famous Triple-tiered Umauma Falls.
Finally you come to the final line. Line 9 starts deceptively tame as you are just a few feet off the ground. Then you pass through a narrow opening in the trees and suddenly you emerge out over the gorge one last time. The landing platform is right next to the visitor's center. The tour length varies depending on the speed of the group … typically the 9 line course takes between an hour and a half and three hours.
---
Cost
Umauma 9 Zipline Tour Rate (UMA1)
$209.00 per Adult, $199.00 per Child (10 and under) (plus 4.712% Hawaii sales tax)
---
---
COMBO TOUR OPTION: Umauma Zipline also offers a Zip and Dip Tour This tour offers the same 9 exhilarating ziplines, and adds one hour of swimming and kayaking and a picnic lunch at one of the waterfalls! This adventure is weather and water level permitting. On days that you cannot swim, you will be refunded the dip portion of this tour. The Zip and Dip is offered at 10:00am only on Monday through Friday.
Umauma Zip and Dip Combo Rate (UMA2)
$294.00 per Adult, $274.00 per Child (10 and under) (plus 4.712% Hawaii sales tax)
---
Details
Schedule: The Umauma Zipline Experience operates Monday through Saturday at 10am, 11am, 1pm and 2pm.
Checkin: At the Umauma Visitor Center. Drive time from From Hilo 30 minutes. From Waimea / Kamuela 70 minutes. From Waikoloa Beach 1 hour and 45 minutes. From Kailua-Kona 2.5 hours.
Duration: The zipline experience is about 2 hours. The Zip and Dip tour is about 3 hours.
Tour Includes: 9 ziplines. Snack and water. Picnic lunch served on the Zip and Dip tour.
What to Wear: Closed toed shoes are required. Long pants or shorts that are longer (approaching knee length), shirts with sleeves (no tank tops). Also bring a water bottle, camera, day pack, etc.
Observers: If you have members of your party who are not zipping, they may enjoy the tropical garden and overlook of triple-tiered Umauma Falls. They can see some of the zipline action on the lower half of the course. One observer per zipper is admitted to the gardens free … additional admissions are $10 per person.
Restrictions: Minimum age is 4. Minimum weight is 35 lb, and maximum weight is 275 lb. Anyone under the age of 18 must be accompanied by a parent or guardian. No one who is pregnant or who has any serious medical conditions or a history of neck or back injuries may participate.
Reservations: Advanced reservations required and we recommend booking this a month or more before your arrival. A credit card is required to secure your space and the Umauma Experience will charge your credit card when your space is confirmed.
Minimum Notice for Cancellations / Changes: At least 48 hours before the start of the event.
Weather Policy: Tours run rain or shine as this area gets frequent light showers. Rain panchos are provided in case of wet weather.
---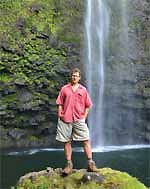 Kevin's Activity Tips:
I've done ziplines all over Hawaii and no course anywhere can compare to the waterfall views here at Umauma! This is one of the more extreme zipline experiences, which is what many zipline junkies are after. If you've never ziplined before, and you do this course, you are going to have high expectations for every other zipline tour that you ever do again.
The Umauma Zipline is further from the resort areas in Kona … it is near Hilo and can be combined with a day of visiting the volcano. We recommend that you get up early, do the 9am zipline, and then drive on to see Kilauea Volcano in the afternoon / early evening when lava shows up the best.
Zipline tours do not require any special levels of upper body strength … guests wear a harness and are clipped into the zip line pulley using redundant lines. These courses are professionally installed to the highest level of zipline industry standards. Weight restrictions have nothing to do with the ability of the line to hold someone's weight … the lines are engineered to hold the weight of a pregnant elephant! If a person is too light, they may not make it all the way to the other side. This isn't really a safety issue as the guides can easily deploy a line and pull the partially unzipped zipper to the other side. But this process is time consuming and delays the tour. A person who is over the weight limit would come in just a little too fast on many lines, and create braking issues that could be jarring. So, weight limits are there for everyone's safety and enjoyment of the tour.
One tip for getting the best views and video/photos of the waterfalls … since you are zipping DOWN the gorge, your best views are turning around and looking back up as you zip backwards. Yes, they teach you how to do this. You can control which direction you face by turning the strap that hangs from the pulley.
How exactly is "Umauma" pronounced? Locals have debated this for ages. Some people say "OOO-mah OOO-mah" and others say "ooo-MAU-ma." The best pronunciation may be more like "ooo-MAH-ooo-mah." The Hawaiian word UMA means "curved" and the Hawaiian word UMAUMA means "breast" and is probably a reference to the water in the stream being chest-deep if you were trying to cross it. Either way you want to say it is fine.