BIG ISLAND OCEAN FUN
This category is for other fun things to do out on the water that don't involve snorkeling per se. Some of these tours will include sightings of dolphins and humpback whales(in season). Atlantis Adventures is a fun way to experience the ocean depths in a REAL submarine dive! Maybe a paddling a kayak to a sea cave where you can swim to shore and do a little cliff jumping sounds like fun? Or head out on a shared fishing charter for the chance to catch the fish of a lifetime!
---
---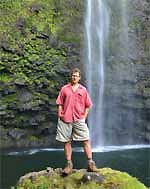 Kevin's Activity Tips:
There are lots of fun things to do out on the water. Atlantis Submarines is particularly good for people who do not want to snorkel ... it allows them to see the underwater world without even getting wet! It's also a great experience for snorkelers too as diving to the depth of 100 feet is really entering a different world. I highly recommend it as a once-in-a-lifetime experience.
Everything else here in this category is pretty straighforward. If you want to go on a sunset sail we've got you covered. If you want to go deep sea fishing we've got you convered. If you want to go ocean kayaking and paddle into a sea cave, we've got you covered. You get the idea.
Whale watching does deserve a little comment ... you can typically spot whale activity from shore. You might see what looks like a distant puff of steam offshore, or spot a big splash off in the distance from a whale breaching the surface. You can see signs of them from shore, but you can't EXPERIENCE them from shore. Do yourself a favor ... if you are here during whale season go on a whale watch! You'll not only get a better look at them, you'll also HEAR them! The sound of a whale spouting a hundred yards away from you is a sound you will remember for the rest of your life!