BIG ISLAND LUAUS
No vacation in Hawaii would be complete without attending a Hawaiian Luau ... we recommend reserving a date early in your vacation to help get you in the Hawaiian mood, and make reservations WELL IN ADVANCE of your arrival. In the summer of 2021 ALL LUAUS were selling out 3-4 weeks in advance so RESERVE YOUR SEATS NOW long before your arrival in Hawaii!
---
---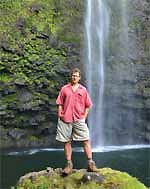 Kevin's Activity Tips:
The decision on which luau to attend for a first-time visitor? Well, our first piece of advice is to attend a luau close to your resort. These luaus do include full open bars so it's not a good idea to have to drive a great distance in the dark on roads you aren't familiar with after having a few mai tais. Unless you plan to use an Uber or Taxi (which is pretty expensive, my first recommendation is to go to the luau that is closer to you.
That being said, my first choice in a luau on the Big Island is the Waikoloa Marriott. We love this resort ... it's our favorite place to stay when we visit the Big Island. Their luau food is great ... it is one of the few places that a luau I've attended has served a Pohole fern shoot salad, a real Hawaiian delicacy! The luau grounds here look out toward an ancient fishpond, which is lined on the far side with a row of elegant palm trees on the narrow strip of sand that separates the fish pond from the ocean. It's about the most beautiful Hawaiian sunset setting that exists anywhere in Hawaii!
The Island Breeze Luau is good too ... their setting is VERY historic. It is held at the site of the home of Kamehameha the Great, the king who united the Hawaiian islands as his kingdom (by force of course). His residence has been recontructed here, and knowing that you are attending this show on the very ground where he used to walk adds a touch of authenticity to this experience. Part of the luau show here is the arrival of the Royal Court via canoe as they land at the little beach here and lead the procession to the luau grounds. It's a sight to behold!
All the luaus made major adjustments to food service procedures and limiting capacity for social distancing as the islands reopened to tourism following Covid. Because capacity was so limited the luau prices really jumped ... with less seats to sell they all needed to raise rates to provide the same level of service and quality of food and entertainment. We aren't sure what will happen here as capacity is increased as the pandemic completely ends. We'll see. In the meantime, be sure ot reserve WHATEVER luau you decide to attend WEEKS or even MONTHS ahead of your vacation.