Manta Ray Night Snorkel
---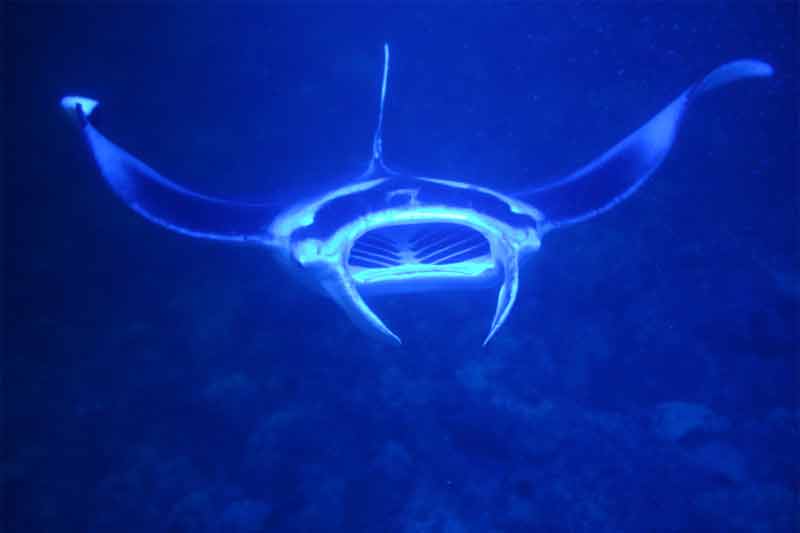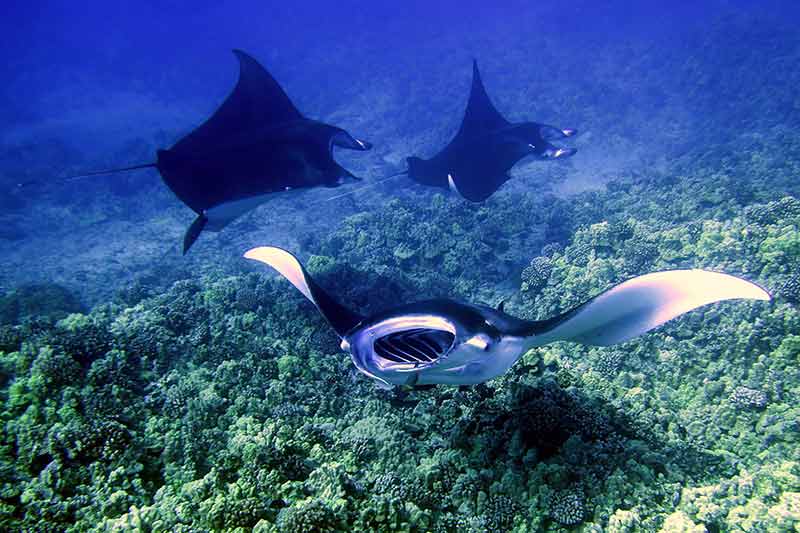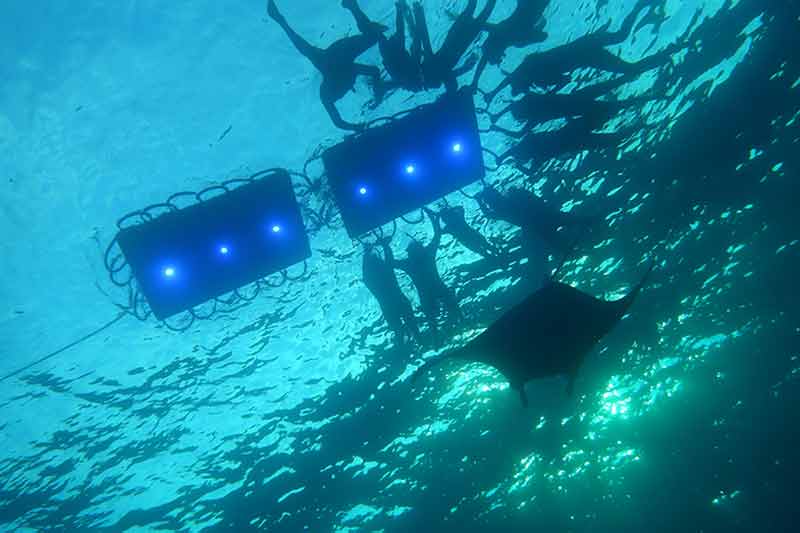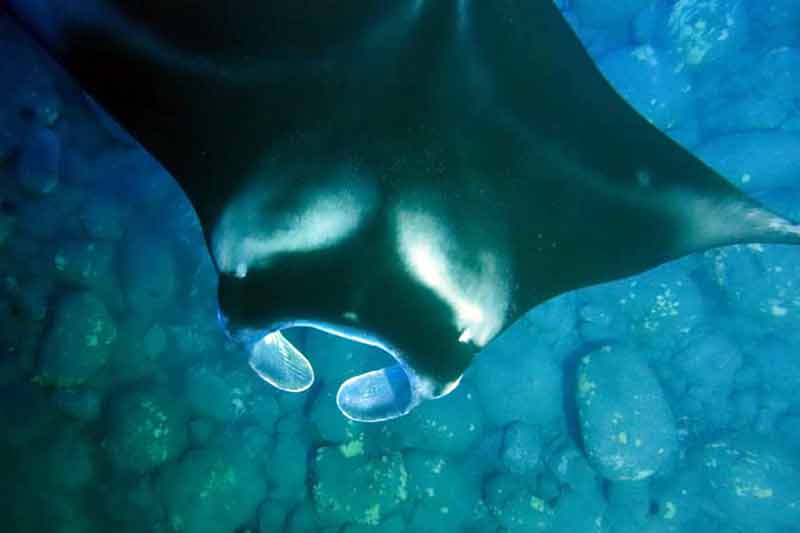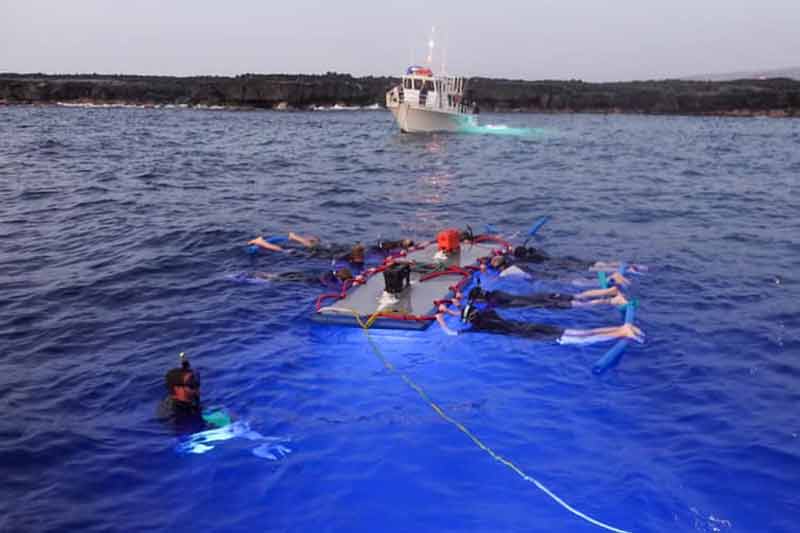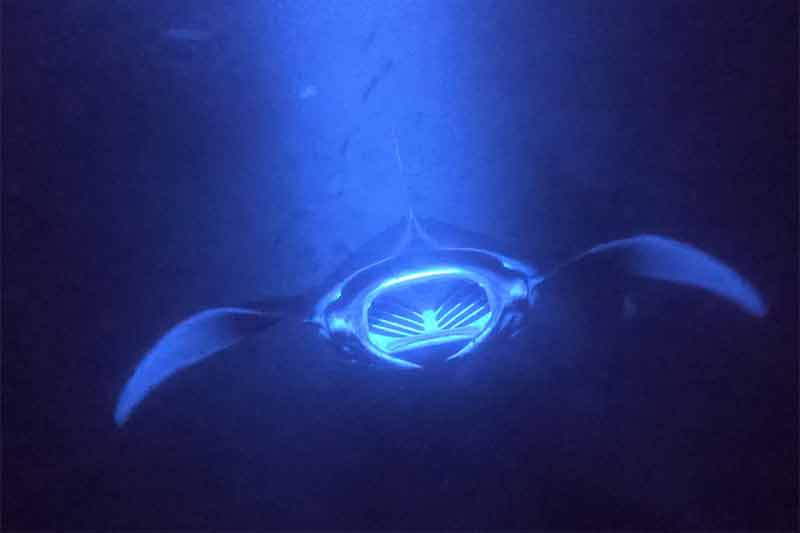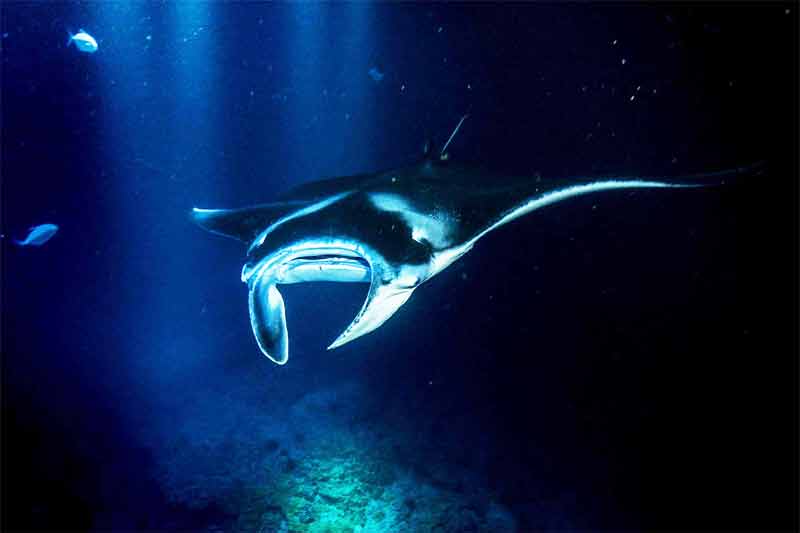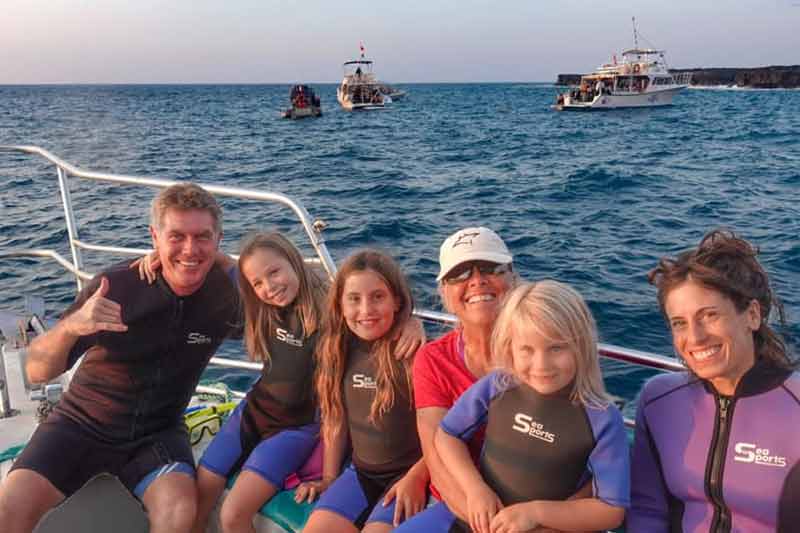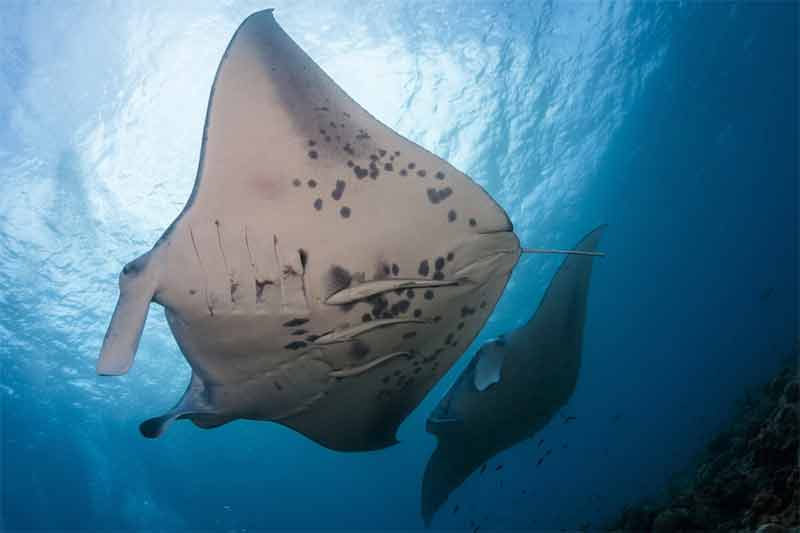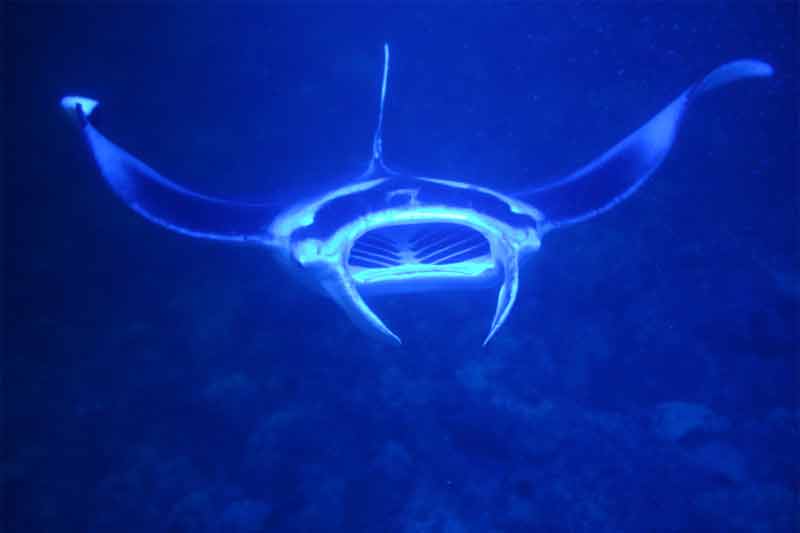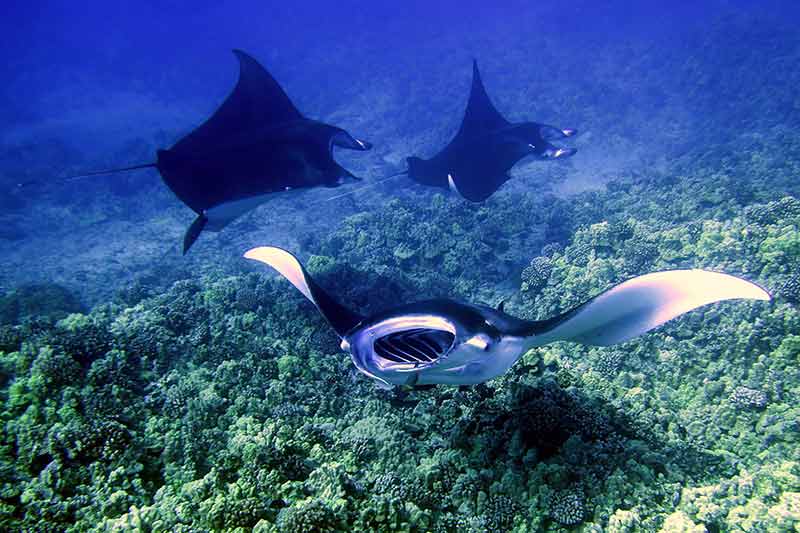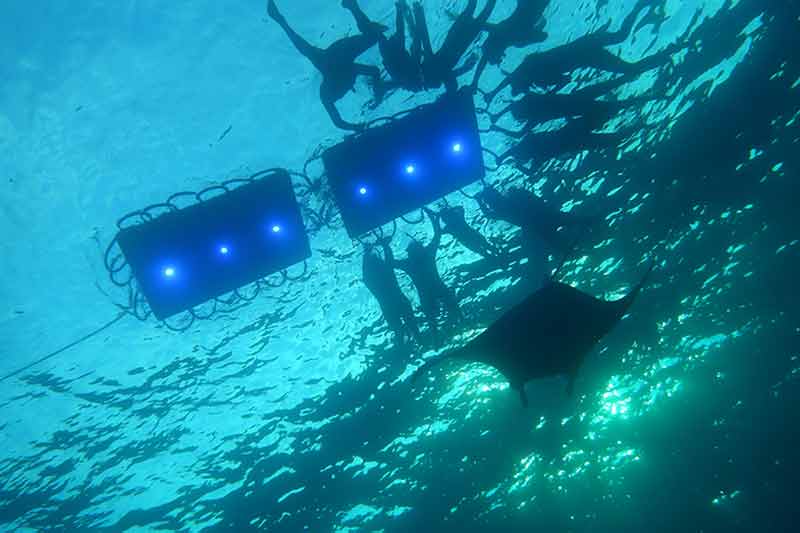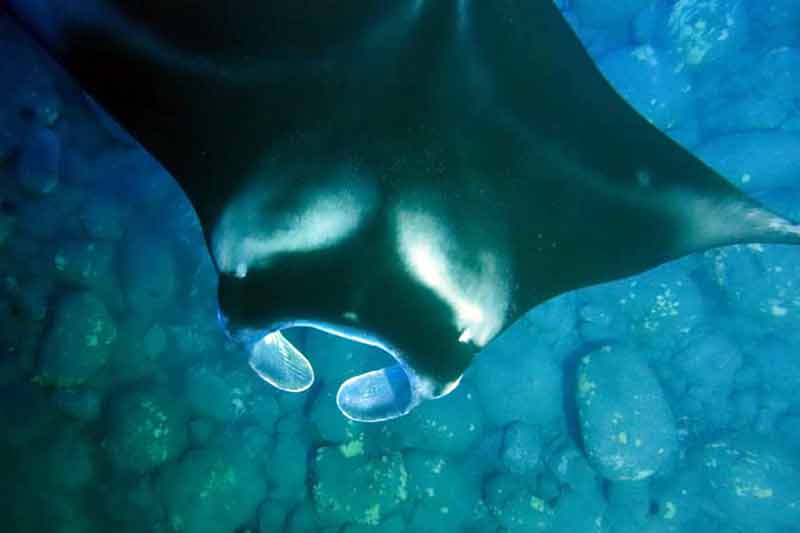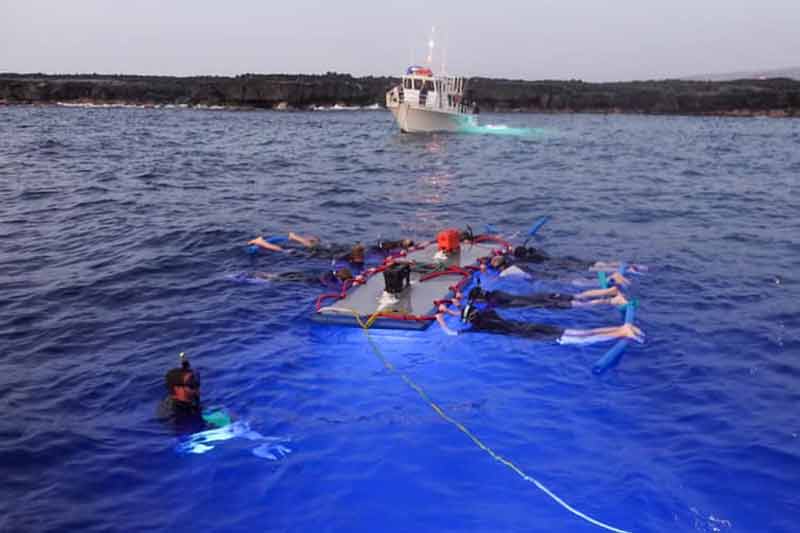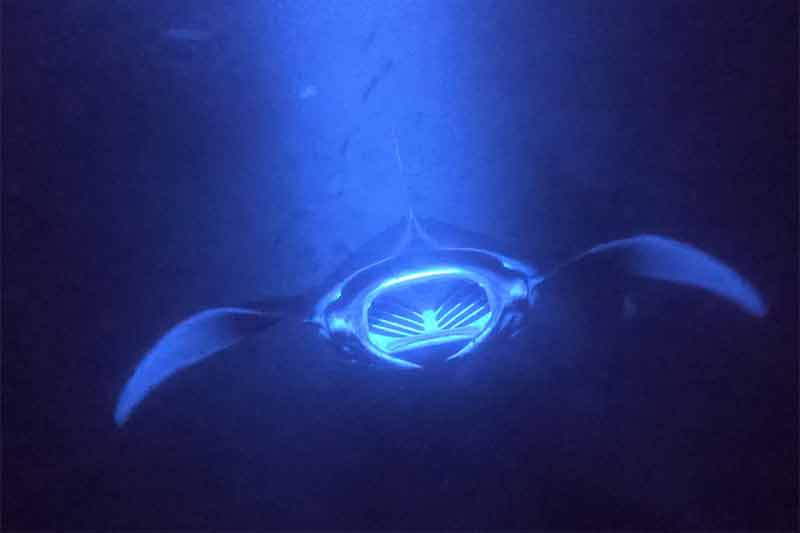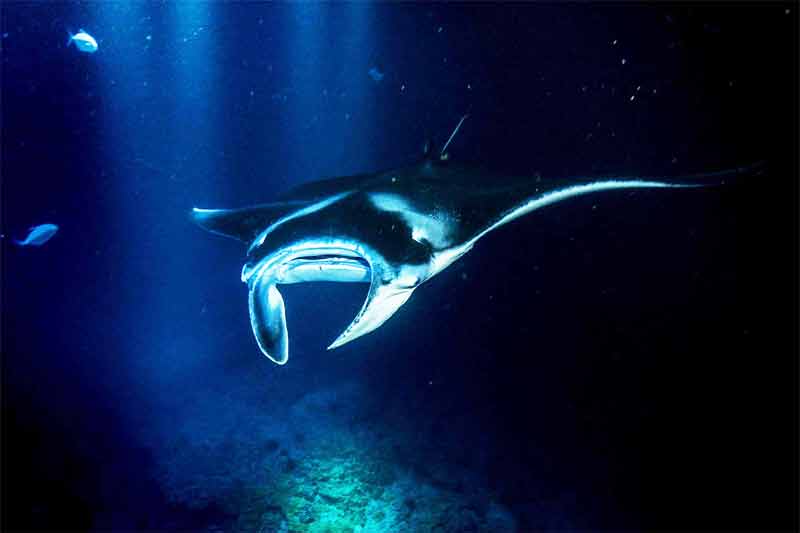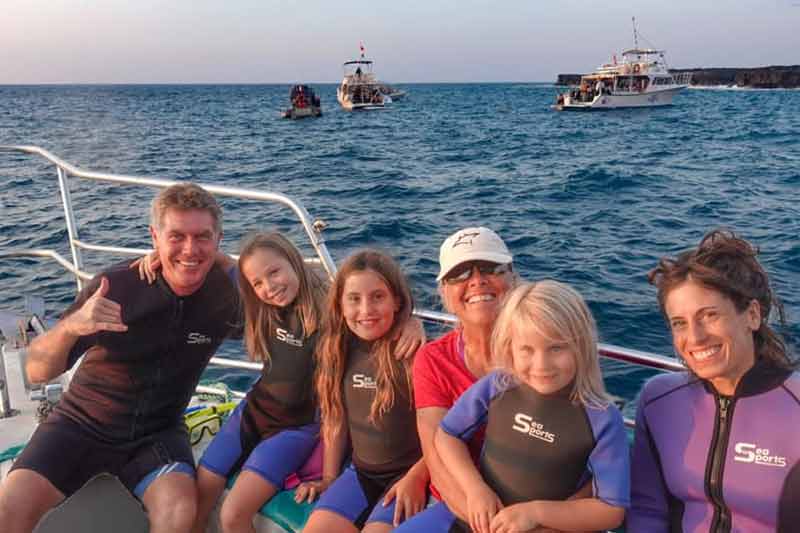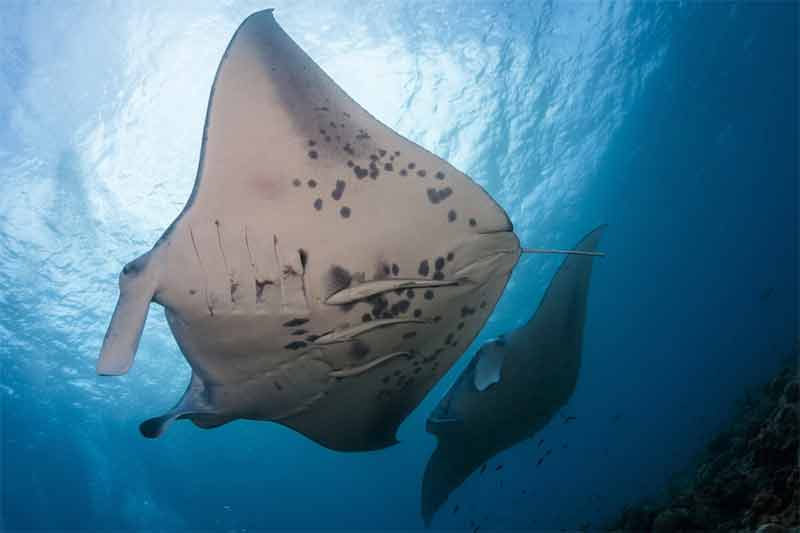 ---
Highlights
World's best opportunity to swim with Manta Rays!
Two different locations available
Guests hold onto a floating raft equipped with lights
Wet suits included
---
Description
Visitors to the Kona Coast of the Big Island have an opportunity to participate in one of the most unique ocean adventures in the world! Manta rays frequent the warm waters of the rocky volcanic coastline in search of plankton, their primary food source. With their giant mouths constantly open, they glide through the water and filter these tiny creatures.Manta rays are often called "the butterflies of the sea" … they are shy, harmless, and graceful. They don't have any stinging spines on their tail. They don't bite or chew. Their mouths are designed like a giant funnel to filter plankton. Swimming with them is completely safe for both humans and for the manta rays. They truly are gentle giants – most of the mantas found along the Kona coast have a "wingspan" of 8-13 feet! There are two spots along the Kona Coast where mantas congregate in the early evening. Lights are placed on the ocean bottom in about 30 feet of water, and snorkelers float at the surface holding onto a raft that has more lights shining down. This concentrates the plankton near the snorkelers, and the leads the mantas to perform a water-based acrobatic dance as they swoop in circles just below the amazed observers. This is a MUST DO activity and one of the best / most reliable places in the world to participate in this fantastic activity!
We offer two different locations with two different tour operators for this experience! Please note that there are two different booking calendars on this page ... one for each boat. Each boat also has slightly different billing details and restrictions.
---
SUNLIGHT ON WATER MANTA SNORKEL
40 foot speedboat from Honokohau Harbor
---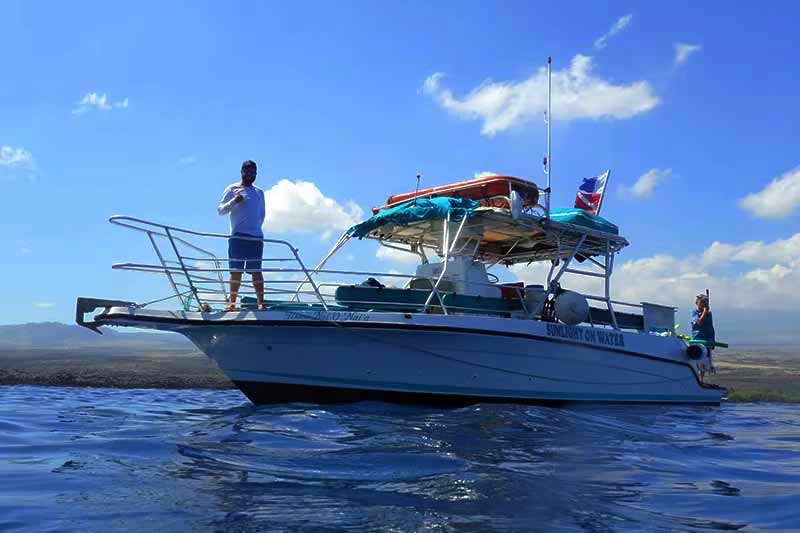 This Manta Ray Night Snorkel tour is done on a 40' Coast Guard certified vessel that is fast and comfortable and is well-laid out. This vessel goes to the manta location near the Kona Airport, which consistently attracts the MOST mantas. You'll be fitted with a wetsuit and snorkel gear, and just after sunset slip into the water and hold onto the floating platform which has lights that attract the plankton. These giant rays gracefully glide, twirl and do somersaults to swoop up the tiny little food particles, sometimes within a foot or so of the snorkelers! You, too, can witness these spectacular ocean creatures in their magical underwater ballet in an event you'll never forget! 3.5 hours
---
Sunlight on Water Manta Snorkel Rate
$118.92 per Adult, $108.11 per Child (12 and under), $101.35 per Ride Along Nonsnorkeler (Hawaii sales tax included)
---
Schedule: Daily at 5pm (time changes seasonally)
Checkin:: Honokohau Harbor slip G18, 5 miles south of the Kona Airport on the ocean side of Highway 11/19 (Queen Kaahumanu Highway)
GPS Address: Slip G18, 74-381 Kealakehe Pkwy, Kailua-Kona, HI 96740 Click to view map
Tour includes: Cold and hot beverages and a variety of dry snacks
Gear Provided: Wetsuits, all snorkel gear, flotation devices as needed, lights, 12-20 photos of your trip
Vessel: 40 foot USCG certified vessel - Custom built for snorkeling limited to 25 passengers
Restrictions: There is no minimum age for this tour per se, but parents should use their own discretion for any children under 12. Children who are too young to get in the ocean must have an adult stay with them on the boat at all times. "Ride Alongs" who watch from the boat and don't snorkel pay the same rate. Ride alongs aren't recommend though for this tour because there is little to see at night unless you are actually getting in the water.
What to Bring / Wear: Towels, bathing suit, warm and dry clothes, and a jacket or sweatshirt, and camera
Reservations: Advanced reservations required and we recommend booking this a month or more before your arrival. This event is "RESERVE NOW PAY LATER"; we need a credit card on file to finalize your reservation but we do not charge you for this reservation until a few days before the beginning of your vacation!
Cancellation Policy: Cancellations must be made at least 48 hours (72hrs for party of 5 or more) before the start of the event.
---
---
HULA KAI MANTA SNORKEL
55 Foot Powered Catamaran from Keauhou Bay
---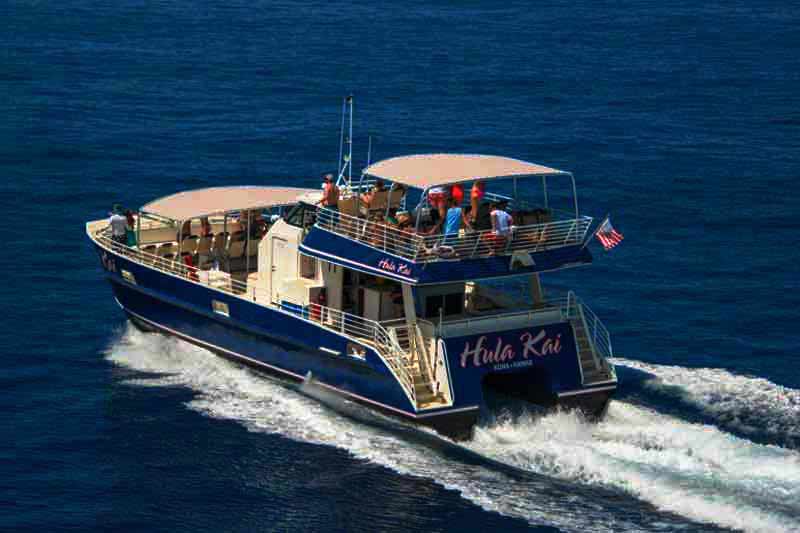 Another choice for Manta Night Snorkel is the Hula Kai, a 55 foot powered catamaran that leaves from Keauhou Bay. While this location doesn't usually have as many mantas as the airport site, it does consistently attract several mantas and has the advantage of being a much shorter boat ride to get to the snorkel location. This is a great choice for guests staying south of downtown Kona, or for anyone who is concerned about motion sickness. Wet suits and snorkel gear are included. This tour is over an hour shorter because of the much shorter boat ride to the snorkel location, which is just around the corner from the harbor. 2 hours
---
Hula Kai Manta Snorkel High Season Rate
$149.00 per Adult, $149.00 per Child (7-12) (plus 10.711% Hawaii sales/harbor tax)
---
HIGH SEASON RATES: January 1-4, March 15 - April 15, June 1 – August 31, December 20 - 31.
LOW SEASON RATES: January 5 - March 14, April 16 - May 31, September 1- December 19
---
Hula Kai Manta Snorkel Low Season Rate
$129.00 per Adult, $129.00 per Child (7-12) (plus 10.711% Hawaii sales/harbor tax)
---
Schedule: Monday, Wednesday, and Friday at 5pm (time changes seasonally)
Checkin:: Fair Wind Cruises office at Keauhou Harbor located at the end of Kamehameha III Road about 10 minutes south of downtown Kailua-Kona.
GPS Address: Parking lot is located across the street from 78-7106 Kamehameha III Road, Kailua-Kona, HI Click to view map
Tour includes: Hot beverages and cash bar after snorkeling
Gear Provided: Wetsuits, all snorkel gear, flotation devices as needed, lights
Restrictions: Minimum age to participate in this tour is 7, and all guests must have had at least one other previous snorkel experience.
What to Bring / Wear: Towels, bathing suit, warm and dry clothes, and a jacket or sweatshirt, and camera
Vessel: 55' foot USCG certified vessel – powered catamaran limited to 26 passengers
Reservations: Advanced reservations required and we recommend booking this a month or more before your arrival. A credit card is required to secure your space and the Fair Wind will charge your credit card when your space is confirmed.
Minimum Notice for Cancellations / Changes: At least 48 hours before the start of the event. 72 hours notice required for parties of 10 or more.
---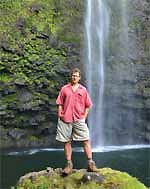 Kevin's Activity Tips:
When my wife and I did this adventure for the first time we instantly added manta rays to the top of our "don't miss it" list. We are excited to offer this opportunity to our clients ... this is one of the most unique adventures in Hawaii.
The manta ray encounters along the Kona coast began back in the early 70's; a hotel called the "Kona Surf" had bright lights that shined into the ocean and mantas were attracted almost nightly. Scuba operators began doing night dives. While the location gave a reliable chance to see manta rays, the spot was not very protected from ocean swells and sometimes the area would be too rough to dive or snorkel.
In 1999 the Kona Surf Hotel closed and the lights were turned off. The manta rays found a new spot to congregate in a bay near the Kona airport where plankton concentrated in the late afternoon sun. This is the spot where most mantas are now going on a nightly basis and the bay offers a much more protected location from ocean swells. This bay is inaccessible from shore and access requires a boat ride of about 25-30 minutes from the harbor just north of downtown Kailua-Kona.
At first the manta ray encounter began as an event for scuba divers. Over time it became clear that this isn't just for certified divers! Snorkelers can float at the top and watch the action below. The bright lights that you hold in your hand and shine downward will attract plankton, and the manta rays will swoop up from the deeper water. They often come within inches of you and do a flip as they scoop the plankton out of the water for a tasty snack.
Floating platforms are placed behind the boat and these tiny little "islands" have very bright lights pointing straight down underwater. These bright lights attract the plankton at night, which in turn attracts the manta rays to glide in to scoop up a mouthful of these tiny organisms. When you first enter the water the scene looks like something out of "Close Encounters of the Third Kind" with rays of light beaming down into the water and attracting a host of tiny fish as well as the giant mantas.
The wetsuit that is provided for snorkelers will do two things for you. First, it will help keep you warm since you are snorkeling after dark. Second, it will help you float. Even if you aren't a good swimmer, you won't have any problems floating around at the top while wearing a wetsuit. The floating platforms also add a measure of safety as they give participants a place to hold on so they can stay directly above the manta action.
Witnessing manta rays in the wild is a rare treat that can only be done in a few places in the world. The success rate for sighting mantas is incredibly high; somewhere in the 90-95% range. The night that my wife and I first did this tour there were 14 mantas, but it seemed like there were far more than that. They kept dancing and gliding from every direction for the entire hour that we were in the water. We've since done watched the "Manta Ballet" on many occasions, and we've never gone out on a night when the mantas were a "no show."
While the success rates on the snorkel tour are very high, there is no way to guarantee sightings every single night. The tour operators can't offer refunds when the mantas don't show up; their costs for operating the tour are fixed. My advice though is to not let this discourage you; the opportunity to swim with mantas and the high success rate makes it completely worthwhile. If you sign up for this tour you have an extremely high probability of swimming with mantas. If you don't sign up for this tour you have no chance of swimming with mantas. Sign up for the tour, then be nice to everyone and build up some positive karma in the weeks leading up to the event!
Please note that touching the mantas is not allowed. They have a protective slime coat that keeps them safe from infection and disease, and for the health of the mantas they should not be touched at all. Resist the temptation, even though they are only inches away. Divers stay on the bottom; snorkelers float at the top. All the space in between is allotted for the mantas to conduct their graceful maneuvers.