Kona Kayak Tours
---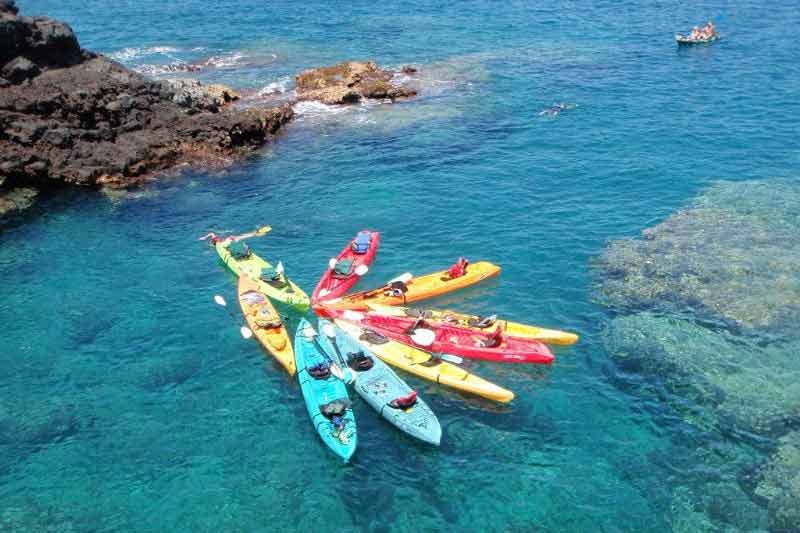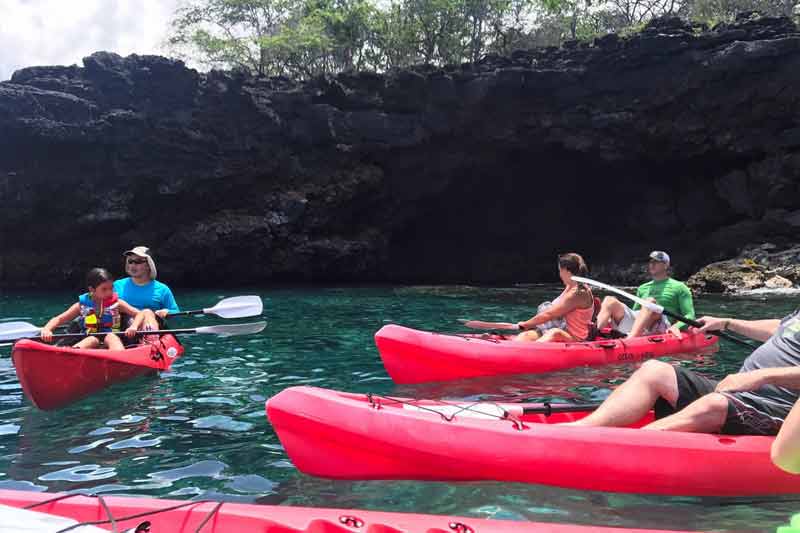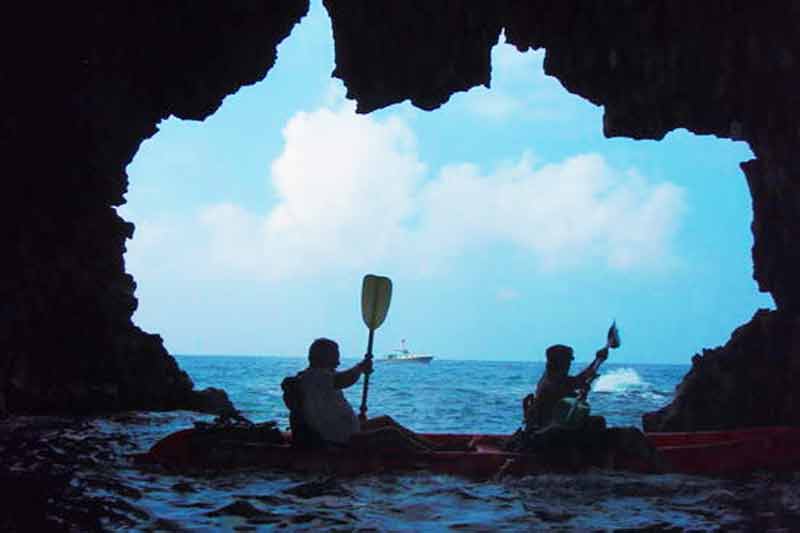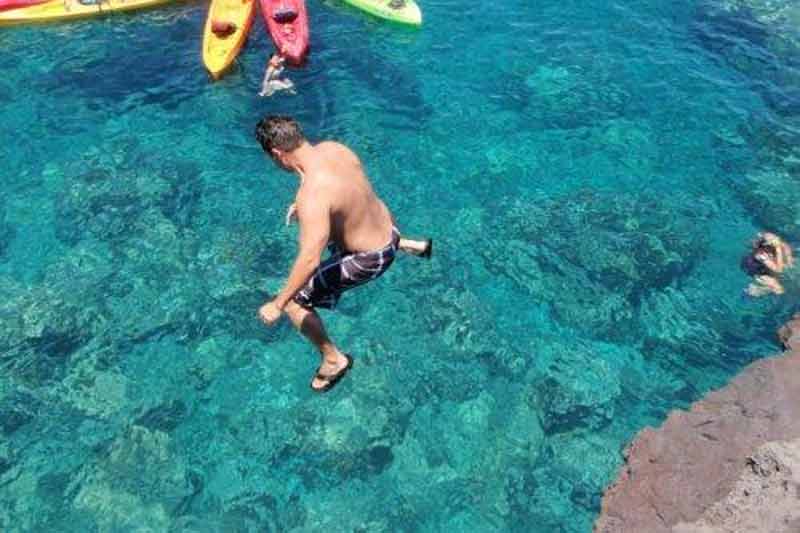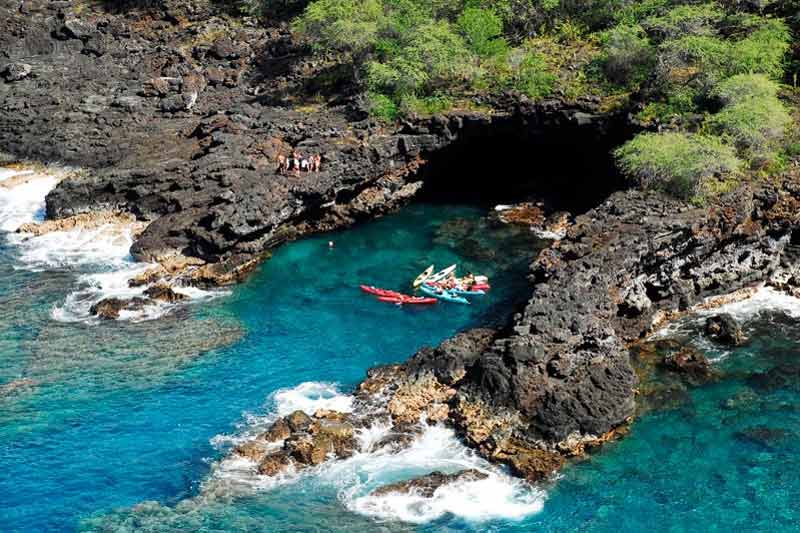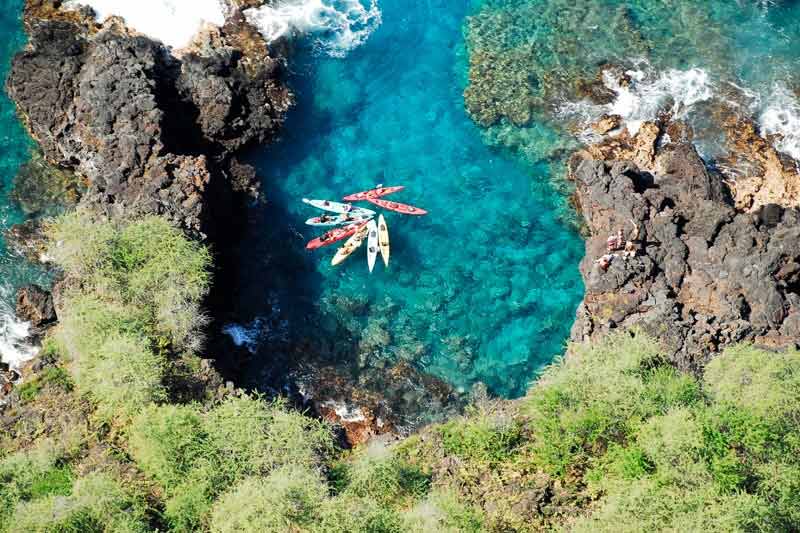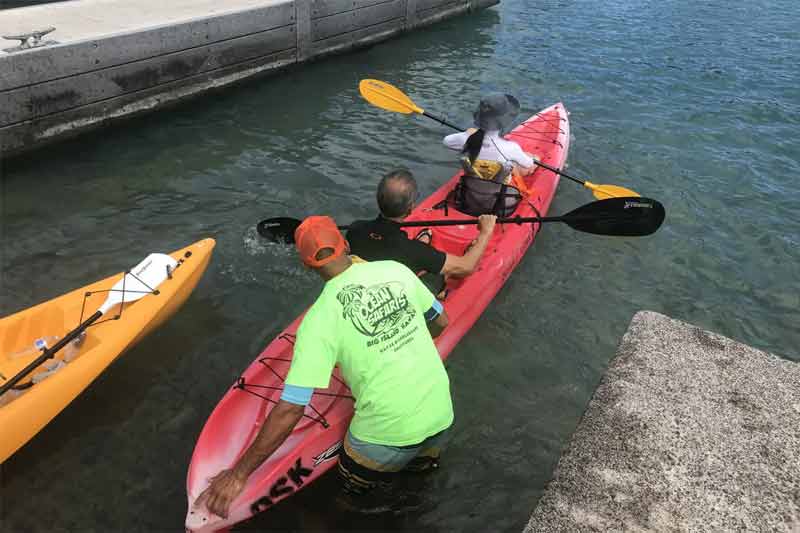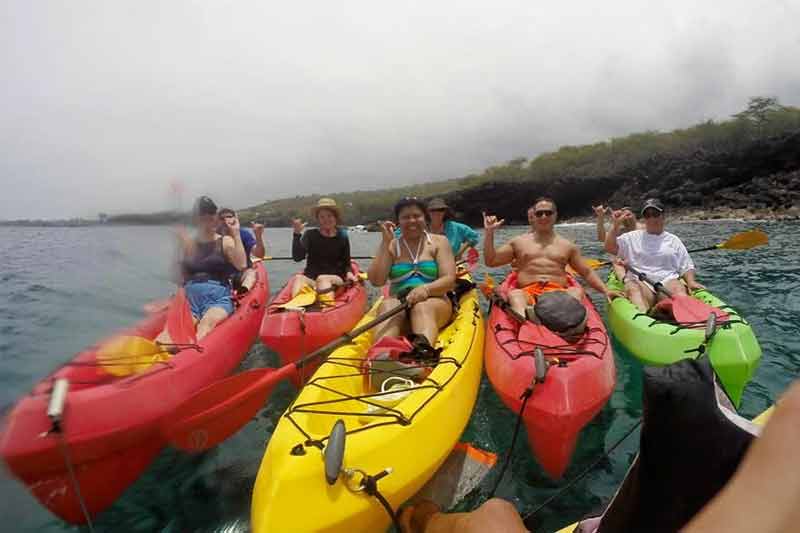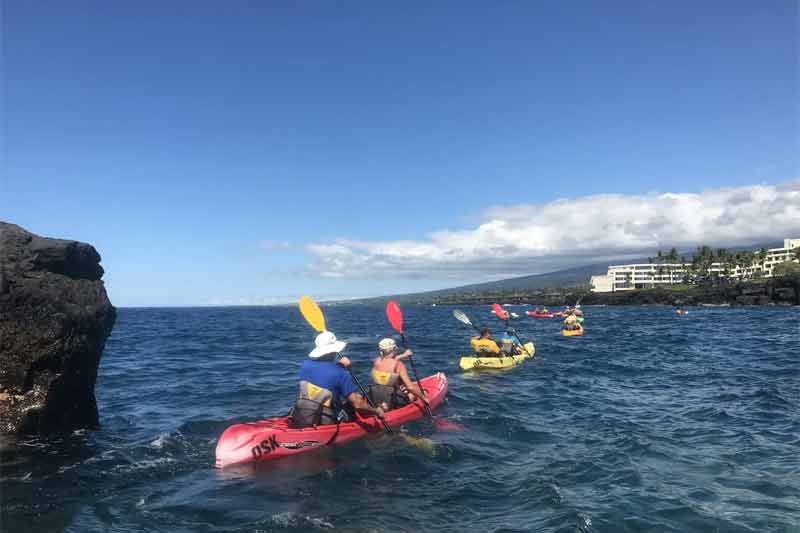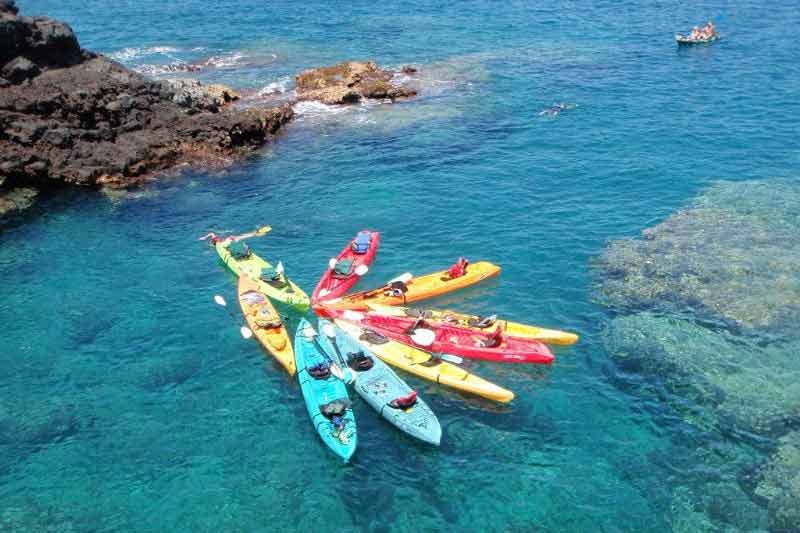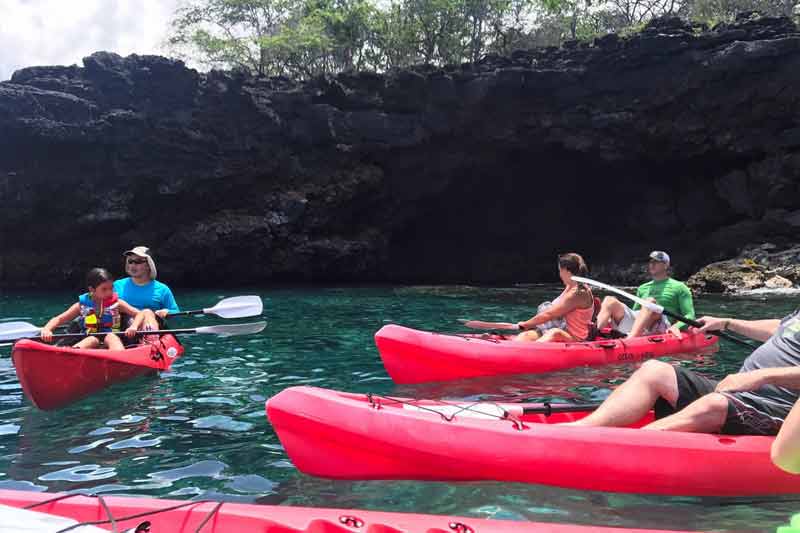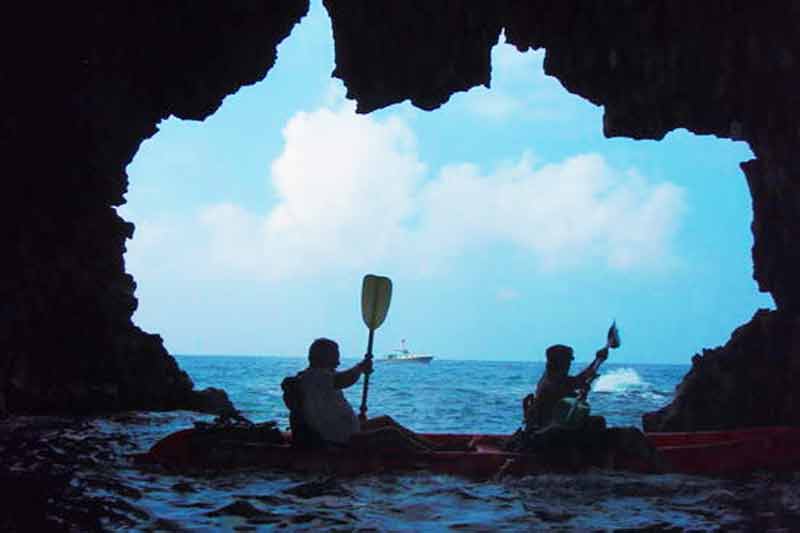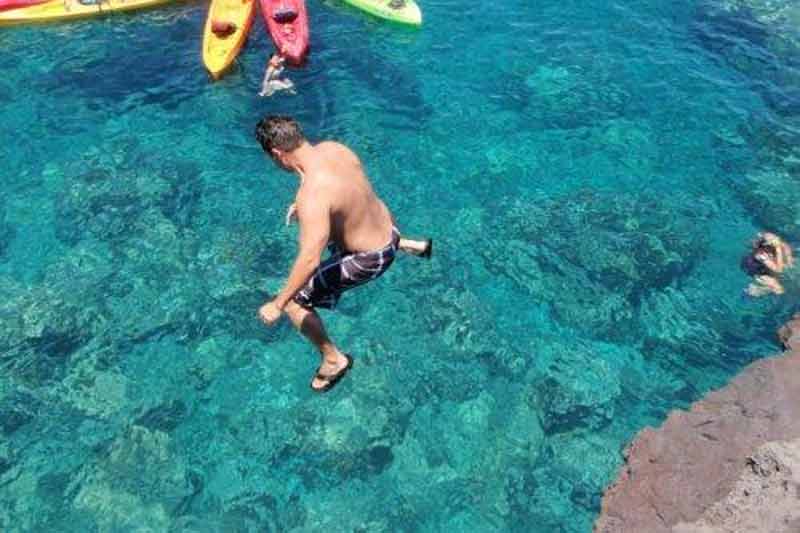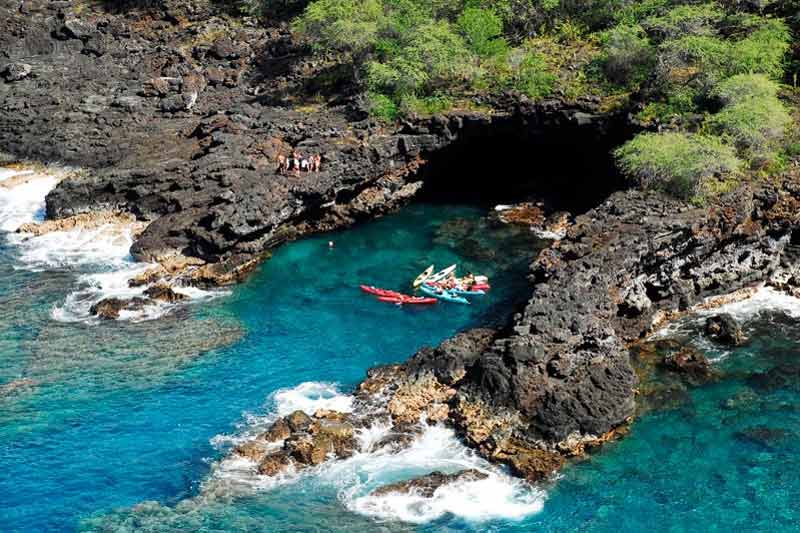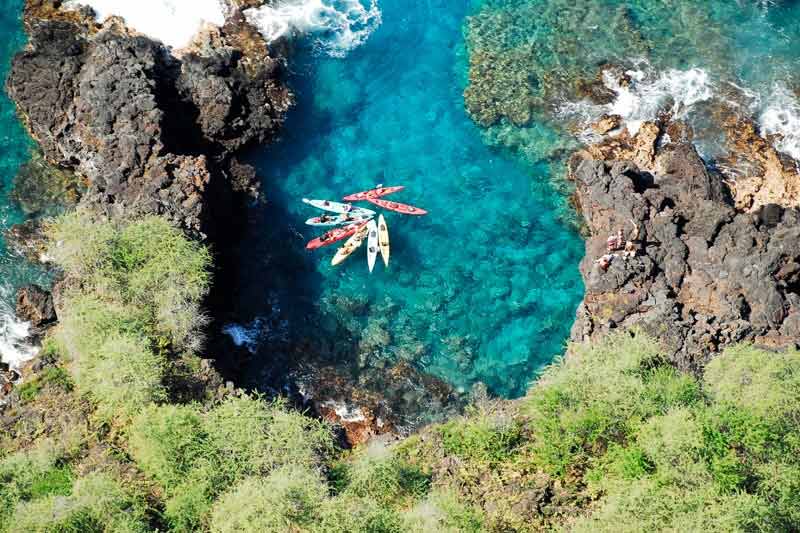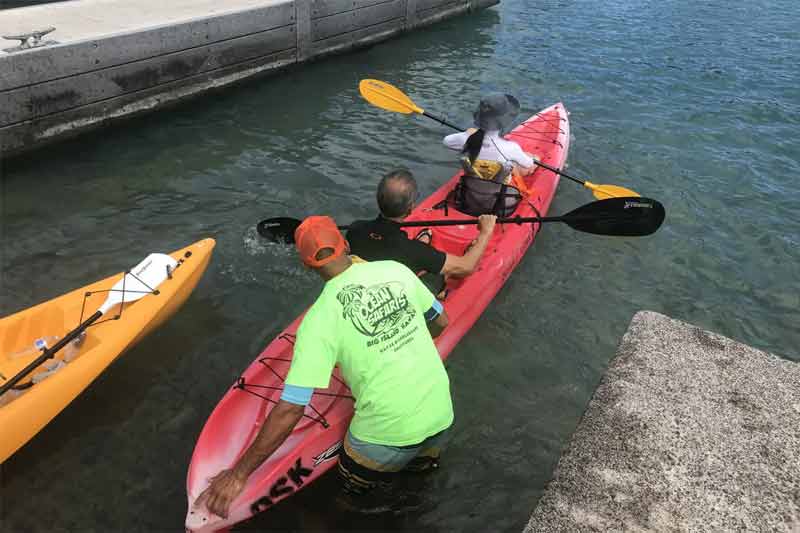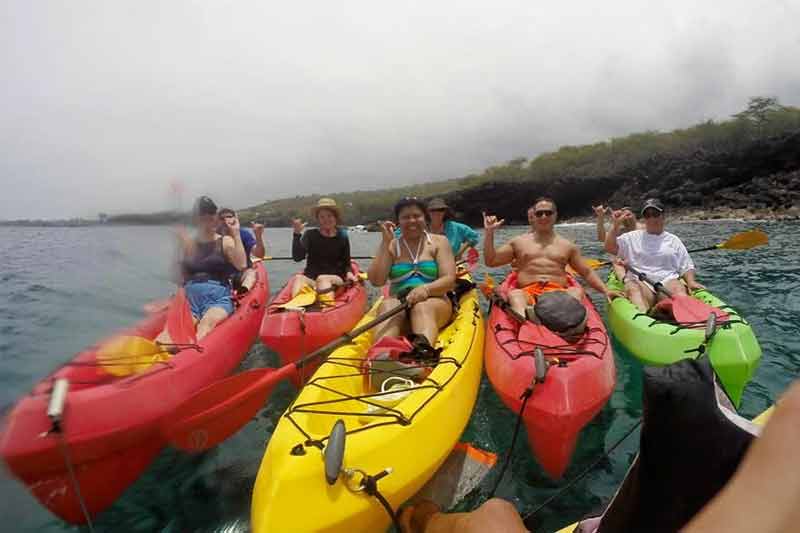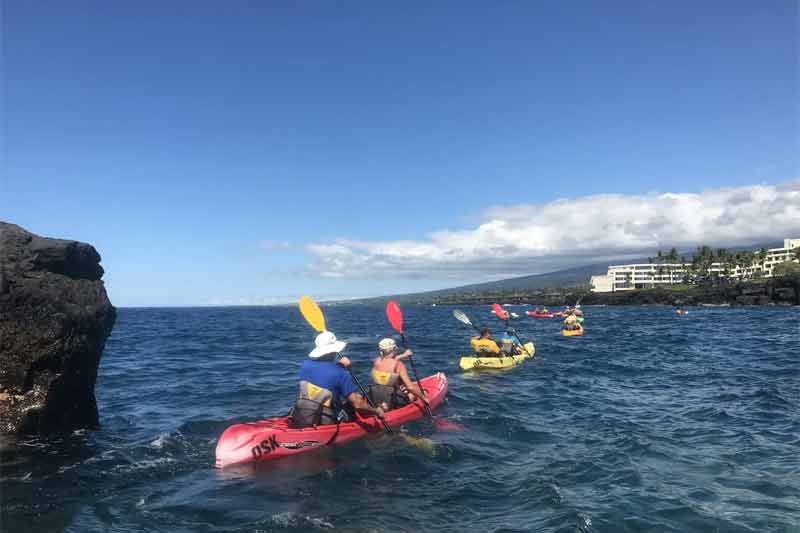 ---
Highlights
Departs from Keauhou Bay just south of Downtown Kona
Paddle to a sea cave
Snorkeling, cliff jumping, even whale watching in season!
Two-person kayaks and minimum age is 5
---
Description
Experience Kona Kayak Tours with Ocean Safaris, and explore the pristine and warm waters of the Kona coast. They focus on smaller groups, while making safety and fun their top priority. Every kayak tour offers different adventures, which may include dolphin and whale watching, exploring sea caves, snorkeling, and possibly cliff jumping! Tidal pools filled with eels, colorful tropical fish, and sea turtles may be on the agenda any given day too!
Ocean Safaris Kayak Adventures is a family-owned and operated business since 1994. Their guides are led by Hawaii lifeguard certified, insured, and licensed kayakers. You do not need previous kayaking experience, and the only requirements is average/moderate fitness and the desire to have fun! The guides will give you full instruction and explanation on water safety, paddling, and local history. After check in, you will be outfitted with your kayaks, snorkel gear, and bottled water. Then they assist you with your launch into the picturesque and calm Keauhou Bay where they conduct a group instruction.
On the Keauhou Kayak Tour, you will depart from Keauhou Bay (birthplace of Kamehameha III), and head south along the cliffs toward Kuamo'o Bay. Look for dolphins, manta rays and turtles as you paddle down this stretch. The cliffs are lined with blow holes and arches. At Kuamo'o Bay, there is a sea cave / lava tube that we can enter most of the time. It's a highlight when the the cave catches the ocean swells! Then you will head south along Kuamo'o Bay, following the coastline as you paddle over underwater lava tubes and coral gardens. You will arrive at the next cave which is usually cool and calm, and there is a dry lava tube above it that extends deep into the earth.
Next on your adventure is a snorkel spot, and the location is different depending on the waves and conditions. You will get ample time to snorkel and explore the reefs. There is a wealth of tropical fish, and keep your eyes out for octopus, yellow tang, butterflyfish, wrasse, uhu (parrotfish), or even a crown of thrones. It is here where you exit the water and climb to a vantage point above the cove. There may even be wild parrots flying overhead as you enjoy snacks and cold drinks. Often, you may walk over to the tide pools to watch the eels hunting a'ama crabs. From the vantage point above the cove, many people jump off the 12 to 25 ft. cliffs into the water below. The water is typically clear, deep, and safe, but if ocean conditions are not conducive to snorkeling the tour will include more exploration of the coastline by kayak. After about an hour of playing and relaxing, you will pack up and head off shore where the you may ride the trade winds home.
If you are visiting from December through March, humpback whales visit Kona waters. From a safe distance, humpbacks allow us to observe them, and they are not intimidated by kayaks. Humpbacks can be up to 50 ft. long and weigh up to 50 tons, and it is spectacular to see them breach out of the water.
---
Cost
Kona Kayak Tour Rate (OSK1)
$89.00 per Adult, $39.50 per Child (5-12) (plus 7.712% Hawaii sales/harbor tax)
---
---
Details
Schedule: Daily at 9:00am at the Keauhou Bay small harbor boat ramp.
Checkin: 30 minutes prior to departure
Duration: Approximately 3.5 hours4 hours
Gear Provided: Two-person kayaks with lifejackets, backrests, paddles, snorkel gear
TourIncludes: Snacks, fresh fruit, Hawaiian juice and bottled water.
What to Bring / Wear: Sunscreen, sunglasses, hat, footgear (tevas, rock socks, tennis shoes). Please bring the bare necessities, because everything you take with you on a kayak trip can get wet and/or lost.
Restrictions: Minimum age is 5 years old. Weight maximum is 250 pounds.
Reservations: Advanced reservations required and we recommend booking this a month or more before your arrival. A credit card is required to secure your space but this event is RESERVE NOW PAY LATER. Our office charges your credit card for your space just a few days before the start of your vacation.
Minimum Notice for Cancellations / Changes: At least 48 hours before the start of the event. 72 hours notice required for parties of 5 or more.
---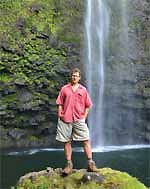 Kevin's Activity Tips:
One of the best parts of visiting the Big Island of Hawaii is seeing the formation of new land and the mesmerizing beauty of lava flows. The Keauhou Kayak Tour allows you to observe amazing formations that were created by relatively young lava flows on the south Kona coast. There are numerous caves, coves and lava tubes along this gorgeous coastline. Visiting this area by kayak enables you to paddle into the nooks and crannies of these beautiful geological wonders. Larger snorkel boats visit this same coastline, but because of their size, they cannot get nearly as close.
Anything you bring along on this tour will get wet and potentially lost, so consider carefully which electronics are suitable to capture the moment. GoPros are particularly good for this excursion when paired with a handle grip that is designed to float. Be sure to wear a swimsuit, sunscreen, and a hat and sunglasses are a must. Quick drying clothes over your suit are ideal for a more comfortable paddle back. It is a very good idea to have some type of strap for both your hat and glasses to keep them from flying and/or floating away. Water shoes with some type of tread on the bottom are also needed for when you climb up onto the vantage point above the cove for your snacks and drinks.
You don't have to be a super athlete to be comfortable on this paddle. Moderate physical fitness and a general comfort in the ocean is all it requires. You have experienced guides the whole way, so you can relax, paddle along, and take in the scenery. As a bonus, the winds are usually behind you when you paddle back, making for an easy return trip! Dolphin sightings are not uncommon, and sea turtles are abundant.