Doors Off Waterfall Helicopter
---
Doors Off Waterfall Helicopter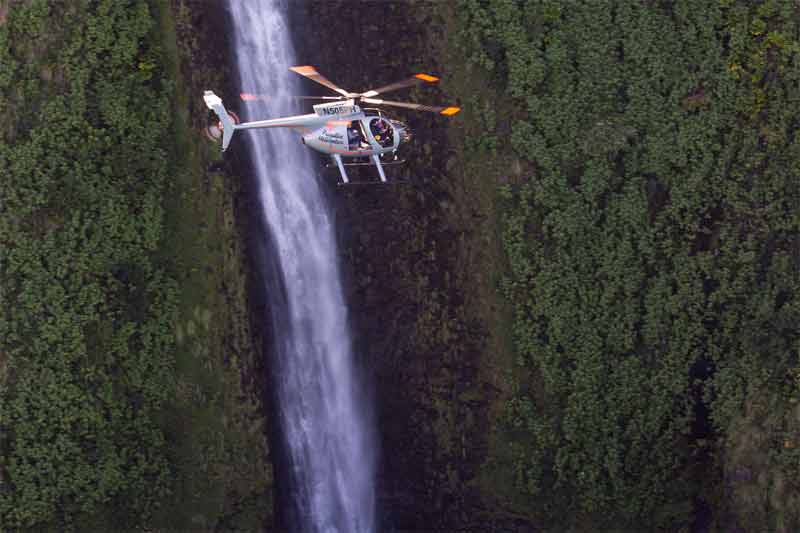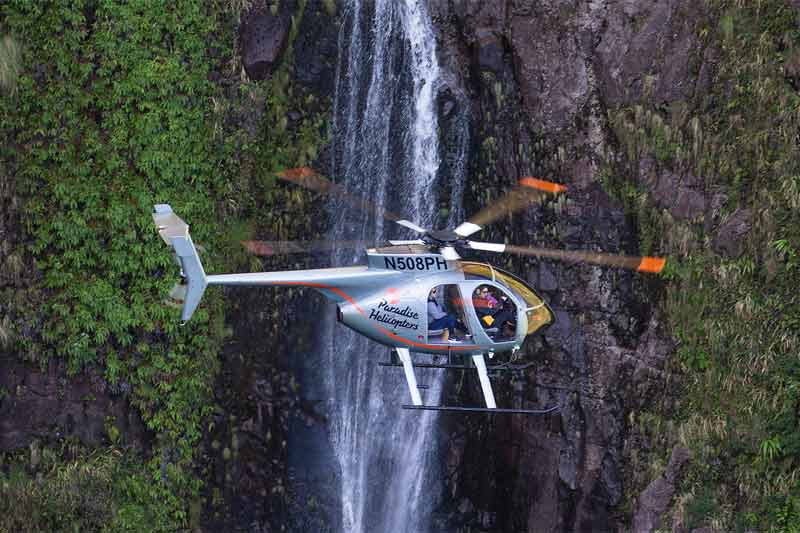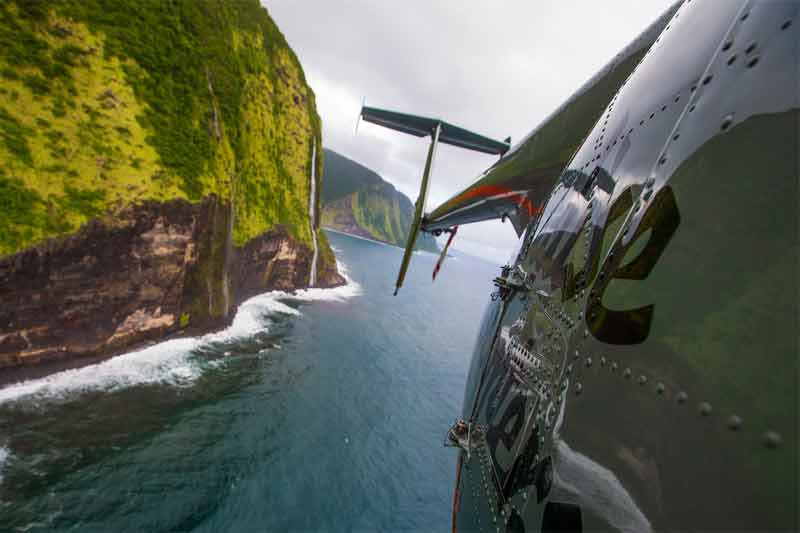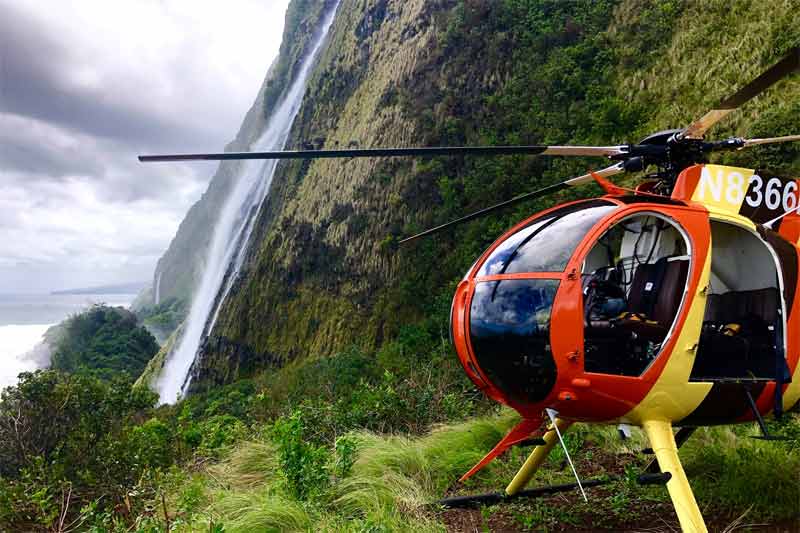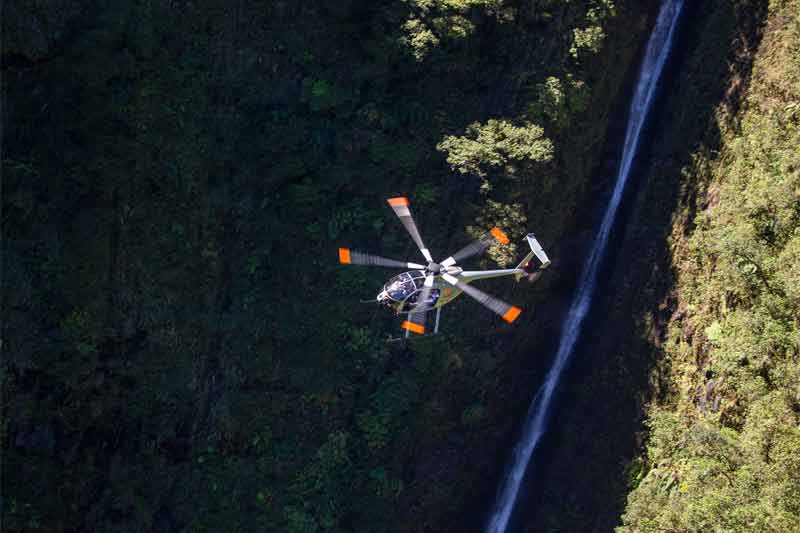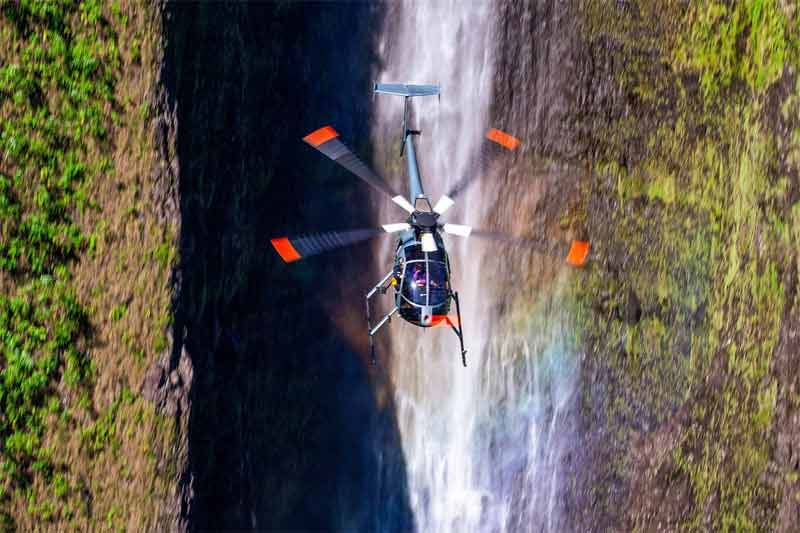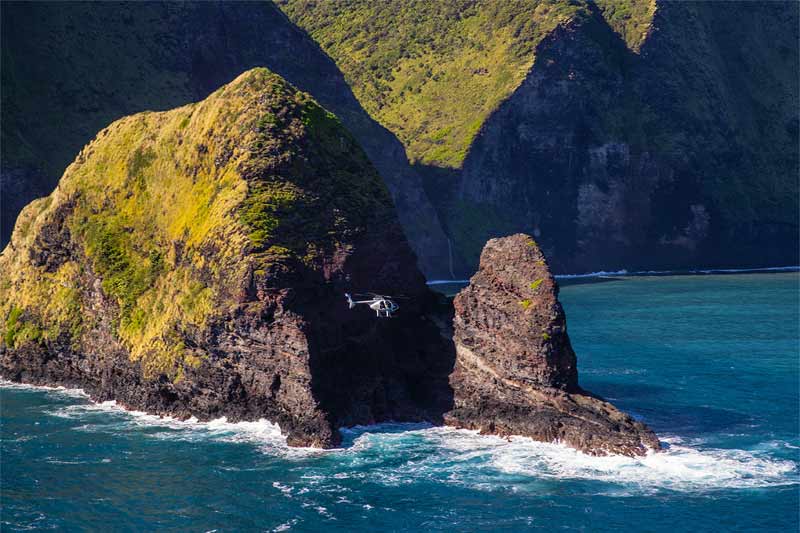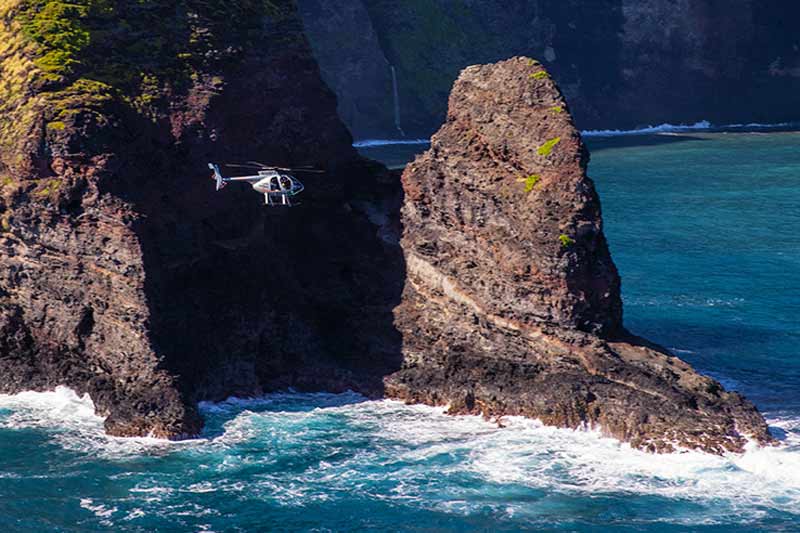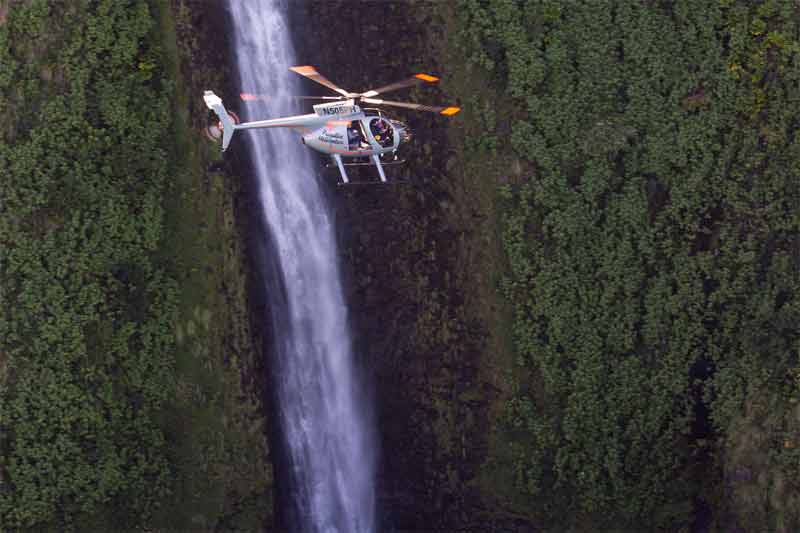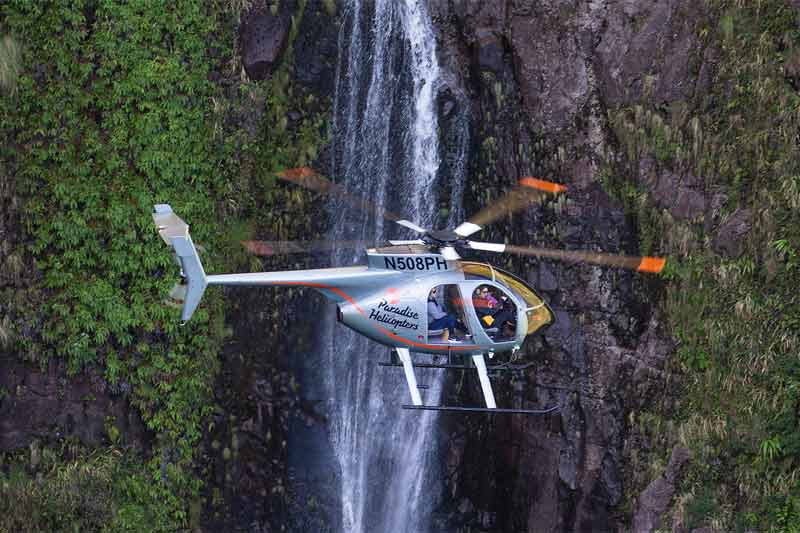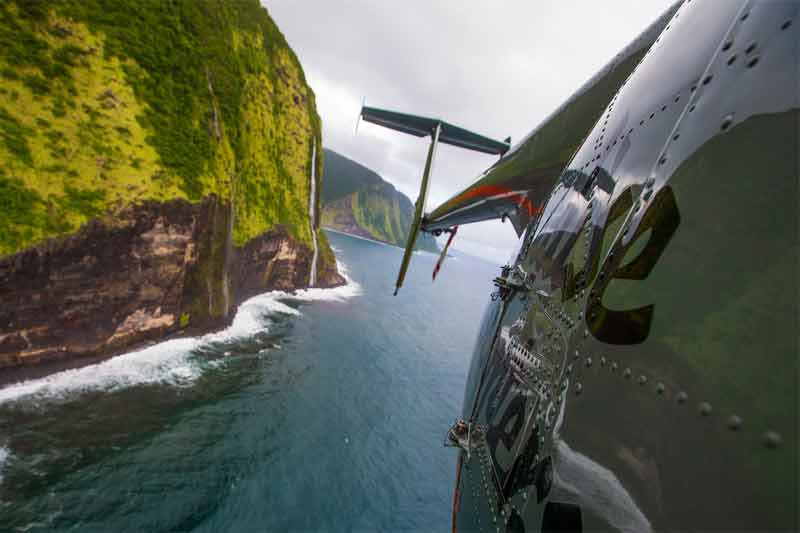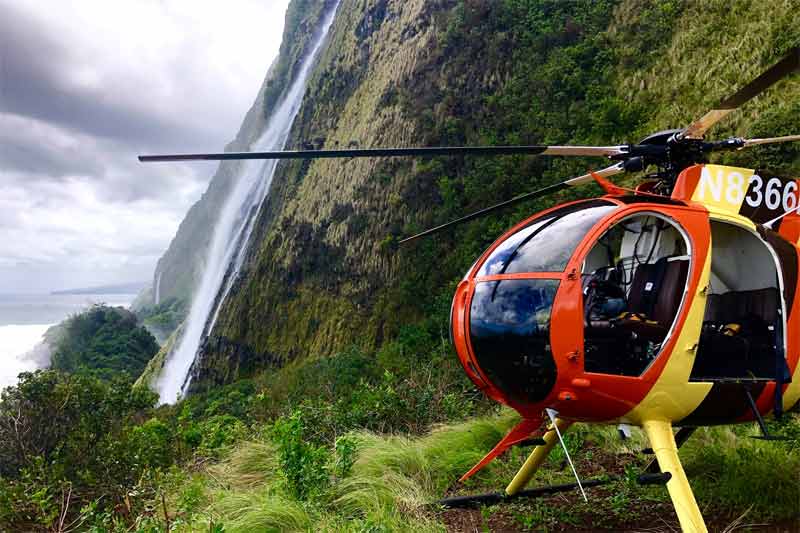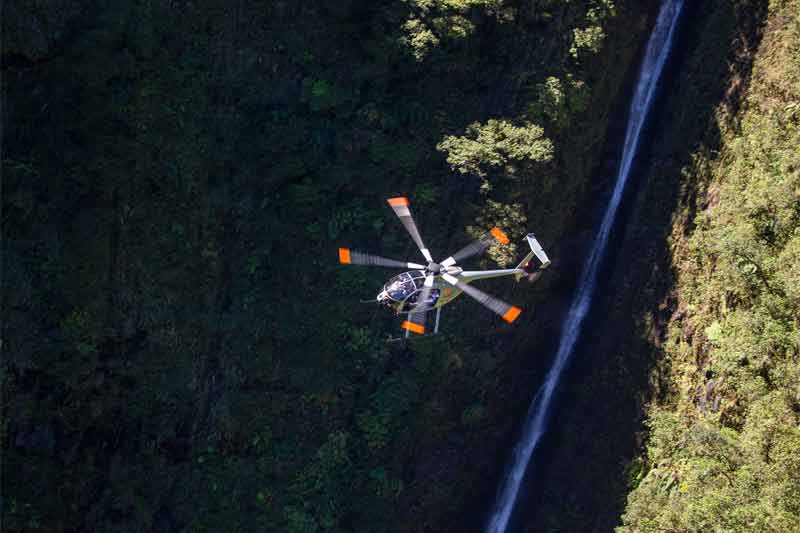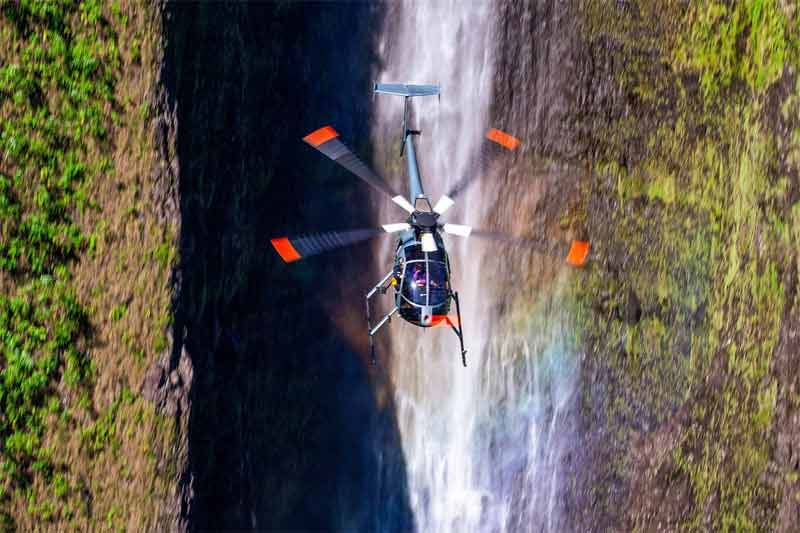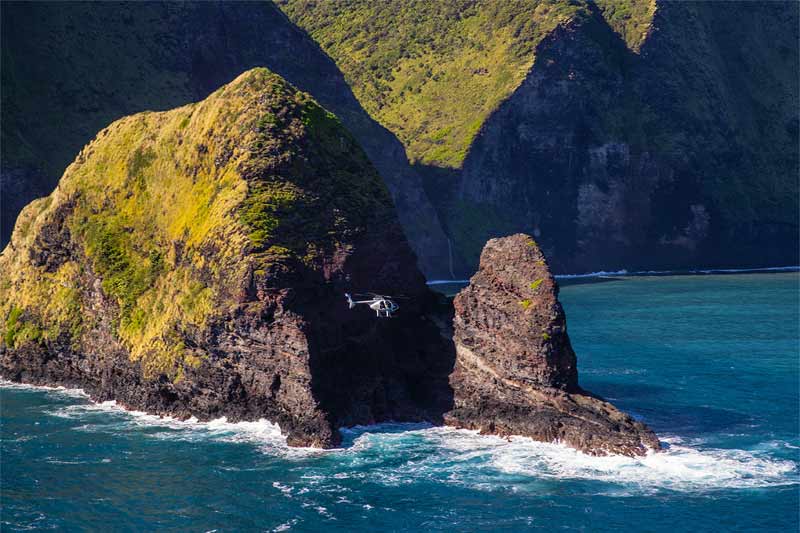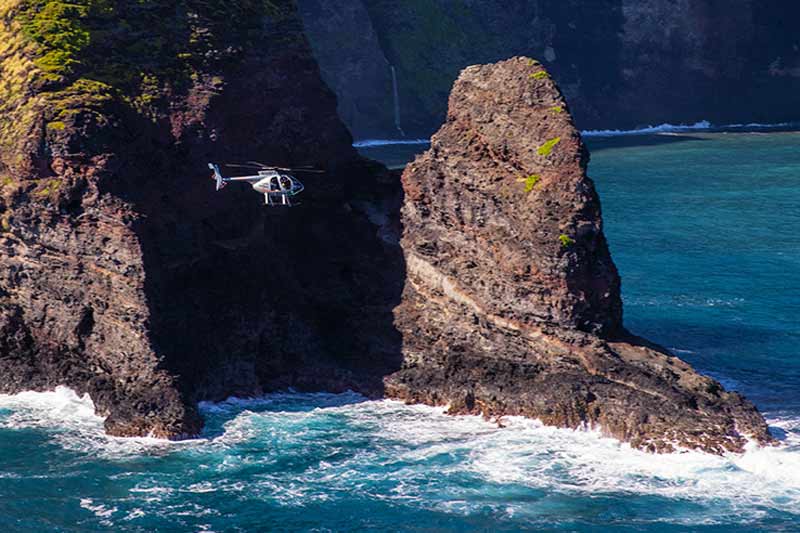 ---
Highlights
Departs from Waimea Airfield Close to the Action!
No Doors to spoil your view!
No middle seats without a view!
Remote landing and hike available!
---
Description
Doors Off helicopter tours have turned into the ADVENTUROUS way to fly in Hawaii and for thrill seekers and photographers it has become the flight option of choice for many of them. These Doors Off tours are done in Hughes 500 helicopters, which seat four passengers plus the pilot. Two guests sit up front with the pilot, and two more sit in the second row. There is no such thing as a bad seat in this configuration! Three of the seats are on the outside of the helicopter along doors that aren't there, and the fourth seat is between the pilot and the other front seat passenger and has perhaps the best all-around view forward and out both sides!
Paradise Helicopters now offers these flights from the Waimea-Kohala Airport. While it is a bit of a drive to get there from Kona and a short drive for the Waikoloa Beach area, deparing from this location means that you are in the heart of the most beautiful part of the Big Islnad just moments after take-off!
---
DOORS OFF KOHALA WATERFALLS - 35 minute flight
The first and only doors-off helicopter tour deep into the heart of the spectacular Kohala valleys. There is no better way to experience and learn about the geography, history and incomparable lush beauty of Kohala, birthplace of King Kamehameha, than this doors-off tour. Once you are in the valleys, your camera will be the only thing between you and the towering 2500' waterfalls and sheer cliff faces – talk about epic social media posts! Two-way communication with your pilots helps maximize your flight experience!
Doors Off Kohala Waterfalls from Waimea Rate (PH11)
$380.00 per Passenger (Hawaii sales tax included)
---
DOORS OFF KOHALA WATERFALLS WITH LANDING - 1 hour 45 minute event
The exact same flight length and tour route as above, but mid-flight your aircraft will touch down at a remote location deep in the Kohala Mountains to explore and enjoy a moderate 0.5 mile pilot-led hike through a guava forest. The meandering trail immerses you in the flora and fauna of Kohala and surprises you with a dramatic coastline vista, offering views of the Mokupuku island formations and waves crashing along the rugged north shore of Hawaii Island. All the while you will learn about the culture and diverse natural habitat of this untouched serene location that most people never see. After your refreshing hike and an hour + on the ground, take to the air again, and enjoy views of the rolling hills of Kohala as you make your way back to Waimea
Doors Off Waterfalls with Landing Rate (PH12)
$520.00 per Passenger (Hawaii sales tax included)
---
---
Details
Schedule: FRIDAYS only.
Checkin: 30 minutes prior to your flight time at the Paradise Helicopters location at the Waimea-Kohala Airport.
What to Wear: Passengers should wear comfortable dark colored clothing which reduces glare on the windshield. Closed-toed shoes are required and these shoes may not have open backs. A jacket is a good idea as the flight is cool and windy. All cameras and sunglasses must have straps. No hats permitted on the flight.
Capacity: 4 guests per flight. Any guests who weighs 270 pounds or more will need to purchase an additional seat.
Restrictions: Minimum age for this tour is 8. Children under the age of 12 are not able to sit next to an open door, therefore only one child under the age of 12 is permitted per flight.
Reservations: Advanced reservations required and we recommend booking this a month or more before your arrival. A credit card is required to secure your space and Paradise Helicopters will charge your credit card when your space is confirmed.
Minimum Notice for Cancellations / Changes: At least 48 hours before the start of the event.
---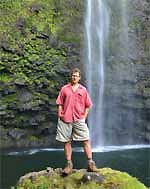 Kevin's Activity Tips:
If you are an adrenaline junkie or photographer who wants to capture an amzing photo while you are on vacation, there is no better way to do that than on board one of these DOORS OFF helicopter tours! I've taken a lot of flights over the years, and I can tell you from experience that shooting photos out of windows often leads to less than spectacular results. It's similar to the experience of shooting out of the windows of a moving car. Maybe your eye didn't notice it, but the glare on the window is impossible to miss in a photo. That's the beauty of flying with no doors. It's possible to get photos with nothing between you and the scenery other than thin air!
While flying with no doors is thrilling, there is nothing inherently dangerous about not having doors. They aren't really keeping anyone inside the airraft. Everyone has to wear safety harnesses anyway ... doors on or doors off. So ... live on the edge a little! It only SEEMS more risky! A doors off pilot once told me that even without the safety harness it isn't easy to JUMP out of a Hughes 500 if you wanted to, so there's even less chance of falling out of one accidentally!
Seating is assigned in the helicopters based upon body weights and for the best balance of the aircraft. While it is possible to pay a little extra to guarantee particular seats, we find that the cost is not worth it. If you request a particular seat and you don't fit the weight and balance profile for that seat on that particular flight, you'll get moved to another seat anyway and the upgrade fee will be refunded. If you do fit the weight and balance profile for that seat, the chances are good that's where you'd end up sitting anyway without paying extra. The Hughes 500 has 2 seats up front, with one person sitting between the pilot and the other front seat passenger. While this person isn't next to one of the doors that isn't there, they have an EXCELLENT view forward out the windshiled and to BOTH sides where there are no doors. It's a fantasic seat! The rear seats each get a "doors not there" sideways view on their side of the aircraft. If money isn't an object for you and you do want to spend extra to reserve a particular seat, give us a call after you fill out the form on the right side of this page. We'll add your specific seat requests to your reservation and let you know if you fit the profile for the seat you've requested.