Hidden Crater Hike
---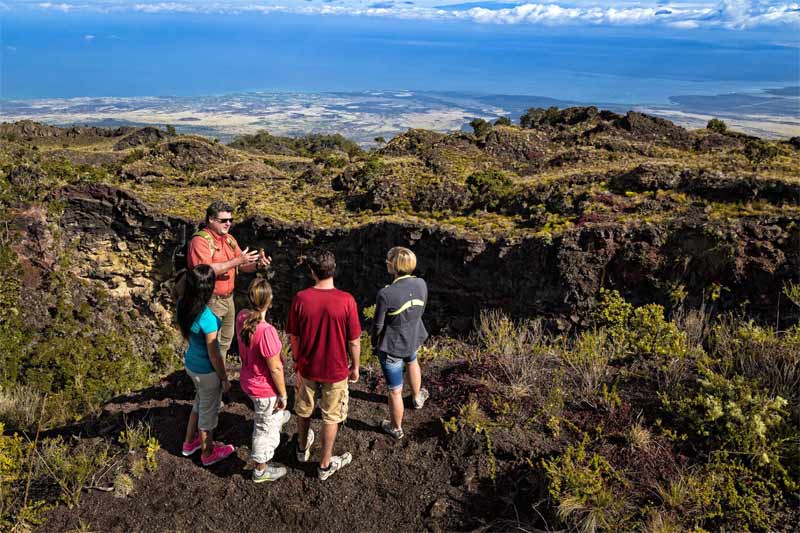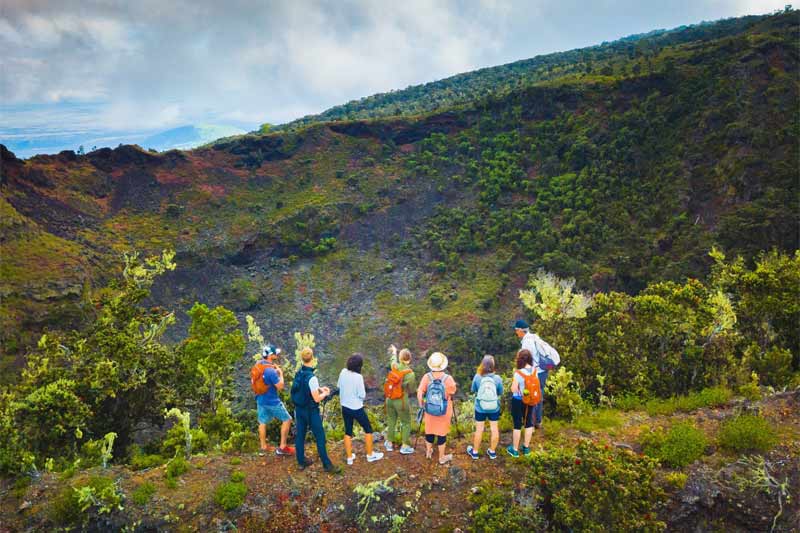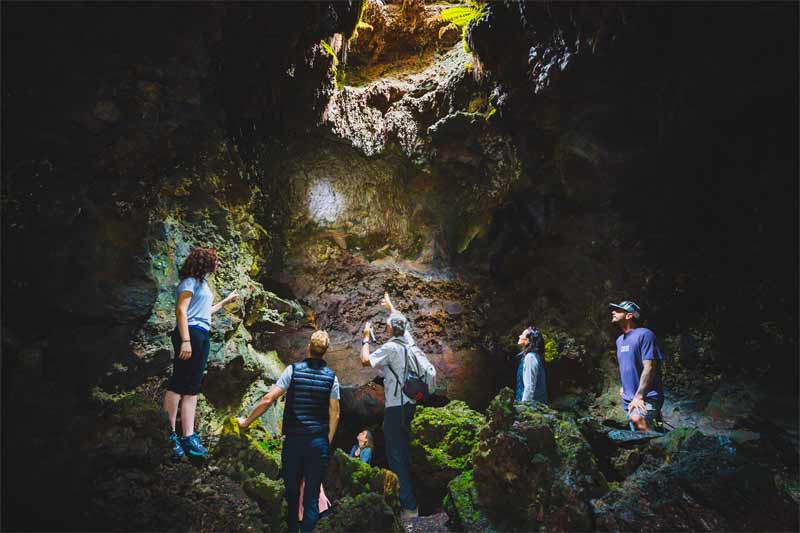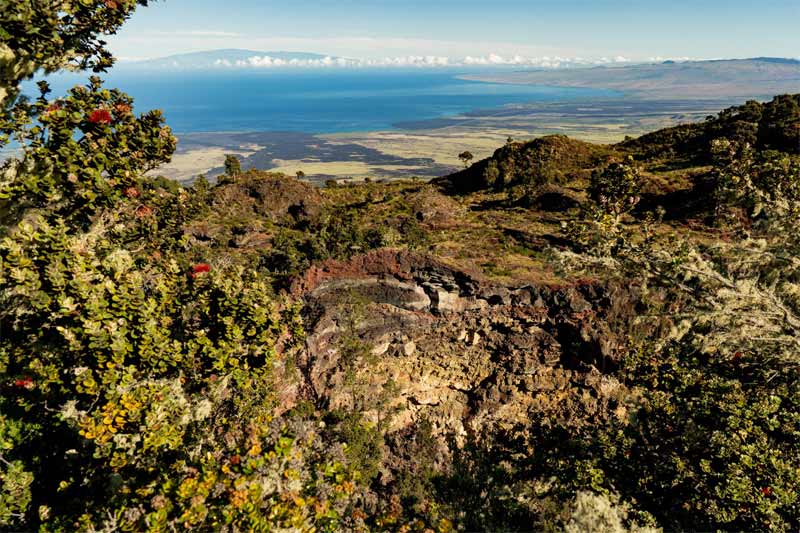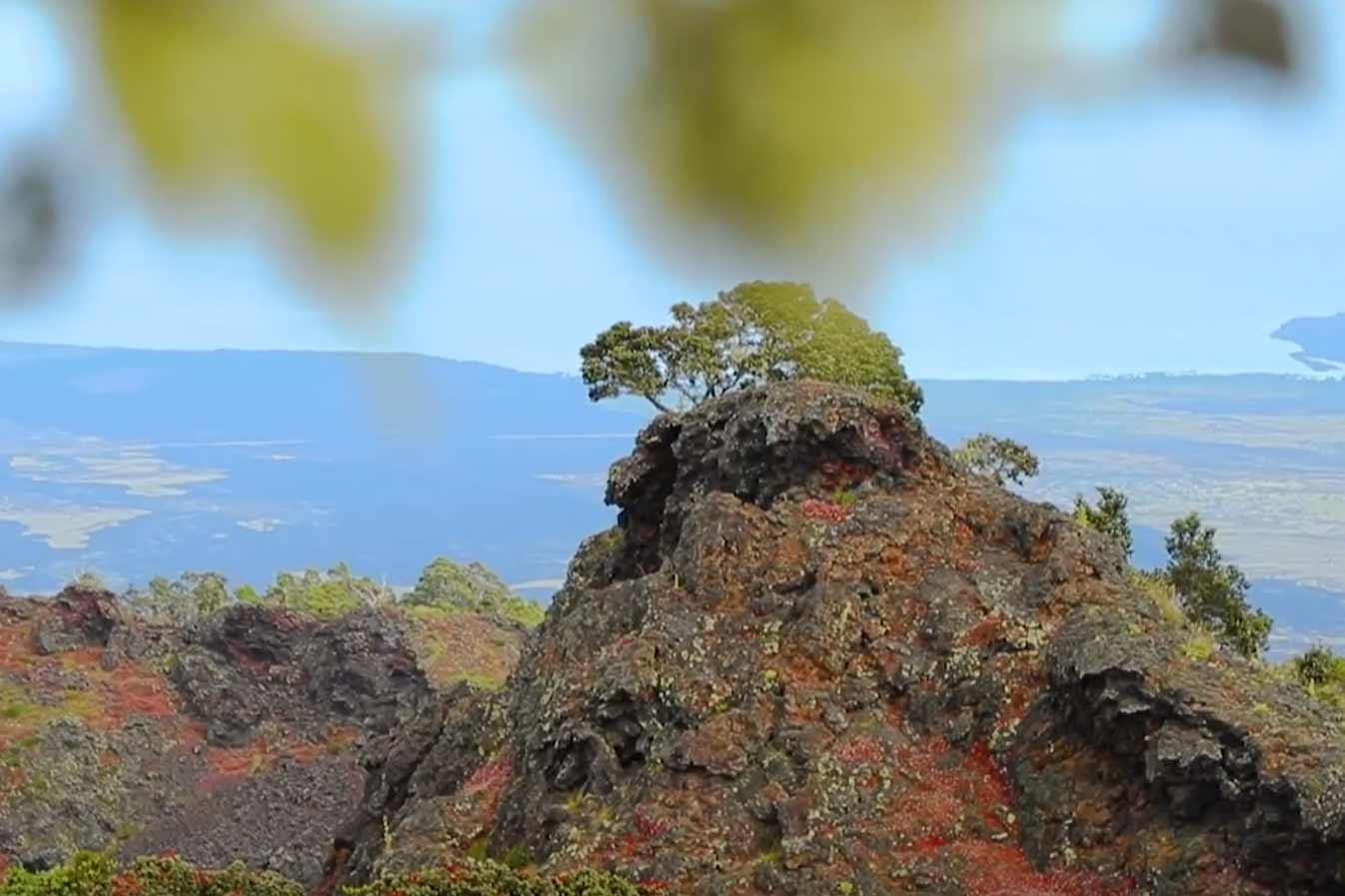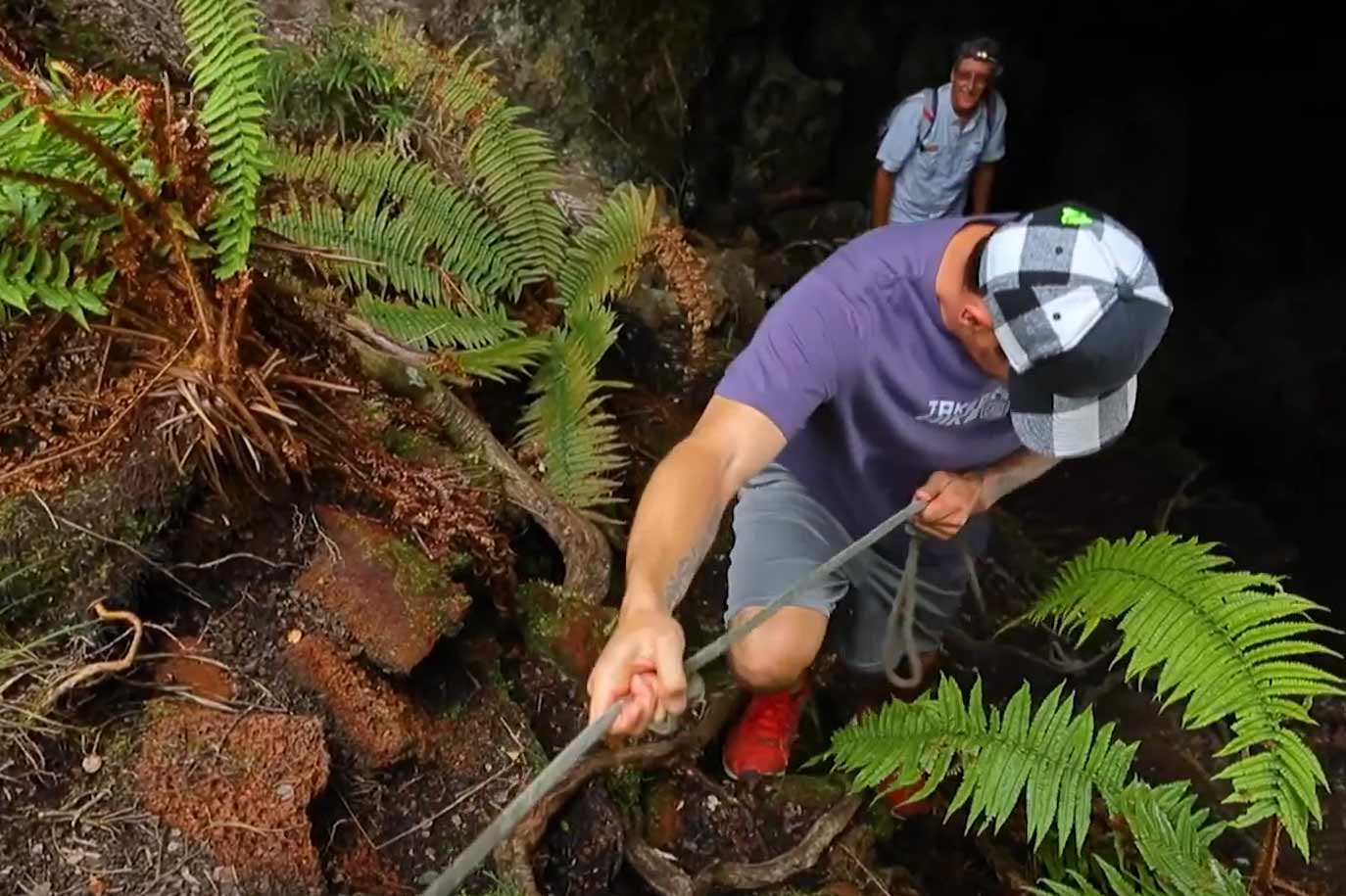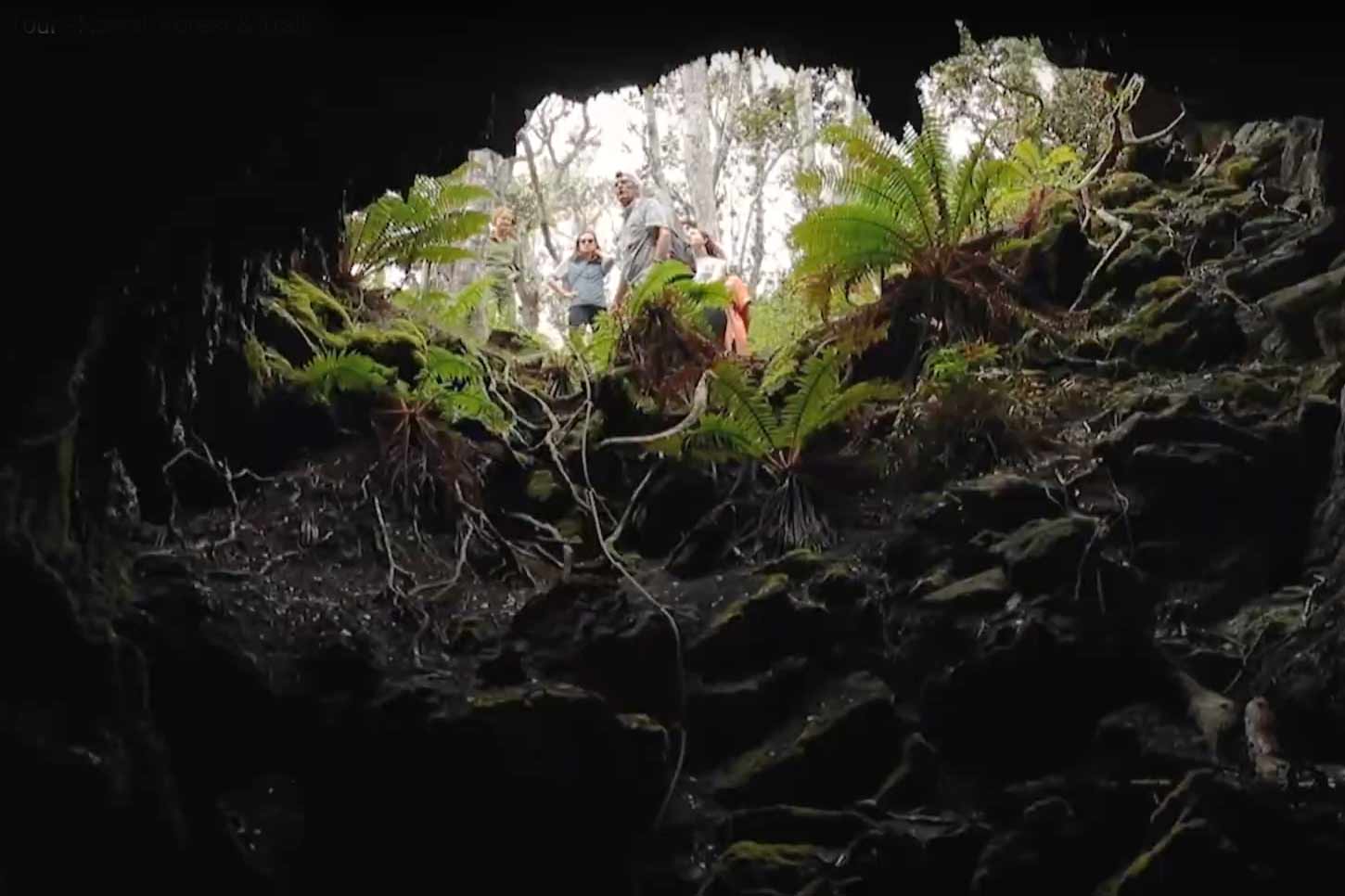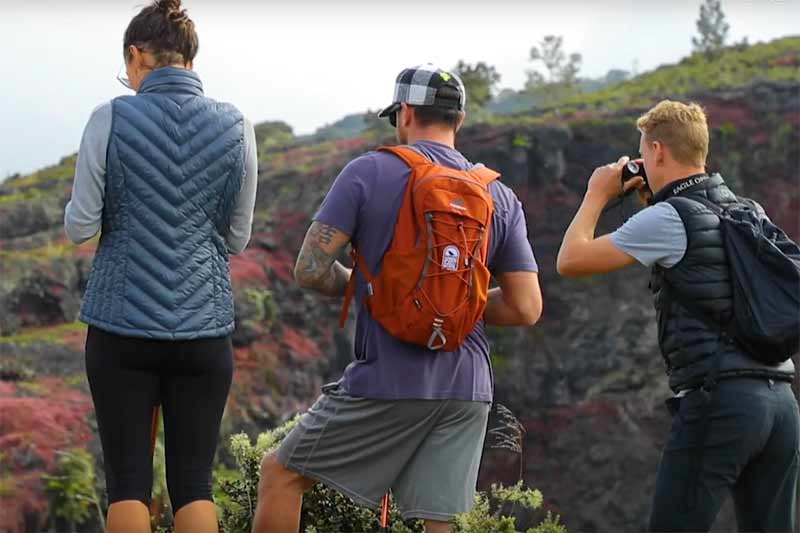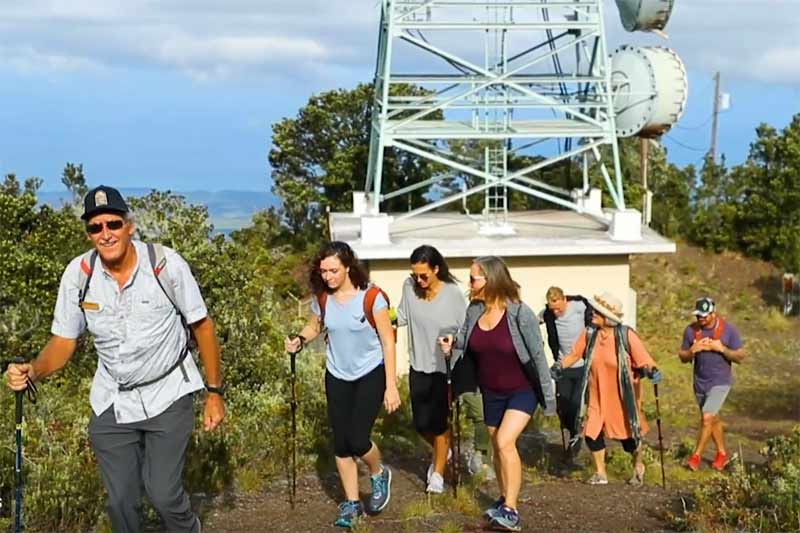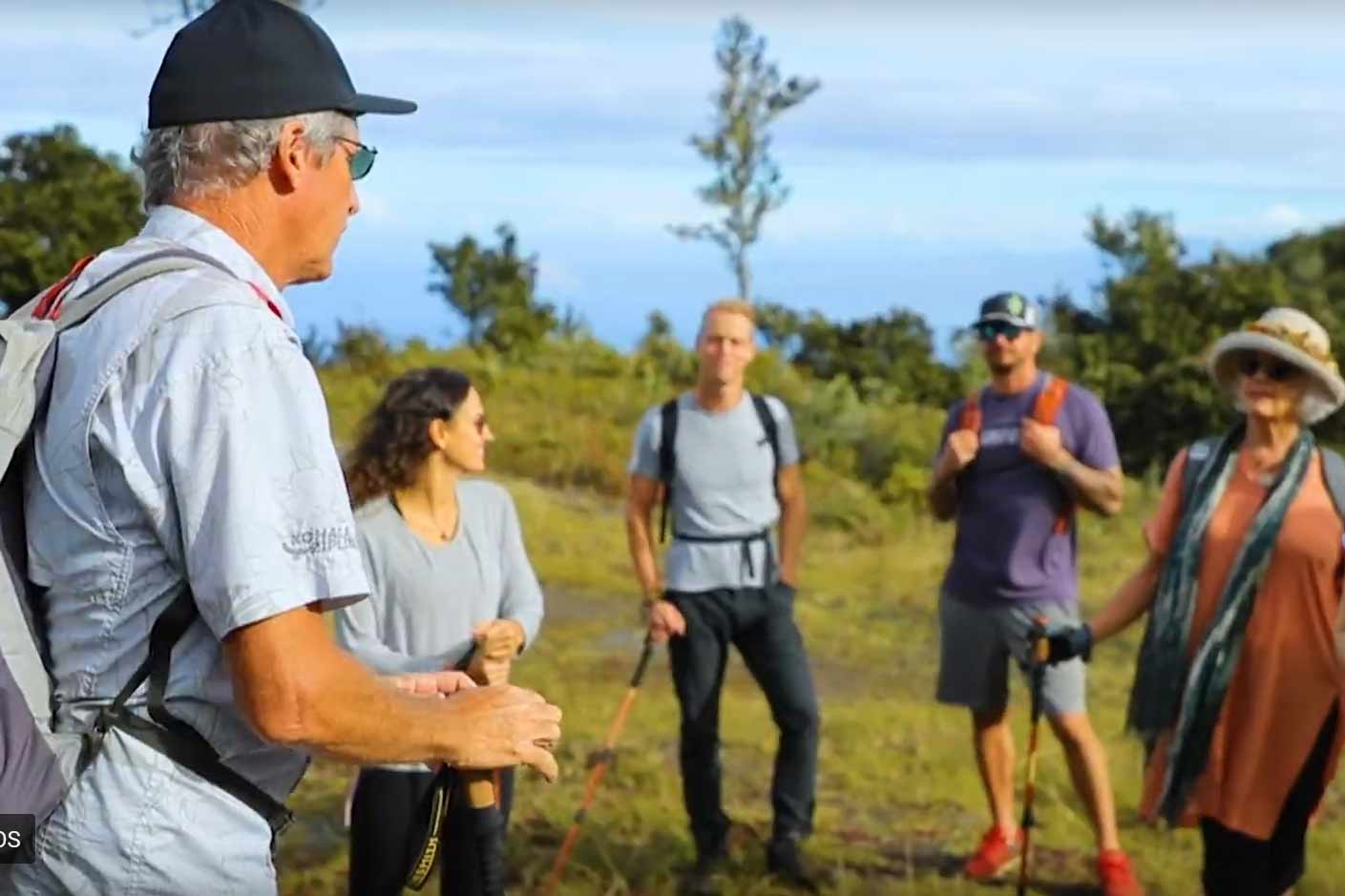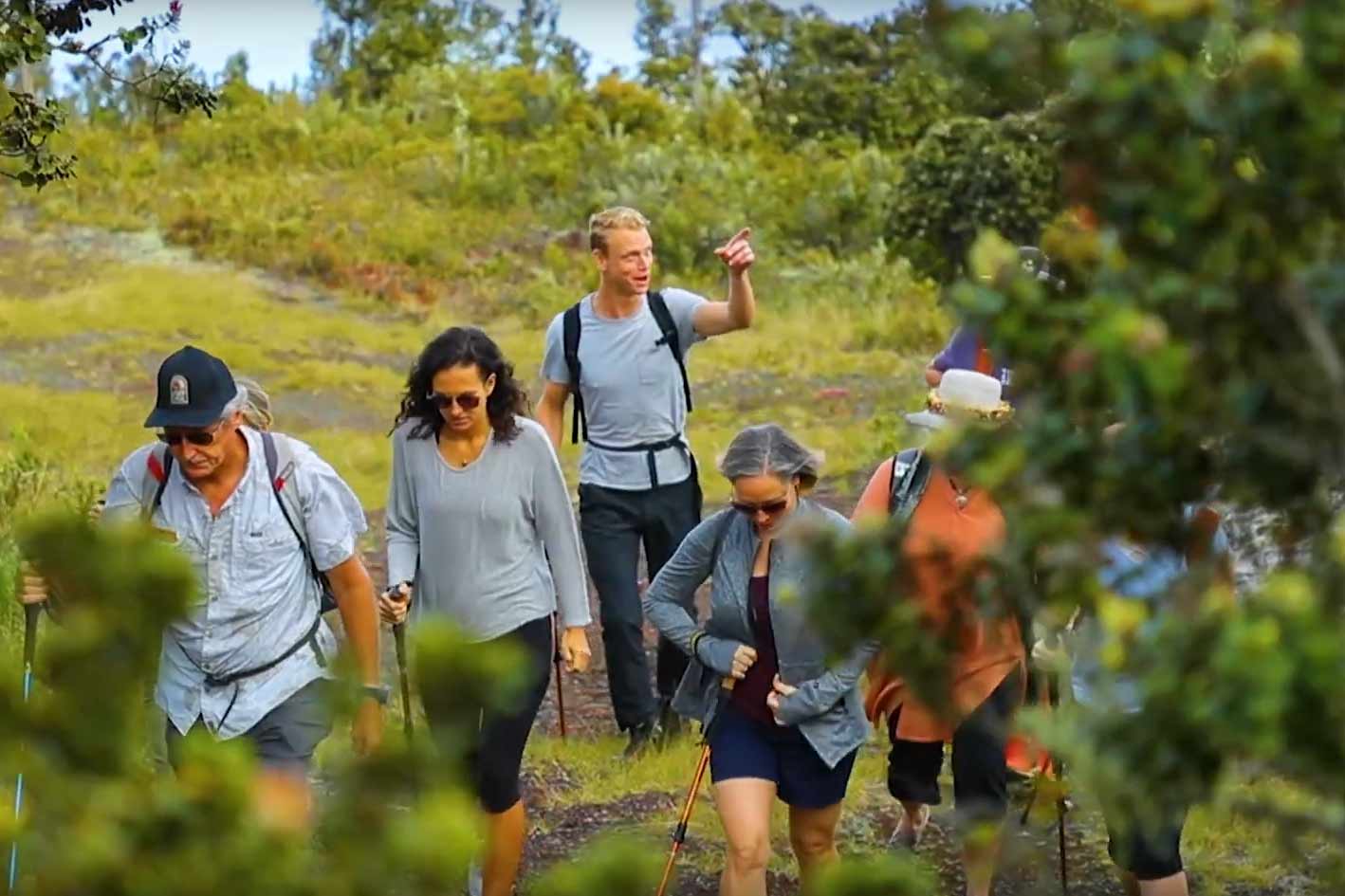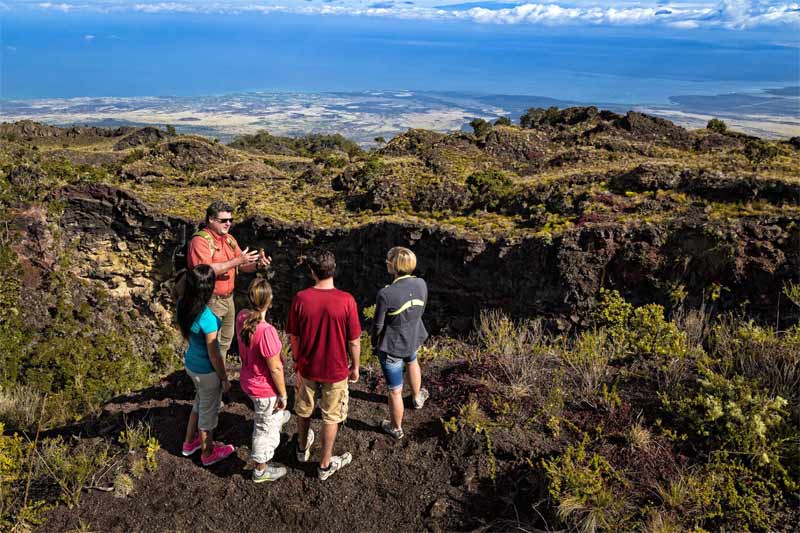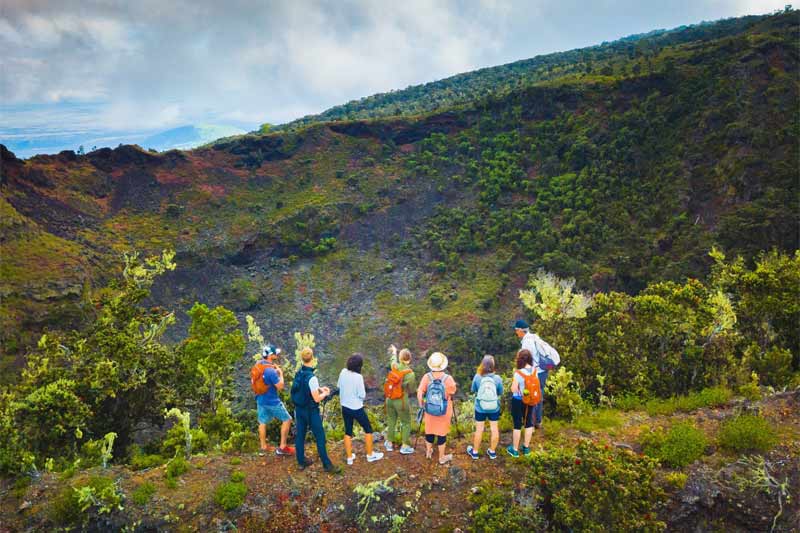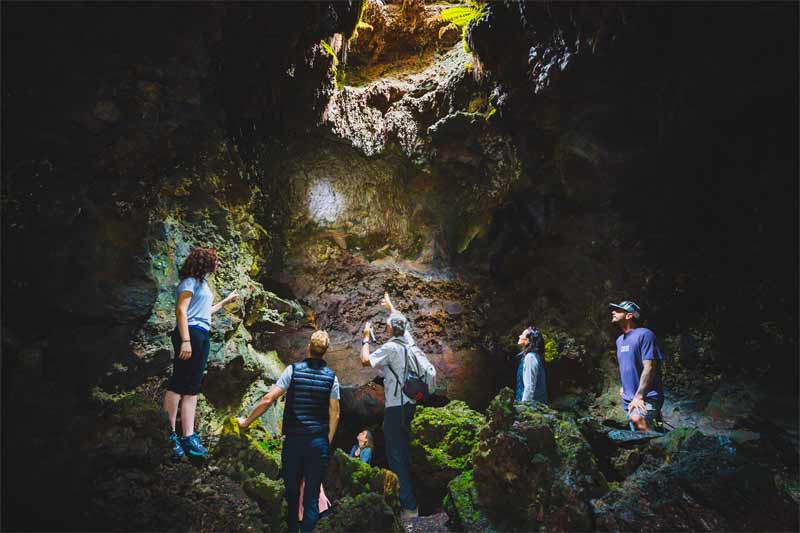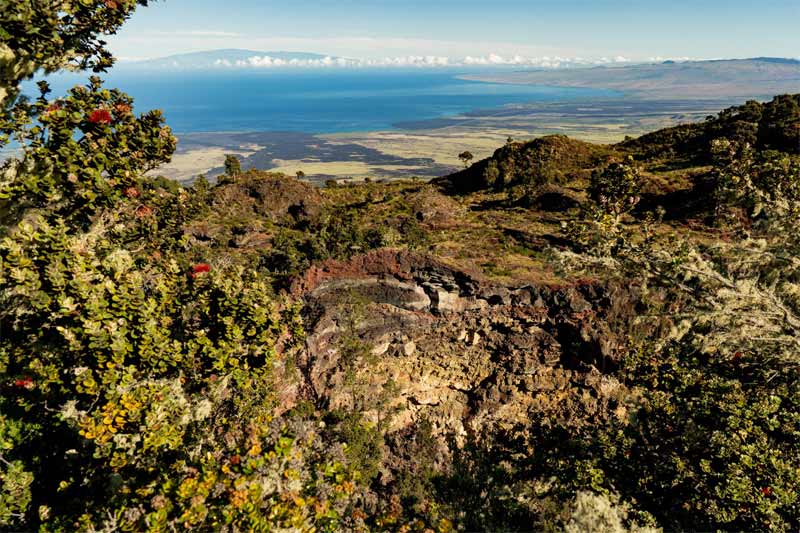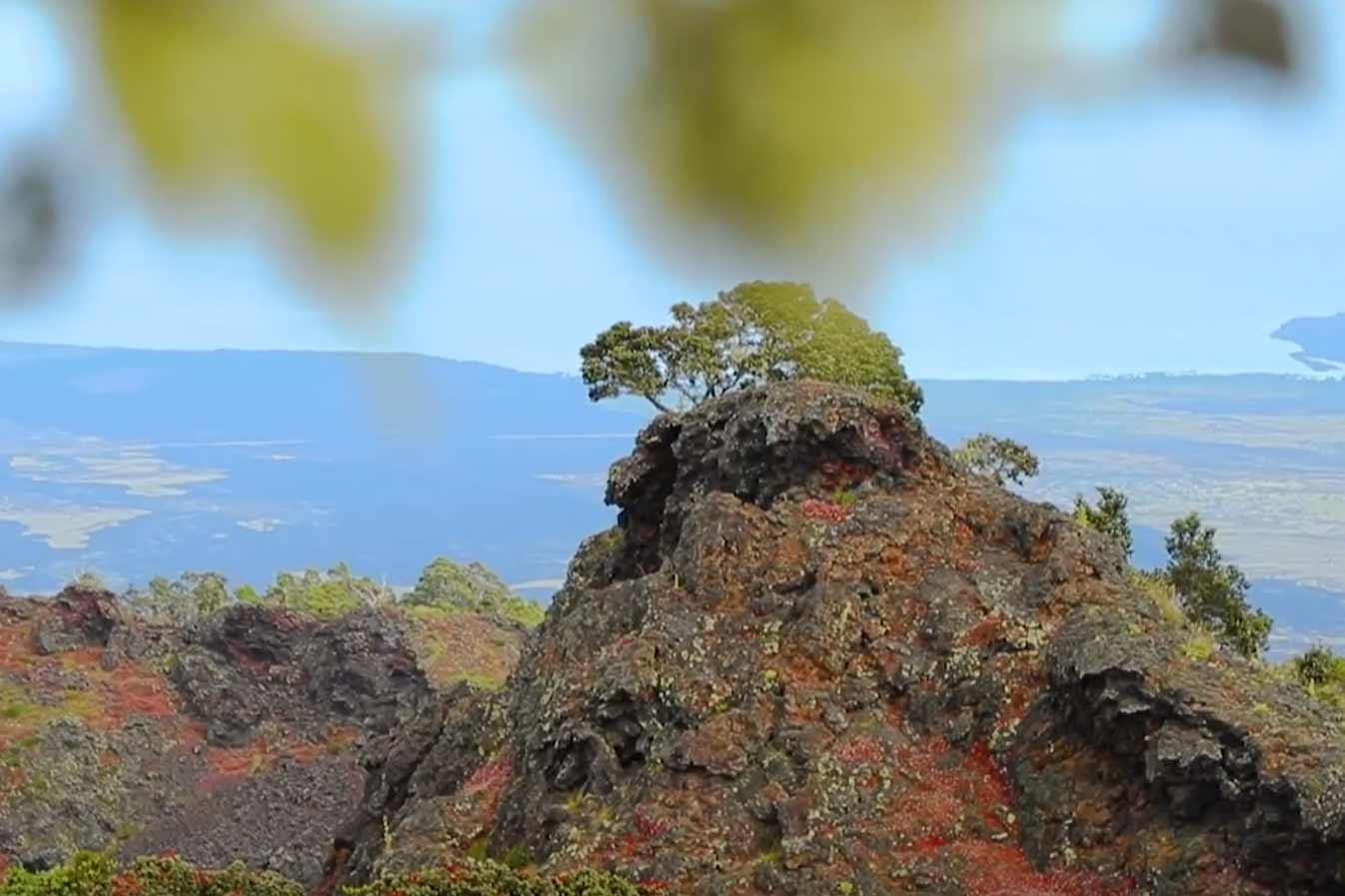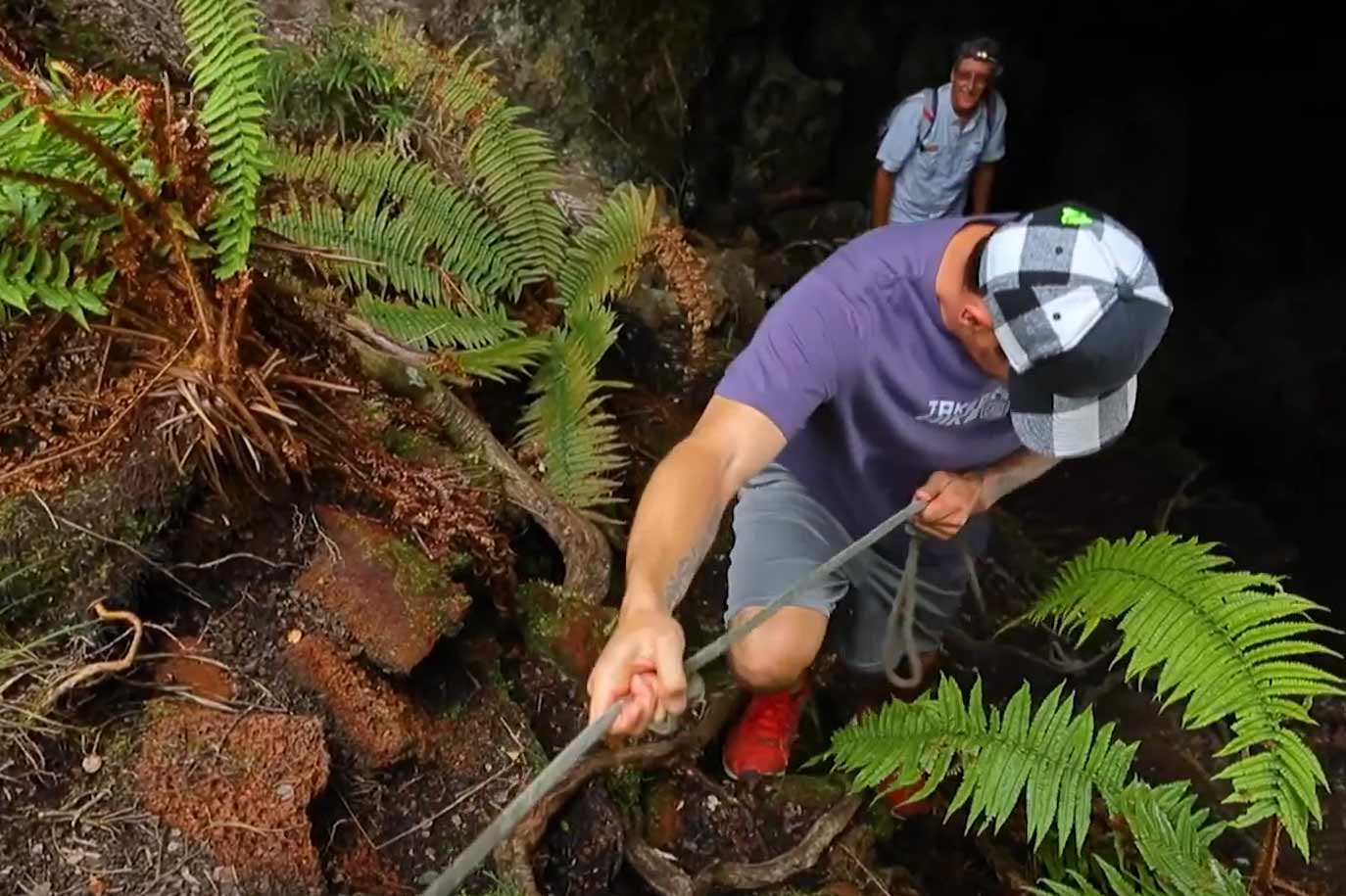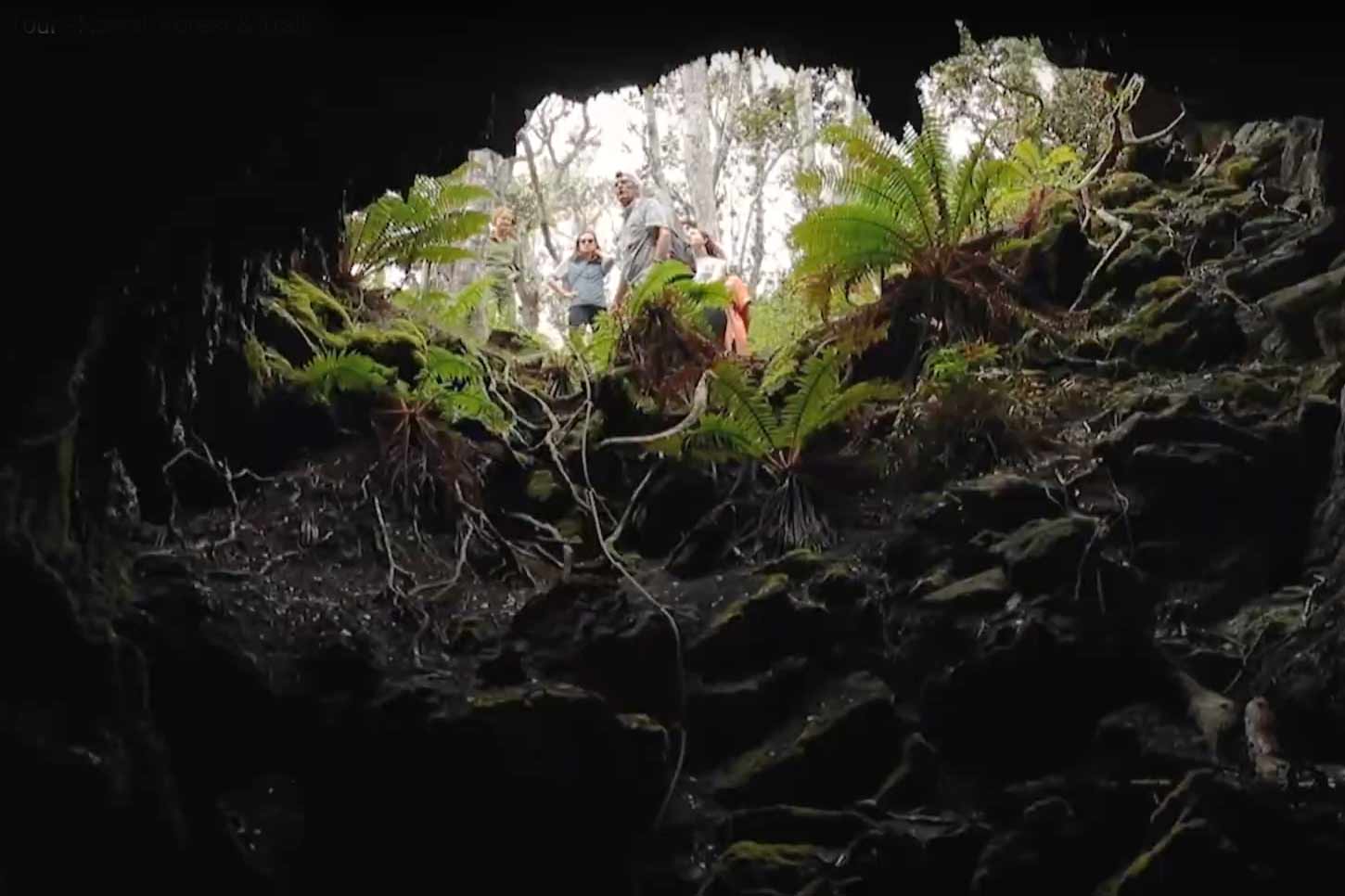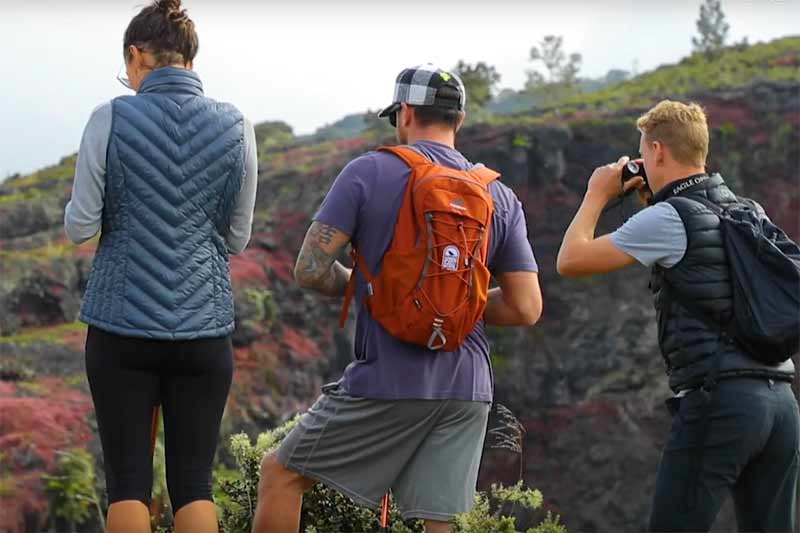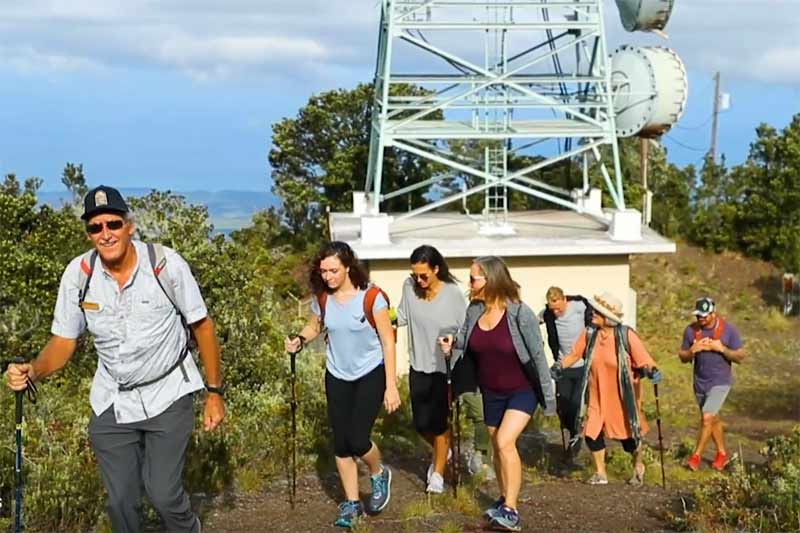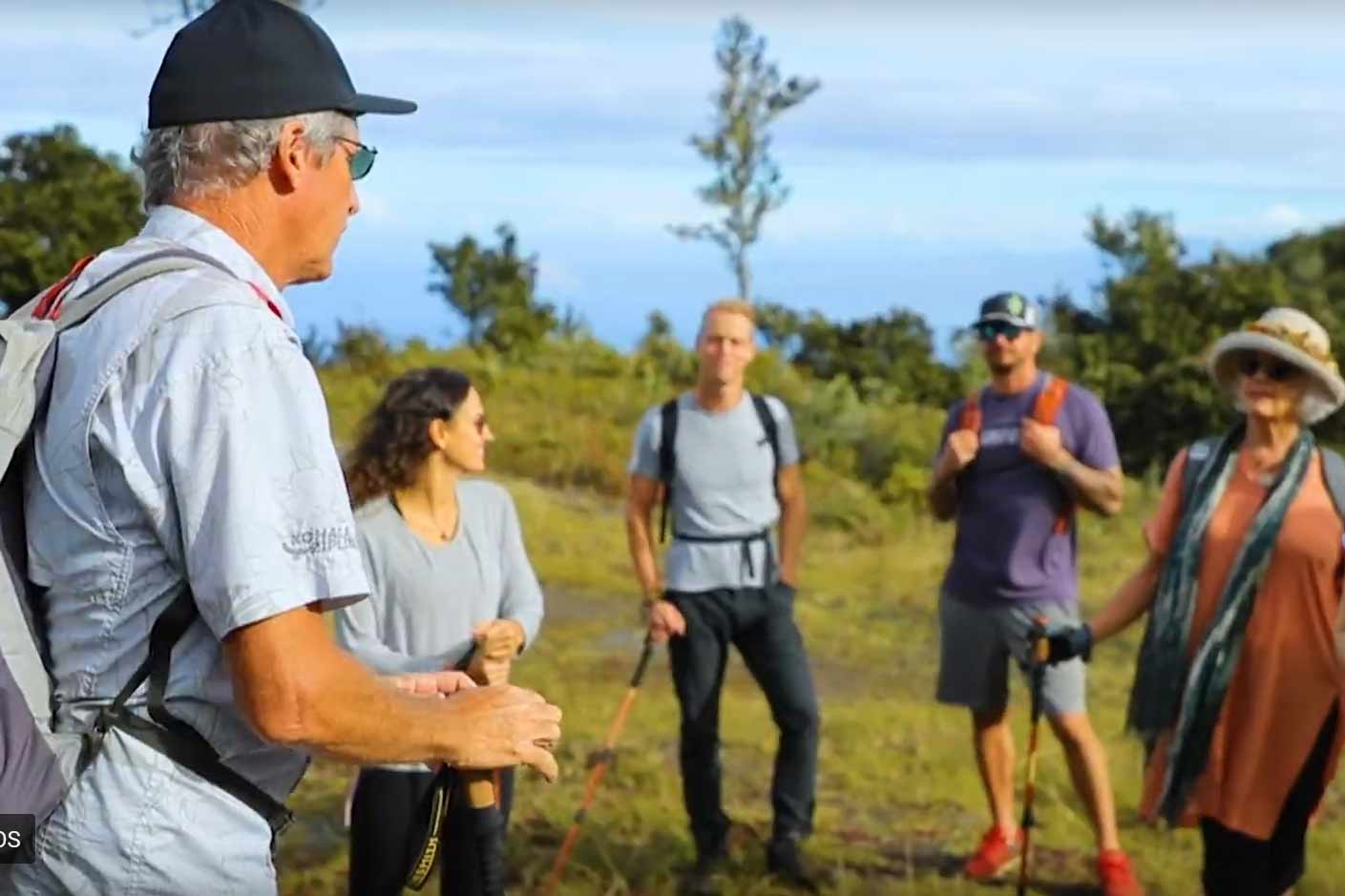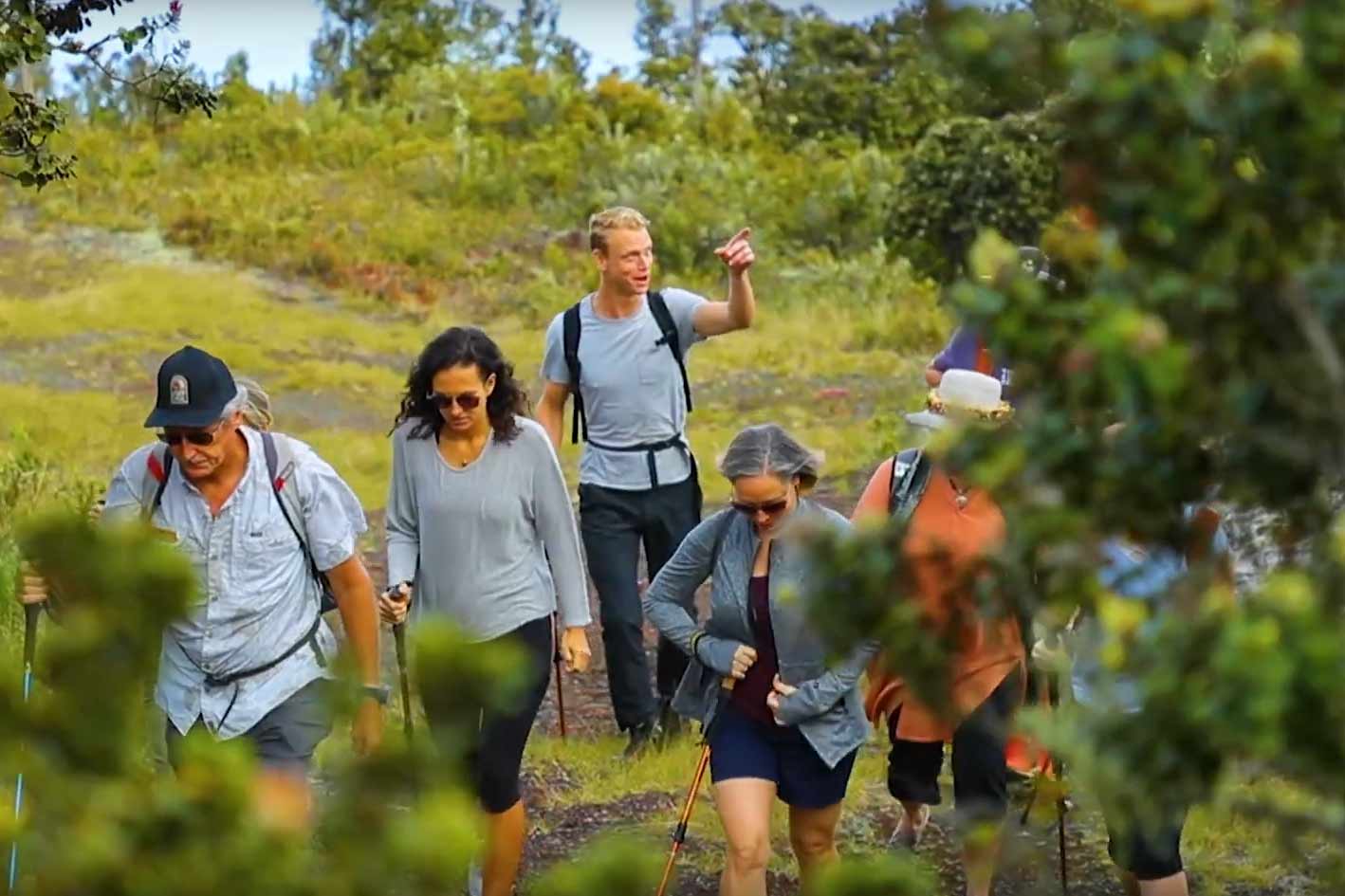 ---
Highlights
Exclusive access to private land on Hualalai Volcano
3-4 Miles of hiking through untouched cloud forest
Stand at the edge of precipitous volcanic craters
Climb down into and explore an underground lava tube
---
Description
Looming over the town of Kona is a resting giant ... Hualalai Volcano reaches the height of 8271 feet above sea level. It is the third youngest, third tallest, and third most active volcano on the Big Island. It last erupted in 1801 and sent rivers of lava into the Pacific Ocean ... the Kona Airport where most Big Island visitors first arrive is built on lava flows from this eruption.
Venture onto private land behind 3 locked gates to explore the upper slopes of Kona's volcano. This journey provides intimate, unique access to the site of multiple volcanic eruptions from the 1800's, all within a short distance. You will see spatter cones, fissures, collapse pits, and explore a unique lava tube. The scenic views of the coastline are spectacular.
This guided hike meets at the Hawaii Forest and Trail location just north of downtown Kona. This excursion is about 5 hours long with 3 to 4 miles of moderate hiking with some steep inclines and declines in the trail. The total elevation gain is about 800 feet and the altitude of the trail tops out at around 6000 feet. The lava tube requires negotiating earthen steps with a decent of 30-40 feet assisted by a hand line. Guests should be adventurous, reasonably physically fit, and capable of this sort of hiking.
---
Cost
Hidden Craters Hike Rate (HFT10)
$160.00 per Adult, $135.00 per Child (8 to 12) (plus 4.712% Hawaii sales tax)
---
---
Details
Schedule: Monday, Wednesday, Friday, and Saturday
Duration: About 5 hours
Maximum Group Size: 14 guests
Checkin: Meet at the Hawaii Forest and Trail Kona location at 7:15am.
What to Wear: Comfortable closed-toed walking shoes, long pants, and a light jacket.
Gear Provided: Day packs, walking sticks, and rain ponchos (if needed)
Tour Includes: Trail bar snack and water refills (Please bring your own reusable bottle!).
Restrictions: Minimum age is 8. Guests should be able to hike on uneven or rocky terrain. You may encounter cool and wet conditions. Other tour restrictions may apply.
Reservations: Advanced reservations required and we recommend booking this a month or more before your arrival. This event is "RESERVE NOW PAY LATER"; we need a credit card on file to finalize your reservation but we do not charge you for your space until a few days before the beginning of your vacation!
Minimum Notice for Cancellations / Changes: At least 48 hours before the start of the event.
---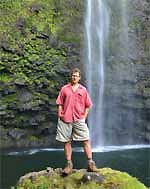 Kevin's Activity Tips:
Chances are you've never heard of Hualalai Volcano. It hasn't made the news since the 1800's, with the exception of a period of unrest and a LOT of ground shaking back in 1929. During this recent calm period (a mere blip on the geological timescale), with almost no earthquake or magmatic activity at Hualālai, the area downslope has seen the growth of homes, businesses, and resorts on the mountain's flanks. The most recent major activity at the volcano was in 1929, when an intense earthquake swarm rocked Hualālai, most likely caused by magmatic action near the volcano's peak. An eruption was anticipated then, but it didn't happen. Although it has been relatively placid in the recent past, Hualālai is still potentially active, and is expected to erupt again within the next 100 years! This Hidden Crater Hike is your chance to explore an area you MIGHT hear about in the news someday!
Most of us live places that are geologically stable and the land looks almost the same now as it did 1000 years ago. This isn't true on the Big Island. The surface undergoes rapid changes here in volcano territory, and you'll learn about these geological processes during this tour. While this is a tour of an active volcano in the technical sense, there is currently no visible activity on Hualalai. There is no surface lava and you will not encounter an volcanic emissions from Hualalai. What you will enounter is evidence of geologically-recent activity ... and lots of it!