Fair Wind Snorkeling
---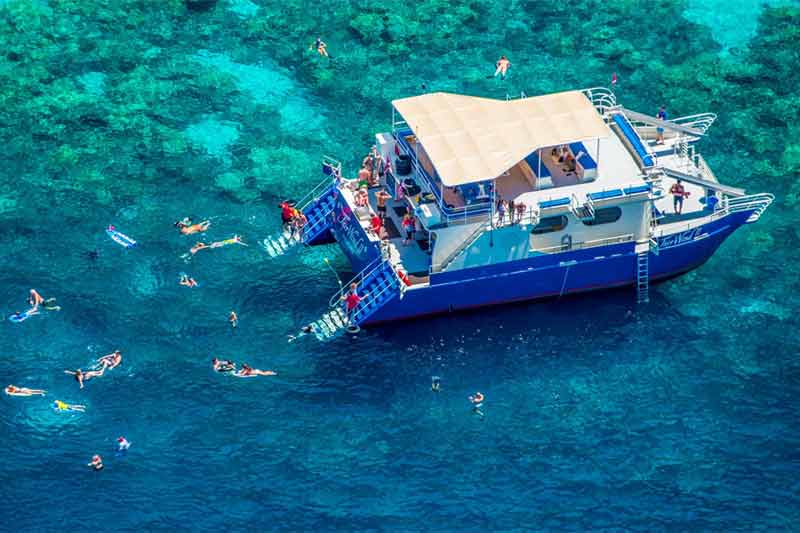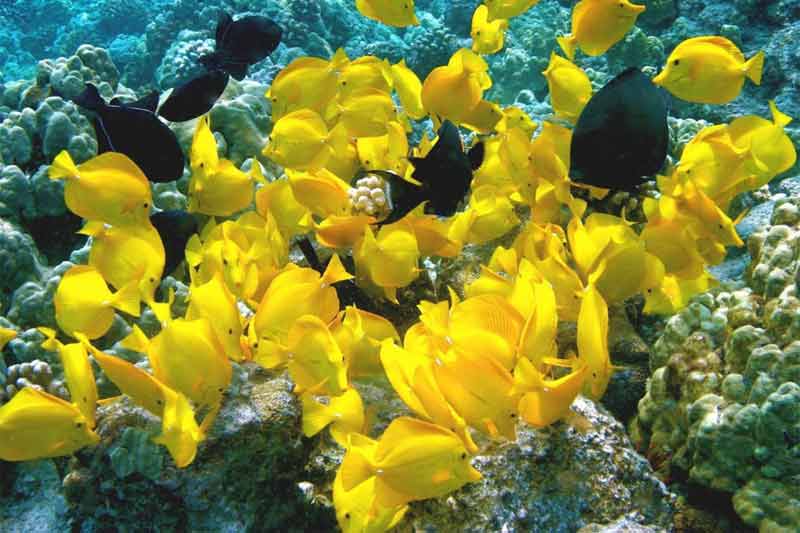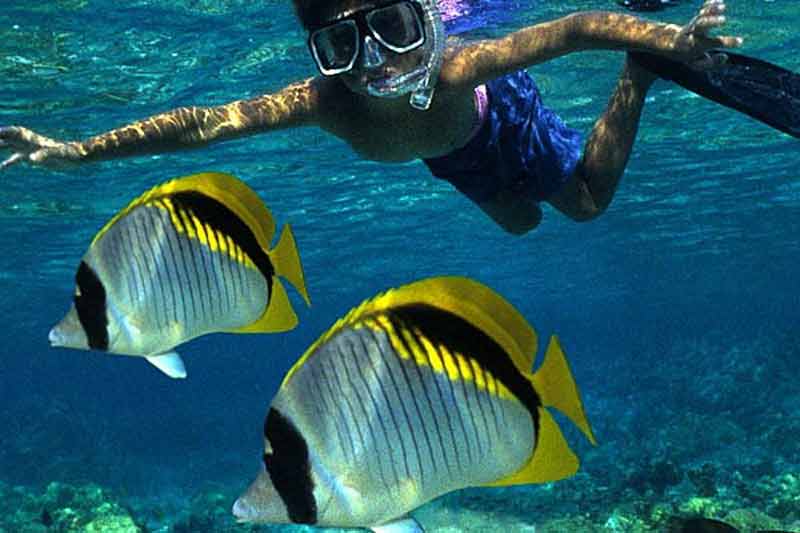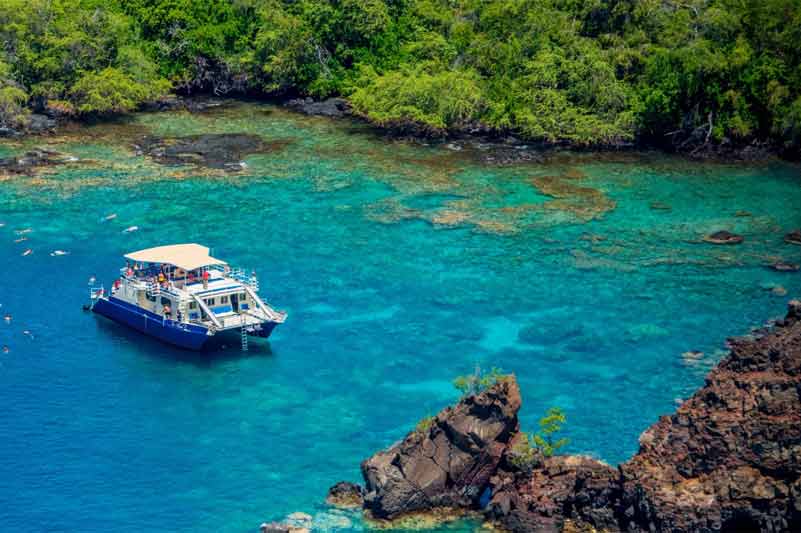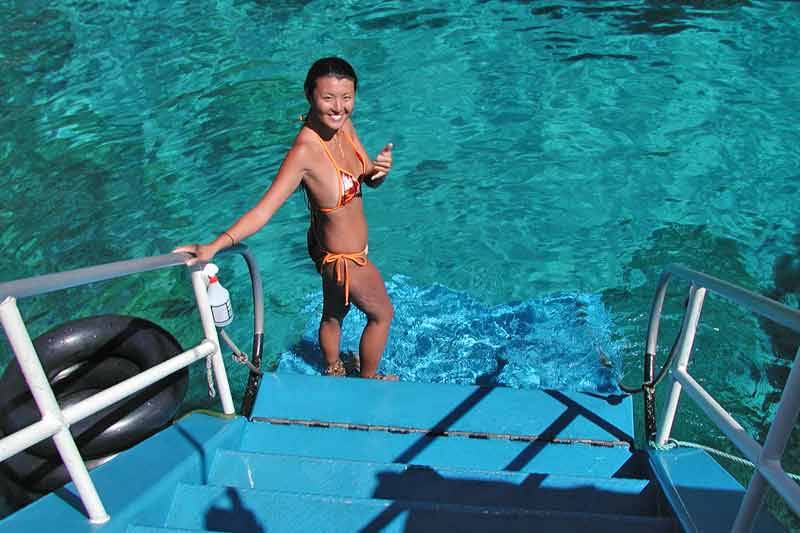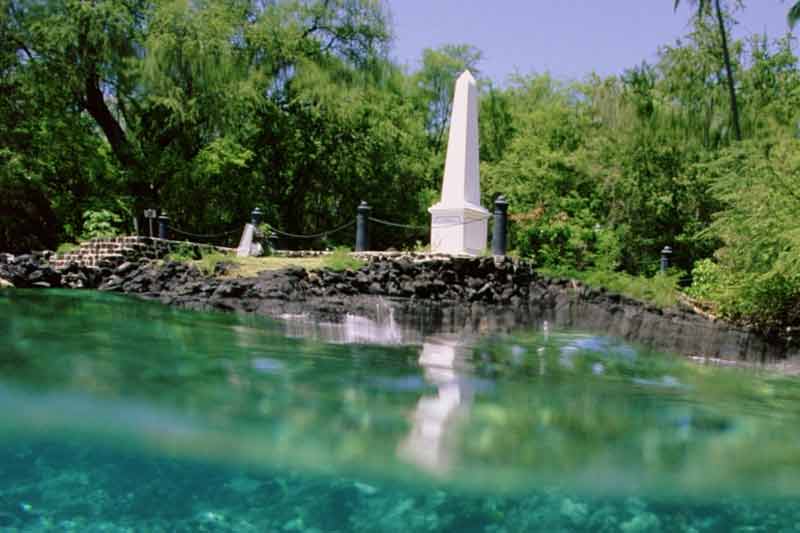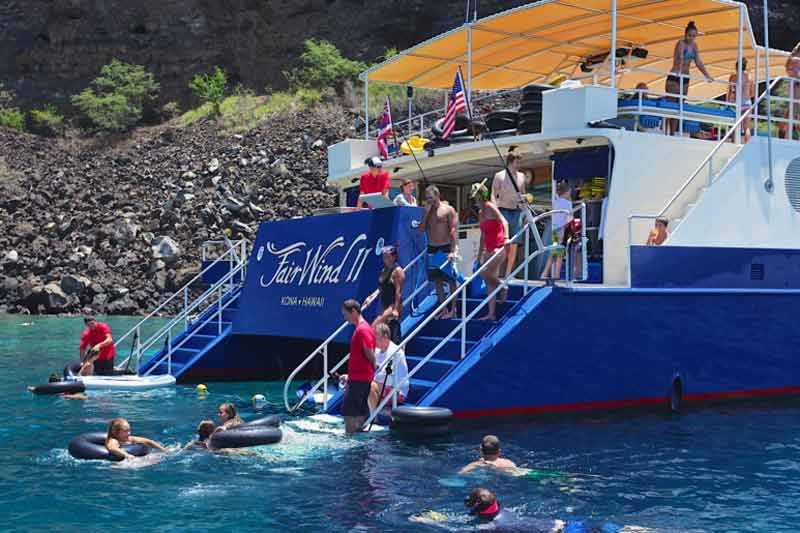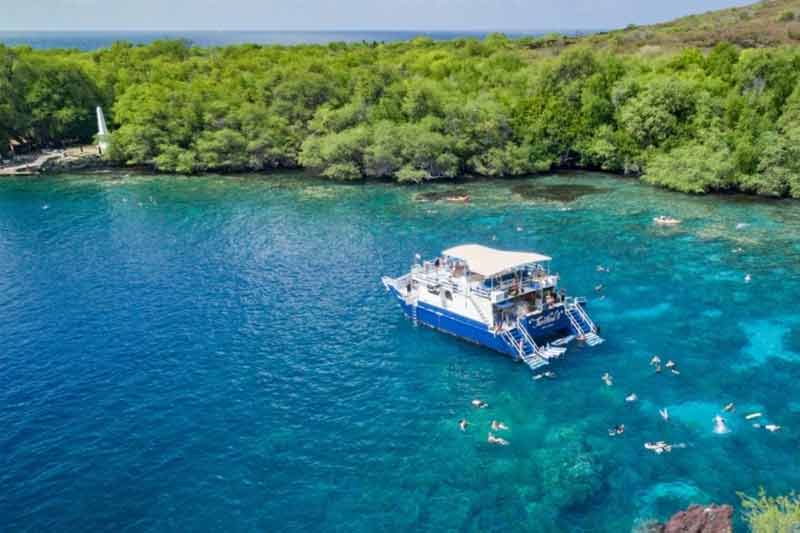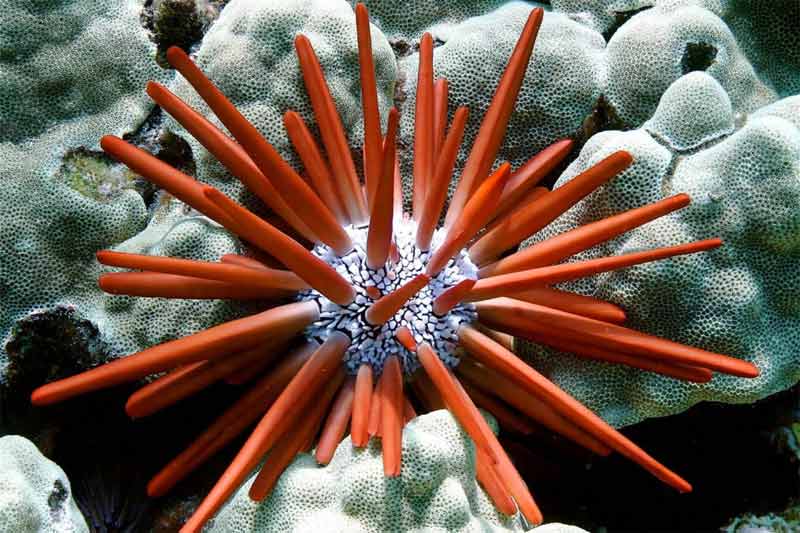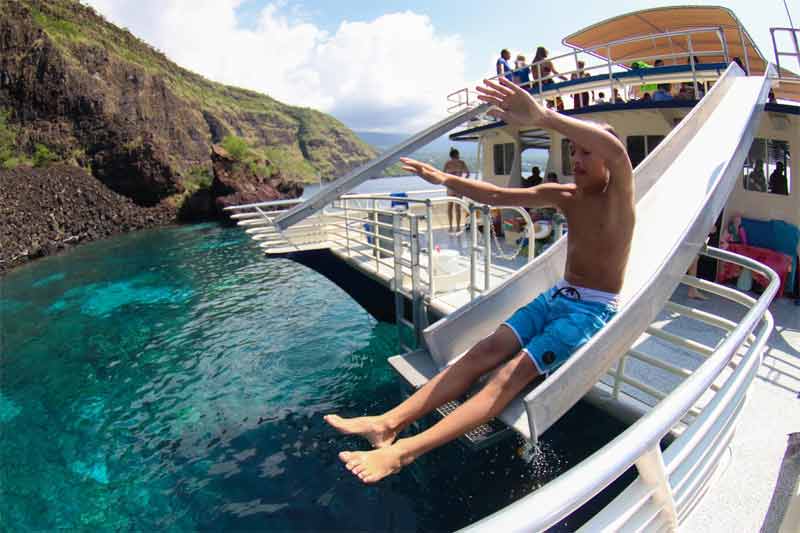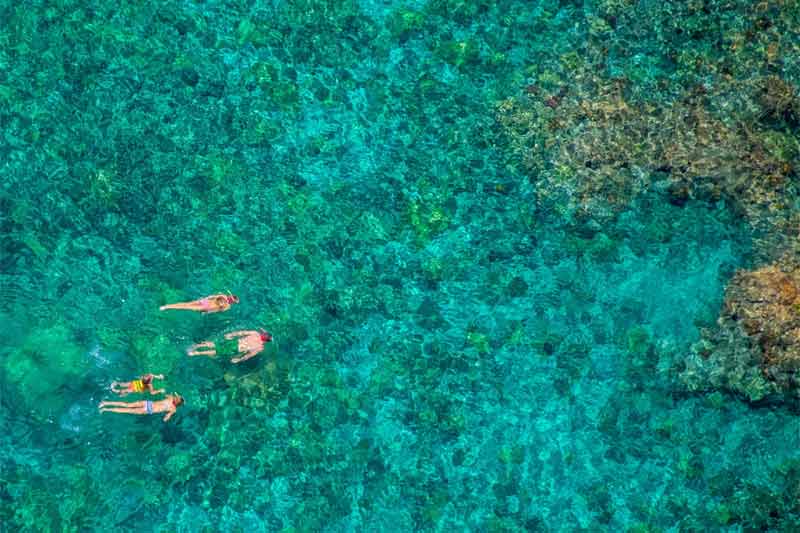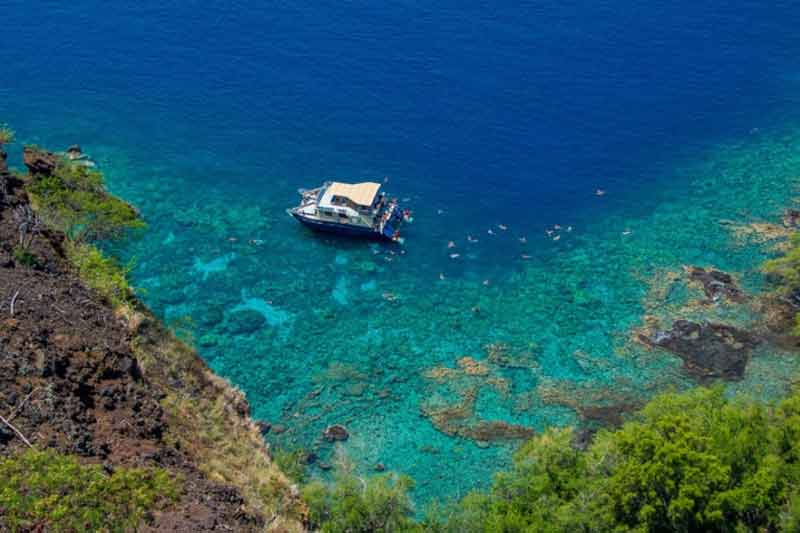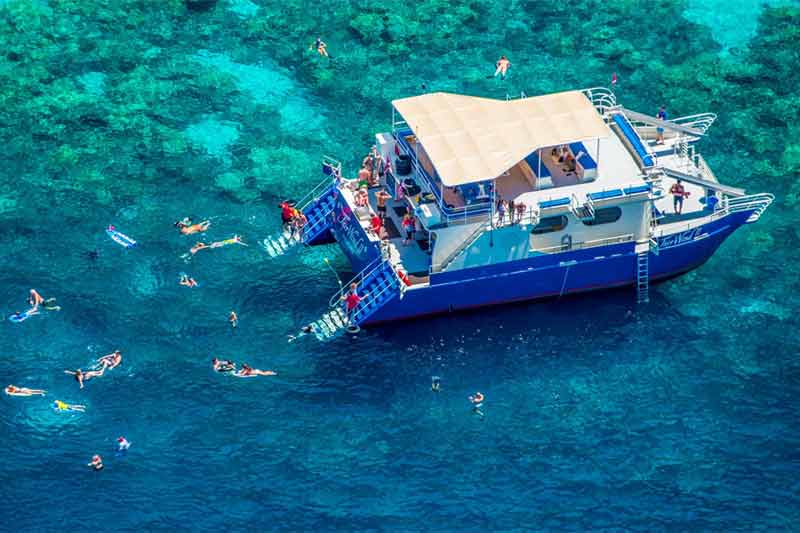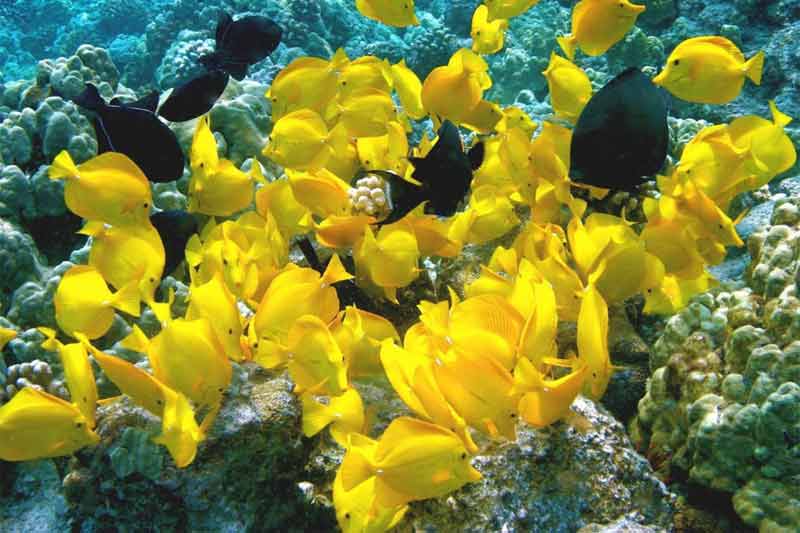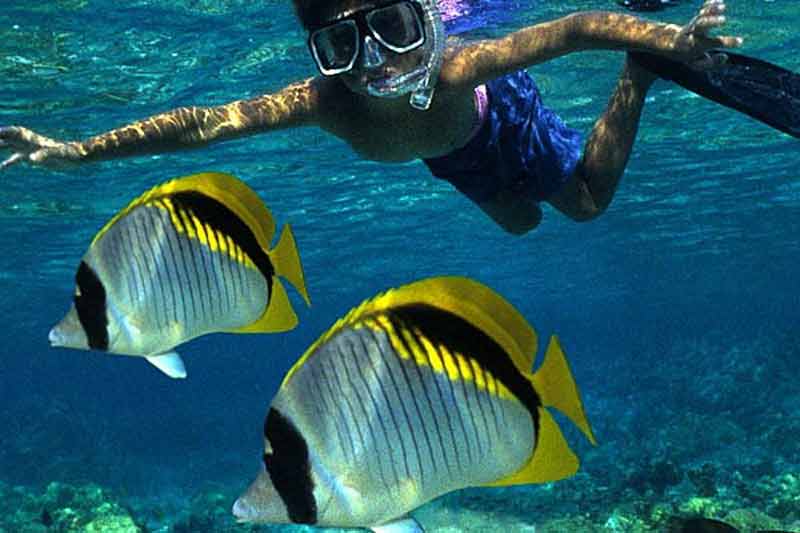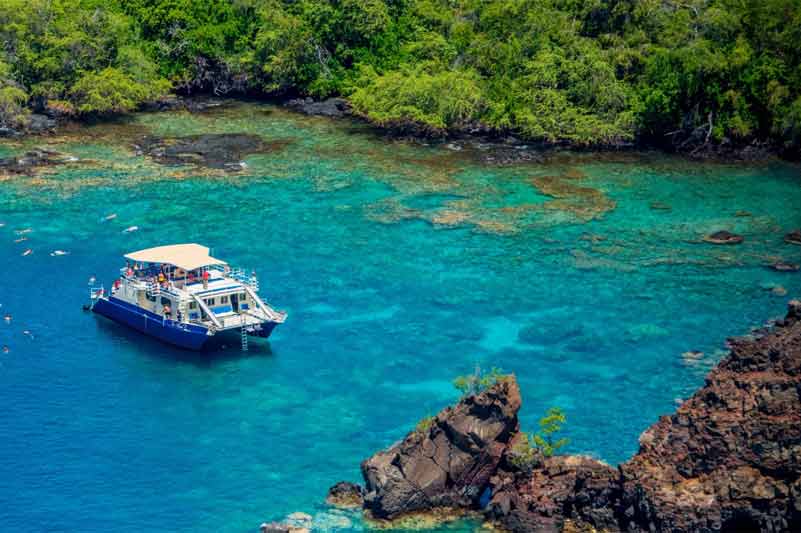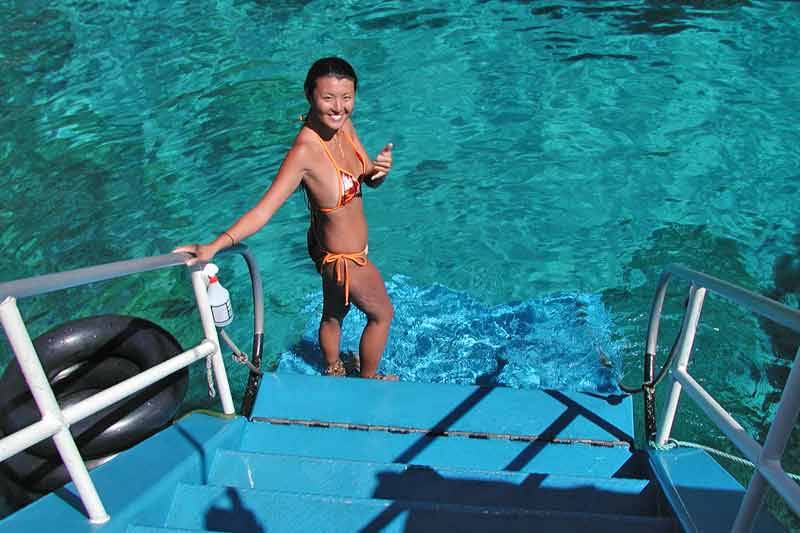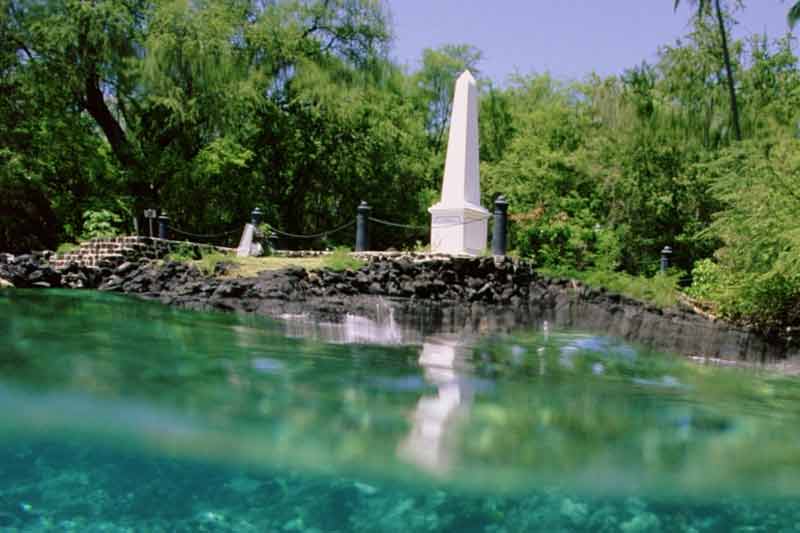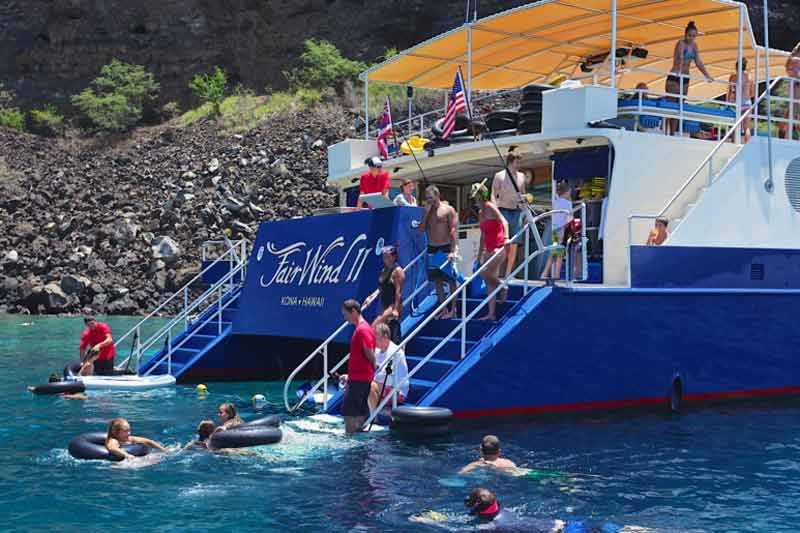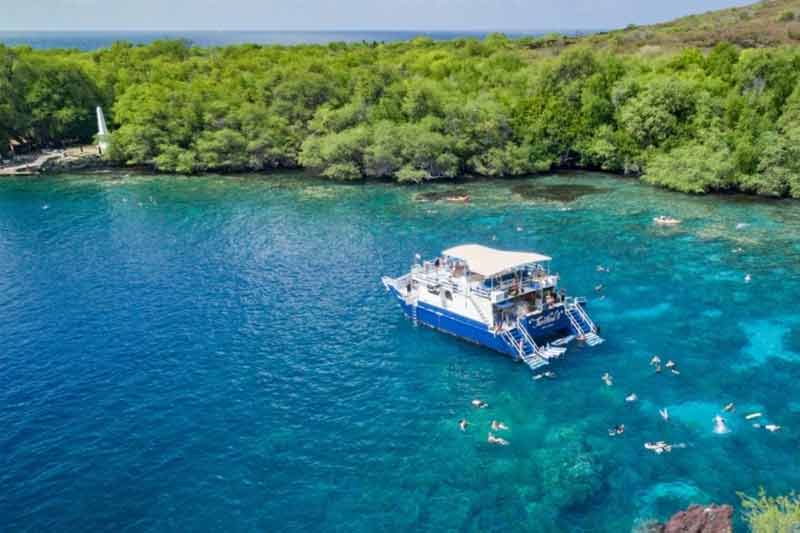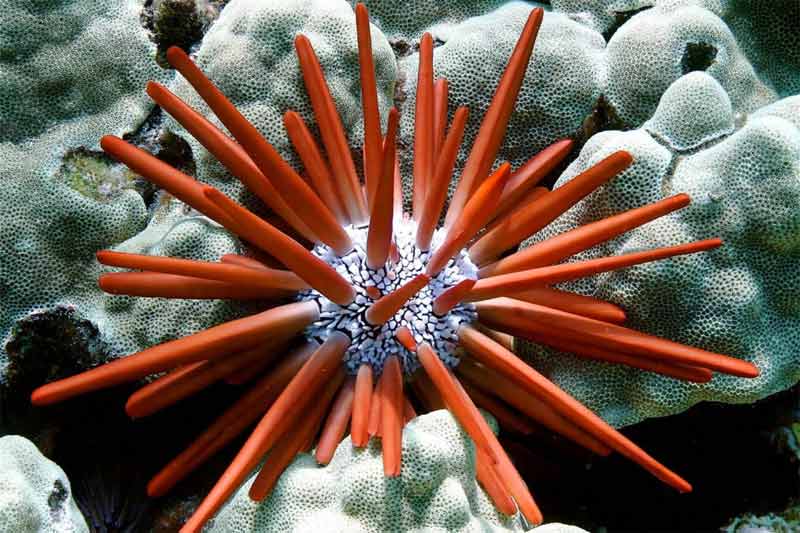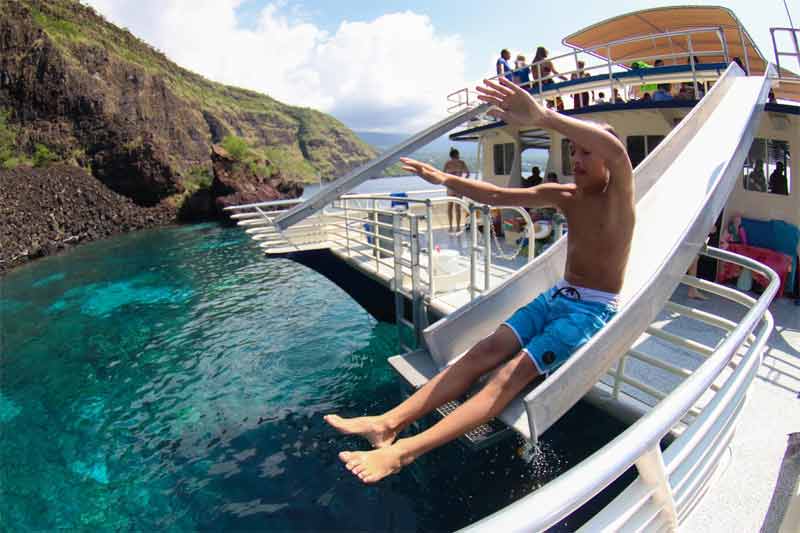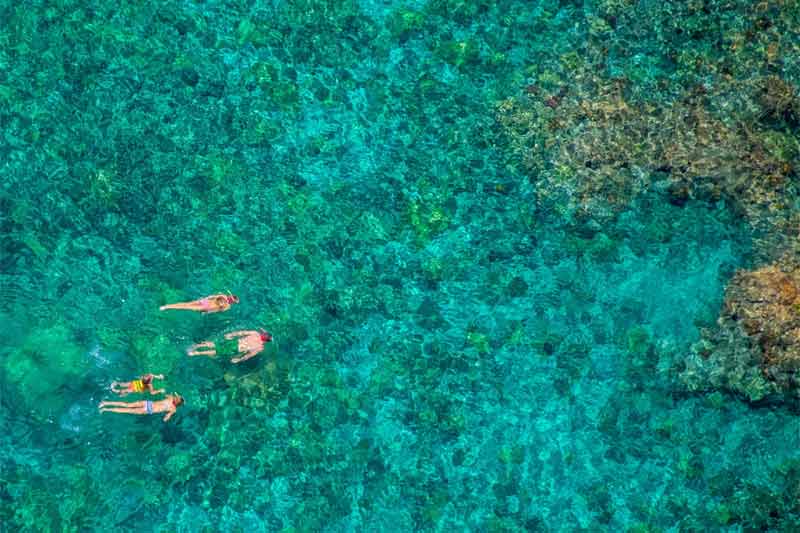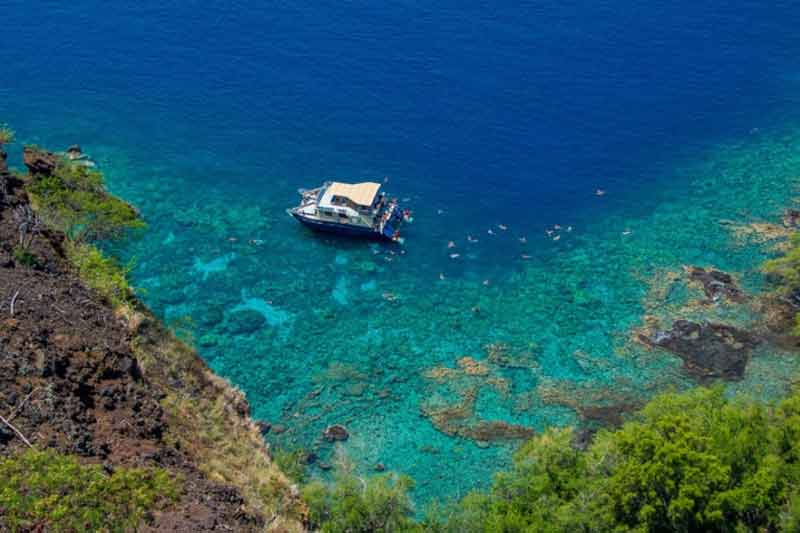 ---
Highlights
Most popular snorkel trip along the Kona coast
Fun boat with two waterslides
Snorkel at Captain Cook Monument
Incredibly clear water and lots of yellow tangs!
---
Description
Snorkel at historic Kealakekua Bay, a site known for incredibly clear water, frolicking spinner dolphins and healthy coral reefs teeming with colorful fish. The Fair Wind II has an exclusive mooring at this beautiful historical bay, where you snorkel within sight of the Captain Cook Monument. Kealakekua Bay was the scene of the first European landing on the island of Hawaii in 1787. Captain Cook died here a few months later at the hands of the natives during an unfortunate skirmish over a dinghy.
The wide steps on each side of the boat provide easy access into the ocean. The water is so clear here that the reef makes the ocean look like you are swimming in a sea of gemstones. How's this for uncrowded snorkeling??? The reef here is very healthy, the water is very clear and there are lots and lots of fish.
Morning departures are at 9am from Keauhou Harbor, about 10 minutes south of downtown Kailua-Kona. The trip includes breakfast, lunch and snorkel gear. The tour is 4.5 hours long. A cash bar is also available on-board. The vessel has recently switched to a plant-based vegan menu for both breakfast and lunch.
The waterslide on this boat is a lot of fun! It's a LONG one too … longest I've seen on a snorkel boat. It starts at the upper deck, runs to the bottom of the lower deck, and then drops you to the ocean. If you are really in a hurry, there is also a high jumping / diving platform on the upper deck!
---
Cost
MORNING HIGH SEASON RATES: January 1-2, March 19 - April 14, June 4 – August 25, December 18 - 31.
MORNING LOW SEASON RATES: January 3 - March 18, April 15 - June 3, August 26- December 17
Morning Snorkel - 9:00am to 1:30pm
Fair Wind II Morning Snorkel Low Season Rate (FW1ls)
$159.00 per Adult, $99.00 per Child (4-12), $39.00 per Infant (3 and under) (plus 10.711% Hawaii sales/harbor tax)
Fair Wind II Morning Snorkel High Season Rate (FW1hs)
$175.00 per Adult, $115.00 per Child (4-12), $50.00 per Infant (3 and under) (plus 10.711% Hawaii sales/harbor tax)
---
AFTERNOON HIGH SEASON RATES: December 18 - 31.
AFTERNOON LOW SEASON RATES: All dates in 2023 except for Christmas Holidays
Afternoon Snorkel - 2:00pm to 5:30pm
Fair Wind PM Snorkel Low Season Rate (FW3ls)
$115.00 per Adult, $70.00 per Child (4-12), $25.00 per Infants (3 and under) (plus 10.711% Hawaii sales/harbor tax)
Fair Wind PM Snorkel High Season Rate (FW3hs)
$125.00 per Adult, $85.00 per Child (4-12), $30.00 per Infants (3 and under) (plus 10.711% Hawaii sales/harbor tax)
---
Location
GPS Address: Check in at Fair Wind's office at 78-7130 Kaleiopapa St, Kailua-Kona, HI 96740 and street parking is available nearby.Click to view map
---
Details
Schedule: The morning snorkel operates daily. The afternoon snorkel typically operates on Tuesday, Thursday and Saturday with additional days added udring peak travel periods.
Checkin: At the Fair Wind office at Keauhou Bay 30 minutes prior to your tour time.
Duration: Morning tour is 4.5 hours. Afternoon tour is 3.5 hours.
Gear Provided: Snorkel gear including masks with built in prescription, underwater view boxes, inner tubes and other flotation devices. They also offer reef friendly sunscreen at check in and on board.
Tour Includes: Morning tour – breakfast and lunch with a new plant-based vegan menu. Afternoon tour includes snacks and fruits. Beer, wine and assorted beverages are available for cash purchase during the last hour on-board both tours.
What to Bring / Wear: Swim wear, towel, sun-protection and a light cover-up or jacket
Vessel: 60-foot aluminum catamaran with two 15-foot water slides and a dive platform
Restrictions: Not wheel chair accessible. Passengers need to climb 4 stair steps to board the vessels, so each passenger will need to be able to cross the threshold under their own power.
Reservations: Advanced reservations required and we recommend booking this a month or more before your arrival. A credit card is required to secure your space and the Fair Wind will charge your credit card when your space is confirmed.
Minimum Notice for Cancellations / Changes: At least 48 hours before the start of the event. 72 hours notice required for parties of 10 or more.
---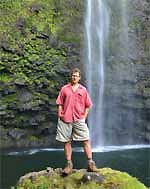 Kevin's Activity Tips:
My wife and I snorkel a lot … and it takes a lot to impress us. We have owned our own sailing catamaran, so we are used to going to places that aren't crowded and where the snorkeling is excellent. Whenever we go out on snorkel tours on the Big Island we are treated to conditions that we are able to find on our own boat – great reefs and uncrowded snorkeling.
The Fair Wind is an excellent trip. If you have never been to the Big Island before, I would say that my first choice would be to go out on the Fair Wind so you can snorkel beautiful Kealakekua Bay. If you've been there and done that before, then a trip on the Hula Kai is a must! You'll see far more of the Kona Coast than you ever imagined!
For those who want to go out on the Fair Wind II but you absolutely cannot go in the morning because of a convention or other commitment, or if your dates are already sold out for the morning trips, they also operate a slightly scaled back and slightly less expensive afternoon trip at 2pm. The destination is the same and the snorkel time is ALMOST the same. Lunch is not served, which accounts in part for the shorter tour time.
If you are a cruise ship passenger and your boat arrives in port at 7am, it is cutting it too close to make it for checkin for the Fair Wind, but you have ample time to make the check-in for the Hula Kai which leaves at 9:30am and this is the tour that we recommend for you. For our clients staying in the Waikoloa area, including the Hilton, Marriott, Fairmont Orchid, Hapuna Prince, etc, the Waikoloa Snorkel Sail is an excellent choice. Since this tour departs from the Waikoloa area it saves you the 40-minute drive into Kona town and it will take you to snorkel destinations that are difficult to access from the shore.