Mauna Kea Summit and Stars
---
Mauna Kea Summit and Stars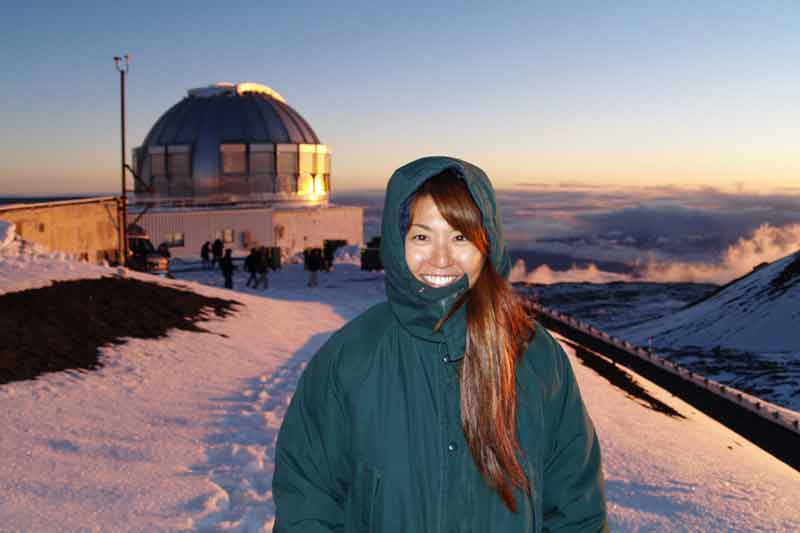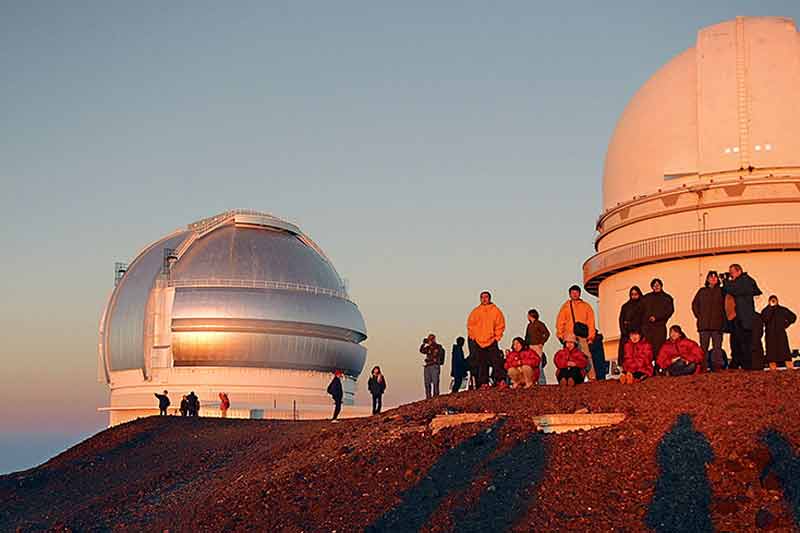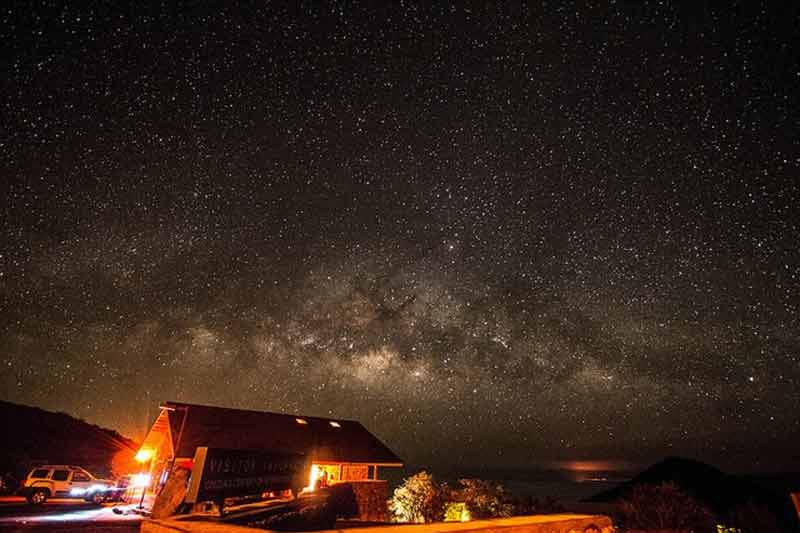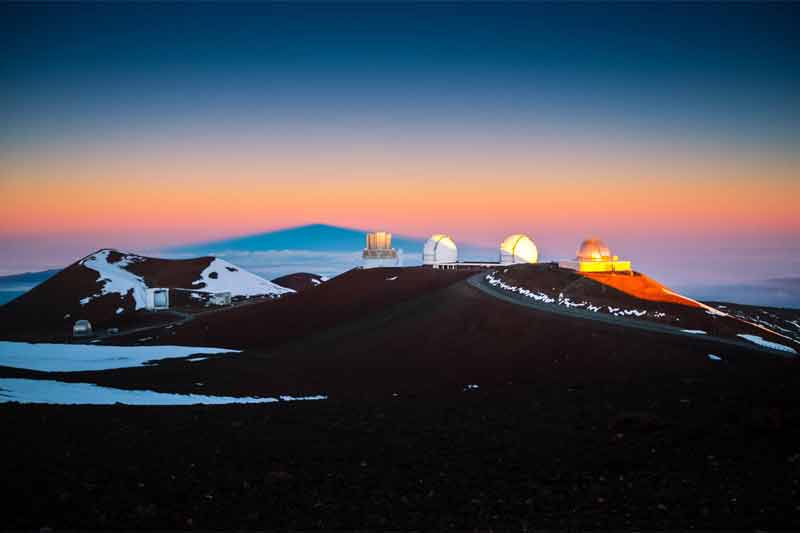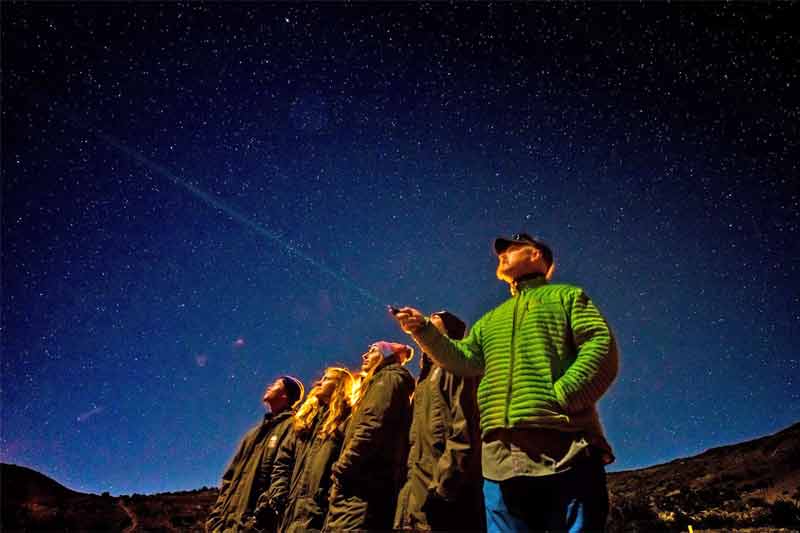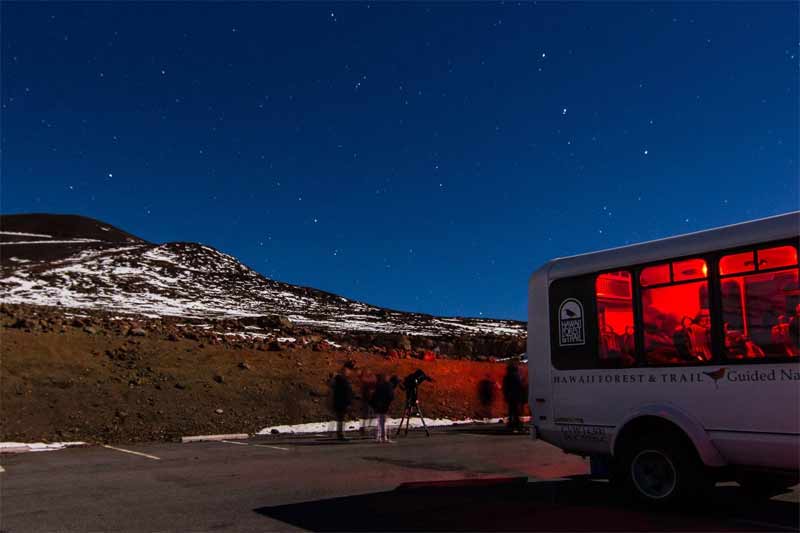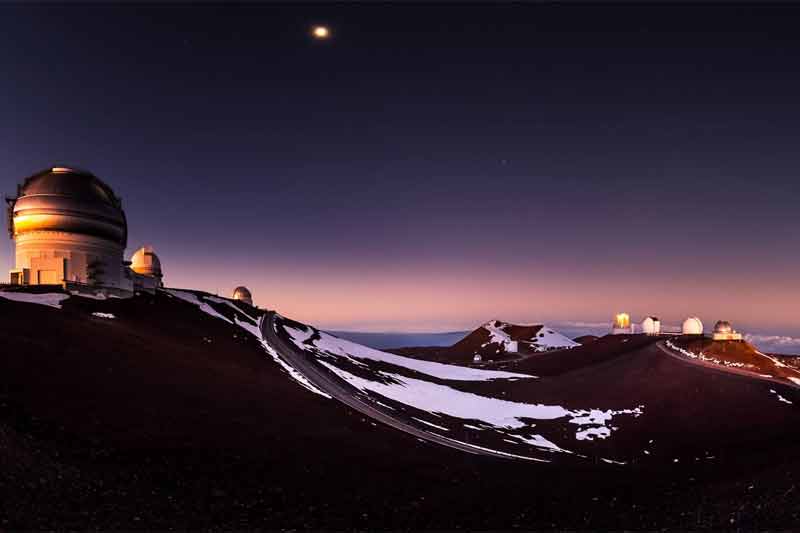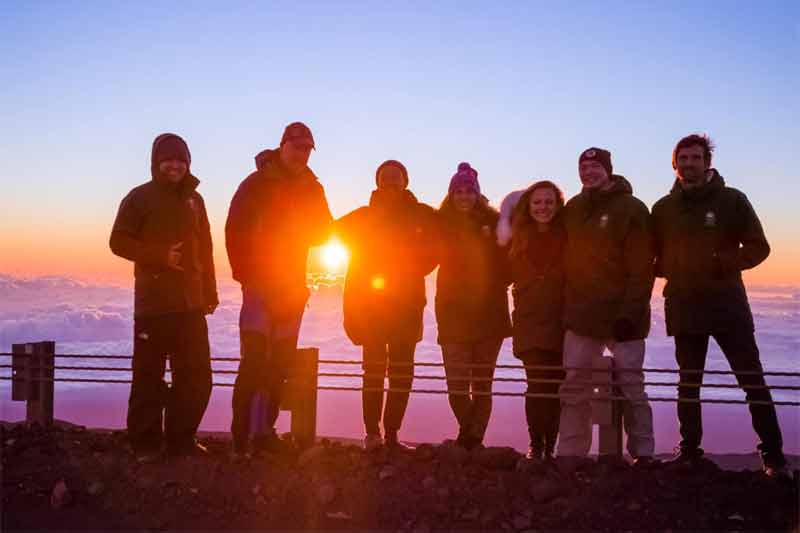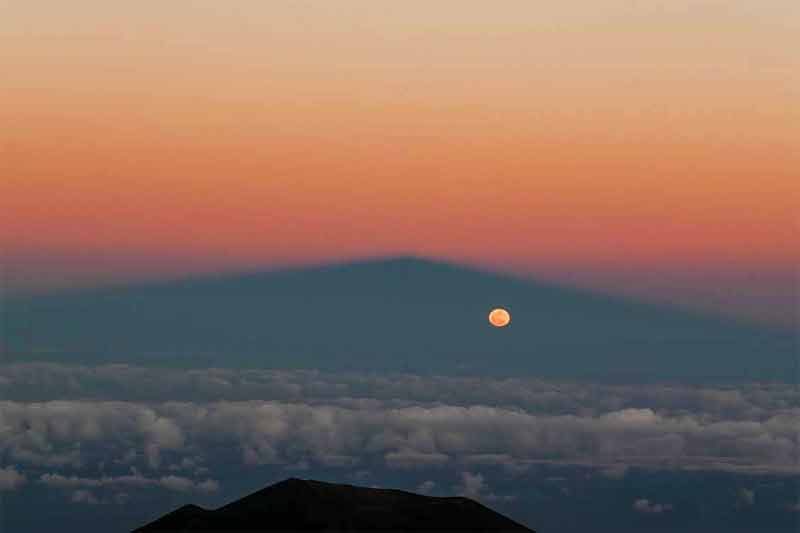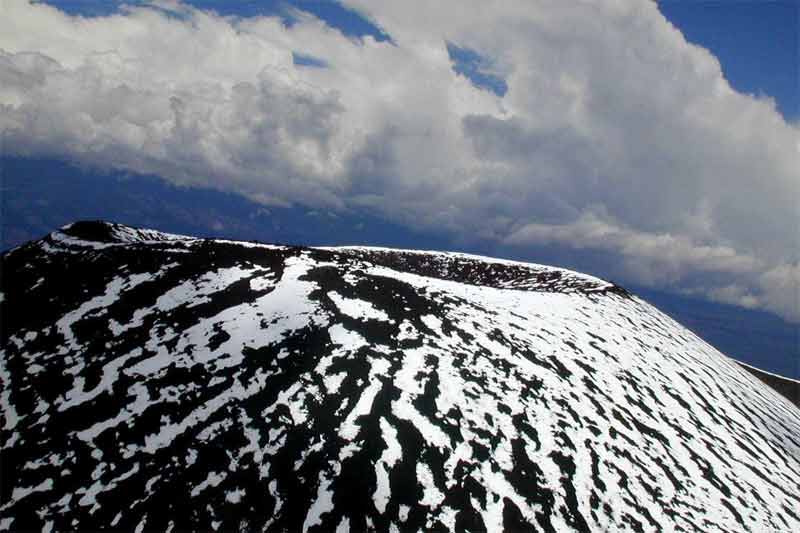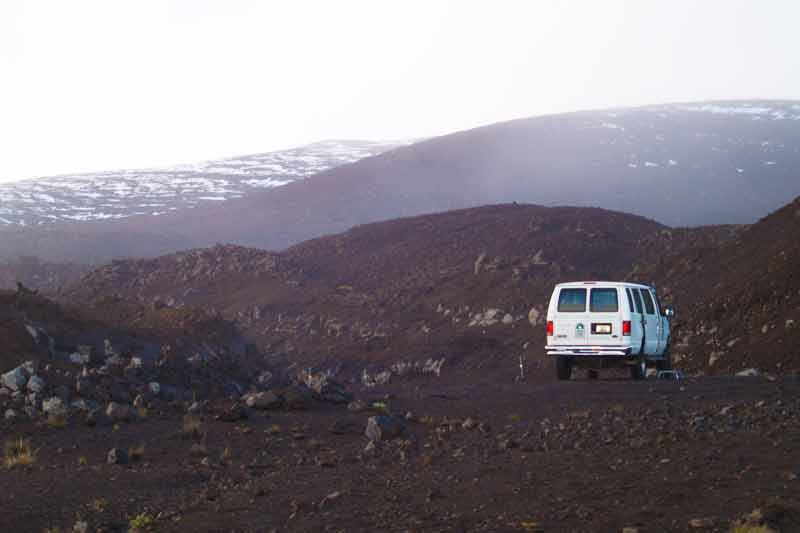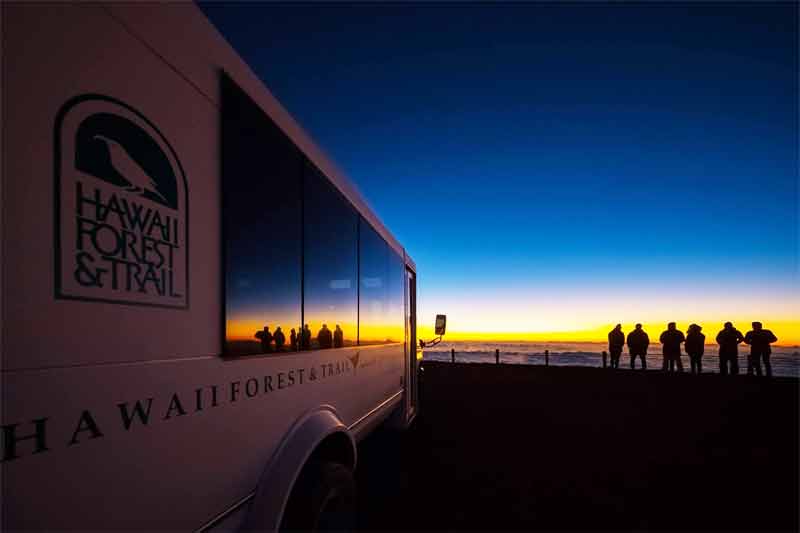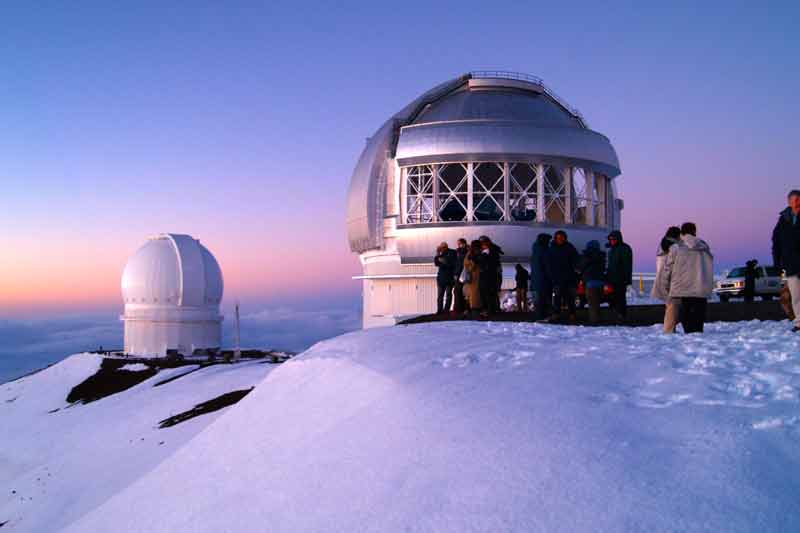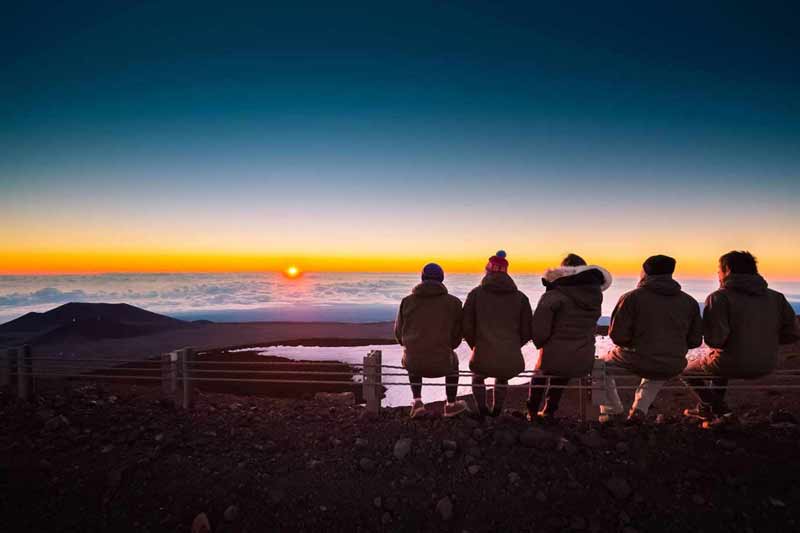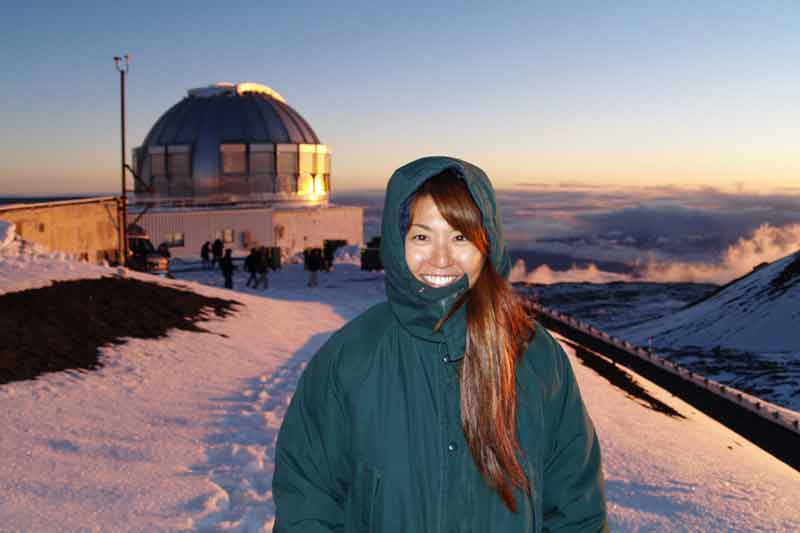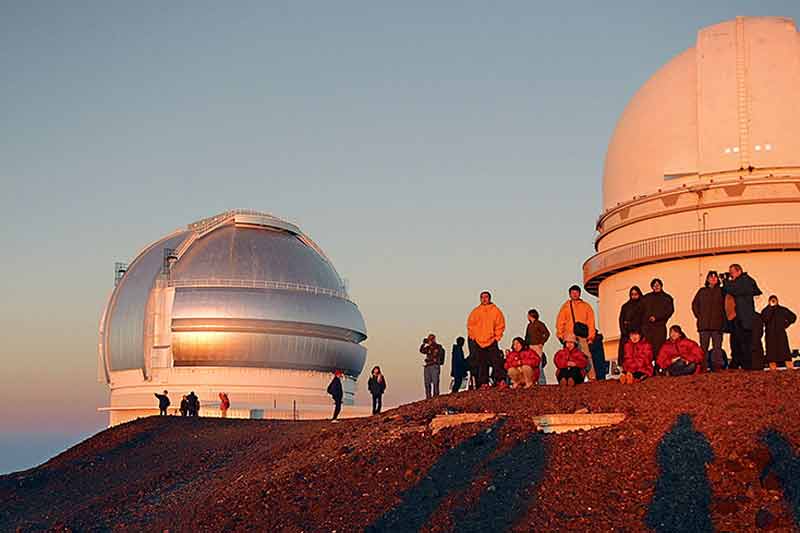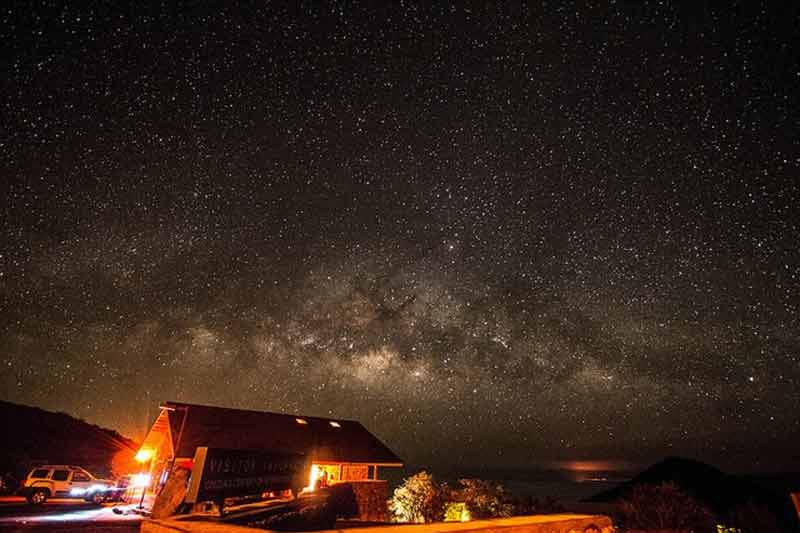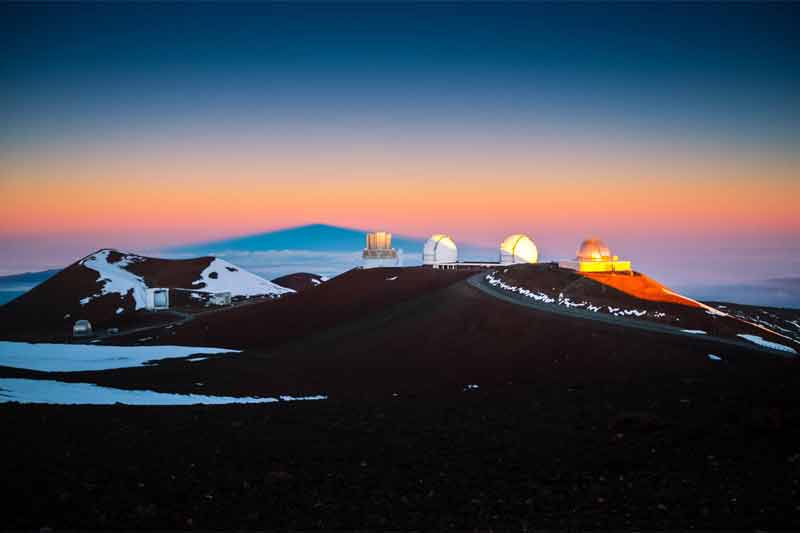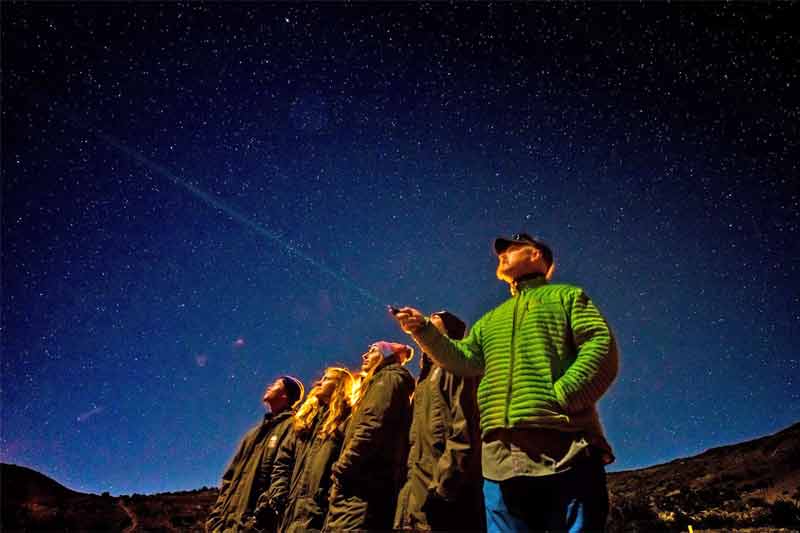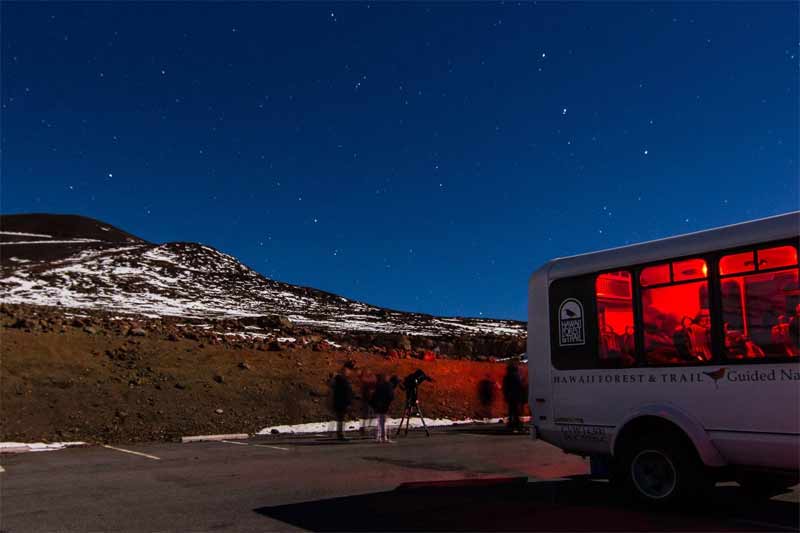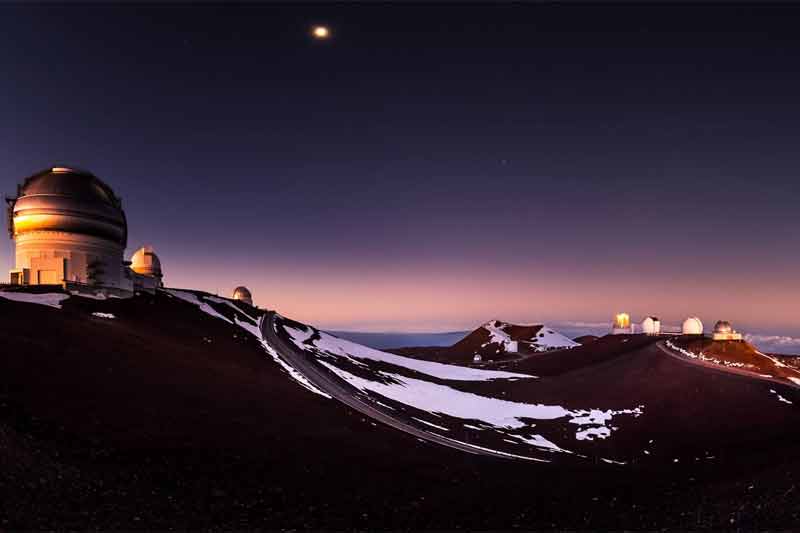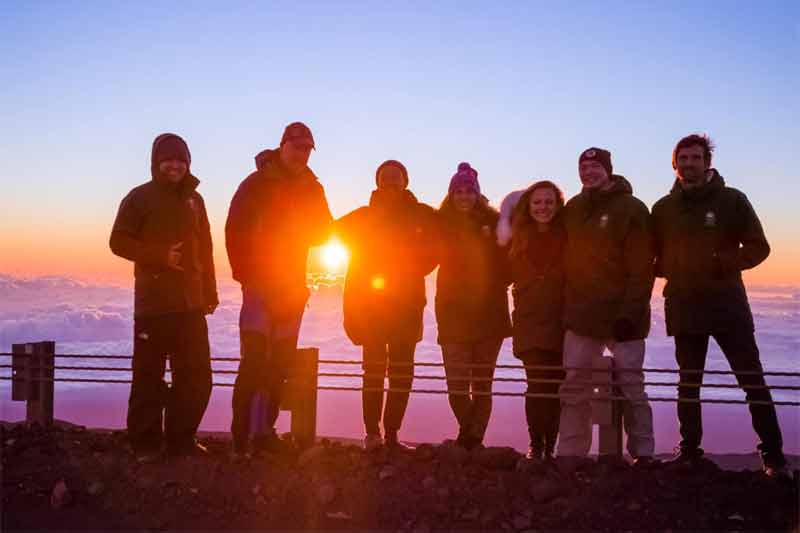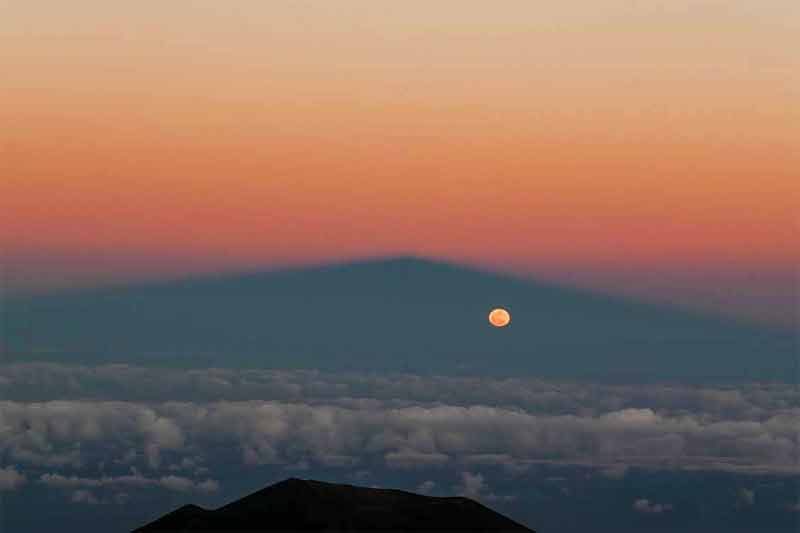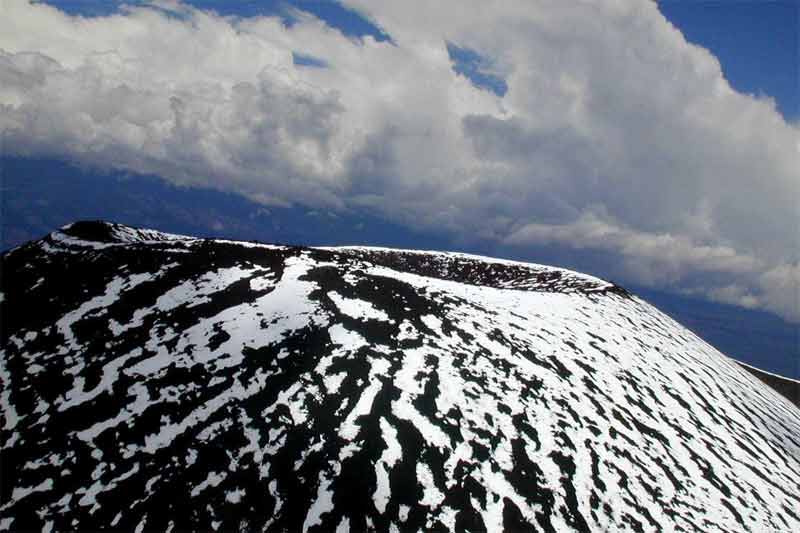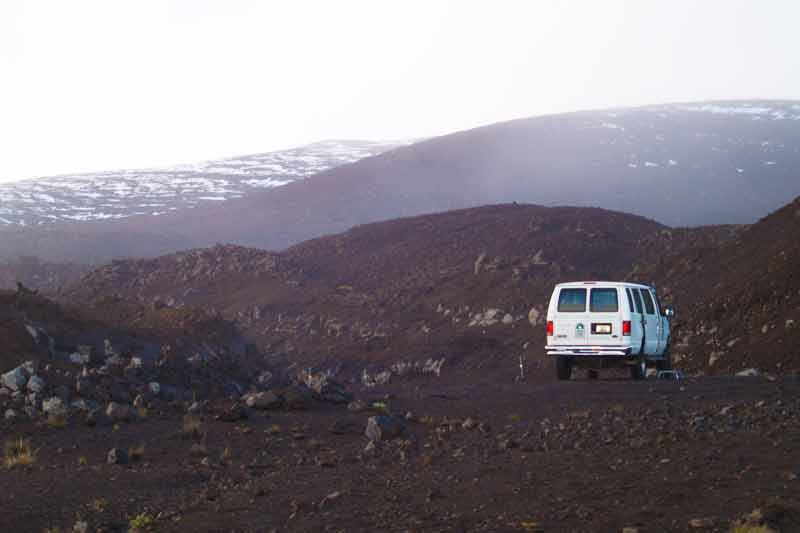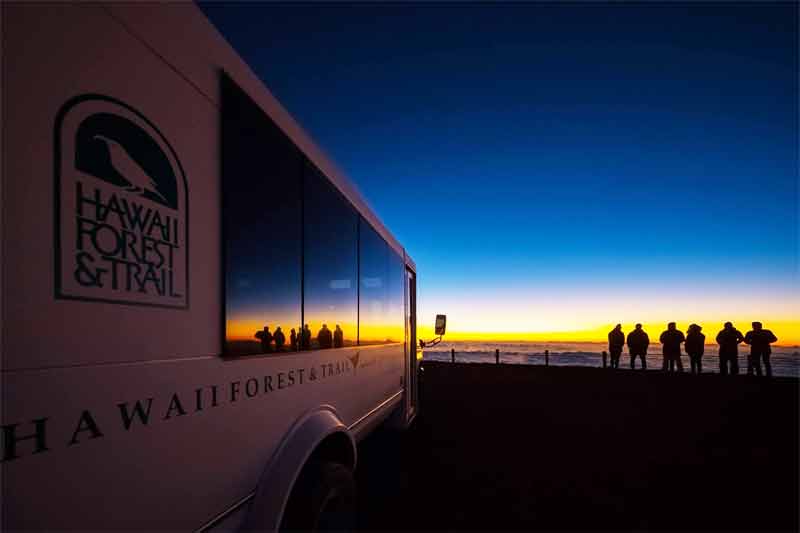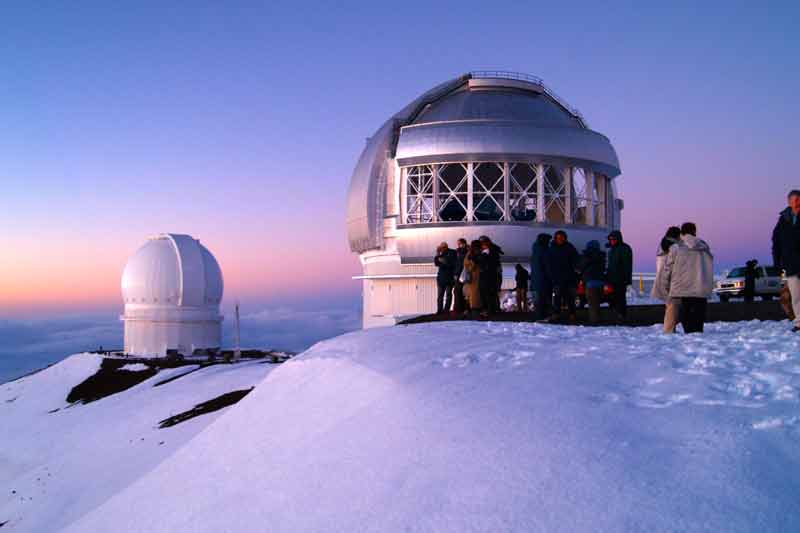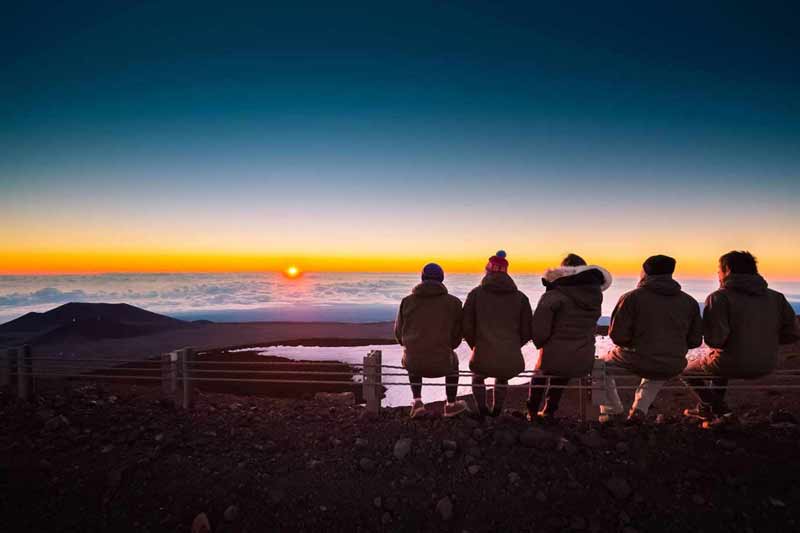 ---
AVAILABILITY UPDATE: Mauna Kea Summit and Stars is EASILY the most difficult reservation to score on the Big Island. ALL available space OFTEN sells out TWO MONTHS or more in advance!!! You should be reserving this tour NOW for spring and SUMMER 2022 dates!
---
Highlights
Round trip transportation from Kona / Waikoloa area
Dinner served part way to the summit
Watch sunset from the Observatory area at the top of Mauna Kea
Telescope viewing of planets / nebula / galaxies at Vistor's Center area
---
Description
Discover what makes Mauna Kea the center for cultural practice and scientific research as you journey from sea level to summit. The professionals of Hawaii Forest and Trail will guide you through the journey of space and time. As you ascend the 13,796' summit of Mauna Kea, learn about the incredible evolution and changes the Hawaiian islands have gone through. The drive to the summit of Mauna Kea is one you'll never forget. Once at the summit you are afforded spectacular views of the horizon, Haleakala on Maui, Mauna Kea's world-class array of telescopes. You'll experience the spiritual energy of what many Hawaiians believe to be the most sacred place in all the islands. At the summit you'll stand on top of the world's tallest mountain – from the ocean floor Mauna Kea is over 33,000 feet high! In your hooded parka you'll stand in awe – at both natures sublime creation and man's astonishing technological achievements.
On the way up the mountain the tour stops at a historic ranch outpost for a hot, picnic style dinner. After dinner the tour continues to the summit of the world's tallest volcano for a sensational sunset view. Stand in awe amidst the largest collection of telescopes on earth and witness some of the most dramatic vistas you'll ever experience.
After sunset the tour descends back down to the Visitor's Information Station at 9000' elevation. Your interpretive naturalist guide will set up an 11" Celestron Schmidt-Cassegrain telescope and, in the crystal clear atmosphere, the wonders of the Hawaiian night sky come into focus. Wrapped warm in Arctic parkas, with hot beverages and chocolate macadamia nut cookies, you will marvel at the brilliance of the Hawaiian sky. Enjoy your guide's entertaining "talk story" of the infinite world of the observable universe which offers you a personal and educational look at the heavens.
---
Cost
Mauna Kea Summit and Stars Adventure Rate (HGT2s/p)
$255.00 per Participant (plus 4.712% Hawaii sales tax)
---
Location
Guests staying in the Kona Downtown area will either be picked up at their resort or meet at the Hawaii Forest and Trail Store: GPS Address: 73-5593 A Olowalu St., Kailua-Kona, HI 96740 Click to view map
---
Guests staying in the Waikoloa area meet at the Queen's Marketplace Shopping Center: GPS Address: 69-201 Waikoloa Beach Dr, Waikoloa, HI 96738 Click to view map
---
Details
Schedule: Monday, Tuesday, Thursday, Friday, and Saturday
Duration: About 7 - 8 hours depeding on your accommodations.
Maximum Group Size: 14 guests
What to Wear: Dress warmly in layered clothing, long pants, closed toed shoes. Remember, it can snow up here at 13,800 feet!
Gear Provided: Hooded parkas and warm gloves. Parka sizes – (small, medium, large, x-large, xx-large) All parkas are men's sizes – so women may wish to select one size smaller than normal.)
Tour Includes: Dinner, assorted teas, hot chocolate, and dessert also included.
Restrictions: Because of high altitude this tour does not allow those with respiratory, heart, or circulatory conditions, people in generally poor health, or pregnant women. Scuba divers should be aware of altitude changes and avoid doing this tour shortly after diving. Minimum age for this tour is 16.
Reservations: Advanced reservations required and we recommend booking this a month or more before your arrival. This event is "RESERVE NOW PAY LATER"; we need a credit card on file to finalize your reservation but we do not charge you for your space until a few days before the beginning of your vacation!
Minimum Notice for Cancellations / Changes: At least 48 hours before the start of the event.
---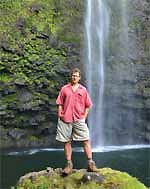 Kevin's Activity Tips:
When you stand at the summit of Mauna Kea and look across at the summit of Mauna Loa, it is easy to forget that you are in Hawaii. The extreme climate and barren landscape provides a startling difference from the rain forests of Hilo or the heat of Kona and Waikoloa. About three months out of the year there is a very good chance you will see snow … yes … SNOW … at the top of this mountain! When we did this tour it was the first week of May, and a late-season storm had just dusted the summit with 4" of fresh snow. It makes the tour even more beautiful and surreal!
The summit of Mauna Kea requires a 4 wheel drive vehicle; it is not possible to drive in your rental car. If you've rented a Jeep Wrangler you would be OK, however your rental car contract will probably forbid you from driving on this road. Besides, without the tour you won't get the telescopic look at the night sky and you won't get the benefit of the guide's informative narration. You probably won't be bringing a parka with you to Hawaii either and they are provided on this tour.
The most important tip is to remember the implications of high altitudes. The air is MUCH thinner here … this is not a good place for people who are in poor health or are pregnant. Scuba divers should be extra cautious and allow plenty of time before and after a dive when scheduling this tour.
One other consideration … BOOK ONE OF THESE TOURS EARLY because availability is very limited. The number of people allowed at the summit of Mauna Kea per day is strictly regulated.
On the sunset tour, after leaving the summit, an extended stop is made at the visitor's center at the 9,000 foot level where your guide will set up a computer-aided telescope and give you a tour of the night sky. If you come at a full-moon the sky will be so bright it will be difficult to see stars, but you'll get some unbelievable looks at the moon's surface.
The sunset tour is oriented toward guests staying in Kona and Waikoloa areas (where most of the resorts are located on the Big Island). Please note that if you are staying in Hilo or some out-of-the-way vacation rental somewhere else on the Big Island you would have to drive all the way to Waikoloa for pickup, and that makes this unrealistic, especially considering the drive you have to get back to your resort in the middle of the night after this tour ended.