BIG ISLAND SIGHTSEEING
The island of Hawaii is a diverse place with beauty of all kinds. It truly IS a Big Island ... sit back and look out the window and enjoy the view while someone else does the driving! Here are some great sightseeing options for you to consider.
---
---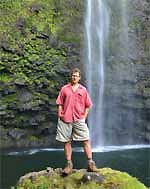 Kevin's Activity Tips:
The Big Island truly IS BIG. It takes about 6 hours of non-stop driving to do a big circle around its perimeter. Don't you feel sorry for that membor of your family who gets stuck doing all the driving? Even if you take turns, the person driving is always going to miss out on the views along the way because they have to focus on the road. These tours allow EVERYONE in your party to enjoy the view the entire time.
There is quite a bit of overlap between some of these tours. The Grand Circle Island tour and the Waipio Valley and Waterfalls tour in particular are going to have several stops that are the same ... namely the Waipio Valley overlook and Akaka Falls and Rainbow Falls. But ... the Waipio tour goes down into the valley and spends time there. The Grand Circle Island tour is more of a "scratch the surface" all over the place tour, and the Waipio Valley and Waterfalls tour spends an extended time here at the valley for a deeper experience of that one place. The same thing is true of the Twilight Volcano and Stargazing Tour. It has stops in common with the Grand Circle Island tour of the Kona coffee farm, the Punaluu Black Sand Beach, and Kilauea Volcano. But the Grand Circle Island tour doesn't stay at Kilauea for long. The Twilight Volcano Tour stays there to watch the lava glow over the crater as the sun goes down. It also visits more places inside the National Park.