Kilauea Volcano Unveiled
---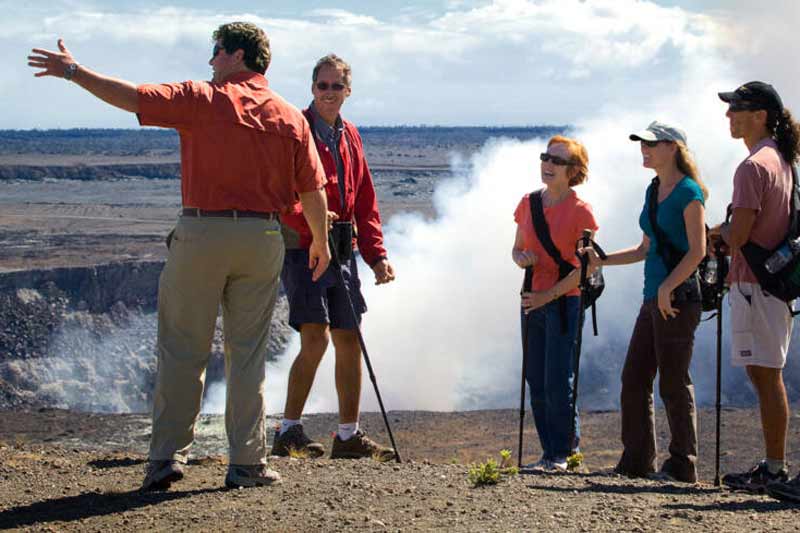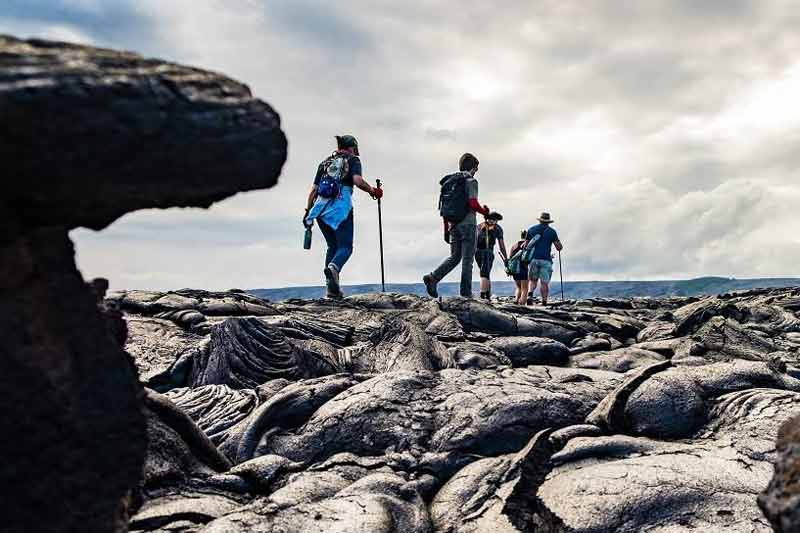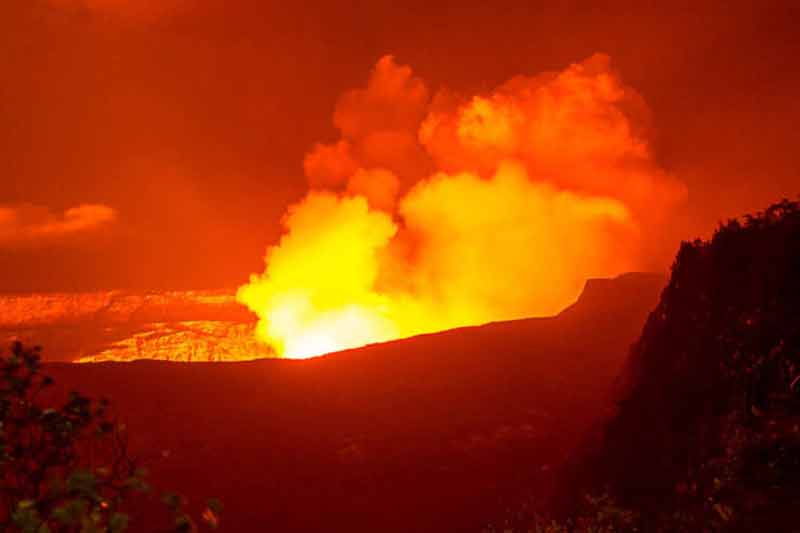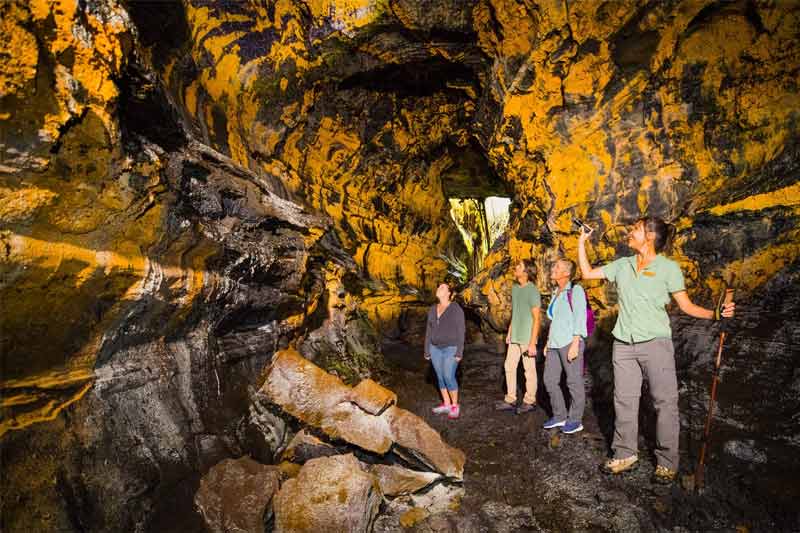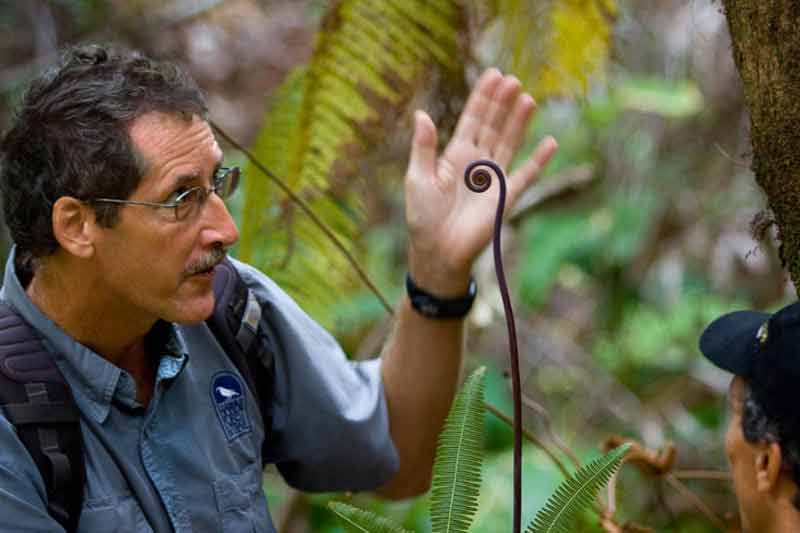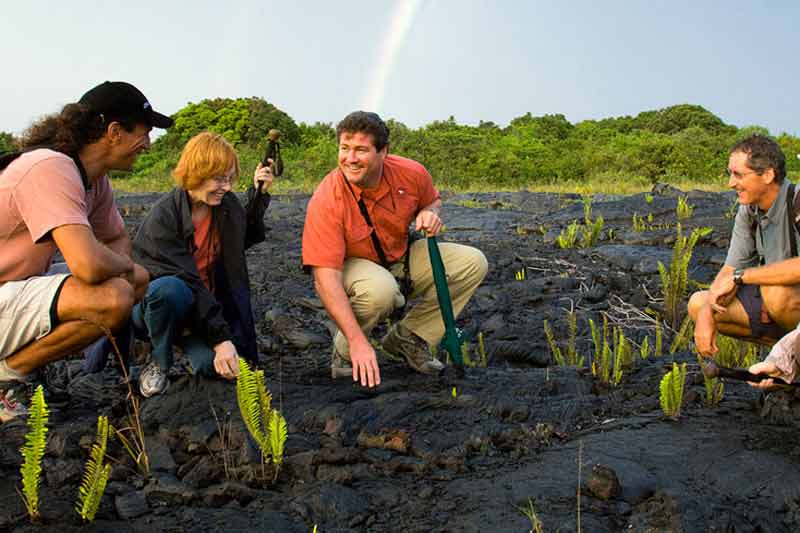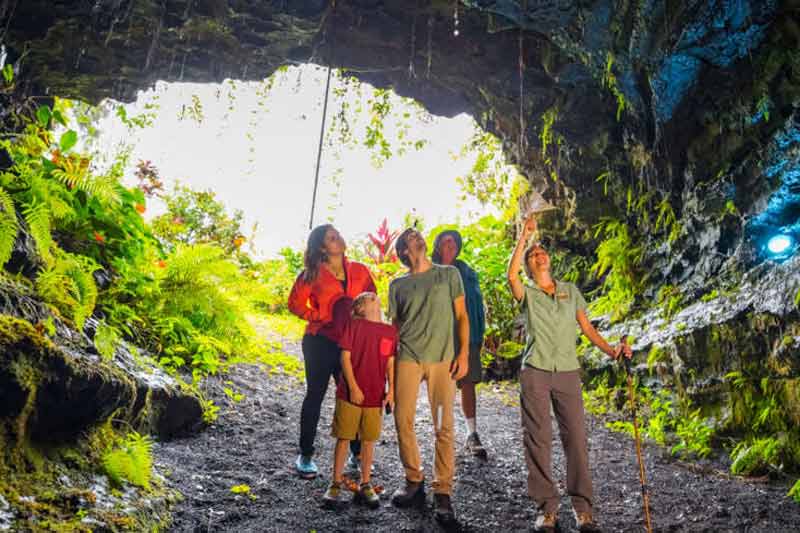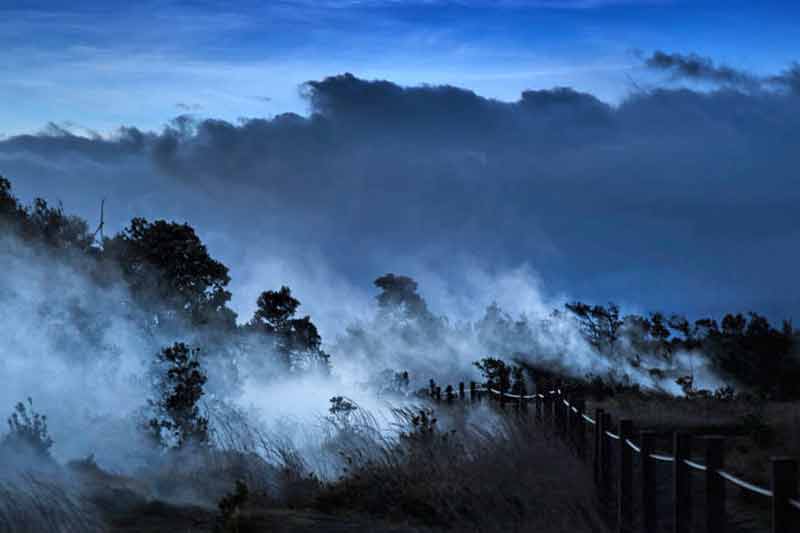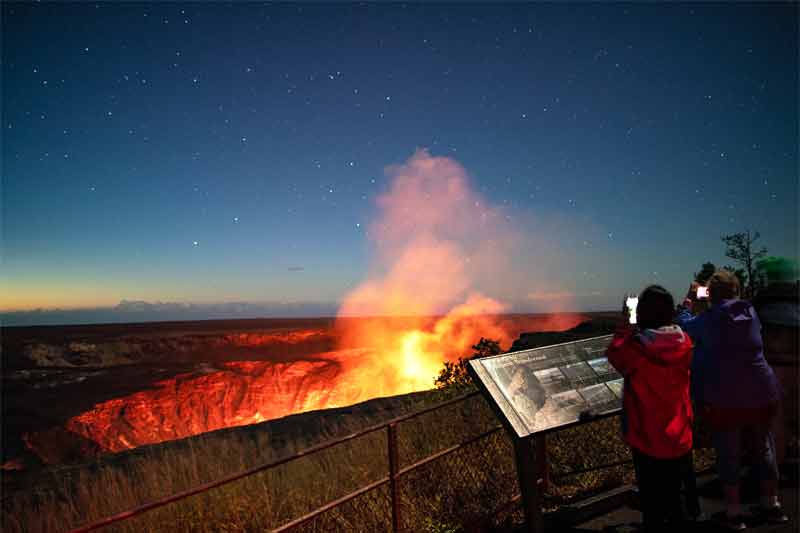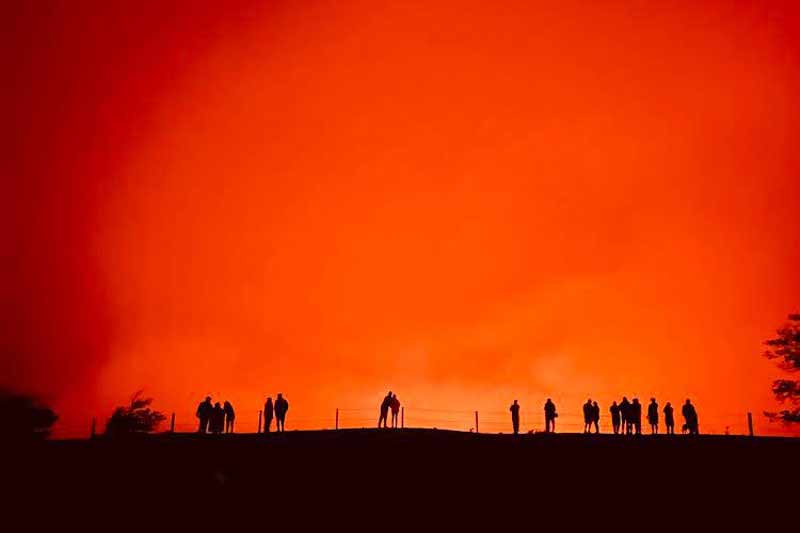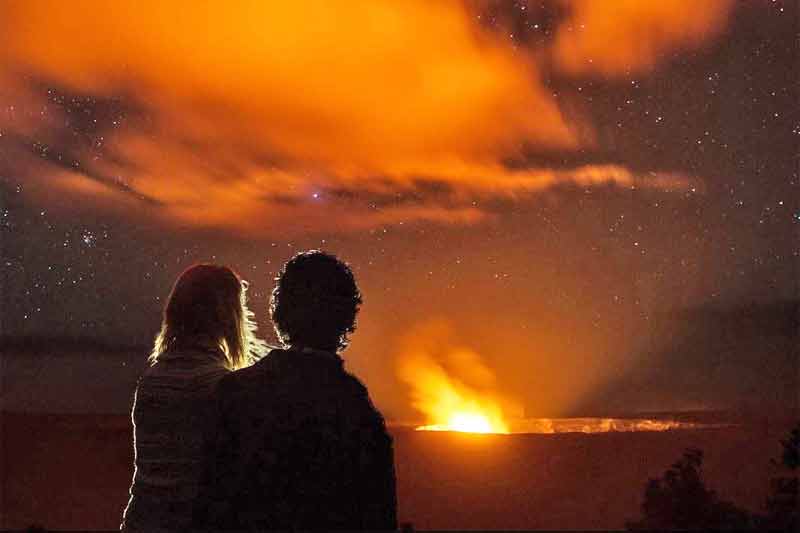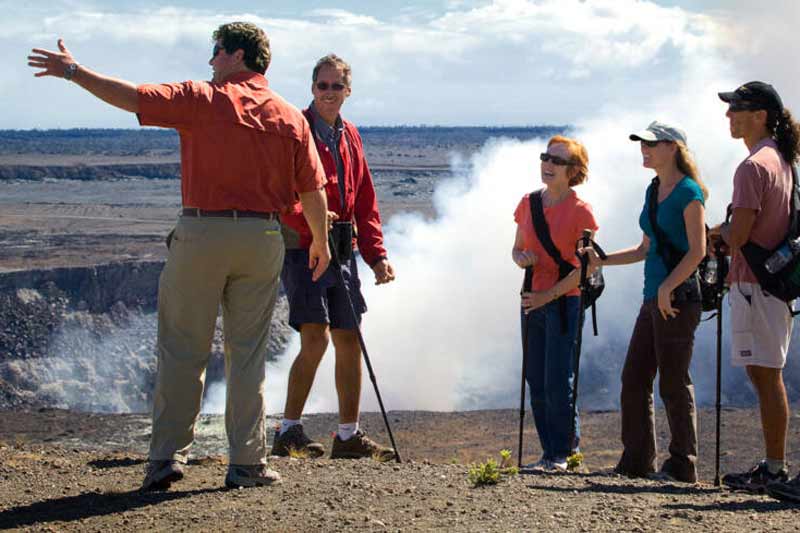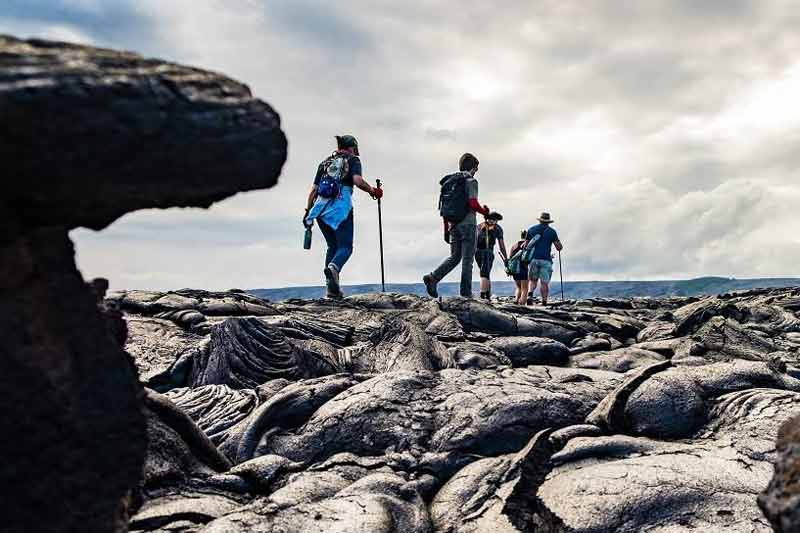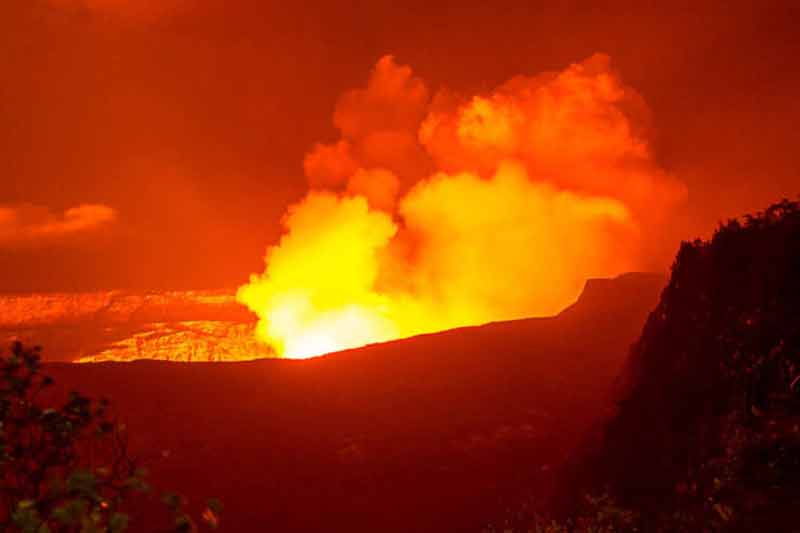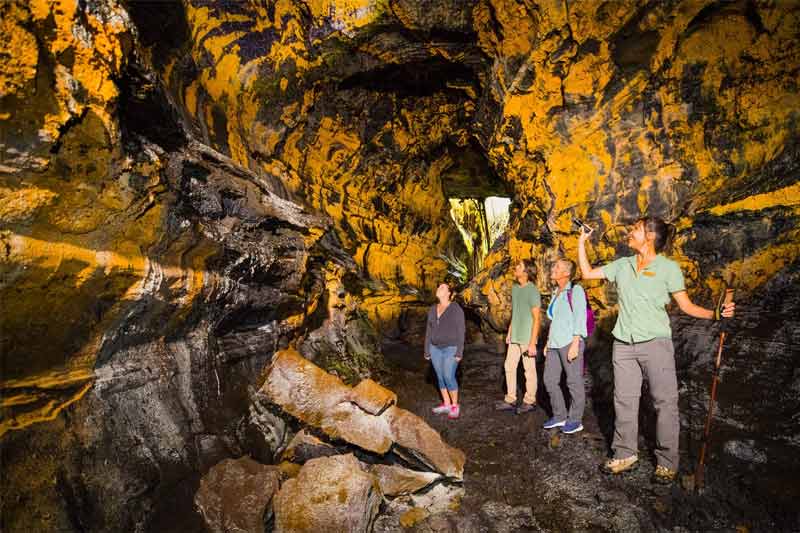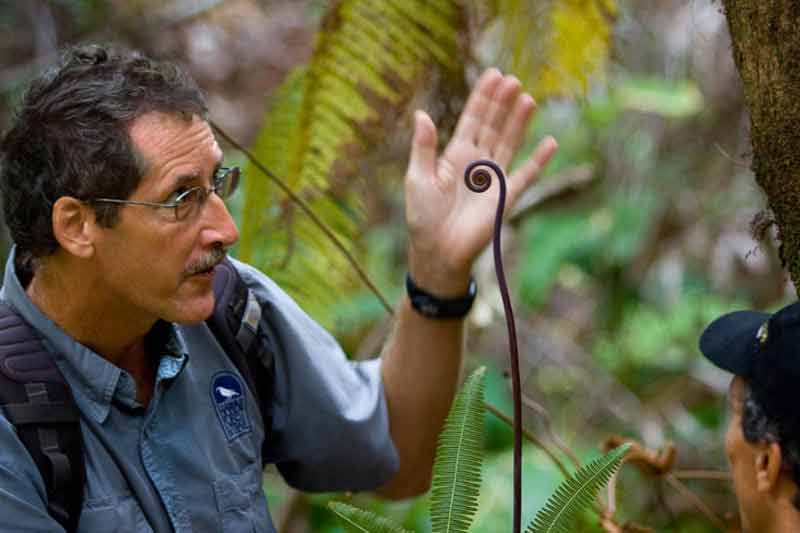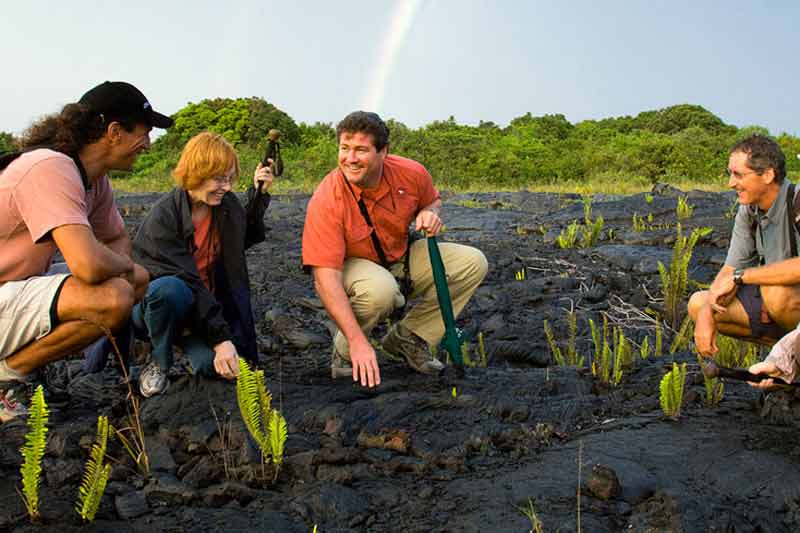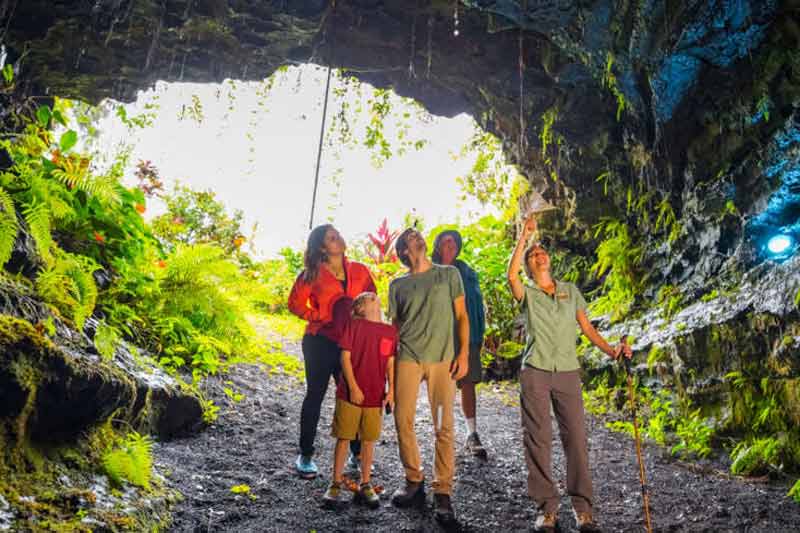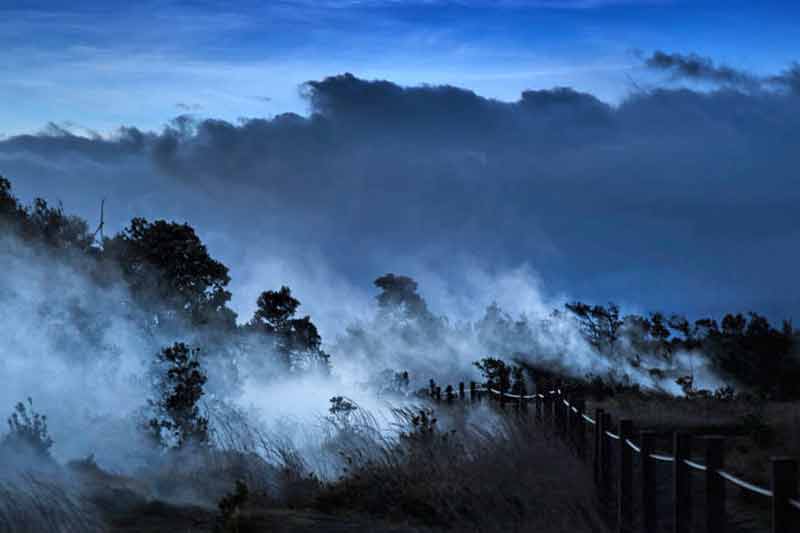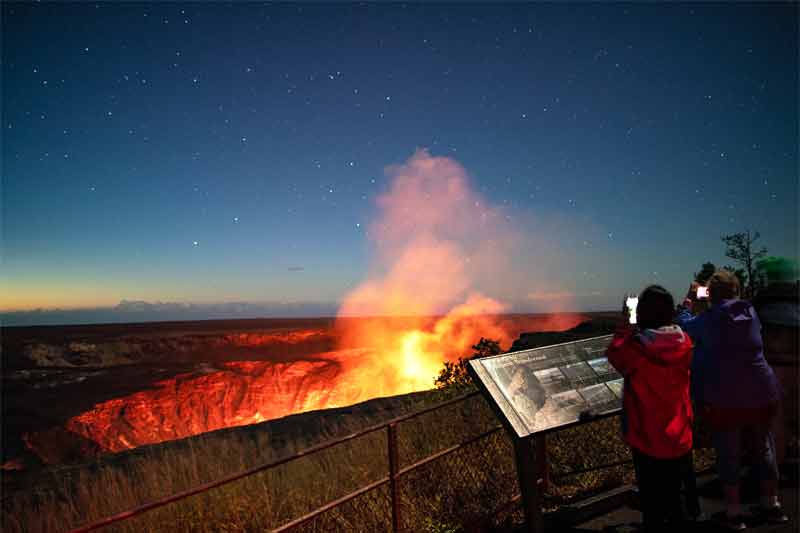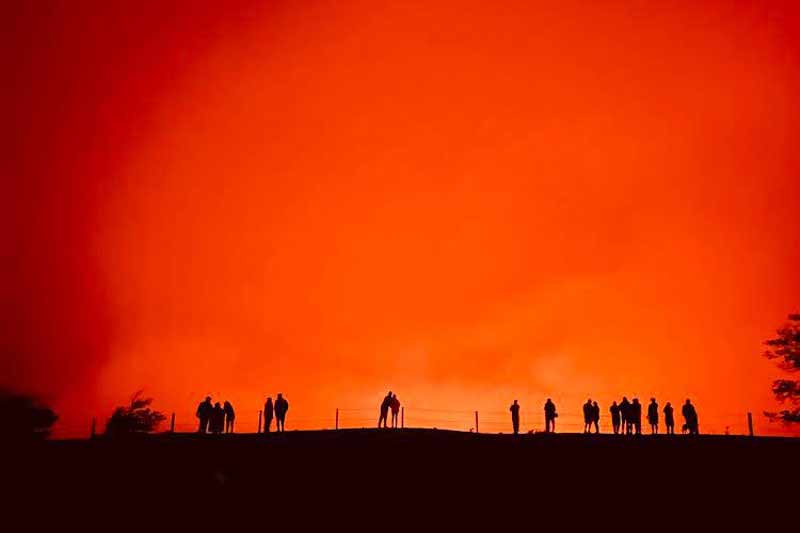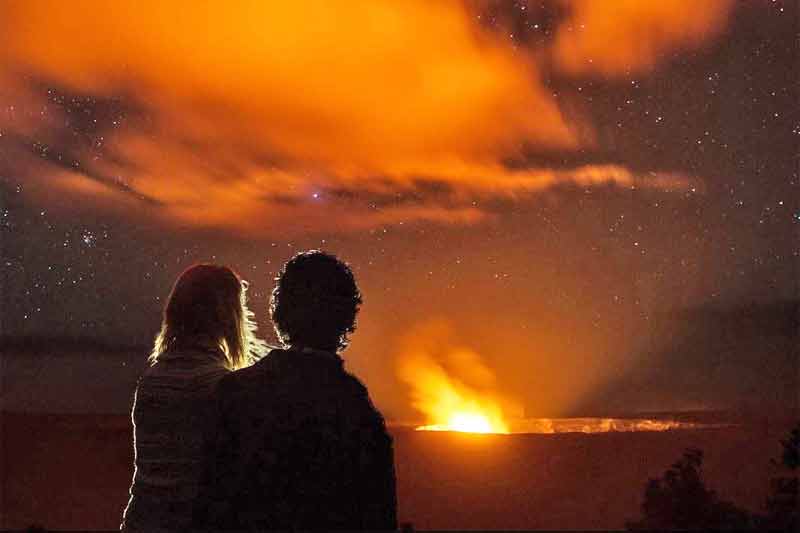 ---
LAVA UPDATE: Lava returned to the summit crater of Kilauea Volcano on September 29th, 2021. With this new phase of the eruption it is currently possible to see the glow of red hot lava in the twilight sky so this tour time has been adjusted to allow for this viewing opportunity. This tour is currently starting around 10:30am and includes lunch and dinner, with return to the Kona area around 10:00pm. If there is a pause in the eruption and lava is no longer visible for several days, the tour will return to a 7:30am start time and include breakfast and lunch.
---
Highlights
Long tour ... 11-12 hours including round trip transportation from Kona
Total of 2-3 miles of hiking during several stops on the tour
Twilight tour includes lava viewing from the Kilauea Caldera rim
Informative professional interpretive guide who knows the volcano
---
Description
The geologic creation of the Hawaiian island chain, a timeless battle between the elemental forces of fire and water, is one of the world's greatest natural history stories. There's not a better place on earth to witness and understand the awesome nature of volcanoes than at Hawaii Volcanoes National Park. At the park you'll see splendid native rain forests, discover remarkable volcanic formations and a diversity of geography and climate. Through detailed geologic and natural history interpretation, small walks, and driving, you will explore and learn about the world's most active volcano. Evidence of Kilauea's activity is everywhere in the park; you'll see, feel and smell steam vents where vapor is escaping the ground and if lava is visible from any of the overlooks or on a short hike this tour will include lava viewing.
The May 2018 Lower East Rift Zone eruption caused sudden and enduring changes, not only in the areas affected by the active vents and flowing lava, but also at the Kilauea Summit inside Hawaii Volcanoes National Park. Numerous small earthquakes and ground collapses forced the park to close for several months. Now that Kilauea has gone quiet, the park has reopened and Hawaii Forest and Trail now offers the Kilauea Volcano Unveiled tour to give you a look at the changes that have happened in 2018!
There is no better way to explore the park than in the company of one of Hawaii Forest and Trail's Interpretive Naturalists. They will show you the "must see" places within the park while you learn about their geological and historic significance. You'll really get an idea of how big the Big Island is during the course of this 11-12 hour full-day tour. And you'll appreciate that someone else is doing the driving. Starting from Kona, you will travel up the coast over desolate lava flows for about a half hour before proceeding up the rolling pasturelands on the flanks of Mauna Kea. Turning onto the Saddle Road that traverses the island between Mauna Loa and Mauna Kea, you'll see a dramatic and diverse landscape of ranchland, sub alpine dryforest and rainforest, with striking features such as cinder cones, lava flows, lava tubes and kipukas. Continuing on, you will drop down to near sea-level on the way through Hilo where you begin the final climb to the summit of Kilauea and the lush entrance to Hawaii Volcanoes National Park.
On this in-depth park experience, your interpretive guide will illuminate the historic events that recently changed the landscape of Hawaii Volcanoes National Park forever! Learn about the magma chamber, and how its sudden draining away of lava caused the entire summit area of Kilauea to deflate and how the crater changed in size. The tour will also include visiting a privately-owned lava tube cave that is not open to the general public. This cave was formed when a lava flow cooled on the outside, and then lava from the inside drained out the bottom.
During the park experience you'll enjoy 2-3 miles of moderate hiking around the park's dynamic terrain. The exact hiking route will vary depending on weather and volcanic conditions. By the end of the day, you'll have traveled over 300 miles and experienced an elevation change (the tour goes up and down a few times!) of over 30,000 feet.
---
Cost
Kilauea Volcano Unveiled Rate (HFT8s/p)
$245.00 per Adult, $220.00 per Child (8-12) (plus 4.712% Hawaii sales tax)
---
Location
Guests staying in the Kona Downtown area meet at the Hawaii Forest and Trail Store: GPS Address: 73-5593 A Olowalu St., Kailua-Kona, HI 96740 Click to view map
---
Guests staying in the Waikoloa area meet at the Queen's Marketplace Shopping Center: GPS Address: 69-201 Waikoloa Beach Dr, Waikoloa, HI 96738 Click to view map
---
Details
Schedule: Monday, Tuesday, Thursday, Friday, and Saturday
Duration: About 11-12 hours depeding on your accommodations.
Maximum Group Size: 14 guests
Pickup: Meet at the Hawaii Forest and Trail Kona location at 10:30am, or pickup in the Waikoloa Beach area around 11am. This is the schedule for the "twilight" version of this tour. If lava glow is no longer visible at twilight, the tour will switch to the "day schedule" which starts at 7:30am.
What to Wear: Comfortable walking shoes, long pants, and a light jacket. Close toed shoes are required.
Gear Provided: Day packs, flashlight and helmet (for the lava tube), walking sticks, and rain ponchos (if needed)
Tour Includes: Meals, beverages, National Park entrance fees, water
Restrictions: Guests should be in reasonably good physical condition and able to hike on uneven or rocky terrain. This tour sometimes encounters cool, wet, or muddy conditions. Not recommended for anyone with breathing issues as volcanic emissions, including sulfur gas, may affect those with respiratory concerns.
Reservations: Advanced reservations required and we recommend booking this a month or more before your arrival. This event is "RESERVE NOW PAY LATER"; we need a credit card on file to finalize your reservation but we do not charge you for your space until a few days before the beginning of your vacation!
Minimum Notice for Cancellations / Changes: At least 48 hours before the start of the event.
---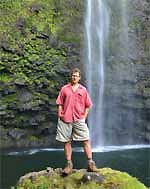 Kevin's Activity Tips:
I can't imagine going to the Big Island and not making the trip down to see the active volcano. Even on days when lava viewing is not possible the evidence of recent volcanic activity is everywhere. You'll see steam vents and smell sulfur in the air. This park is rich in history too.
The drive to Kilauea from the Kona side of the island takes about three hours each way. Having someone else do the driving for you while you are free to look out the window and take in the view is something that you will very much appreciate. Your guide will not only drive for you … you'll also LEARN about what you are looking at out the window. You'll come away with an understanding of how the Hawaiian islands were formed and gain a great appreciation for our unique climates and eco-system.
This tour does have a decent amount of walking / hiking inside the park with a total distance of between 2 and 3 miles. If you'd like a tour of Kilauea that has less walking, take a look at the Twilight Volcano and Stargazing Tour which we also have listed under the Volcano Tours menu.
Occasionally we get clients who are staying in Hilo and ask about this tour. The price of this tour includes round trip transportation from the Kona / Waikoloa area. We don't recommend this tour for people who are staying in the Hilo area. If you are staying in Hilo you are only 35-40 minutes away from the volcano and you are better off just driving there in your rental car. Admission to the national park is $30 per vehicle and there are visitor's centers, films, exhibits, and lots of rangers to assist you in answering questions during your visit to the park.
One of the advantages of doing this tour is the benefit of having an experienced guide with you to lead you out to the active lava flow if there is red hot lava accessible. You'll have the confidence to experience the lava firsthand knowing that the guide knows where it is safe and where it is not safe to go.
The summit area of Kilauea underwent massive changes during the eruption that started in May of 2018 (and ended three months later). The eruption vents were miles "downstream" on the Lower East Rift, and the vents issued profuse rivers of lava that covered 13.7 square miles of land, destroyed more than 700 homes, wiped the Kapoho vacationland and tidepools off the map, and created 875 acres of new land where there used to be ocean. All that lava drained from the Kilauea Summit magma chamber, which caused dozens of tremors everyday as the summit deflated and the "bottom dropped out" of the Halemaumau Firepit. For most of the last 10 years a lava lake was found in this crater. During the 2018 eruption, the crater DOUBLED in size and TRIPLED in depth, swallowing the old Halemaumau Overlook parking lot and chunks of road along with it! No worries … this road had been closed since 2007, but it is a very strange feeling for those of us who visited Kilauea prior to 2007 to see sections of road where we once drove are now lying 1500 feet below where they used to be!!!
The fall of 2018 saw a pause in lava activity, and after a two year hiatus lava returned to the summit in December of 2020. In the summer of 2021 the lava paused, but then returned again on September 29th 2021 … as of this writing all the lava is currently contained inside the summit caldera and is not approachable but the glow of the lava at twilight and after dark paints the steam cloud a brilliant red color and as of this writing in December 2021 the glow is visible on this tour almost every evening!. Historically lava viewing conditions change quickly at Kilauea though… it is sometimes possible to get close to the active flow, but not always. Obviously there is no guarantee that you will see red hot lava on this tour. Sometimes the closest lava is miles from the nearest road and the hike just isn't possible in the time constraints of this tour. Other times lava can be viewed with a short 10 minute walk. And other times the lava is no where to be seen, but the ongoing steam vents and smell of sulfur in the air are a constant reminder of what lies just below the surface.
One final consideration … alcohol is not permitted on these tours. We recently had some clients show up with a cooler of their favorite adult beverage and the tour operator did not permit the cooler to be brought on board. You can't drink alcohol in the tour vehicle per Hawaii vehicle laws, and the tour operator is also concerned about the increased risk of a slightly tipsy individual falling while walking across lava field. Lava is basically rock made up of tiny glass particles and it HURTS if you fall on it!