Helicopter Tours from Hilo
---
Helicopter Tours from Hilo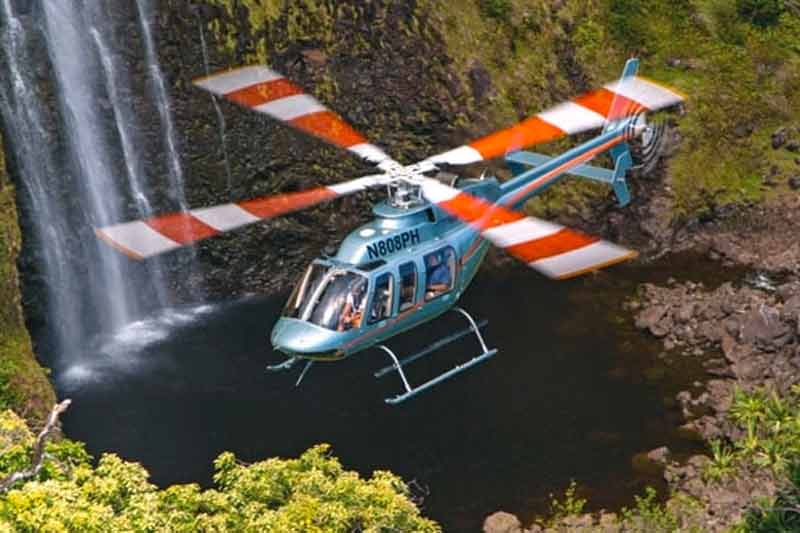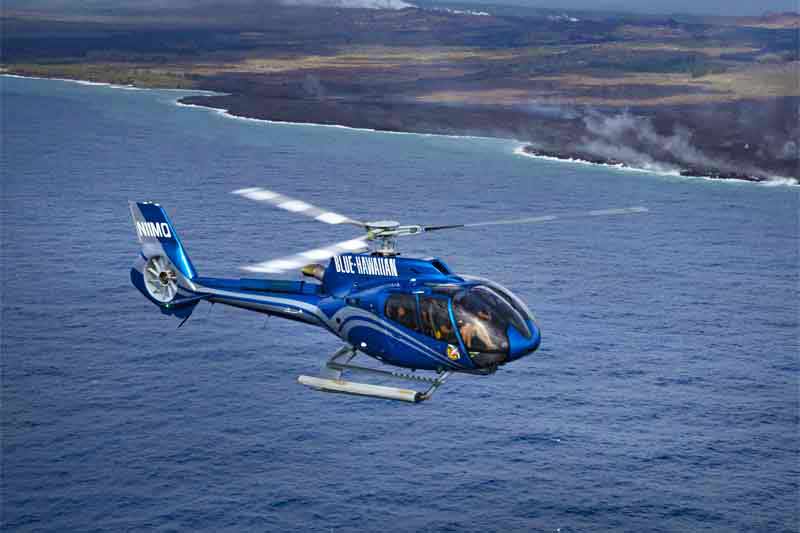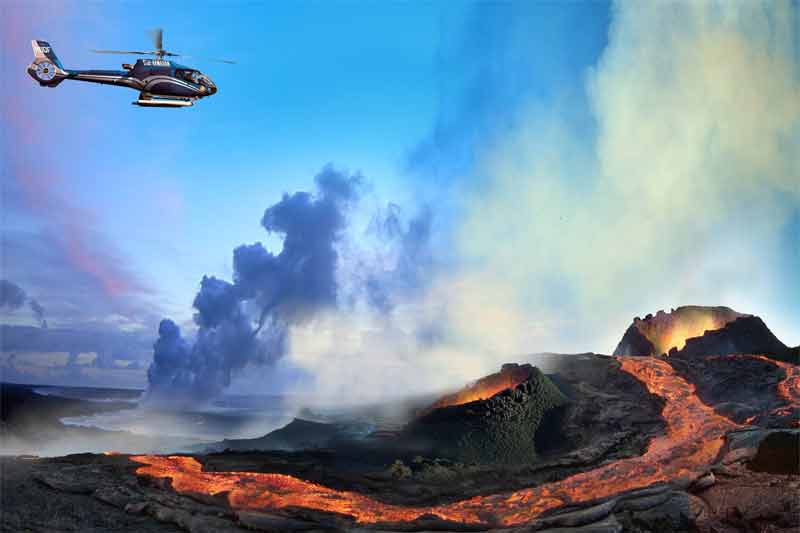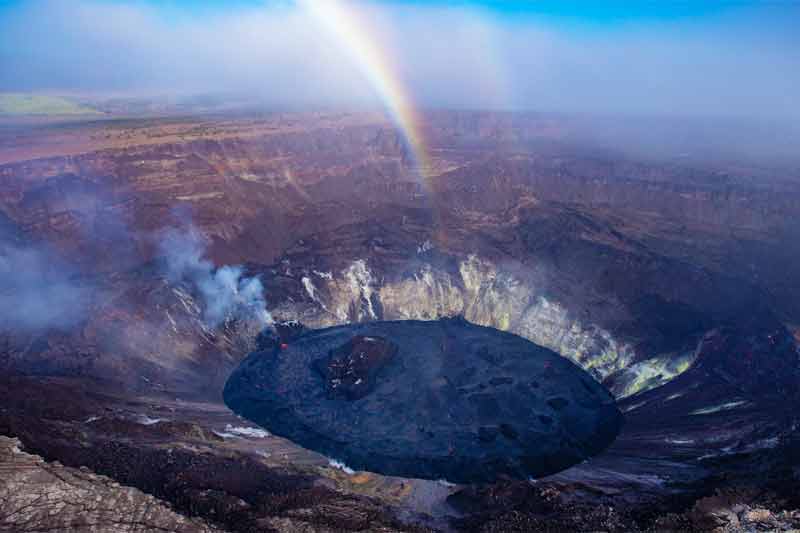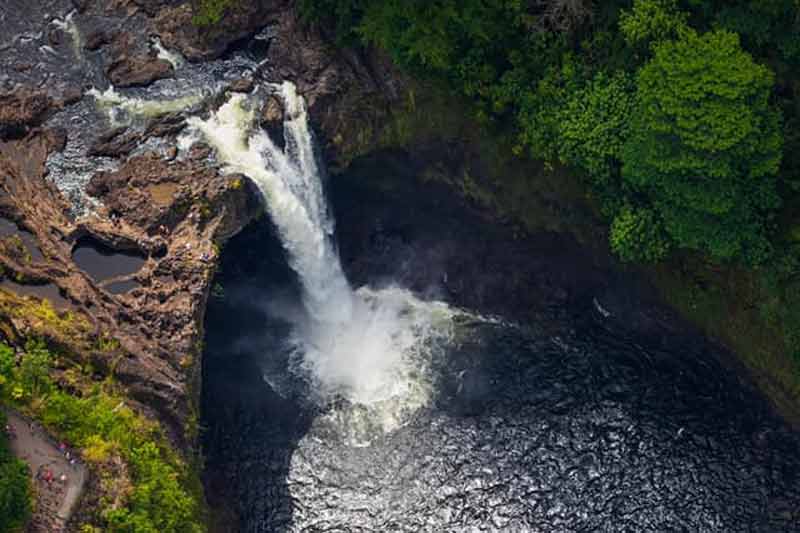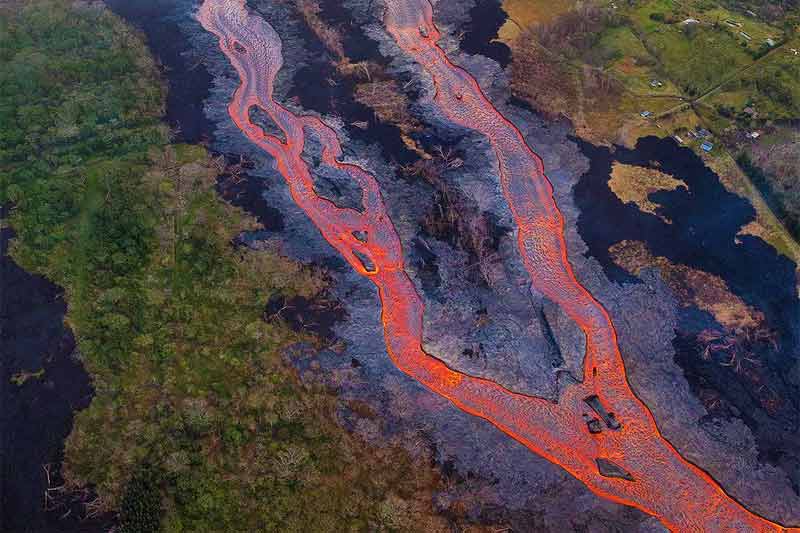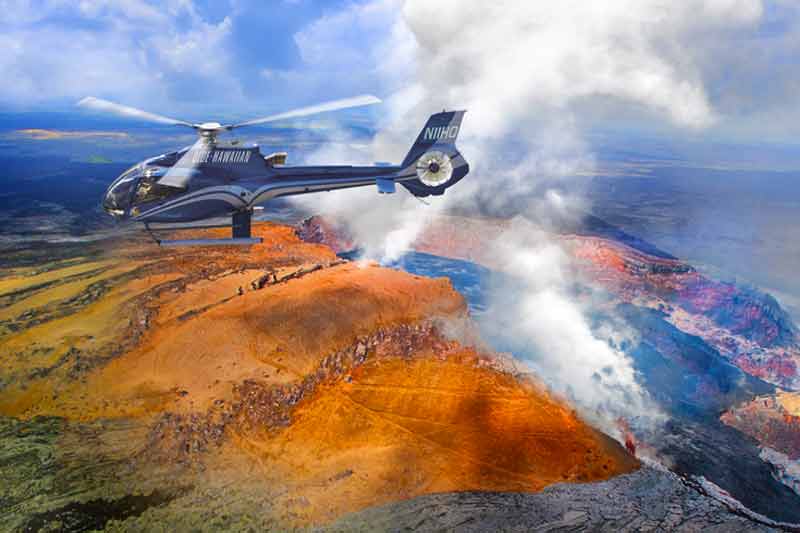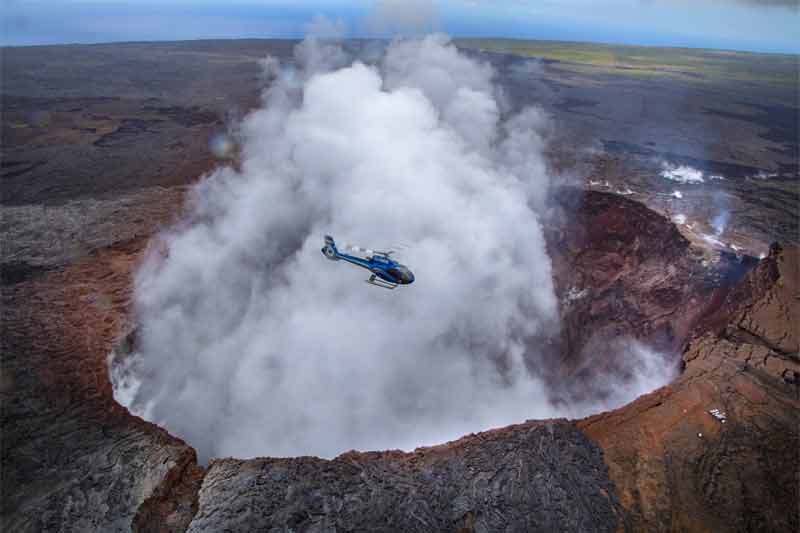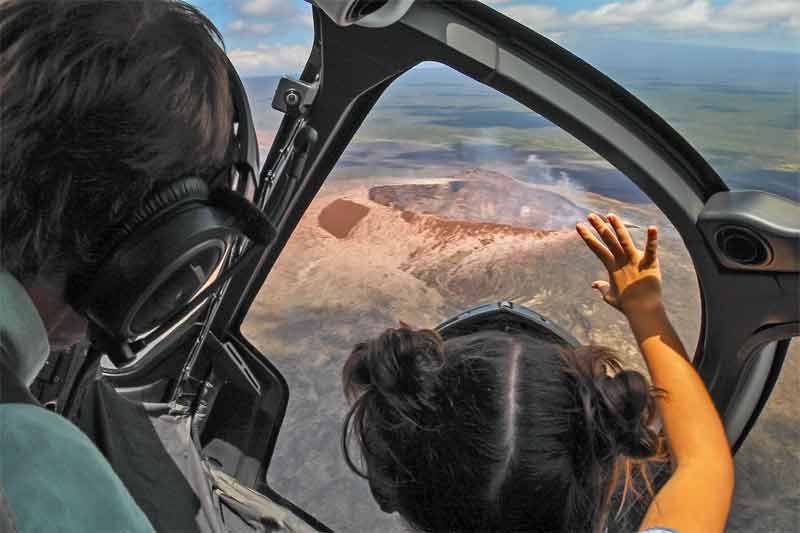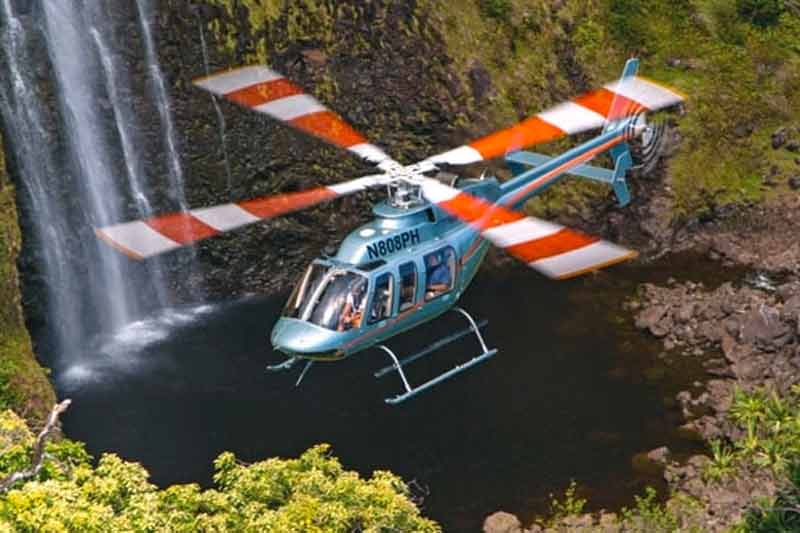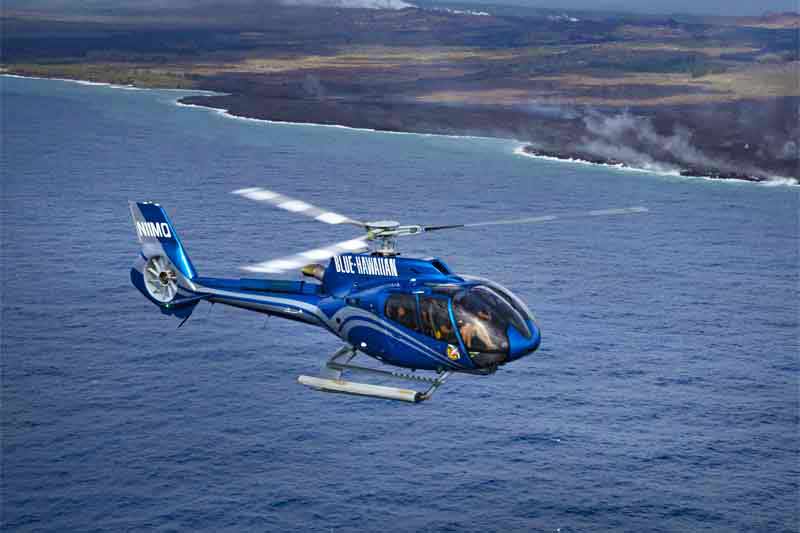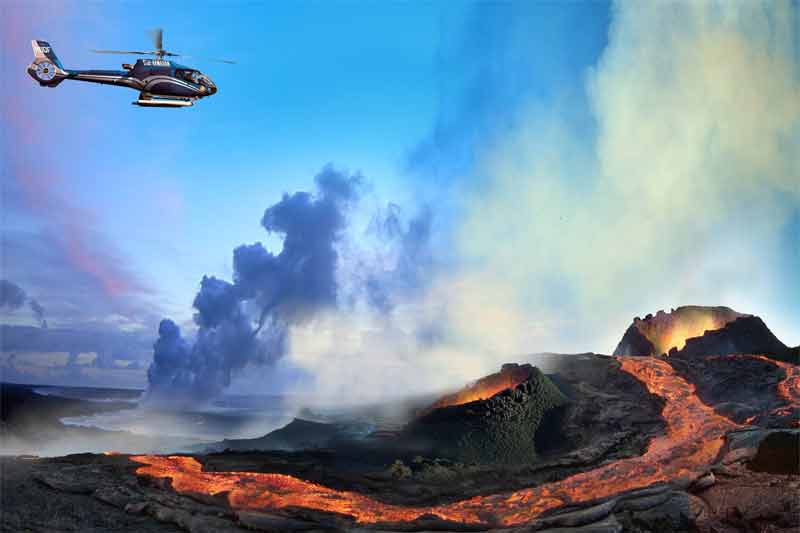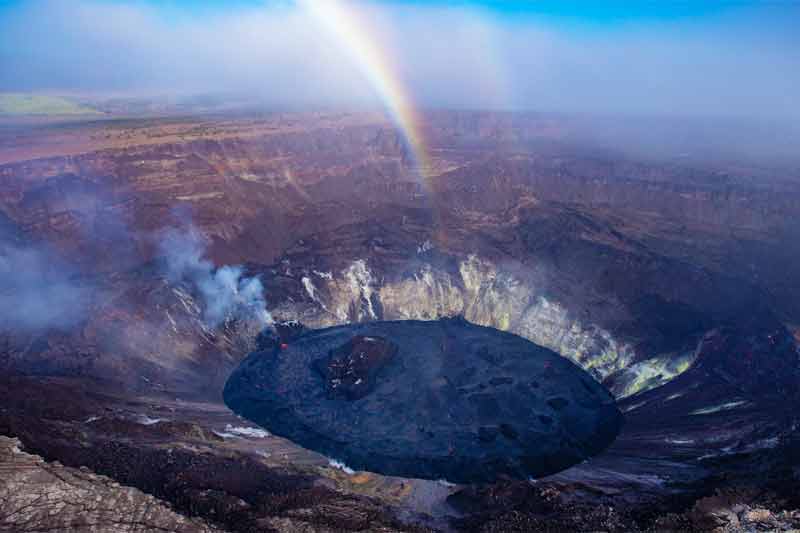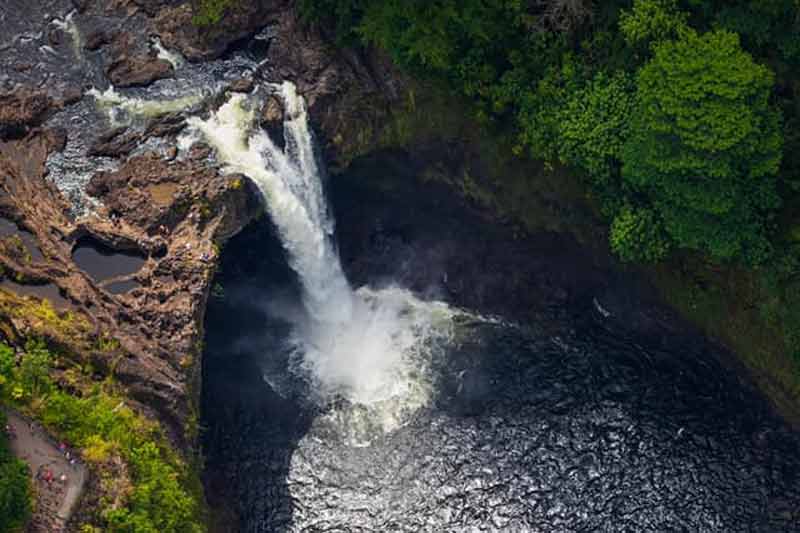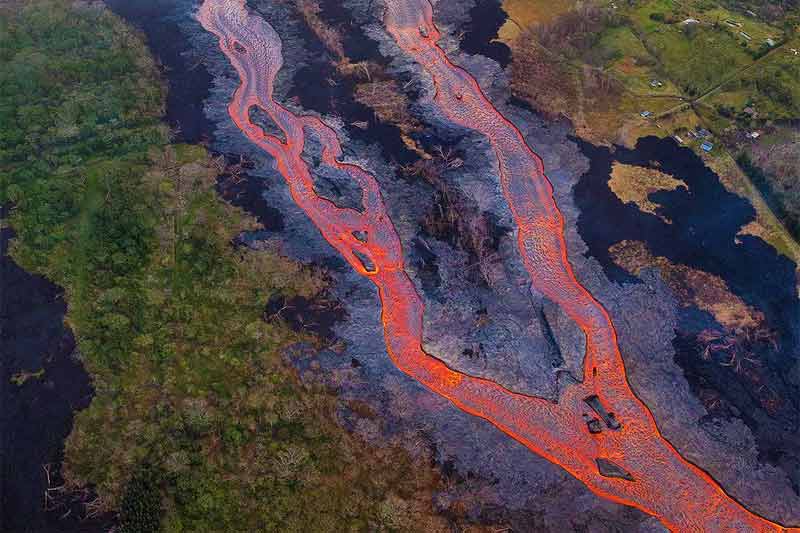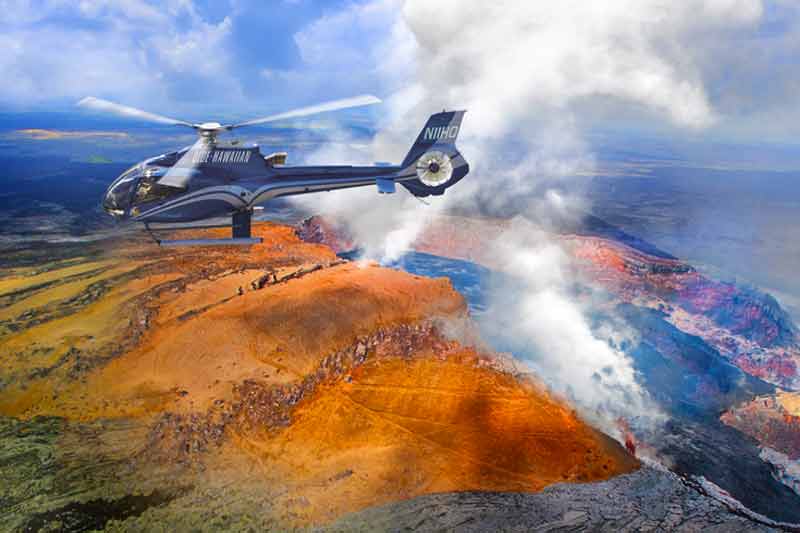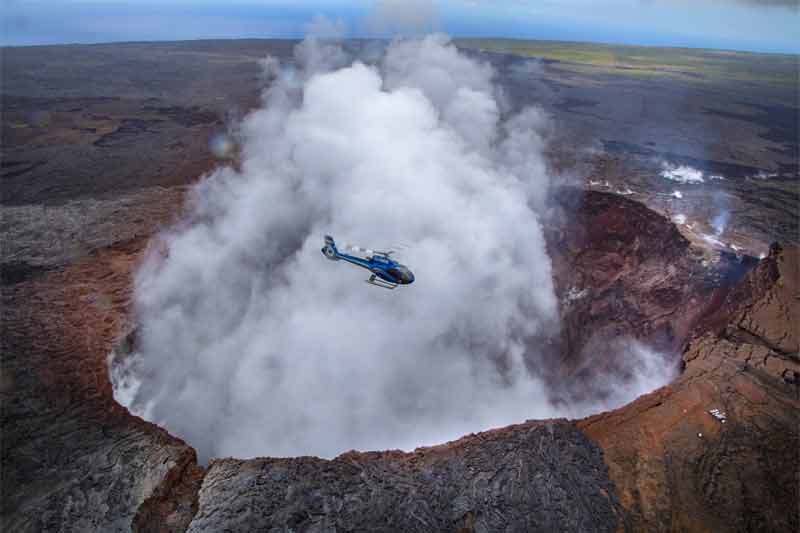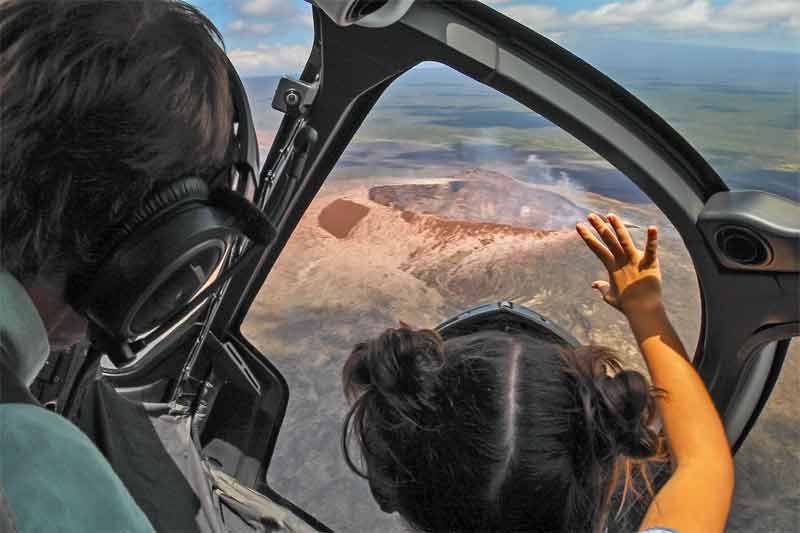 ---
Highlights
Flights are just under an hour
Current and recent volcanic activity seen
Beautiful waterfalls on ourskirts of Hilo
Two helicopter companies available in Hilo
---
Description
Kilauea Volcano is the most active volcano in the world and it has been continuously erupting from 1983 to 2018, paused for 2019, and erupted again in December of 2020! The Hilo airport is just minutes away from the devastating flows of 2018 that forever changed the Puna area landscape. An aerial perspective of the volcano will give you an appreciation for how Hawaiian shield volcanoes create and sculpt the land. And with the new eruption at Kilauea's Summit, once again it is possible to see active lava on these helicopter tours. And while the volcano is the major attraction on these flights, there are also several beautiful jungle waterfalls on the outskirts of Hilo that are seen on these tours!
---
---
BLUE HAWAIIAN HELICOPTERS
Circle of Fire with Waterfalls: 45-50 minutes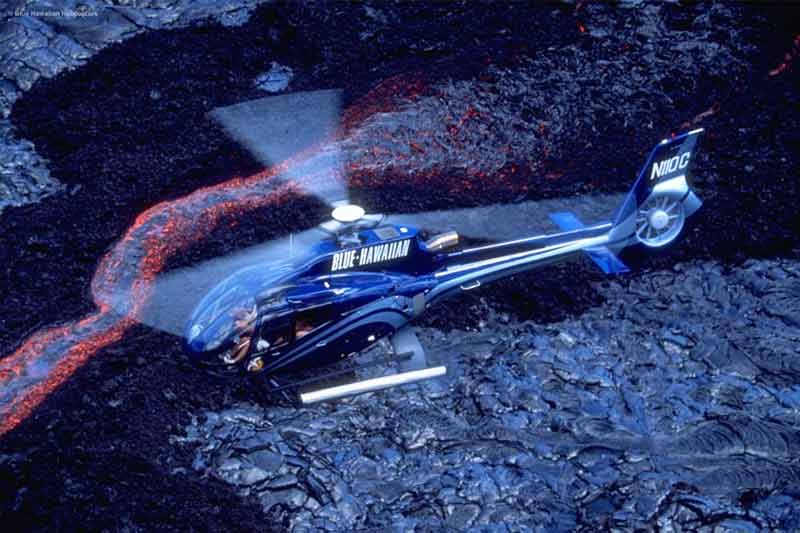 Experience Kilauea with Blue Hawaiian Helicopters, the only company that has helicopter tours on all four major Hawaiian islands! The massive eruptions of the world's most active and unpredictable volcano have changed the face of the Big Island in spectacular ways. On the Circle of Fire helicopter tour, you'll embark on a breathtaking adventure, seeking out the island's unique rainforest, newly formed landscapes and black-sand beaches, and witnessing the results of Madame Pele's incredible volcanic activity—scenes of nature's raw power that you'll never forget! Your flight will be narrated by a pilot who is also a State of Hawaii Certified Tour Guide. Flights are done in the state-of-the-art Airbus EC130 "Eco-Star" touring helicopters which seat 6 guests plus the pilot.
Weight Restrictions: Due to spatial and weight limitations of the helicopter, Blue Hawaiian guests who weigh over 240 pounds must purchase a "comfort seat" which is 50% of the regular total seat price.
Circle of Fire from Hilo Rate (BHH9)
$379.00 per Passenger (Hawaii sales tax included)
---
PARADISE HELICOPTERS
Lava and Rainforest Adventure: DOORS OFF 55 minutes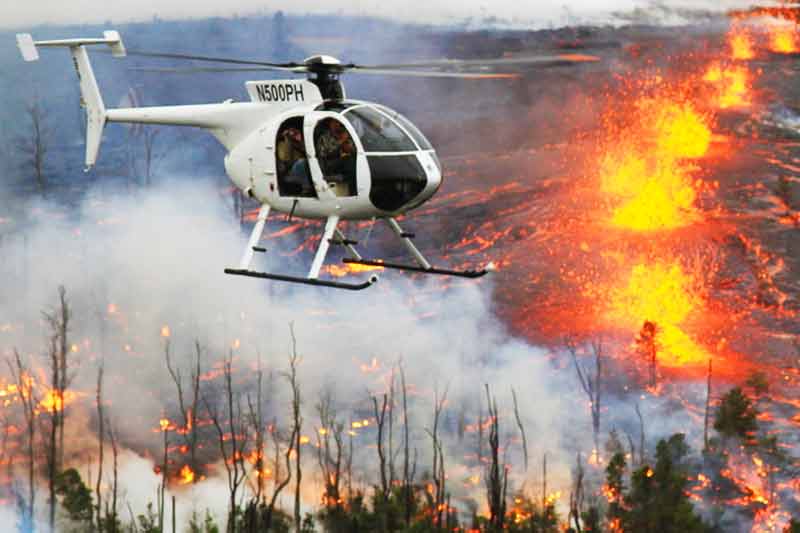 Your adventure begins with checkin and a safety briefing at the Hilo Airport general aviation tour area in Terminal 2. Your flight departs from the airport en route to the Kilauea crater and offers views of Hilo Bay, tropical rainforests of Puna, and the world famous Mauna Loa Macadamia Nut Farm. You'll fly DOORS OFF on a 4 passenger Hughes 500 aircraft, which gives you the chance to experience the volcano with ALL your senses during your flight! It is a thrilling experience to fly over this rugged volcanic landscape with nothing between you and the steaming landscape below!
Shortly after leaving the Hilo Airport you'll see recent areas of activity including the devastating flows of 2018 where rivers of new lava flowed into the ocean from new vents that opened in the Puna area. You'll see Pu'u O'o, the volcanic vent that was the focus of nonstop volcanic activity from 1983 to 2018. And with the new eruption at Kilauea's Summit, the length and range of this flight has been extended by 10 minutes so that you can witness the active vent inside the Halemaumau fire pit at the Summit Caldera area of Volcanoes National Park. On your return to Hilo you'll see beautiful Rainbow Falls and other cascades of northern Hilo.
This DOORS OFF flight has very limited availability and only operates on Monday, Tuesday, Wednesday, and Thursday. We HIGHLY recommend that you reserve this at LEAST a month prior to your arrival in Hawaii.
Weight Restrictions: Due to spatial and weight limitations of the helicopter, Paradise Helicopters guests who weigh over 270 pounds must purchase an additional seat and you are guaranteed a window seat during the flight.
Doors OFF Lava and Rainforest Hilo Rate (PH1)
$474.00 per Passenger (Hawaii sales tax included)
---
Lava and Rainforest Adventure: DOORS ON 55 minutes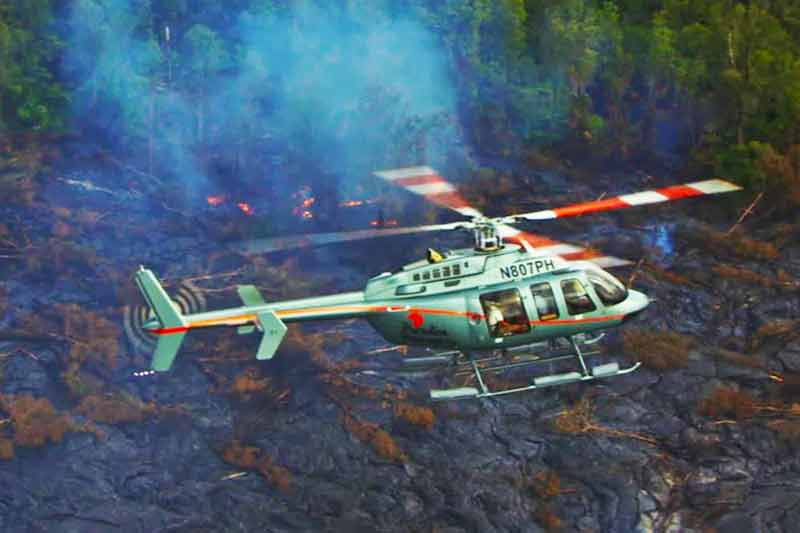 A similar flight plan to the DOORS OFF helicopter, but you will fly in a 6 passenger Bell Ranger, a luxurious climate-controlled aircraft with 5 out of 6 passenger seats along the window (and the one that isn't along a window has the advantage of an equally good view out of both sides of the helicopter).
This flight is available daily from the Hilo Airport. Advanced reservations are required and we recommend you book this flight at least several weeks prior to your arrival in Hawaii.
Weight Restrictions: Due to spatial and weight limitations of the helicopter, Paradise Helicopters guests who weigh over 270 pounds must purchase an additional seat and you are guaranteed a window seat during the flight.
Doors On Lava and Rainforest Hilo Rate (PH2)
$399.00 per Passenger (Hawaii sales tax included)
---
---
Details
Schedule: Daily departures from Hilo Airport.
Checkin: 30 minutes prior to your flight time at Terminal 2 of the Hilo Airport.
What to Wear: Passengers should wear comfortable clothing and dark colored shirts to reduce glare on the windows.
Requirements: Weights and heights for each guest are required at the time of check-in. Staff may ask to check your temperature to ensure you are not exhibiting symptoms. Guests over the age of 5 are required to wear a protective face mask (covering the nose and mouth) before, during and after the flight. Please let us know if you have a medical condition preventing you from wearing a mask.
Infants: There is no minimum age for these flights. The fare rules are the same as for airlines. Children under the age of 2 are free in a lap, and children 2 and older pay regular fare and receive a seat in the helicopter.
Reservations: Advanced reservations required and we recommend booking this a month or more before your arrival. A credit card is required to secure your space. Paradise Helicopters and Blue Hawaiian Helicopters charge your credit card at the time your seats are reserved.
Minimum Notice for Cancellations / Changes: At least 48 hours before the start of the event.
---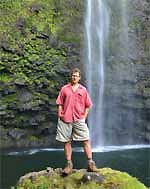 Kevin's Activity Tips:
Yes, helicopter tours are expensive. Honestly though, people don't come to Hawaii to save money. They come in search of the complete Hawaiian experience. The reality is that there is so much beauty in Hawaii that cannot be seen in any other way except from the air, that the high cost of helicopter tours becomes worth it for those who seek the ultimate in their vacation experience. When you consider the thousands of dollars spent on airfare, meals, and accommodations on a Hawaii vacation, it only makes sense to spend a few hundred dollars more and REALLY see the island while you are here.
These helicopter tours depart from the Hilo airport. Hilo is close to the Kilauea Volcano and flights from Hilo are the most affordable way to see the active volcano from the air. If you are staying in the Kona or Waikoloa resort areas, you'll have a long drive to get to Hilo. The advantage of having your own rental car is that you can also drive up to see the volcano from the ground after doing your helicopter tour. Allow an entire day for the drive to and from this side of the island from the Kona side. Give yourself PLENTY of time there. The most scenic route from Kona is to go through Waimea town, through Honokaa, then down the Hamakua Coast. I'd recommend stopping at Akaka Falls State Park along the way. If you are taking this route, the best flight time is to do early afternoon. The QUICKEST way to get to Hilo is over Saddle Road. The road has greatly improved in the last few years and if you go this route you can do a mid-morning flight time. This will give you more time to see Kilauea from the ground after your flight, even allowing some time for hiking in the park.
Seating is assigned in the helicopters based upon body weights and the best balance of the aircraft. While it is possible to pay a little extra to guarantee particular seats, we find that the cost is not worth it. If you request a particular seat and you don't fit the weight and balance profile for that seat on that particular flight, you'll get moved to another seat anyway (and the upgrade fee will be refunded). If you do fit the weight and balance profile for that seat, the chances are good that's where you'd end up sitting anyway …without paying extra.
Which helicopter tour company to fly with? Well, it might come down to going with whichever company is available on the date that you want to fly. The experience will be pretty similar either way. Both Paradise Helicopters and Blue Hawaiian Helicopters seat six passengers. There is a difference in the configuration though. With Blue Hawaiian two guests sit up front with the pilot, then four people sit in the second row. There are two seats that are not along a window. With Paradise Helicopters there is one seat next to the pilot, then two people sit along windows in row two (facing rearward) and three seats in the third row (facing forward). Five out of the six seats are window seats, and honestly the seat that ISN'T a window seat has good views out of both sides of the aircraft. Personally, I'd prefer to sit in the non-window seat on Paradise Helicopters than in the non-window seats with Blue Hawaiian. Blue Hawaiian's flight is a few dollars less expensive, and about 5 minutes shorter. You probably won't notice a difference in the flight times though. Some people find the concept of the two seats that face the rear with Paradise Helicopters a little odd ... I've flown in one of those seats and it didn't bother me at all.