BIG ISLAND ZIPLINE TOURS
Looking for some thrills on this vacation? All three of these zilpine tours will check that box for you! Two are waterfall oriented, and the third is a "treetops" experience as you zip from platform to platform and cross high suspension bridges.
---
---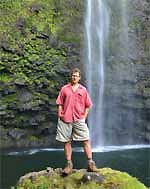 Kevin's Activity Tips:
Big Island Zipline Tours do not require any special levels of upper body strength … guests wear a harness and are clipped into the zip line pulley using redundant lines. When you see photos of zippers holding onto a bar or a strap, it's just for steering purposes to keep facing forward. You don't actually have to hold yourself up! These courses are professionally installed to the highest level of zipline industry standards. Weight restrictions have nothing to do with the ability of the line to hold someone's weight … the lines are engineered to hold the weight of a pregnant elephant! A person who is over the weight limit could come in just a little too fast and create braking issues that could be jarring or dangerous for the guides trying to slow them down. If a person is too light, they may not make it all the way to the other side. This isn't really a safety issue as the guides can easily deploy a line and pull the partially unzipped zipper to the other side … or in the case of Kohala Zipline you can easily get the rest of the way by pulling yourself over. But this process takes extra time and delays the tour for everyone else so weight limits are there for everyone's safety and enjoyment.
The two waterfall-oriented courses are just a few miles from each other on the Hamakua Coast, just a little north of downtown Hilo. Either one will require a rental car to get there if you are staying on the other side of the island in Kona / Waikoloa. They're both great experiences ... I think that Umauma Zipline has the better overall course with multiple lines passing over waterfalls. But Akaka Falls Zipline has the VERY best line ... the last one is truly memorable as you soar above and over the edge of a towering 250' waterfall that is just downstream from Akaka Falls State Park.
Kohala Zipline is a different experience. It is a more "hands on" zipline course as you are an active participant in the experience, meaning you will learn to control your speed and body positioning. You'll also be challenged to traverse bridges, sky stairs, and learn to rappel! This course is located near the northernmost tip of the island near the town of Hawi, a cute town with some nice art galleries featuring local Hawaii artists.