BIG ISLAND ADVENTURES
Fun adventures on the Big Island ... riding horses, ATV's, or hiking to jungle waterfalls! These are experiences for the more active traveler who wants a level of excitement on vacation!
---
---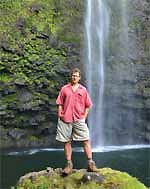 Kevin's Activity Tips:
The activities in this category of Adventure are for a more active traveler than those in the Sightseeing category. For instance, here we have the Kohala Waterfall Hiking which involves (as the name implies) a little bit of effort to get to the waterfalls on some reasonably easy but at-times pretty slippery hiking trails. If you want to see some really nice waterfalls without any hiking, check out the waterfall tour we have listed under the SIGHTSEEING category. That tour is known as the Waipio Valley and Waterfalls Tour, and it goes to several really big waterfalls but doesn't have the level of exercise that is involved with the Kohala Waterfall Hiking tour.
Another aspect to Adventures (as opposed to sightseeing) is the measure of perceived (or real) risk involved. Driving an ATV or riding a horse both have certain uncontrollable elements included. It doesn't happen often, but anything involving a moving vehicle or using a large animal as a means of transportation can lead to an accident that causes injury. The tour operators take every possible precaution to make the event safe for you, but they can't STEER your ATV for you. If you run into a tree you are likely to get hurt. If you fall off a horse you are likely to get hurt. For that reason you will be required to sign a liability waiver prior to participating in any of these tours. For that matter, liability waivers have become omnipresent at checkin for MOST tours these days. Even some luaus are requiring them ... I suppose maybe from the risk of falling coconuts! haha!!! Actually it is because of food allergies.
The bird watching tour falls into this adventure category too. Not because the birds are inherently dangerous but there IS a significant amount of hiking on this tour. Up to 4 miles and 650 vertical feet of elevation gain, so this isn't a good tour for people who want to step out of a vehicle and watch birds. It's a good opportunity to see rare native birds that look really REALLY interesting! Those elaborate colorful red and yellow capes that you see Hawaiian royalty wearing in old pictures? They were made from the feathers of these birds!