Helicopter Tours from Kona
---
Helicopter Tours from Kona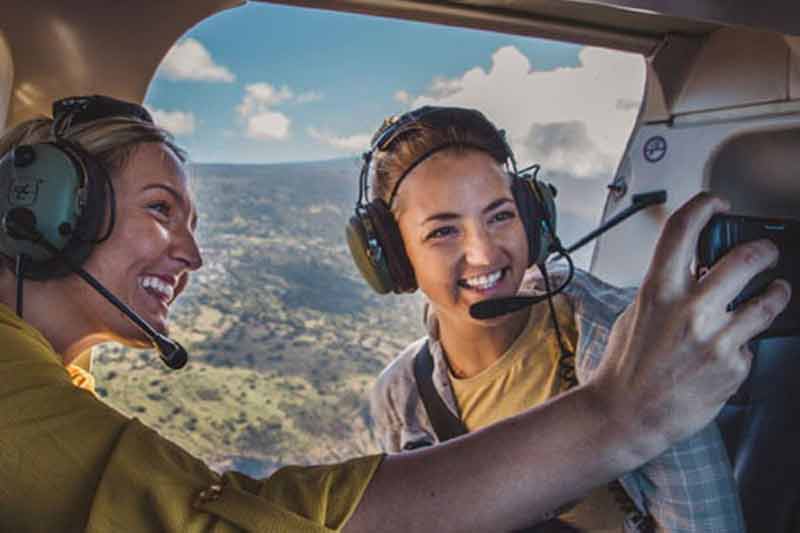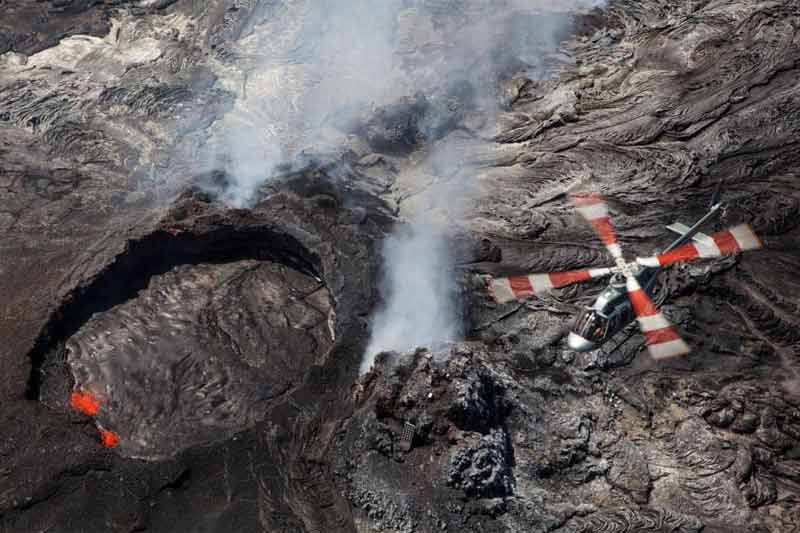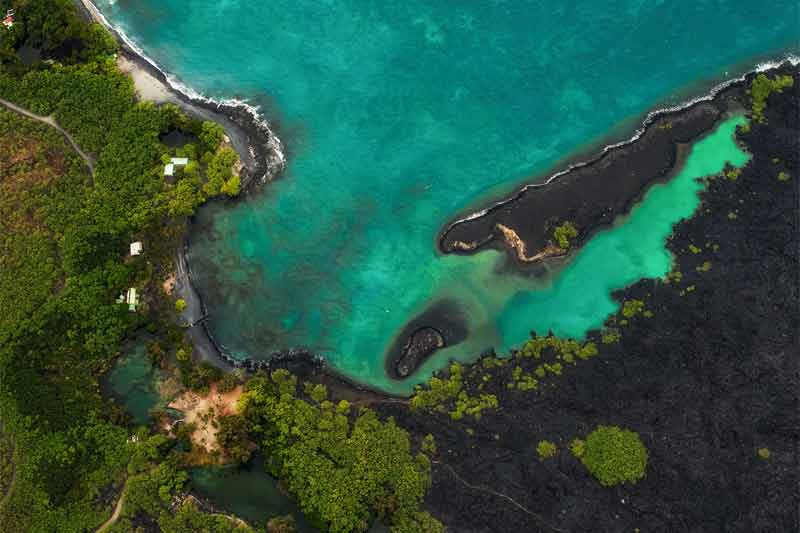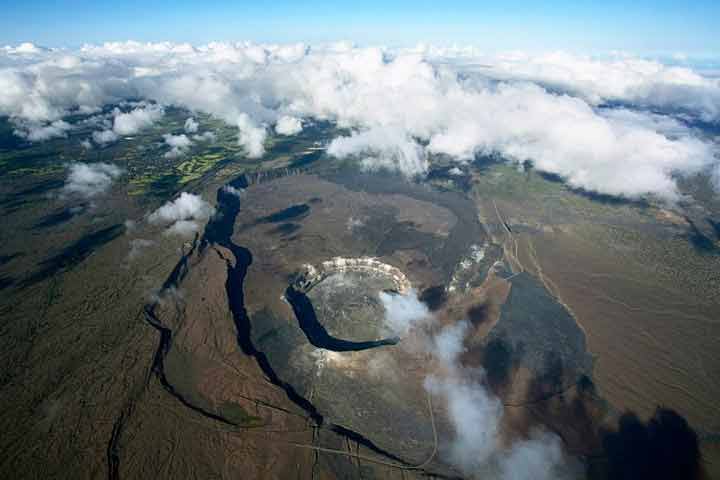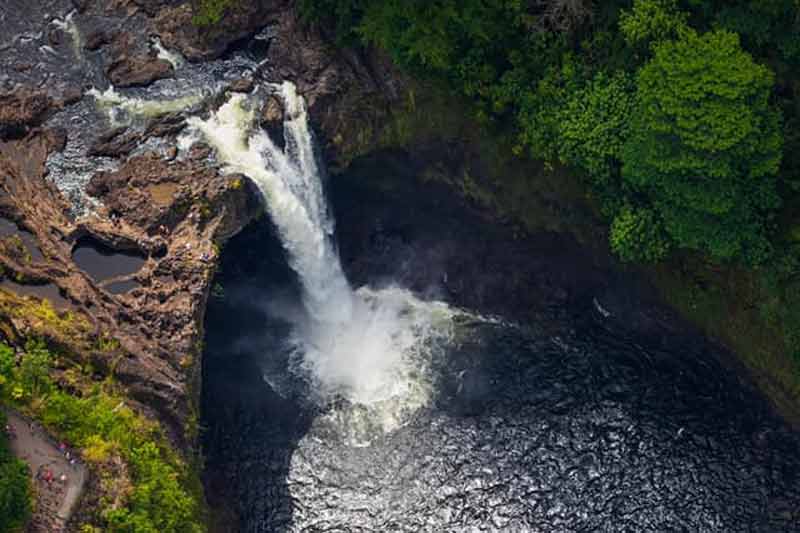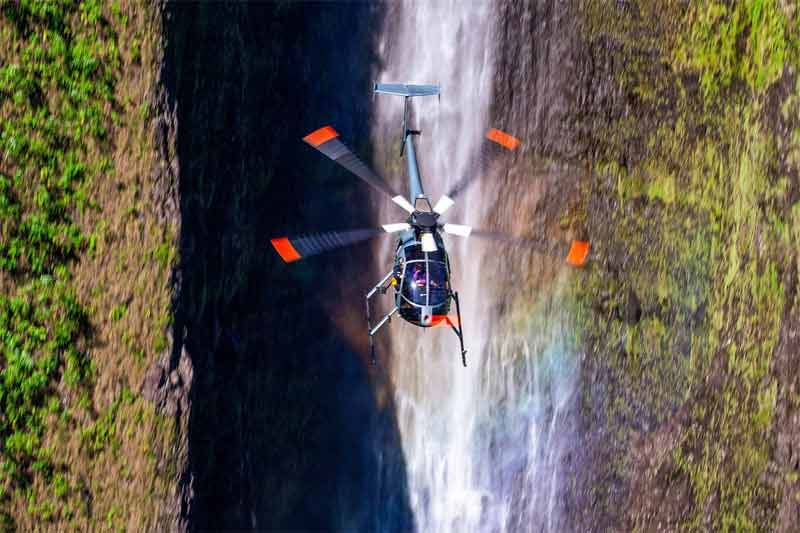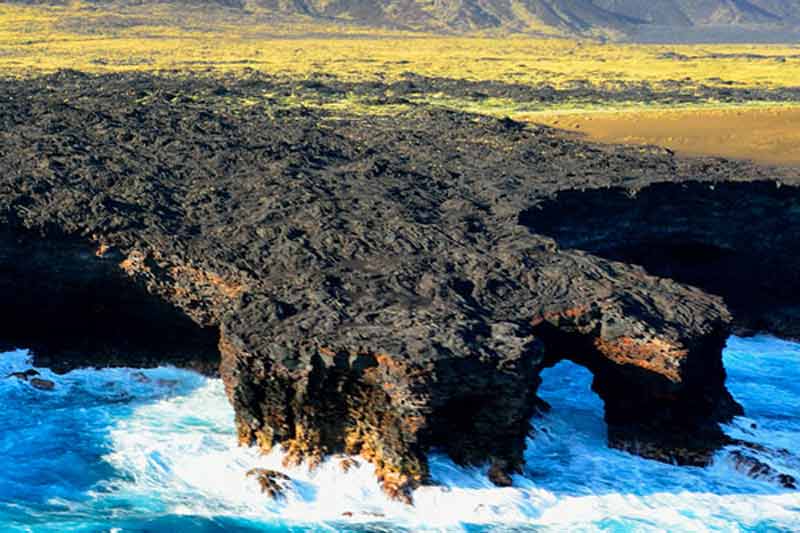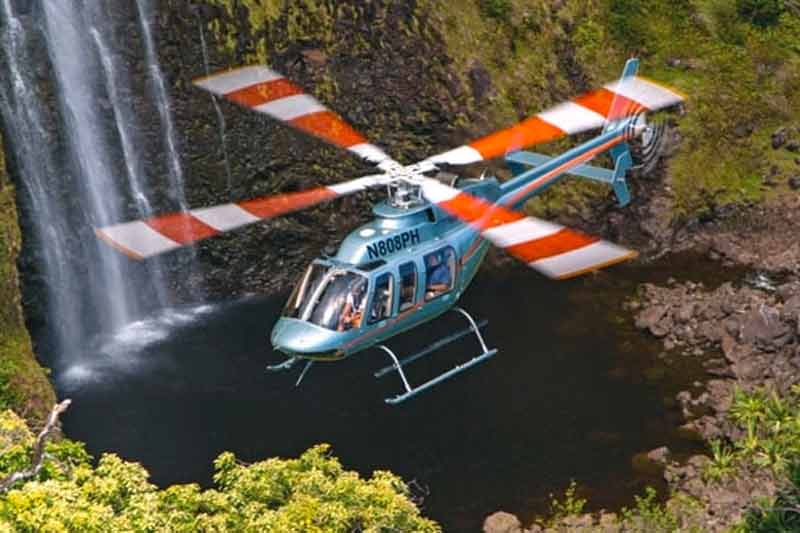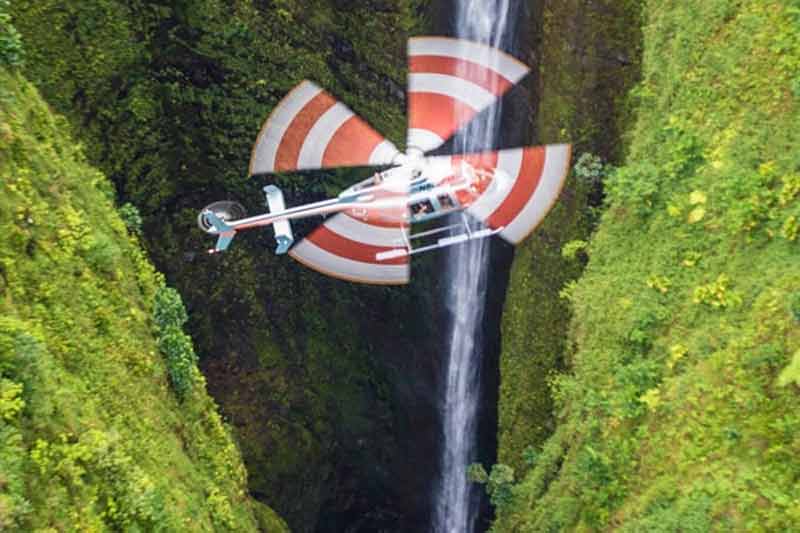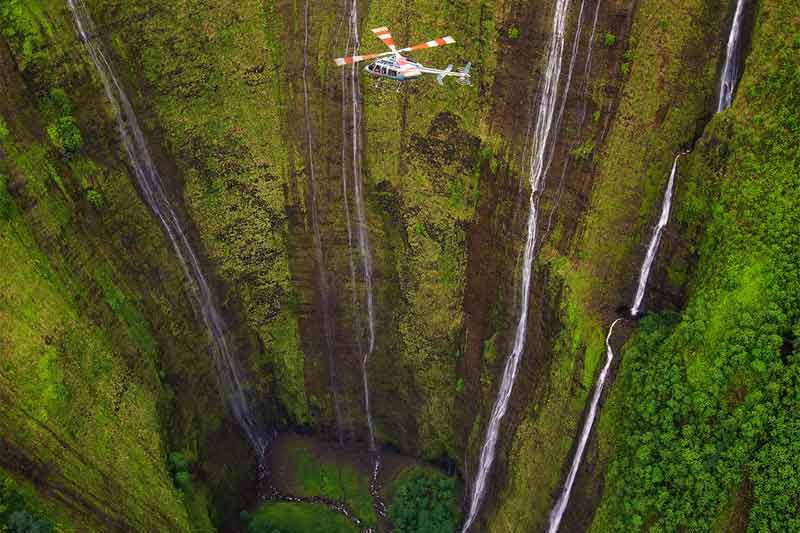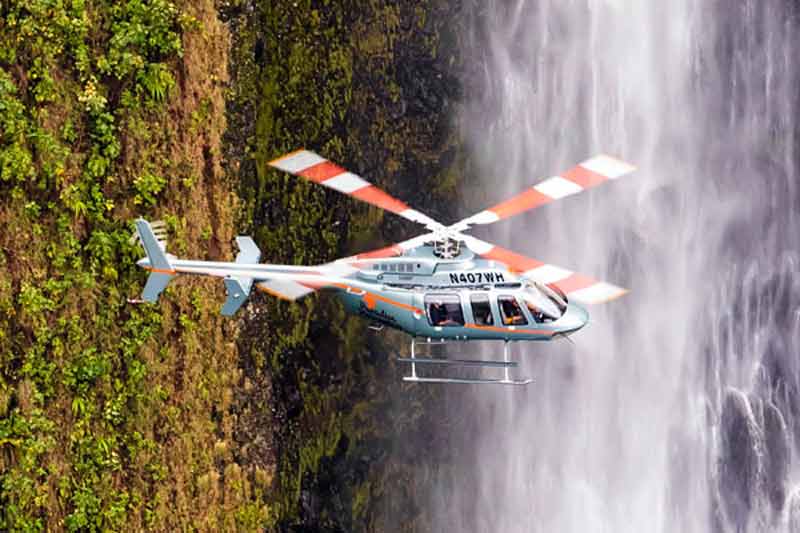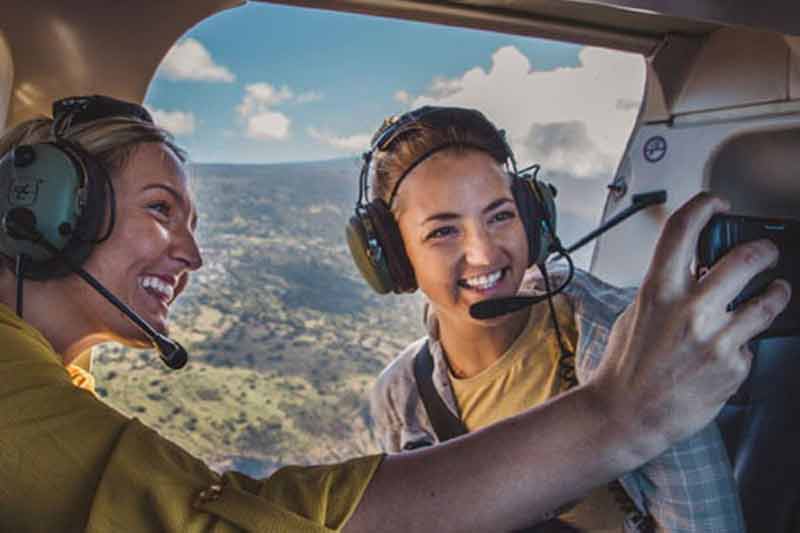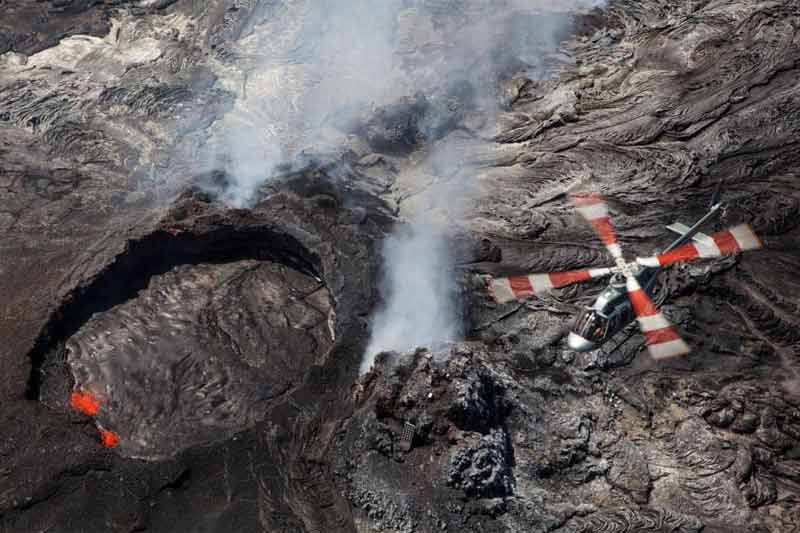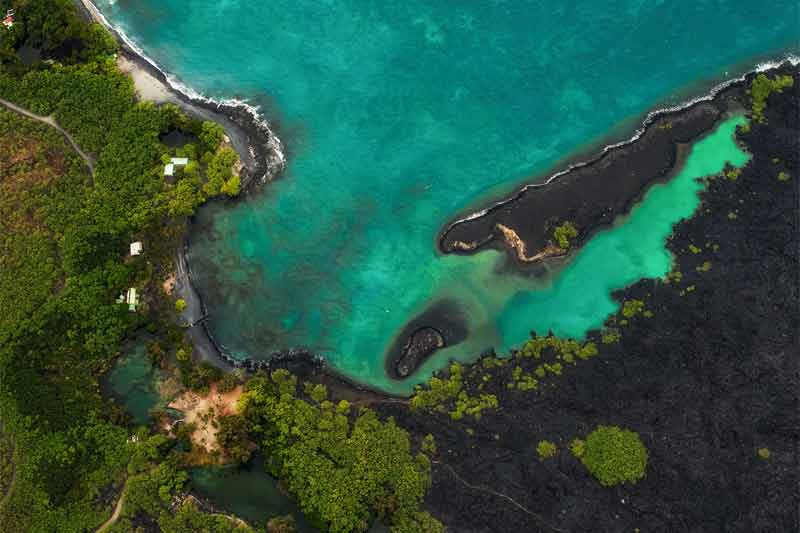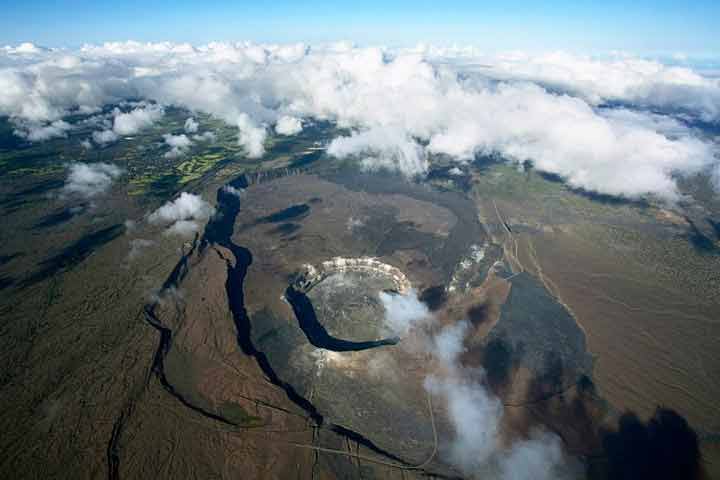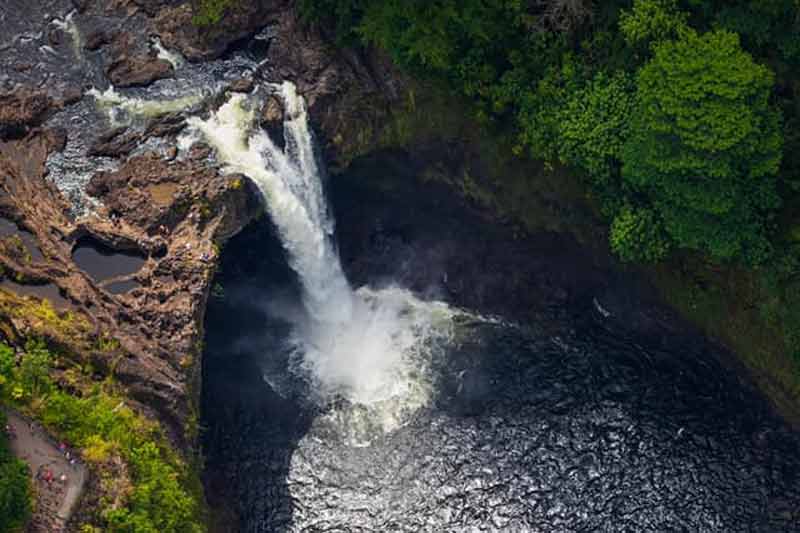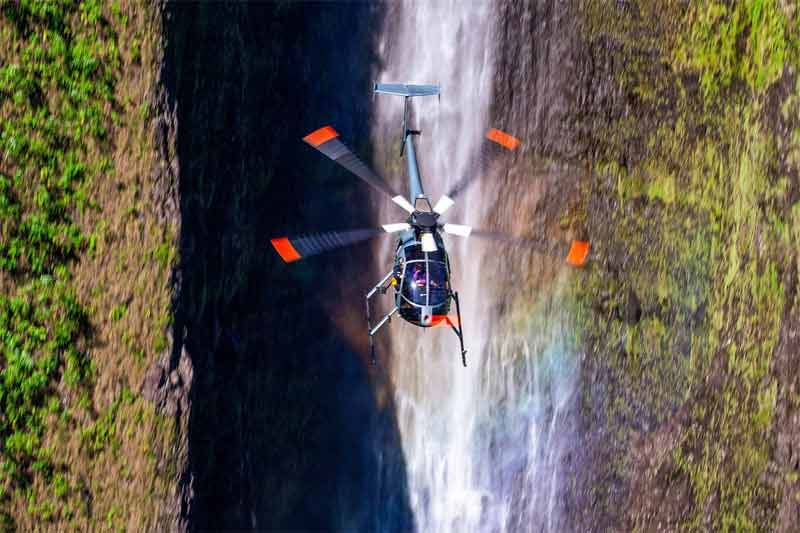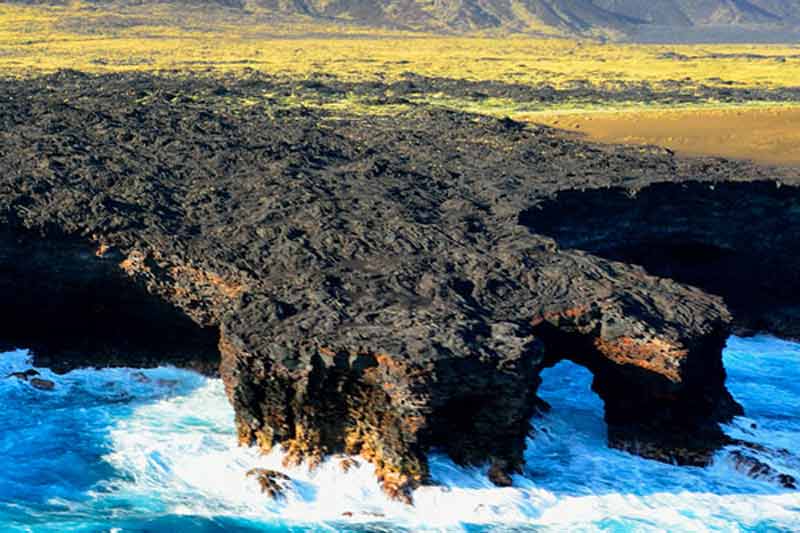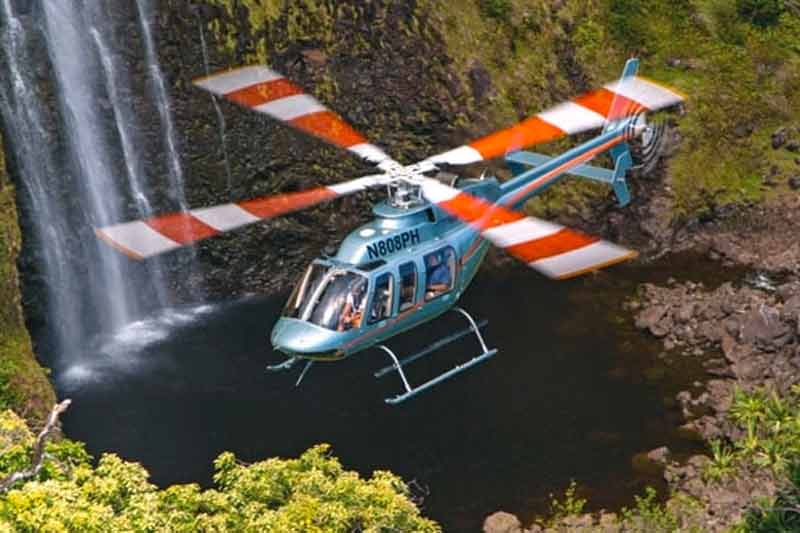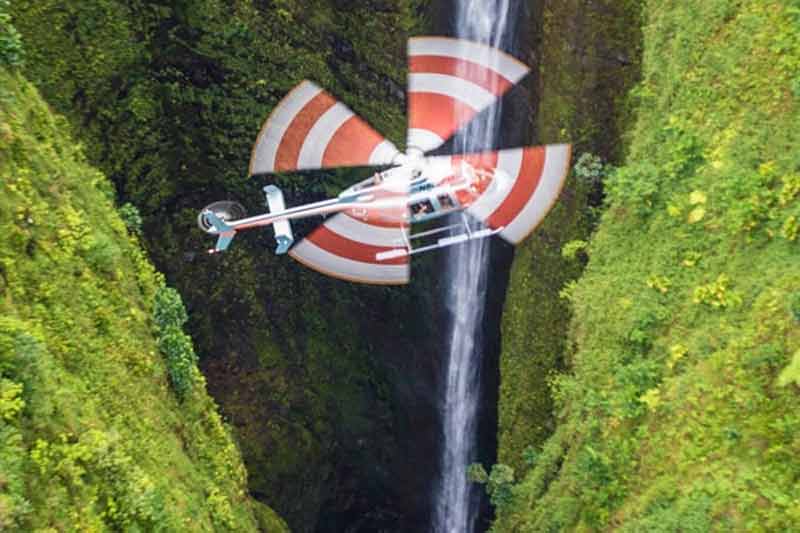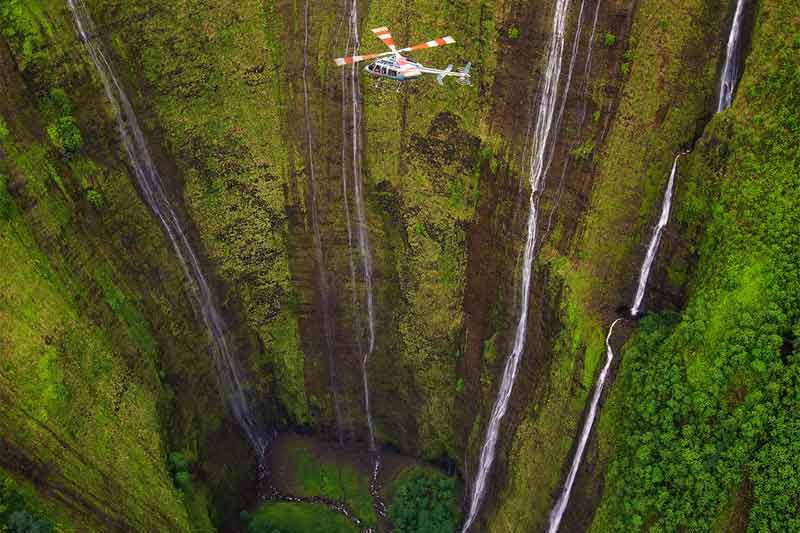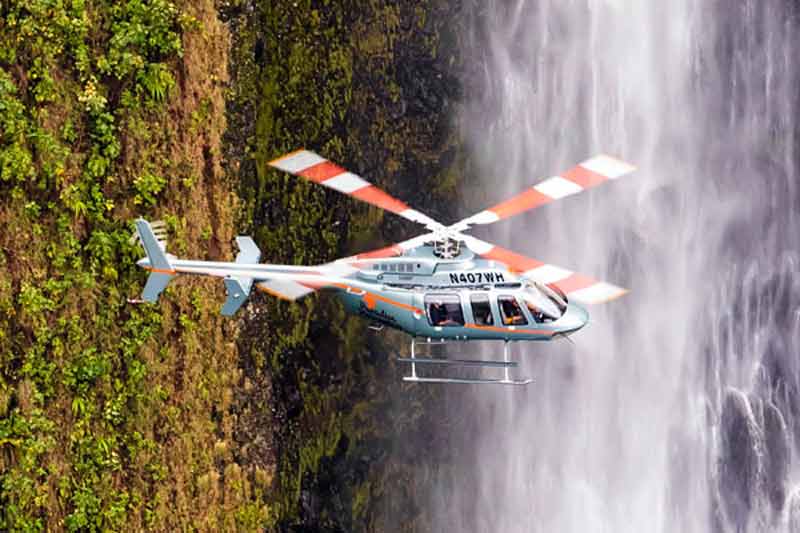 ---
Highlights
Shorter flights to Kohala Waterfalls
Longer flights to Kilauea and Waterfalls
Remote landing and hike option available!
Executive-styled 6-passenger Bell helicopters
---
Description
Kona helicopter tours are one of the most rewarding ways to view the natural landscape of Hawaii. Paradise Helicopters takes you over some of the oldest and largest active volcanoes in the entire world, many of which are inaccessible through any other means of travel. The landscapes are virtually untouched by anything other than tens of thousands of years of exposure to the elements, leaving little more than deep valleys, cascading waterfalls, and lush green growth. Interaction with your professional pilot is maximized so that your entire experience is unforgettable, in-depth and educational.
All of these helicopter tours from Kona Airport are done in a comfortable and luxurious 6 passenger Bell 407 that departs from the Kona Airport. Five out of 6 seats on this helicopter are window seats, and the one that is not has an excellent view out of both sides of the aircraft. On these fully narrated tours, there is two-way communication between you, your pilot, and your group. There are three (longer) flight options that include Kilauea Volcano, and two (shorter) tours that focus on the Kohala Waterfalls.
---
HAWAII EXPERIENCE - 1 hour 45 minute flight
Five volcanoes, beautiful mountain scapes, amazing white and black sand beaches, dozens of waterfalls, 2,000 foot cliffs, breathtaking coastlines and 11 different climate zones … this is what we call the true Hawaii Experience. It is impossible to see many of these sites from the ground; in about two hours you can feel the awesome granduer of the Big Island from the comfort of your "flying limousine." This flight typically flies to Kilauea Volcano following the saddle between Mauna Loa and Mauna Kea, focuses on the volcanic activity at Kilauea, and the waterfalls and rainforests of the Hamakua Coast.
Hawaii Experience Helicopter Tour Rate (PH3)
$725.00 per Passenger (Hawaii sales tax included)
---
CIRCLE ISLAND - 2 hour flight
Instead of spending your whole vacation in the car, you can see all of the Big Island by air in just 2 hours! Paradise Helicopters travels south to encompass the entire island. You will start by passing over the Kona coffee district and slopes of Mauna Loa to the southern-most town in the United States, Punalu'u. Enjoy exclusive views of Papakōlea…one of only four green sand beaches in the world! Next you will explore Kilauea crater, and hopefully catch red hot lava flowing. After the lava viewing, you will fly east to the island's lush windward side and Hilo town. Water flows where lava once did, and gushes out of sheer cliffs through lava tubes creating hundreds of waterfalls. The vegetation on this side is nourished and rich. On the north side of the island, witness the grandeur of the Kohala valleys and waterfalls. And as you return to Kona, gaze upon the white sand beaches.
Circle Island Tour Rate (PH4)
$795.00 per Passenger (Hawaii sales tax included)
---
VOLCANO WITH KOHALA LANDING - 2 Hour 45 minute event
On this tour, witness the inspiring beauty of Hawaii Island plus touch down at a remote overlook for a total immersion into the Kohala area. En route to you Kīlauea crater, you will soar over the Kona coffee district. Hopefully Pele will give you a peek of her molten lava flows! Next, you will fly north to Hilo town and the lush rainforests of East Hawai'i. Unlike any other air adventure on the island, Paradise Helicopters takes you deep into Kohala for an exclusive landing. This area is normally only accessible by hours of grueling hiking. Walk the same fertile valleys that King Kamehameha I did as a child. You are welcome to explore the area during your time on the ground or relax at the scenic overlook. When you take to the air again, view the drastic landscape change from windward to leeward. On your way back to Kona, glide past the world-famous white sand beaches and resorts of Waikoloa. 1 Hour and 45 minutes of flight and 1 hour at the remote landing sight.
Volcano with Kohala Landing Rate (PH8)
$869.00 per Passenger (Hawaii sales tax included)
---
KOHALA COAST AND WATERFALLS - 1 hour flight
Fly to the Kohala Valleys to hover amidst the breathtaking 2500' waterfalls and sheer cliff faces. En route, you will witness frozen lava flows on the Kona and Kohala coasts from the 1801 Hualalai eruption and the 1859 Mauna Loa eruption, which traveled over 31 miles before reaching the now world-famous Kohala Coast. Dotting the shoreline along the way, you can pick out pristine white and black sand beaches to visit later in your vacation!
Kohala Coast and Waterfalls Rate (PH5)
$420.00 per Passenger (Hawaii sales tax included)
---
KOHALA COAST, WATERFALLS, AND HIKE - 1 hour 45 minute event
This air-ground combo tour is the same flight as the Kohala Coast and Waterfalls, but mid-flight your aircraft will touch down at a remote location deep in Kohala Mountains to explore and enjoy a moderate 0.5 mile pilot-led hike through a guava forest. The meandering trail immerses you in the flora and fauna of Kohala and surprises you with a dramatic coastline vista, offering views of the Mokupuku island formations and waves crashing along the rugged north shore of Hawaii Island. All the while you will learn about the culture and diverse natural habitat of this untouched serene location that most people never see.
Kohala Coast and Waterfalls Hike Rate (PH6)
$564.00 per Passenger (Hawaii sales tax included)
---
---
Details
Schedule: Daily departures from Kona Airport. The tours are operated on an "on demand" schedule so booking early gives you the opportunity to select the flight you would like rather than the flight that is already on the schedule for your date and time.
Checkin: 45 minutes prior to your flight time at the Paradise Helicopters location in the General Aviation area of the Kona Airport. General Aviation is to the left of the main terminal area.
What to Wear: Passengers should wear comfortable clothing and dark colored shirts to reduce glare on the windows.
Capacity: 6 guests per flight. Any guests who weighs 270 pounds or more must buy a second seat, which will be left vacant and you are guaranteed a window seat.
Covid-19 Protocols: Weights and heights for each guest are required at the time of check-in. Staff may ask to check your temperature to ensure you are not exhibiting symptoms. Guests over the age of 5 are required to wear a protective face mask (covering the nose and mouth) before, during and after the flight. Please let us know if you have a medical condition preventing you from wearing a mask.
Reservations: Advanced reservations required and we recommend booking this a month or more before your arrival. A credit card is required to secure your space and Paradise Helicopters will charge your credit card when your space is confirmed.
Minimum Notice for Cancellations / Changes: At least 48 hours before the start of the event.
---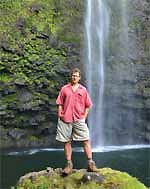 Kevin's Activity Tips:
Yes, helicopter tours are expensive. Honestly though, people don't come to Hawaii to save money. They come in search of the complete Hawaiian experience. The reality is that there is so much beauty in Hawaii that can only be seen from the air – that it is well worth it for those seeking the ultimate vacation experience. When you consider the thousands of dollars spent on airfare, meals, and accommodations on a Hawaii vacation, it only makes sense to spend a few hundred dollars more and REALLY see the island while you are here.
For those who don't have the time or the desire to spend the better part of a day driving to and from Hilo, the helicopter tours that leave from Kona are the way to experience the active volcano. Flights are two hours in length … remember this is the BIG Island after all … it takes time to fly to the other side of the island although not nearly as long as it takes to drive there. Of course with a longer flight comes a higher price. For a little more money you can also add the Kohala Remote Landing option. There is nothing cooler than having your helicopter land in the middle of nowhere, in the tropical jungle and getting out for a relaxing break. Feel free to bring along whatever you'd like to eat or drink during this wilderness rest stop.
Helicopter tours from Kona use the Bell 407 which seats 6 passengers. This model helicopter is very spacious and comfortable and the interior feels a little like the inside of a limousine. One passenger sits up front with the pilot (sort of like riding shotgun), a second row of two seats faces the third row of three seats. With this arrangement five out of the six seats in the helicopter are window seats, and that one seat in the middle in the third row is NOT a bad seat as it has good views out of BOTH sides of the helicopter. Typically when the pilot hits a particularly scenic spot he or she will make a first pass on one side of the helicopter and turn so that the other side of the helicopter gets the same view. This middle back seat gets the view both times and I talked to one staff member with the tour company who says this is his favorite place to sit! All flights in Kona are done with this model helicopter.
Seating is assigned in the helicopters based upon body weights and for the best balance of the aircraft. While it is possible to pay a little extra to guarantee particular seats, we find that the cost is not worth it. If you request a particular seat and you don't fit the weight and balance profile for that seat on that particular flight, you'll get moved to another seat anyway and the upgrade fee will be refunded. If you do fit the weight and balance profile for that seat, the chances are good that's where you'd end up sitting anyway without paying extra. Because the Bell 407 has 5 window seats and the one seat that isn't a window has very good views out of both sides of the aircraft, we recommend that you avoid paying extra to secure any particular seat. If money isn't an object for you and you do want to spend extra to reserve a particular seat, give us a call after you fill out the form on the right side of this page. We'll add your specific seat requests to your reservation and let you know if you fit the profile for the seat you've requested.
A word about children flying on these tours. There are no age restrictions at all on the Bell 407. Child policy is the same on this helicopter as it is on a commercial airliner. Children 2 and older will require their own seat and will pay the same fare as an adult. Infants under the age of 2 are seated in the lap of a parent and fly for free. Be aware that if you push your child to do the tour and then they back out at the last minute, you will not get refunded because your child is afraid to do the tour.
One other little feature that's nice … all of these helicopters have two-way communication between the pilot and the passengers. You can talk to the pilot … and to each other … during the tour.