Downhill Bike Tours
Downhill Bike Tour Overview
The bike trips down Haleakala are the longest in the world ... up to 26 miles of coasting and a total vertical drop of 6500 feet! All these rides START at the same place just outside the entrance to Haleakala National Park. The ride itself is exactly the same whether you do the Sunrise or the Day tour. There is a slight difference in route near the end of the ride though, with the route that Mountain Riders takes down to Paia being a little longer than the route that the other two take to their baseyard in Haiku.
---
IMPORTANT UPDATE ON BIKE TOURS: Effective February 1, 2023 there are new Maui county regulations taking affect that will change the details of ALL bike tours. First, the minimum age for bike tours is being raised to 15. Second, no bike tours (guided or unguided) will be permitted to bike through Upper Kula and on the Lower Kula Highway. Guests will bike down the BEST part of the ride ... the switchbacks above the treeline ... then get into a van for a ride to the point where the ride will continue, which is uphill from the town of Makawao. From there bikers will ride to the baseyard of your tour company at / near the bottom of the mountain. Third, fewer tours are permitted per bike tour company, so BOOK NOW for future dates as capacity is going to be more limited!!!
---
---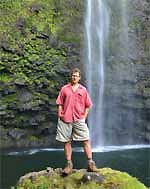 Kevin's Activity Tips:
Remember, it gets cold at 6,000-10,000 feet, especially in the winter months. Some of the bike companies provide a wind breaker, but you will still want some layers underneath and perhaps a pair of gloves, especially for the Summit Sunrise tour. As your group heads down the mountain, it gets warmer. You will pause along the way for photos and "strip stops." Everything you don't need anymore goes in the van.
A word about the unguided option … personally I much prefer the guided tours because of the extra measure of safety it provides. The guide sets a safe, comfortable pace for the group (about 12-15 miles per hour on average) and the van follows your group back down the mountain. This "chase vehicle" prevents cars from passing you at times when it is not safe. You don't have to worry about looking over your shoulder to see what's coming from behind you. If there are cars backed up behind the chase vehicle, the driver talks to the guide on his walkie-talkie and they arrange for a place to pull over to the side and let the traffic pass.
With that being said, there is a place for the unguided option … people who are younger, more experienced riders may prefer this approach. So might a few riders who really want to take their time coming down, or really want to stretch out the experience and spend more time along the way. Please keep in mind though that if you are biking without a guide you MUST take responsibility for your own safety, which includes keeping eyes out in front of you and behind you. We've seen unguided bikers doing really unwise things … like stopping in the lane of traffic or riding side-by-side taking up the whole lane (which is ILLEGAL in Hawaii). If you select the unguided (SELF-GUIDE) option, please be a careful, considerate, and consciencious biker!
While 26 miles sounds like a long ride, it really isn't when you are coasting downhill almost the entire way. There is literally only 400 yards of peddling spread out throughout the entire ride on the route to Paia, and maybe about 1000 yards of peddling on the route that goes to Haiku! I am often asked if you can get off the bike if you get tired. It rarely becomes an issue, but if at any time you don't feel like riding anymore you can pull over and get in the van (on the guided tour of course). You can ride in the van for a while, and even get back out on the bike at a future stopping point if you like.
Many people ask about the brakes. They are hand-operated brakes but they aren't the kind of brakes you see on typical mountain bikes or road bikes. They are heavy duty drum brakes built into the hub of the front and back wheel, not a pad that grabs the side of the wheel frame. It's the same kind of brake as the foot pedal brakes on the old style bikes. In this case they are operated by hand controls so you can brake the front and back brakes evenly. This style brake STAYS DRY and isn't compromised by wet roads like the pad brakes found on the kind of bikes that most people have in their garage. The seats are well padded, and you ride in an upright position, not hunched over like a 21 speed racing bike.
The road that you bike is completely paved, and while there are lots of 180 degree turns and it is 5-6% downhill grade, it is not inherently dangerous AS LONG AS YOU KNOW HOW TO RIDE A BIKE!!! I can't emphasize this enough … while there are occasionally accidents on this ride (and on rare occasions those accidents have been fatal), they are almost always the result of someone who lacked confidence (and/or ability) at riding a bicycle. If you are riding a bike and you fall, or you run into a guardrail, you ARE going to get hurt … whether you are doing it on a mountain on Maui or on flat ground in Kansas! My best advice is this … IF YOU HAVE NOT RIDDEN A BICYCLE IN 40 YEARS, THE TOP OF A VOLCANO IS NOT THE BEST PLACE TO TRY TO REMEMBER HOW TO RIDE A BIKE!!! Borrow a bicycle from someone and ride around your neighborhood before you come to Hawaii. A few hours of peddling will refresh your mind about steering and braking and give you the confidence you need to do just fine on this ride. If you are uncomfortable riding a bike in your neighborhood, then you should sit out this activity or just go along in the van for the ride.
All-in-all, this is one of Maui's must-do activities … don't miss it!