Maui Snorkeling and Scuba
Snorkel tours here are organized by destination ... either Molokini, Lanai, or Maui Coastline snorkels. We've also got a section for scuba and no-experience-necessary SNUBA diving.
SUPPORT LAHAINA:

We are donating 20% of our profit from ALL FUTURE 2023 MAUI TOUR BOOKINGS to Lahaina fire relief efforts!!!
---
---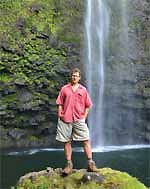 Kevin's Activity Tips:
The most famous destination for snorkeling is Molokini, which is a marine preserve underwater and a sanctuary for sea birds above the water. You can't actually land on the island. It's a snorkeling destination only and there are vessel moorings inside the crater. No matter the ocean and weather conditions, snorkling is almost always crystal clear here. Molokini is located two miles offshore in the channel between Kahoolawe and Maui. Because the island is a tuft cinder cone and has no sandy beaches, the water is so clear it's hard to tell it is there when you are snorkeling. Most trips to Molokini include a second snorkel stop on the way back to the harbor somewhere along the Maui coastline at one of the spots that is frequented by green sea turtles. If you want to skip the list of all of our Molokini tours and go straight to our favorite, that would be Aqua Adventures.
Lanai is a great snorkeling destination too ... it is a much larger, inhabited island about 8 miles across the channel from West Maui. The big attraction over here is the large pods of spinner dolphins that are often seen putting on acrobatic aerial displays along the island's south shore. There are about four major snorkel locations along Lanai's south and west coast that most tours will frequent, and really adventurous rafting trips that completely circle the island have even more isolated stops where you won't see ANY other boats! There are a few tours that snorkel from the boat and then LAND at Manele Harbor, allowing guests to spend a few hours at an incredibly beautiful beach and tidepool / sea arch area. Our favorite Lanai tour is the Lanai Explorer with Landing.
Maui Coastline Snorkeling is a diverse collection of tours that don't cross any channels to get to another island. Most of these tours are going to stay right along the coastline but take you to places that are hard to get to unless you are on a boat. The Teralani Sailing catamarans are an excellent choice in this category. They depart from Kaanapali beach, and in the summer half of the year they typically turn right and head up to Honolua Bay which has some of the best coral found anywhere in Hawaii. It is possible to go to this bay on your own, but parking is hard to find, then you have to walk down a jungle trail, then scramble over a rocky beach to get the water, followed by a long swim to get to the coral. With one of these Teralani snorkel tours you get a relaxing sailing catamaran taking you to the coral and you just jump in and it's right there! And lunch and drinks will be waiting for you when you get out of the water! In the wintertime when large swells close out the snorkeling up north they turn left and head toward Olowalu. There is EXCELLENT reef here too, but it is about a half mile offshore ... MUCH too far to safely swim on your own. Several of the boats that do Molokini tours in the morning will go to a spot called "Coral Gardens" for more budget-friendly afternoon snorkeling trips. The afternoon tradewinds make Molokini a morning-only destination, and Coral Gardens is a great snorkel spot tucked right up against the West Maui Mountains which helps shelter the spot from winds.