Maui Scuba Diving (and Snuba)
If you are a certified scuba diver, check out the Maui Diamond for a trip to Molokini and Extended Horizons for a trip to Lanai, and if you have never done this before check out Snuba Diving, which gives you a scuba experience in shallow water without having to wear all that gear.
SUPPORT LAHAINA:

We are donating 20% of our profit from ALL FUTURE 2023 MAUI TOUR BOOKINGS to Lahaina fire relief efforts!!!
---
---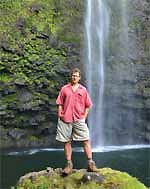 Kevin's Activity Tips:
Scuba diving is the one thing that I just can't relate much of my own personal experience. I've got some issues with clearing the pressure in my ears so I'm relegated to spending my time snorkeling at the surface. For those of you who are certified divers though, you are going to see a lot of stuff I WISH I could see. There's a lot of sea critters that live in the 20-30 foot depth range and just don't come to the surface much ... if at all. A variety of eels, nudibranchs, bottom fish, rays ... they're waiting for your visit.
While it is pricey, a dive to the Lanai Cathedrals with Extended Horizons is a memorable experience. This spot is a collecction of underwater lava caverns that yield otherwordly lighting conditions. This kind of terrain is really attractive to some of the larger marine life like reef sharks which divers really enjoy seeing.
Dive boats generally only take certified divers, but if you'd like to experience the feeling of scuba without NEEDING previous experience and certification, the SNUBA concept is worth you checking out. There are several snorkeling boats that offer it as an option on board, but the one boat that really specializes in it is Aqua Adventures. Snuba allows you to swim 15 feet or so below the surface and STAY down for the entire length of your 20-25 minute dive. You breath through a regulator and a hose supplying your oxygen runs up to a raft that floats at the surface with the scuba tanks. There's no bulky gear to wear and you learn everything you need to know in a few minutes aboard the boat. The minimum age for snuba is 8. Give it a try!