Air Maui Helicopter Tours
SUPPORT LAHAINA:

We are donating 20% of our profit from ALL FUTURE 2023 MAUI TOUR BOOKINGS to Lahaina fire relief efforts!!!
---
Air Maui Helicopter Tours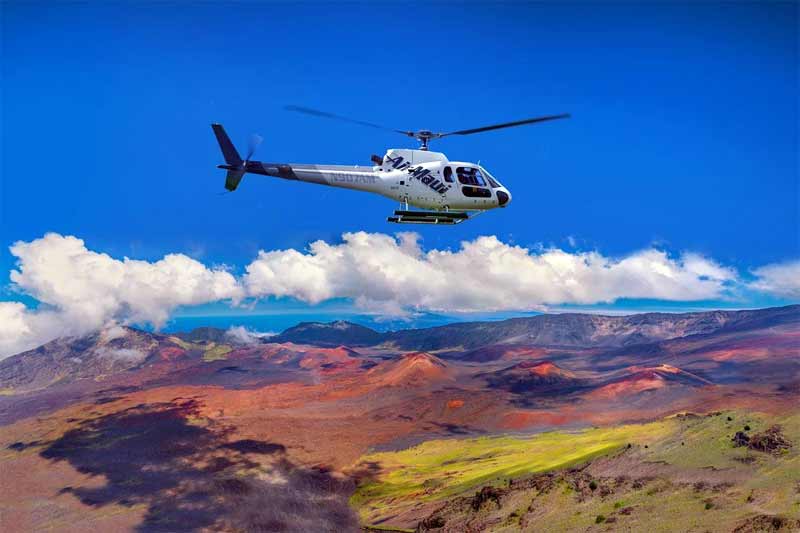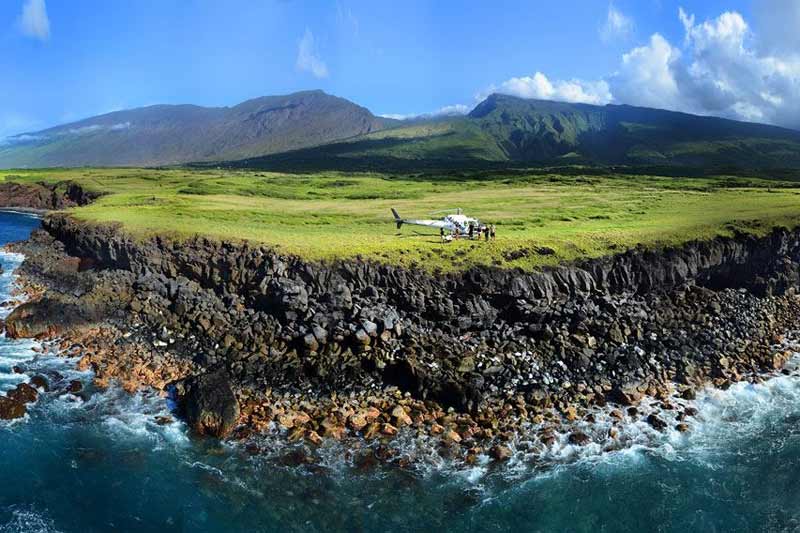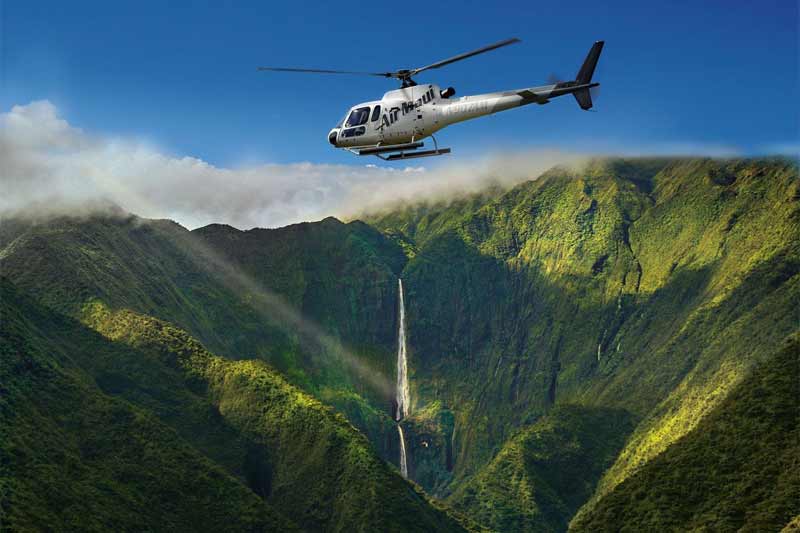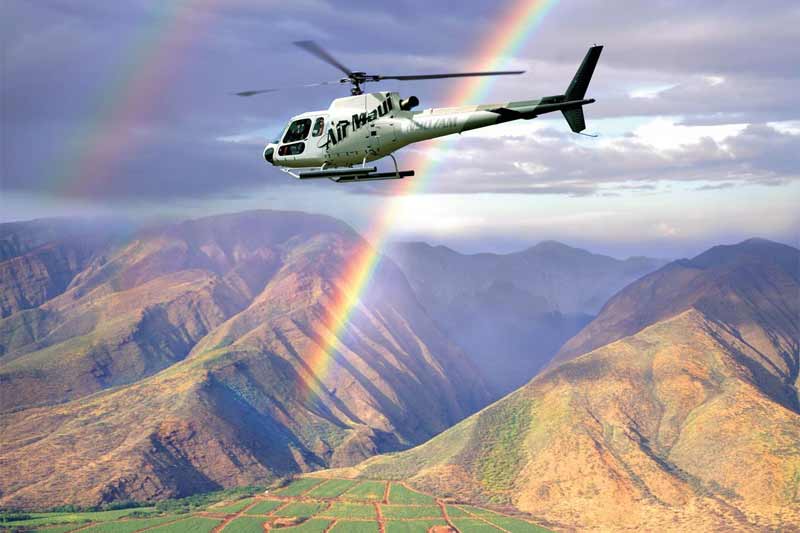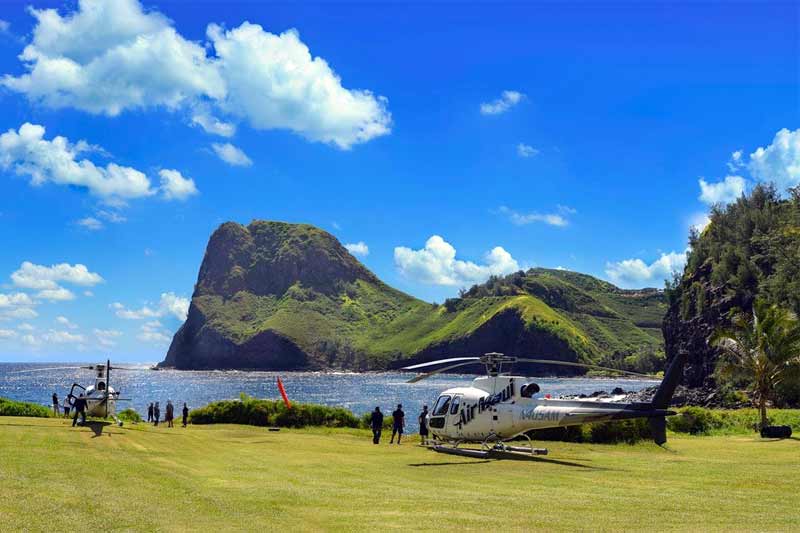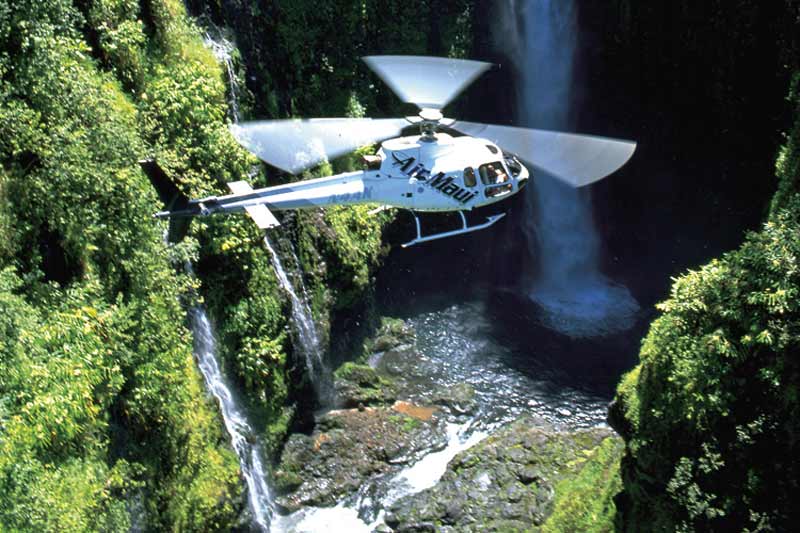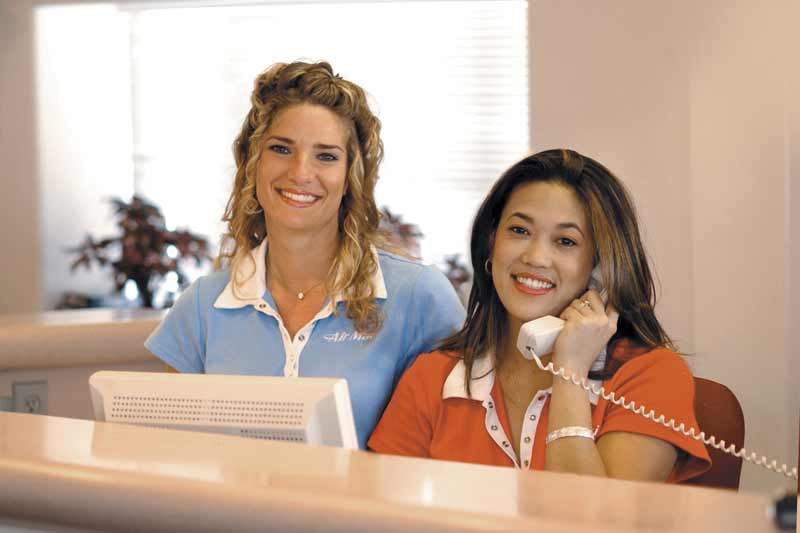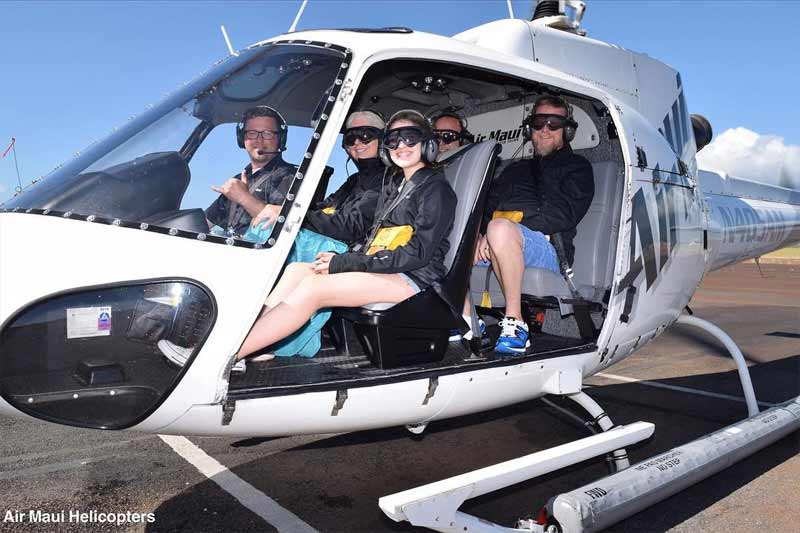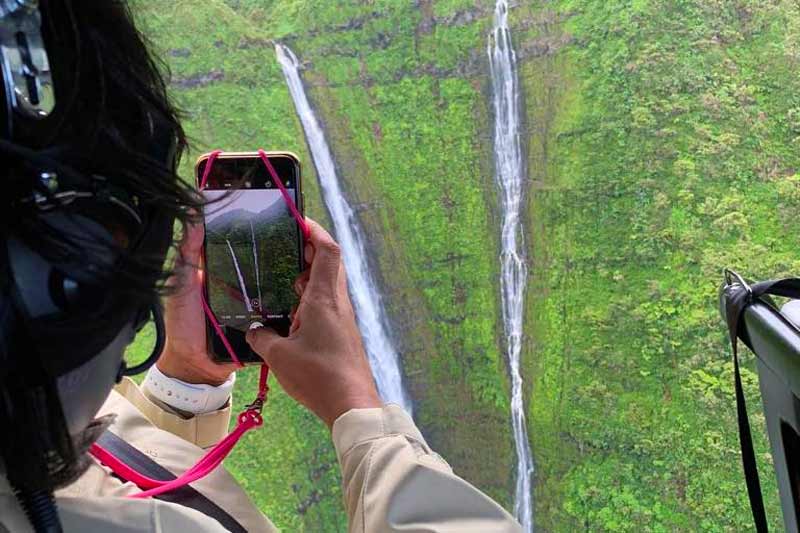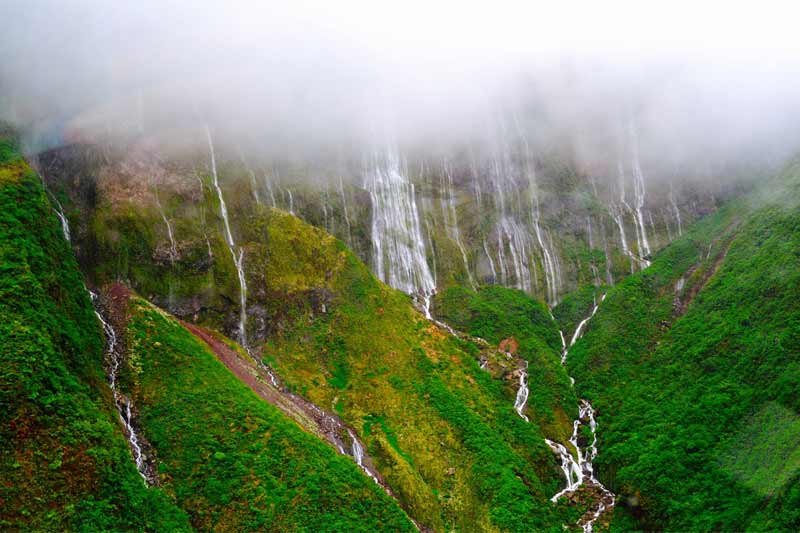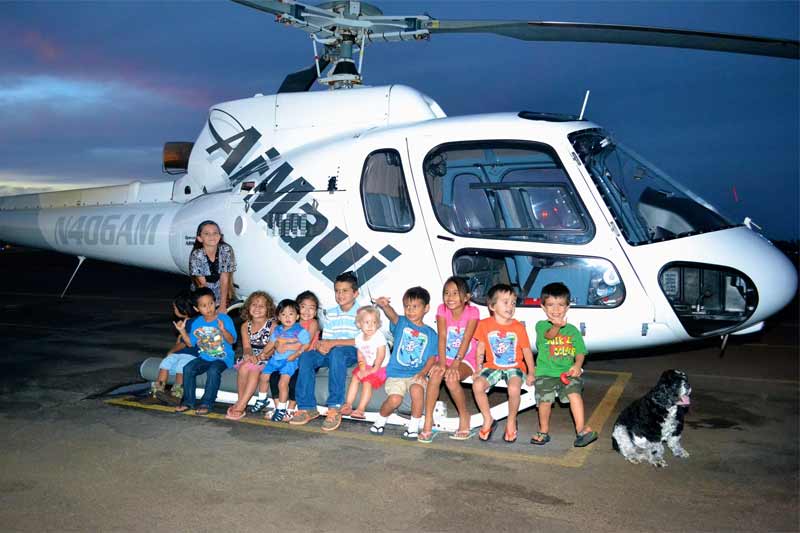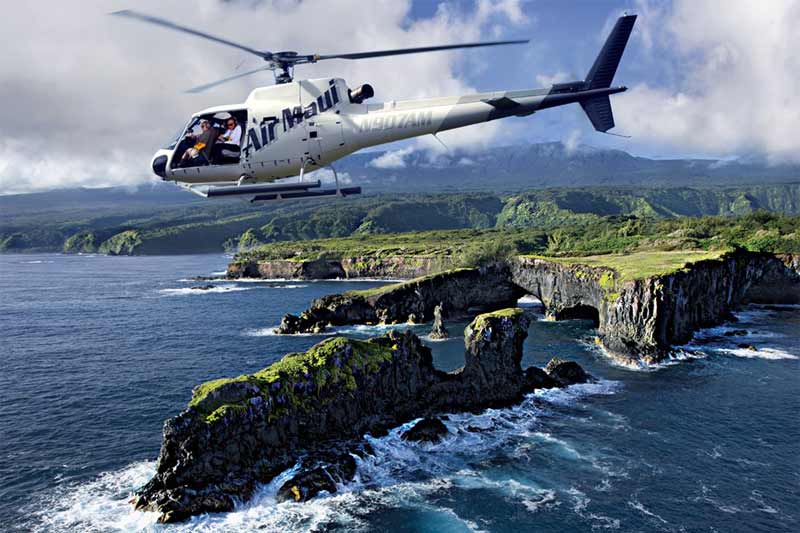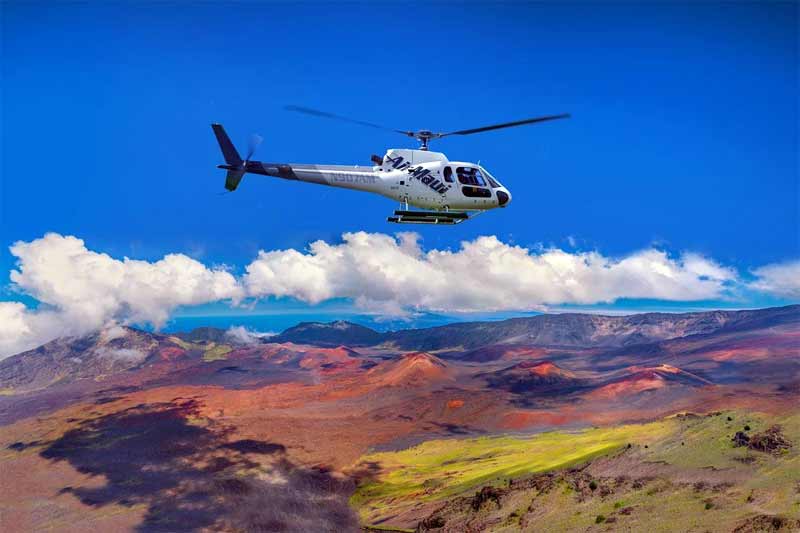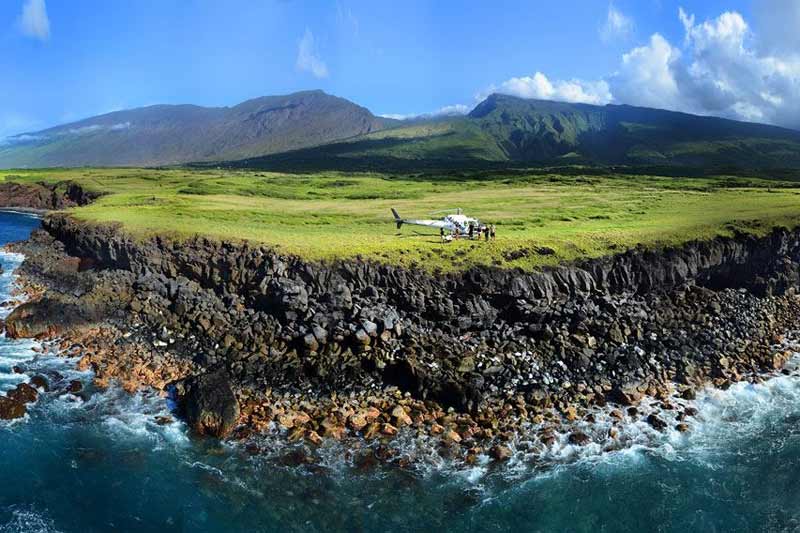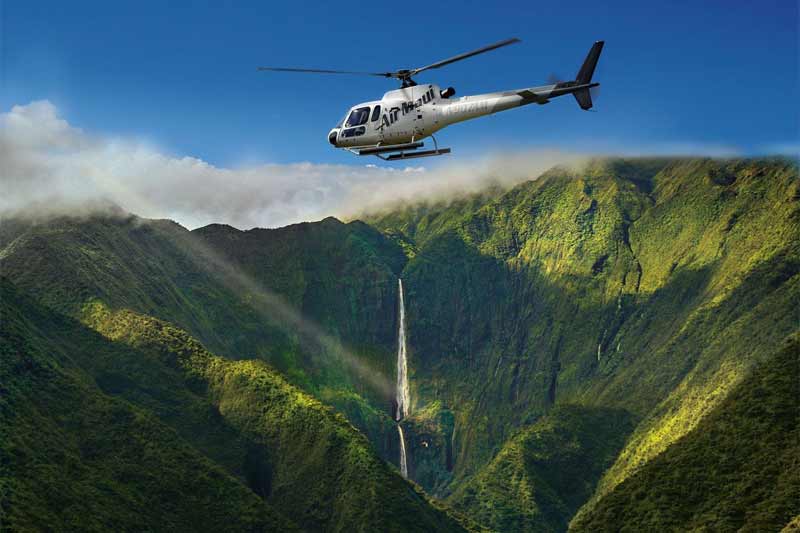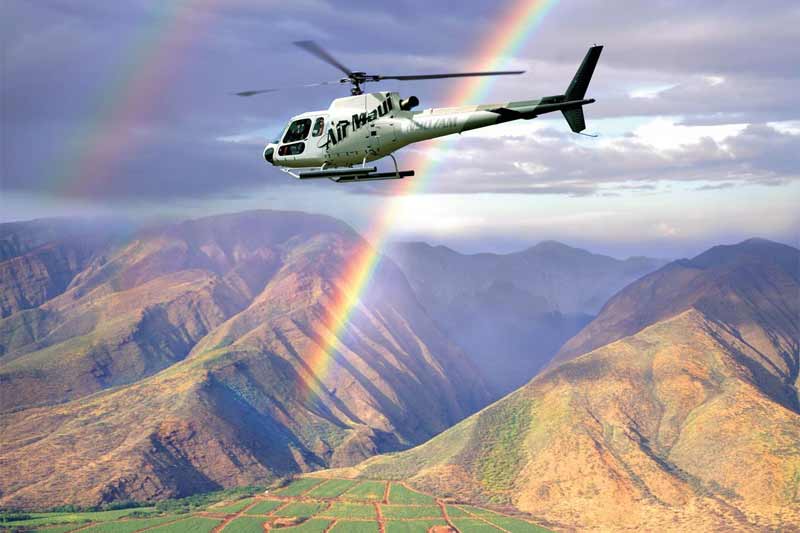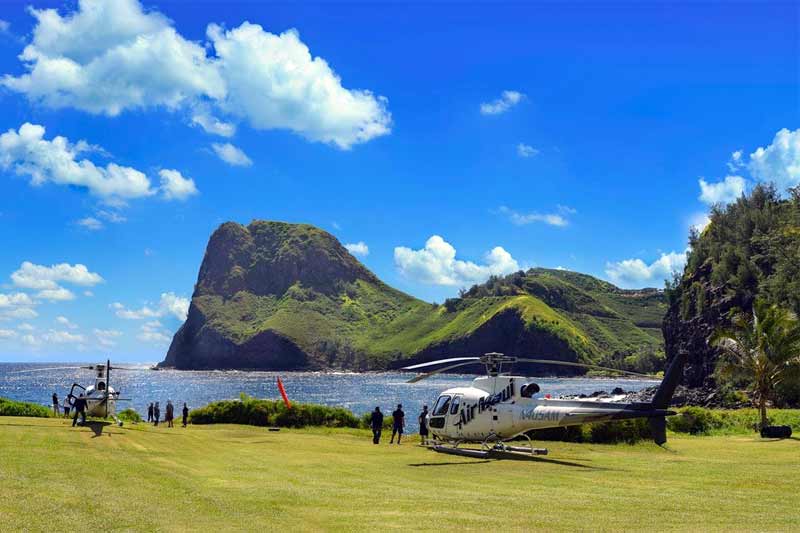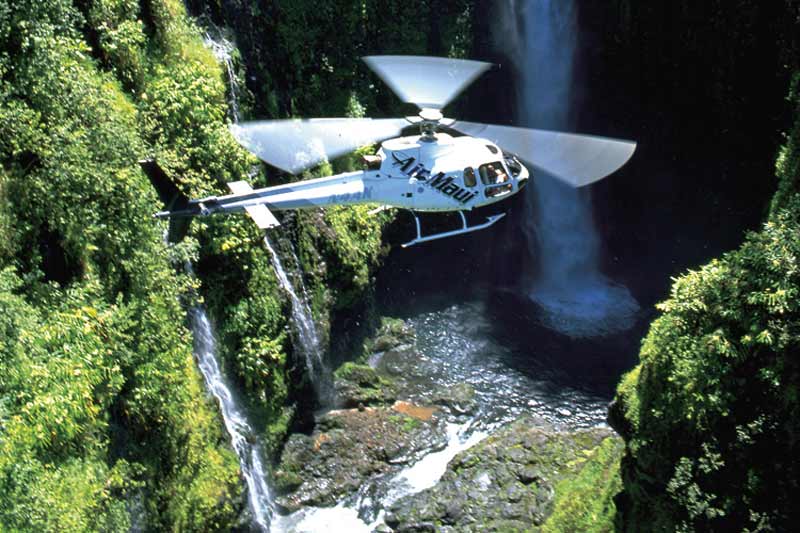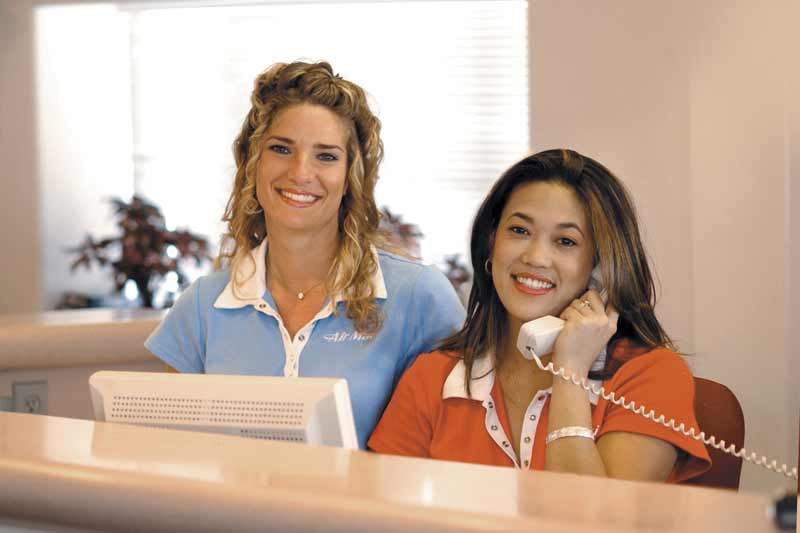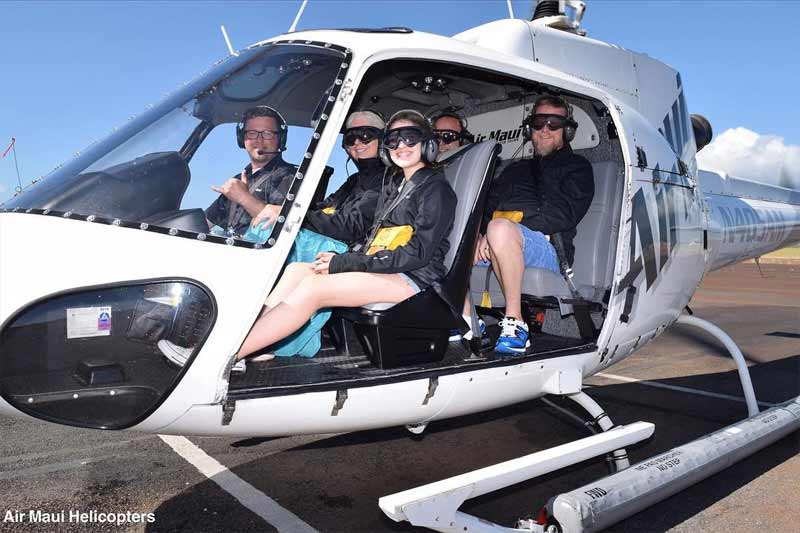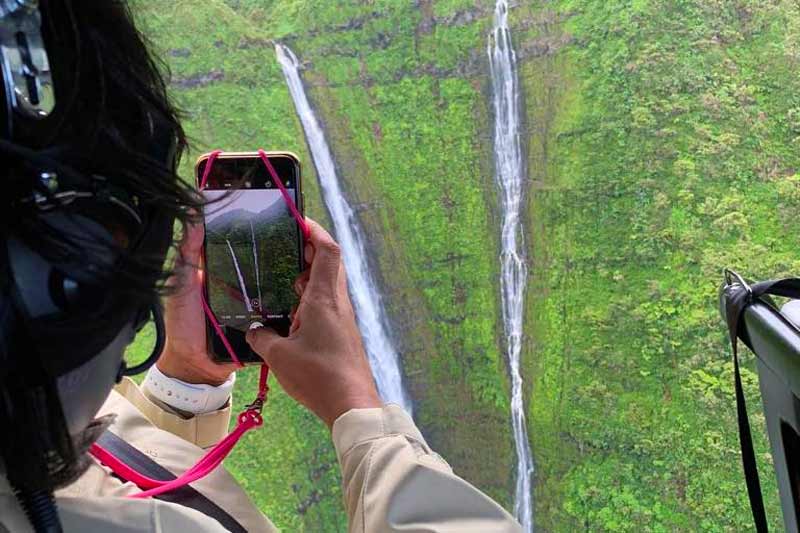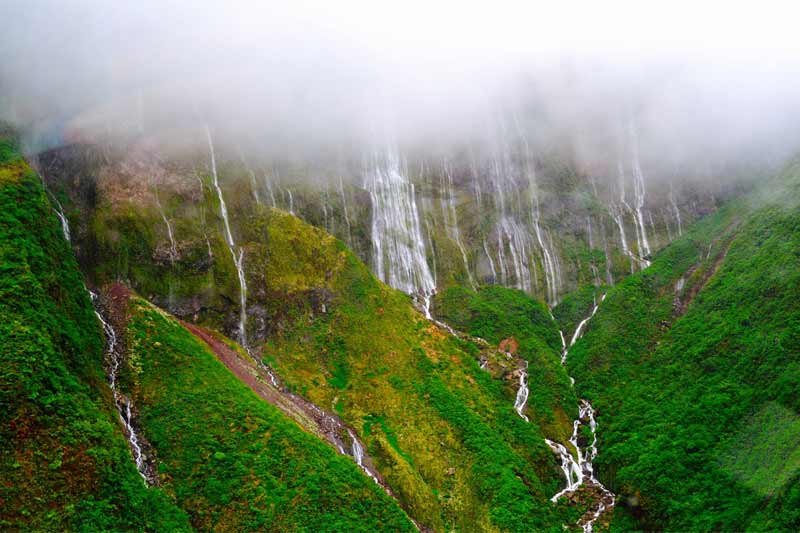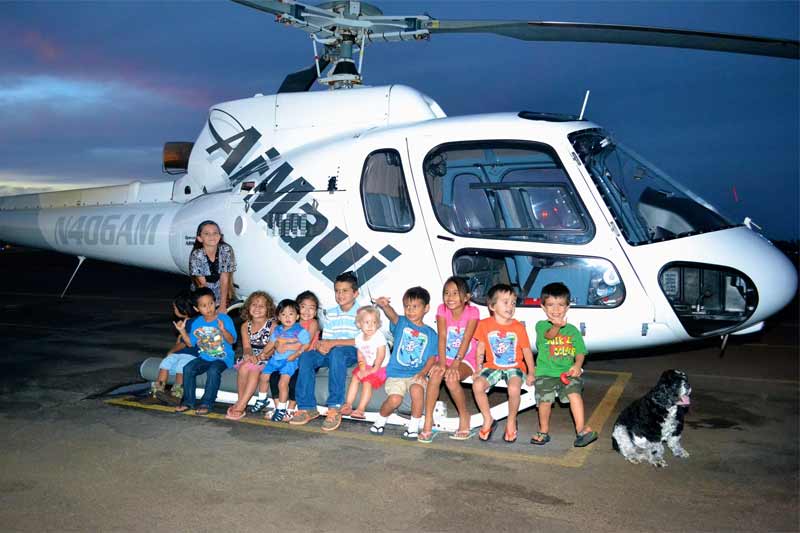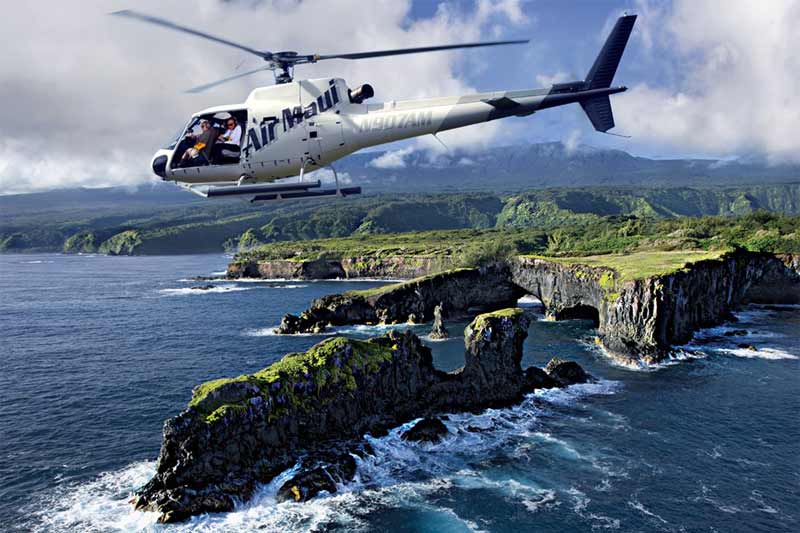 ---
Highlights
Locally owned and operated helicopter company
Doors on and Doors off flights
Many flight options including remote landings
Our favorite route is 60 min West Maui / Molokai!
---
Description
There is no place on Earth like Maui, the Valley Isle, and most of it is very remote and completely inaccessible. You've never really seen Maui if you haven't seen it from the air. Air Maui Helicopter tours invites you to choose from four flight choices below. Exact routes and sights will vary from flight to flight. We recommend the morning flight times, because clouds are less of a factor and it is typically the clearest time of the day. Helicopter tours are very popular, and if you want to guarantee a morning flight time, make your reservation well in advance before arriving in Hawaii.
Front seat upgrades are available for $50 per seat. Guests must purchase both front seats, and combined passenger weight must not exceed 380 pounds. The option is offered when you are entering your name and body weight during the second page of the reservation process.
---
Tour Options
West Maui & Molokai - 60 minutes The West Maui and Molokai helicopter tours are considered the best. We highly recommend this tour, and it is by far our favorite flight! The tour crosses the channel to the island of Molokai, and you will gaze upon the stunning 3,000 foot vertical sea cliffs and the tallest waterfall in the islands. The Kalaupapa Peninsula (Father Damien's leper colony) on the north shore of Molokai and West Maui Mountians waterfalls are also sites to be admired on this flight!
60 Min. West Maui / Molokai Tour Rate (AMH1)
$316.00 per Passenger (Hawaii sales tax included)
---
West Maui & Molokai - 45 minutes After soaring past the coastline of the West Maui Mountains, this flight crosses the channel to the island of Molokai. Feast your eyes on the breathtaking 3,000 foot vertical sea cliffs and the tallest waterfall in the state of Hawaii.
45 Min. West Maui / Molokai Tour Rate (AMH2)
$242.00 per Passenger (Hawaii sales tax included)
---
Doors Off West Maui & Molokai - 45 minutes Same flight as above, but for an extra level of adventure this tour is operated with the doors OFF! The minimum age for this flight is 10, and anyone 10-18 must be accompanied by an adult. Other restrictions apply, including no loose items, hats, or cameras permitted. ONLY YOUR CELL PHONE is allowed on this flight, as a special lanyard case is provided by Air Maui to secure a cell phone to you during flight. Air Maui will supply a jacket that will be worn during the flight.
45 Min. Doors Off West Maui / Molokai Tour Rate (AMH2do)
$318.00 per Passenger (Hawaii sales tax included)
---
Hana & Haleakala - 45 minutes This flight soars your above the moon like surface of Haleakala Crater, Hana Town, and the "Seven Sacred Pools of Oheo." Also, take in the rugged coastline of Maui's north shore with staggering waterfalls and acres of native rain forest.
45 Min. Hana / Haleakala Tour Rate (AMH3)
$242.00 per Passenger (Hawaii sales tax included)
---
Complete Island - 60 minutes This flight adds highlights of the West Maui Mountains to the sites in the 45 minute Hana / Haleakala tour.
60 Min. Complete Island Tour Rate (AMH4)
$316.00 per Passenger (Hawaii sales tax included)
---
West Maui & Molokai Tour with Oceanfront Landing - 75 minutes This flight adds a touchdown oceanfront landing to the West Maui and Molokai flight. This tour is a 45 minute flight with a 30 minute ground stop. After soaring over the ridges of West Maui, across the Pailolo channel to Molokai, you will land at Air Maui's private landing location on the North shore of Maui. Then your journey continues across the West Maui Mountains back to the heliport.
75 Min. West Maui / Molokai Tour w/ Oceanfront Landing Rate (AMH5)
$349.00 per Passenger (Hawaii sales tax included)
---
---
---
Details
Schedule: Daily from 8am to 4pm
Check In: 30 minutes prior to tour time at Air Maui's location in the General Aviation area of Kahului Airport, on the far side of the runways from the main terminal.
Aircraft: Eurocopter ASTAR that seats 6 guests plus the pilot.
Restrictions: For the comfort and safety of all passengers, on DOORS ON flights Air Maui requires those who weigh over 240 pounds or couples with a combined weight over 420 pounds to purchase an additional seat which will be left empty. on DOORS OFF flights Air Maui requires those who weigh over 230 pounds or couples with a combined weight over 400 pounds to purchase an additional seat which will be left empty.This policy is necessary because helicopters have limited internal space and overall passenger weights must be calculated prior to take-off to ensure that the vehicle's limitations are not exceeded. This charge may be waived for tall individuals who just exceed the limit if other members in their party are much lighter.
What to Wear: Wear dark shirts as it causes less glare on the windows. Passengers on doors-off flights must wear closed toed shoes that fasten securely to your feet.
Reservations: Advanced reservations required and we recommend booking this a month or more before your arrival. This event is "RESERVE NOW PAY LATER"; we need a credit card on file to finalize your reservation but we do not charge you for this reservation until a few days before the beginning of your vacation!
Minimum Notice for Cancellations / Changes: At least 48 hours before the start of the event. All tours go out rain or shine.
---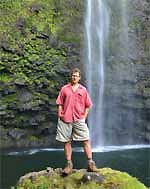 Kevin's Activity Tips:
It never ceases to amaze me that people spend thousands of dollars to come to Hawaii, but think it is too expensive to spend another $200-$250 to REALLY see the islands from a helicopter. There is so much beauty that you cannot see any other way. Do yourself a favor and SPLURGE! You will thank me.
Flying in a helicopter is like riding a magic carpet. They are much more stable than twin engine planes … motion sickness is seldom an issue for anyone. They cut through the wind like a knife. Thrill seekers may wish for a more roller coaster-like experience but the pilots fly a very gentle pattern. Don't expect plunging drops and steeply banked turns.
The best time for helicopter tours (as a rule) is in the morning hours, as cloud cover tends to get thicker throughout the afternoon. Don't feel badly if it looks cloudy just before your flight though … helicopters can fly just under the cloud ceiling, which typically is around 4,000 feet. Clouds and rain can add an element of mystical mystery. Check out some of the waterfall photos for an example.
All helicopter tours leave from the Kahului Heliport. Plan on a 45 minute drive from Lahaina / Kaanapali Resorts, 60 minutes from Kapalua, 30 minutes from Kihei and 45 minutes from Wailea. Save yourself some driving … consider planning the helicopter tour for early morning on the day that you drive to Hana.
Wear dark clothing for your helicopter flight. A light colored shirt will cause a reflection on the windows … you won't notice it during your flight, but it shows up like crazy in any pictures you take. A polarizing filter on the front of your camera will also help remove window glare (and greatly improve pictures that you take of the ocean too).
A note about weight restrictions. Almost all companies in Hawaii charge extra for heavier passengers. This is not a matter of discrimination toward larger guests … it is a business reality due to the spatial limitations of the passenger compartment. The cost and profit margins of the helicopter companies is based upon their helicopters flying with every seat occupied. If the helicopter holds 6 passengers and the size of a guest means that they can only comfortably seat 5, they are losing money. The "comfort seat" is exactly that … it really does make everyone more comfortable. It also ensures that the helicopter's overall weight capacity is not exceeded, which makes this a SAFETY CONCERN as well. For each company's exact "comfort seat" policy and charges, see the weight restriction link under each company's description.
Most tour helicopters on Maui are Eurocopter A-STAR's … the seating configuration in each is the same. Two passengers sit up front with the pilot and four sit in the second row. People often say to me, "But the two people in the back seat don't get a window seat." True, but visibility from these helicopters is excellent … you really get a 180 degree view no matter where you sit. Yes, yes, it is cool to sit up front. But I like to describe the entire experience as sitting in a flying theatre. By the way, you don't get to decide where you sit, or pay extra for a front seat. FAA requirements dictate who sits where based upon body weight. I once had a couple that was so adamant about sitting up front that they paid for all six seats. If you are made of money, go for it!!! We'll be glad to set you up!
Air Maui produces a live DVD video of your flight which is available for purchase after your flight. A five-camera system allows the pilot to edit a video "on the fly" including shots inside the cabin so your relatives back home can see your reactions during the flight. The quality of these videos is not as high as professionally shot stock videos but it makes a great souvenir.
My favorite flight is the West Maui / Molokai flight, which is available in a 45 minute and a 60 minute version with Air Maui. I am less crazy about the 45 minute Hana / Haleakala flight. It takes a lot of time to climb to 10,000 feet and take a peak into the crater, which has severely restricted air space. Then the rest of the flight seems to rush by. You get a similar view of Haleakala if you drive to the 10,000 foot summit yourself.