Maui Adventures
Maui offers the most diverse collection of Adventures in Hawaii, with all sorts of ways to add thrills and fun while you enjoy the island.
SUPPORT LAHAINA:

We are donating 20% of our profit from ALL FUTURE 2023 MAUI TOUR BOOKINGS to Lahaina fire relief efforts!!!
---
---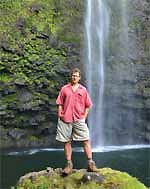 Kevin's Activity Tips:
Most of the tours here in the "Adventure" category involving riding something ... whether it is a horse, an ATV, a bike, or even a rope going down the face of a waterfall ... motion adds excitement to a vacation.
With this motion comes a certain element of risk of injury. Accidents do happen, and no tour operator can guarantee that you can't find a way to hurt yourself doing these things that you find exciting. That's part of the reason they're exciting. Any of these tours are going to require you to sign a waiver of liability prior to participation. For that mater these days, MOST tours require this. We've even seen some luaus doing liability waivers these days. Haha
The bike tours that we offer cover the range of guided vs. self-guided, sunrise vs. day tours, and including sightseeing at the summit of Haleakala or just biking without entering the National Park. It's all there. Even though there is no biking inside Haleakala National Park, all these rides that start just outside the park have the LONGEST downhill biking available anywhere in the world. If you have your heart set on doing the sunrise bike tour and watching the sun come up over the crater, you better be planning in advance. If your dates are already sold out for the sunrise, don't give up on the concept completely. The day tours are the exact same biking, and the views into Halekala Crater are actually better in mid-morning light twhen the sun is illuminating the cinder cones. While sunrises are beautiful, the crater itself is backlight and all you really see are shadows.
Of the two ATV rides on this page the big difference is the type of machines offered. Maui Mountain Activities has single-rider ATV's and these are getting hard to find these days. Most tour operators have moved to running the 4-seat UTV's like the ones offered at Maui Offroad Adventures. The four seaters are good if you have kids who are too young to drive ... it lets the whole family participate together.
The two horseback rides found here are nearly identical in terms of scenery and ride experience. They are practically next door neighbors. Maui Mountain Activities horseback riding is a smaller operation, and with fewer horses they sell out MUCH further in advance, but they and Mendes Ranch are BOTH very popular and need to be reserved just as soon as you have your vacation dates set. Maui Mountain Activities was only operating one ride per day ... in 2022 they are adding an afternoon ride to their schedule so that should improve availability a little.
Many people go hiking on Maui without using a guide by just doing a little research on Alltrails or grabbing a guidebook. While that's certainly possible, going with one of the guides from Hike Maui will give you insight into the geology, the flora and fauna, and make sure you see everything there is to see when hiking. We've talked to people who went on their own to the waterfall area where one of these tours go. There are six waterfalls in the area and they only saw one or two of them. Hike Maui's guide will lead you straight there so you don't waste your valuable vacation time wandering around!
The Waterfall Rappelling is a great activity. When you show your coworkers the photos of you rappelling down a waterfall cliff they aren't going to believe what you did on vacation! The guides teach you the basics on a dry wall and then you move down into the gulch for the two waterfall rappels. It's an incredibly scenic area. There is a guide belaying you from below so the risk of losing control is really minimal.
The Hana Cave Quest is an interesting adventure ... it is a high-end small-group Hana sightseeing tour with a twist. A major feature of this tour is the exploration that you do underground at Ka'Eleku Caverns. There is a stairway that leads to the entrance and once inslide the main path has had some minor improvements, but there is no artificial lighting inside this cave. It has the feeling of a "wild cave" and they give you flashlights to negotiate the darkness. At one point there is a "lave falls" with a skylight directly above it. Just down from that point the passage ceiling is loaded with lava drip stalactites that look like they are made of chocolate. In limestone caves the formations gradually get bigger over time. The interesting thing about lava cave formations is that they are formed instantly when the lava drained out of the cave, and remain that way forever. You are looking at a snapshot of geological history. And this cave is very young (as caves go) at just about 1000 years.
If you want to get REALLY exclusive for a Hana tour you could even hire a private guide and vehicle. We've got you covered for that option as well.