OTHER MAUI OCEAN FUN
We've got a category for snorkeling and a category for sunset cruises. This Other Maui Ocean Fun covers a wide range of activities that are ocean-oriented.
SUPPORT LAHAINA:

We are donating 20% of our profit from ALL FUTURE 2023 MAUI TOUR BOOKINGS to Lahaina fire relief efforts!!!
---
SUBMARINES AND SEMI-SUBS
SEASONAL ACTIVITIES
SURF LESSONS AND BEACH FUN
FISHING CHARTERS
---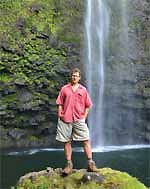 Kevin's Activity Tips:
There's a lot more to do in / under / on / over the ocean besides snorkeling and sunset cruises. This page lists some other fun ocean activities for you to consider.
Atlantis Submarine is the only TRUE submarine operating on Maui. You ride a shuttle boat out to the dive sight. There's a vertical ladder to descend, which means this isn't accessible for anyone with mobility issues and the minimum height for kids is 36". Once you get inside though it's a different world 130 feet down! The highlight is views of the Carthaginian, a sunken replica whaling ship that now attracts a host of marine life. For those who want an underwater experience but have kids too small to do the true submarine ... or grandma can't go down the ladder ... then consider the Reefdancer. It FEELS like a submarine, and while the entire vessel doesn't submerge, the downstairs viewing compartment sits completely below the water level and you look out the window at the reef and a variety of fish. There are scuba divers in the water who find octupus and urchins and bring them up to the windows for close up inspection.
As a seasonal event, Humpback Whale Watching is available December through April. Maui offers some of the best whale watching opportunities in the world, as large numbers of whales gather in warm, shallow waters around the island to mate and give birth. It's an annual migration that starts in November, peaks in January and February, with the last of the whales heading back to Alaska in May.
We've got surf lessons in West Maui and South Maui ... guests typically do the lesson at the location that is closer to their resort or condo. Both locations have consistent surf that is good for beginners.
Want to really do something distinctively Hawaiian on your vacation? Why not mix your beach time with a cultural experience of paddling a Hawaiian outrigger canoe??? It's available at Wailea Beach and will give you a feeling of how ancient Hawaiians got from place to place and enjoyed the ocean!
Finally we offer fishing charters ... both sportfishing and bottom fishing. Bottom fishing is a great activity with kids; there is typically more consistent action and they'll be reeling in their own fish that is appropriately sized for them to handle. Getting skunked while bottom fishing is rare. Getting skunked while deep sea fishing DOES happen. Start Me Up Sportfishing does a great job of locating the big ones, but it is more of a roll of the dice. If you spend the big bucks on a private fishing charter and land a few 100 pound ahi tuna you'll say it was worth it!!! If you get skunked, you'll say it was a waste of time and money. There are no guarantees ... that's why it's called "fishing" and not "catching". haha