Maui Sightseeing
Sightseeing around the island of Maui includes Road to Hana tours, a variety of excursions to the summit of Halekala, a famous Maui Pineapple tour, and one-day sightseeing trips to other islands!
SUPPORT LAHAINA:

We are donating 20% of our profit from ALL FUTURE 2023 MAUI TOUR BOOKINGS to Lahaina fire relief efforts!!!
---
---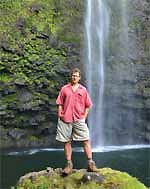 Kevin's Activity Tips:
Sightseeing tours have become more and more important to Maui vacationers in recent years. The Road to Hana is a good example. It has become so popular and so crowded that the county of Maui began cutting back on the places where rental cars could be parked along the way, and the black sand beach at Waianapanapa State Park now requires a paid (timed) permit to allow rental cars to enter. Gone are the days that you could just wake up at your hotel and decide "Let's go to the black sand beach today." Road to Hana tours have gotten more popular as a result.
The same story applies to Haleakala National Park, especially the sunrise tours! Driving to the top of the 10,000 foot volcano in the middle of the night used to be a right of passage for first-time Maui vacationers. It became so popular that the national park decided to require a permit (in addition to park admission) for anyone driving a rental car. Permits are very limited, hard to get, and once they are gone guests are clamoring for a tour to take them up the mountain to watch a sunrise. There are just 3 tour operators that the park has licensed to do these sunrise tours. Book early ... that's our best advice! We will do our best to find you space for your date.
Another extremely popular sightseeing option is the Maui Pineapple Tour. You meet at their base of operations in Haliimaile, which is uphill from the Kahului Airport about 15 minutes. They take you by shuttle out to the pineapple fields where you learn all about the history and science behind growing these unique fruit that came to represent HOSPITALITY here in the islands. Maui's field-ripened pineapple is SOOOOOO much better than that stuff you get in the produce department of your local grocery store back home. You've got to try it!
And by popular demand, Pearl Harbor from Maui tours are available once again! Airfare, Pearl Harbor tickets, transportation on the island of Oahu with a guide for the day ... it is all arranged for you. You can either spend a few hours seeing the most important site (the Arizona Memorial) and combine it with sightseeing around Oahu ... or for history buffs you can do either the Complete Pearl Harbor or the Battleships of WWII. Both of these latter options spend the majority of the day at Pearl Harbor.