Teralani Sunset Sails
---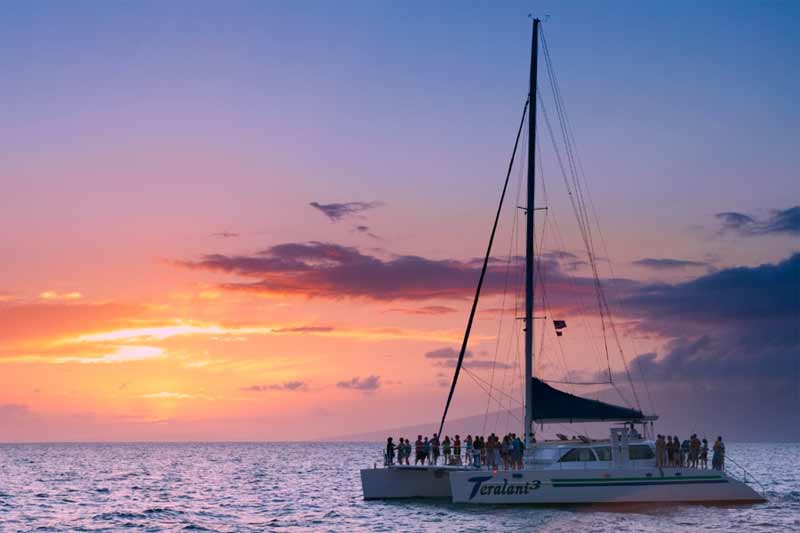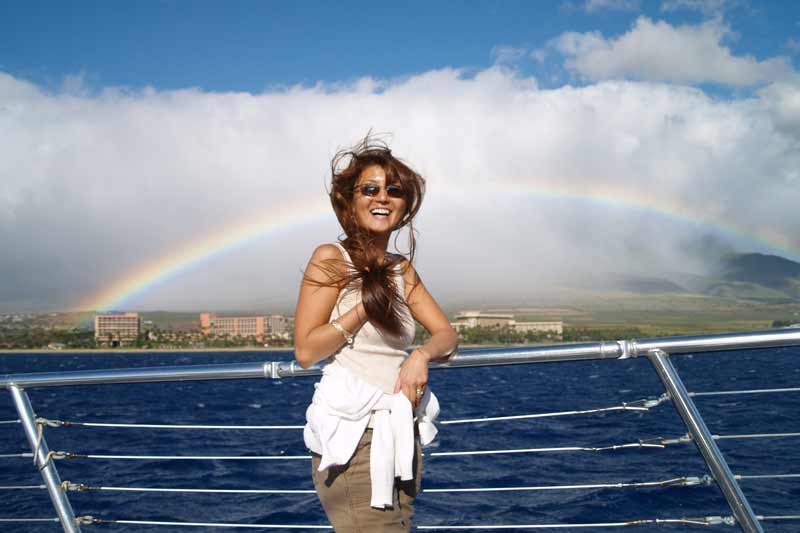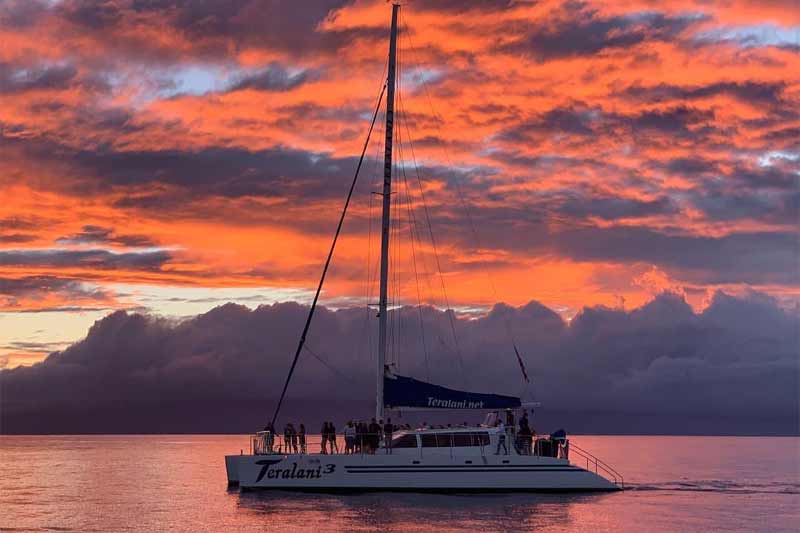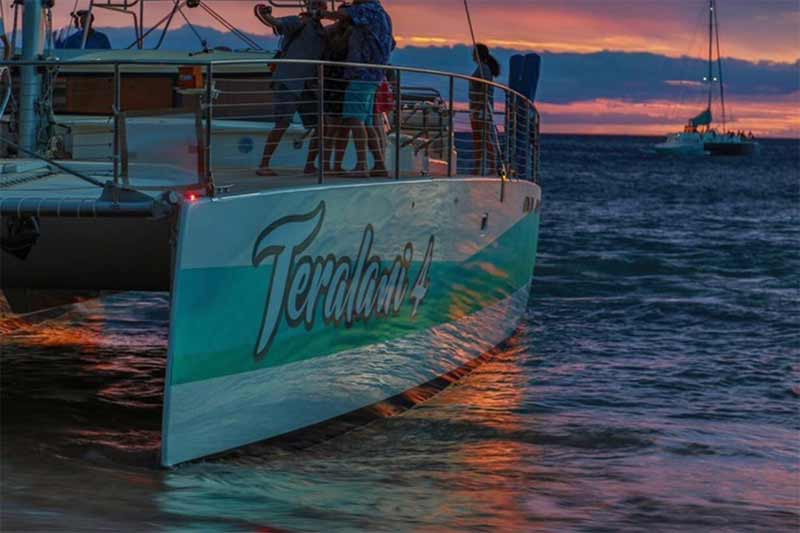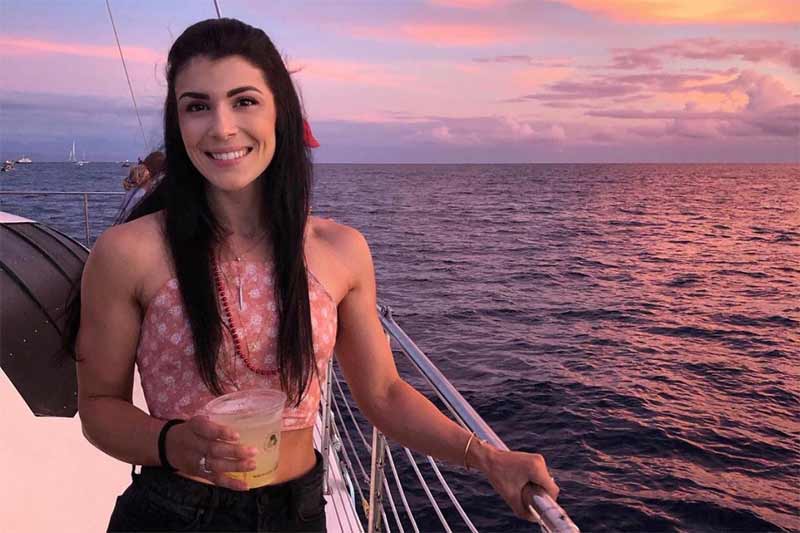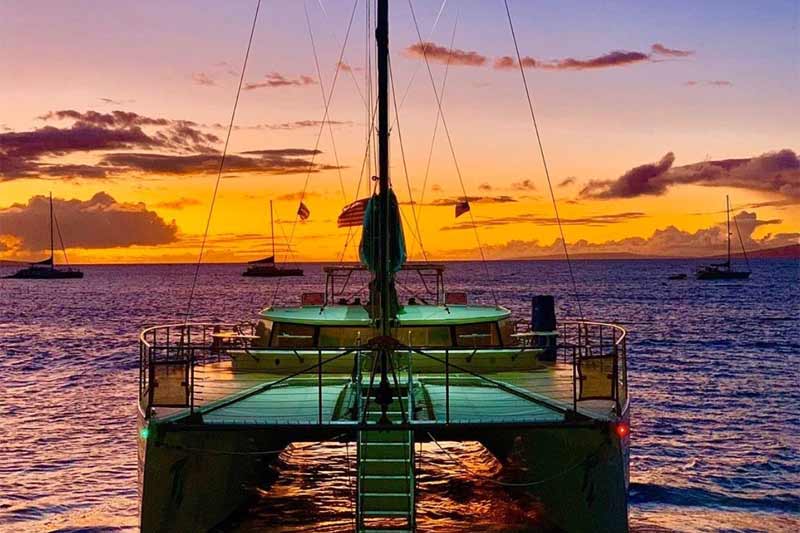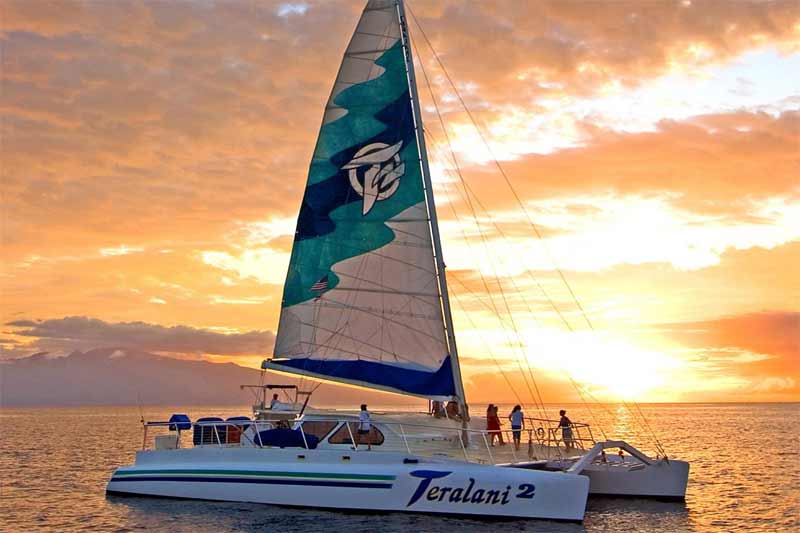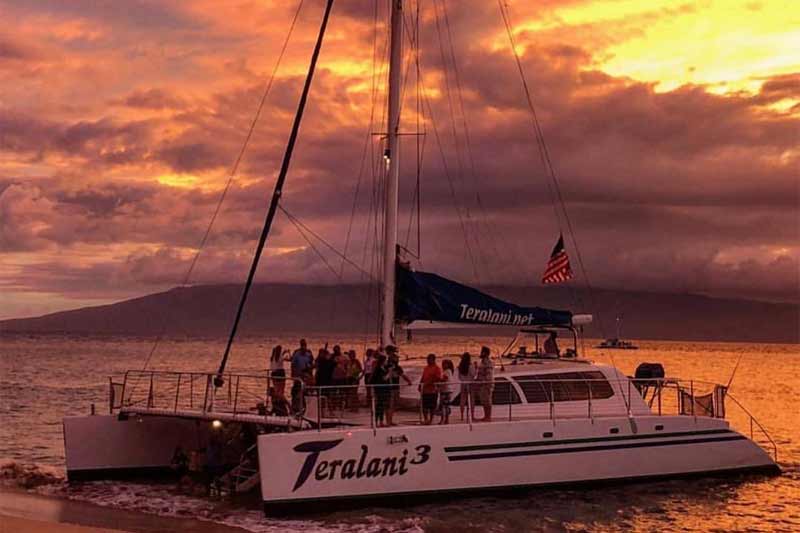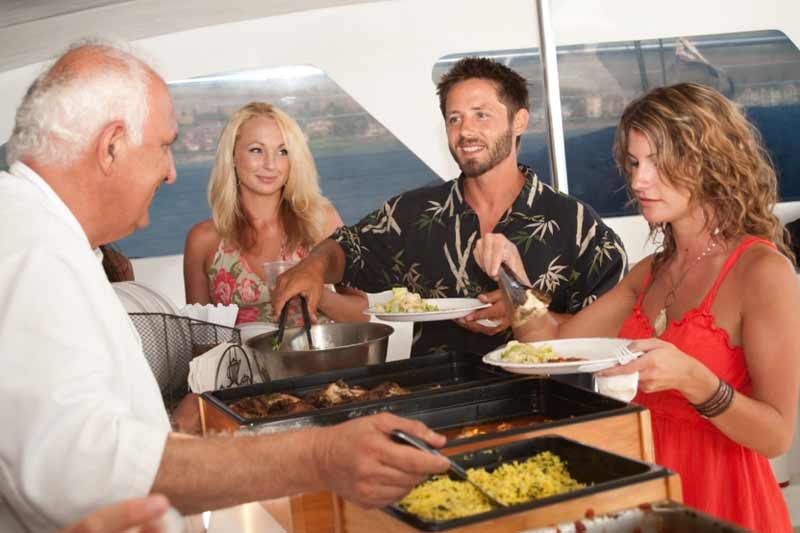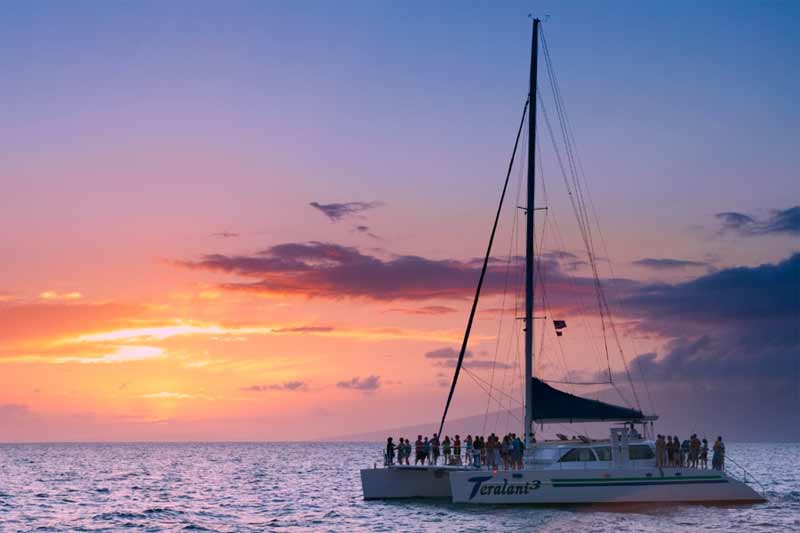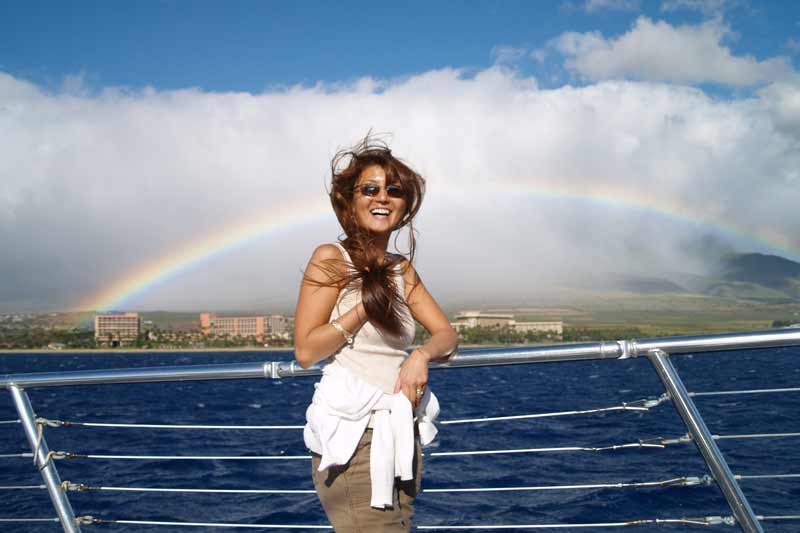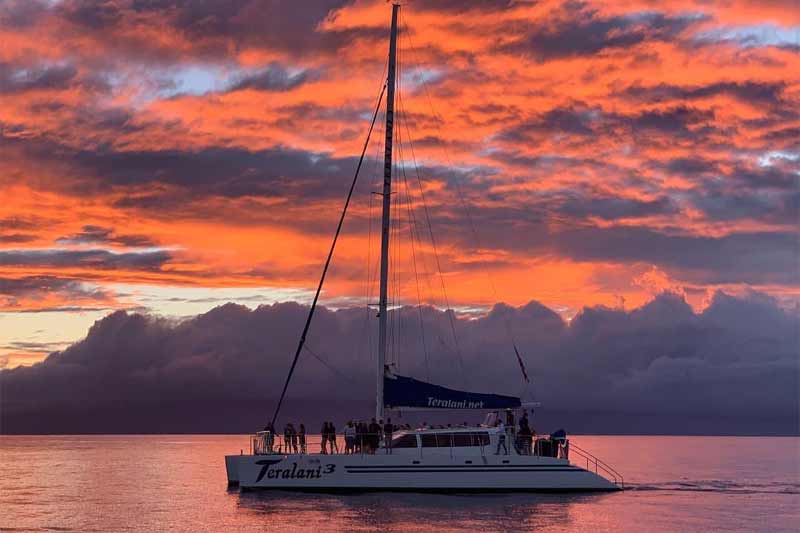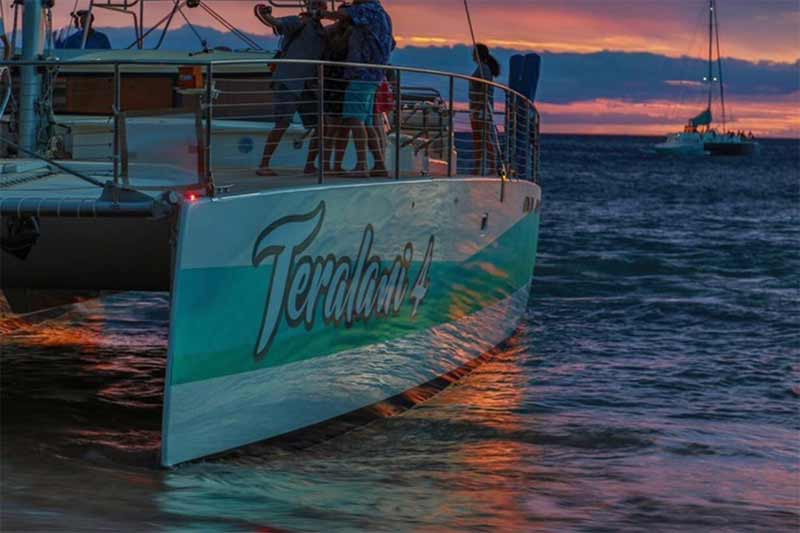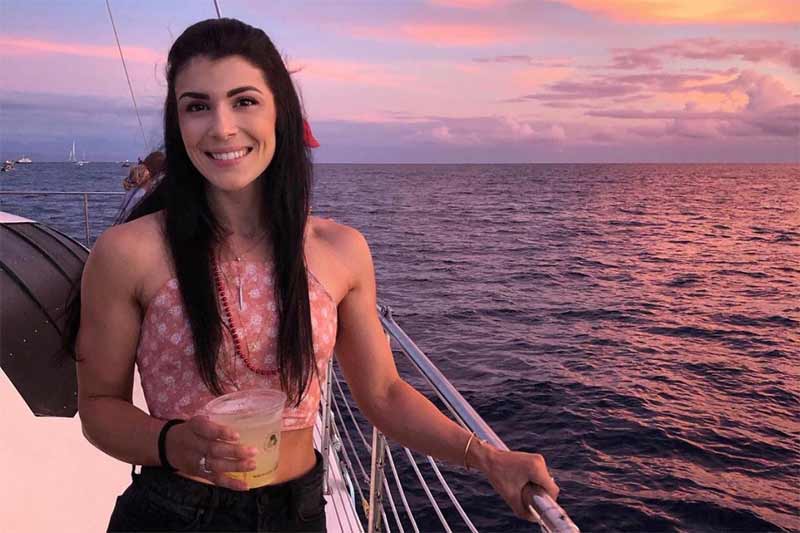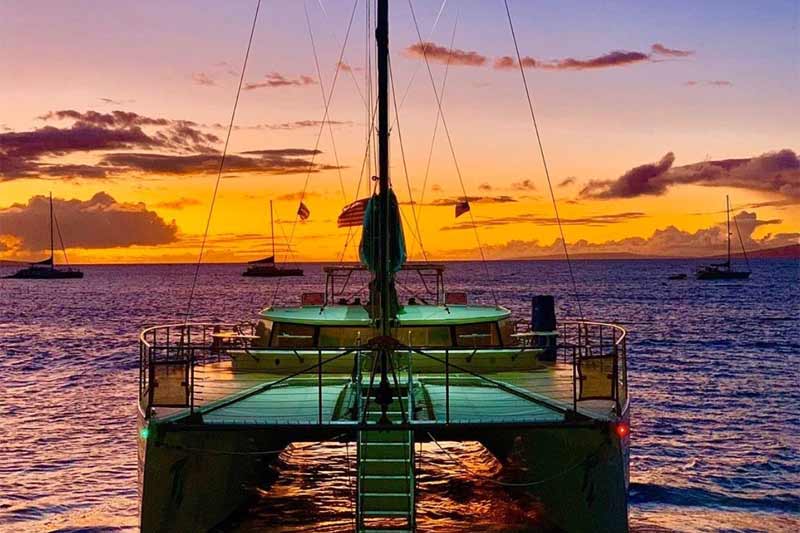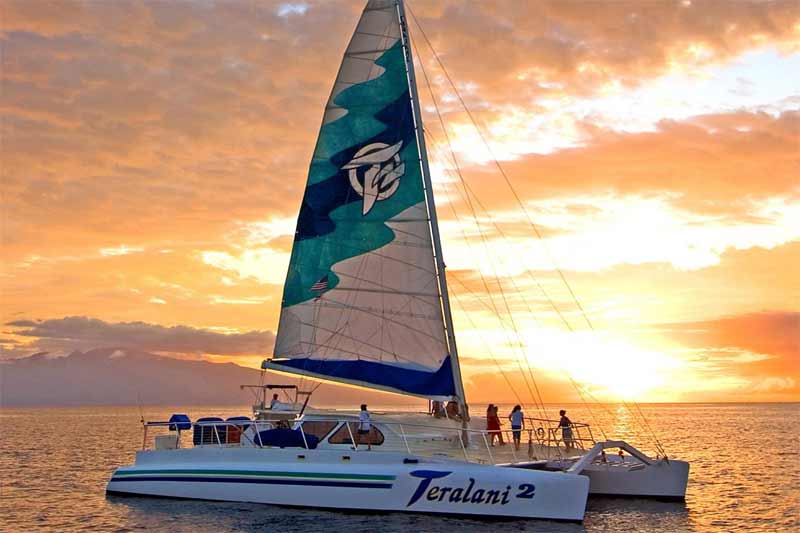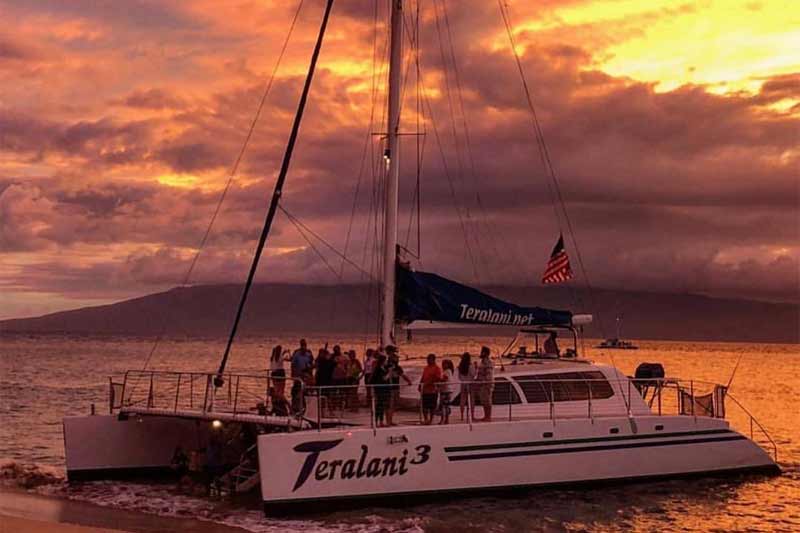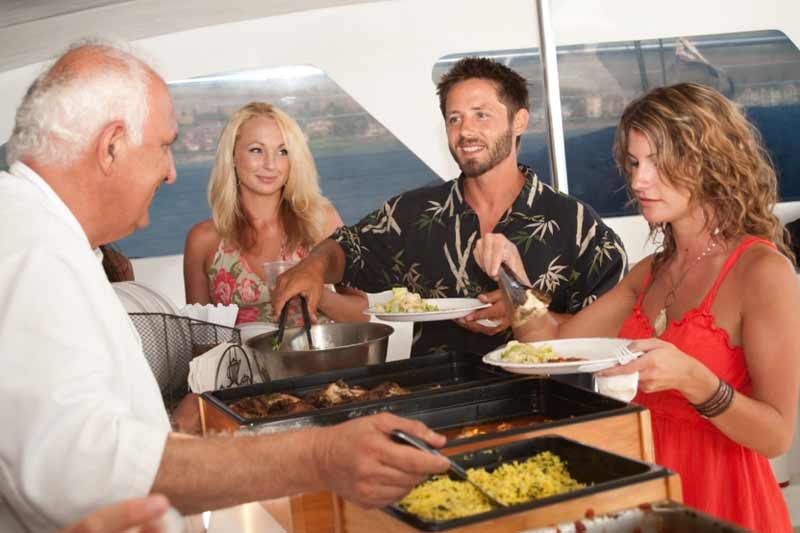 ---
Highlights
Fleet of beautiful 65" sailing catamarans
Barefoot beach loading from Kaanapali Beach
Tradewind sailing and sunset viewing from the water
Choose between Cocktail sail or Dinner Sail.
---
Description
Sunsets on Maui are often spectacular, and a sunset cruise gives you a 360 degree view of the colorful display. You'll not only have unbostructed views of the sun setting over the ocean between the islands, you'll also have a view looking back to see how the sunset paints the slopes of the West Maui Mountains! Enjoy a fun and comfortable sail aboard a luxury catamaran, while dining on an incredible meal catered by an award winning chef. Teralani Sunset Sails offers two different daily cruise experiences on their 65 footsailing catamarans departing from Kaanapali Beach; guests take off their shoes and walk through the sand. You will likely get your feet wet (and maybe your ankles and occasionally your knees) when you board the vessel.
---
Packages
---
Teralani Dinner Sunset Sail - 2.5 Hours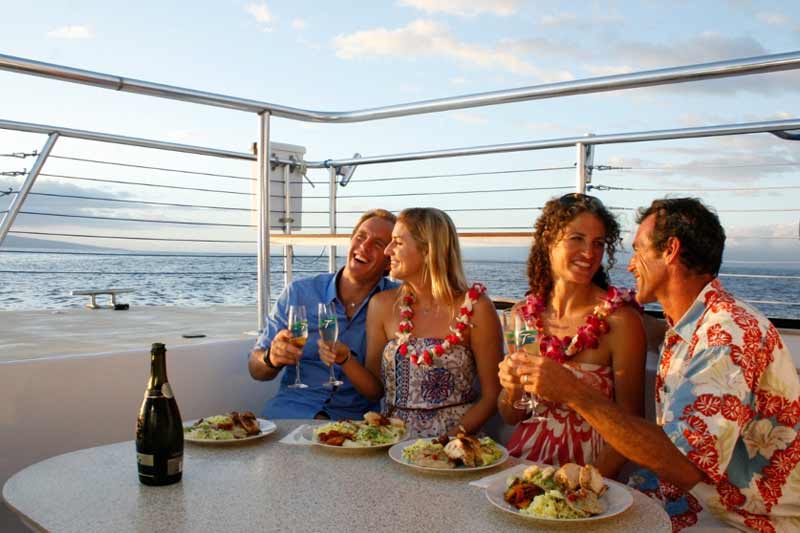 Teralani's Dinner sail offers true sit-down-at-a table seating on a spacious and comfortable sailing catamaran. Current menu includes Kula Mixed Greens with Papaya Seed Dressing, Teriyaki Chicken Ginger Teriyaki Glaze, Hawaiian Fish in Citru Butter Sauce, Veggie Kabob (vegetarian option), Ginger Infused Jasmine Rice, Stir Fried Vegetables. Beverages include a full open bar with wine, champagne, micro-brewed beer on tap, Mai Tais, vodka, gin, and rum mixers, assorted soft drinks and tropical juices, etc.
Schedule: Daily. Typically 4:30pm to 7:00pm in summer, and 3:30pm to 6pm in winter.
Teralani Dinner Sail Rate
$124.00 per Adult, $124.00 per Teen (13-20), $124.00 per Child (3-12), $124.00 per Infants (under 3) (plus 7.167% Hawaii sales/harbor tax)
---
Teralani Holoholo Cocktail Sail - 2 Hours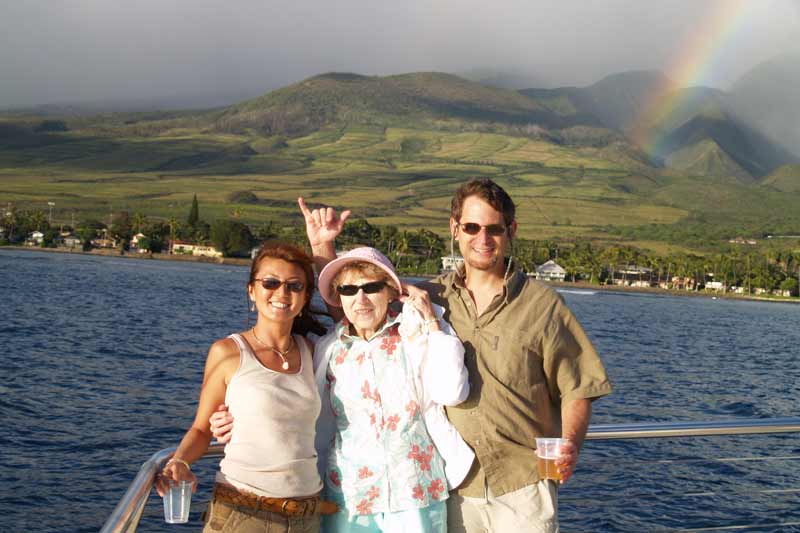 Relax and enjoy a delicious assortment of pupus while sipping a beverage as you watch another breathtaking Maui sunset from a unique perspective out on the ocean. Teralani's Holoholo Cocktail Sail includes appetizers and snacks and a full open bar. The menu includes Caprese Skewers: Cherry Tomatoes marinated with Pesto oil, served with Fresh Mozzarella Cheese and drizzled with Aged Balsamic Reduction Glaze, Vegetarian Rainbow Summer Rolls: Avocado, carrots, purple cabbage, cucumber, lettuce, mint, rice wrap, served with Sweet Thai Chili Sauce, and Grilled Hawaiian Teriyaki Chicken with BBQ sauce and Grilled Pineapple. Beverages include a full open bar with wine, champagne, micro-brewed beer on tap, Mai Tais, vodka, gin, and rum mixers, assorted soft drinks and tropical juices, etc.
Schedule: Daily. Typically 5:00pm to 7:00pm in summer, and 4:00pm to 6:00pm in winter.
Teralani Holoholo Cocktail Sail Rate
$94.00 per Adult, $94.00 per Teen (13-20), $70.00 per Child (3-12), $55.00 per Infants (under 3) (plus 7.167% Hawaii sales/harbor tax)
---
---
Details
Check In: Kaanapali Beach, directly in front of Leilani's Restaurant in the Whalers Village Shopping Center.
Vessel: 65'sailing catamaran with capacity limited to 49.
What to Wear: Caual attire that may get wet while boarding. We also recommend a light jacket.
Reservations: Advanced reservations required and we recommend booking this a month or more before your arrival. This event is "RESERVE NOW PAY LATER"; we need a credit card on file to finalize your reservation but we do not charge you for this reservation until a few days before the beginning of your vacation!
Minimum Notice for Cancellations / Changes: At least 48 hours before the start of the event. All tours go out rain or shine.
Restrictions: This activity is not accessible by wheelchair or walker. This is a barefoot cruise, and participants walk across the sand and sometimes get their feet wet while boarding. Guests 21 and over need to bring a valid photo ID to drink alcoholic beverages.
---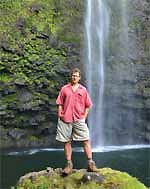 Kevin's Activity Tips:
Teralani has a fleet of THREE beautiful sailing catamarans that are all 65' in length. Teralani III was built in 2005 and is meticulously maintained. Teralani IV (built in 2019) and Teralani V (built in 2020) are among the newest boats on the island. Watching a sunset from the deck of a boat is a completely different experience than watching from the beach. Sunsets are three dimensional … and there is no better way to realize the 360 degree view than to get out on the water. Not only does the sky turn different shades of pink and orange, the mountains are painted with this colorful brush as well. Get out on the water and REALLY enjoy a sunset, and these are beautiful boats to take you there in style!
Occasionally I've heard clients say "We could have gotten a nicer meal for the same money in a restaurant." I think that's stating the obvious … you aren't just paying for a meal on a dinner cruise … you are paying to go out on a boat, and as a boat owner I can tell you that they are EXPENSIVE to operate and maintain. If you don't get your expectations too unrealistically high you'll have a great time. And if you prefer to go to a restaurant afterwards, then do the Holoholo Cocktail Sail instead of the full Dinner Sail.
If you are coming to Hawaii from December through April months, there is the added bonus of humpback whale sightings on sunset cruises. All boats will be going out of their way to find whales for you during these months.